2014 Ram 1500 Power Wagon
American trucks have been leading the charge for decades, and while some Japanese automakers have made in-roads into the truck market it's still largely dominated by the big three domestic brands.  The best American trucks are those that innovate, tackle a specific niche, or provide the kind of broad choice of configuration that full-size and mid-size pickup buyers are looking for.  Competition is fierce within the truck segment, which means that years of trying to one-up the other guy has worked wonders to improve the average buyer's options. 
Let's take a quick look at 7 of the best American trucks available for 2015.
1.  2015 Ford F-150
The 2015 Ford F-150 leads off our list of the best American trucks for two reasons.  First of all, the Ford F-150 is all-new for 2015, and it brings with it several innovations including an aluminum-intensive body that reduces overall weight and helps the truck improve its fuel economy across the board.  Second, the F-150 is notorious for delivering a vast array of body styles (three) bed lengths (three), trim levels (five), and engine choices (four).  In fact, Ford is the only company currently offering a pair of twin-turbo V-6 options alongside more traditional V-8 fare on the order sheet, with one of those turbo units representing the most powerful offering available under the hood of the F-150.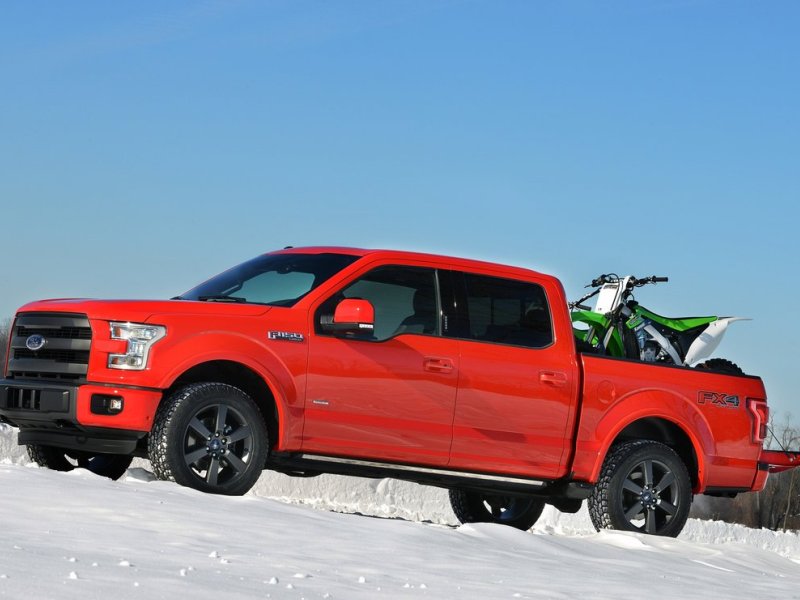 2.  2015 Chevrolet Colorado
The 2015 Chevrolet Colorado is also brand new for the current model year, and the clean-sheet redesign of the American truck builder's mid-size pickup offering rights several wrongs that had kept past versions of the Colorado from achieving market dominance.  The new Chevrolet Colorado features the choice between a peppy, entry-level four-cylinder engine and a 305 horsepower, 3.6-liter V-6, giving it 7,000 lbs of towing capacity to go with its surprisingly crossover-like ride.  Body styles include extended and crew cab models, with the latter featuring the ability to transport up to five passengers.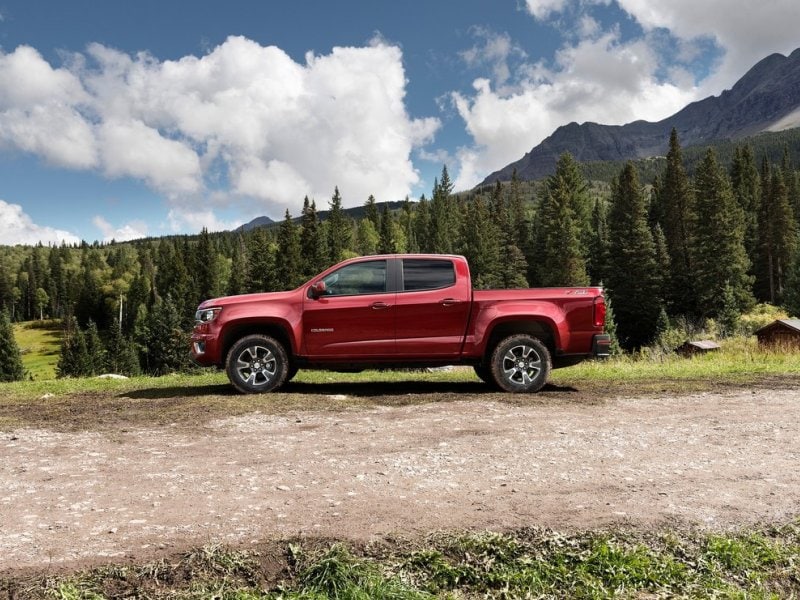 Photo by Chevrolet Media
3.  2015 Ram 1500 EcoDiesel
The 2015 RAM 1500 EcoDiesel is the only light truck currently on the market that is available with a turbodiesel V-6 engine.  What are the benefits of the Ram 1500 EcoDiesel's drivetrain?  The EcoDiesel delivers 28-mpg during highway cruising and 20-mpg in stop and go driving - far and away at the top of the full-size pickup class - and it manages to do so without sacrificing power.  With 240 horses and 420 lb-ft of twist on tap, the Ram 1500 EcoDiesel stands out with a 9,200 lb tow rating, along with the availability of four-wheel drive and a high level of interior luxury.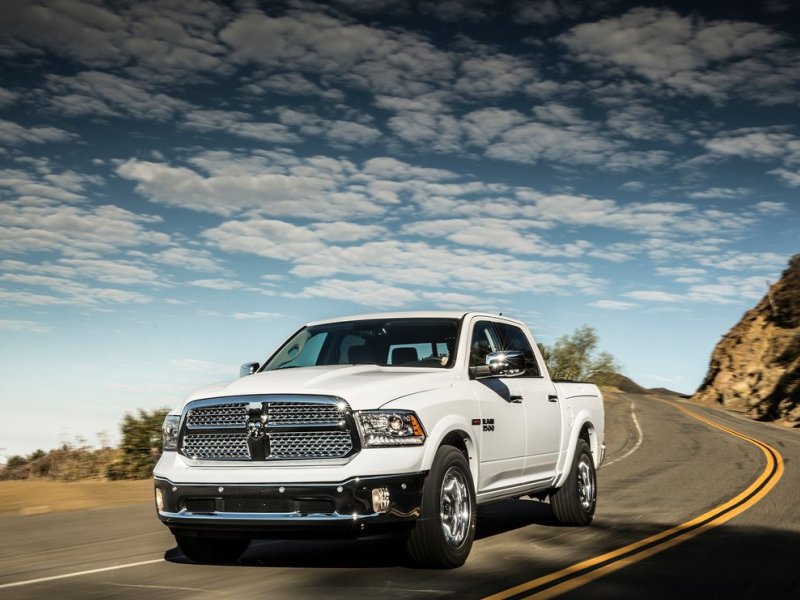 4.  2015 GMC Sierra Denali
Speaking of luxury, it's impossible to discuss premium American trucks without mentioning the 2015 GMC Sierra Denali.  The GMC Sierra Denali was the first full-on luxury pickup to be offered in the United States, and today it's possible to order the Denali trim level not just with the Sierra's 6.2-liter V-8 engine but also its mid-range 5.3-liter V-8, giving buyers the chance to sample comfort without blowing up their fuel budget.  The Sierra Denali comes with special exterior styling to differentiate it from the standard version of the full-size truck (including chrome trim and a mesh grille), and it also gains an adaptive suspension system, unique leather throughout the interior, heated and cooled seats, and an upgraded Bose stereo system.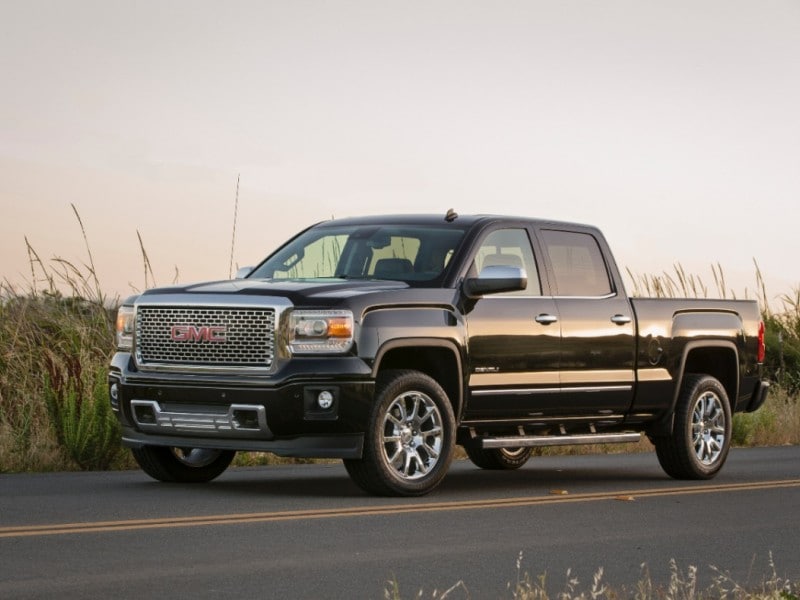 5.  2015 Chevrolet Silverado
The 2015 Chevrolet Silverado is mechanically identical to the GMC Sierra, but it's aimed more at folks who don't need a fancy truck, just one that gets the job done day in, day out.  Like the Sierra, the Chevrolet Silverado can be had with a pair of V-8 engines, as well as a 285 horsepower V-6.  All three of these units offer direct fuel injection as well as a cylinder deactivation feature that allows them to cruise on half their cylinders under light load in a bid to improve fuel mileage.  The Silverado trails just the F-150 in popularity amongst American truck buyers.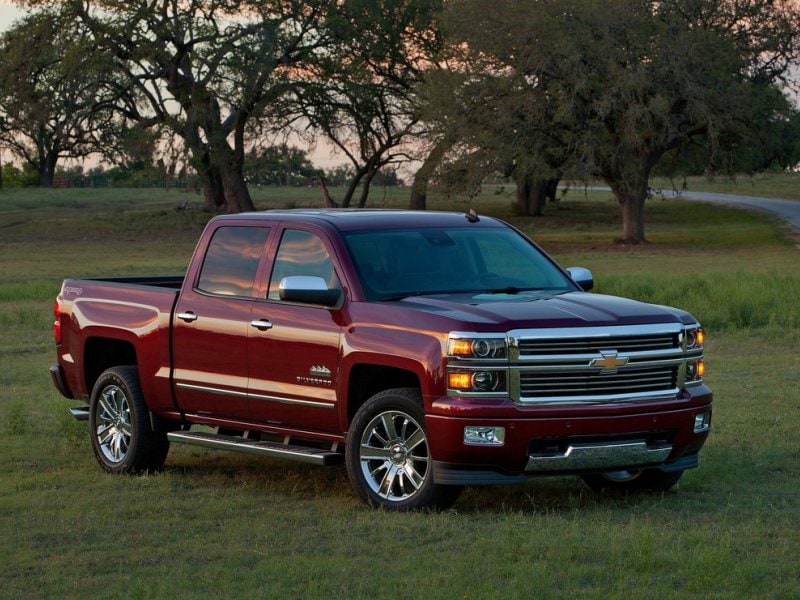 Photo by General Motors
6.  2015 Ram 2500 Power Wagon
The 2015 RAM 2500 Power Wagon is an off-road bruiser that appeals to those for whom bigger always equals better.  The three-quarter ton Ram 2500 Power Wagon's heavy duty underpinnings are complemented by the presence of skid plates, knobby off-road tires, electronically locking differentials front and rear, a front sway bay that can be remotely disconnected, a winch, and standard low-range four-wheel drive.  Motivation for the Ram 2500 Power Wagon comes exclusively from a 6.4-liter Hemi V-8 that has been rated to produce 410 horsepower and 429 lb-ft of torque, and the truck can only be ordered in a crew cab configuration.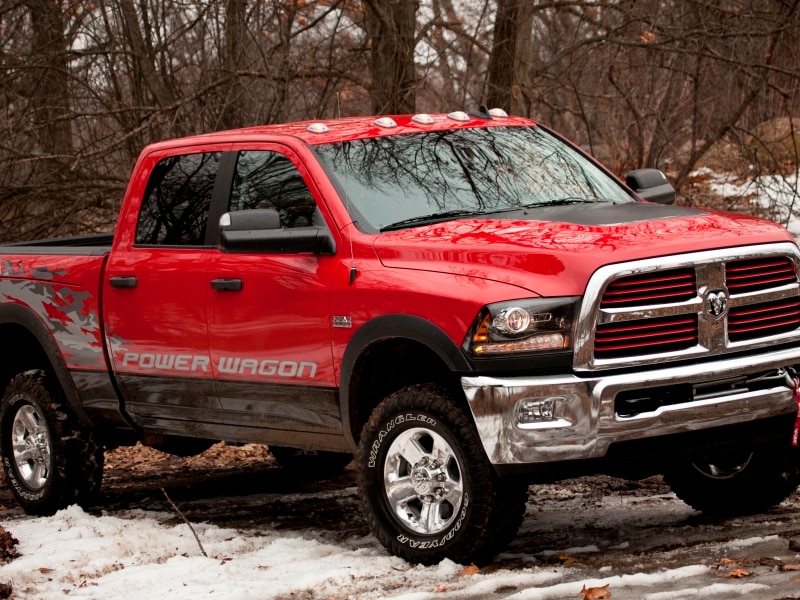 7.  2015 GMC Canyon All-Terrain
If you want to head off-road but tread much more lightly in the process, then the 2015 GMC Canyon All-Terrain is the American truck for you.  Like the Colorado, the GMC Canyon is a mid-sizer that provides the choice between four and six-cylinder power, but the All-Terrain package requires the V-6 option to go with its all-wheel drive system and rugged trail-ready suspension system.  The Canyon All-Terrain also comes with 17-inch rims, heated front seats wrapped in special cloth upholstery, tow hooks, a locking rear differential, and of course all-terrain tires.