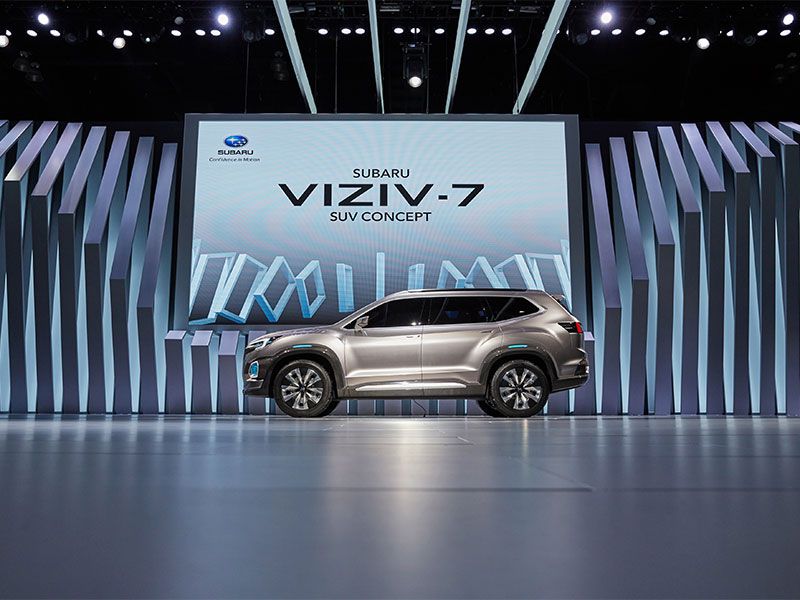 Subaru VIZIV 7 SUV Concept profile LA Auto Show ・ Photo by Subaru
The 2016 Los Angeles Auto Show is open until November 27. It's definitely worth a visit, and it's even open on Thanksgiving this year, which will allow you to pop over for a few hours while the turkey turns to a nice golden brown in your oven. If you can't make it to the LA show—or if you simply want a primer on what's there before you go—check out Autobytel's coverage from LA.
Here, we'll take a look at 6 Must-See Concept Cars from the 2016 LA Auto Show. Remember, these one-off cars may not reach production, but they reveal the tremendous creativity of the automotive designers and engineers while hinting at future products and inspiring us all to dream. Enjoy.
Jaguar I-PACE Concept
Wow, check this out: The Jaguar I-PACE Concept, one of the brightest stars on display at the LA show, is an electric SUV that previews a future Jag production model to arrive in the second half of 2018.
We like what we see. Front and rear electric motors produce 400 horsepower and 516 lb.-ft. of torque, allowing the I-PACE to hit 60 mph in about 4 seconds. More importantly, this all-wheel drive electric Jaguar, fitted with a 90-kwH lithium-ion battery pack, has a range of greater than 220 miles.
The 5-seat cabin is a visual feast, elegant and not too far removed from production. Besides a floating center console and a panoramic roof, the I-PACE Concept boasts four large screens, two of them infotainment touchscreens, in the center console. A head-up display shares vital information on the windshield, and because of Jag's long wheelbase, it looks like there's plenty of room for fullsize adults in the back seat. Also of note: The I-PACE, because of the configuration of its electric powertain, has a small luggage compartment up front.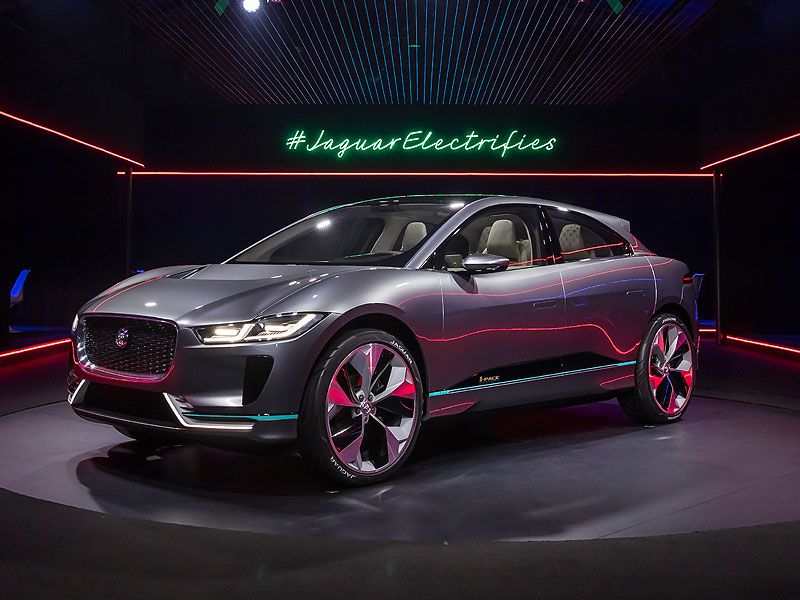 Photo by Jaguar Land Rover
Mitsubishi eX Concept
The eX Concept is Mitsubishi's take on a small electric crossover SUV of the future, and its front end styling is an interpretation of the company's "Dynamic Shield" design.
A high-capacity battery is mounted beneath the body to help lower the vehicle's center of gravity, and it powers two efficient electric motors that give this all-wheel-drive Mitsubishi concept a cruising range of nearly 250 miles. As you'd expect of a forward-thinking concept, connected-car technology abounds in the eX, as do advanced active safety systems.
Neat details: The underside of the eX is rubber coated where contact with humans is possible, and the center console holds two portable batteries that can be removed from the car to "support active lifestyles." Moreover, cameras are used to monitor the road surface, and the eX also employs an augmented reality windshield that allows drivers to view changes in road conditions without having to make major movements in their line of sight. Lastly, the eX Concept has an Intelligent Display in its instrument panel to convey various driving information.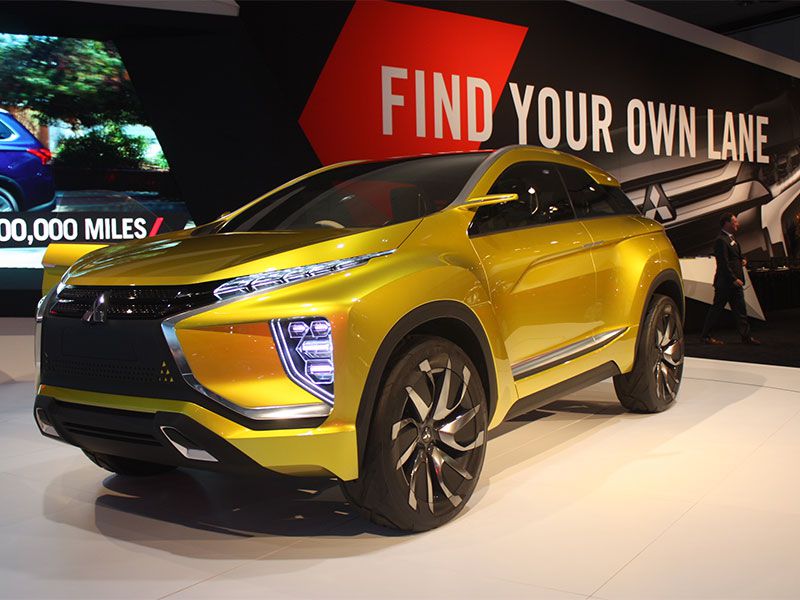 Photo by Ryan ZumMallen
Subaru Viviz-7 SUV Concept
Subaru is on a roll, with 59 consecutive months of sales increases in the U.S. But to reach the stated goal of 800,000 sales in 2020 (up from 600,000 in 2016), the company needs another vehicle, specifically a 3-row crossover SUV like the Viviz-7 just revealed at the LA show.
Although that name doesn't exactly roll off the tongue, this big Subaru concept looks fairly close to production. It's about the size of a Toyota Highlander, but in true Subaru fashion, it will have full-time all-wheel drive and be powered by a flat, boxer-style engine. A fullsize adult is said to fit comfortably in the third row, and this flagship, designed specifically for the U.S. market, will be built on the company's new global platform at Subaru's plant in Indiana.
This Viviz-7 SUV Concept looks like a traditional SUV; we get the sense that memories of the unsuccessful (but distinctively styled) 3-row Tribeca have kept Subaru designers in check.
Look for this big new Subaru 3-row SUV to arrive in early 2018.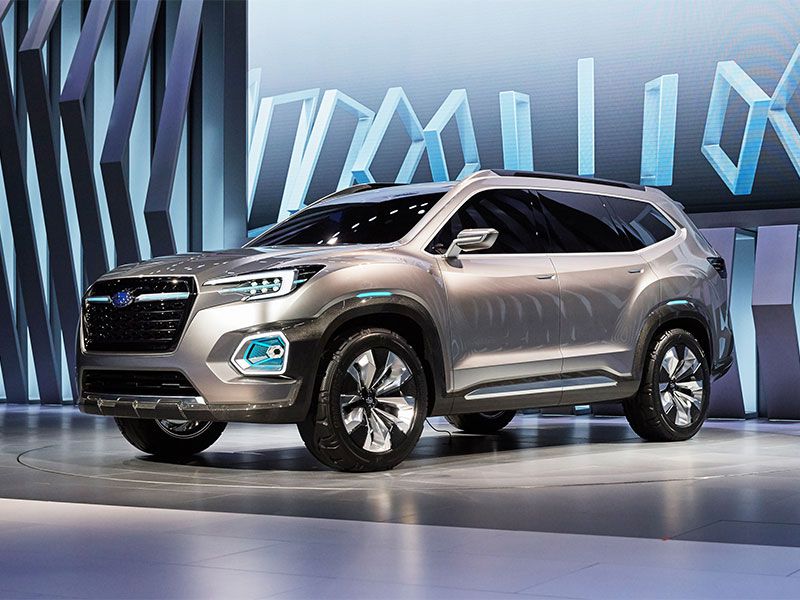 Photo by Subaru
Infiniti QX Sport Inspiration
The Infiniti QX Sport Inspiration, a super stylish SUV from Nissan's luxury brand, already has been seen at the Beijing and Paris auto shows. No big deal. It's on display at Los Angeles because it's an important vehicle: It will become Infiniti's next midsize SUV—perhaps the QX50—in 2018. 
Even more significant: This Infinti will be the first vehicle powered by the company's VC Turbo engine, a 2.0-liter inline-4 with variable compression. By being able to mechanically alter the position of the piston relative to the cylinder head (via clever mechanical means), Infiniti is able to seamlessly vary the compression ratio from 8.0:1 to 14.0:11. Higher compression, for the record, is good for fuel efficiency, while lower compression is good for power because it allows more turbocharger boost. This clever VC engine puts out the power of a good V6, but has the weight of a typical 4-cylinder.
Photo by Matt Carpenter
Acura Precision Concept
Acura's global creative director, Dave Marek, sums up this beauty quite nicely: "The Acura Precision Concept is more than simply a concept vehicle, it is a design study model that literally will shape the direction of all future Acura products around our Precision Crafted Performance DNA."
What else do we need to know? Well, this: This stunning concept—unveiled earlier in the year at Detroit and styled at the Acura Design Studio in California—looks even better in person, thanks to its wide stance, deeply sculpted body surfaces, and what Acura calls its Diamond Pentagon grille.
Right next to this design study, Acura took the wraps off a new cockpit that complements the exterior design of the car. One highlight of this new Acura Precision Cockpit, as it's called, is a touchpad on the center console that uses absolute position mapping, which means the interaction with the touchpad aligns precisely with the actions on the main display.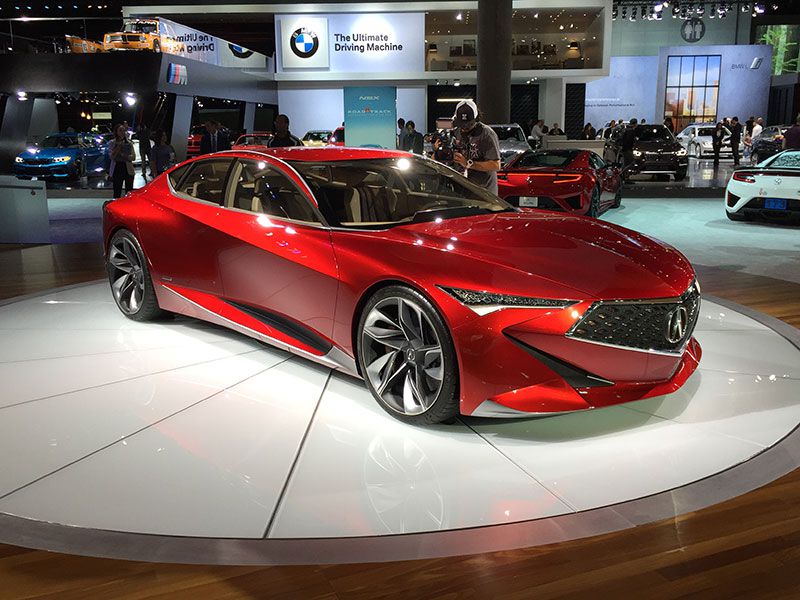 Photo by Andy Bornhop
Cadillac Escala Concept
We admit it; we dig the Cadillac Escala Concept, which was first unveiled at the Pebble Beach Concours d'Elegance in August. You're looking at a flagship Cadillac sedan that showcases the brand's future looks and technology. As such, this Cadillac concept is designed to be a prestige car, one that's larger and more exclusive than the CT6 sedan and is powered by a twin-turbo 4.2-liter V8 engine.
Cadillac says some features of this big rear-drive Escala will be in production soon. These include a new and evolved face with vertical lighting, plus thinner OLED (organic light-emitting diode) elements. Inside, the "dual personality" interior has a front zone that's all about intensely focused modern technology (such as curved OLED screens on the dash), whereas the rear is focused completely on relaxation.
The word "Cadillac" used to be synonymous with the best, such as in a "Cadillac" margarita. If the new cars on Cadillac's horizon are as beautiful and well-crafted as the liftback Escala Concept, it will be a quick return to glory for the name.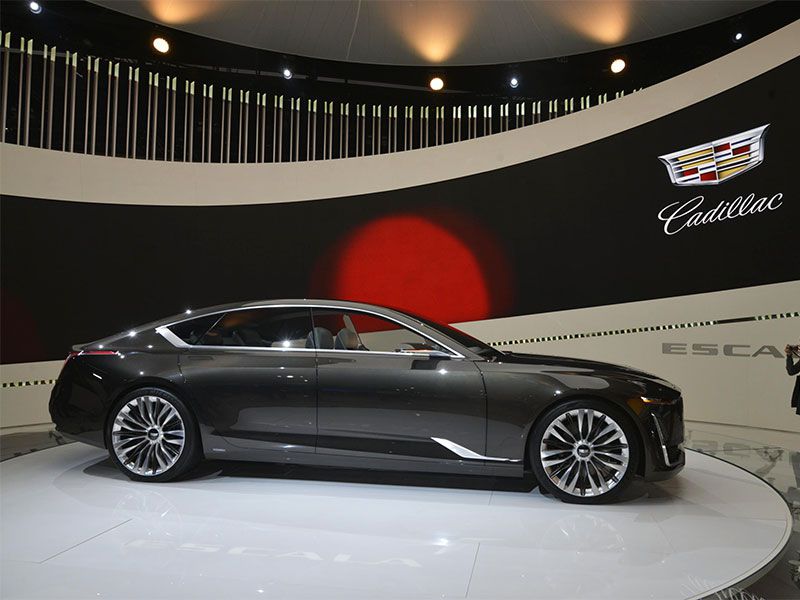 Photo by Newspress USA