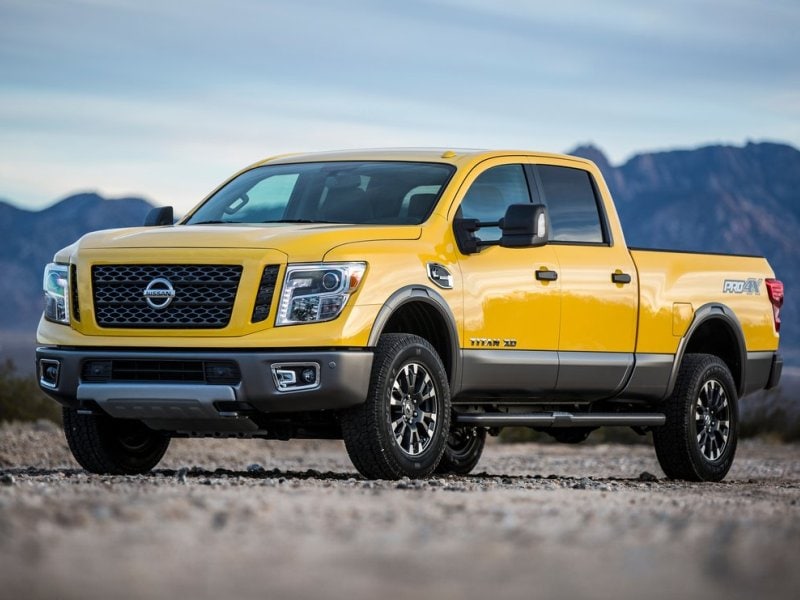 2016 Nissan Titan XD
Combining old-school brute force and a bevy of modern technologies, today's best V8 pickup trucks deliver historically high levels of power, comfort and even fuel efficiency—thanks largely to advances in cylinder-deactivation systemsAs a result, despite one truckmaker seeing significant success with turbocharged V6 engines in the current marketplace, V8s still rule the segment: All fullsize pickup brands feature at least one of them, and four of the six offer a pair of V8 powertrains. Additionally, although that turbo choice is showing there might be a replacement for displacement after all, V6 engines can't replace the rumbling soundtrack of a V8. That sensory experience is something Autobytel experts can't replicate here, but you can still feast your eyes on all the offerings in our roundup of 6 Best V8 Trucks.
2016 Chevrolet Silverado, Part 1
The Bowtie Brand has two of the 10 Best V8 Trucks for the 2016 model year, including one with the largest, most powerful gasoline engine in the segment. It's a 6.2-liter V8 unit that can be ordered for either the 2016 Chevrolet Silverado or its GMC Sierra corporate cousin. Owners can count on that engine for 420 horsepower and 460 lb.-ft. of torque—exceeding Ford's highest-rated EcoBoost V6—and they also benefit from a best-in-class towing maximum of 12,000 lb. It's further worth noting a sophisticated 8-speed automatic transmission is used to manage that output, aided by a high-ratio first gear for enhanced off-the-line confidence. Shoppers should know, however, that Chevy only provides that premium powertrain as an option on its most premium trim levels.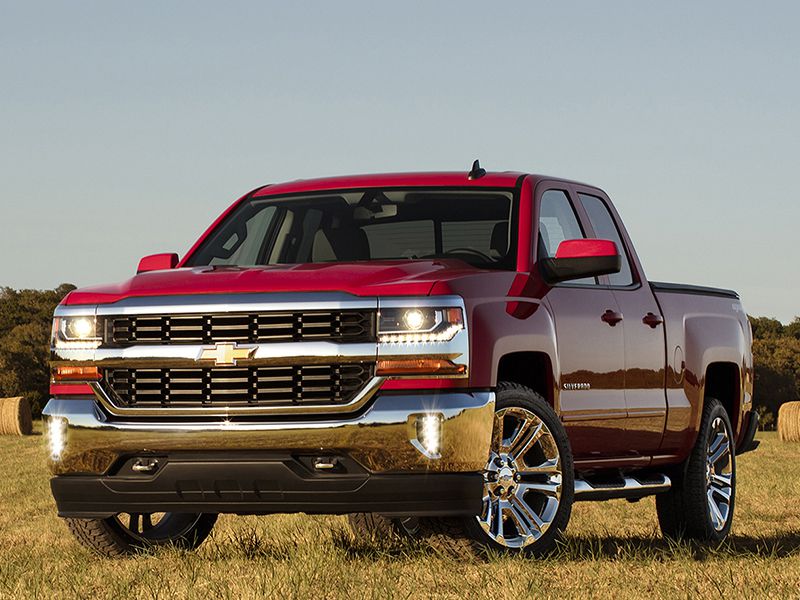 Photo by General Motors
2016 Chevrolet Silverado, Part 2
With its 5.3-liter powerplant, Chevy also enables a lower price of admission to some of the industry's best V8 pickups. This workhorse engine is even available in Chevrolet's entry-level WT work trucks, where it's $1500 less expensive than adding the 6.2-liter V8 to the uplevel models. This "smaller" V8 is plenty stout in its own right, too, since it packs 355 horsepower, 383 lb.-ft. of torque, and a top tow rating of more than 11,000 lb. Yet the Silverado also scores relatively well with the EPA, backed by what Chevy claims is "the best V8 fuel economy ever in a pickup:" 23 mpg on the highway, to go with 16 mpg city/19 mpg combined.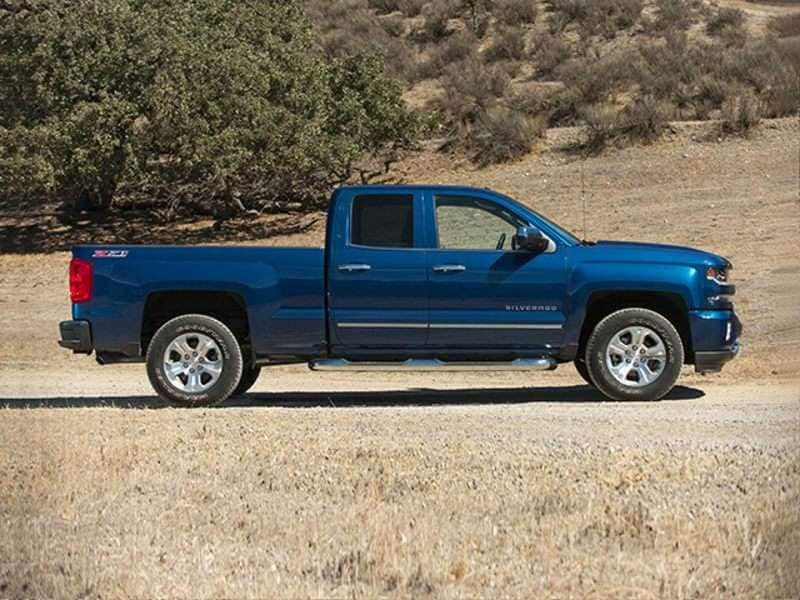 2016 Ford F-150
The Blue Oval had a long history of selling great V8 pickup trucks before it introduced its EcoBoost technologies, and the company does indeed carry on that tradition today. Thus, the 2016 Ford F-150 serves up a 5.0-liter V8 with the lineup's most horsepower—385—and just enough torque—387 lb.-ft.—to lead GM's 5.3-liter V8s in both measures. The F-150 is slightly off the pace for fuel economy and towing, however, with EPA ratings of 15 mpg city/22 mpg highway/18 mpg combined, as well as a top towing limit of 11,100 lb. On the other hand, the F-150 can out-pull its GM rivals with its turbocharged 3.5-liter EcoBoost V6.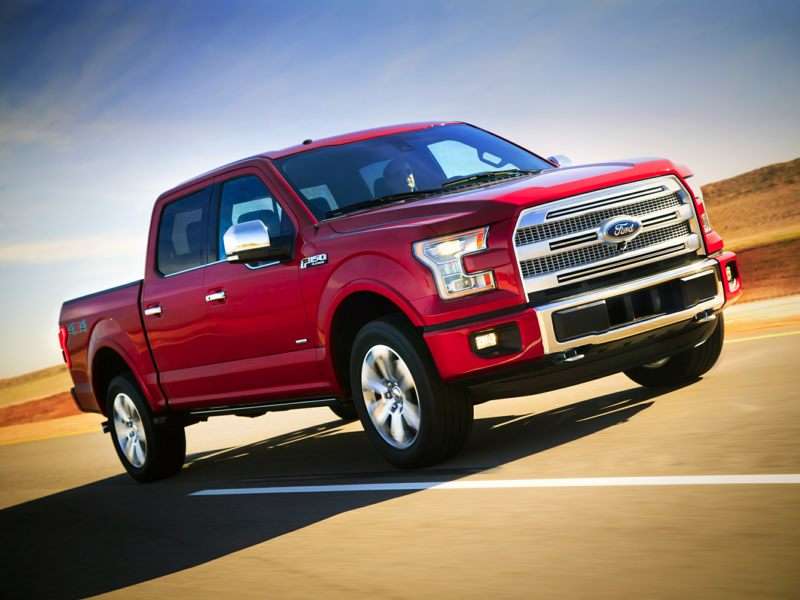 Photo by Ford
2016 Ram 1500
For many customers, the 2016 RAM 1500 pickup isn't just one of the industry's best V8 trucks, it also has one of the industry's best V8s: the proven and powerful 5.7-liter HEMI. With this V8 on board, the Ram rocks with 395 horsepower and 410 lb.-ft. of torque, then clocks in with EPA ratings of 15 mpg/22 mpg highway/17 mpg combined. Also, while the HEMI can be had across the Ram roster for an additional $1650 (including an upgraded 8-speed automatic transmission), it's standard on upscale trims ranging from the luxurious Limited model, highlighted by leather and real-wood cabin accents, to the off-road-oriented Rebel. This also includes the new-for-2016 Mopar Rebel, which will be limited to only 500 units.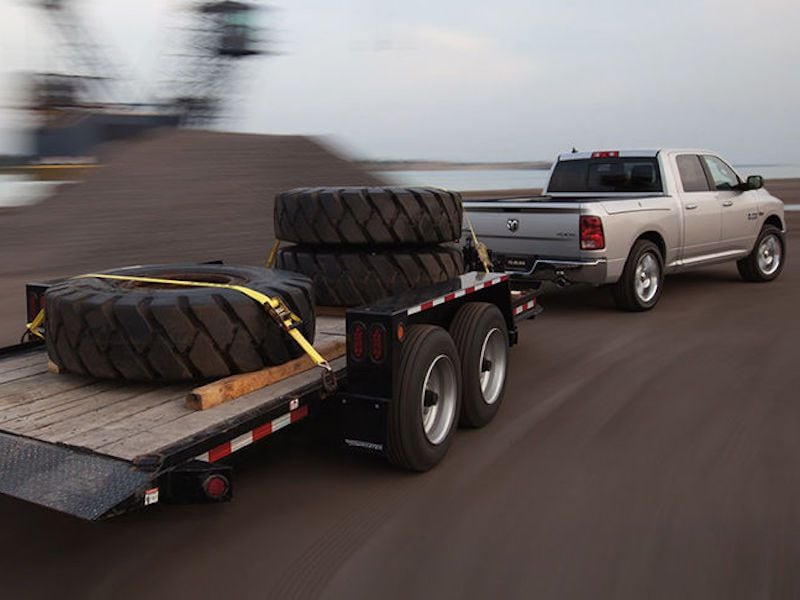 2016 Toyota Tundra, Part 1
The 2016 Toyota Tundra supplies an all-V8 engine portfolio that starts with a 4.6-liter unit from the brand's "i-Force" portfolio. Frankly, its chief benefit for shoppers is its affordability: Owners can save $1750 by opting for that engine over the premium 5.7-liter choice. This, by the way, helps make the Tundra one of the best V8 pickups for customers concerned with pricing. Helping matters for 2016 is new front-end styling for both the popular SR5 model and the premium 1794 Edition, plus updated Entune multimedia technology with faster, dual-core processors. The setup for the Tundra SR5 is particularly impressive, because it provides a low-cost, app-enabled navigation resource.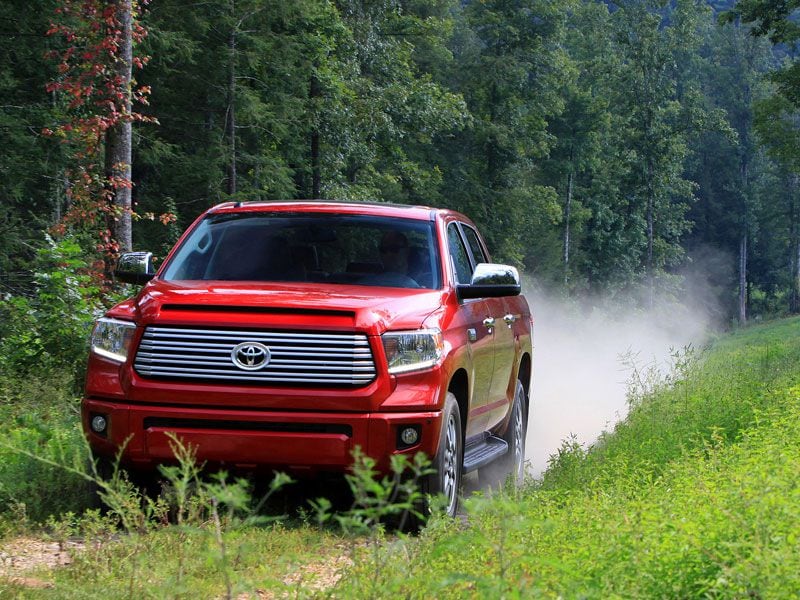 Photo by Toyota
2016 Toyota Tundra, Part 2
To compete with the baddest of the best V8 pickup trucks, owners of the 2016 Toyota Tundra can ratchet up the output with the brand's 5.7-liter i-Force engine. Here, there's 381 horsepower and 401 lb.-ft. of torque on tap, allowing drivers to tow up to 10,500 pounds. The same engine also is the preferred powerplant for the 2016 Tundra TRD Pro, except in Toyota's most trail-friendly pickup, a special dual-exhaust system dials up the V8 volume. Also in the mix with the truck is a comprehensive assortment of Toyota Racing Development hardware, everything from a TRD suspension with an extra 2 inches of ride height to Michelin off-road tires and an aluminum skid plate for underbody protection against rocks and other obstacles.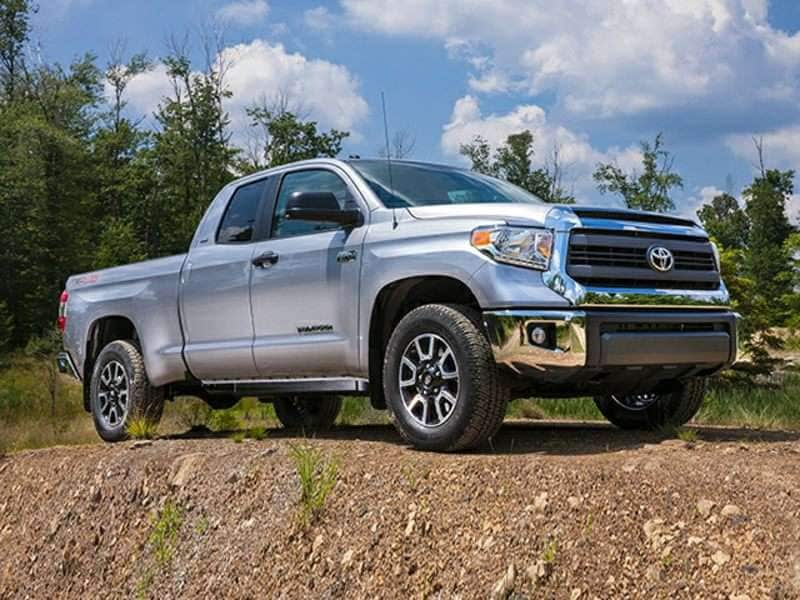 Photo by Toyota
2016 Nissan Titan XD, Part 1
Because we're limiting our choices of 10 Best V8 Trucks to light-duty fullsize pickups, the best V8s on our list up to now have all been fueled by gasoline. But that changes with the 2016 Nissan Titan XD, which is the only entry to showcase a diesel V8 engine. Developed by the diesel experts at Cummins, it's a turbocharged 5.0-liter unit that can kick out 310 horsepower and 555 lb.-ft. of torque, which is by far the most on tap in the light-duty pickup segment. That translates to the highest tow rating outside of the HD category—12,314 lb.—and a payload that tops 2,000 lb. Yet for all that old-school functionality, the Nissan Titan XD also touts some of the industry's favorite high-tech driver-assistance aids.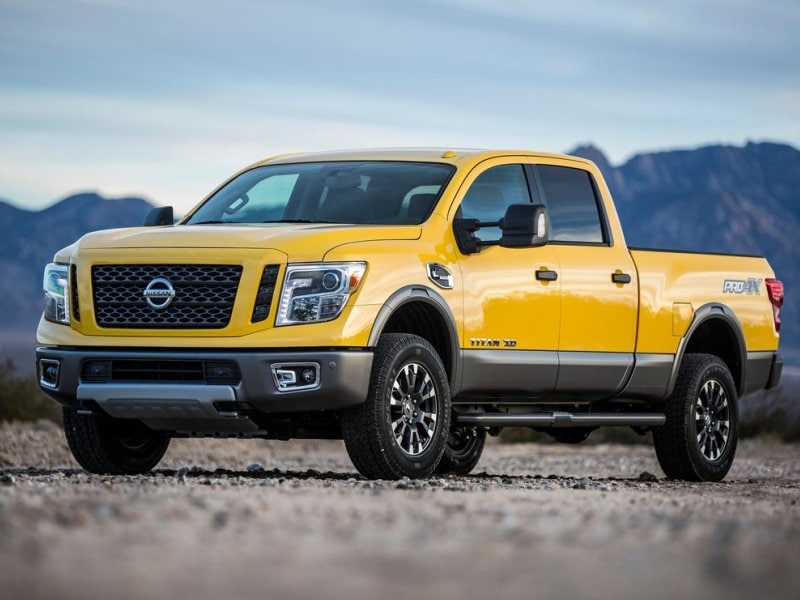 2016 Nissan Titan XD, Part 2
Of course, not all truck customers care for a diesel driving experience, so the 2016 Nissan Titan comes with a standard gas V8, too. And it's obvious that Nissan engineers put as much time into upgrading that engine as they did in reinventing the rest of the next-gen Titan. Consider: Although the 2016 truck's gas V8 has the same 5.6 liters of displacement as the one in the previous-generation Titan, technologies like Nissan's Variable Valve Event & Lift system help ratchet up output by a significant amount. Drivers enjoy an extra 73 horsepower and 16 lb.-ft. of torque, for new totals of 390 and 401, respectively. That, in turn, helps increase the gas-powered Titan's towing limit to 11,270 lb.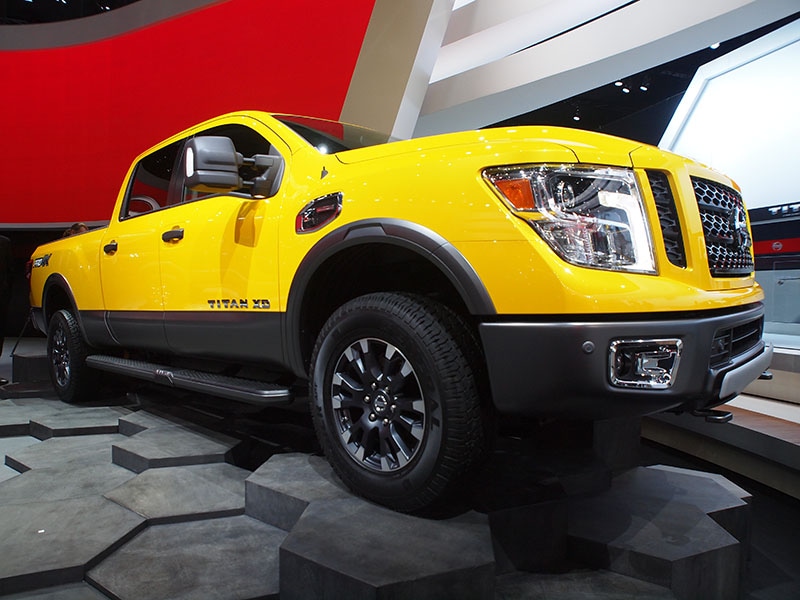 Photo by Megan Green
2016 GMC Sierra, Part 1
The 2016 GMC Sierra and Chevy Silverado cousin may be easy to tell apart on the surface, but they do share most of their mechanical underpinnings. Which is good news when it comes to premium power, because it means that the Sierra can supply the same 6.2-liter V8 as its Bowtie counterpart, with the same 420 horsepower and 460 lb.-ft. of torque that's unmatched by the non-GM competition. Yet customers shopping for the most luxurious of the best V8 trucks get better news, as that powerplant also is available in the range-topping Denali trim, along with premium touches such as heated and ventilated front seats and mobile Wi-Fi.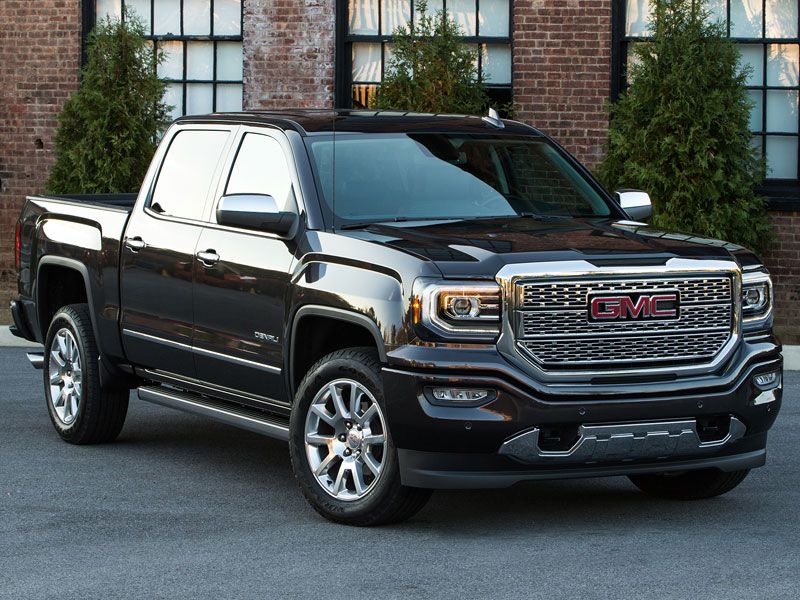 2016 GMC Sierra, Part 2
Meanwhile, GM's other V8 truck engine, the 5.3-liter powerplant, is standard for the uplevel 2016 GMC Sierra trims. Owners can rely on 355 horsepower and 383 lb.-ft. of torque from that unit—the same output found in the Silverado's 5.3-liter V8—except the Sierra wraps its engine in GMC's "Professional Grade" package, which adds sophistication and refinement to an already impressive pickup. Finally, like all of the best V8 pickups, the Sierra offers a 4-wheel-drive system that allows this powerful pickup to hit the dusty trail in style, or climb that snowy driveway as you struggle to get home before the storm really hits.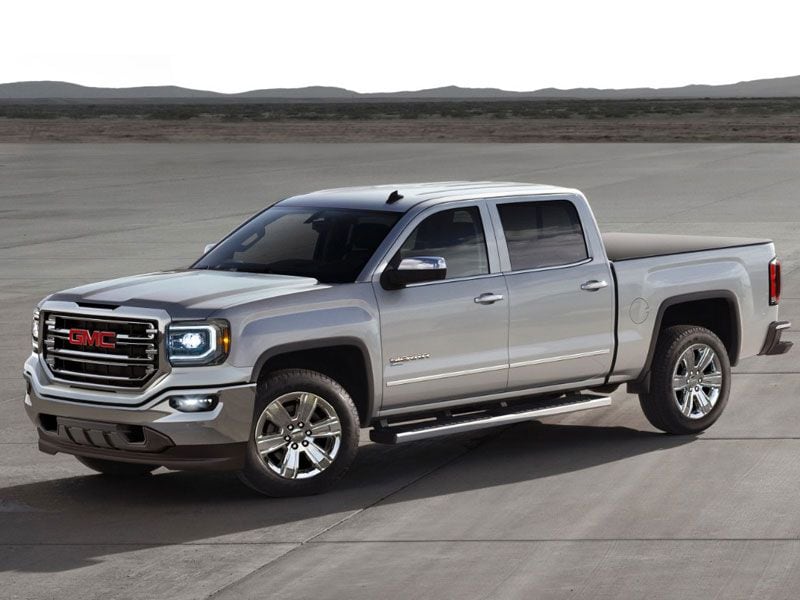 Photo by General Motors