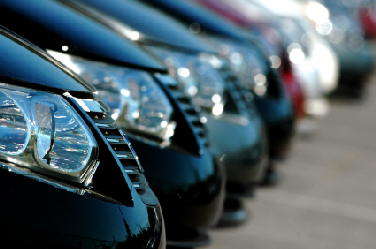 By and large, hybrid cars tend to be a bit on the small side in order to reduce vehicle weight and improve fuel efficiency. However, a small car doesn't suit the needs of all drivers. Thankfully, hybrid technology has been bleeding into the large vehicle markets for quite some time now. Review five of the biggest 2011 hybrid SUVs to find the one with enough room for your needs.
Among the mid-size SUV class, the Lexus RX 450h delivers a competitively sized interior. With all seats in use, the luxury hybrid SUV manages 40 cubic feet of storage. With the rear seats folded flat, real estate more than doubles to 80.3 cubic feet. The vehicle seats a maximum of five passengers, and most reviews suggest there isn't a cramped seat in the house. Luxury features such as leather seating and 10-way power adjustable front seats help bolster the vehicle's comfortable appeal. Base price for the Lexus RX hybrid is set at $43,935.
Learn more about the 2011 Lexus RX 450h.
The Highlander Hybrid competes directly with the Lexus RX 450h. When comparing the two, advantages of the Highlander include available third-row seating and a more affordable base price ($37,490). It also provides slightly more cargo room, with a maximum of 94.1 cubic feet. With 2nd- and 3rd-row seating in place, available space drops to 42.4 and 10.3 cubic feet, respectively. Though not quite as luxurious as the Lexus RX hybrid, the Toyota does come well-equipped with such standard features as Bluetooth, all-wheel drive and satellite radio.
Learn more about the 2011 Toyota Highlander Hybrid.
Hybrid engine or not, it doesn't get much bigger than the 2011 Chevy Tahoe Hybrid. With seating for up to eight passengers and a maximum of 108.9 cubic feet of storage (with rear seats folded flat), this is the hybrid option for those who truly need to spread out. However, keep in mind that cargo volume drops to 16.9 cubic feet when all seats are in use. Maximum fuel efficiency is estimated at 20 mpg in the city and 23 mpg on the highway. Given the vehicle's size, these figures are impressive. However, a base price of $50,735 may limit the hybrid's appeal with shoppers on a budget.
Learn more about the 2011 Chevrolet Tahoe Hybrid.
The Yukon Hybrid is the corporate cousin of the Chevy Tahoe Hybrid. As such, engine performance and available interior cabin space is identical (maximum 108.9 cubic feet of storage). It should also be noted that these large SUVs are two of the very few hybrid vehicles that have good towing capabilities. Properly equipped Yukon Hybrids can tow up to 6,200 pounds. For the most part, the Yukon is only cosmetically different to the Tahoe Hybrid. As such, consider taking a look at both to determine which one best suits your aesthetics. Base price for the Yukon Hybrid is $51,200.
Learn more about the 2011 GMC Yukon Hybrid.
Those looking for a luxury version of the Tahoe Hybrid will get exactly that from the 2011 Escalade Hybrid. The vehicle offers a maximum of 108.9 cubic feet of storage and a level of opulence that is hard to match in the luxury SUV category. Base models come standard with power rear liftgate, sunroof, remote ignition, leather-trimmed seats, memory system for the driver's seat, heated/ventilated front seats, tri-zone automatic climate control, rear DVD entertainment system and more. Given this long list of upscale features, car shoppers shouldn't be too surprised by the $73,840 base price tag.
Learn more about the 2011 Cadillac Escalade Hybrid.