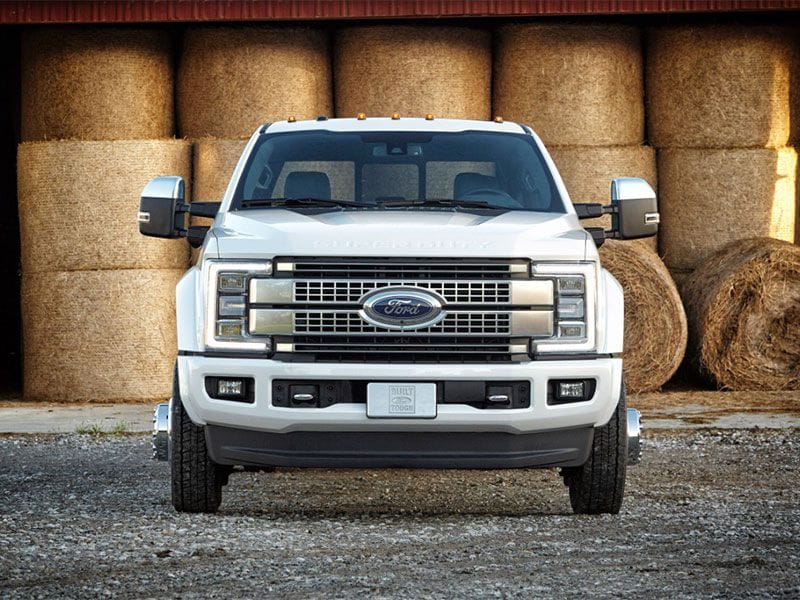 2017 Ford F450 Platinum front view grille ・ Photo by Ford
The brand-new 2017 Ford F-Series Super Duty family features the heavy-duty versions of the F-150 full-size pickup. No surprise, these robust new Super Duty trucks will follow the same groundbreaking path as the light-duty lineup: The redesigned Super Duty now makes extensive use of high-strength, military-grade alloy to reduce the truck's weight—by up to 350 lb. as compared to 2016 models—and then convert that advantage into improved capabilities. Indeed, the 2017 Super Duty sets new benchmarks for both towing and payload, with a little help also from an upgraded diesel engine that delivers best-in-class outputs.
Actually, there's so much new here that we've decided to break out the truck's benefits into five basic headings, beginning right beneath the hood.
1) 2017 Ford F-Series Super Duty: Improved Power
Blue Oval engineers fine-tuned both powerplants for the 2017 Ford F-Series Super Duty, providing the most torque in the segment for both gasoline and diesel engines, while additionally delivering a best-in-class grade for diesel horsepower. The 6.2-liter gas V8, for example, goes from 405 lb.-ft. of torque up to 430, with horsepower remaining steady at 385; the 6.7-liter Power Stroke turbodiesel, also a V8 and already supplying a best-in-class 440 horsepower, now kicks out a whopping 925 lb.-ft. of torque—that's a jump of 65 lb.-ft. vs. the 2016 powerplant.
To be clear, that massive diesel output is standard in all Power Stroke-equipped Super Duty pickups for 2017; some Ford rivals have differing standard outputs for their diesel models, so not all get the most power.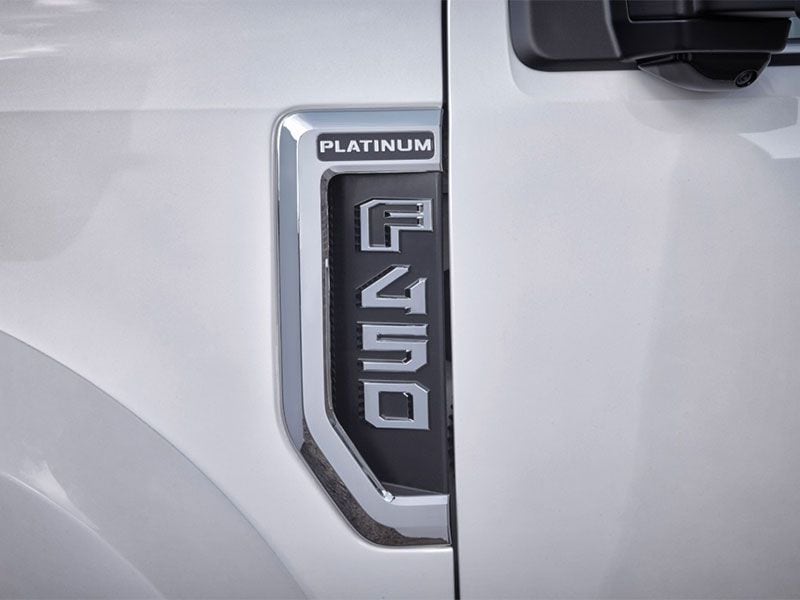 2) 2017 Ford F-Series Super Duty: Improved Hauling Capability
More important than all that power is what the 2017 Ford F-Series Super Duty can do with it—such as haul more weight than any of the competition. A lot more weight.
Consider the 2017 F-450: In its SuperCrew 4X4 configuration, it boasts a maximum tow rating of 32,500 lb. for gooseneck trailers. That's a 1290-lb. advantage over the Ford's next nearest rival, and that truck is a two-door regular cab that can't compete with the SuperCrew's interior accommodations. The F-450 sets the pace for fifth-wheel and conventional trailers as well, backed by ratings of 27,500 lb. and 21,000 lb., advantages of 2500 lb. and 1000 lb, respectively.
Further, the F-250 and F-350 (non-dually models) are bumped to best-in-class towing grades of 18,000 lb. for conventional trailers.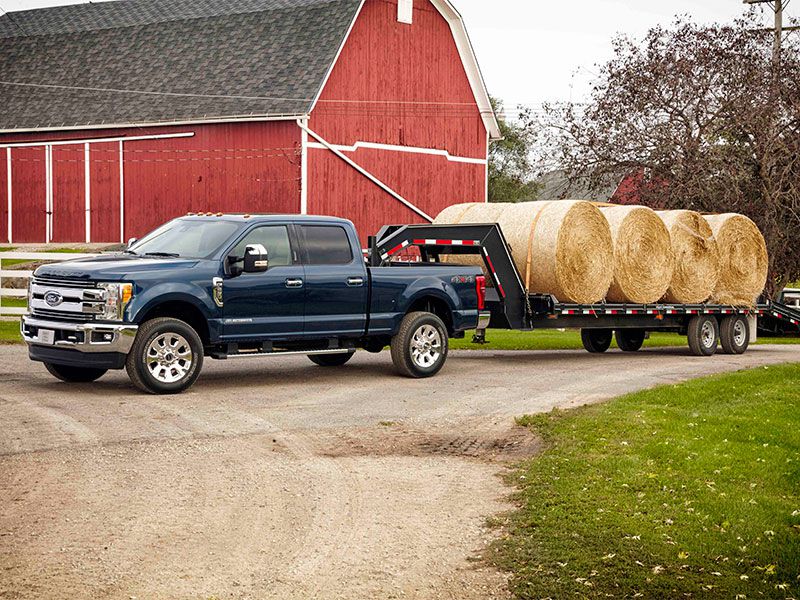 Photo by Ford
2) Improved Hauling Capability (Continued)
Of course, some people prioritize the pulling power needed for massive payloads, so the 2017 Ford F-Series Super Duty furnishes plenty of that, too. The F-250, for instance, is rated as able to handle 4,200 lb. of payload—which refers to how much total cargo weight, including passengers, fluids, etc., a truck is able to carry without a trailer. Not only is that a class-leading total for the Ford, it also works out to a healthy 14.3 percent advantage over its closest competition. Meanwhile, the 2017 F-350 has the highest payload rating of any HD pickup: 7640 lbs. In all models, the Ford trucks are configured with a standard TorqShift 6-speed SelectShift automatic transmission, although the gas-engine F-250 welcomes an all-new version for "improved fuel economy and capability."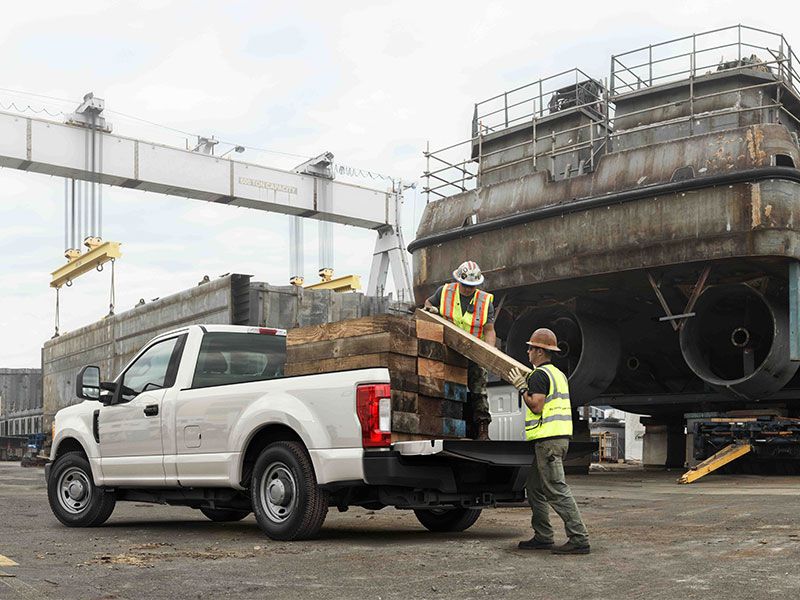 Photo by Ford
3) 2017 Ford F-Series Super Duty: Improved Towing Technology
Peter Parker once said, "With great power comes great responsibility." That's advice Ford has taken to heart in creating the new 2017 Ford F-Series Super Duty. Thus, the truck's incredible towing power is bolstered by the automaker's Trailer Reverse Guidance system and an array of seven digital cameras, including:
• One on the tailgate and one in the grille, facing forward • Two rear-facing, side-view cameras that can show the trailer as it begins to angle away from the truck when backing up • A camera located near the vehicle's center high-mounted stop light, from where it can show the cargo box and help guide trailer hookups • One for the truck's available lane-departure warning • A separate, Ford-provided camera that customers can mount on the back of the trailer itself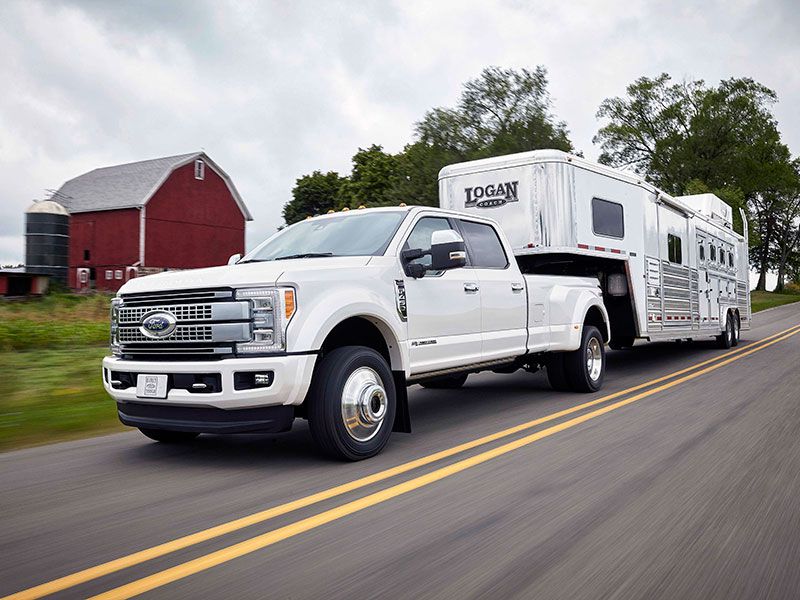 Photo by Ford
3) Improved Towing Technology (Continued)
Three of those cameras also are used in the new Super Duty's Trailer Reverse Guidance system. This technology was inspired by the Pro Trailer Backup Assist that's available for the F-150, and although the setup for the 2017 Ford F-Series Super Duty doesn't have that handy steering knob found in the light-duty truck, it does have patents pending on a few of its own goodies. Take the truck's illuminated steering-wheel icon that reminds drivers which way to turn when backing up (since the trailer goes in the opposite way from which the steering wheel is turned). Also, in the mix with the Super Duty system is a color-coded, bird's-eye-view graphic that can alert drivers to potential jack-knife scenarios.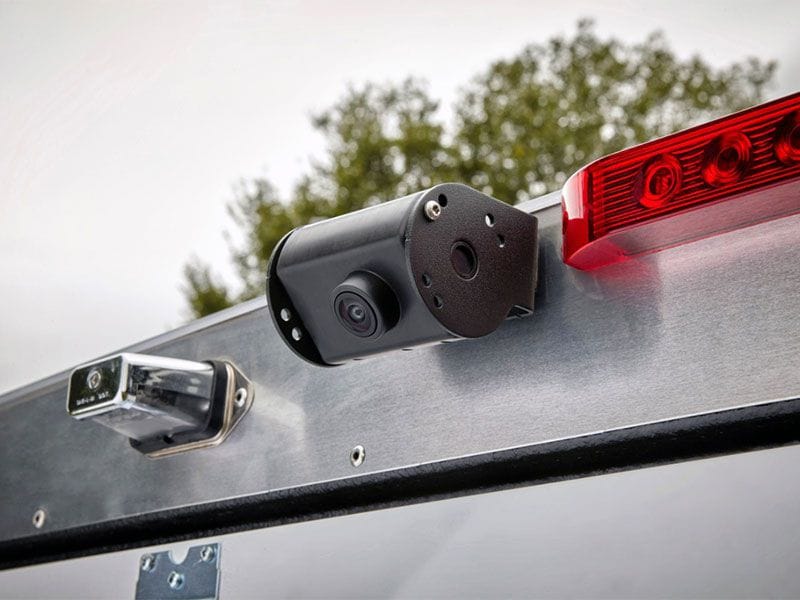 Photo by Ford
4) 2017 Ford F-Series Super Duty: Improved Safety
Ford also has put much effort into satisfying customer demand for modern-day safety measures in today's pickups. In the light-duty pickup segment, remember, the F-150 is the only full-sizer to earn Top Safety Pick recognition from the IIHS. Leveraging that expertise for the 2017 Ford F-Series Super Duty, Ford has deployed cutting-edge, car-style safety systems such as adaptive cruise control, collision warning with brake support, and Ford's BLIS Blind Spot Information System. Further, keeping in mind the Super Duty's superior towing capacity, Ford engineers have enhanced these technologies to take into account trailering.
A case in point: the adaptive cruise-control tech. It can engage both the truck's stopping power and the trailer brakes, so Ford reports that it's effective even at the top of each pickup's tow ratings.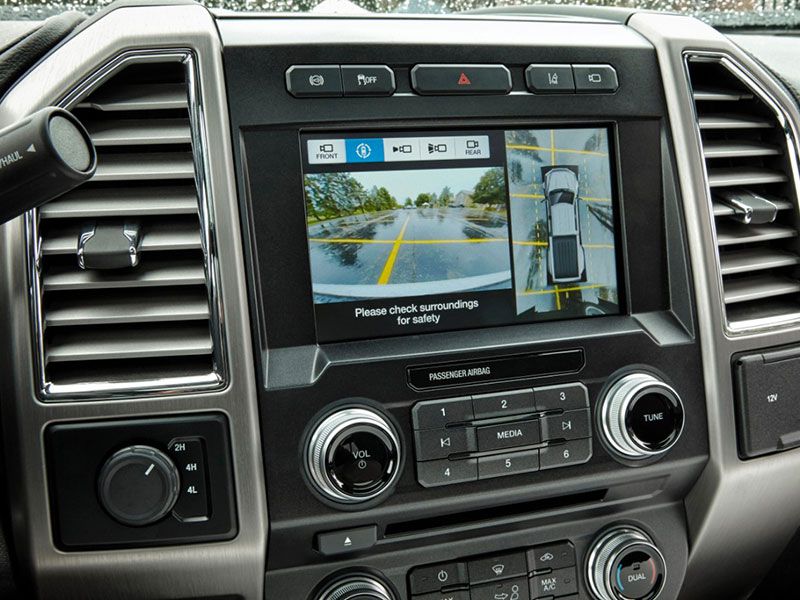 Photo by Ford
4) Safety Improvement (Continued)
Along with those just-mentioned systems—and the safety benefits of the truck's digital cameras and trailering technologies—the 2017 Ford F-Series Super Duty also has a variety of other class-exclusive occupant-protection measures, such as inflatable seatbelts for the rear outboard seating positions, which blend the benefits of traditional seatbelts and airbags. According to Ford, they are designed to help reduce head, neck, and chest injuries for rear-seat passengers."
Another bright spot for truck owners: the 2017 Super Duty offers new factory-installed LED strobe warning lights that are ideal for utility and construction applications. No drilling is needed, allowing trucks to retain their corrosion warranties, plus the lights are visible from a 1000 feet away in daylight—and from up to a mile away in the darkness.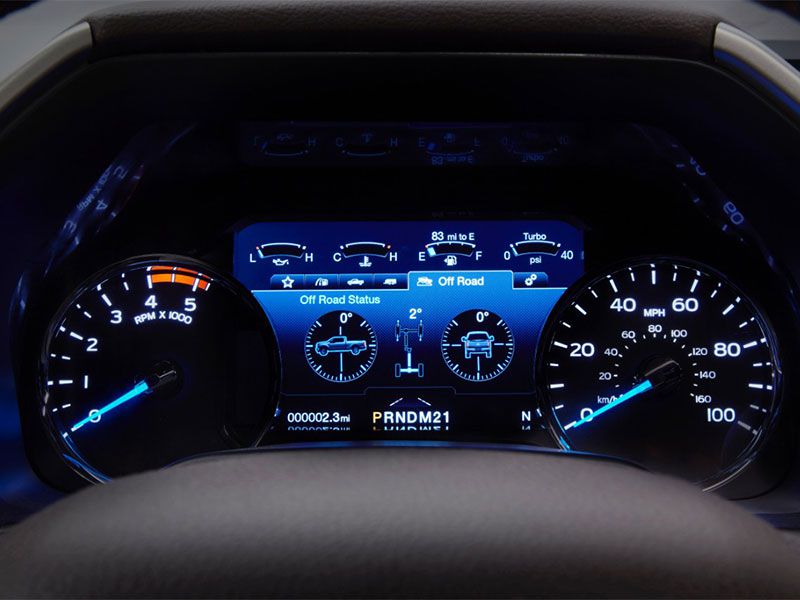 Photo by Ford
5) 2017 Ford F-Series Super Duty: Improved Luxury Packages
Yes, the 2017 Ford F-Series Super Duty is one of the most capable vehicles on the planet, and it will certainly get put to the test by its owners. But some drivers are going to want to go to work in style, so the Super Duty also will bring a new option to its ultra-lux King Ranch and Platinum editions. These pickups already packed a wide range of premium amenities in their previous model years, but for 2017 Ford has really upped the ante with its multi-contour front seats with Active Motion massage functionality. Yet at the same time, those cabins can be made more work friendly, thanks to a new vinyl flooring option with unique King Ranch and Platinum designs.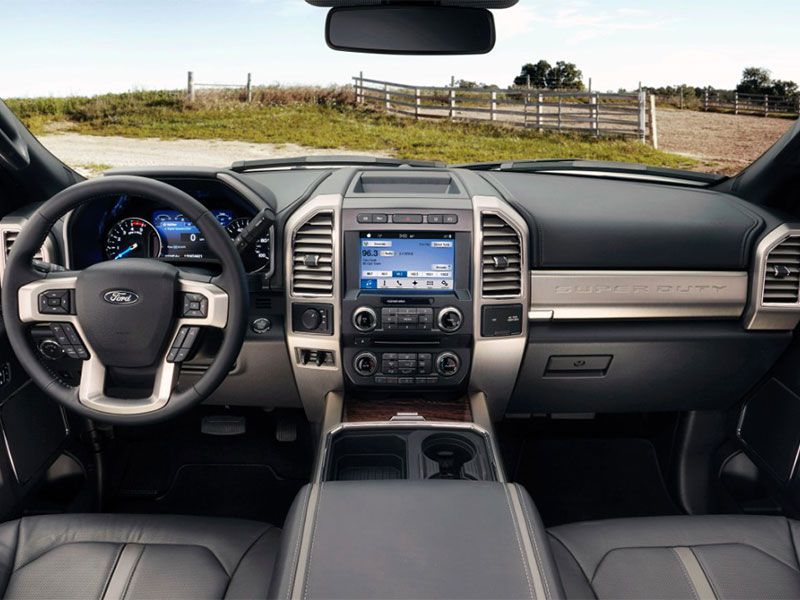 Photo by Ford