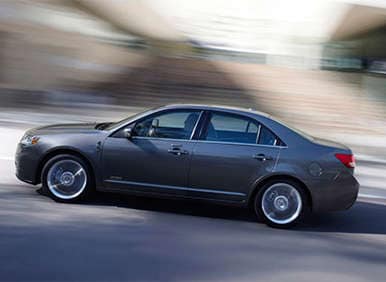 If you're looking for a fuel-efficient car that also delivers oodles of high-tech equipment, then there are several hybrid cars out there that fit the bill. Given the advanced technology under the hood, hybrids often boast a good assortment of interior gadgets for the tech-junkie to enjoy. Keep reading to review a few of the most high-tech 2011 hybrid cars.
The brand-spanking-new Lincoln MKZ Hybrid is positioned as an entry-level luxury hybrid that comes with a base price of $34,330. Compared to other luxury hybrid options, the MKZ Hybrid offers one of the better values in terms of technology. Base models come well-equipped with a nine-speaker stereo, six-CD changer, satellite radio, rear parking sensors and front seat memory functions. The coup de grace is Ford's much-loved voice-activated Sync technology, which allows passengers to verbally control the stereo and Bluetooth-linked devices.
The MKZ Hybrid offers 41 mpg in the city and 36 mpg on the highway. Available upgrades include 14-speaker surround sound stereo, blind-spot warning system, rearview camera and hard-drive navigation with digital music storage.
Learn more about the 2011 Lincoln MKZ.
If you can't quite stomach the MSRP of the Lincoln MKZ Hybrid, then the Ford Fusion Hybrid may be a good alternative. As a fellow Ford vehicle, the Fusion Hybrid is available with much of the same high-tech features found on its luxury counterpart. Base models start at $28,240 and include rear parking sensors, automatic headlamps, six-speaker stereo, CD/MP3 player, satellite radio and Ford Sync. Ford's MyKey technology also comes standard and allows parents to set limits on audio sound level and maximum mph to improve safety for teenage drivers.
A 12-speaker stereo, rearview camera, blind-spot warning system, voice-activated navigation and digital hard drive are available as upgrades. The Fusion Hybrid earns an estimated 41 mpg in the city and 36 mpg on the highway.
Learn more about the 2011 Ford Fusion Hybrid.
While the base model Toyota Prius isn't exceptionally tech-savvy, there are a number of upgrade options that serve to dramatically boost the vehicle's tech-junkie street cred. For example, the available Navigation package includes a touchscreen navigation system with voice-activated controls, Bluetooth music streaming, rearview camera, iPod and USB connectivity and a four-CD changer. The Advanced Technology package also adds adaptive cruise control, lane-departure warning system and automated self-parking.
The Prius earns 48 mpg in the city and 51 mpg on the highway. Tech-laden models start around $28,000.
Learn more about the 2011 Toyota Prius.
Priced at $43,935, the Lexus RX 450h SUV doesn't fit the budget of everybody. However, if you can afford it, this hybrid SUV comes loaded with a number of great tech features. Base models include keyless ignition, Bluetooth, nine-speaker stereo, six-disc CD changer, iPod input and satellite radio. Available options include power tailgate, driver seat memory, rain-sensing wipers, side-view cameras, hard-drive navigation with voice control, a remote touch interface, back-up camera, adaptive cruise control, rear-seat DVD entertainment with two headrest mounted displays and a 15-speaker Mark Levinson stereo.
The Lexus RX 450h promises to deliver 32 mpg in the city and 28 mpg on the highway.
Learn more about the 2011 Lexus RX 450h.
The electric-range Volt is no ordinary hybrid car. Besides having a technologically advanced powertrain that can operate on pure electric power for approximately 35 miles, the Volt also comes equipped with a number of tech-savvy features. These features include standard remote ignition, Bluetooth, OnStar, voice-activated touchscreen navigation, 30GB digital music hard drive, iPod/USB connectivity and six-speaker Bose stereo. A rearview camera and parking sensors are also available.
The Chevy Volt comes with a base MSRP of $40,280.
Learn more about the 2011 Chevrolet Volt.