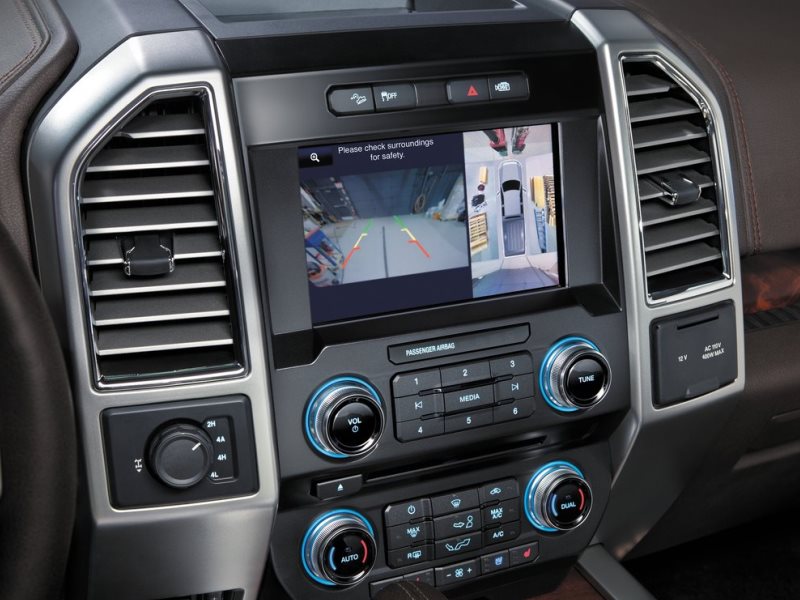 2016FordF-150misc2
The 2016 Ford F-150 has attracted a lot of attention for its all-aluminum body construction, EcoBoost drivetrains, and long list of available luxuries, but lost in the shuffle is that this full-size pickup remains a formidable tool for conquering off-road trails. Single-cab, short-box models are of course ideal for keeping up with the Jeeps and Land Rovers out on the trail, but even if you're behind the wheel of a cushy four-door King Ranch or Platinum edition F-150, you've still got access to the kind of gear that makes dealing with mud pits, shallow streams, and the occasional boulder a piece of cake. Let's take a quick look at five Ford F-150 features that help make it an off-road warrior.
1. Low-Range Four-Wheel Drive
Say the word 'off-road' to most truck owners and the first thing that pops into their head is 'four-wheel drive.' By distributing engine torque to both the front and rear axles, the four-wheel drive system in the 2016 Ford F-150 maximizes traction even in the slickest of driving situations. The low-range four-wheel drive available in the F-150 goes beyond the 'always-on' nature of an automatic 4x4 setup to deliver better torque multiplication at low speeds. Otherwise known as '4 Low,' you won't find yourself traveling much faster than three to five miles per hour with this setting engaged. In fact, it's not the best choice for escaping a mud-slicked trail or dealing with ice, really, due to all that extra torque that's finding its way to the wheels. Where low-range four-wheel drive comes in most handy is in dealing with situations where you want to carefully crawl forward, such as when dealing with a rocky field or narrow pass. It's also great for getting a heavy trailer started while towing, especially when camping.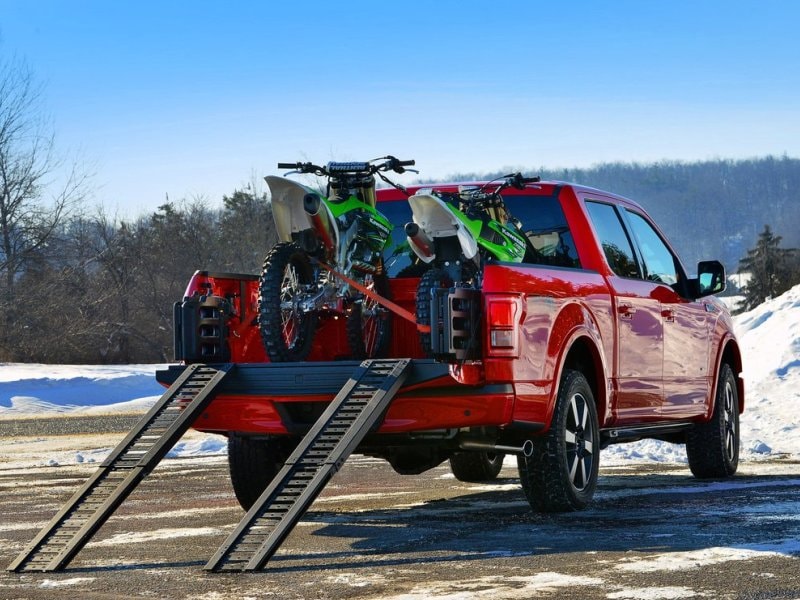 Photo by Ford
2. Electronic-Locking Rear Differential
Even in a four-wheel drive vehicle, you want to make sure to minimize rear wheel spin to preserve your forward momentum out on the trail. When equipped with an electronic-locking rear differential, the 2016 Ford F-150 can lock both the rear wheels together when the four-wheel drive system is engaged (using either high or low-range settings). Working together with electronic stability control, this prevents one rear wheel from spinning more rapidly than its twin, evenly distributing engine torque and helping you keep control of the F-150 in low-traction conditions. The electronic-locking rear differential is activated by a knob on the dash, and is even available on some two-wheel drive versions of the full-size pickup.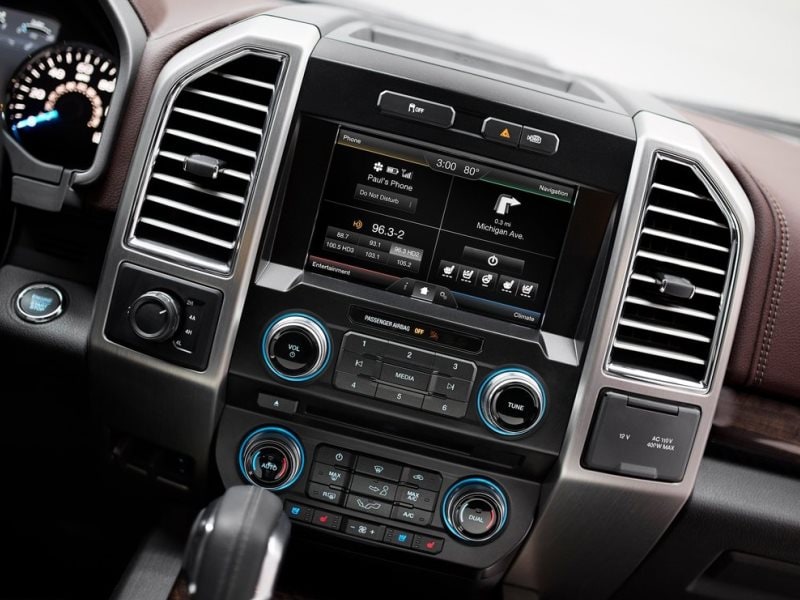 3. 360-Degree Camera System
Visibility is key to avoiding a gouged tire or hidden hazard when driving off-road, and in a large vehicle like the 2016 Ford F-150, it can be particularly challenging to keep an eye on sharp rocks or looming potholes. The 360-degree camera system offered by the Ford F-150 is primarily aimed at assisting you with parking - but that doesn't mean you can't make use of it while driving off-road. The four cameras that come with the feature are integrated into each of the side mirrors as well as the tailgate and the front grille, giving you a commanding view of the area immediately surrounding the truck (by way of the center console LCD screen). Think of the system as a digital spotter, walking just ahead of you on the trail at all times.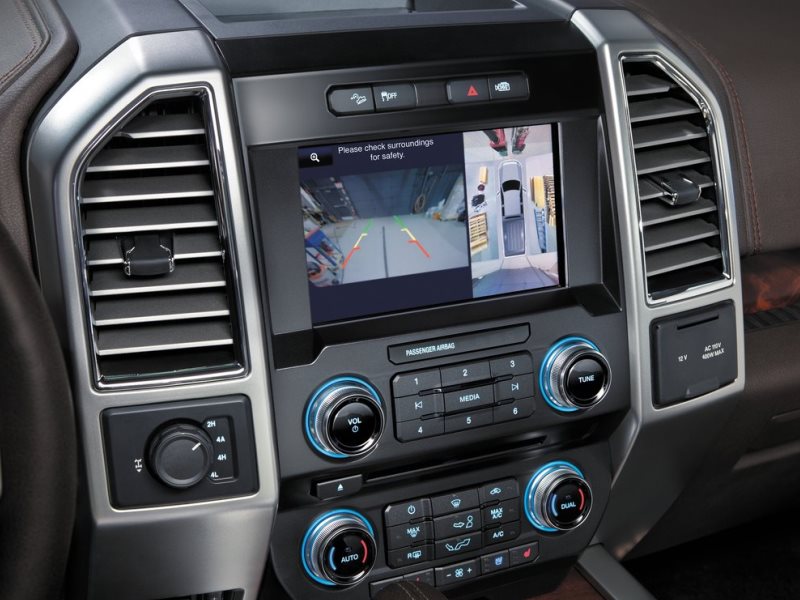 4. Hill Descent Control
Sometimes low-range gearing isn't enough to keep your speed steady and safe when traversing down a long declining off-road section. The 2016 Ford F-150 can be ordered with a hill descent control system that takes over the truck's braking when activated, meaning you can take your foot off the pedal and instead concentrate on safely steering the vehicle where it needs to go. By automatically applying braking pressure when needed, the hill descent control feature can be thought of as off-road cruise control, allowing you to program in the speed you want to travel (up to 20-mph). It also works in both forward gear and reverse, which means you can get yourself into and out of trouble with ease.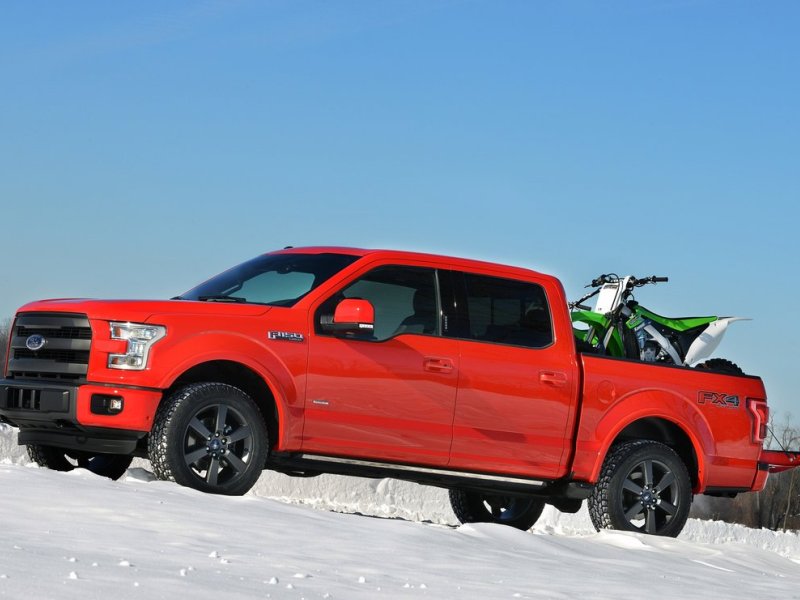 5. FX4 Off-Road Package
Many of the above features - including hill descent control and the electronic-locking rear differential - can be grouped together in the 2016 Ford F-150's FX4 Off-Road package. FX4 Off-Road editions of the F-150 also benefit from the most rugged suspension setup available from Ford, giving it the ability to absorb a wider range of punishment when leaving the pavement behind and benefit from additional ground clearance not offered on standard versions of the truck. To help keep the pickup safe out on the trail, the FX4 package includes skid plates that protect the front differential and transfer case, as well as the gas tank.