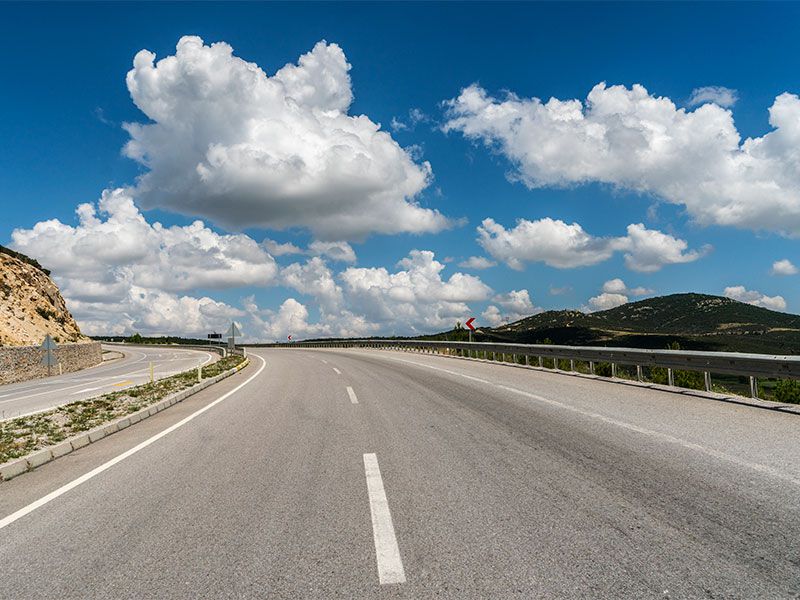 iStock road trip open road
For many people, summer = road trips. The chance to hit the open road, travel on your own time, and — best of all — skip out on the long security lines and general hecticness of the airport is a great way to vacation. Not surprisingly, we happen to think that the journey is just as important as the destination. So what car should you bring? We've got some fresh ideas and worthy contenders, so read on to see what features most appeal to you and what cars you should consider before hitting the road this summer.
1. Set it and forget it.
Are you a cruiser at heart? The all-new is one of the cushiest non-luxury sedans you could take with you on a road trip. Its latest makeover makes the Altima more stylish, spacious, and satisfying than ever. There's a lot to love about the Altima, including the new addition of all-wheel drive to the lineup, but for road trips, we think the ultimate luxury is Nissan's .
ProPilot Assist is a semi-autonomous system that keeps the driver fresher by helping with acceleration, steering, and braking input. This system will not drive for you, but it will keep you centered in your lane and a safe distance from the car in front of you. Imagine the perfect cruise control — you set it at the speed you desire, and the system will maintain that speed, or decelerate and/or brake if needed. It also has traffic sign recognition, which helps you to always be aware of posted speed limits. After all, not much ruins the spirit of a road trip more than a speeding ticket.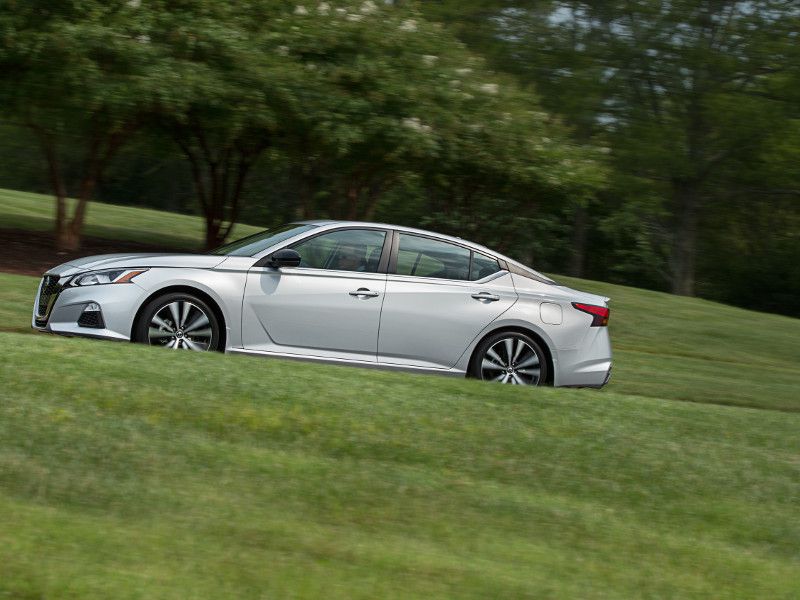 Photo by Nissan
2. Unplug, but stay connected.
Lots of times, a road trip gets us out and away from it all. Especially when the car has a premium sound system and a lavishly plush interior like the does. The G70 is sure to satisfy any drivers looking to lose themselves on the open road, thanks to its engaging driving dynamics and multi-adjustable seats for optimum comfort. But it's always good to have some backup.
The system provides multiple features to increase convenience and safety while you're on the road, if you need them. If you lose your way, you can search for your next destination using voice commands and Google, and you can also start the car (and the air-conditioning!) remotely before heading off on your next adventure. But most importantly, Genesis Connected Service comes with a complimentary three-year subscription that provides advanced roadside assistance and SOS Emergency & Automatic Collision Notifications for extra peace of mind, should something happen. So even if you're headed off the grid, the G70 can keep you connected for emergencies.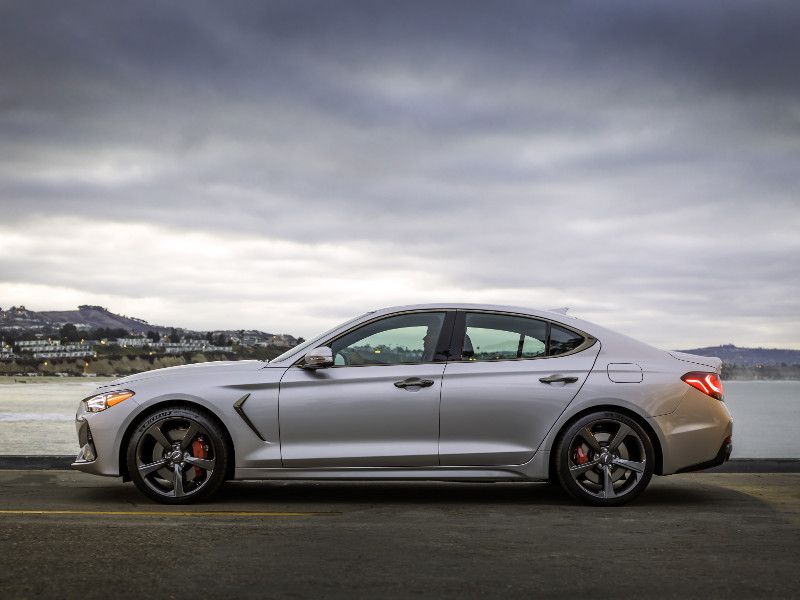 Photo by Genesis
3. A helpful eye to keep you fresh and comfortable.
Some might think this is a no-brainer, but the is the ultimate road trip vehicle. Aside from its spacious cabin, all-wheel drive chops, and general outdoorsy vibe, we think the feature that really shines is Subaru's safety tech suite. Especially for those packing mega miles into one day, DriverFocus uses facial recognition technology to identify driver fatigue. The system, which also keeps an eye on you and monitors driver distraction, will use audio and visual alerts to tell you if it thinks you're getting tired or not paying attention.
Even better: If you are sharing driving shifts, the system will allow you to set up different driver profiles. Once the new person slides in behind the wheel, the facial recognition system scans the new driver, puts up a neat welcome message on the front dashboard, and returns the seating and mirror positions to their preferred positions. This is a big time-saver — you don't have to waste time constantly setting and recalibrating time after time, and that means more time to concentrate on your trip and travel buddies.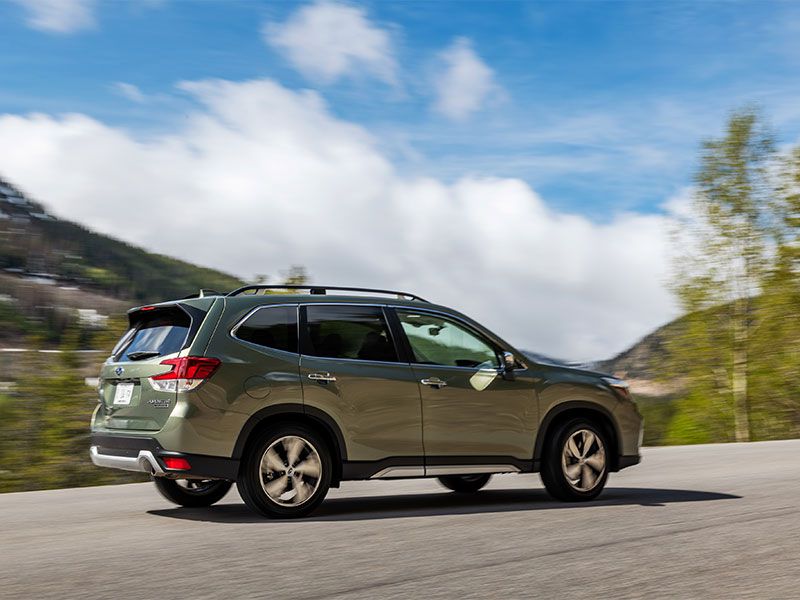 Photo by Nate Leach-Proffer
4. Multiple drive modes to suit any driver.
We all have different driving styles and preferences. Some of us enjoy the opportunity to cruise, while others prefer a more lively experience. Whether you're meandering down Route 66 or racing off to Vegas, the will deliver one of the most exciting rides you've ever had, no matter the circumstance.
We're hard-pressed to think of a sexier sport sedan than the Giulia. Its gorgeous styling will turn heads on the highway, and its unique badge will garner lots of questions from other drivers in the parking lot. However, we think the is the perfect way to fully customize your experience on the road. The Giulia has three drive modes to choose from: Dynamic, Natural, and Advanced Efficiency. As you can imagine, if you're trying to save a little gas and minimize stops at the pump, you can choose the Advanced Efficiency mode. If you want to just savor the open highway, stay in Natural mode. And, of course, to liven things up and unleash the Giulia's full power, choose Dynamic mode — you won't be disappointed!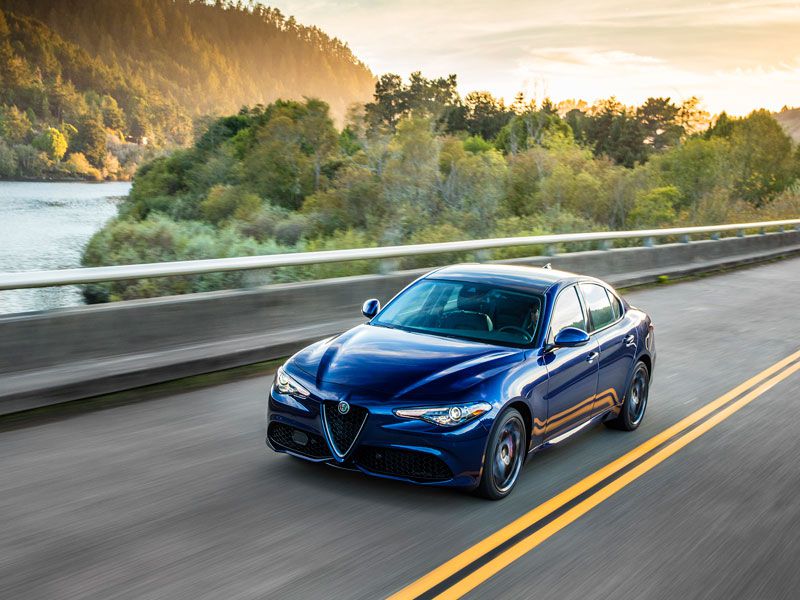 Photo by Fiat Chrysler Automobiles
5. Keep it manual.
Finally, if you're old school — or just happen to appreciate the mechanics of a perfect , consider the . Don't be fooled by its exterior appearance — it may look like a raging beast, but the Type-R is a surprisingly smooth ride. Its front limited-slip differential maximizes front-end grip for cornering on those tight mountain roads, and its smooth, confidence-inspiring shifting will put a smile on your face as you conquer each mile.
The interior of the Type-R is also conducive to comfort and control; the thick, flat-bottom steering wheel is easy to grip and maneuver, while the racing-style high-bolstered seats cradle and support you as you carve the corners. No road trip with the Type-R will be anything short of exhilarating, and that manual transmission will no doubt be one of the easiest you've ever piloted.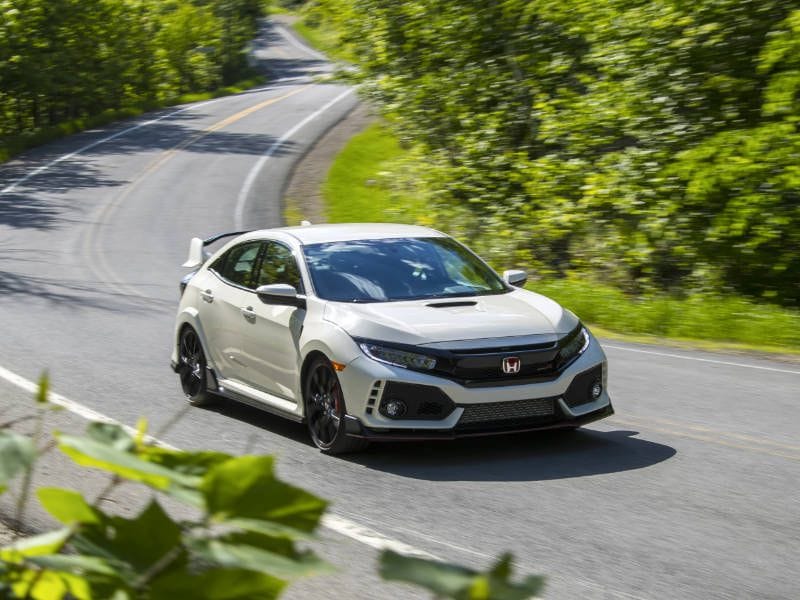 Photo by Honda