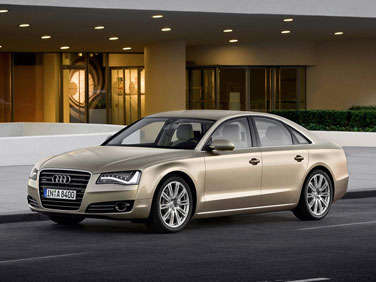 Elite luxury sedans offer some of the most impressive power, comfort and high tech features to be found in the entire automobile industry. These vehicles often represent the pinnacle of engineering development for their respective brands, transforming them into rolling showcases of just how much can be accomplished on an automotive canvas. Buyers of these four-door sedans expect the best and are often only satisfied with what can be termed a "super-premium" ownership experience – a feature that luxury car companies are all too willing to provide.
Let's take a look at five elite luxury sedans and briefly examine what each brings to the table.
01. 2011 Jaguar XJ
The 2011 Jaguar XJ takes the British luxury brand's long history of opulent comfort and impressive performance and brings it into the 21st century with a completely redesign. Sporting an aerodynamic look that abandons the squared-off proportions of past Jaguar XJ models, the 2011 edition comes in both standard and extended (XJL) wheelbases and offers features such as an adaptive suspension system, a voice-controlled navigation system, heated and cooled leather seats front and rear and a massage feature for those sitting up front.
The 2011 Jaguar XJ provides three engine options. The entry-level sedan offers a 385 horsepower, 5.0-liter V-8 that also generates 380 lb-ft of torque. The Supercharged adds a blower to puff up the sedan's chest with 470 horses and 424 lb-ft of torque, while the Supersport turns up the boost to ultimately provide 510 horsepower and 461 lb-ft of torque. A six-speed automatic transmission with steering wheel-mounted paddle shifters is standard with each power plant.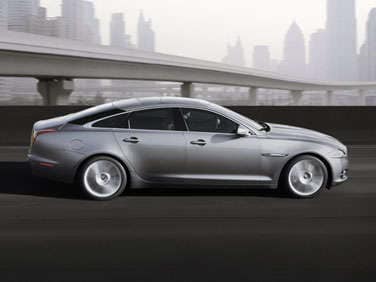 02. 2011 BMW 7 Series
The 2011 BMW 7 Series does an excellent job of balancing the automaker's commitment to providing owners with the ultimate driving experience while still coddling both pilot and passengers in the lap of luxury. The BMW 7 Series combines performance equipment such as available active four wheel steering, active roll stabilization and active front seat bolsters with the decadence of an extended wheelbase (Li trim), infrared night vision, active cruise control and a full leather cabin treatment.
The 2011 BMW 7 Series also delivers when it comes to horsepower, starting out with a 315 horsepower, twin-turbo 3.0-liter inline six-cylinder engine (BMW 740i), then moving to a 4.4-liter, twin-turbo V-8 that puts out an impressive 400 ponies and 450 lb-ft of torque (750i, 750Li). Each of these motors is matched with a six-speed automatic transmission. The BMW 760Li trumps both the six and eight-cylinder options with a 12-cylinder motor of its own, also boasting twin turbochargers and throwing down 535 horsepower 550 lb-ft of torque. The top of the line BMW 7 Series additionally gains an eight-speed automatic gearbox, and all-wheel drive is available with both the V-8 and V-12 engines.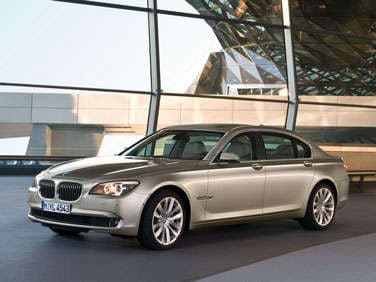 03. 2011 Audi A8
The 2011 Audi A8 features a redesign that is bigger, bolder in terms of styling and more technologically advanced than previous versions of the car. The Audi A8 has been expanded in almost every dimension in order to improve passenger room, and the A8 L stands at the top of the luxury extended wheelbase ladder in terms of size. Heated and ventilated seats offering massage functions, four zones of automatic climate control and even a refrigerator are some of the items that can be found on the Audi A8's equipment list.
The 2011 Audi A8 comes with a single engine option, a 4.2-liter V-8 that provides 372 horsepower and 328 lb-ft of torque. An eight-speed automatic transmission handles the gear shifting duties, and quattro all-wheel drive is standard. A special torque-vectoring system can also be installed to help better distribute the A8's power during hard cornering.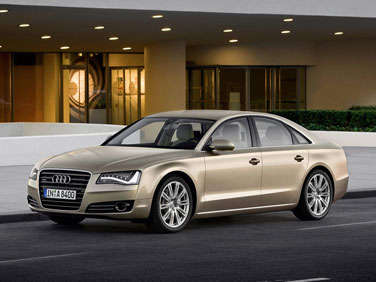 04. 2011 Mercedes-Benz S-Class
The 2011 Mercedes-Benz S-Class has long served as a shining example of what a full-size luxury sedan should be. Spacious, feature-laden (including a full raft of advanced safety equipment such as adaptive cruise control, a lane-departure warning system, night vision and the PreSafe crash detection system) and elegantly styled, the Mercedes-Benz S-Class continues to dominate the wish lists of many executive car shoppers.
The 2011 Mercedes-Benz S-Class starts out with a 5.5-liter V-8 engine in the S550 (382 horsepower, 391 lb-ft of torque), which comes with a seven-speed automatic transmission and the option of all-wheel drive. The vehicle also comes in twin-turbo V-12 (510 horsepower, 612 lb-ft of torque, five-speed auto tranny) and hybrid editions (3.5-liter V-6, 295 horsepower, seven-speed autobox), as well as two AMG high performance sport models: the S63 and the S65.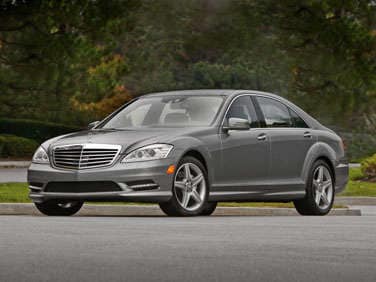 05. 2011 Lexus LS
The 2011 Lexus LS has quietly gathered momentum in the high end sedan segment every single year since its initial introduction twenty years ago. The Lexus LS provides rock-solid reliability combined with a glass-smooth ride and the availability of an extended wheelbase (L) edition. The LS offers items such as an available adjustable air suspension system, massaging heated and ventilated leather seats, a Sport package that includes upgrade brakes and a suspension upgrade as well as a reclining rear "sleeper" seat through the Executive-Class Seating Package.
The 2011 Lexus LS comes in both traditional gasoline-powered and hybrid models. The LS 460 derives 380 horsepower and 367 lb-ft of torque from a 4.6-liter V-8, managed by an eight-speed automatic transmission. According to Lexus, the 600h L offers "V-12 power with V-8 fuel consumption" thanks to its battery-assisted 5.0-liter, eight-cylinder engine that puts out 438 horsepower. All-wheel drive is standard on the 600h L, and optional on the LS 460.