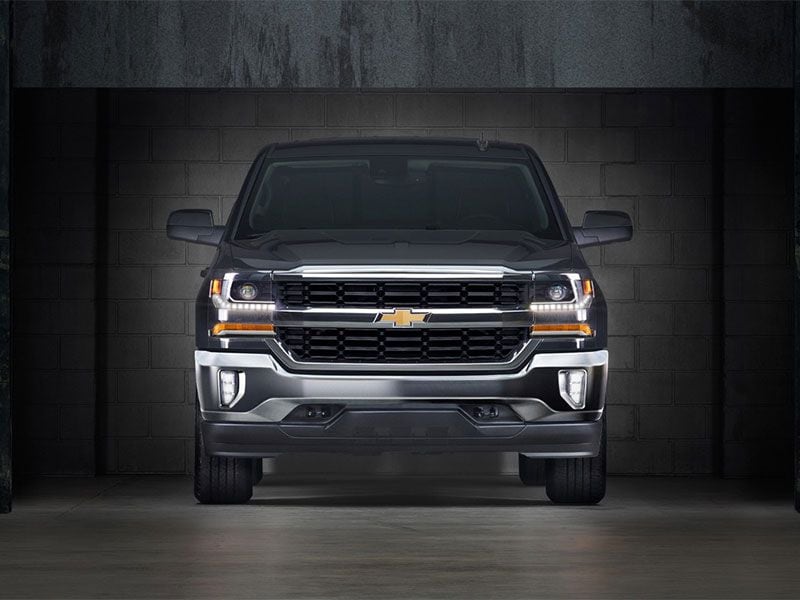 2016 Chevrolet Silverado front grille
Chevrolet Silverado special editions help provide a significant competitive edge for the Bowtie brand, which has been a leader in bringing custom-look trucks to the full-size pickup segment. And that's in terms of both quality and quantity. Here are Autobytel's choices for the top 5 special-edition Silverado pickups for 2016. They all offer core Chevy technologies such a mobile Wi-Fi hotspot and smartphone-integration support for Android Auto and Apple CarPlay, but each also showcases a unique package of style upgrades to help customers stand out from the new wave of pickup owners.
The Silverado Rally Edition (part 1)
Not all Silverado special editions are for the most expensive trim levels. For instance, the Rally 1 package for the 2016 Chevrolet Silverado is for the Custom trim, which provides an affordable alternative for double-cab pickups. This is the mid-level grade of the Silverado's seven-trim roster, and its MSRP of $34,250 covers standard content such as a 6-speaker audio system, Bluetooth connectivity, cruise control, cab-mounted cargo box lighting, heated exterior mirrors, and Chevy's CornerStep rear bumper. The Rally 1 bundle then serves up a dash of flair for an additional $1095. More specifically, drivers enjoy black striping on the hood and sides of the truck, with those graphics set off by 20-inch black-painted aluminum wheels and a black Bowtie emblem.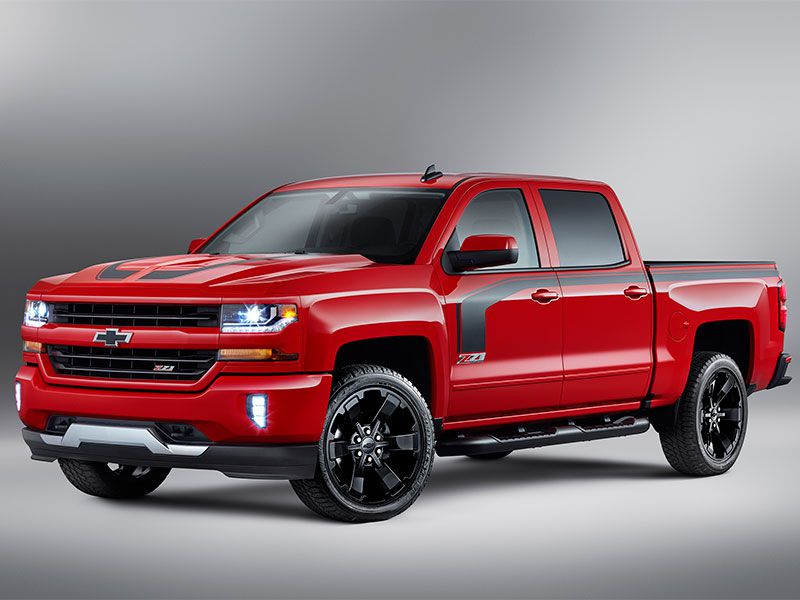 The Silverado Rally Edition (part 2)
The Rally package has been so popular among the Silverado special editions that Chevy also supplies one to appeal to off-road enthusiasts: The Rally 2 option is for double- and crew-cab LT Z71 models, which combine the premium amenities of the up-level LT trim with the Bowtie brand's iconic Z71 hardware. In other words, it's a truck that boasts a standard leather-wrapped steering wheel and a MyLink infotainment system with an 8-inch touchscreen, yet it's ready to rock off-road with a specially tuned suspension, Rancho shocks, skid plates and an automatic locking rear differential. Black Rally graphics complement those rugged cues, as do massive 22-inch gloss-black wheels, all-terrain tires, 4-inch round assist steps (also black), and a spray-on bedliner.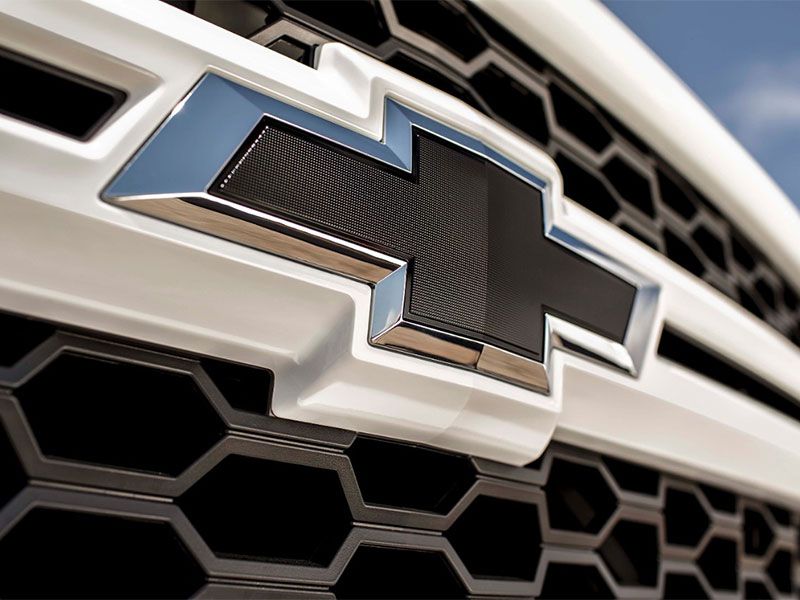 The Silverado Midnight Edition (part 1)
Bold blackout styling defines two different Silverado special editions, and the Midnight models are especially dramatic. Available solely on black-painted trucks—of course—the package goes all-in on dark details such as black door handles, bowtie emblems, exterior moldings and mirror caps, and the front skid plate and 5-spoke alloy wheels are black as well. To build on the Z71 off-road package that's standard with the Midnight setup, those 18-inch wheels are wrapped in trail-friendly Goodyear Wrangler DuraTec tires. Advanced Rear Park assistance also is included in the package.
Further, the package itself can be ordered for three distinct grades of the 2016 Chevrolet Silverado: double-cab LT Z71 trucks, crew-cab/short-box LTZ Z71 models, and the 2500HD LT Z71 crew cab.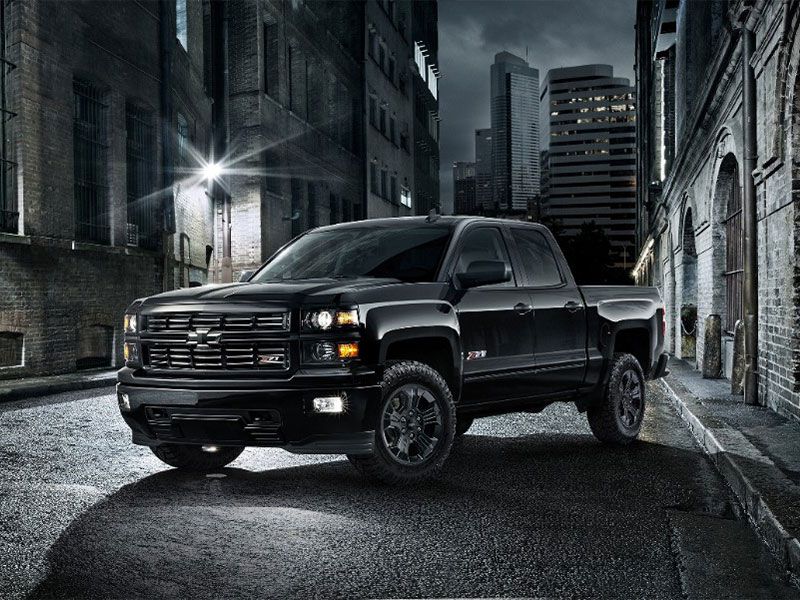 Photo by General Motors
The Silverado Midnight Edition (part 2)
The Midnight-themed 2016 Chevrolet Silverado special editions all feature standard Z71 off-road components for improved capability in rough terrain, all are configured with standard all-wheel drive, and each delivers its own tailored trim-based content. The double-cab LT Z71 truck is highlighted by a Chevy MyLink infotainment system, with the larger, 8-inch touchscreen, Bluetooth connectivity, and six audio speakers.
In the LTZ Z71 versions, there are premium cues that range from a standard rear-vision camera to a remote vehicle-starting system to a leather-wrapped multi-function steering wheel.
Finally, the Silverado 2500HD Midnight ups the ante with true heavy duty functionality and an available 6.6-liter Duramax diesel. With that powerplant under the truck's blacked-out hood, owners leverage an 18,000-lb. tow rating for gooseneck trailers.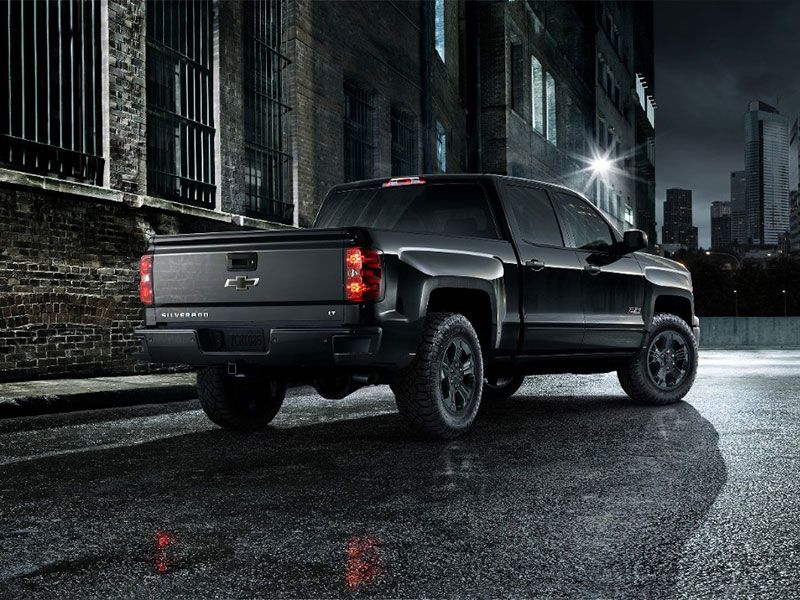 The Silverado Realtree Edition (part 1)
While a number of Silverado special editions are backed by a Z71 offroad package, perhaps none puts it to better use than the 2016 Chevrolet Silverado Realtree Edition. Designed in partnership with the trusted Realtree camouflage and hunting experts, this truck was created both for hunters and to help them get out on the trail—taking full advantage of the Z71 suspension enhancements, underbody shielding, monotube shocks, and 4-wheel drive.
Both the exterior and the cabin get their share of Realtree graphics, including a camo pattern and logos; a particularly sharp touch is the black-leather seating with Realtree logos embroidered into the front-seat headrests. Also black are the bold 20-inch wheels, the exterior Chevy Bowtie emblems, and the off-road assist steps.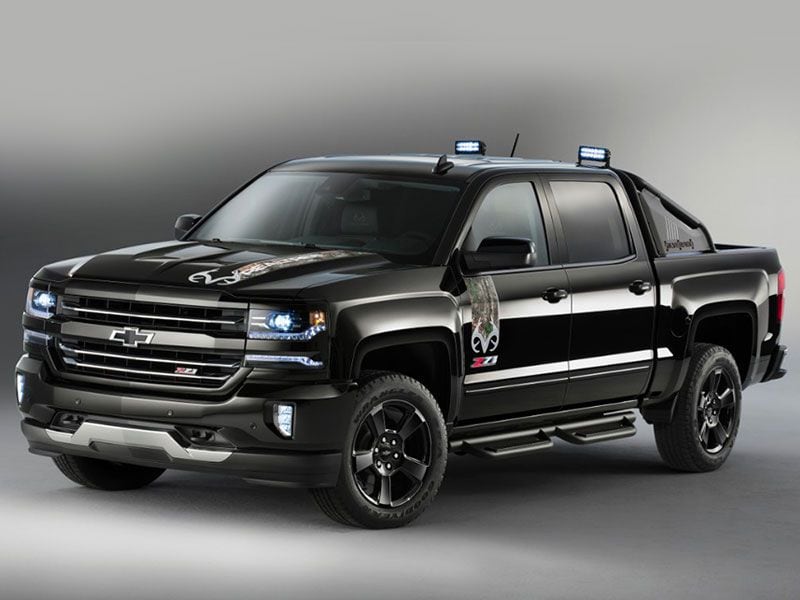 The Silverado Realtree Edition (part 2)
Naturally, the Chevy Silverado Realtree Edition is backed by an engine that's more than capable enough for most hunters. It's the 5.3-liter V8 used in many other Silverado special editions, mostly because of its unsurpassed combination of fuel efficiency and robust power.
Despite its ability to unleash 355 horsepower and 383 lb.-ft. of torque, this advanced engine also relies on technologies like active fuel management to set a new benchmark for V8 fuel economy in a pickup: 23 MPG. Even with 4wd, the Silverado is rated at 22 MPG on the highway. Meanwhile, 4wd crew-cab trucks like the Realtree Edition get real capability from that powerplant, which enables owners to tow more than 10,000 lb. in that configuration.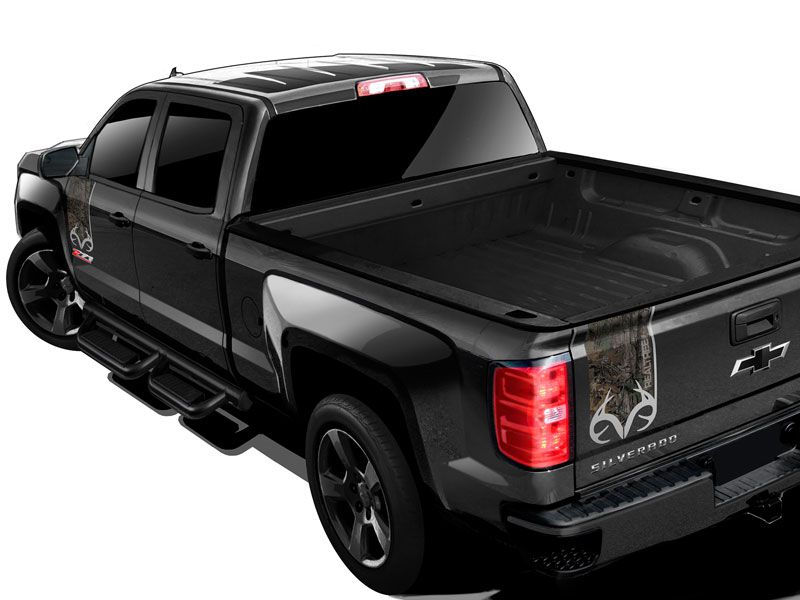 The Silverado Custom Sport Edition (part 1)
Heavy duty Silverado special editions extend Chevy's custom-style appeal to reach a wider audience. For example, the 2016 Chevrolet Silverado Custom Sport package was developed to class-up the 2500HD LT and LTZ models, normally selected by owners for their robust working credentials. The Custom Sport trucks are no less robust. However, they look a lot more sophisticated, since they wear only Black or Summit White exterior finishes and are garnished with refined exterior accents. The door handles, mirror caps, and bodyside molding are all done in chrome, with the grille and bumpers matching the truck's body color. The right set of wheels is a must for any special Silverado, and the Custom Sport answers that call with 20-inchers in polished aluminum.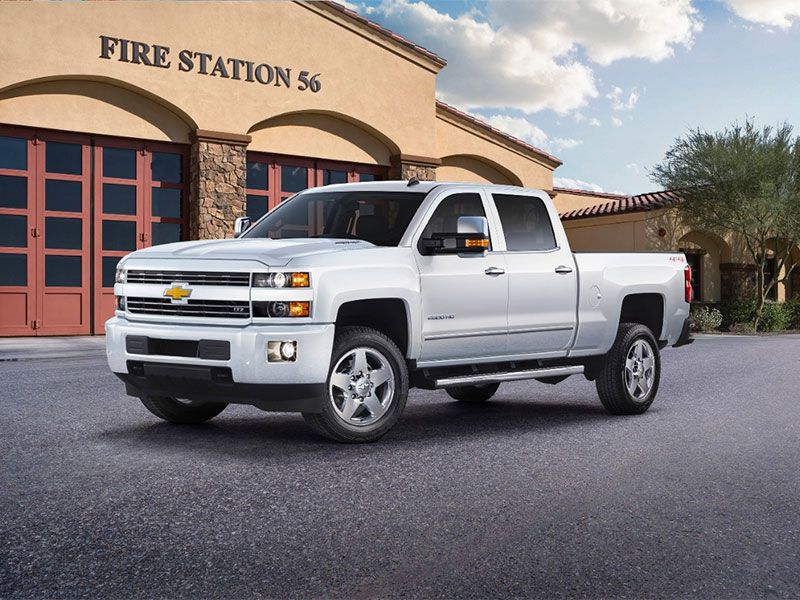 The Silverado Custom Sport Edition (part 2)
Silverado special editions are known for adding extra hardware, too, like the spray-in bedliner that's also standard for the 2016 Chevrolet Silverado Custom Sport. Yet shoppers should keep in mind just how work-ready Chevy trucks can be even completely stock. The 2500HD LT and LTZ models that are eligible for the Custom Sport package combine to make the point. In either of those trims, the trucks come fresh from the factory with 6.0-liter V8 engines, fully boxed frame assemblies and a track record of award-winning dependability. In fact, the Silverado HD lineup has been rated as the No. 1 Large Heavy Duty Pickup in the J.D. Power Vehicle Dependability Study for two years running.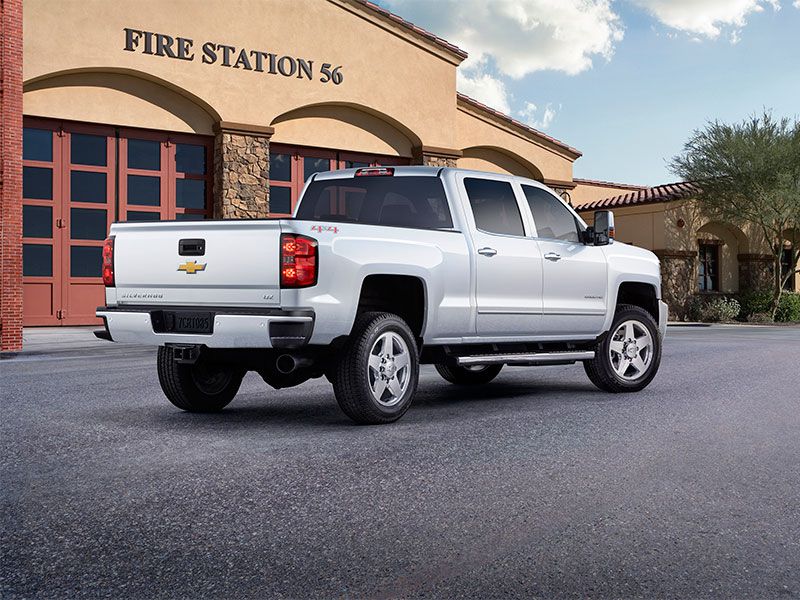 The Silverado Special Ops Edition (part 1)
All Silverado special editions look good, but the 2016 Chevrolet Silverado Special Ops model also helps do good—by supporting a partnership between Chevy and the Navy SEAL Museum to help the Trident House Charities Program. This involves an actual house, located on the Indian River in Sebastian, Florida, where service members can stay with their families if they're on leave, healing, or otherwise preparing to re-enter civilian life. Part of the proceeds from the sale of every Special Ops Silverado will go to the museum for the Trident House, and earlier this year, Chevy also donated one of these trucks. In turn, that Silverado was presented by the museum to a notably deserving member of the Naval Special Warfare community and his family.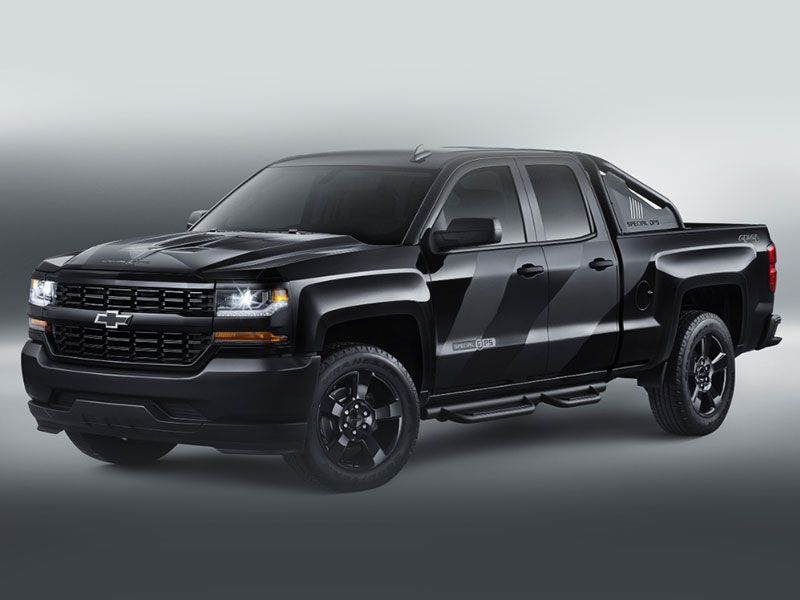 The Silverado Special Ops Edition (part 2)
To ensure that lots of people can get in on the action, the 2016 Chevrolet Silverado Special Ops pickup is one of the more affordable Silverado special editions. It's based on entry-level WT "Work Truck" trim, in a double-cab body style that's been tricked-out with blackout design cues. This eye-catching appearance is enhanced by 20-inch, 5-spoke black aluminum wheels, deep-tinted window glass, black Bowtie badging, and similarly shaded sport-assist steps for easier cabin access. A spray-on bed liner and all-terrain tires boost versatility on a variety of missions. Lastly, to emphasize the truck's inspiration, there are aggressive exterior graphics inspired by naval designs, along with a bed-mounted sport bar that bears the "Special Ops" signature.