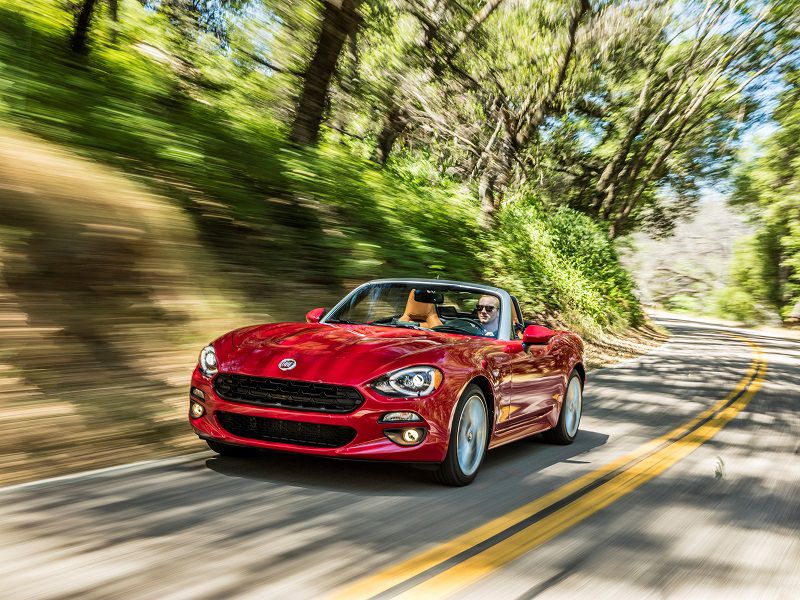 2019 Fiat 124 Spider ・ Photo by Fiat Chrysler Automobiles
There are very few things you can count on in life. Among them are death, taxes, and for most of us, car insurance. It's not only a good idea to insure yourself and your family against the financial risks involved in driving, but it's also a legal requirement to drive in most states. When it comes time to analyze the cost you pay to have the benefits of personal transportation, you shouldn't just consider the price of the car, the cost of its fuel, and the expense involved in its maintenance; you also have to factor in the price of its insurance. Just like rain in Indianapolis in the summertime, car insurance is a fact of life. 
Of course, insurance rates vary according to the vehicle being insured. Some vehicles are quite costly and therefore expensive to repair or replace. Other vehicles are more modest with easier-to-stomach insurance rates. That doesn't mean that every car that costs $30,000 new will have the same insurance rates, though. Other factors — many of them driver-oriented — contribute to the rates that car owners are charged. This list of the five cars that cost the least to insure can be a helpful guide in lowering your car insurance costs.
Deriving the List
Because of their popularity these days, there are hundreds of used SUVs to choose from. To help with our analysis, we enlisted the experts at Mercury Insurance, who ran data on all the permutations of make, model, and year to determine which used SUVs cost less to insure.
"Car-shoppers are finding that purchase prices are up, and Mercury wants to let them know that there are ways to keep ownership costs low," said Chong Gao, director of product management R&D for Mercury Insurance. "Today, consumers have many more types and options of vehicles to choose from than ever before; however, not all cost the same to insure. By starting the car-shopping experience by looking at insurance costs, you'll be on your way to saving money in the long run."
Mercury Insurance developed the list based on a full-coverage premium (bodily injury, property damage, comprehensive, medical, underinsured and uninsured motorist bodily injury and collision) for a hypothetical driver with average scores in each category for all current model year cars.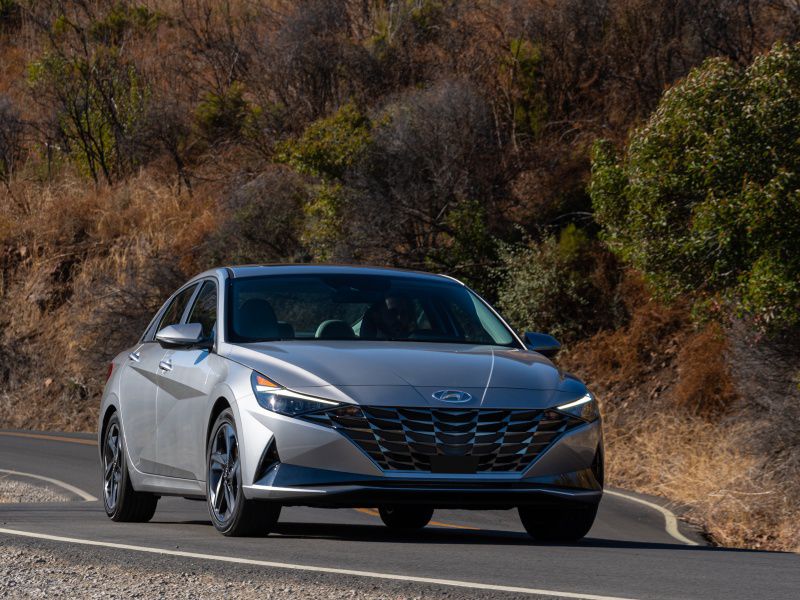 Photo by Hyundai
Chevrolet Spark
With a strong reliability rating and a low cost-to-insure rating, the Chevrolet Spark subcompact car promises to offer a good ownership experience. Not as large or sophisticated as many of the vehicles in its class, the Spark shines for its easy-to-use entertainment system and distinctive styling. It's small size makes it very convenient in urban settings, and its typically low purchase price contributes to its favorable insurance costs.
Not to be confused with the Chevrolet Sonic, the Spark can be equipped with features usually not associated with small economy cars. Among them are remote keyless entry, proximity unlock, power windows and door locks, cruise control, steering wheel controls, push button start, and a sunroof. The 2021 Chevrolet Spark comes in four trim levels: LS, 1LT, ACTIV, and 2LT. The base LS has a praiseworthy number of standard features, including a 7-inch touchscreen display, Apple CarPlay, Android Auto, a Wi-Fi Hotspot, and two USB ports. The ACTIV trim is the sportiest of the bunch, with leatherette upholstery, heated front seats, leather-wrapped steering wheel, and performance-tuned suspension.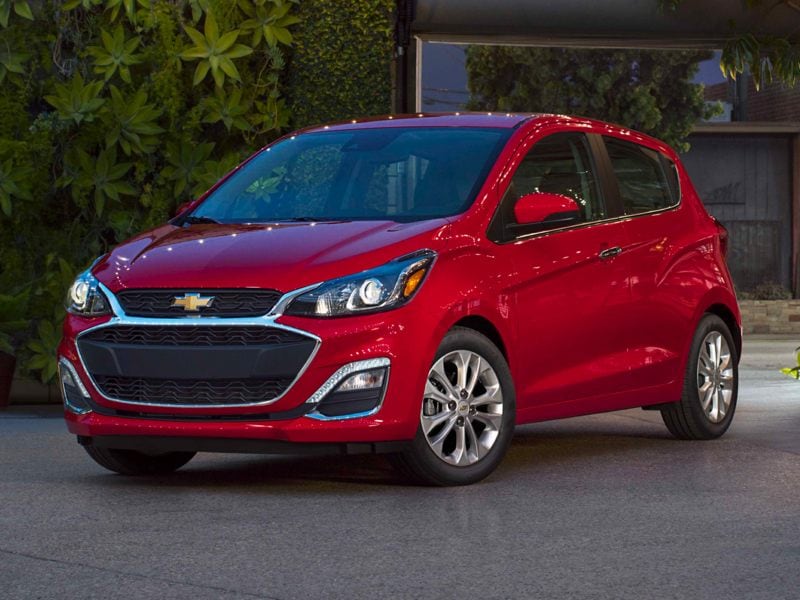 Photo by Chevrolet
Power and Safety
The Chevrolet Spark is one of a small handful of new vehicles in the United States that offers less than 100 horsepower. The 98-horsepower 1.4-liter 4-cylinder won't have you heading to the drag strip. The front-wheel-drive Spark can be equipped with either a 5-speed manual transmission or a continuously variable automatic (CVT). It's wise to search for a Spark 2LT with CVT if you seek electronic driving aids. Its optional Driver Confidence package includes forward-collision warning, automatic emergency braking, and lane departure warning.
Some Sparks are pretty basic inside, but we are fans of the Chevrolet Infotainment 3 System, an easy-to-use interface to access apps and music. The 2021 Spark gets an EPA-estimated fuel economy rating of 29 mpg in the city and 37 mpg on the highway.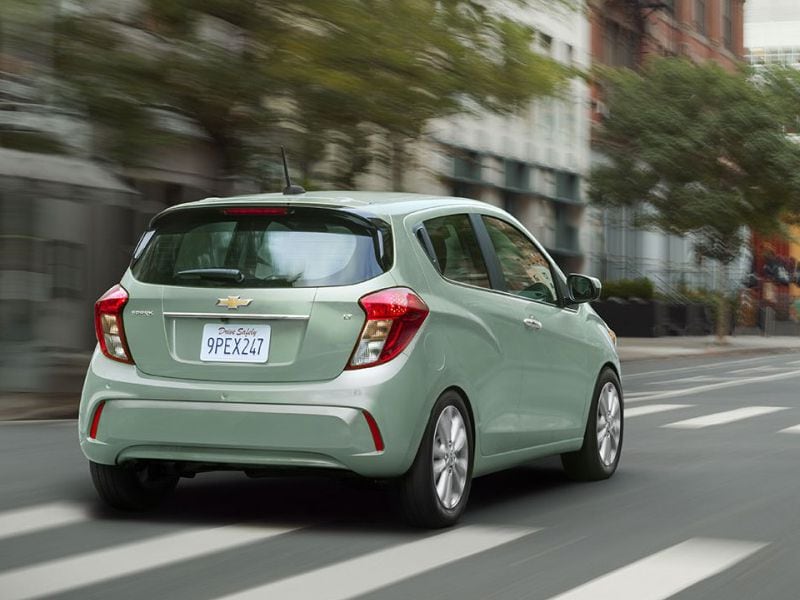 Photo by Chevrolet
Chevrolet Sonic
Offered in sedan and hatchback body styles — but not for long — the Chevrolet Sonic is another Chevy subcompact that packs a lot into a small package. Although a 5-passenger vehicle, the Sonic offers surprising interior space in both front and rear seats. Certainly not a sports model, the Sonic still manages to deliver a decent level of driving enjoyment. In fact, it might outdo some familiar names from imported brands.
The Chevy Sonic is available in three trim levels: LS, LT, and Premier. As we said, both sedan and hatchback versions are offered. The base LS (sedan only) includes niceties like standard Apple CarPlay and Android Auto, plus a reasonably large 7-inch touchscreen interface. The LT ups the ante with power windows, cruise control, and a 6-speaker audio system. It also has an available Driver Confidence Package that includes lane departure warning, forward collision warning, and rear parking sensors.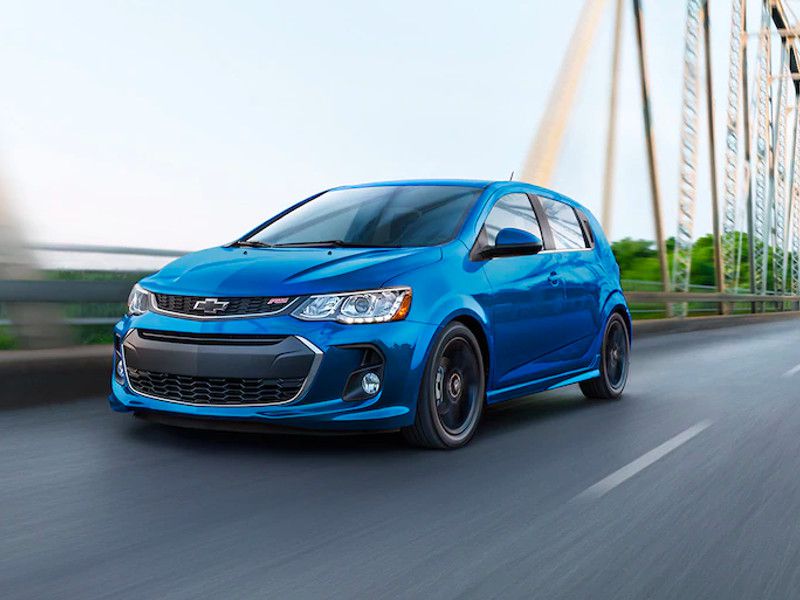 Photo by Chevrolet
Power and Safety
The only engine available is a 1.4-liter turbocharged 4-cylinder that produces 138 horsepower and 148 pound-feet of torque\, paired with a 6-speed automatic transmission. Its 138 horsepower might not seem all that impressive, but it beats the 98 horsepower of the Chevy Spark. Acceleration could be described as more than adequate, but the Sonic's fuel economy is only so-so compared it is competitors.
The Chevrolet Infotainment 3 System is a big plus for the Sonic in the segment. While some of the leading import brands have less-than-stellar infotainment systems, the Chevy system works intuitively and the icons on its 7-inch touchscreen, are easy to identify. The car offers Bluetooth, Apple CarPlay, Android Auto, and a Wi-Fi hot spot. With 14.9 cubic feet of trunk space the Sonic sedan outdoes many luxury cars. The hatchback is even better — 19 cubic feet behind the rear seats and 47.7 cubic feet overall — putting several crossover suvs to shame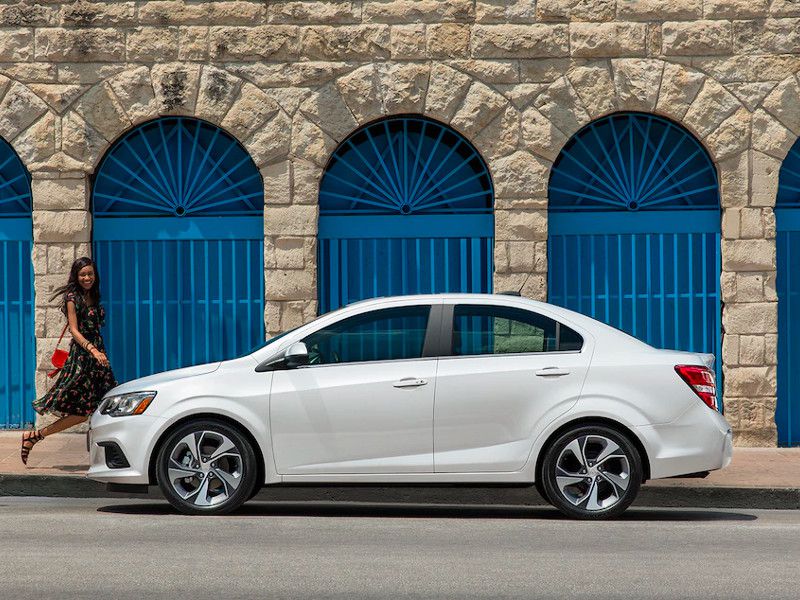 Photo by Chevrolet
Fiat 124 Spider
The FIAT 124 Spider two-seat sports car will soon be leaving showrooms, a real pity because it's thoroughly likable and good-looking. Futhermore, it is affordable to purchase and very affordable to insure. The Fiat 124 Spider is built in Japan on the same assembly line that crafts Mazda MX-5 Miatas. The Fiat 124 Spider somehow manages top seams at least somewhat akin to the vaunted 124 Spider of years gone by. Beauty is in the eyes of the beholder, but many feel the current 124 Spider is much more attractive than its Mazda counterpart. Fast? Not really. But fun to drive? Absolutely.
The 124 Spider is available in four trim levels: Classica, Urbana, Lusso, and Abarth. Every one has a Fiat-spec turbocharged 4-cylinder engine. The base Classica model is filled with good stuff — remote keyless entry, push button start, 7-inch touchscreen display, power-adjustable side mirrors, automatic headlights, and alloy wheels. The Abarth trim is designed for performance Italian style. It offers a retuned suspension, limited-slip differential, and a slightly more potent engine. Additional "go faster" items include revised exhaust system, Brembo brakes, and Recaro seats.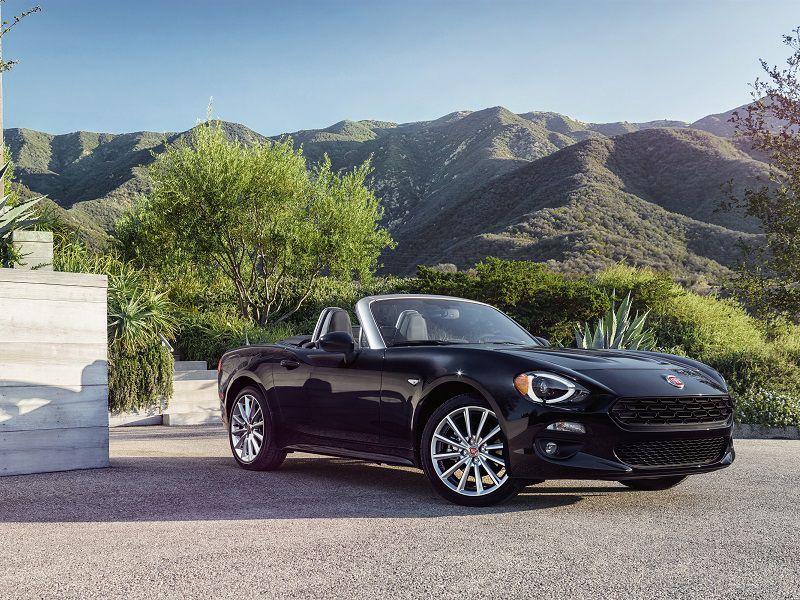 Photo by FIAT
Power and Safety
The FIAT 124 Spider has a turbocharged 1.4-liter 4-cylinder engine sporting 160 horsepower in the standard trim and 164 horsepower in the Abarth trim. Peak torque in both is 184 lb-ft. A 6-speed manual transmission comes standard, and much of the car's handling prowess comes from its rear-drive configuration. A 6-speed automatic dulls the joy a little, but the car is still a lot of fun to drive either way. The 124 Spider doesn't offer a plethora of electronic driver-assist features, but blind spot monitor, rear cross-traffic alert, rear parking sensors, and adaptive headlights are available options.
The Fiat 124 Spider has a 7-inch display screen, Bluetooth connectivity, and two USB ports among its standards. Add-ons include integral navigation, 9-speaker Bose audio, HD Radio, and satellite radio. A nearly inexplicable shortfall is the absence of Apple CarPlay and Android Auto capability. When you have a 124 Spider, you have to rreally think small and pack light. It only has 4.9 (not 14.9) cubic feet of trunk space.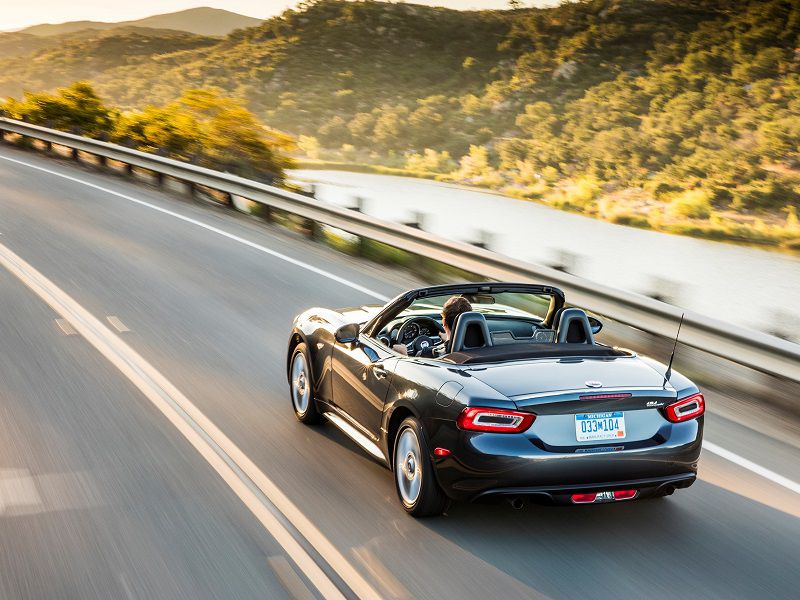 Photo by FIAT
Honda Fit
The Honda Fit compact car is one of the most versatile and likable vehicles in its category, but it's about to transform into a crossover. With an upright shape and 5-passenger seating, the Fit offers excellent interior comfort and expansive cargo room. It also offers some of the best EPA fuel economy ratings of any vehicle in its class. The Fit has excellent resale value as well.
The Fit is offered in four trims: LX, Sport, EX, and EX-L. The base LX model is pretty basic, but it does have a 5-inch infotainment display, 4-speaker audio, a USB port, a rearview camera system, and Honda's foldaway "Magic Seat." As you climb the price ladder, each succeeding trim level adds more equipment. You need to choose the Sport trim or higher to get a 7-inch touchscreen, Apple CarPlay, Android Auto, and a 6-speaker audio system.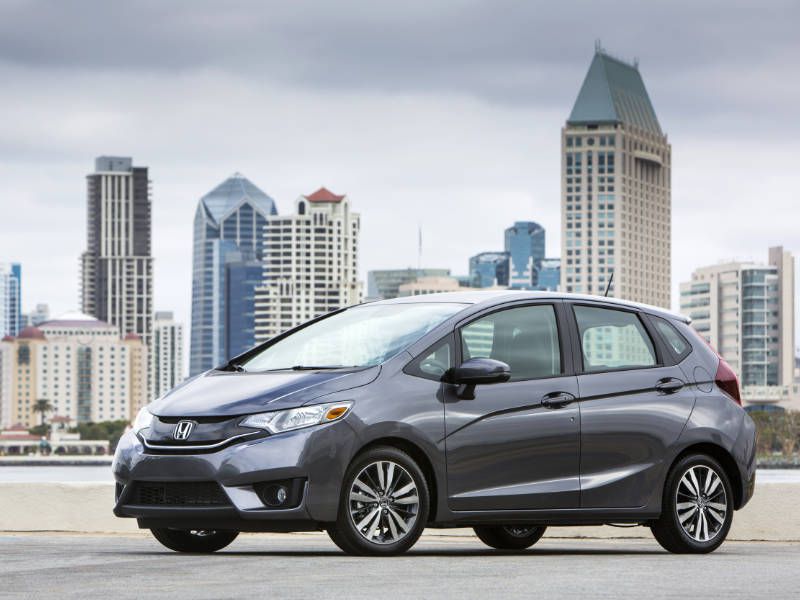 Photo by Honda
Power and Safety
The Honda Fit is fun to drive, with some of the most engaging characteristics in its class. The 1.5-liter 4-cylinder engine with the standard 6-speed transmission delivers 130 horsepower and 114 lb-ft of torque. The same engine in cars equipped with the continuously variable transmission (CVT) offers two fewer horsepower and 113 lb-ft of torque. Our choice would be the manual transmission, but the CVT is a good all-around choice and likely boosts resale value. On the fuel economy front, the Fit gets up to 33 mpg in the city and 40 mpg on the highway.
The Honda Fit is about average in terms of tech features and connectivity. In terms of safety tech, if you want advanced features, choose the Honda Sensing Suite. It includes forward-collision warning, collision mitigation system, lane keep assist, lane departure warning, road departure mitigation, and adaptive cruise control. Available Honda LaneWatch displays live video of blind spots on the infotainment screen.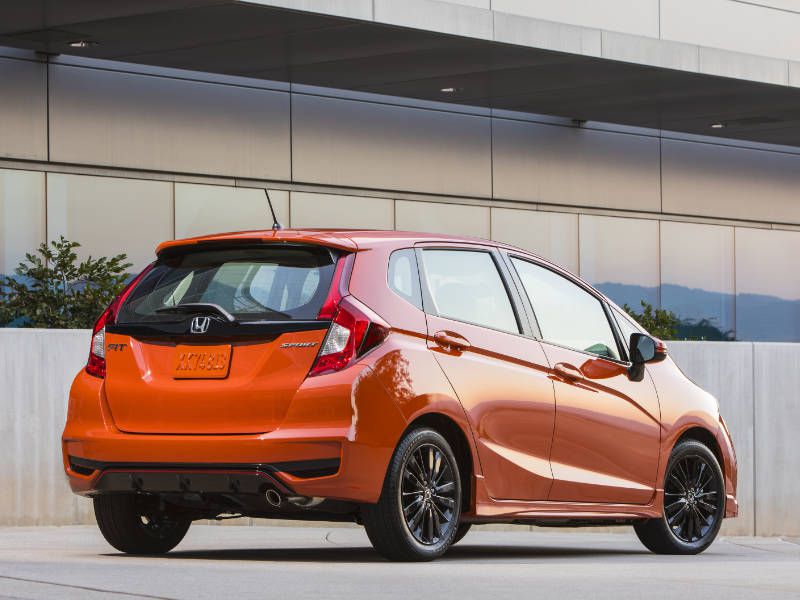 Photo by Honda
Hyundai Elantra
The Hyundai Elantra is a strong entrant in the compact car class — so strong that it was named the 2021 North American Car of the Year. Available in standard, hybrid, and sport N Line configurations, the Elantra offers a new level of style and features for a compact vehicle. Among its many highlights are a roomy cabin, excellent fuel economy, and an uncommon level of standard and available features. Those who are looking for a midsize car should consider the Elantra. It also has a good reputation for quality and reliability, scoring well in recent owner surveys.
For the current model year, the Elantra is available in three trims: SE, SEL, and Limited. While many base models are sparse in their equipment, the base Elantra SE offers a very impressive list of standard safety features, including a rearview camera, forward collision warning, automatic emergency braking, pedestrian detection, blind spot monitoring, rear cross-traffic alert, lane keep assist, driver attention monitoring, high-beam assist, and safe exit warning.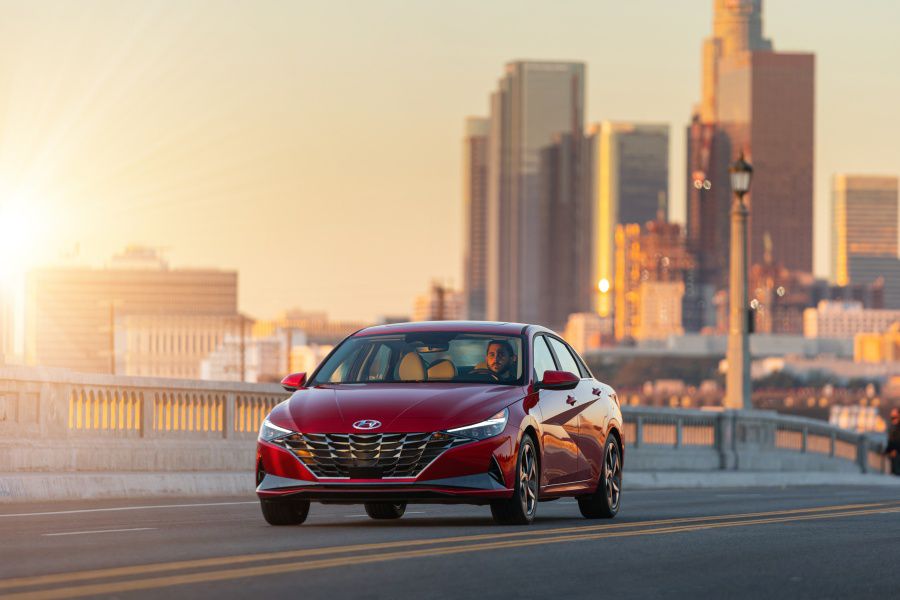 Photo by Hyundai