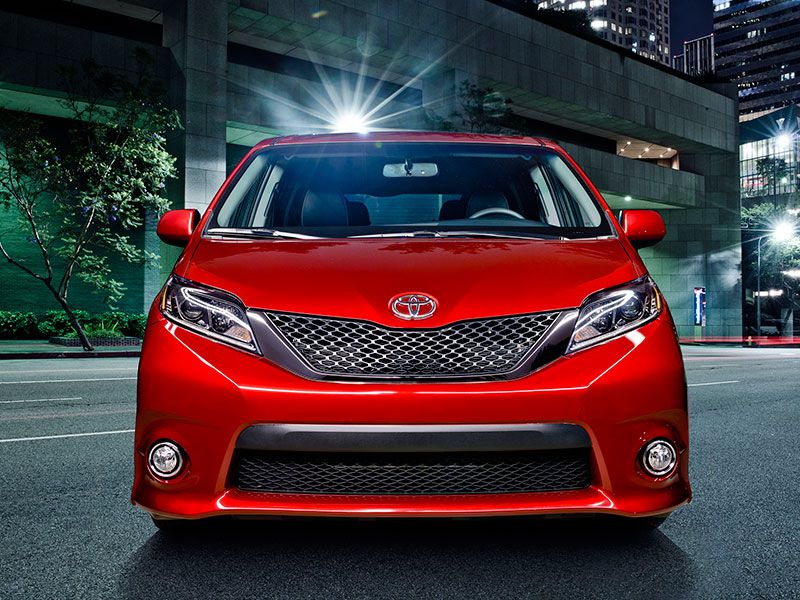 2015 Toyota Sienna SE grille ・ Photo by Toyota
Although our list of best-looking minivans is unsurprisingly short, the vehicles themselves can be unexpectedly attractive. In fact, despite there being just five choices left on the market, all can boast stylish design cues like LED lighting, oversized aluminum-alloy wheels, and sophisticated sheet metal. And that's just on the outside. In their cabins, today's minivans can rival premium sedans with supple leather upholstery, elegant stitching and accents, and serious attention to detail. Minivan customers also should keep in mind that, along with the choices here, a limited number of new 2016 Chrysler Town & Country minivans can still be found at dealers. These would be most appealing for their value, however with Chrysler focusing on the new Pacifica, we'll do the same.
2017 Chrysler Pacifica (Exterior)
The 2017 Chrysler Pacifica is a particularly dynamic choice even when compared to the rest of the best-looking minivans. For one thing, the Pacifica has a noticeably aerodynamic and streamlined appearance that's emphasized by long, flowing character lines. Additionally interesting is the vehicle's chrome-framed daylight opening, which combines with blacked-out center roof pillars to create an eye-catching, swept-back shape. The Pacifica naturally provides LED lighting, including standard LED taillamps and available LED fog lights. High-intensity discharge (HID) headlights are optional as well, and the Pacifica also supplies fashionable details like a tri-pane panoramic sunroof and six aluminum-alloy wheel designs that start at 17 inches and go all the way to 20 inches.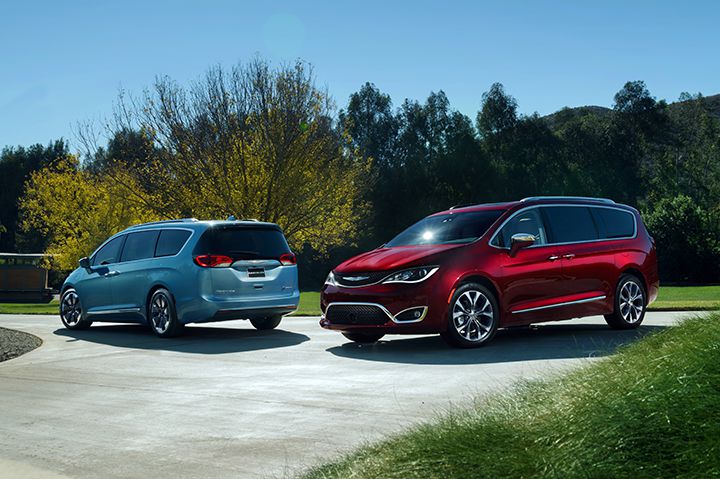 Photo by Fiat Chrysler Automobiles
2017 Chrysler Pacifica (Interior)
As is the case with all of our best-looking minivans, the 2017 Chrysler Pacifica also shows off a well-tailored cabin. Up front, a dramatically designed, two-tone dashboard gets things started with subtle sculpting and a definite orientation toward the driver. A distinctive rotary shift dial adds to the clean and airy appearance, while the standard multifunction steering wheel has a sporty three-spoke design and can be ordered with a leather-wrapped and heated rim. The front seats have sporty side bolsters too, and are available with traditional or perforated Nappa leather trim in a selection of different color themes. Overall, five different interior environments are offered for the Pacifica, each with a unique ambiance inspired by different locations across the country.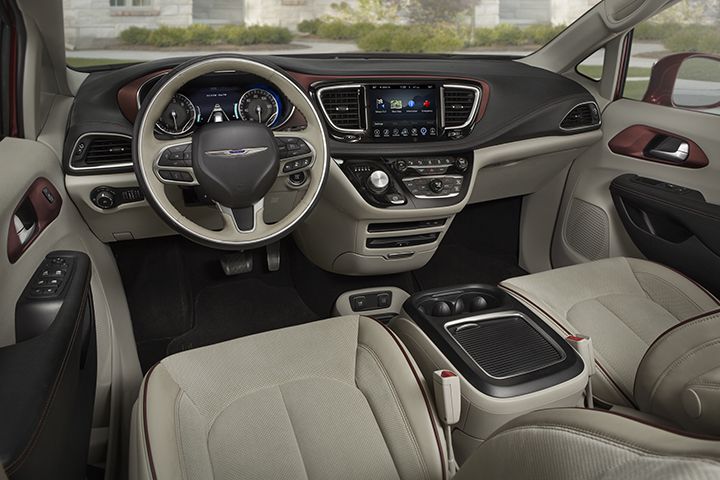 Photo by Fiat Chrysler Automobiles
2017 Toyota Sienna (Exterior)
The only one of the best-looking minivans with a dedicated "sport" trim is the 2017 Toyota Sienna, which furnishes an SE model that rides on bold 19-inch aluminum-alloy wheels. Further spicing up the SE trim is a sport-mesh grille, projector-beam headlights, and even aero-style side-skirt extensions and underbody spoilers. LED daytime running lights and LED taillights are included, and a smoked trim accents all lighting. Of course, beyond the SE trim, the entire Sienna lineup is packed with "Swagger-Wagon" touches, such as a standard rear spoiler with an LED center high-mounted stop light. Seventeen- and 18-inch aluminum-alloy wheels, wide-angle front fog lights, and a dual-pane power moonroof help cap off the Sienna's exterior design options.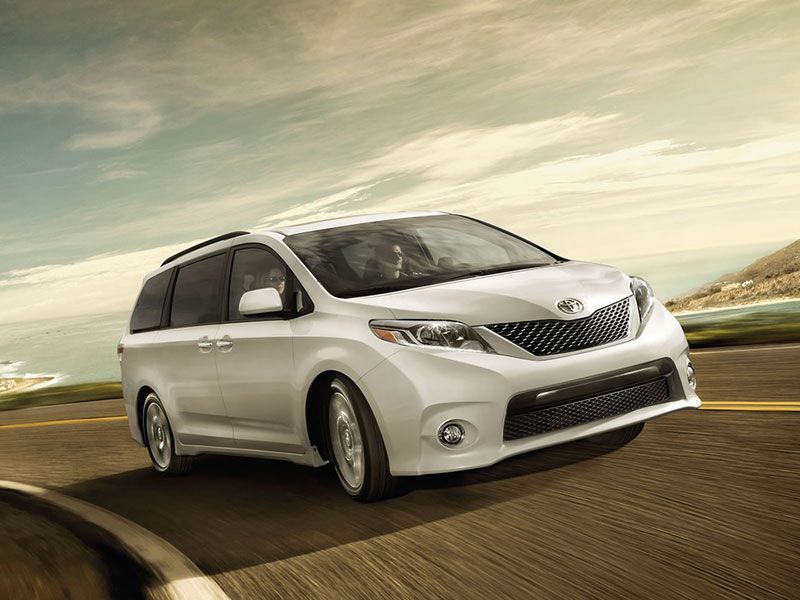 Photo by Toyota
2017 Toyota Sienna (Interior)
Inside, the 2017 Toyota Sienna then qualifies as one of the best-looking minivans based on features like its refined center-stack control interface. Gracefully integrating with the Sienna's touchscreen display, the physical knobs and button have an urbane, minimalist look that's perfectly in keeping with the rest of the driver-focused dashboard. The steering wheel is likewise upscale, thanks to a metallic V-shaped trim piece that underlines the center hub of the wheel, and as you might guess, it can be ordered with a heated, leather-wrapped rim. The seats also offer leather and perforated leather trim, plus multi-stage heating. Especially sharp is the Chestnut leather cabin available for the range-topping Sienna, complete with real contrast stitching and a wrapped soft-touch dashboard.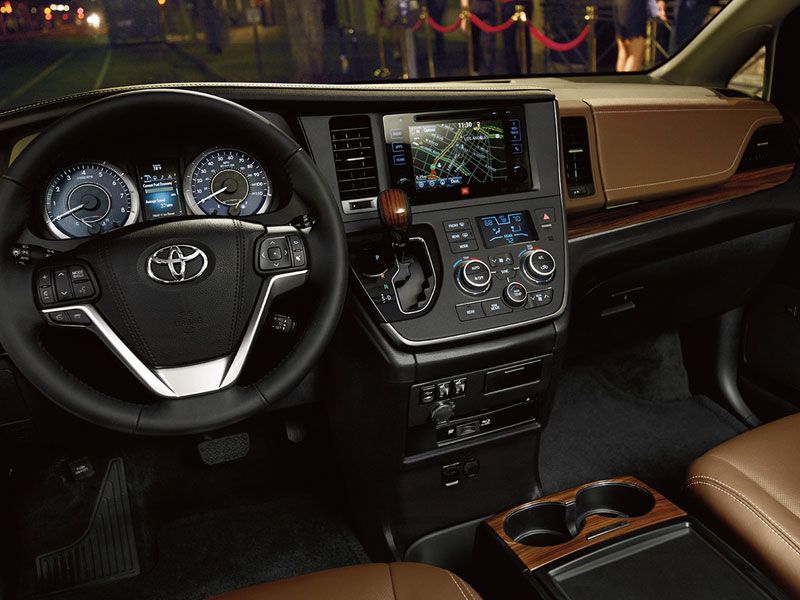 Photo by Toyota
2017 Dodge Grand Caravan (Exterior)
Also among the best-looking minivans is the 2017 Dodge Grand Caravan. True, the Grand Caravan does have a more traditional exterior design than its rivals, yet it also features exclusive appearance upgrades such as the Blacktop package. Created to leverage customer demand for blackout-style design cues, it bundles a gloss-black grille, black headlamp bezels, and 17-inch aluminum-alloy wheels with gloss-black pockets. Dodge also works to attract style-conscious customers with a Grand Caravan GT that wears a monochromatic appearance and 17-inch aluminum-alloy wheels with a polished finish. Moreover, it's worth pointing out that, because beauty is in the eye of the beholder, some shoppers will probably prefer the Grand Caravan's classic Dodge features, including its bold crosshair grille and "quad" halogen headlights.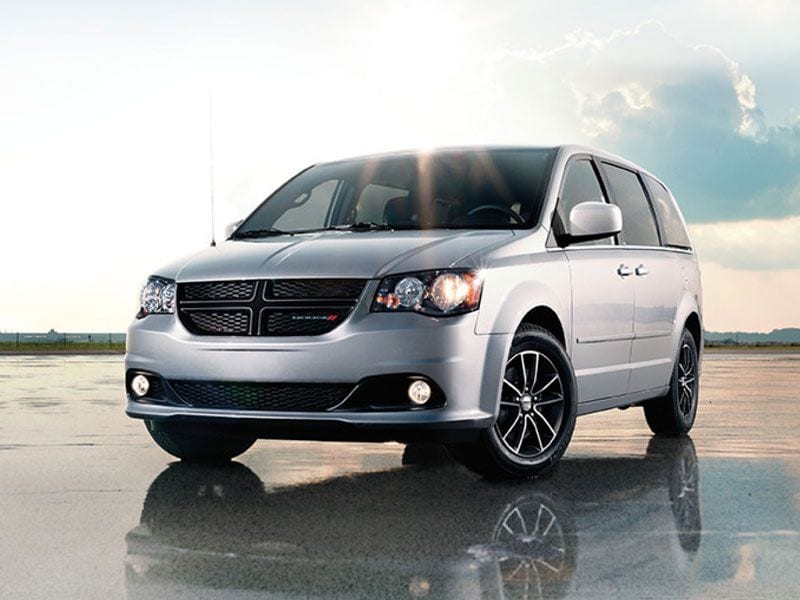 Photo by Fiat Chrysler Automobiles
2017 Dodge Grand Caravan (Interior)
It's a similar story when comparing the cabin of the 2017 Dodge Grand Caravan with what you find in the best-looking minivans from the other brands. For example, the Grand Caravan may not be quite as modern inside as its rivals, but it does provide that previously mentioned Blacktop Package. That, in turn, updates the cabin with an all-black theme that extends to specific Blacktop seats with silver accent stitching, which is a detail that also highlights the leather-wrapped steering wheel and intricately carved door panels. A heated steering wheel is a key option, as are premium-cloth, partial-leather, and full-leather seats. Nor should customers forget about the Grand Caravan's Stow'n Go seat system, since that provides a significant advantage in terms of interior versatility.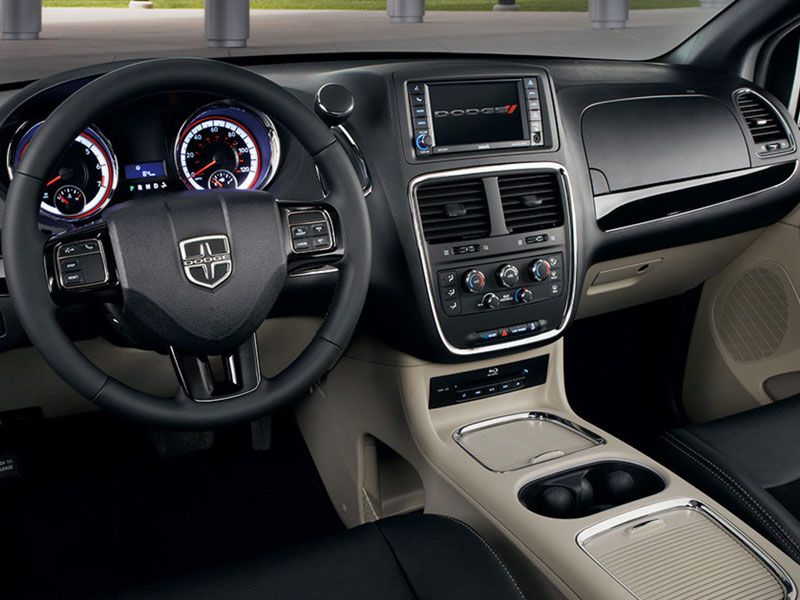 Photo by Fiat Chrysler Automobiles
2018 Honda Odyssey (Exterior)
The brand-new 2018 Honda Odyssey also makes an excellent alternative if you prefer only the best-looking minivans. Building off of the previous generation's "lightning bolt" character lines, the redesigned Odyssey now welcomes additional dynamic sculpting along its sides as part of a modern and dynamic profile. Honda also injects visual flair with a partially blacked-out rear roof pillar, for a contemporary "floating" roof effect, and designers have done a much better job at hiding the tracks for the Odyssey's rear sliding doors—which were a bit of a distraction in past models. The updated lighting for the Odyssey will get your attention as well, with Honda serving up LED headlights, signature daytime running lights, taillamps, and mirror-mounted turn-signal indicators.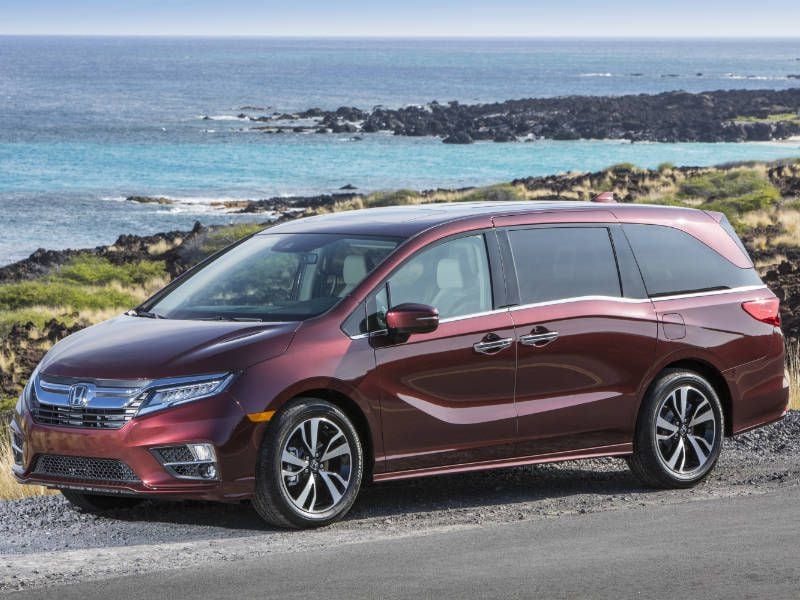 Photo by Honda
2018 Honda Odyssey (Interior)
Interior design has become a calling card for many of the best-looking minivans, and the 2018 Honda Odyssey is no different. Consider the Odyssey's open and inviting multilevel dashboard. It's uncluttered by unnecessary frills, with just a few sophisticated details like a full-length, wing-shaped accent strip that flows out of the center-stack controls. On the topic of controls, the Odyssey also introduces a push-button shift-by-wire transmission system for 2018. This further cleans up the front of the vehicle by eliminating the need for a large gear-shift lever. Another modern touch that combines style and functionality enhancements is a standard full-color, seven-inch thin-film transistor (TFT) instrument display. The screen can be reconfigured to meet different driver's preferences.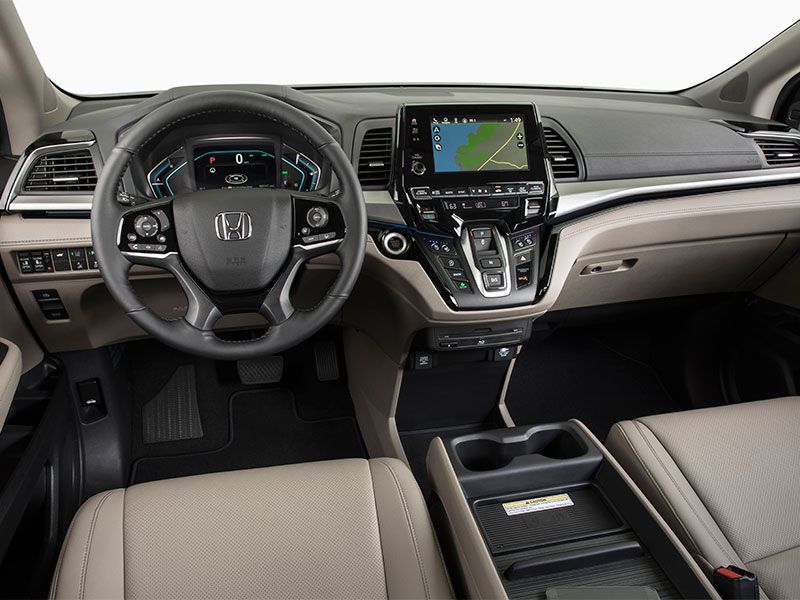 Photo by Honda
2017 Kia Sedona (Exterior)
For customers who think the best-looking minivans should offer rugged, SUV-like cues, there's the 2017 Kia Sedona. Setting the right tone are a large, vertical grille, an aggressive lower intake, and a lower front accent piece inspired by sport-utility skid plates. But there also are plenty of uplevel exterior cues in the mix, from a standard hidden exhaust outlet to available LED positioning and rear-combination lamps. Next, Kia blacks out the B, C, and D pillars to go all-in with a full "floating roof," and a top option for the Sedona is a dual front and rear sunroof system. The Sedona checks in with an assortment of aluminum-alloy wheels, too, including standard 17-inchers and optional designs in 18- and 19-inch sizes.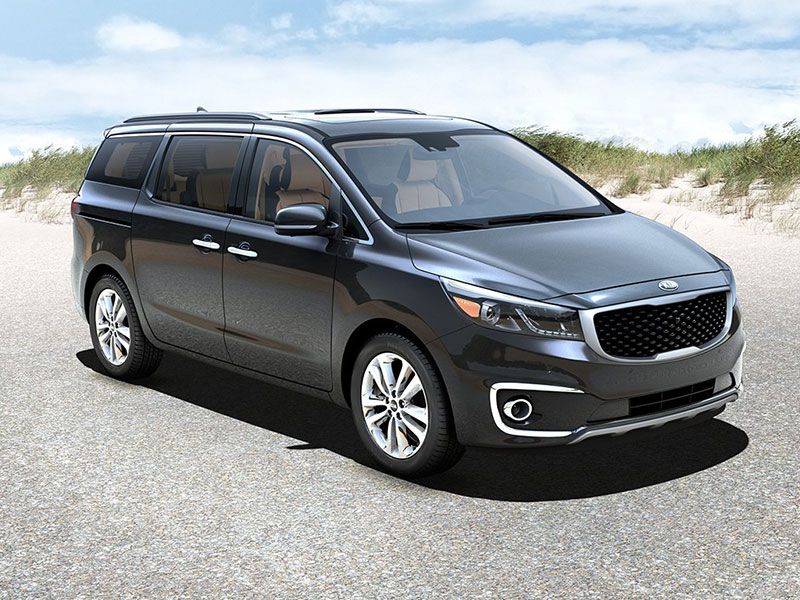 Photo by Kia
2017 Kia Sedona (Interior)
Inside, the 2017 Kia Sedona is easily as stylish as any of our best-looking minivans, backed by a driver-oriented dashboard with strong horizontal design elements to emphasize the width of the cabin. A three-spoke steering wheel with a contoured rim and a trim, circular hub also provides an athletic feel, and a racy-looking gearshift lever complements that. For customers who want to raise the bar for luxurious minivan interiors, that wheel can be upgraded with real-wood trim. Finally, the Sedona can seal the deal with two-tone Nappa leather seat trim and "first-class lounge seats" in the second row that enable occupants to enjoy reclining captain's chairs with fold-out leg rests and full airplane-style headrests.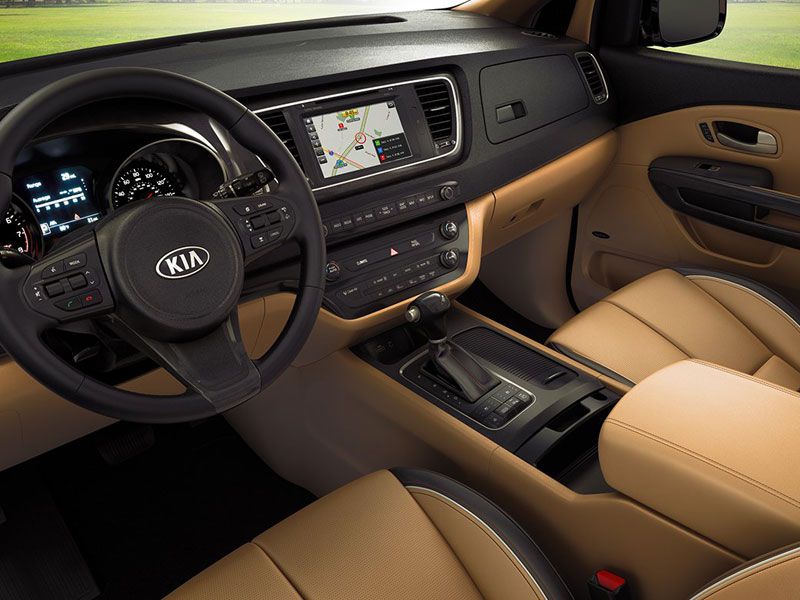 Photo by Kia