2019 Toyotafest ScottOldham 01 ・ Photo by Scott Oldham
Sponsored by Toyota and Lexus, the Toyota Owners and Restorers Club held its 24th Annual All Toyotafest on a cool June Saturday in Long Beach, California. The 2019 event gathered thousands of enthusiasts and about 600 cars from across the country and Canada. Vehicles on display ranged from restored classics to wild customs to the highly anticipated all-new 2020 Toyota Supra, which will cost about $50,000.
Classic Toyota Land Cruisers continue to gain popularity and there were many on display, from restored originals to modified examples. Our favorite was Gino De Felicis' 1975 FJ40, which looks stock but is powered by a Chevy 350 small-block backed by the stock Toyota four-speed transmission. Notice the Japanese license plate.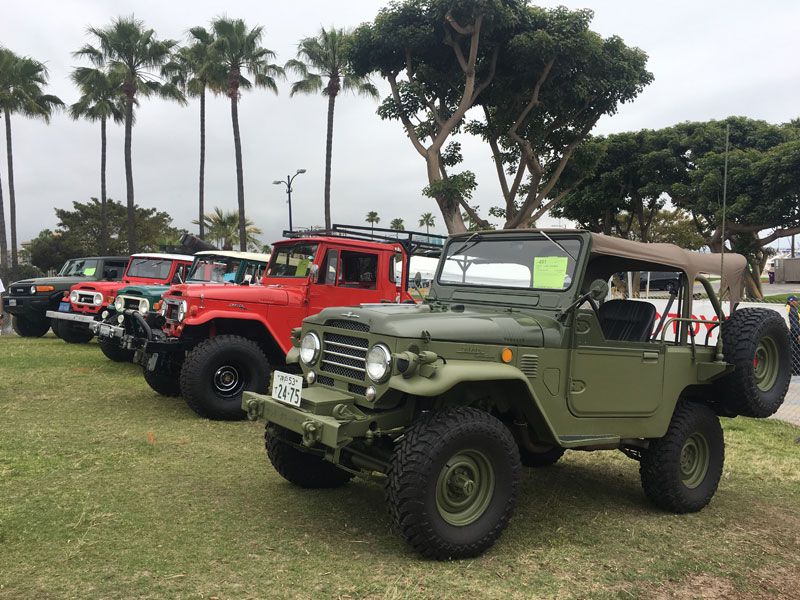 Photo by Scott Oldham
Sold from 1990 to 1997, the J80 generation of the Toyota Land Cruisers is basically indestructible, and these trucks are fast becoming very popular with young enthusiasts. The styling of these trucks is aging extremely well, and we were taken by the beautiful condition and tough stance of Harold Lacson's 1997 limited-edition 40th Anniversary example. Then we learned the SUV has been driven 214,000 miles, incredible.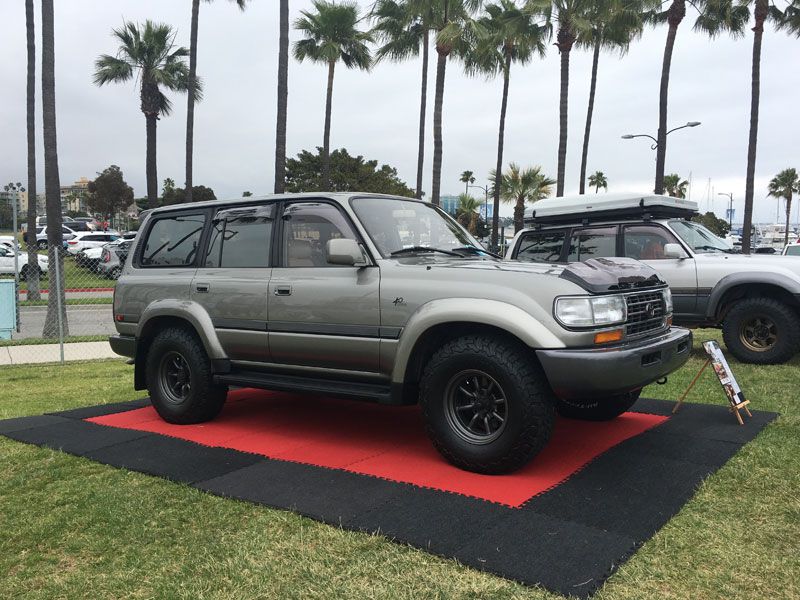 Photo by Scott Oldham
Overlanding continues to grow in popularity, and there were several Toyota pickups outfitted for overlanding on display. This Tacoma was in the Rago Fabrication booth, and it was equipped for a serious excursion, with a lifted suspension, a snorkel, upgraded lighting, steel bumpers, and skid plates, plus that three-bedroom two-bath on the roof. Looks like fun.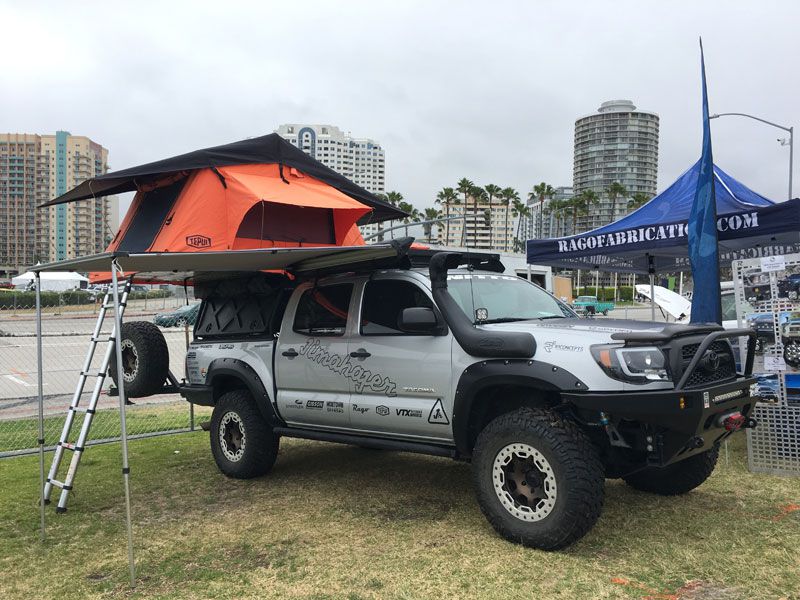 Photo by Scott Oldham
Toyota 4Runners, both new and old, remain a big part of the off-road scene, and these SUVs were very well-represented at this year's show. This 2015 4Runner SR5 Premium belongs to Charles Sullano, and it's heavily modified with a lifted suspension, 17-inch Bronze wheels, a wild high-clearance front bumper, rock sliders, skid plates, a roof rack, a lightbar, and more. It's part Mad Max part Stormtrooper.
Photo by Scott Oldham
Scott Shin's 2018 Toyota C-HR was one of the lowest and wildest SUVs at the show. The small, four-door crossover is pretty crazy looking straight from the factory, but Shin turned it up a few notches with a Toyota Japan front bumper and Modellista Ice Elegance body kit. He also added a TRD air intake and a long list of chassis and suspension upgrades from Cusco, including front and rear sway bars.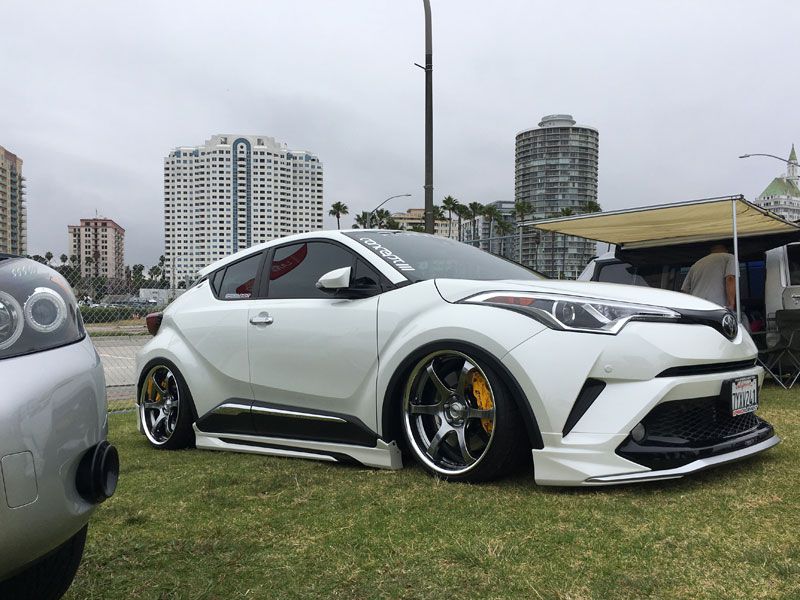 Photo by Scott Oldham
In our coverage of the 2017 event, we included a photo of Jack Russo's black 1987 Toyota pickup, an exact replica of the truck Michael J. Fox drives at the end of the 1980s blockbuster "Back to the Future." This year, Alan Dreiman brought out his replica of the movie truck, complete with the banner. Love the MCFLY1N license plate.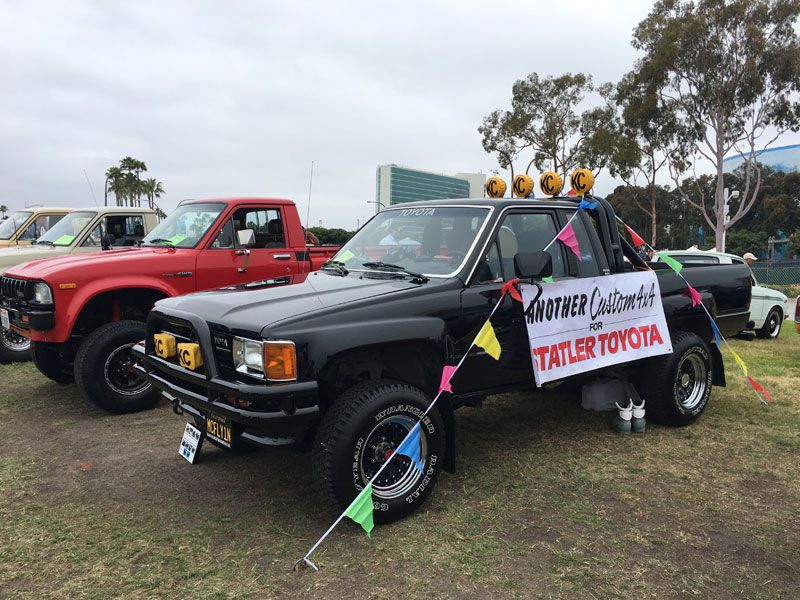 Photo by Scott Oldham
Toyota's former Scion division is of course also welcome at this event, and the brand's tC coupe was very well represented. Adrian Finones' 2016 Scion tC looked great slammed on its Airforce suspension and deep dish wheels. Other mods include a NIA body kit, a diffuser, drilled brake rotors, an aftermarket exhaust system, and racing seats.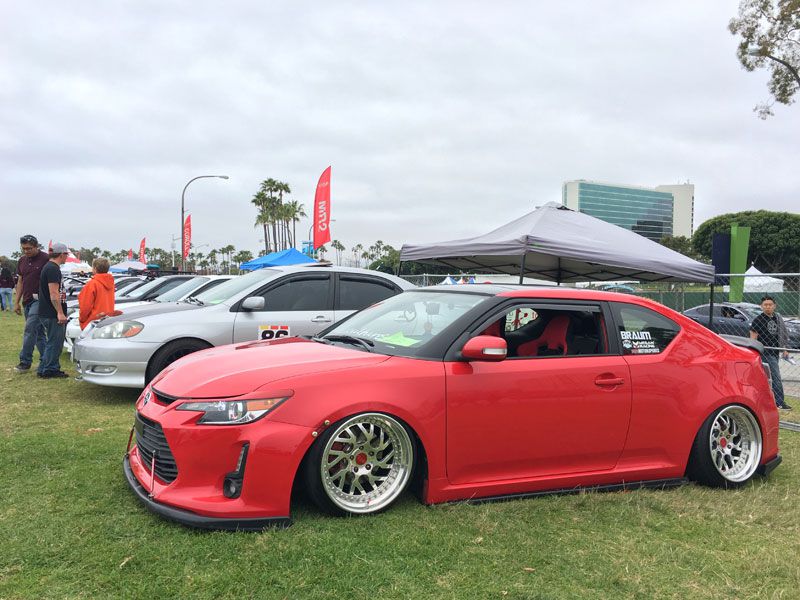 Photo by Scott Oldham
Ever Ramirez says his two-wheel drive 1976 Toyota Hilux pickup is completely stock, wears its original paint, and is still used to haul stuff once in while. Unrestored, unmolested, all original, clean examples of these classic Toyota pickups, especially four-wheel drive versions, are radically increasing in value by the minute.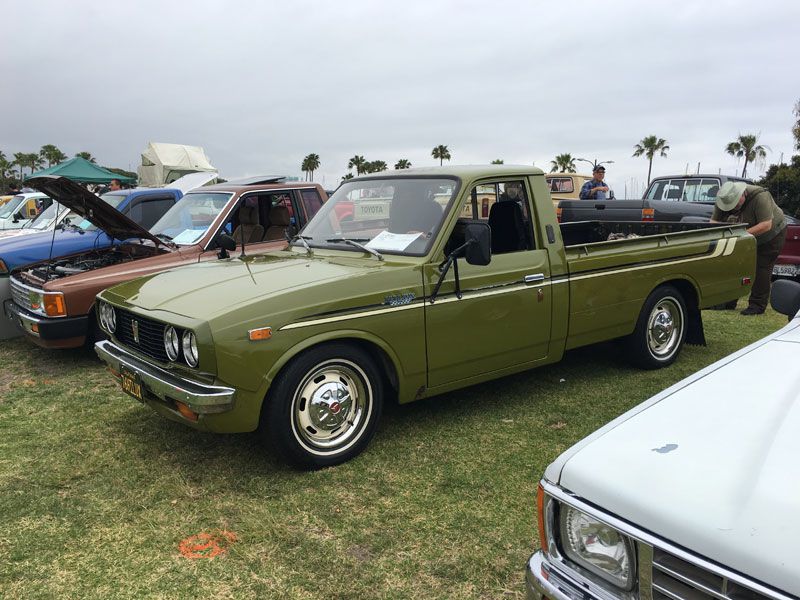 Photo by Scott Oldham
Hot rod Prius? Sort of. There were about a dozen modified Prius hybrids at this year's show, and one of the most expressive was Henry Sheu's 2015 model. The car's list of modifications is longer than a New York City phone book and includes Lexus RX 350 headlights, an Aim Gain front bumper and rear spoiler, TK-R side skirts and rear bumper, an air suspension, Cusco chassis braces, 19-inch wheels, an HKS intake, and a Kenwood head unit.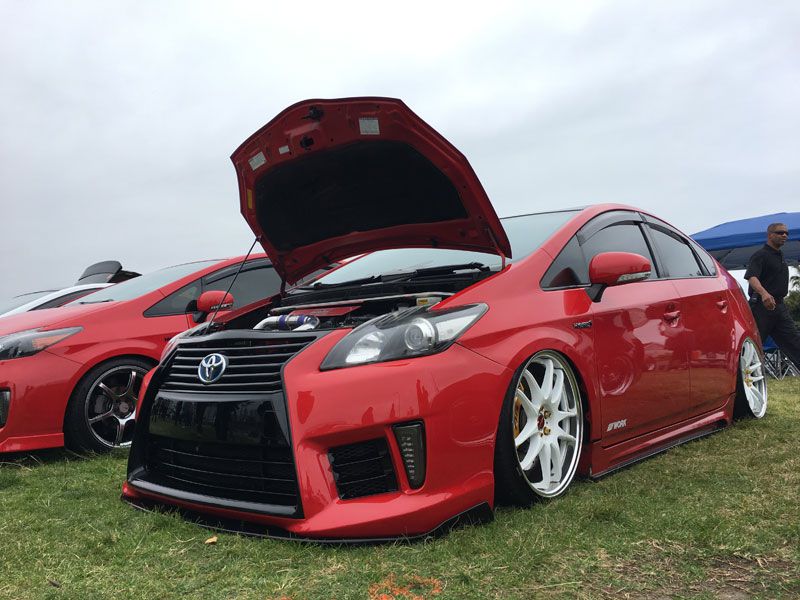 Photo by Scott Oldham
Is there any doubt that Lou Bircheff's 1983 Toyota Starlet two-door liftback is the finest surviving example of the economy car in the country? One of just 6,717 Starlets sold in the USA that year at a base price of $6,088, it's powered by a 58-hp 1.3-liter engine and a four-speed manual transmission that was rated for incredible fuel economy: 44 mpg in the city and 54 mpg on the highway.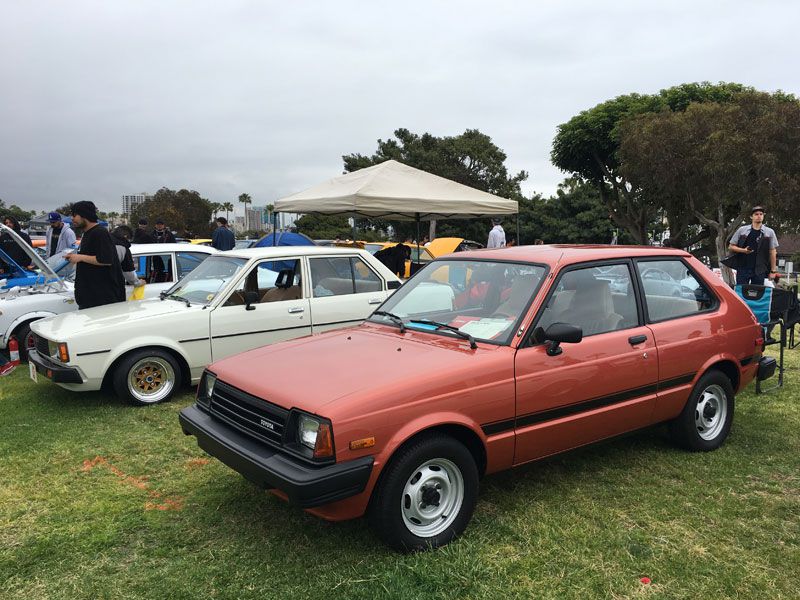 Photo by Scott Oldham