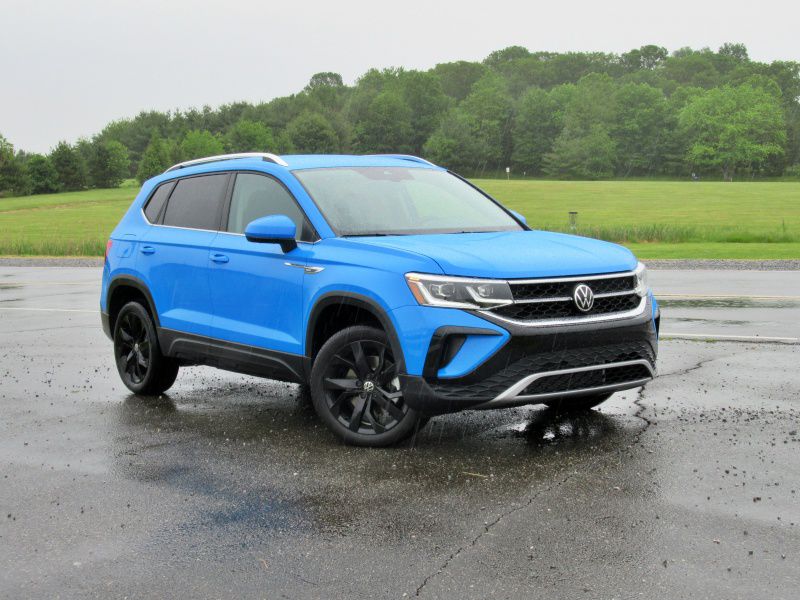 Volkswagen Taos SEL ・ Photo by Brady Holt
The word subcompact implies small. And some subcompact crossovers fit that bill. But others pack surprising spaciousness into this pint-sized, affordable segment. Two leading models that fit this bill are the 2024 Volkswagen Taos and the newly updated 2024 Kia Seltos.
For this review, we tested both models to compare them across eight categories and then choose an overall winner. Read on as we discuss how the Seltos and Taos compare, so you can learn which one is better suited for you. 
Pricing and Features
Kia is known for bringing lots of features for the money, and the Seltos generally impresses. At just $24,390, you get the base LX with standard all-wheel drive, 17-inch alloy wheels, automatic emergency braking, lane-keeping steering assistance, an 8-inch infotainment screen, and a six-speaker stereo. Other trim levels are the S with push-button starting and a 10.25-inch screen ($24,990 with front-wheel drive or $26,490 with AWD); a similarly equipped X-Line with an off-road theme and a more turbocharged powerful engine ($28,690); the leatherette-trimmed EX ($25,790 with front-drive and $27,990 with AWD and a sunroof), and the top turbocharged AWD SX like our test vehicle ($29,990).
The Taos isn't exactly expensive either, but it tends to cost more than an equivalent Seltos. It starts at $23,995 for the base S, $28,165 for the SE with leatherette, and $33,515 for the SEL with genuine leather. AWD adds about $2,300 to the Taos S and $1,500 to the SE, so the Seltos's value advantage improves further if you want that feature. The Seltos is missing some of the Taos's available amenities — rain-sensing windshield wipers, genuine leather, and a panoramic sunroof — but we're more impressed by the Kia's superior affordability. 
Winner: Kia Seltos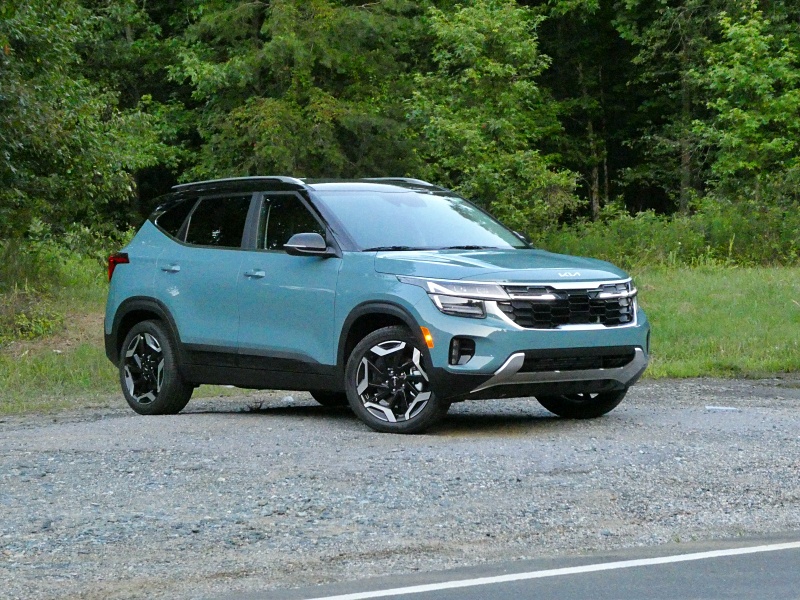 Kia Seltos SX ・ Photo by Brady Holt
Exterior Design
Both the Seltos and Taos are boxy little crossovers with bits of design flair to keep them from looking dull. The Volkswagen is simpler, especially from the rear, with mostly straight lines. VW dresses up the front with shiny black plastic below the headlights and grille, arranged into an hourglass shape and curving up under the lights. 
The Seltos has smaller windows, especially around the rear of the vehicle; slimmer headlights; and bumpers styled to look a bit like skid plates. Kia updated it this year with a revised grille, new wheels, and larger taillights that now connect via a lightbar. Overall, like the Taos, the Seltos is also an upright vehicle that looks like a diminutive SUV rather than just a tall hatchback. If you have a preference between the slightly sportier-looking Seltos and the slightly more serious Taos, then that's your winner. For our purposes, this category is a tie. 
Winner: Tie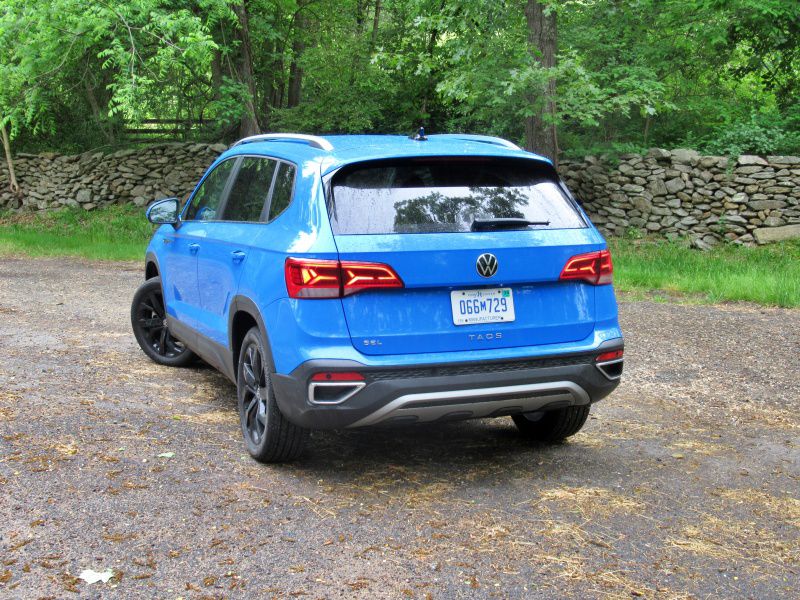 Volkswagen Taos SEL ・ Photo by Brady Holt
Interior Design
Neither the Taos nor the Seltos feels like a luxury car inside. While their cabins are solidly assembled and include plenty of technology, both have plenty of budget-grade plastics. 
The Seltos wins this round because of its infotainment systems. Not only do we find them easier to use than the Taos's — though the VW's controls are also simpler than many others — but Kia also provides bigger touchscreens. The Taos comes standard with a 6.5-inch screen on the S model, while the SE and SEL have 8-inch screens. The Seltos has an 8-inch screen standard on the LX, while the rest of the lineup gets a 10.25-inch unit. New this year, this touchscreen flows into a 10.25-inch digital gauge cluster as well. Stylistically, some folks will prefer the Taos's simple lines while others will prefer the Seltos's additional details. We won't make the aesthetic judgment for you, but the infotainment is a notable difference between the two SUVs. 
Winner: Kia Seltos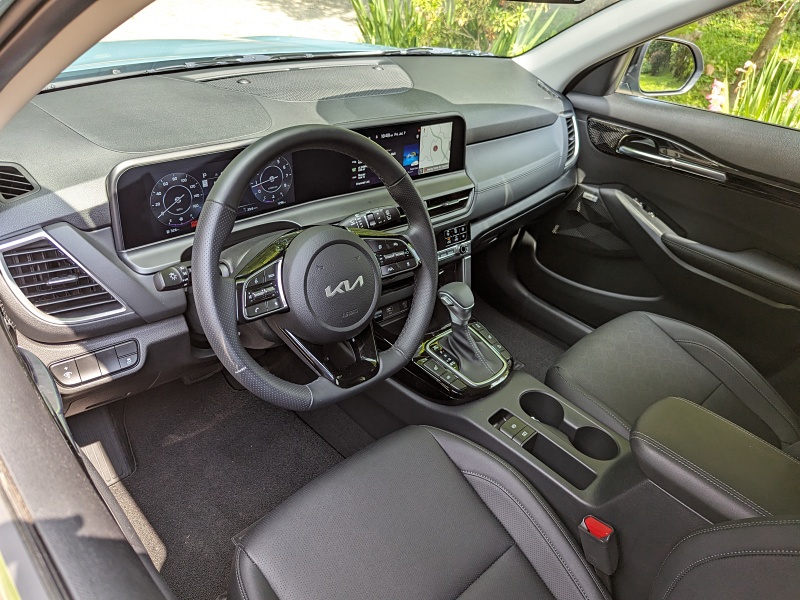 Kia Seltos SX ・ Photo by Brady Holt
Interior Comfort
The Seltos is unlike most subcompact crossovers in that there's a high seating position and space for four adults to sit in relative comfort. One of the only competitors that do even better is the Taos, which lets rear passengers really stretch out. 
Not only is the Volkswagen even roomier than the Kia, but we also preferred the Taos's front seats. They hold you in place without feeling confining, and they're firmly supportive without feeling too hard. We have nothing against the Seltos's seats, but we preferred the VW's. New this year, Kia does finally match the Taos in offering ventilated seats on its top trim level, but we'll give the edge to Volkswagen overall.
Winner: Volkswagen Taos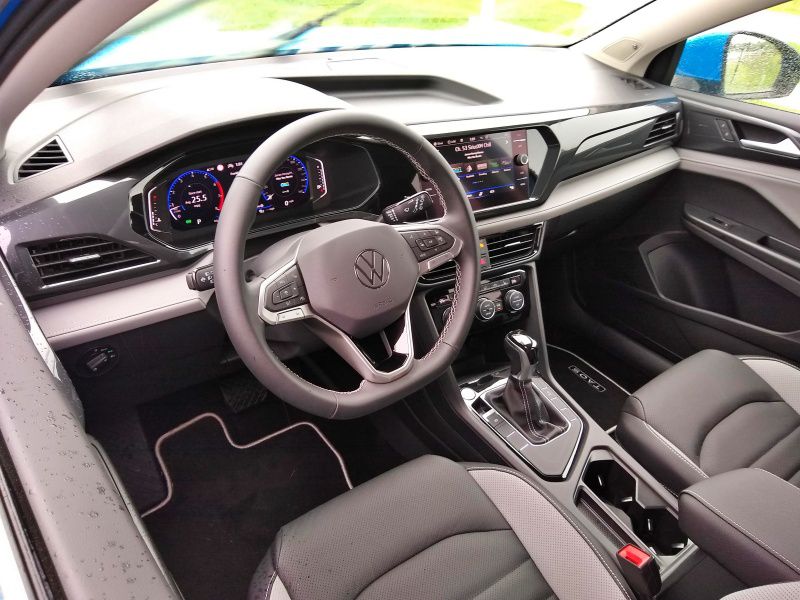 Photo by Brady Holt
Cargo and Utility
While the Taos has the clear lead for passenger space and comfort, the Seltos keeps things closer when it comes to cargo. Every Seltos has up to 26.6 cubic feet of cargo capacity behind the rear seat and 62.8 cubic feet with the rear seat folded. An adjustable-height cargo floor can drop a few inches if you want maximum volume, or rise to be level with the folded seatbacks. 
The Taos's cargo volume varies based on whether you choose front-wheel or all-wheel drive, as the two versions have different rear suspension designs. The front-wheel drive Taos holds 27.9 cubic feet behind its rear seat or 65.9 cubic feet with the rear seat folded, while the AWD model holds 24.9 and 60.2 cubic feet, respectively — with the Kia splitting the difference between the two Volkswagen configurations. Neither crossover can tow, despite their SUV looks. We'll give the Seltos the narrow edge because of its adjustable cargo floor, since the Taos leaves an awkward ledge between the floor and the folded seatbacks. But if you're going with front-wheel drive, the Taos does have a bit more room. 
Winner: Kia Seltos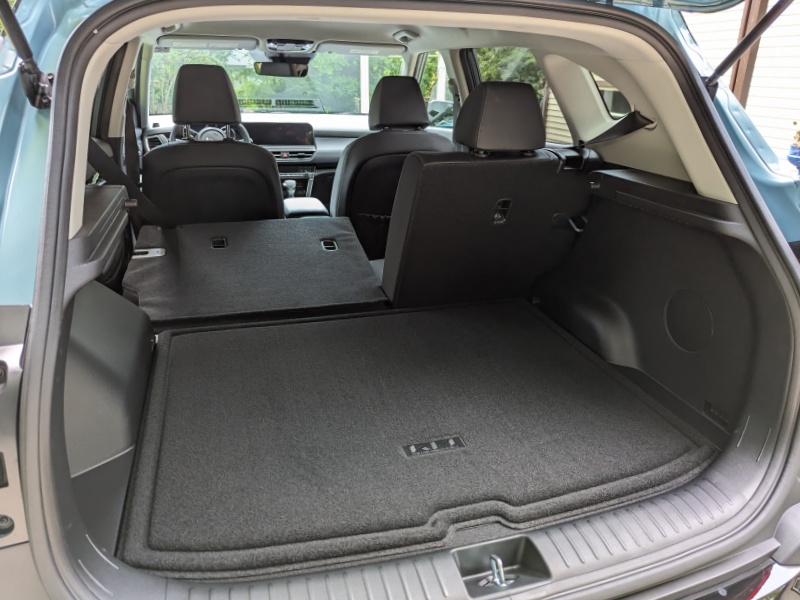 Kia Seltos SX ・ Photo by Brady Holt
Driving Experience
Both the Seltos and Taos drive nicely, with responsive steering and composed handling. However, the Seltos's base engine isn't quite as quick or as quiet as the Taos's, and the Taos has a smoother ride. 
By the numbers, every Taos has a 1.5-liter turbocharged four-cylinder making 158 horsepower and 184 lb-ft of torque. Front-wheel-drive models have a smooth eight-speed automatic transmission, while AWD brings a seven-speed dual-clutch automatic that provides faster shifts but occasionally stumbled slightly during our time behind the wheel. Whichever you choose, the Taos never feels lethargic but isn't extra-zippy. AWD models do have livelier handling, though, thanks to the revised rear suspension and adjustable driving modes. It only took us a few seconds to notice the AWD Taos's firmer, more responsive steering. The base Seltos pairs a 2.0-liter four-cylinder engine (146 hp, 132 lb-ft) with a continuously variable automatic transmission. The available turbo engine, newly updated this year, is a 1.6-liter that makes 195 hp and 195 lb-ft of torque and is now paired with a smoother-shifting eight-speed automatic transmission. The turbo Seltos is quicker than the Taos, but we think more folks will prefer the VW's smoother ride — and the Taos is speedier than most Seltos models. 
Winner: Volkswagen Taos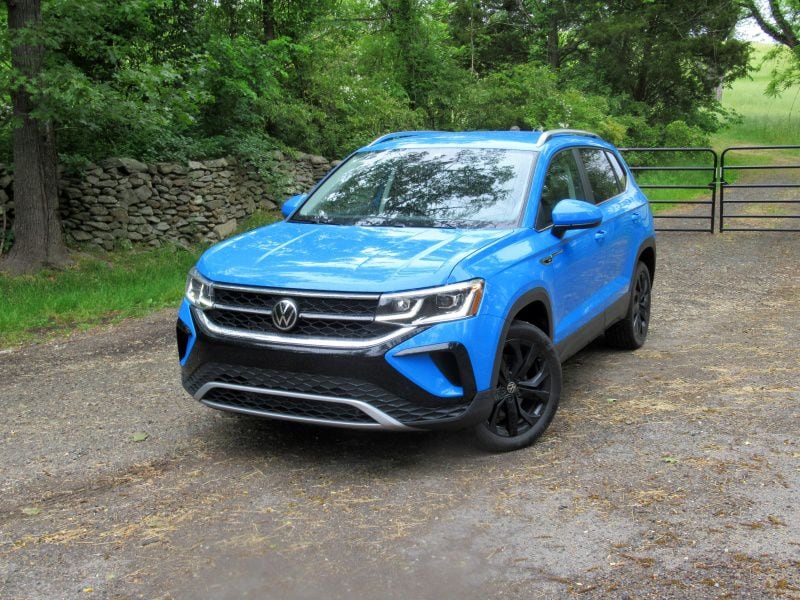 Volkswagen Taos SEL ・ Photo by Brady Holt
Fuel Economy
The front-drive Taos scores an excellent EPA-estimated 28 mpg in the city, 36 mpg on the highway, and 31 mpg combined, while the AWD's ratings dip to 25 mpg city, 32 mpg highway, and 28 mpg combined. We averaged 34 mpg and 32 mpg, respectively, while testing both configurations on lightly trafficked rural roads. 
Even though it makes less power, the Seltos offers similar mileage from its base 2.0-liter engine: 28 mpg in the city, 34 mpg on the highway, and 31 mpg combined with front-wheel drive, and 27 mpg city, 31 mpg highway, and 29 mpg combined with AWD. The much more powerful AWD-only Seltos turbo just scores 25 mpg city, 27mpg highway, and 26 mpg combined. When we tested the turbo Seltos, we beat those EPA estimates to average 30 mpg in a week of mixed driving. Overall, we're most impressed with how the turbo Seltos and both Taos models balance performance and fuel efficiency, but we'll give the win to Volkswagen for putting a more advanced engine across its lineup.
Winner: Volkswagen Taos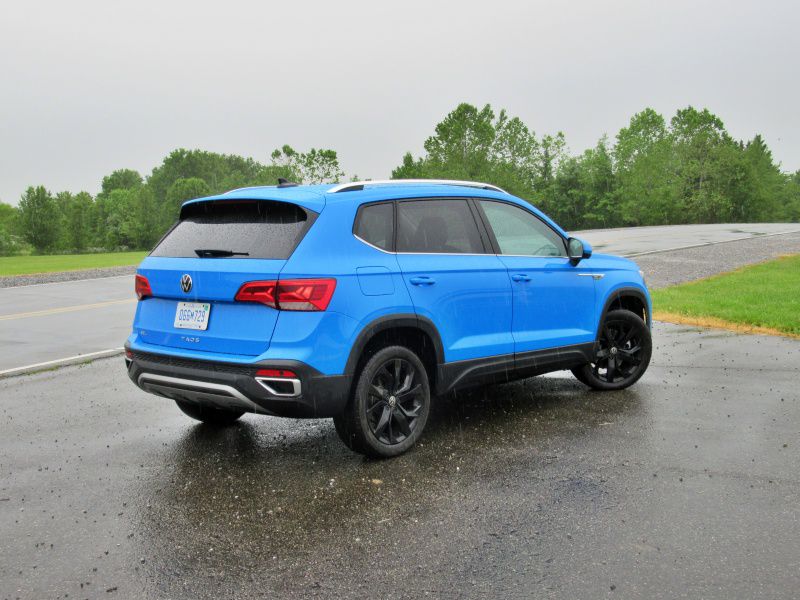 Volkswagen Taos SEL ・ Photo by Brady Holt
Safety
The 2023 Kia Seltos earned a Top Safety Pick designation from the Insurance Institute for Highway Safety but a middling four out of five stars from the National Highway Traffic Safety Administration. Neither organization has tested the updated 2024 Seltos. The Taos, meanwhile, also scores just four stars in NHTSA testing and came up just short of the Seltos with the IIHS.
VW did add more standard safety and driver-assistance features this year after charging $995 extra for automatic emergency braking and lane-keeping steering assistance on last year's base model. It already provided blind-spot monitoring, which Kia leaves off the base Seltos. But overall, we're swayed by the Seltos's superior crash performance.
Winner: Kia Seltos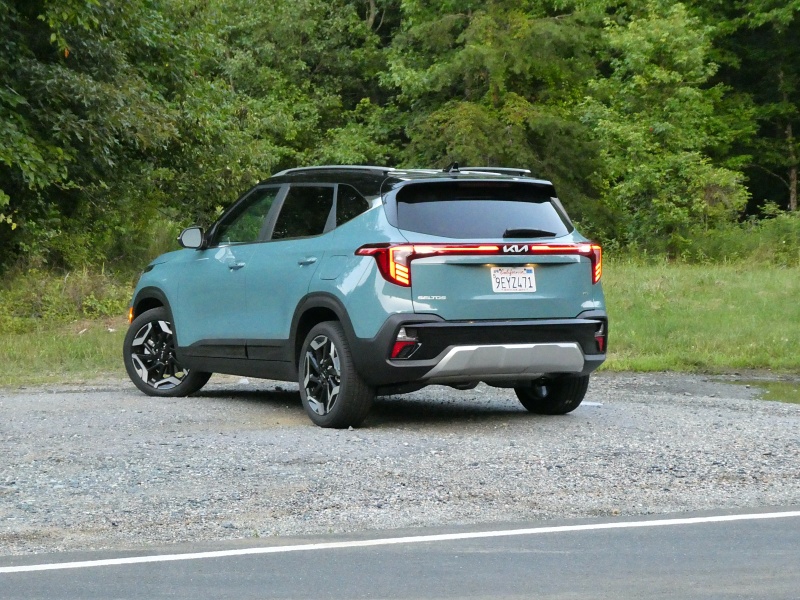 Kia Seltos SX ・ Photo by Brady Holt
Final Thoughts
If price were no object between these two crossovers, the Taos might be our winner. Even its base model is peppy, roomy, and fuel-efficient. It rides well, yet it's also agile, especially if you get it with AWD. It's smoother, quicker, and quieter than most Seltos models, and it has more passenger space and similar cargo room. 
But for many folks, price is most definitely an object. And the Seltos is an incredible value for the money, typically costing thousands less than an equivalent Taos. Whether you want a budget-friendly base model or a well-equipped one, this freshly updated Kia delivers a lot for the money. And while the Taos has advantages over the Seltos here and there, this is still one of our favorite subcompact crossovers — regardless of its bargain pricing. We won't argue if you decide the Taos is worth some extra money, but we'd start our shopping with the Seltos. 
Winner: Kia Seltos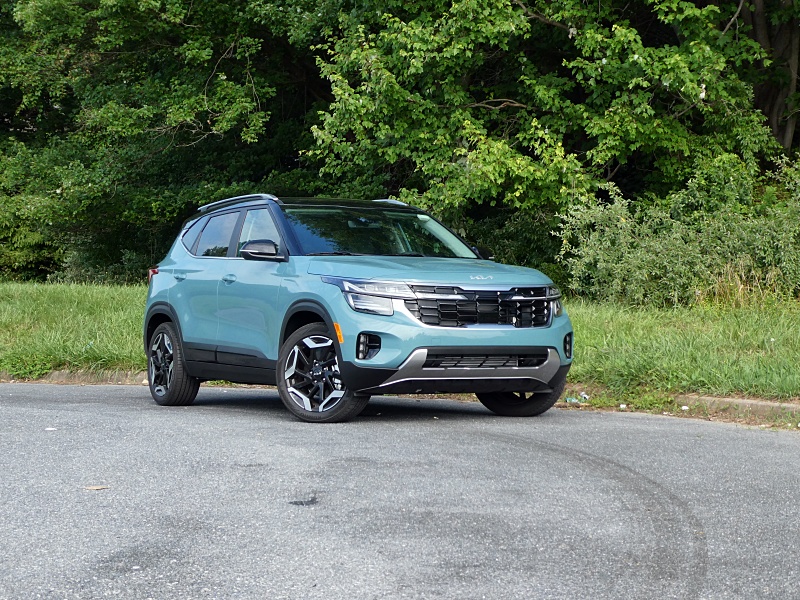 Kia Seltos SX ・ Photo by Brady Holt