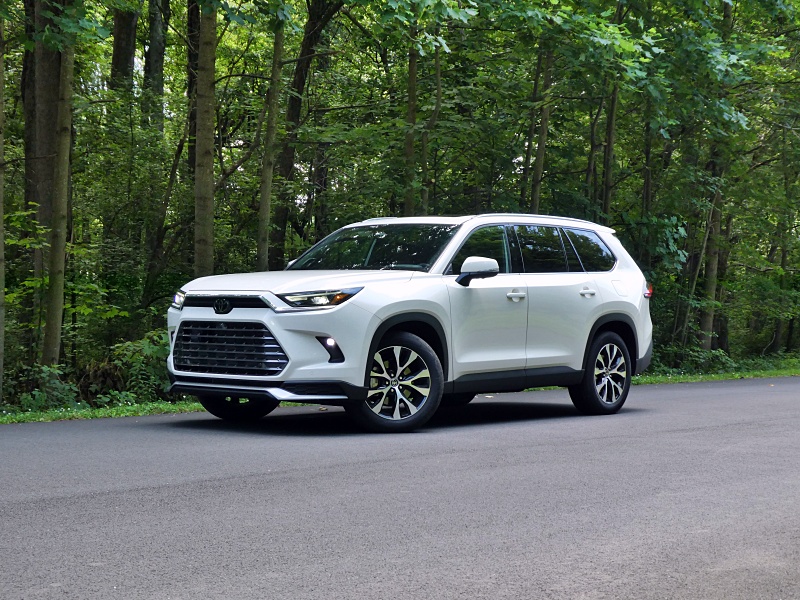 Photo by Brady Holt
For generations, Toyota has been playing in the three-row crossover segment with one arm tied behind its back. That's because the popular Toyota Highlander has been nearly half a size smaller than rival SUVs.
This disparity is over. Now there's an all-new 2024 Toyota Grand Highlander to serve folks who are willing to pay extra for a plus-size SUV. For this review, we tested the new Grand Highlander and the rival 2024 Honda Pilot to see whether Toyota has created a new winner in this segment. We'll compare these two crossovers across eight categories and then name an overall winner. Keep reading to see which one we chose and which one sounds like the better choice for you. 
Pricing and Features
Even the standard-size Highlander is on the pricy side among three-row crossovers, and the Grand Highlander takes things further with a lofty base price of $43,070. That's significantly more than the cheapest Pilot, which costs $37,090.
Now, much of this disparity stems from Toyota's decision to leave its base LE model to the Highlander. The Grand Highlander's base model is the midgrade XLE, which comes packed with features like heated leatherette front seats, a power liftgate, rear sunshades, push-button starting, and blind-spot monitoring. That best aligns it with the Pilot EX-L ($42,400). But even then, the Honda costs less, and it gives you the choice to save money by foregoing some fineries. 
Winner: Honda Pilot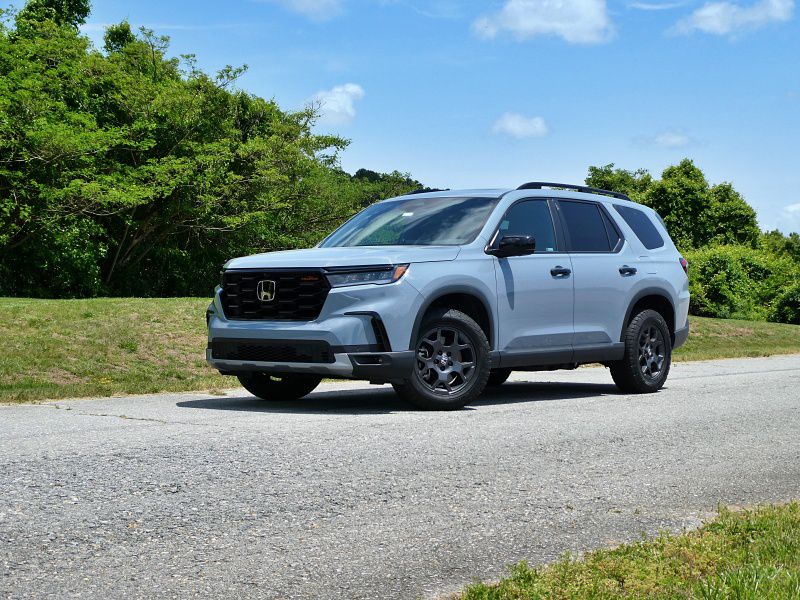 Photo by Brady Holt
Exterior Design
Despite having "Highlander" in its name, the new Grand Highlander doesn't share much resemblance to the standard-size Toyota Highlander. Instead, it borrows its boxy shape from the smaller Toyota RAV4. Crisp, straight lines make it handsome, and it looks more like a traditional SUV than the swoopier Highlander. Some folks might prefer more design flourishes or might not care for the high, slim headlights and large dual grille.
The Pilot, meanwhile, was fully redesigned last year. Honda also made its three-row crossover into an upright SUV-looking vehicle, with a vertical front end and boxy roof. And our off-road-focused Trailsport test vehicle added further SUV-esque cues. Honda gives some more flair to the Pilot with chunkily angled windows, prominent fenders and bumpers, and the Trailsport's additional design elements. But except for its handsome face, the Pilot is also more rounded-off than the Grand Highlander. Your own taste will choose the winner here. 
Winner: Tie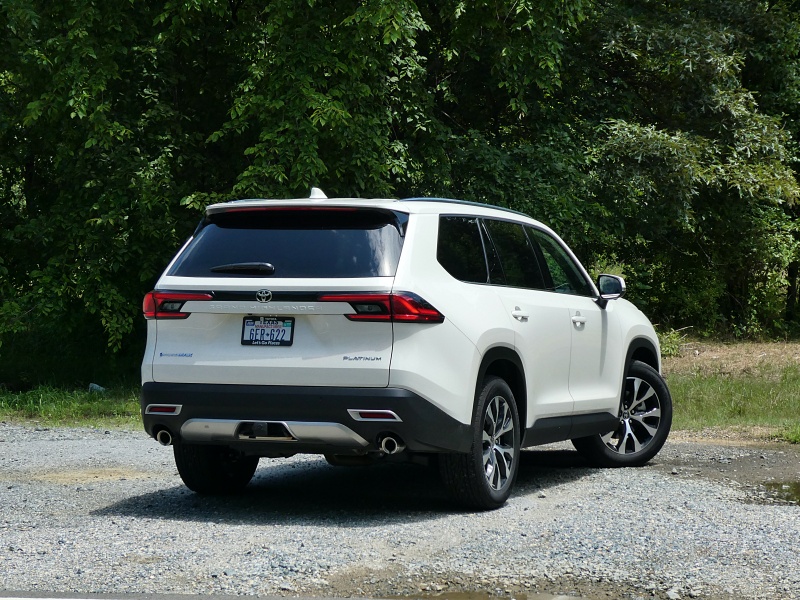 Photo by Brady Holt
Interior Design
Inside, the new Pilot wears Honda's new attractively minimalistic dashboard design. It's a straight bar with an infotainment touchscreen on the top, climate vents below it, and climate controls below that. (The vents don't hide in a honeycomb strip, though, unlike some other Hondas.) It's upscale without being flashy, it feels more solidly built than the Grand Highlander, and the controls are effortlessly easy to use. However, our test vehicle's infotainment screen measures a modest 9 inches, while entry-level Pilots make do with a mere 7 inches. 
The Grand Highlander's dashboard, meanwhile, is shaped around a 12.3-inch touchscreen that's standard on every trim level. The Toyota also includes simple physical controls and, particularly on our top Platinum test vehicle, rich upholstery on the seats and dash. We prefer Honda's infotainment system to Toyota's: The Grand Highlander doesn't make much use of its extra space, constantly forcing you to navigate through menus for different information, while Honda presents more info side-by-side with superior navigation. But technophiles would never excuse a base Pilot's tiny screen. We'll call this category an overall tie. 
Winner: Tie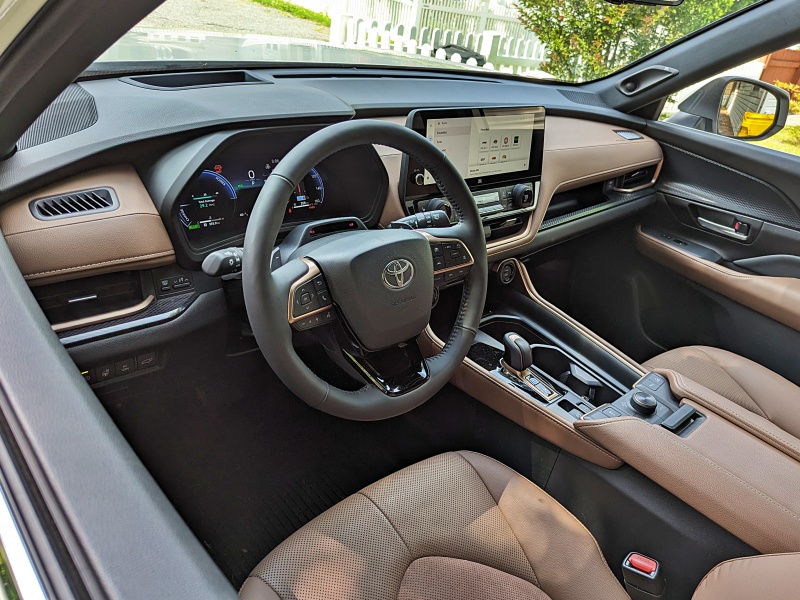 Photo by Brady Holt
Passenger Accommodations
Both the Pilot and Grand Highlander seat up to eight passengers across three rows of seats (or seven with their optional second-row captain's chairs). But Honda takes the lead for overall passenger space and flexibility. 
First, while both SUVs can finagle even adults into their third rows, the Pilot provides easier access and a bit more legroom in the way back. Secondly, top Pilot trim levels have a nifty removable center position from the middle row; this means you can have captain's chairs when you want, and a bench seat (fitting an eighth passenger) when you don't. Toyota does provide high-end amenities like ventilated front seats, heated second-row seating, and a heated steering wheel for thousands less than the Pilot, and only the Grand Highlander is even available with ventilated second-row seats. But to us, the Pilot's strengths are even more valuable in a big family car. 
Winner: Honda Pilot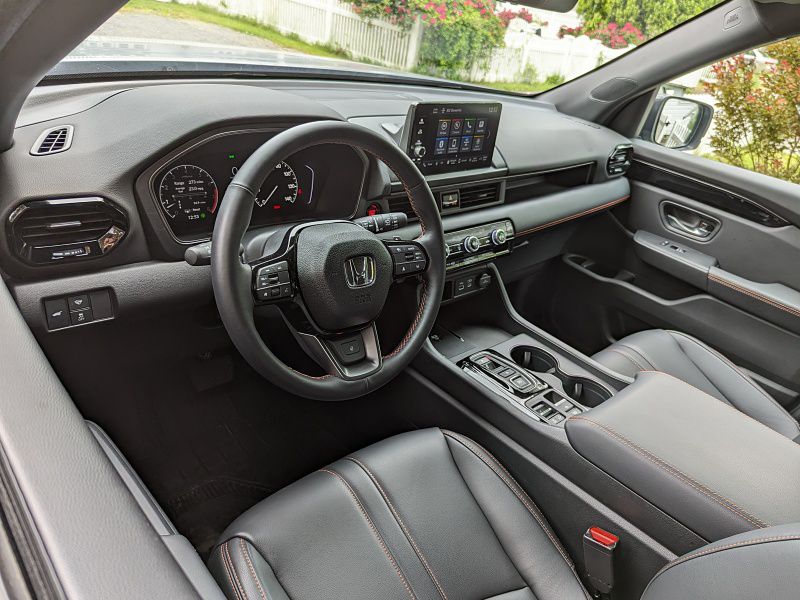 Photo by Brady Holt
Cargo Accommodations
As you'd expect from a three-row crossover SUV, the 2024 Honda Pilot has an ample cargo hold. It measures 18.6 cubic feet behind the third-row seat, 48.5 cubic feet with the third row folded, and 87.0 cubic feet behind the front seats. 
But the 2024 Toyota Grand Highlander is even roomier: 20.6 cubic feet behind the third row, 57.9 cubic feet behind the second row, and 97.5 cubic feet behind the front seats. It's also a boxy, regularly shaped space. We found it unexpectedly cumbersome to fold down the Toyota's second row, but we appreciated the huge cargo hold once we managed to do so. Both SUVs can tow up to 5,000 pounds. 
Winner: Toyota Grand Highlander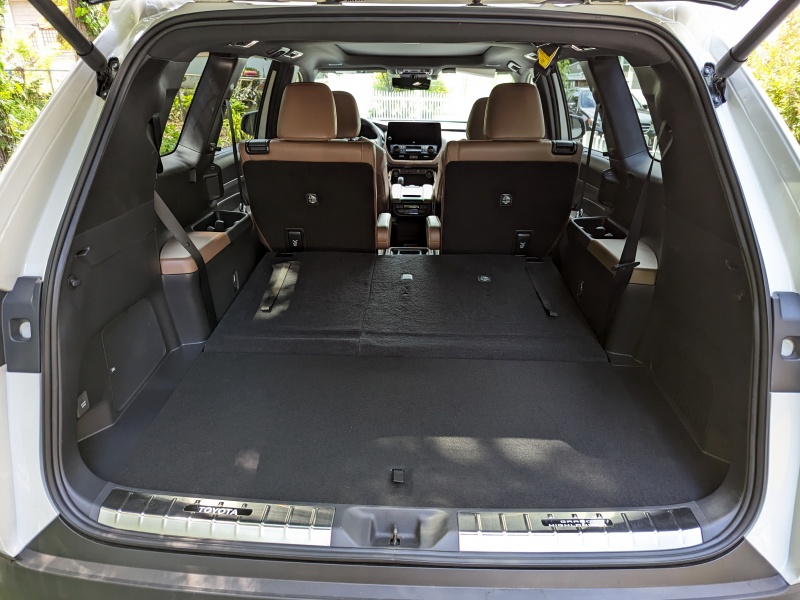 Photo by Brady Holt
Ride and Handling
Here's another category where the Pilot and Grand Highlander meet the expectations of a big three-row crossover SUV. Both have smooth, comfortable rides. And both are easy to drive but not quite agile. We'll pick the Honda overall. 
While we thought the previous-generation Pilot felt disconcertingly disconnected from the road, the new generation feels dialed-in with tighter steering, body control, and brakes. It inspires more confidence than before without sacrificing comfort. Plus, Honda even added a touch more off-road capability with the Trailsport. The Grand Highlander checks similar boxes (albeit with less off-road pretense) but doesn't feel quite as cohesive as the Pilot. The Honda feels like a big car, while the Toyota feels more like a big box. Not everyone will feel this admittedly minor nuance between the two similar-driving crossovers, but the Pilot was our pick from the driver's seat. 
Winner: Honda Pilot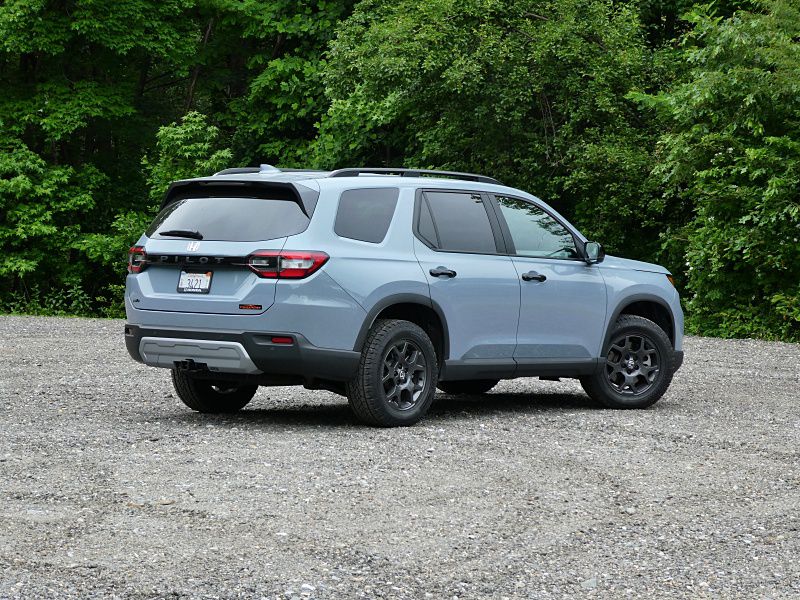 Photo by Brady Holt
Acceleration
As most crossovers drift toward turbocharged four-cylinder engines, gas-electric hybrid powertrains, or even full electrification, the Pilot has an anachronism: a 3.5-liter non-turbocharged 285-horsepower V6. More unusual still, this is a newly engineered engine at a time when many automakers are dialing back their development of gasoline powertrains. This gives the Pilot a richer, deeper engine note than four-cylinder rivals – including the Grand Highlander. 
Toyota uses a trio of four-cylinder-based options for the new Grand Highlander: a 265-hp 2.4-liter turbo, which recently replaced the standard Highlander's own V6; a 243-hp hybrid powertrain, also shared with the standard Highlander; and a 362-hp hybrid (what Toyota calls the Hybrid Max), borrowed from top-of-the-line Lexus RX models. The Grand Highlander Hybrid Max has more muscle than the Pilot, but it's also much more expensive; the cheapest Hybrid Max, a $54,060 Limited model, is already a couple thousand dollars dearer than the top Pilot Elite. In the heart of the lineup, the Pilot's V6 is smoother, quieter, and quicker than the Grand Highlander's more affordable powertrains. The Toyotas aren't slow, but the Honda gets the job done with less fuss. 
Winner: Honda Pilot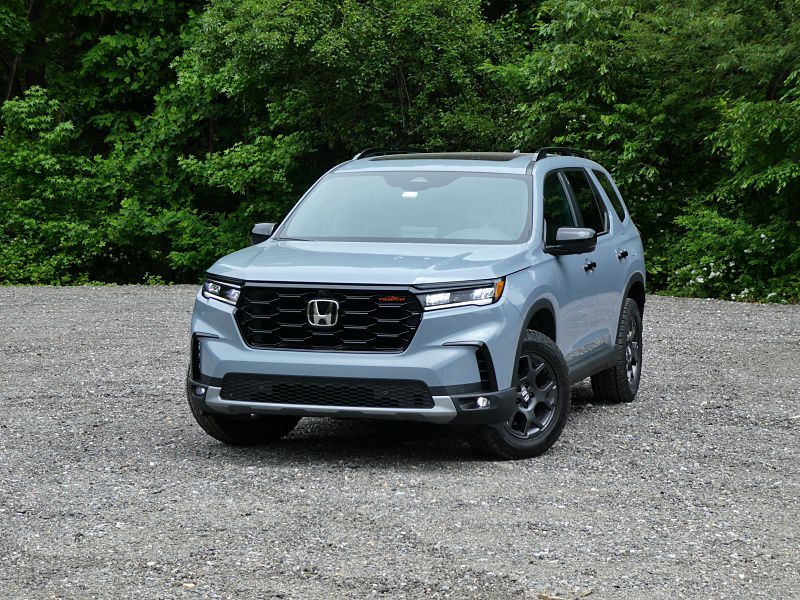 Photo by Brady Holt
Fuel Efficiency
A V6 isn't the natural choice for top fuel economy, and unsurprisingly, the Grand Highlander is the obvious leader here – particularly in its hybrid forms.  
In EPA testing, front-wheel-drive Pilots get 19 mpg in the city, 27 mpg on the highway, and 22 mpg combined and most all-wheel-drive models get about 1 mpg less. The AWD-only TrailSport, like our test vehicle, dips to 18 mpg city, 23 mpg highway, and 20 mpg combined, and we averaged 22 mpg in a weeklong test. This is about average for a three-row crossover. The Grand Highlander's base turbo engine, meanwhile, is rated at an excellent 21 mpg city, 28 mpg highway, and 24 mpg combined with front-wheel drive and 1 to 2 mpg less with AWD (depending on trim level). The front-drive hybrid improves to an incredible 37 mpg city, 34 mpg highway , and 36 mpg combined, with AWD costing about 2 mpg again. And the AWD-only 362-hp Hybrid Max manages 26 mpg city and 27 mpg highway, while our test vehicle edged out those numbers to average 28 mpg. 
Winner: Toyota Grand Highlander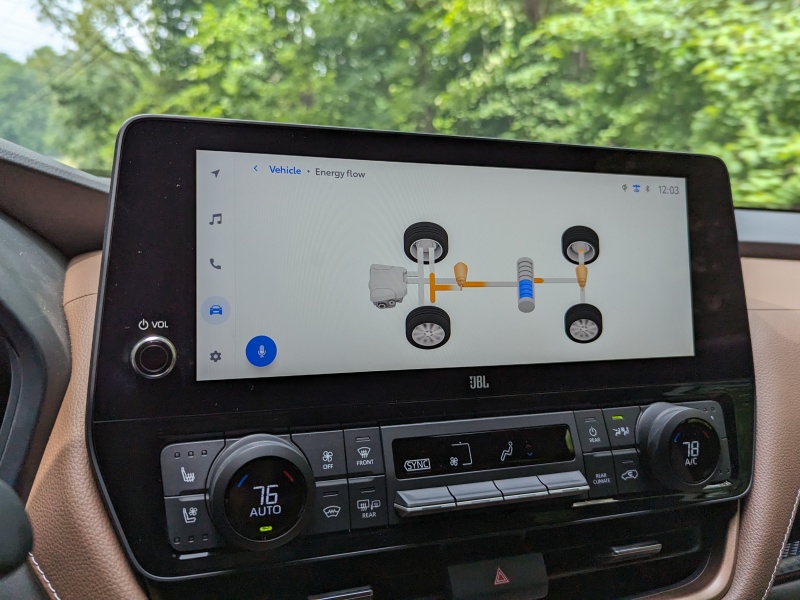 Photo by Brady Holt
Final Thoughts
We like driving the latest Honda Pilot. We appreciate its natural-feeling, rich-sounding V6 engine; its comfortable ride yet decently agile handling; its nicely finished, ergonomically sensible interior; and its comfortable, flexible passenger compartment. And with all these advantages, it still costs less than the Grand Highlander. 
But our pick is the Toyota. We think many families would happily pay a little extra and give up a bit of speediness for more cargo room and up to 12 mpg worth of fuel savings. We wish the Grand Highlander's seats folded more easily, and we wish Honda would stop charging $40,000-plus for SUVs with a 7-inch touchscreen. But overall, while some people will choose the Pilot's additional polish and design cleverness, Toyota dominates in some incredibly important areas to claim the win. 
Winner: Toyota Grand Highlander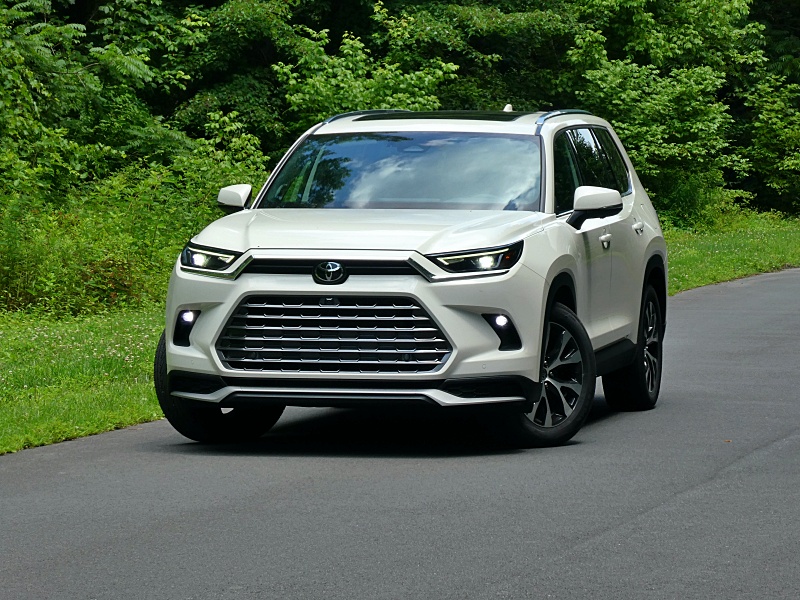 Photo by Brady Holt