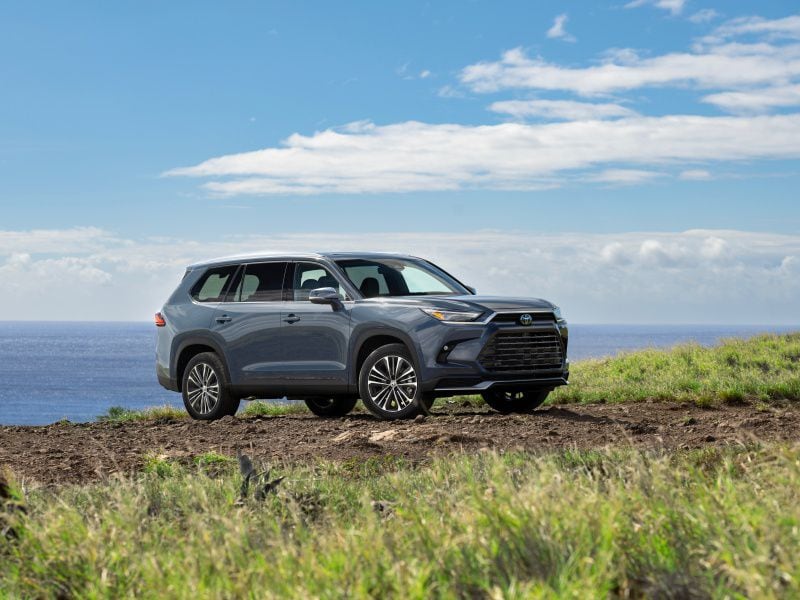 2024 Toyota Grand Highlander ・ Photo by Toyota
The 2024 Grand Highlander is an all-new vehicle that gives families looking for lots of room a fresh alternative. This isn't just a Highlander that gets a new badge and a few random changes to be different; this is a completely different vehicle. There's seating for up to eight people with a roomy cabin and good standard features. The third row, while not huge, can manage three kids or two adults comfortably and gets nice amenities including cupholders and charging ports.
There are three engines from which to choose, each with varying amounts of power and responsiveness. Choose gas, hybrid, or a hybrid max, each with a balance of efficiency and performance. Infotainment with good connectivity and a large touchscreen are standard along with an expansive suite of standard safety features. Let's take a closer look at the 2024 Toyota Grand Highlander to see if it's the right SUV for you.
A Lineup of Only Three Trims
There are only three Grand Highlander trims from which to choose. It seems like a drawback, but in reality, it's a good thing. Trying to find just the right combination of features to fit your needs gets trickier with an expansive lineup. This narrow trim range reduces complexity and makes it easier to make a choice.
The base XLE starts at $43,070 equipped with the gas engine and front-wheel drive. It's the most affordable option of the lot, but still has good standard features including heated front seats and a 10-way power driver's seat, which add a touch of premium appeal. The Limited sits in the middle of the trim range with a price of $47,860 and additional convenience features, while the Platinum tops the range at $53,545. Within that mix, you have options for front-wheel or all-wheel drive and all three engines so it's easy to find exactly the right trim.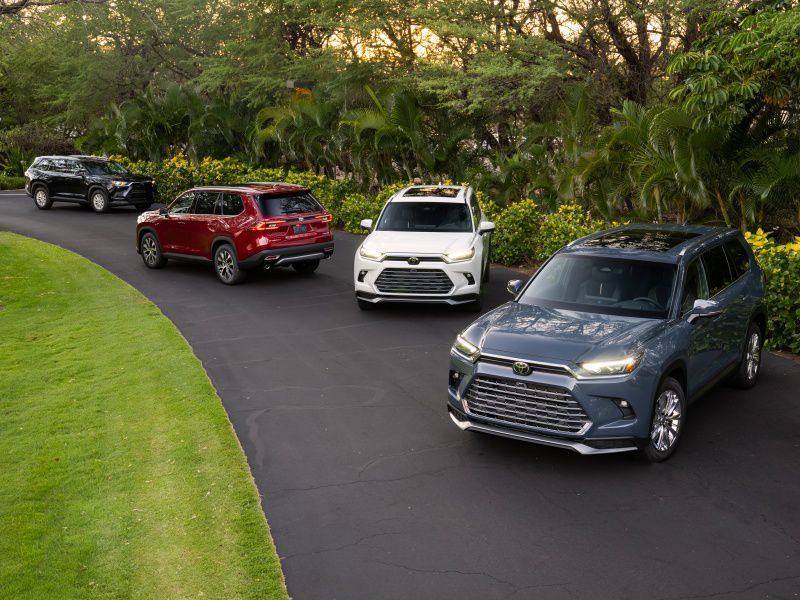 Photo by Toyota
A Responsive Gas Engine
The Toyota Grand Highlander has a choice of three engines, all depending on the level of fuel efficiency and performance you want in your SUV. Those who want a traditional gas engine have a 2.4-liter turbocharged 4-cylinder that delivers 265 horsepower with 310 lb-ft of torque for strong acceleration. It gets up to speed easily with a minimum of engine noise to bother passengers. Hit the gas hard for extra power to pass slower vehicles on the highway and it quickly delivers.
This engine is paired to an 8-speed automatic transmission that manages power well. It gives you all the power you need when you need it with smooth, quick shifts and no undue noise. The Grand Highlander is a large SUV, but the gas engine is powerful enough to easily manage its bulk. It creates an engaging driving experience that's great for longer trips.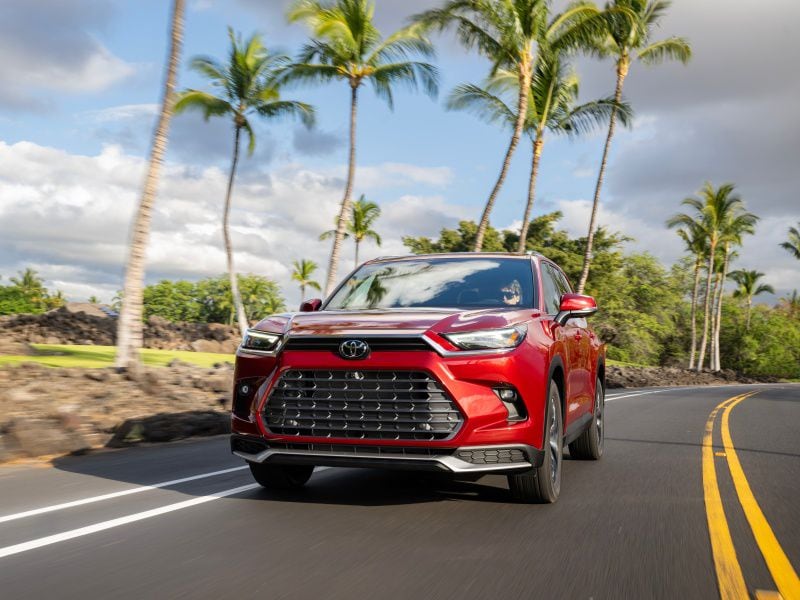 Photo by Toyota
Two Hybrid Engines
There are two different hybrid engines in a addition to the one gas engine. The first option is a 2.5-liter 4-cylinder hybrid with an electric motor that provides 243 net system horsepower with 175 lb-ft of torque. This is paired to a continuously variable automatic transmission. It gets the Grand Highlander up to speed, but it's not as responsive as the gas engine and produces more unwanted noise.
The second option is the hybrid max. This 2.4-liter turbocharged 4-cylinder hybrid engine and electric motor produce 362 net system horsepower with 400 lb-ft of torque paired to a 6-speed automatic transmission. This is our favorite engine of the bunch. It provides strong acceleration without being loud or sounding strained. It delivers robust acceleration that makes getting up to highway speeds effortless and is the most engaging and fun to drive of the three engine options. It balances efficiency and performance beautifully.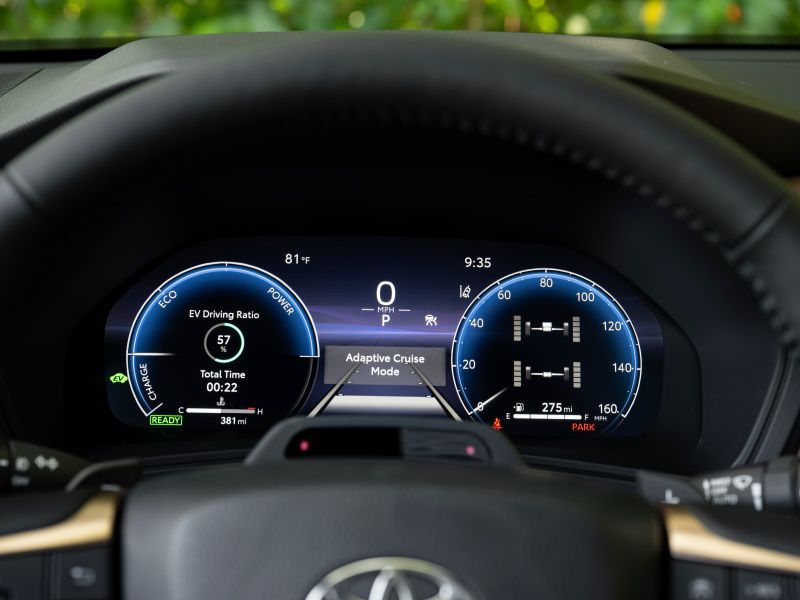 Photo by Toyota
Fuel Economy That Helps Keep You on Budget
The Grand Highlander gets varying fuel economy figures depending on the exact configuration you choose. Those figures cover quite a spread, with the lowest numbers posted by the gas engine. It gets an EPA-estimated 21 mpg in the city, 28 mpg on the highway, and 24 mpg combined. This is a large vehicle, but that's still good fuel economy that makes the family road trip more affordable.
The hybrid max does one better with 26 mpg in the city, 27 mpg on the highway, and 27 mpg combined. These figures outdo the gas engine without a sacrifice in performance. The best figures come from the hybrid; it delivers 36 mpg in the city, 32 mpg on the highway, and 34 mpg combined. If fuel economy is your priority, then this is the engine to pick. But it's worth noting that it comes without the strong performance of the gas or hybrid max engines.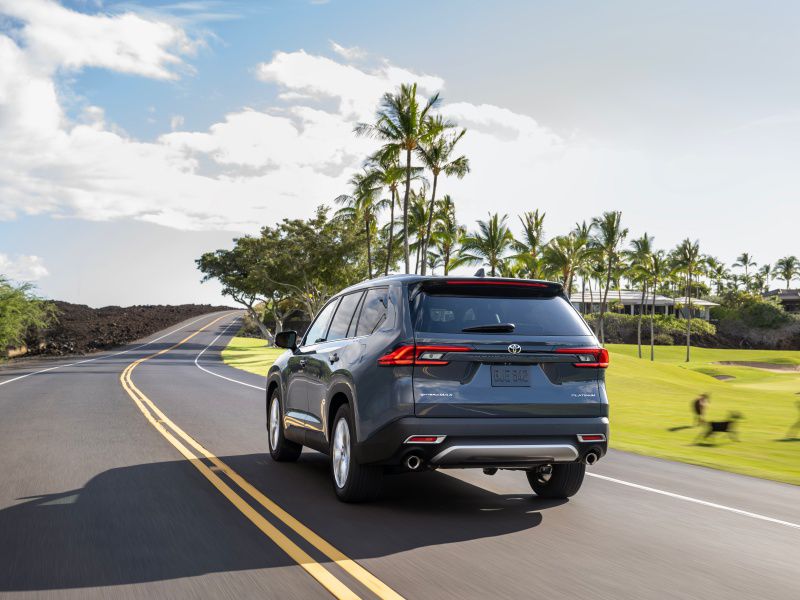 Photo by Toyota
A Comfortable Interior With Room for Eight
This is a roomy SUV that's ideal for families who expect to have a full load of passengers most of the time. There's seating for up to eight people, but with second-row captain's chairs, seating drops down to seven. Both configurations are comfortable, but the captain's chairs are better, especially for adults. The third-row seats three, but its width makes it better for two. There is, however, plenty of legroom and headroom so even those hitting the six-foot mark won't feel cramped. If it's kids, then three will be perfectly happy in the third row.
Up front, the seats are supportive and comfortable with a standard 10-way power driver's seat and heated front seats for both driver and passenger. There's light bolstering so larger adults won't feel squished with materials that are attractive and plush. Its comfortable interior and smooth, quiet ride make the Grand Highlander road trip ready.
Photo by Toyota
Room for Everything
This is a family vehicle, so it needs to do double duty with people one minute and cargo the next. The Grand Highlander has a spacious interior that makes it easy to take along everything a busy family needs. With all three rows in use, there's 20.6 cubic feet for cargo behind the third row of seats. That's enough space for seven carry-on roller bags without folding any of the seats.
If you fold the third row, then cargo room increases to 57.9 cubic feet. If you need even more room, then fold the second row, too, and take advantage of 97.5 cubic feet of cargo room in the Grand Highlander. That's a lot of space, but if it's still not enough, hook up a trailer and tow up to 3,500 pounds in the hybrid or 5,000 pounds with the gas or hybrid max engine.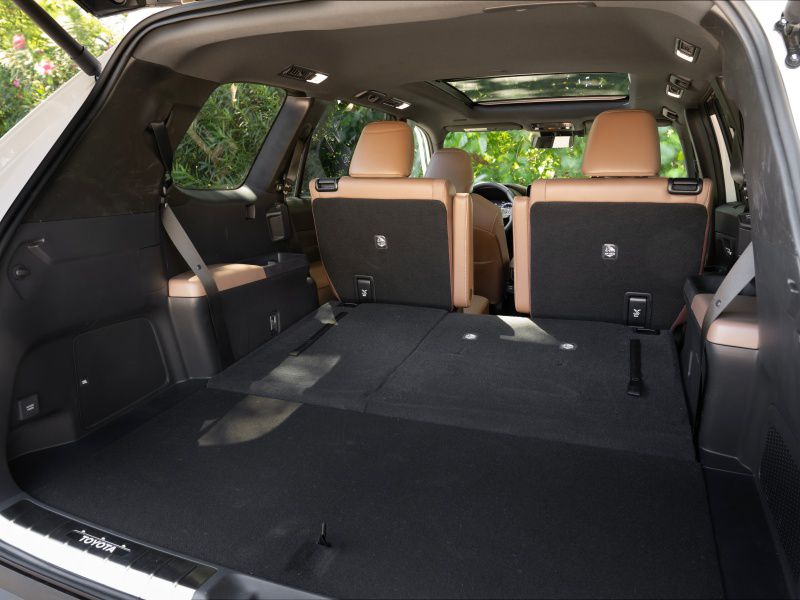 Photo by Toyota
A Large Infotainment Touchscreen and USB Ports Everywhere
No matter which Grand Highlander trim you choose, a 12.3-inch infotainment touchscreen comes standard. It's mounted horizontally on the dashboard within easy reach of the driver and the front passenger. There's standard wireless charging and wireless Apple CarPlay and Android Auto to limit the number of cords cluttering the center console. It's easy to use with intuitive menus, and the touch screen is responsive.
Since there's a good chance of there being lots of people in the Grand Highlander at once, Toyota included plenty of USB ports. There are two in the third row, two in the second row, and three up front. The two beneath the infotainment system are clearly marked so you know which is for charging and which connects to the system. The third is placed all the way to the right of the dashboard so the passenger can easily plug in, and there's even a spot under the dash to stash your phone.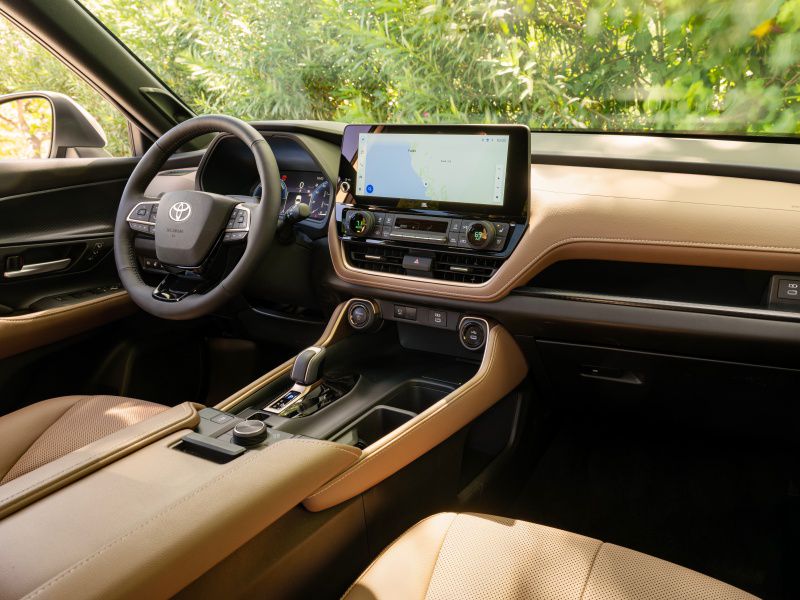 Photo by Toyota
Standard Toyota Safety Sense 3.0 With New Features
The Grand Highlander comes standard with Toyota Safety Sense 3.0, which is the latest version of this suite of advanced safety features. This year, it has new features and enhancements to existing technologies. It includes dynamic radar cruise control, pre-collision with pedestrian detection, lane tracing assist, lane departure alert with steering assist, automatic high beams, road sign assist, and proactive driving assist.
Procactive driving assist is a new addition to the system. When specific conditions are met, it uses the Grand Highlander's camera and radar to brake and steer. It slows the vehicle going into curves and helps maintain the right distance between vehicles. Enhancements to existing systems include detection of motorcyclists at intersections and better lane identification through the recognition of objects including guardrails. There's also a new emergency driving system as part of lane tracing assist, which determines if a driver is non-responsive and safely stops the vehicle.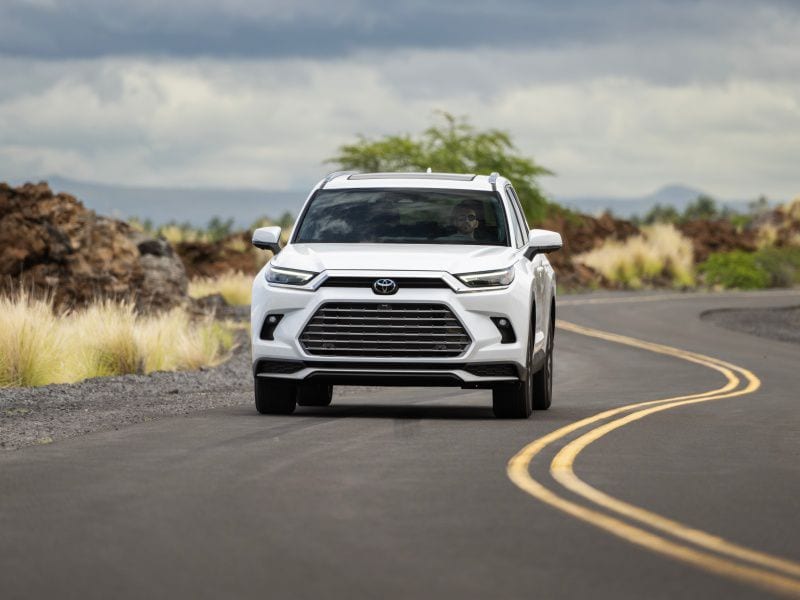 Photo by Toyota
Final Thoughts
The 2024 Toyota Grand Highlander adds a versatile family vehicle to the brand's already strong offering of SUVs and crossovers. There's seating for eight with a third-row that's not torture for adults and plenty of room for everyone. Materials are good and convenience features, including lots of cupholders and USB ports, make it great for long road trips.
The choice of gas, hybrid, or hybrid max engines lets you decide whether your priority is fuel economy or performance, but all three are good on gas and easy on your wallet. The Grand Highlander offers a smooth, well-composed ride across the lineup, which is ideal for families. Those who want a spacious, attractive, and comfortable SUV for the whole crew will find the Grand Highlander a great choice.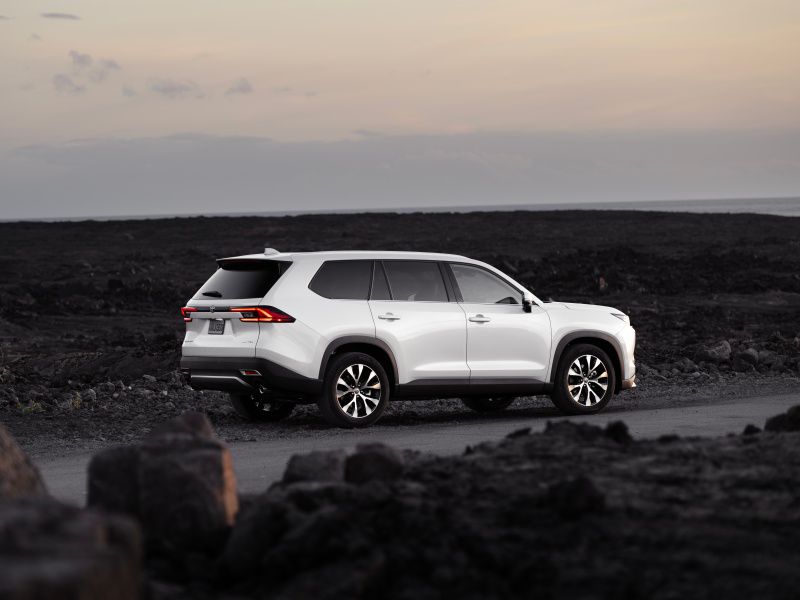 Photo by Toyota