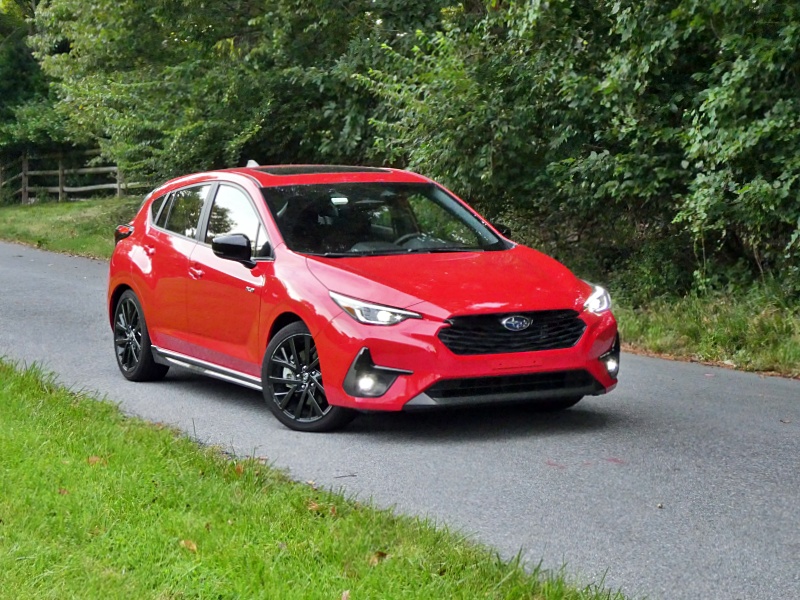 Photo by Brady Holt
When you want some extra cargo room and all-wheel drive, a crossover SUV is the natural place to turn. But it's not the only place. 
For this review, we spent a week testing two alternatives that promise sportier styling, sharper handling, and lower prices than SUVs. These are two compact hatchbacks that start in the low to mid $20,000s: the newly redesigned 2024 Subaru Impreza and the long-beloved 2024 Mazda3. We'll discuss how these two compact hatchbacks compare in eight different categories, then name our overall winner. Keep reading to learn which one we picked and see which one sounds like the best fit for you. 
Exterior Design
The redesigned 2024 Subaru Impreza is styled as a sporty car. Slimmer, more defined headlights point aggressively at an enlarged new grille. The new face also includes scoops on the front bumper dropping down from the headlights, which contain foglights on upper-trim Imprezas. Emphasizing the Impreza's heightened performance focus, two of the three trim levels (Sport and RS) play up that theme, leaving only the base (called Base) to keep things simple. 
Still, while the Impreza's details can look pretty sharp, the Mazda3's entire body oozes sleek performance. A low, aggressive front end with a long hood and slit-like headlights astride a big grille. Around the back, the hatchback model leans forward like a sports coupe. (The Mazda3 is also available as a more conservative-looking sedan, but the Impreza is now sold only as a five-door hatchback.) We'll let you choose your winner between the more upright Subaru and the more ground-hugging Mazda. 
Winner: Tie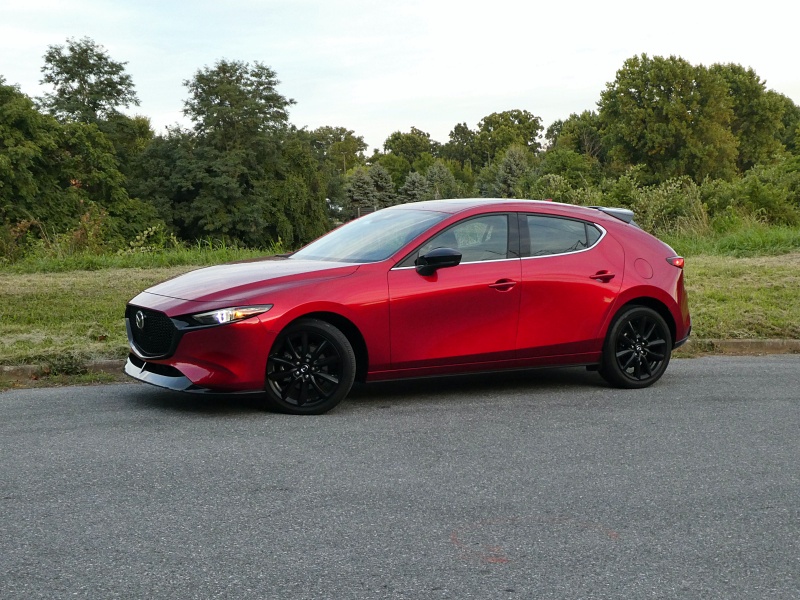 Photo by Brady Holt
Interior Design
At a glance, the Mazda3 looks like the easy winner for interior design. The minimalist design is sporty and upscale. The materials and assembly rival some luxury cars'. And a generously sized 8.8-inch infotainment screen comes standard, while a 10.25-inch unit is newly available. But when we delved into the details, we gave the nod to the Impreza. 
The issue is the Mazda's ergonomics. The infotainment system has no touchscreen functionality except on the upgraded 10.25-inch unit, and only then when you use Android Auto or Apple CarPlay. Instead, you navigate it using buttons and knobs on the center console. That has a steeper learning curve. And the infotainment system leaves most of its big screen with empty space. The Impreza doesn't have the Mazda's gorgeous materials, and its blocky dashboard doesn't look as fancy. And its 11.6-inch infotainment touchscreen isn't perfect either, with some sluggish responses. But overall, Subaru keeps things simple and sturdy. We had fewer frustrations in the Impreza than in the Mazda3. 
Winner: Subaru Impreza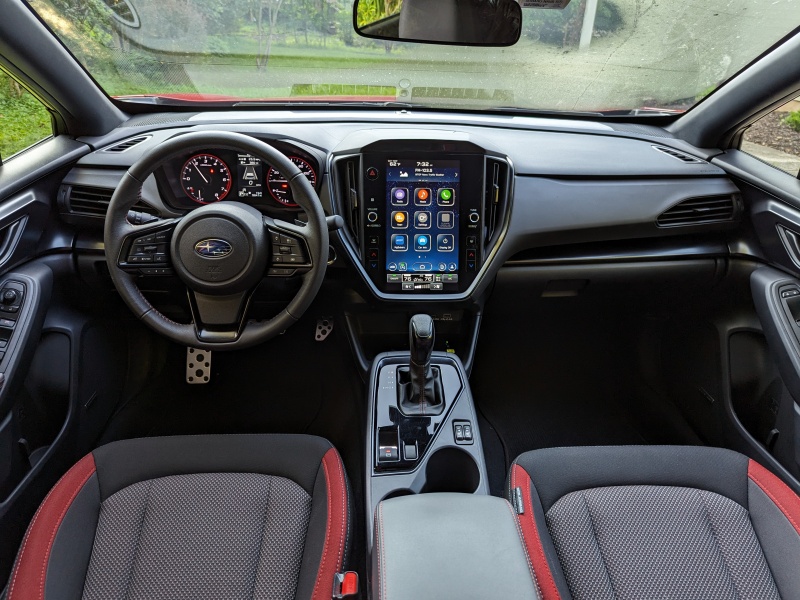 Photo by Brady Holt
Passenger Accommodations
The Mazda3's pretty interior is quite comfortable for two people on its low, form-fitting front seats. If you like a sporty vibe, you'll appreciate how it feels behind the Mazda's wheel. And the seats are trimmed in either leatherette or genuine leather on all hatchback trim levels. But no one will care much for its tiny backseat. 
The Subaru Impreza, meanwhile, remains one of the roomier compact cars. This hatchback can fit adults in the front and the back. It's easy to climb in and out, and while every Impreza now comes upholstered in cloth, heated front seats are available in all but the base model. 
Winner: Subaru Impreza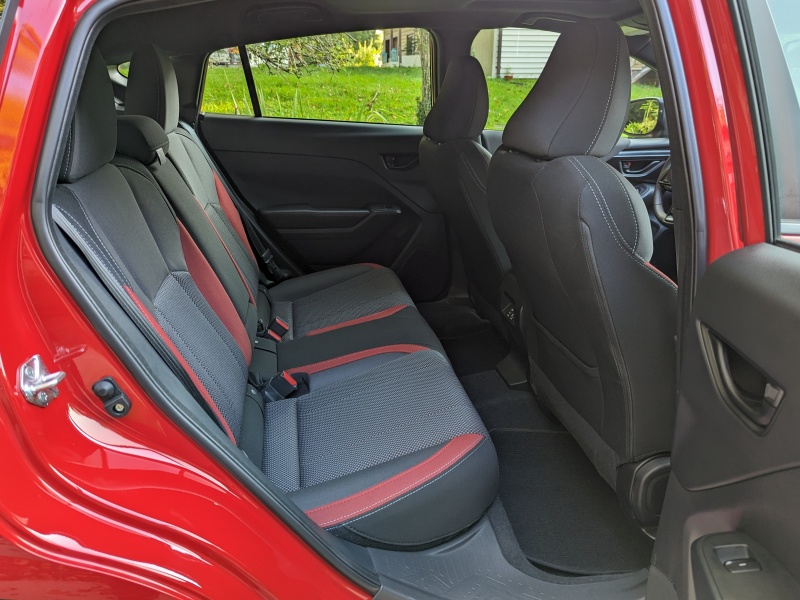 Photo by Brady Holt
Cargo and Utility
The Impreza's greater spaciousness carries over to its cargo capabilities. It holds 20.4 cubic feet of luggage behind its rear seat, and you can fold that seat down to get 56.0 cubic feet in total. Those are essentially the same numbers as the Subaru Crosstrek SUV, which is not surprising because the Crosstrek is an Impreza with higher ground clearance. 
The Mazda3's cargo hold comes closer than we expected from its racier silhouette and tighter backseat, coming to 20.1 cubic feet with the rear seat in place and 47.1 cubic feet with it folded down. But Subaru still has more. 
Winner: Subaru Impreza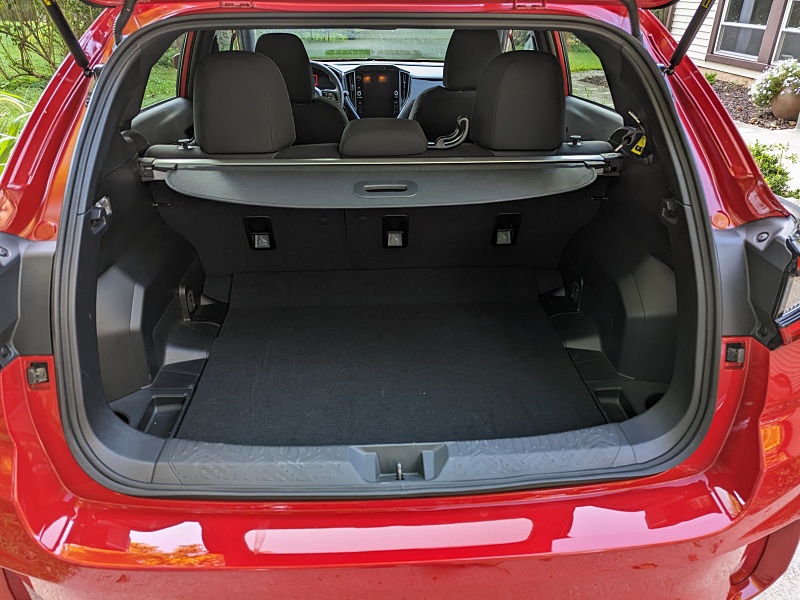 Photo by Brady Holt
Ride and Handling
The Impreza's comfortable, functional interior presages its driving manners. Even our sport-themed RS test vehicle is smooth and comfortable, gliding over bumps with ease. Its standard all-wheel-drive system, a Subaru hallmark, also promises all-weather traction. Its only struggle was scraping on a steep driveway lip. But its sporty flavor comes up short on a winding road. The Impreza doesn't handle clumsily, but the steering is light and vague.  
The Mazda3 isn't built to thrill you, either. It's a solid-feeling stoic, with its steering, ride, and handling feeling supremely natural and controlled. This is a great mini luxury car — smooth, quiet, and agile — more than a racy hot hatch. Still, the Impreza is neither. It has a slightly gentler ride, and Mazda only offers all-wheel drive on upper trim levels, but the Mazda3 is our easy favorite to drive. 
Winner: Mazda3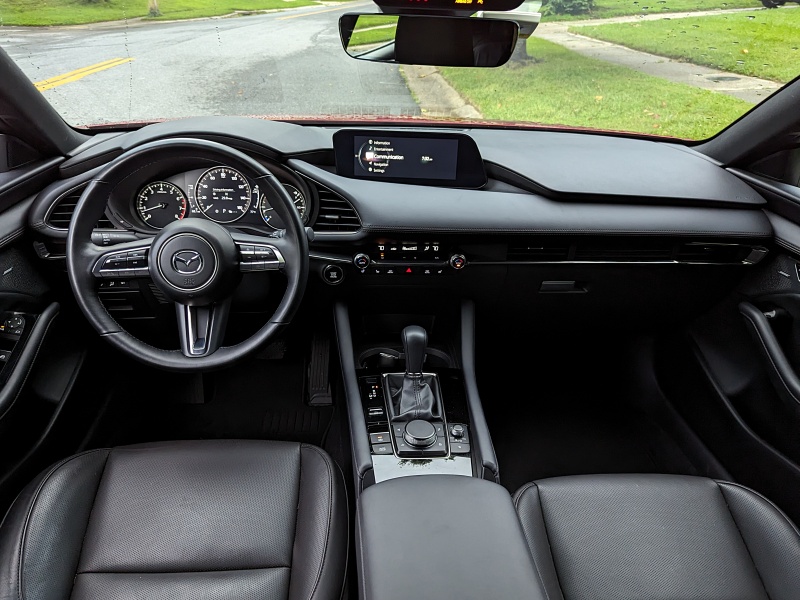 Photo by Brady Holt
Acceleration
The Mazda3's advantages continue when you press down on the accelerator. The base engine is a big 191-horsepower naturally aspirated 2.5-liter four-cylinder, while top models get this engine turbocharged to 250 hp (its output drops to 227 hp on 87-octane regular fuel). Mazda also recently added an artificial engine-noise enhancement to combat these engines' dull hums, but there's nothing boring about their speed. Most Mazda3 trim levels use a six-speed automatic transmission, but one mid-grade version offers a six-speed manual. 
The Impreza, meanwhile, comes standard with a 152-horsepower 2.0-liter on most trim levels and an 182-hp 2.5-liter on the RS. The latter option is new this year, shared with larger Subaru models. However, even our RS test vehicle makes more noise than power, and every Impreza uses a continuously variable automatic (CVT). The Impreza is far from dangerously slow, but its speed is more about the basics of transportation than about entertaining the driver. 
Winner: Mazda3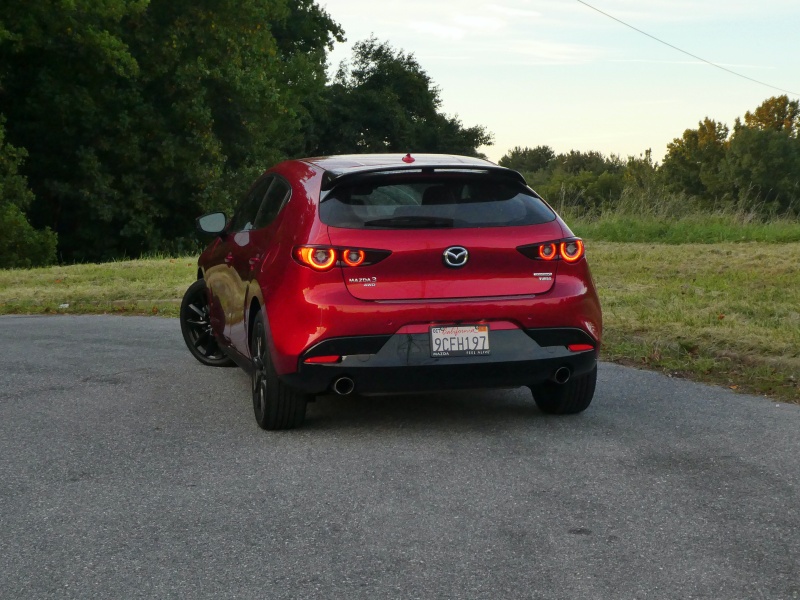 Photo by Brady Holt
Fuel Economy
Not only is the Mazda3 quicker than the Impreza, but it's more economical, too. The 2024 Subaru Impreza has EPA ratings of 27 mpg in the city, 34 mpg on the highway, and 30 mpg combined with its base 152-hp engine, which is about 1 mpg less than last year's model. The 182-hp Impreza RS like our test vehicle is rated at 26 mpg city, 33 mpg highway, and 29 mpg combined, and we averaged just 27 mpg during a weeklong test. 
The Mazda3 hatchback, meanwhile, averages 27 mpg in the city, 35 mpg on the highway, and 30 mpg combined with its base non-turbo engine – which is more powerful than even the Impreza RS. All-wheel drive (standard on the Impreza) does knock the Mazda3 down to 26 mpg city, 33 mpg highway, and 29 mpg combined, the same as the Impreza RS. And the ultra-powerful Mazda3 turbo, with AWD standard, manages just 23 mpg city, 31 mpg highway, and 26 mpg combined. But unlike our Impreza, our Mazda3 test vehicles beat EPA estimates; we saw 29 mpg in a non-turbo AWD model and 28 mpg in a turbo AWD. 
Winner: Mazda3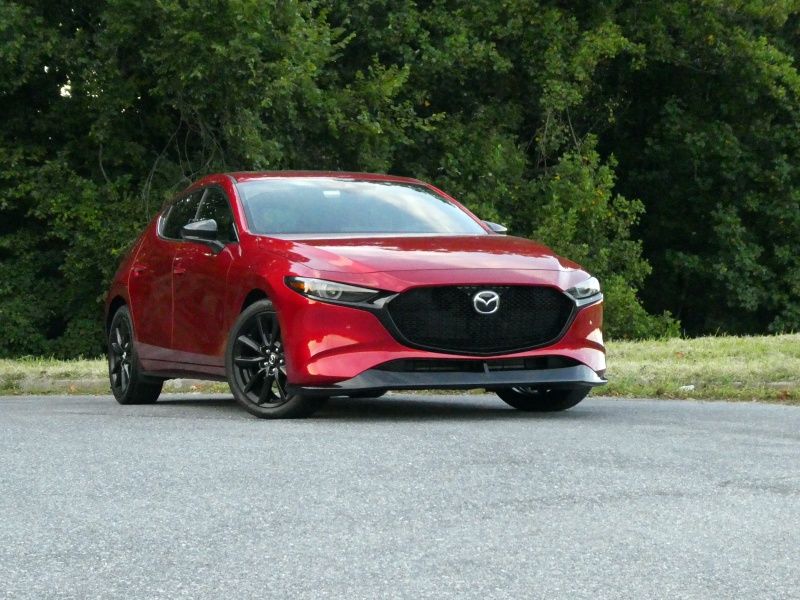 Photo by Brady Holt
Pricing and Features
The 2024 Mazda3 hatchback is priced from $25,690, and it can soar all the way to $36,650 for a Turbo Premium Plus like our test vehicle. (Sedans cost $1,000 less than comparable hatchbacks.) That's steep for a compact car, and much more expensive than the 2024 Subaru Impreza, which starts at just $22,995 for a base model, costs $24,995 for a midlevel Sport, and starts at $27,885 for the RS. 
Still, the Mazda's value is stronger than it looks at first glance. First off, the base Mazda3 Select Sport is equipped pretty similarly to the Impreza Sport, except that only the Mazda includes blind-spot monitoring, leatherette upholstery, and rain-sensing windshield wipers. The latter two aren't even available at any price on the Impreza. Nor are the Mazda's available 12-speaker stereo (the Subaru's best is 10 speakers), GPS navigation system, genuine leather, surround-view parking camera, or front and rear parking sensors. The Impreza wins for the lowest possible pricing, especially if you want AWD (available only on certain expensive Mazda3 trim levels). But the Mazda3 is the way to go when you want more amenities, and it packs a lot of them even at reasonable prices. 
Winner: Tie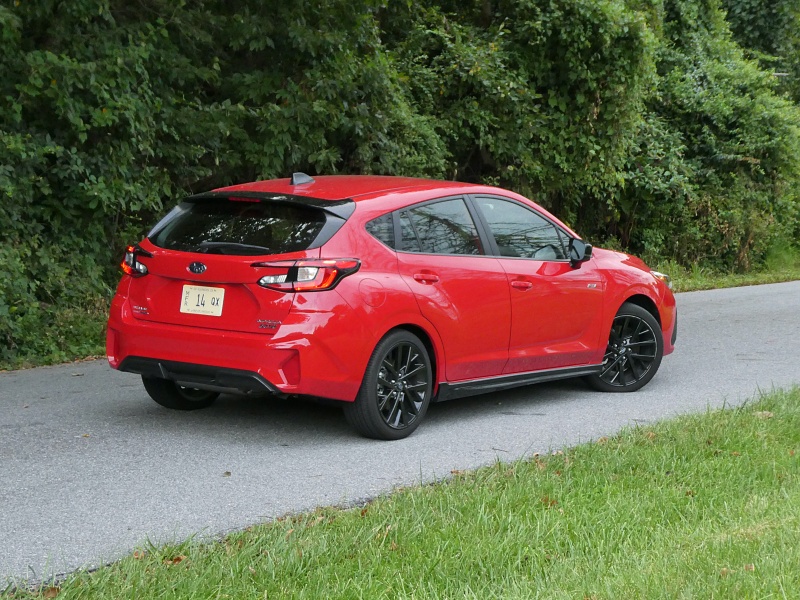 Photo by Brady Holt
Final Thoughts
The 2024 Subaru Impreza is an agreeable small hatchback. It's spacious, comfortable, solidly built, and affordably priced. It looks sharper than before and still comes with the security of all-wheel drive. And if last year's model was too slow for you, the new RS has a bit more zip. 
But our heart is with the 2024 Mazda3. It justifies its higher price with a higher tier of luxury and driving pleasure. And when you factor in its extra features and its unexpected fuel-efficiency win, your head can get on board as well. The Impreza's extra room, simpler controls, and lower starting price will appeal to folks who just want a functional economy car, but the Mazda3 delivers respectable value and practicality while also providing much more. 
Winner: Mazda3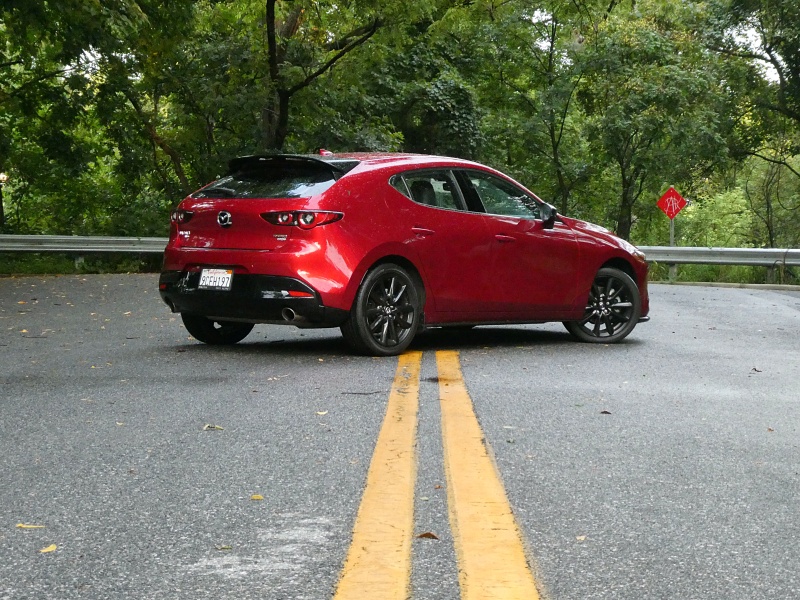 Photo by Brady Holt