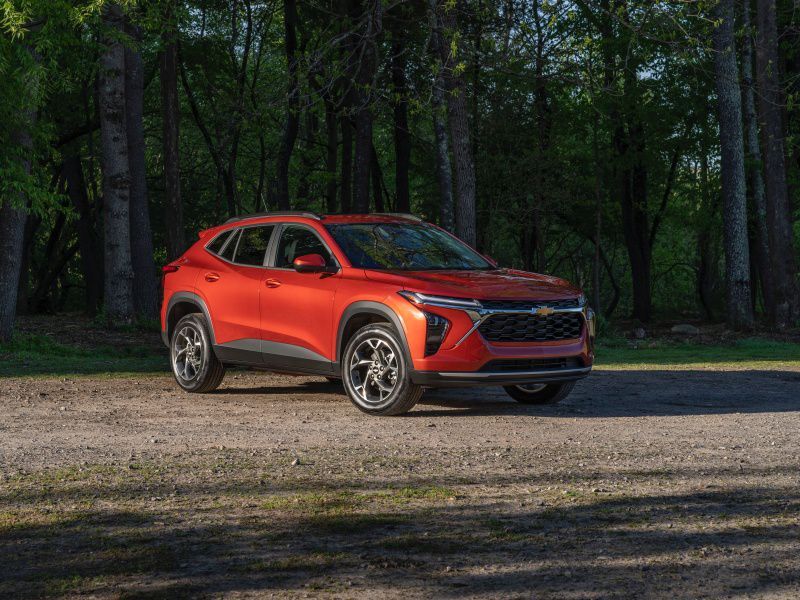 2024 Chevrolet Trax LT ・ Photo by Chevrolet
The 2024 Chevrolet Trax is an all-new crossover that shows off big improvements. This marks a whole new generation of the Trax, as virtually every area of the car has been improved. There's a new fuel-efficient engine to help you stay on budget as gas prices rise. There are also upgrades to the infotainment system with an available 11-inch touchscreen. It also has a good suite of standard safety features.
It's a bit larger this year, so there's more room for cargo and passengers with greatly improved rear seat legroom. The exterior gets a fresh new look, and the interior shows off a redesign that makes it look more appealing and more welcoming. All these improvements make the Trax a strong contender, as does its low pricing. Let's take a closer look at the all-new 2024 Chevrolet Trax.
Vastly Improved Interior
The Trax sits at the bottom of Chevrolet's SUV lineup, which makes it the most affordable option of the lot. affordable cars aren't known for having great interiors, and the last generation of the Trax was definitely a lackluster offering. The new Trax takes a big leap forward when it comes to the interior, with more premium materials and a far better, more modern design.
There are unique interior elements to differentiate the trims, from yellow contrast stitching on the Active to bold red on the 2RS. The fabric seats show off unique textures and patterns and they're both supportive and comfortable making them ideal for longer drives. The increased dimensions of the Trax mean there's more room, too. Those sitting in the rear seats get an extra three inches of legroom so tall adults won't have to worry about being squished.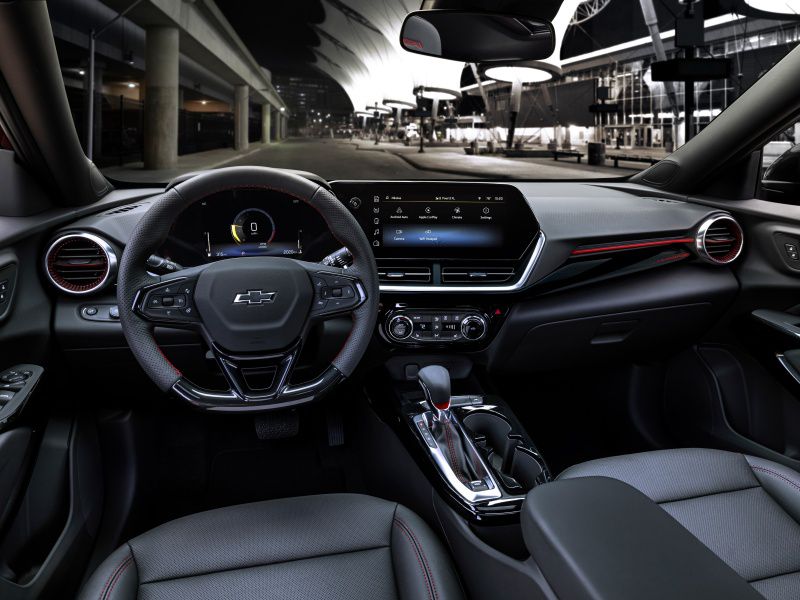 Photo by Chevrolet
A Fresh New Exterior Design
There are so many crossovers on the market right now that they do tend to blend together. The Chevrolet Trax shows off a whole new exterior design that takes what was a bit of a lackluster crossover and makes it downright attractive. It's sporty, modern, and eye-catching from every angle. That's partly due to design changes that include more length, more width, and a lower height that give it that sporty demeanor.
There's also a new look up front with horizonal lines incorporated into the design to enhance its width and bold stance. Keeping it in line with the rest of Chevy's offerings, the headlamps and new LED lighting are inspired by the larger Blazer. The new Trax doesn't look like the old Trax, and that's a very good thing. This is a crossover that gets noticed for all the right reasons and looks good parked in the driveway.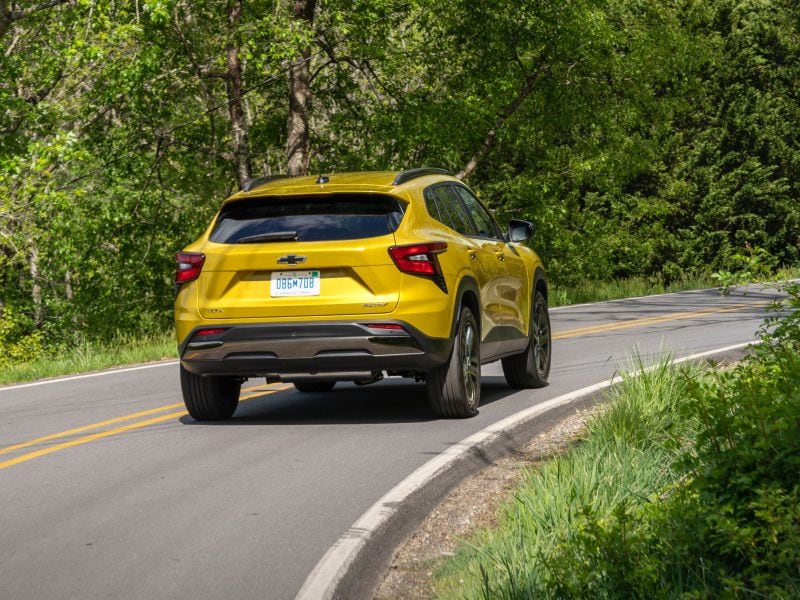 Photo by Chevrolet
Priced to Fit Your Budget
The Chevrolet Trax is priced to fit modest budgets. Whether you're looking to buy your first new car or simply want something affordable for you commute, the Trax is a good fit. The best part is, it doesn't look like you were being budget-minded at all. The base LS is $21,295 while the 1RS comes in at $23,195 with additional features.
Next is the LT, which starts at $23,395. At the top of the lineup are the Activ and 2RS, both of which are priced at $24,995. That puts the full Trax lineup at under $25,000 and makes this a fantastic crossover for those who put a priority on affordability. It's a heck of a bargain in the segment with great features on every trim, standout design, and pricing that won't have you pushing what you can truly afford.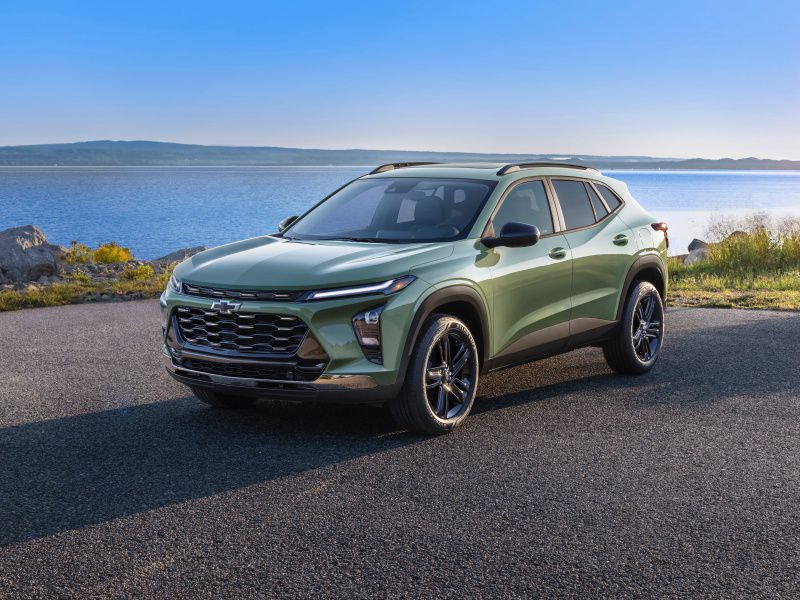 Photo by Chevrolet
Each Trim Gets Its Own Distinct Look
Each of the five Trax trims gets its own look. It's not just a matter of additional features being added as you move through the lineup; the little design differences create a distinctive look to suit a wide range of customers. The base trims are more minimalist in their approach with 17-inch steel wheels. The RS trims are the sporty trims of the lot, and their design is more attention-getting with 18-inch or 19-inch aluminum wheels to catch your eye.
They also have unique grilles with a bolder look and RS badging that makes them look more premium. At the top of the lineup is the Activ. This is the most premium Trax, so it gets premium design elements not found on the lower trims. These include bright chrome accents, a rear skid plate motif, and black 18-inch wheels as a finishing touch.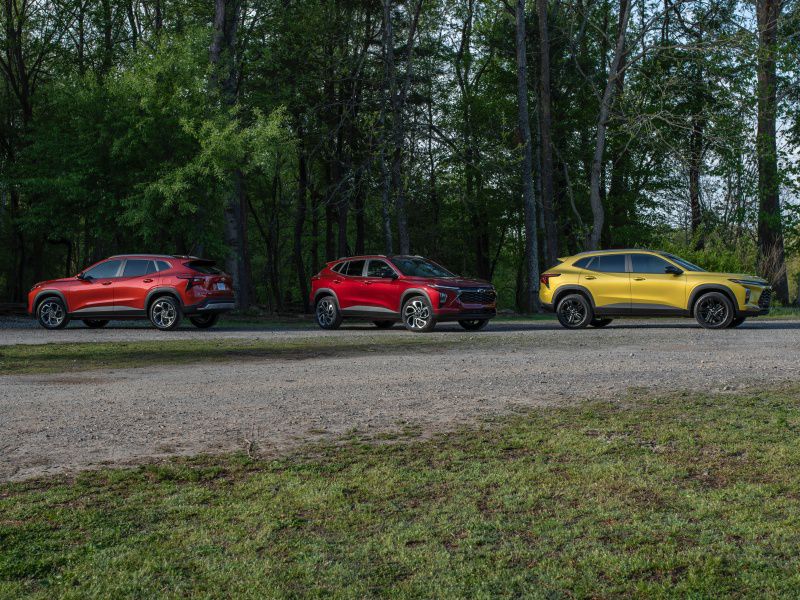 A Surprisingly Responsive Engine
This is not a sports car, so it doesn't deliver aggressive, pulse-pounding acceleration, but that's not why you buy a compact crossover in the first place. Instead, the Trax delivers a surprisingly responsive drive experience from its 1.2-liter turbocharged 3-cylinder engine. It delivers 137 horsepower with 162 lb-ft of toque and is paired to a 6-speed automatic transmission. Those aren't mind-blowing numbers, but Chevy worked to ensure that the power you want is there when you press on the gas.
It's easy to get up to highway speed without worrying if oncoming traffic is going to creep too close. It's a peppy little engine and even has the power to pass slower moving vehicles at highway speeds. It does so without complaint; however the engine does get a bit loud if you really mash the gas. Overall, the Trax is a responsive little crossover that isn't a chore to drive.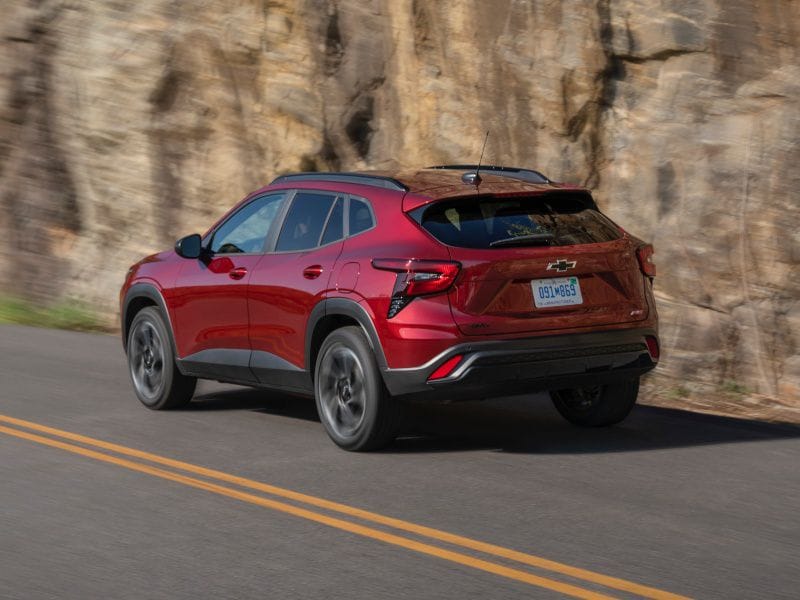 Photo by Chevrolet
A Passenger-Friendly Ride
There's room for five people in the Trax, although the rear seats are better for no more than two adults if the drive is long. The extra legroom makes it far easier for adults to get comfortable so that this is a car that you can take on a road trip without people begging for some time up front. The ride is smooth with a suspension system that nicely mutes the rumble of rough pavement. Even heavily seamed roads on the highway were well-muted during our drive.
The Trax is also quiet with a minimum of noise from that same pebbled pavement. Our drive time happened during heavy rain and even the sound of the water on the road splashing up against the Trax was kept mostly outside. Passing trucks caused only a minimal amount of racket, so snoozing during a road trip is an easy proposition.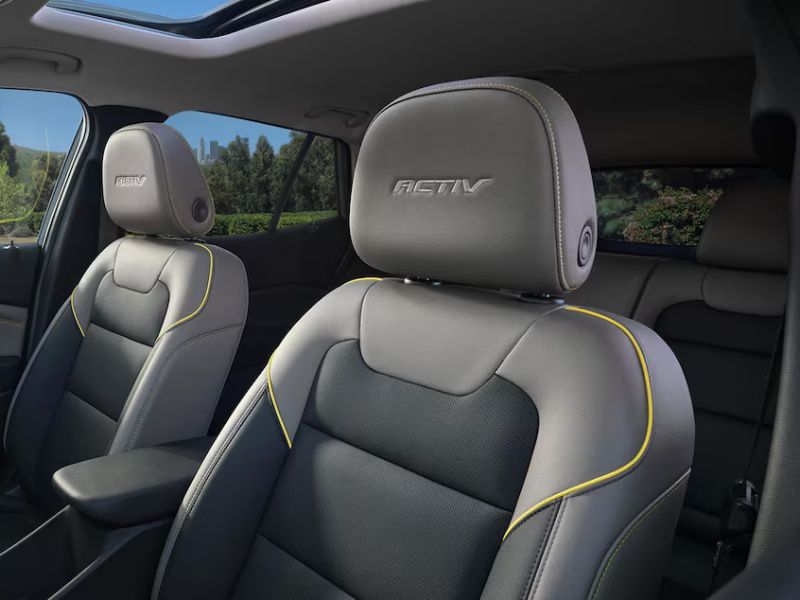 Photo by Chevrolet
Infotainment Includes Large Touchscreens
There are two available infotainment touchscreens in the Chevrolet Trax, and both are large enough to make using the system easy. The base system has an 8-inch touchscreen along with wireless Apple CarPlay and Android Auto and a 4-speaker audio system. Higher trims in the lineup get upgrades that include a bigger screen and better features.
There's an 11-inch touchscreen that runs horizontally along the dashboard within easy reach of the driver and front passengers. There's also a 6-speaker audio system for a more premium sound experience and wireless charging. An 8-inch digital instrument cluster is also added on top trims. It's a solid offering with well-organized menus, crisp graphics, and good screen responsiveness so there's a minimum of frustration having to tap multiple times to make a selection.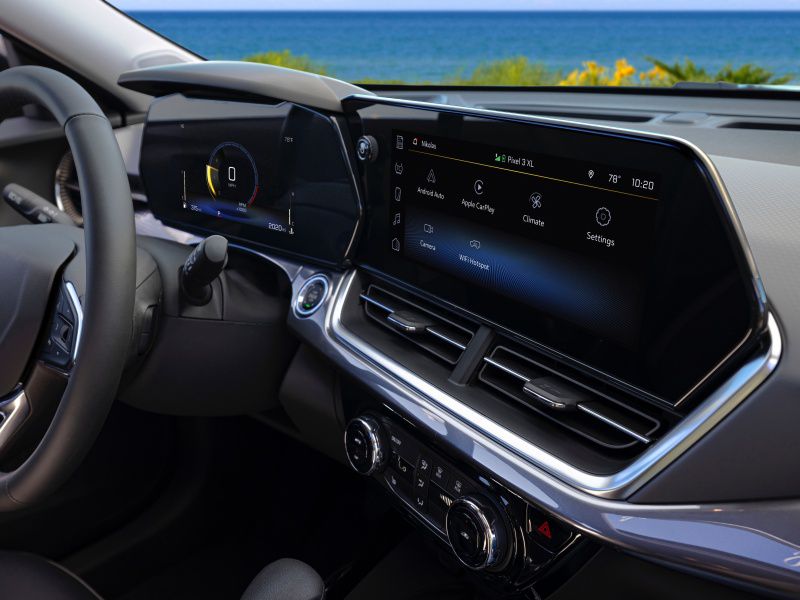 Photo by Chevrolet
Chevy Safety Assist Is a Standard Feature
Just because you're buying an affordable car shouldn't mean you have to sacrifice on safety. While there are certainly more standard and available safety features on more expensive cars, the Chevrolet Trax still offers a good array of safety features to set your mind at ease. Standard across the lineup is Chevy Safety Assist with six key features to keep you and your loved ones safe.
It includes automatic emergency braking, front pedestrian braking, lane keep assist with lane departure warning, forward collision alert, automatic high beams, and follow distance indicator. There are also several available features including adaptive cruise control, lane change alert with side blind zone alert, rear cross-traffic alert, and rear park assist. Even without the additional safety features, the standard offering on the Trax isn't lacking so you can still be comfortable buying the base trim without worrying about missing out on essential safety technologies.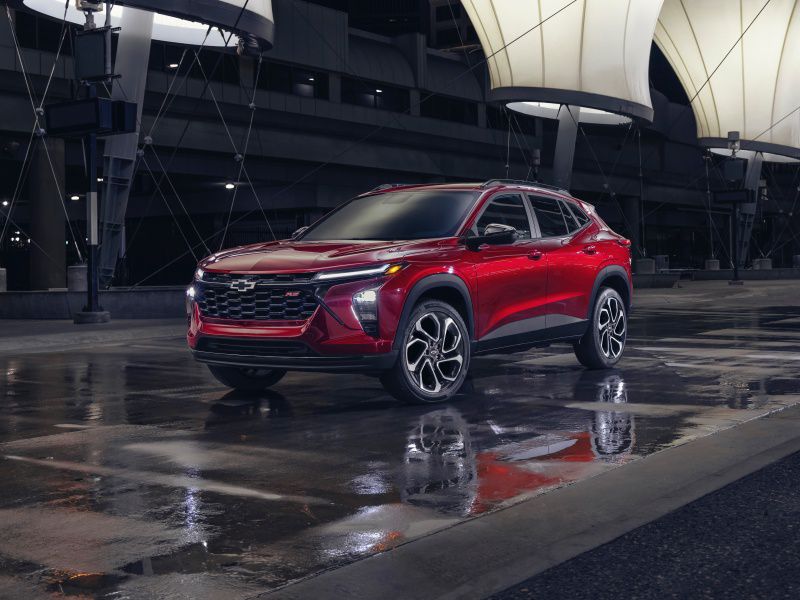 Photo by Chevrolet
Final Thoughts
The 2024 Chevrolet Trax is a wholly different vehicle than prior model years. It's more than just the next generation of this little crossover. It's something of an evolution that takes a vehicle that wasn't a standout and making it a true contender. First, there's its new look with a modern exterior and an eye-catching interior that no longer feels cheap. It looks and feels good, welcoming passengers into the cabin.
There's also good standard and available features from infotainment to safety including a large available touchscreen and wireless smartphone connectivity. The whole package is complete with pricing that makes it a great value. The price says cheap, but once you get a good look at the Trax and take it for a drive, you'll realize it's a steal.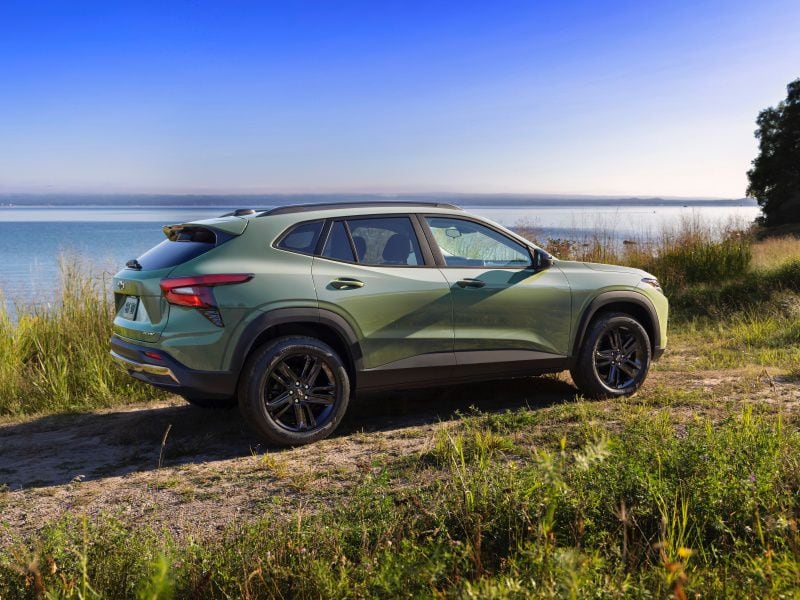 Photo by Chevrolet