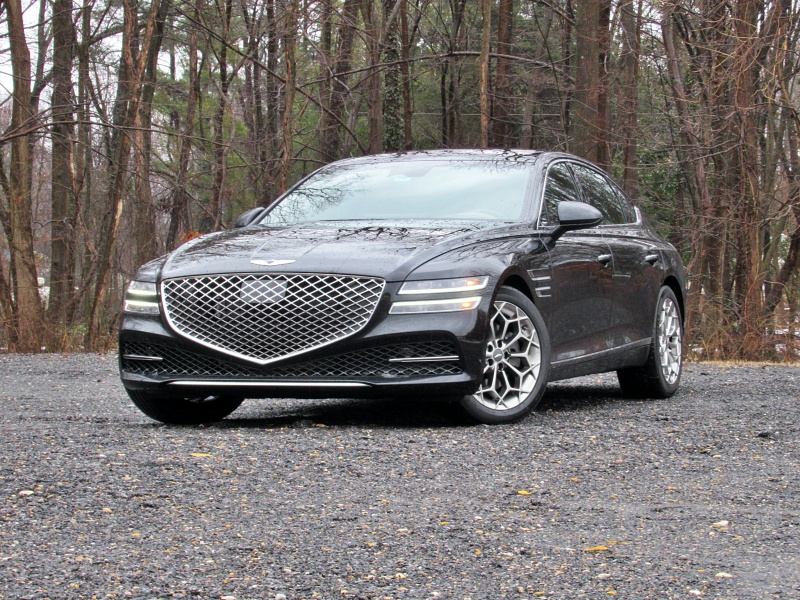 Photo by Brady Holt
Have you heard that sedans are out and SUVs are in? Well, if you're reading this article, you're not one of the believers. The 2024 Cadillac CT5 and 2024 Genesis G80 are stately, stylish mid-size luxury sedans, and their design and engineering teams showered them with technology, performance, sophistication, and overall luxury. These are high-end rear-wheel-drive-based sedans, not mere dressed-up family cars. 
But which one should you choose? For this review, we've spent a week testing each luxury sedan so that we could compare them across eight categories and then name an overall winner. Keep reading to learn which one we chose and which seems like the better fancy four-door for you. 
Pricing and Features
Some people consider the Cadillac CT5 to compete more with the compact Genesis G70 than the mid-size G80. That's because of its ultra-low starting price, which this year is just $38,395 versus $54,150 for the 2024 Genesis G80. 
Now, the gap isn't as wide as it looks. The G80 has more standard features, including a 300-horsepower base engine, all-wheel drive, adaptive cruise control, a 12-speaker stereo, a power-adjustable steering column, a power trunk, and a big 14.5-inch infotainment touchscreen. The base CT5 makes 237 horsepower and doesn't even have heated front seats, and our nearly loaded CT5 test vehicle came to $59,045 with options – right behind our mid-trim G80 2.5T Advanced at $60,045. What's more, a fully loaded G80 takes you to a level of decadence this Cadillac doesn't approach. Power soft-close doors, rear sunshades, massaging seats, a 21-speaker Lexicon stereo, and remote-controlled automatic parking. But to get all those features, or one of the G80's more powerful powertrains, you have to spend quite a bit more. Overall, the CT5 offers a lot for the money, including the chance to get a comparatively affordable price. 
Winner: Cadillac CT5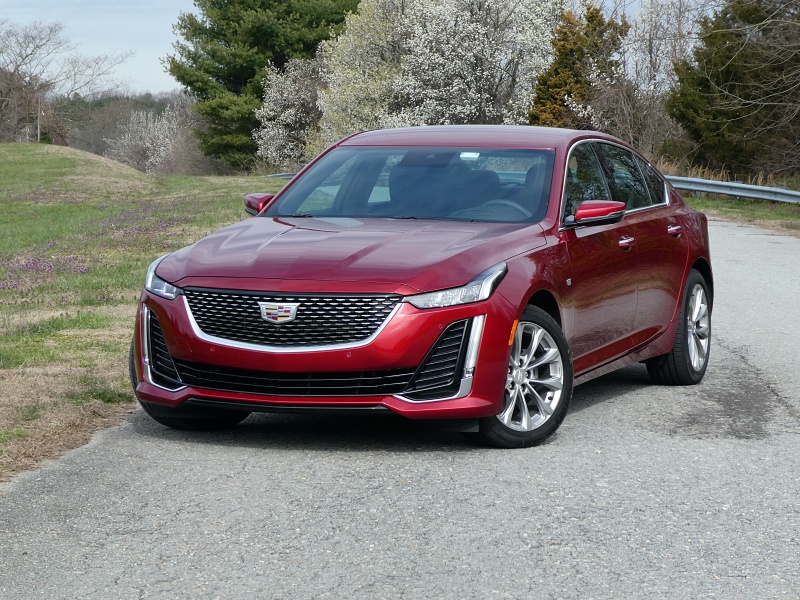 Photo by Brady Holt
Exterior Design
Both the CT5 and the current-generation G80 have been on sale for a few years now, but they remain sharp and modern in different ways. 
Although these sedans are similarly sized and both look big in person, the G80 looks like the much larger car. (In fact, it's less than 3 inches longer: 196.7 inches versus 193.8 inches.) This sleek sedan has undeniable presence from a big, intricate, expensive-looking grille; long, low hood; and sleek roofline. Genesis blends a curvy overall shape with a few crisp edges, and the two-level headlights and taillights are a design cue that works well. The CT5, meanwhile, can appeal to someone who wants something more subtle. Its grille is smaller, and its sides are less aggressively sculpted. You wouldn't call it dull, though, with Cadillac's classic LED spears that drop down from its headlights. And like the G80, it avoids a boxy-sedan look by flowing the roof almost to the end of the trunk. We'll let you pick your own favorite design between these two sedans. 
Winner: Tie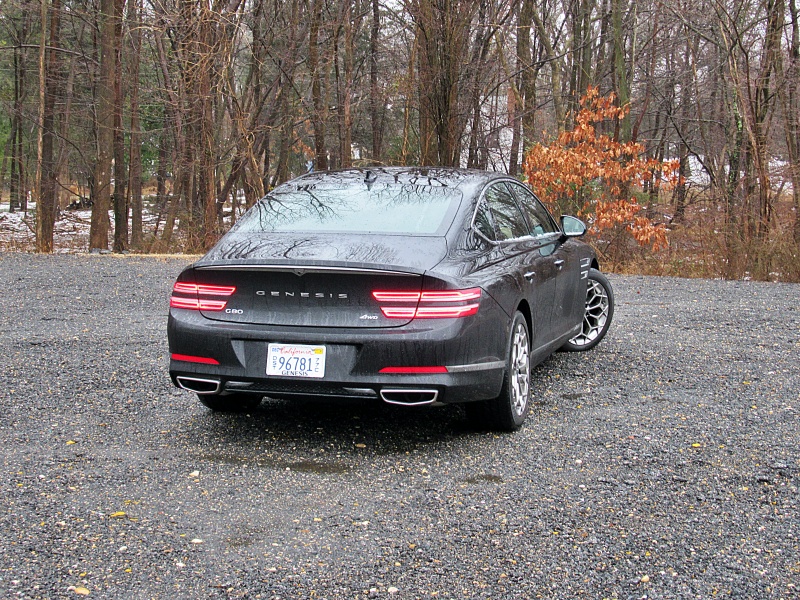 Photo by Brady Holt
Interior Design
Inside, the 2024 Cadillac CT5 is an all-business experience. The controls are generally simple, and the 10-inch infotainment screen – with a system shared with other General Motors cars – prioritizes ease of use over splashy graphics. (The 2025 model year will bring a revised system with a 33-inch screen that includes both the gauge cluster and the central touchscreen, along with new Google-based software.) Many interior materials impress, but other areas have more basic plastic. 
The 2024 Genesis G80 is quite different. This is a jaw-droppingly gorgeous interior with sumptuous materials and impeccable assembly. The 14.5-inch touchscreen is crisply rendered, and the dashboard has a gently flowing design trimmed in rich leather, open-pore wood, and aluminum. The controls are fussier than the simple Cadillacs; the touchscreen is hard to reach, and the console-mounted physical controls have a learning curve. But overall, this is the sedan that made a stronger pitch for our $60,000. 
Winner: Genesis G80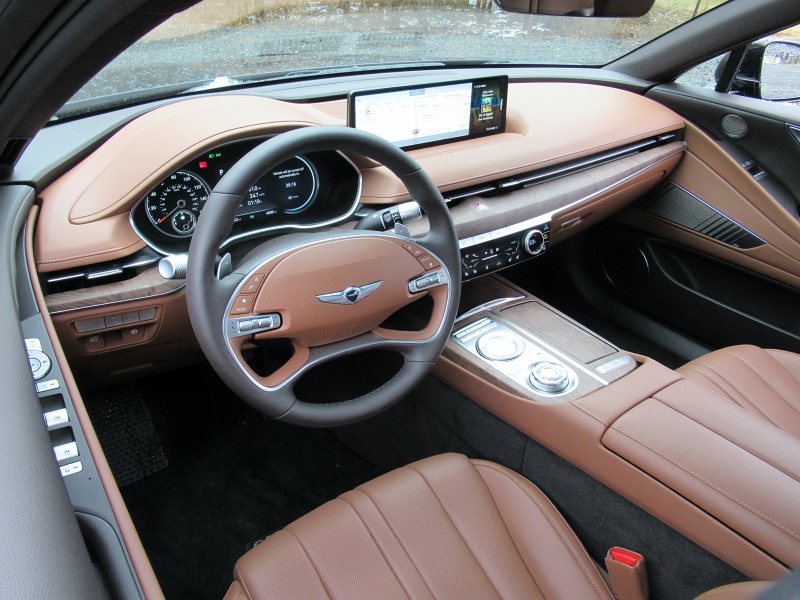 Photo by Brady Holt
Interior Space and Comfort
The G80's interior isn't just beautiful, but it's also comfortable. The front seats are spacious, well-shaped, and supportive, and they come standard with heating and 12-way power adjustability. The power-adjustable steering column, also standard, makes it easy to fine-tune the driving position. Heaters for the steering wheel and rear seats are also standard, with optional upgrades including ventilated and massaging front seats, windowshades for the rear side windows and windshield, and multiple grades of genuine leather upholstery. 
The CT5 is comfortable, but less sumptuous. For the driver only, we'd pick the G80. However, there's an important consideration when you're carrying passengers in the back. The bigger Genesis has a big backseat overall, but there's so little foot space below the front seats, rear passengers will often find themselves sitting awkwardly. The CT5's rear seat has more room to stretch out comfortably. Both low-slung sedans give up a bit of rear headroom and trunk space, with the G80 providing a mediocre 13.1 cubic feet and the CT5 managing an even more pinched 11.9 cubic feet. We'll call this category an overall tie between the roomier Cadillac and the more coddling Genesis. 
Winner: Tie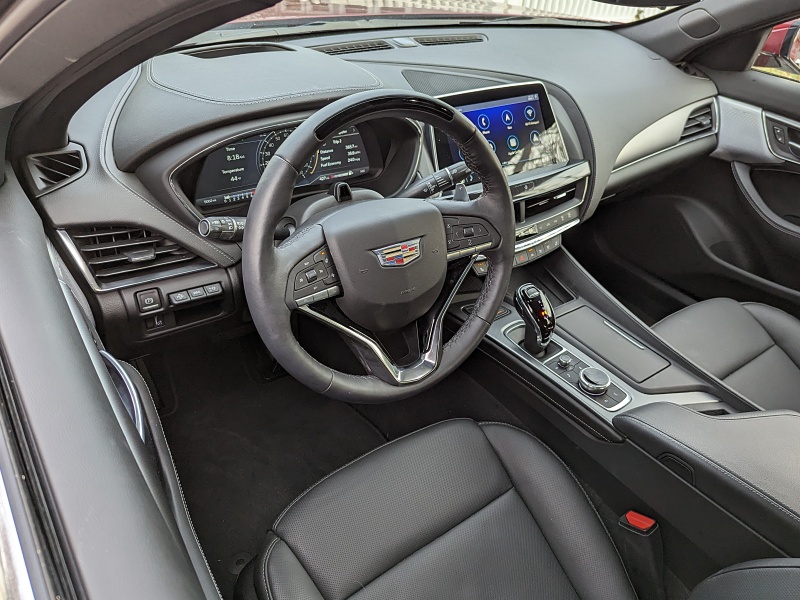 Photo by Brady Holt
Ride and Quietness
The 2024 Genesis G80's serenity continues into its ultra-hushed ride. This is a luxury sedan that glides smoothly down the road. Even our tested model with the base four-cylinder engine doesn't let much racket into the cabin. This sedan drives with slickness and grace. 
The 2024 Cadillac CT5 isn't stiff or noisy, either. But it doesn't have the above-and-beyond serenity of the G80. Its top selling point for relaxation is Super Cruise, General Motors' hands-free driving assistant. This optional system openly invites you to take your hands off the wheel on select pre-mapped highways and let the CT5 take care of your speed, steering, and even lane changes. But the G80's everyday polish makes it our overall winner here. 
Winner: Genesis G80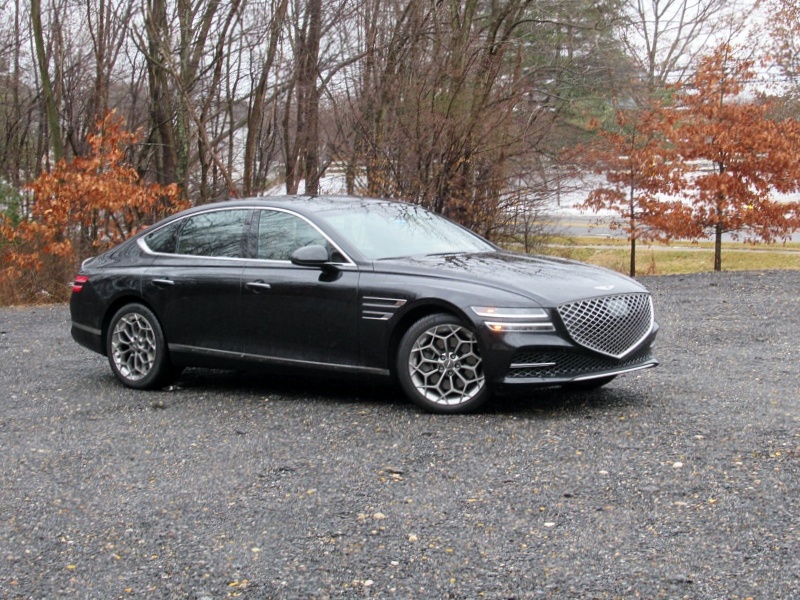 Photo by Brady Holt
Handling
Cadillac may not be broadly known for its speedy performance, but the CT5 continues a recent heritage of crisp-handling rear-wheel-drive sports sedans. That's exemplified in the CT5's $90,000-plus Blackwing high-performance version, but you'll also find it in the ordinary CT5 models we're focused on today. The G80 handles well, too, and the Sport model adds rear-wheel steering and a slightly stiffer suspension. But with firmer, more precise steering and a much lighter body, the Cadillac is more capable on a winding back road. 
Still, we're going to call this category an overall tie thanks to the Genesis's smoother everyday drivability. The CT5's steering doesn't lighten up much at low speeds, making it feel less natural or even less comfortable to drive. The G80 doesn't have the Cadillac's high-speed moves, but it handles with an easy fluidity that's missing from the CT5. 
Winner: Tie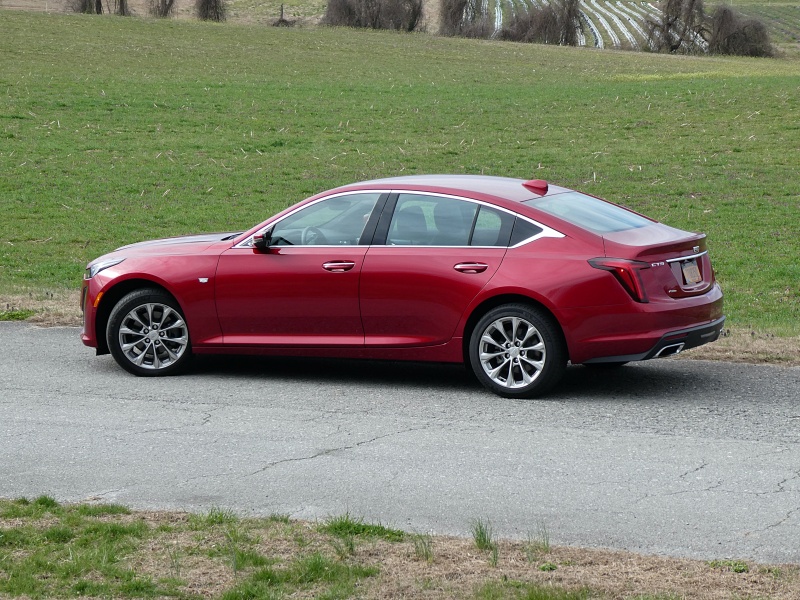 Photo by Brady Holt
Acceleration
For all our talk of a gentle Genesis and sporty Cadillac, the G80's base 2.5-liter four-cylinder engine makes a hearty 300 horsepower, while the available 3.5-liter V6 is turbocharged to 375 hp. The G80 also has a quick and near-silent 365-hp all-electric variant, but it costs $80,000. By contrast, the base CT5 makes a mere 237 hp from a 2.0-liter four-cylinder, and its available 3.0-liter V6 makes 335 to 360 hp depending on the trim level. (Once again, we're focusing on normal CT5 models rather than the Blackwing with a 668-hp V8 and available manual transmission.) 
Despite the G80's on-paper advantage, though, we're going to call this category an overall tie. The CT5's lighter weight means that even the four-cylinder isn't disastrously slow, and its much lower price means you can get the V6 for much less money than even a four-cylinder Genesis. The cheapest V6 G80 runs about $64,000, nearly $20,000 more than the base CT5 V6 like our test vehicle. Genesis lets you go faster when you pay up, but Cadillac can get you moving in a bigger, richer-sounding hurry if you don't. 
Winner: Tie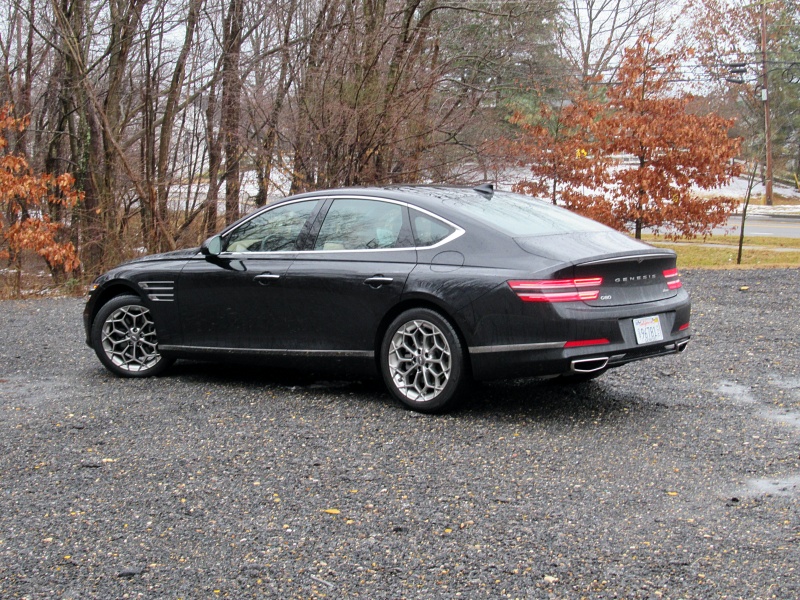 Photo by Brady Holt
Fuel Economy
With a choice of rear- and all-wheel drive, lighter weight, and less horsepower, the CT5 gets better gas mileage than the G80. To be precise, the Cadillac achieves EPA ratings of up to 23 mpg in the city, 33 mpg on the highway, and 27 mpg combined. That's the base rear-drive four-cylinder model. The AWD four-cylinder falls to 22 mpg city, 30 mpg highway, and 25 mpg combined. The RWD V6 averages 19 mpg city, 27 mpg highway, and 22 mpg combined, with AWD models getting 1 mpg less. (The V8 Blackwing gets just 16 mpg combined.) 
The four-cylinder G80 achieves respectable EPA ratings given its greater horsepower, matching the AWD CT5 at 22 mpg city, 30 mpg highway, and 25 mpg combined. Still, in our non-scientific testing, we averaged the same 23 mpg in a four-cylinder AWD G80 and a V6 AWD CT5. And upgrading to the Genesis's V6 cuts EPA estimates to 17 mpg city, 25 mpg highway, and 19 mpg combined. The Electrified G80 gets the equivalent of 97 mpg with 282 miles of range per charge, but we'll still give Cadillac the overall nod. 
Winner: Cadillac CT5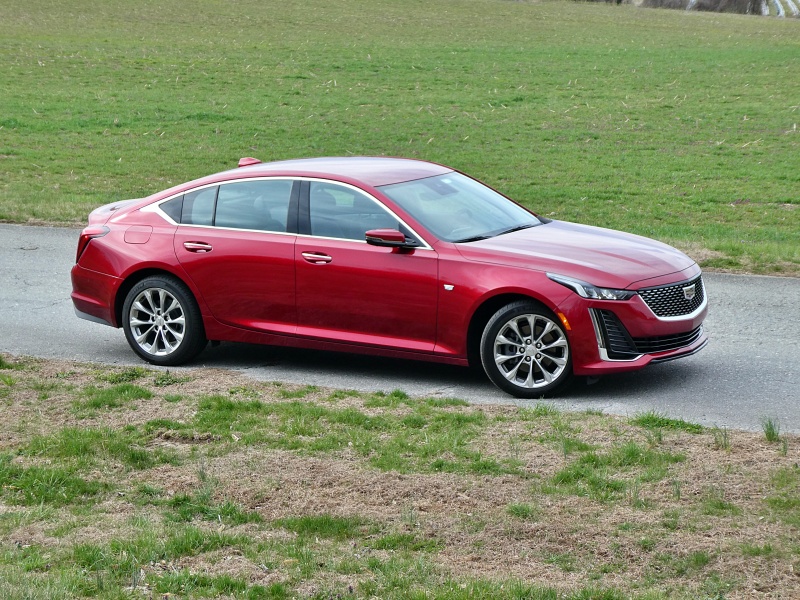 Photo by Brady Holt
Final Thoughts
The 2024 Genesis G80 is a sumptuous luxury sedan. It's smooth, quiet, and relaxing without being dull to drive or look at. It's packed with ultra-luxury features at prices that, by luxury standards, aren't obscene. 
But the 2024 Cadillac CT5 is also a fine automobile. It doesn't have the G80's extra polish in its interior or driving manners, true. But it provides the more satisfying handling for driving enthusiasts – some of the folks with the most reason to stick with sedans over SUVs. And because it has such a low starting price, the CT5 is accessible to a wide range of buyers. We particularly appreciate the chance to get the smooth, rich, powerful V6 in the low $40,000s; that's another win for enthusiasts. Factor in the Cadillac's other advantages, like its simpler controls, more passenger-friendly backseat, and Supercruise technology, and it earns the win. If price were no object, the extra-luxe G80 would be our pick. But we think many people would be delighted with the chance to own a big luxury sedan at a much lower price point, and the CT5 is a worthy way to do so. 
Winner: Cadillac CT5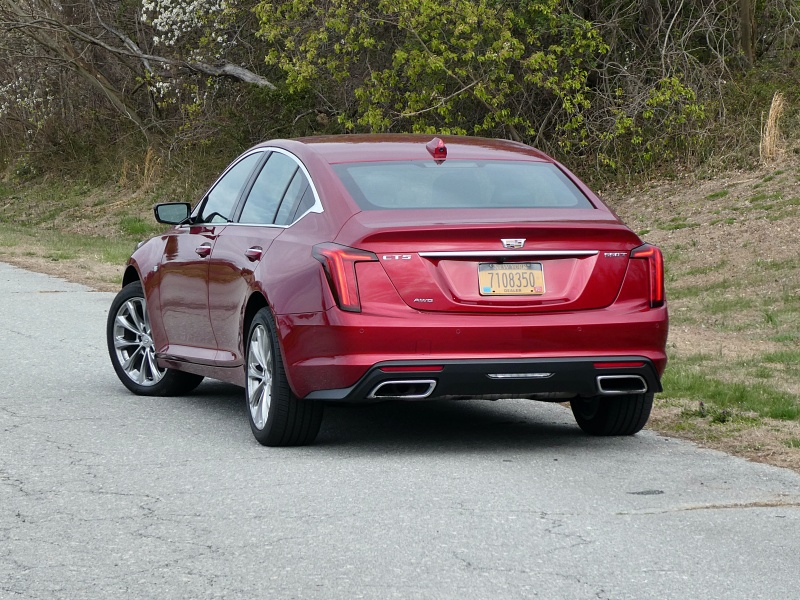 Photo by Brady Holt