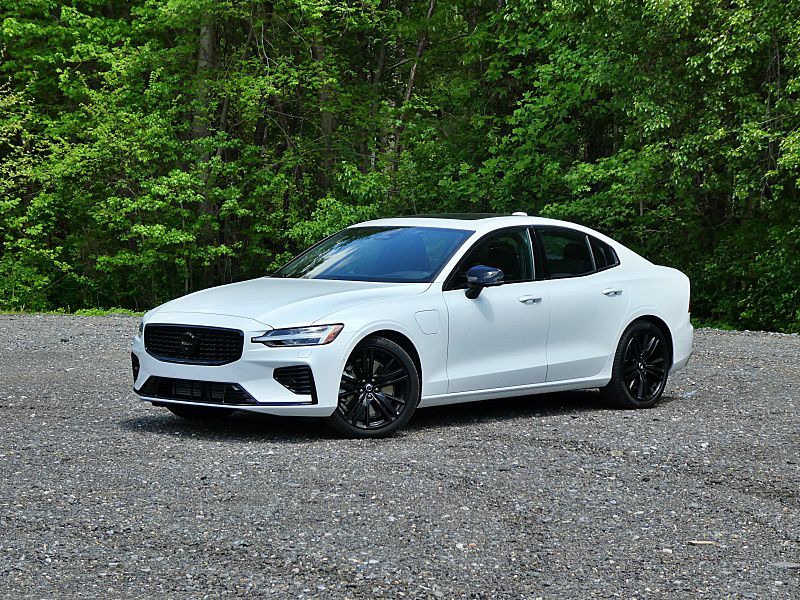 2023 Volvo S60 Recharge ・ Photo by Brady Holt
In the debate between gasoline-powered cars and electric vehicles, there are firmly entrenched battle lines. EVs are the eco-friendly, superior-driving wave of the future. Or EVs' shorter ranges and longer charging times make them an impractical replacement for the convenience of a five-minute stop to fill up your gas tank. 
Caught in the middle is the plug-in hybrid electric vehicle (PHEV). A plug-in hybrid gets some all-electric range when you plug it in, but when you need to drive farther, a gasoline engine switches on to tide you over until your next charging session. We just spent a week testing an appealing PHEV, the 2023 Volvo S60 Recharge. This newly updated compact luxury sedan, priced from $51,250, is quick, classy, and economical. Keep reading as we discuss this plug-in hybrid's pros and cons to see if the PHEV life in general — and the S60 Recharge in particular — could be the right fit for you.
A Speed-Demon Hybrid
The typical gas-electric hybrid is built for fuel savings. That's not Volvo's sole focus with the S60 Recharge. It takes an already lively 312-horsepower turbocharged four-cylinder gasoline engine, then adds a 143-horsepower electric motor. The total output is 455 horsepower and 523 lb-ft of torque, it matches the horsepower and beats the torque of a V8 Chevy Camaro. 
Volvo estimates that the S60 Recharge can blast to 60 mph in 4.3 seconds. That's faster than most gas-powered luxury sedans and competitive even with many electric models, including the Polestar 2 from Volvo's EV-focused sister brand. Traditionalists will appreciate hearing a gasoline engine during this acceleration, even if the Volvo's four-cylinder produces more of a whir than a Camaro's growl.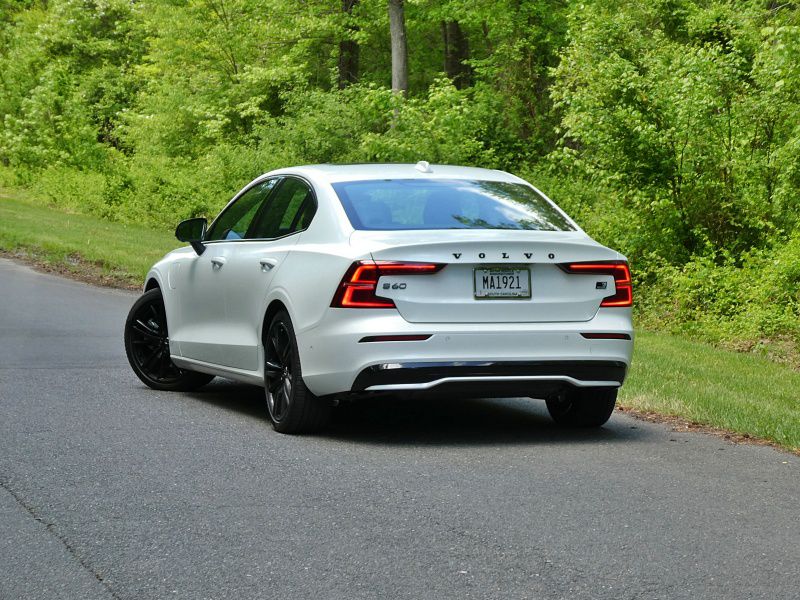 Photo by Brady Holt
Electric Range Nearly Doubles
Volvo introduced its first PHEV S60 back in 2019, when it offered a maximum all-electric range of 22 miles. Plus, you had to keep your speed and acceleration gentle if you wanted to avoid waking the gas engine. That's enough for some gas-free errands and short commutes, but most owners would still burn a fair bit of gasoline. 
That changes with the updated 2023 model, which introduces a much more powerful electric motor and a much bigger battery. The EPA now estimates that the S60 Recharge can travel up to 41 miles using only electricity, and we topped even 50 miles in a mix of city and highway driving. And while you'd need the gas engine to unlock those 4.3-second 0-60 runs, the electric motor is plenty powerful for everyday use. The gauge cluster tracks your throttle position against the level where the gas engine would turn on, in case you're toeing the line (which we rarely did when the car was charged). The EPA also projects that the S60 Recharge will average 31 mpg on premium-grade gasoline once its range is used up, but we beat that as well, typically seeing about 35 mpg in mixed driving.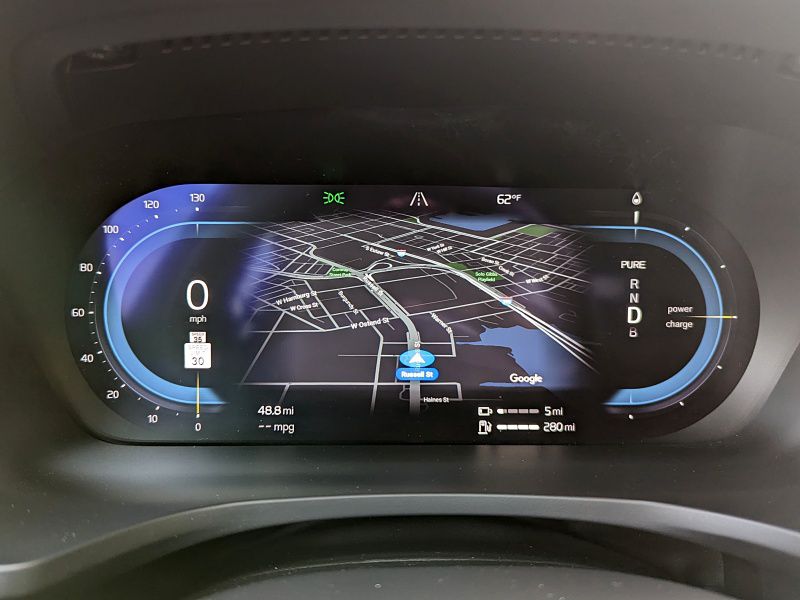 Photo by Brady Holt
Capable Handling
The Volvo S60 complements its speed with capable handling. The steering isn't as quick or precise as a sports car's, but it lets you easily point this sedan where you want to go. The tautly tuned suspension helps you confidently go around corners without slowing down. As with electric cars, the S60 Recharge has a heavy battery low to the ground, lowering its center of gravity. 
At the same time, the S60 rides comfortably. Even though it's firm, it's not as stiff as many rival sports sedans. It's steady and composed on smooth pavement, and while it doesn't keep you from feeling bumps, they don't leave the car feeling unsettled. The S60 is quiet, too, especially when operating in fully electric mode. All-wheel drive is standard on the S60 Recharge.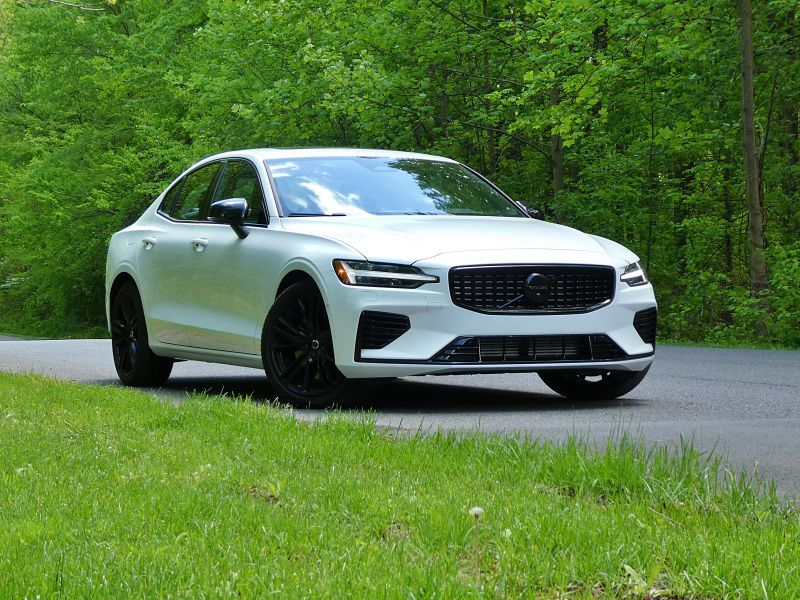 Photo by Brady Holt
Beautiful Interior
Volvo's latest-generation interior design is a beauty, and the S60 takes full advantage. A 9-inch vertical touchscreen is in the middle of the dashboard between two slim vents on the upright dash. A strip of trim (textured metal on our test vehicle, with an option for wood) wraps around below the gauges, center stack, and dashboard vents on its way between the two front doors. The gauge cluster is a 12.3-inch digital display, and the gear selector is an elegant crystal. Unlike even many luxury sedans, we found no areas of cheapness in the S60's interior; all materials are solid. New this year, the S60 includes a Google-based infotainment system that Volvo customized to resemble its old in-house system. Particularly for GPS navigation directions, it lets you enjoy Google's easy searchability without needing to switch the whole screen over to Android Auto or Apple CarPlay. 
The interior isn't flawless. The touchscreen shows its age with a smaller size than most modern competitors. And with small cupholders and other storage spaces, there isn't a natural place to put a larger smartphone. But overall, the S60 is an artful blend of traditional luxurious warmth with modern technology — backed up by top-notch build quality.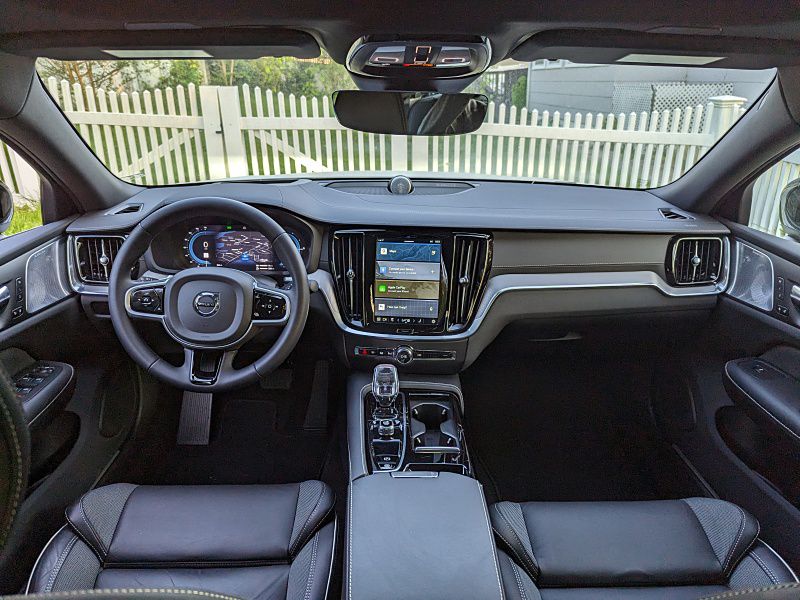 Photo by Brady Holt
It's Comfortable, Too
Volvos have long been known for their excellent seats, and the 2023 Volvo S60 Recharge continues that tradition. Our test vehicle had thickly bolstered seats that are both welcoming and supportive, perfect for a luxury sports sedan. 
The S60 also has a better backseat than many similarly sized rivals. You don't stretch out, but the seat is comfortable and there's enough leg and knee space even for taller adults. The one drawback is trunk space, which is below average for a sedan at 11.6 cubic feet. We at first assumed this was the fault of our test vehicle's hybrid components, but the gas-only S60 has the same modest capacity. Volvo also sells a station wagon version of the S60 called the V60, but its only Recharge version is a top-trim model costing more than $70,000.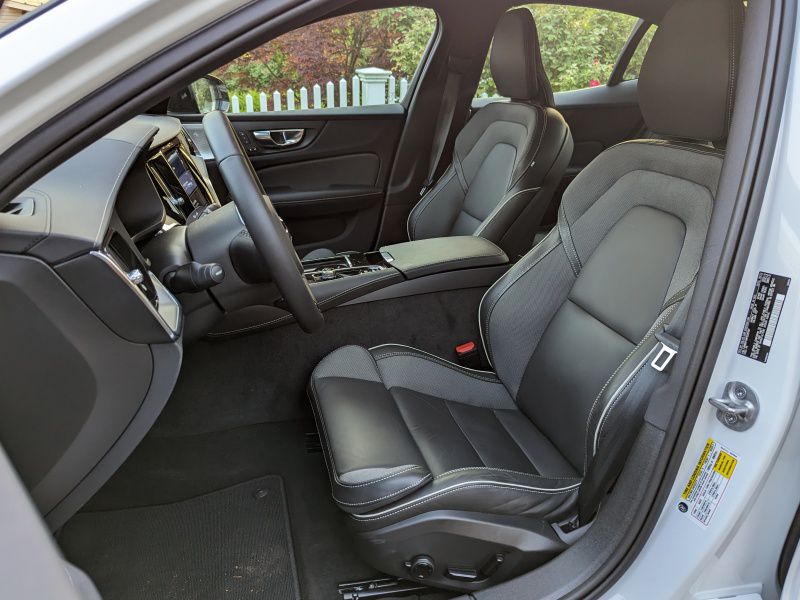 Photo by Brady Holt
The Price of Plugging In
As we mentioned, the 2023 Volvo S60 Recharge PHEV starts at $51,250. That's a $10,000 jump from a similarly equipped S60 with a gasoline engine. The S60 Recharge, assembled in South Carolina, used to qualify for a $7,500 federal tax credit for plug-in vehicles — but a rule change in April 2023 made it ineligible because its battery comes from overseas. 
Still, even without a tax credit, the S60 Recharge is priced well for a 455-hp luxury sedan. High-end standard features include a panoramic sunroof, a memory system for the power front seats, and rain-sensing windshield wipers, along with a suite of safety features that include blind-spot monitoring and automatic steering assistance. It's less money than a 349-hp Audi S4 or a 382-hp BMW M340i. Then consider that the Volvo's fuel costs are a fraction of those rivals, and the S60's advantages grow.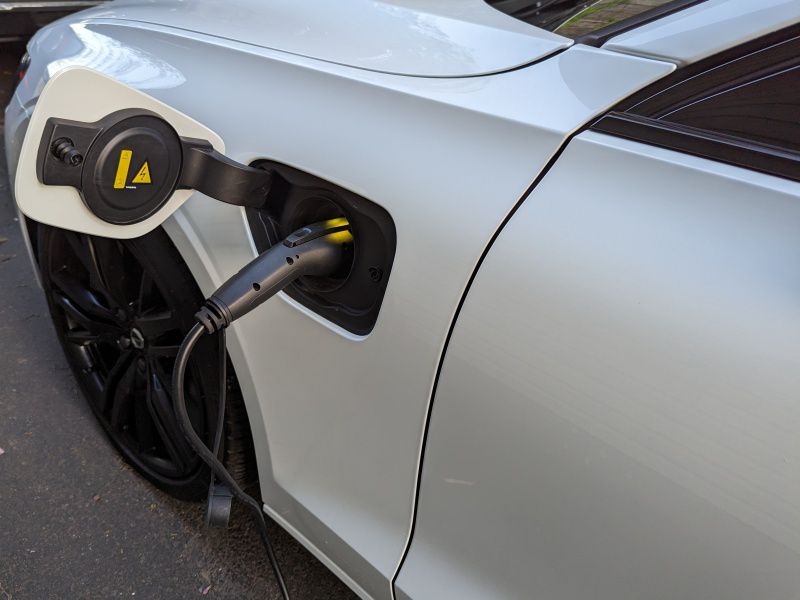 Photo by Brady Holt
PHEV Rivals
The S60's closest competitor is the PHEV version of the BMW 3 Series, the 330e. It provides some of the S60's plug-in benefits at a lower starting price ($44,900), but it has a fraction of the Volvo's horsepower (288 hp) and EPA-estimated range (22 miles). Other plug-in hybrid cars are the smaller, less opulent Toyota Prius Prime and Kia Niro PHEV along with SUVs that include the Lexus NX and Lincoln Corsair. 
Then there's the rest of the Volvo lineup, which has almost as many luxury plug-in hybrids as the rest of the market put together — and most of the longest all-electric ranges, too. For most of the S60's advantages but more cargo room, there's the XC60 crossover ($57,200) and the V60 wagon ($70,555, which is $3,500 more than the comparable S60 model). And for a bigger, higher-end experience, there's the full-size S90 sedan ($70,500) and XC90 SUV ($71,900).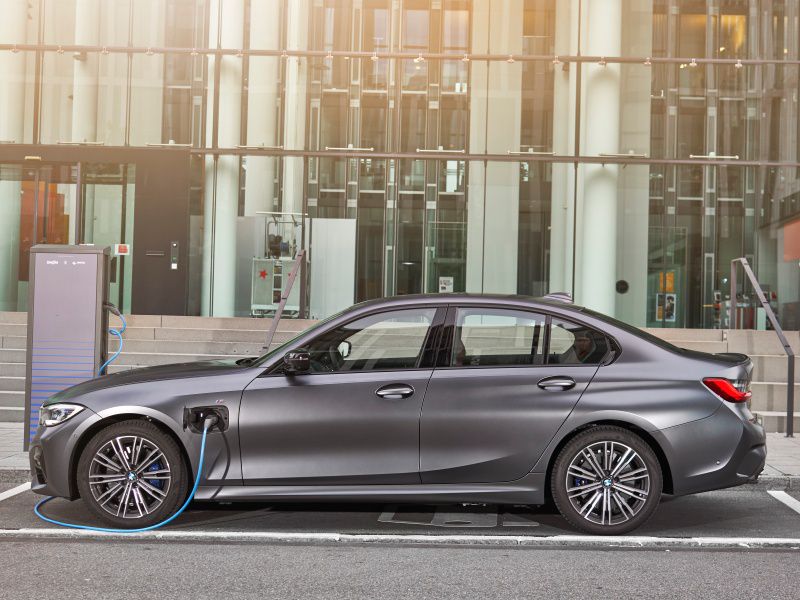 Photo by BMW
Or Should You Just Get an EV?
We mentioned that PHEVs sit in a sometimes-uncomfortable middle ground between gas-powered cars and fully electric vehicles. EV proponents argue that PHEVs carry the additional cost, weight, and complication of a gasoline engine, while a well-executed EV has the range and charging speed to handle even longer trips. 
The best-selling Tesla Model 3 is the obvious example. While Tesla prices bounce around, it currently starts at just $39,990 with rear-wheel drive and a 272-mile range and $52,990 for the Performance model with all-wheel drive, a 315-mile range, and a 0-60 blast of just 3.1 seconds. And that's before federal tax credits, which are currently $3,750 for the base model and $7,500 for the Performance. The Tesla lacks the Volvo's gracious interior and smooth ride, but it's otherwise a tempting choice. (Other fancier-feeling all-electric rivals include Volvo's own Polestar 2 and the BMW i4, though they lack the federal tax credits.) Entirely skipping the fallback of a gasoline engine isn't for everyone, but it has clear advantages.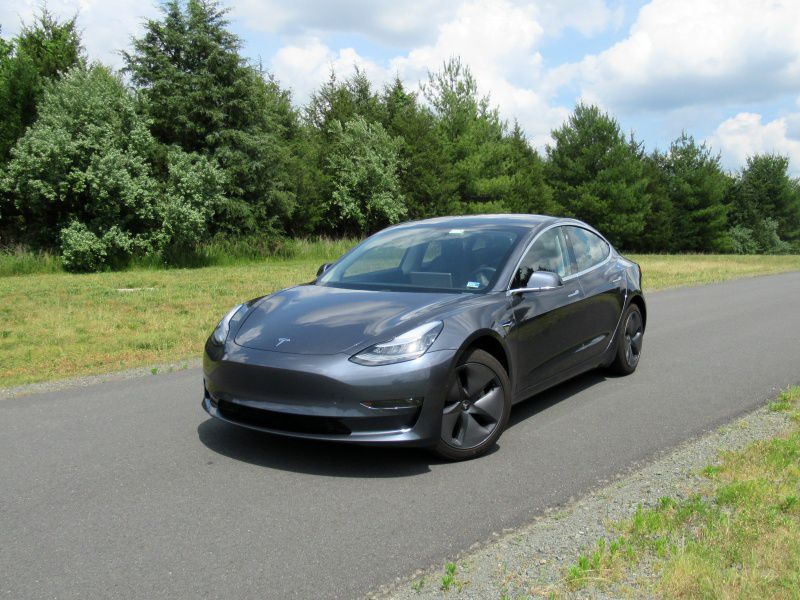 Photo by Brady Holt
Not for Everyone, But Incredible for Some
The 2023 Volvo S60 Recharge isn't for everyone. You'd need to value its vastly superior speed, efficiency, or both enough to justify its $10,000 price premium over the standard S60. You'd need to have a place to plug it in to take full advantage of these benefits. And you'd need to be interested in a plug-in lifestyle without going for a fully electric model. 
Still, the S60 Recharge is an incredible option for the right buyer. It delivers blazing speed and capable handling in a classy, comfortable, and incredibly economical package. It can take you on fairly long commutes using only electricity (which costs much less than gasoline in most of the U.S., and which avoids releasing tailpipe emissions into your own community) without tethering you to a plug. Some people would spend $10,000 just to get this speed or just to get this all-electric range. And the S60 Recharge provides both.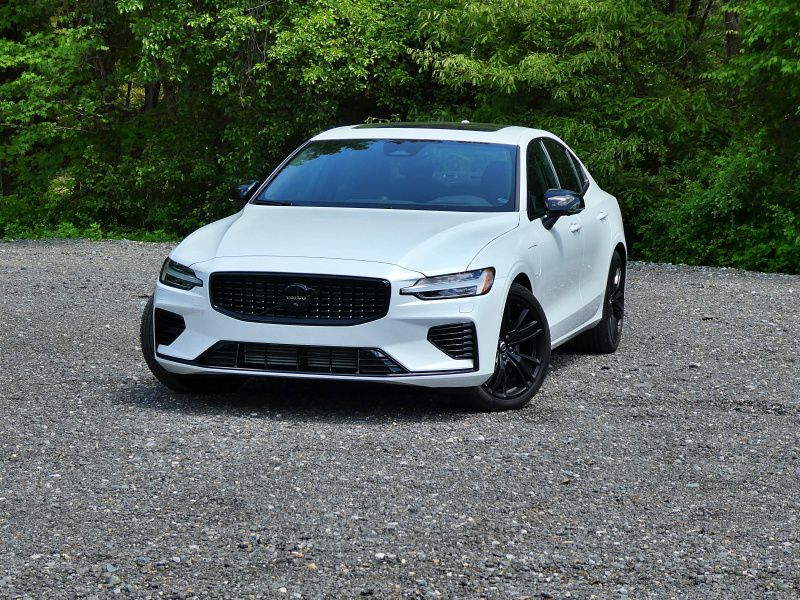 Photo by Brady Holt