The stylish, powerful 2023 Volkswagen Arteon finds few buyers. Does it deserve more? In this review, we compare the Arteon to the ever-popular 2023 Honda Accord.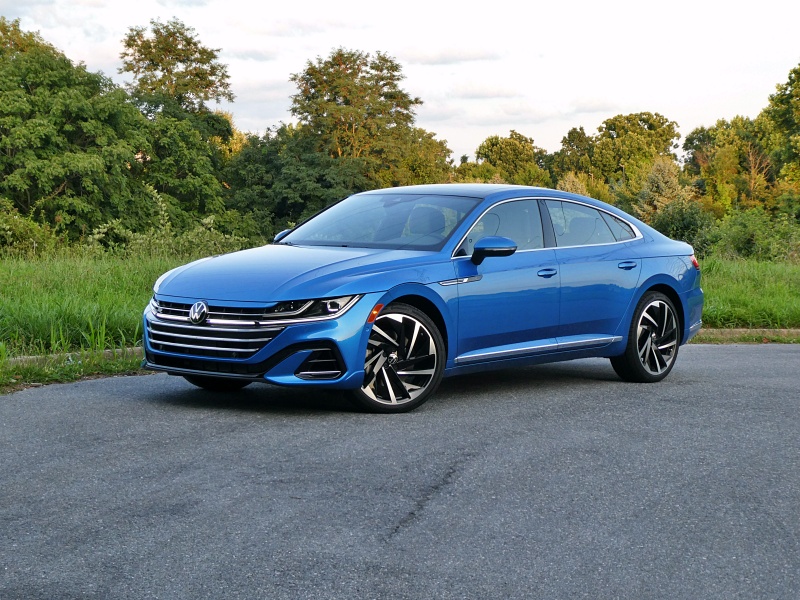 2023 Volkswagen Arteon SEL Premium ・ Photo by Brady Holt
A lot of people don't know what to make of the 2023 Volkswagen Arteon. This is a 300-horsepower mid-size hatchback with a mainstream-brand badge and luxury-car style and pricing. Only a couple thousand find homes each year, making it one of the slowest-selling cars on the market. (VW plans to discontinue it after the 2024 model year.) By contrast, 200,000 people will likely take home the similarly sized 2023 Honda Accord this year.
As we'll discuss in this review, the Accord costs much less money than the Arteon. But many Accord customers would willingly spend extra to get a higher tier of vehicle – especially now that Honda has discontinued the Accord's most powerful engine. So today, we're evaluating whether you should jump on the Arteon before it's gone or just stick with the popular favorite. We've compared the Arteon and Accord in eight categories, then named our overall pick. Keep reading to learn which one we chose and which sounds like the better car for you. 
Pricing and Features
Let's get this out of the way: The base 2023 Volkswagen Arteon SE costs $43,010, while the cheapest 2023 Honda Accord LX is $27,295 and even the top Accord Touring only costs $37,890. That means there isn't a massive price difference between a loaded Accord and a base Arteon, but the Honda remains cheaper. 
An Arteon SE is a well-equipped car, to be clear. It has leatherette upholstery with heated, 12-way power-adjustable front seats; tri-zone automatic climate control; GPS navigation; and a host of safety features. But you need the SEL ($47,180) to match the Accord Touring's genuine leather and sunroof. And the SEL Premium ($50,175) is the only way to get ventilated front seats or heated rear seats, or to upgrade from the base eight-speaker stereo to a 12-speaker Harman Kardon unit. Upper-trim Arteons do have features you won't find on any Accord: all-wheel drive, a massaging driver's seat, a panoramic sunroof (the Accord's is standard size), an automatic-parking system, and a surround-view parking camera. And you might find the slow-selling Arteon at a big discount to its sticker price. But the Accord handily wins this category. 
Winner: Honda Accord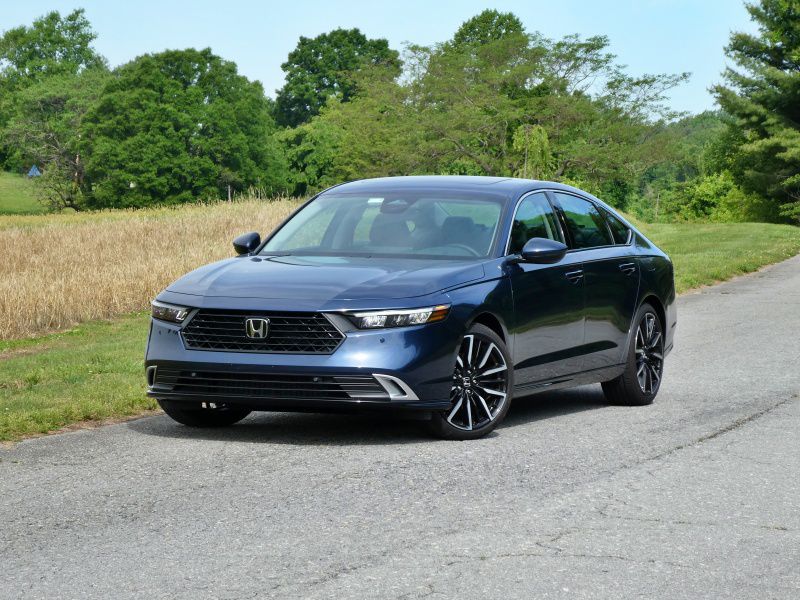 2023 Honda Accord Touring ・ Photo by Brady Holt
Exterior Design
The Arteon is a striking sedan-adjacent vehicle. Introduced as a 2019 model and updated last year, it's low, wide, and sleek, with a liftback body style that brings the rear windshield most of the way to its tail (leaving enough of a stub that it could pass for a sedan at a glance). It looks expensive without looking ostentatious, and it recalls a $70,000-plus Audi A7. Our test vehicle's Kingfisher Blue paint and big 20-inch alloy wheels also help it stand out, but our favorite thing about the Arteon is its shape – not those details. If anything, we personally prefer the SE model's less aggressive 18-inch wheels.
The Accord is fully redesigned this year with an attractively conservative design. Its profile is not unlike the Arteon's, though the Accord is a traditional sedan with a trunk rather than a liftback. Like VW, Honda also gives the Accord a ground-hugging stance. But you won't find the Arteon's pizzazz. The Accord looks sporty next to an SUV, and many folks will appreciate its restrained details. But if you're interested in something sporty and fun, it's easy to wish for more visual punch than the new Accord. We'll let you choose your winner between these two styling approaches. 
Winner: Tie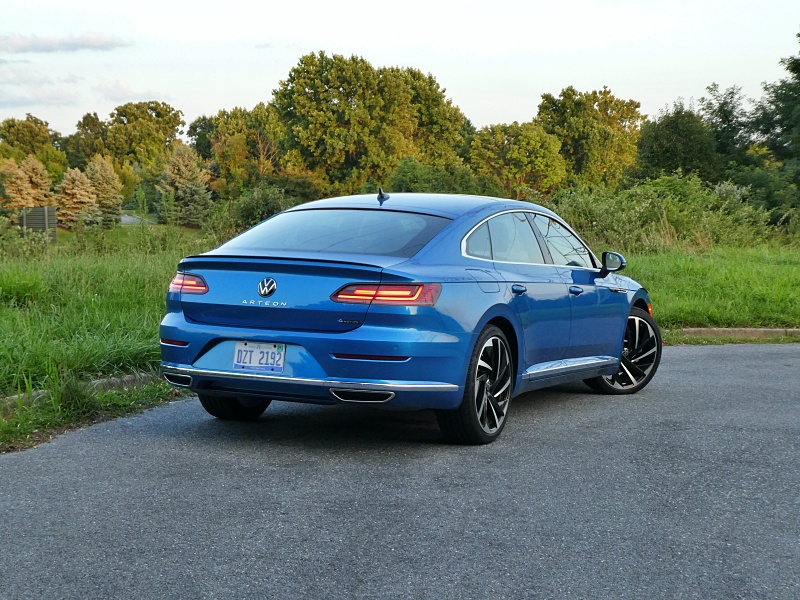 2023 Volkswagen Arteon SEL Premium ・ Photo by Brady Holt
Interior Design
Inside, the Arteon matches or even exceeds the Accord's conservatism. The Arteon's dashboard could be any VW from a few years ago, with a straight-lined dashboard shaped around a modest 8-inch infotainment touchscreen. Some backlighting dresses up the dash a bit, and we have no complaints about the materials. The digital gauge cluster is also crisply rendered. But the Arteon's overall interior styling and infotainment would be better suited to a $30,000 car in 2017 than one costing $40,000-plus in 2023. Worse, VW recently added fussy touch-sensitive controls to the dashboard and steering wheel; the simple-looking Arteon doesn't even have the advantage of super-easy ergonomics. 
Despite its lower price, the Accord impresses us more. An infotainment touchscreen perches at the top-center of the Accord's dash, while a honeycomb strip runs from the steering wheel to the passenger door below it — a decorative design element that also includes the Accord's climate vents. Materials look and feel upscale, and buttons and other moving parts move with uncommon precision. The overall design looks more modern to us than the VW's, yet with simpler controls. And while base-model Accords have a mere 7-inch touchscreen, upper-trim models most comparable to the Arteon have the 12.3-inch screen you see here. 
Winner: Honda Accord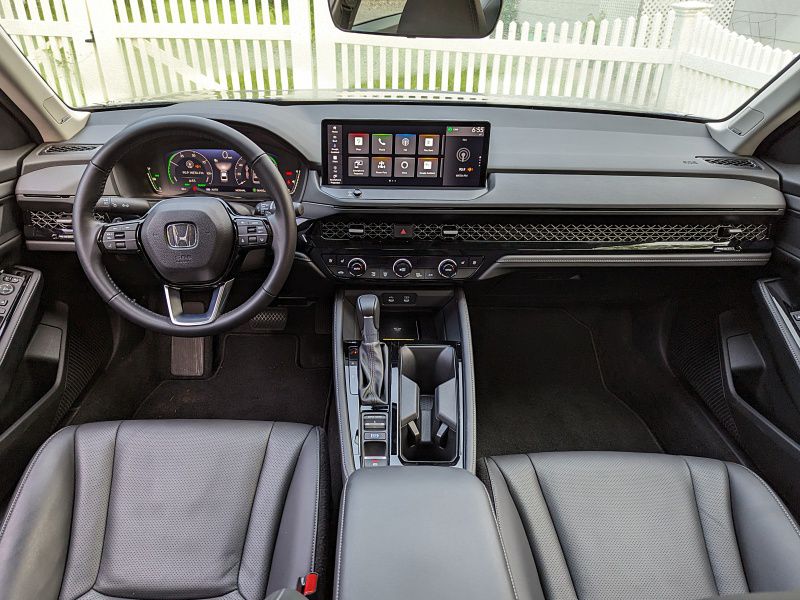 2023 Honda Accord Touring ・ Photo by Brady Holt
Interior Space and Comfort
The Honda Accord is known as a family car, meaning spaciousness is an essential piece of its formula. That remains the case today. A big backseat has enough legroom and width for three adults, and the trunk has an above-average 16.7 cubic feet of space. Driving enthusiasts will also appreciate the Accord's low, sporty seating position and well-bolstered front seats. 
Still, the Volkswagen Arteon wins this round. Credit goes to its liftback body style. Instead of a separate trunk, the rear windshield rises up to reveal a huge, deep cargo hold. What's more, you can fold down the rear seat to create a big open area. (The Accord's backseat folds, too, but only to create a small passthrough for long items.) By the numbers, the Arteon has 27.2 cubic feet of luggage room behind the backseat and 56.2 cubic feet with the rear seat folded. That's better than many small SUVs. And its front and rear seats are just as spacious and comfortable as the Accord's. The Arteon is a rare premium sports sedan with a full-size interior.
Winner: Volkswagen Arteon 
2023 Volkswagen Arteon SEL Premium ・ Photo by Brady Holt
Ride and Handling
Among mainstream mid-size sedans, the Accord is an upscale sports sedan. Credit goes to its responsive, precise steering and tautly tuned suspension. The Accord's ride is firm, steady, and composed, more like an Audi than a cushy Toyota Camry. 
But given that VW and Audi are sister brands and share many parts, the Arteon is even closer to an Audi. While it's not head and shoulders above the Accord, we found the Arteon's steering to be crisper. What's more, the Arteon includes all-wheel drive on all but the base model, while the Accord doesn't offer AWD at all. Both these cars blend performance and comfort, but the Volkswagen comes out ahead. 
Winner: Volkswagen Arteon
2023 Volkswagen Arteon SEL Premium ・ Photo by Brady Holt
Acceleration
Every 2023 Volkswagen Arteon has a turbocharged 2.0-liter four-cylinder that sends 300 horsepower and 295 lb-ft of torque through a seven-speed dual-clutch automatic transmission. We found that this powertrain sometimes stumbled slightly in gentle driving, but it's certainly a powerhouse. When you put your foot down, particularly in AWD models, this big liftback rips forward. 
Honda used to sell an engine that could approach the Arteon's power, its own 2.0-liter turbo. But the Accord dropped this engine option as part of its latest redesign. Now, most Accords  – including all upper-trim models – use a gas-electric hybrid powertrain. It makes 204 hp and 247 lb-ft of torque, and it's certainly agreeably quick. But it's not engineered to be a thrill ride. Base Accords have a 1.5-liter gas-only engine with 192 hp and 192 lb-ft of torque, which is even further from the Arteon's performance chops. 
Winner: Volkswagen Arteon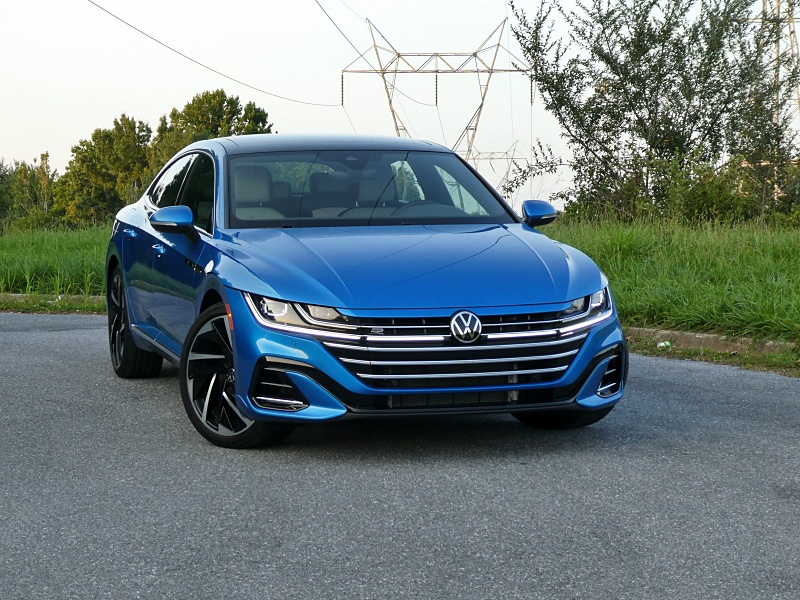 2023 Volkswagen Arteon SEL Premium ・ Photo by Brady Holt
Fuel Economy
As you'd expect from a hybrid, the gas-electric Accord is an efficiency winner. Its EX-L trim level gets an EPA-estimated 51 mpg in the city, 44 mpg on the highway, and 48 mpg combined, while other Accord Hybrids (including our test vehicle) manage 46 mpg city, 41 mpg highway, and 44 mpg combined. We beat those numbers to average 47 mpg in a weeklong test. The gas-only Accord gets a still-economical 29 mpg city, 37 mpg highway, and 32 mpg combined. 
The Arteon gets good gas mileage as well given its mighty engine. The front-wheel-drive model gets 25 mpg city, 33 mpg highway, and 28 mpg combined, while the AWD version like our test vehicle gets 22 mpg city, 31 mpg highway, and 25 mpg combined. Even the AWD Arteon is nearly as efficient as last year's 2.0-liter Accord, though the Volkswagen does use premium fuel. And we averaged 28 mpg during our weeklong test. Still, the Accord uses less gasoline – and lower-cost regular at that. 
Winner: Honda Accord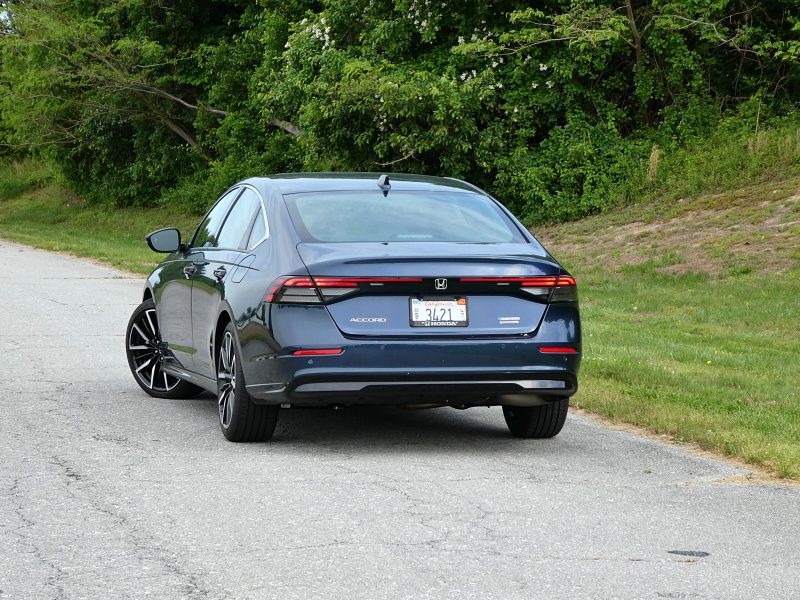 2023 Honda Accord Touring ・ Photo by Brady Holt
Safety
Both the Arteon and Accord come packed with advanced safety features, and both achieved the Insurance Institute for Highway Safety's highest designation of Top Safety Pick+. That reflects the cars' performance in a slew of crash tests and collision-avoidance evaluations. 
Still, one notable factor gives the Accord an edge. The IIHS just introduced two tougher new tests: a rear-seat evaluation for its frontal crash test and a side-impact crash test that simulates a strike from a bigger SUV. The Accord is one of the few vehicles on the market to earn top scores in both. The IIHS hasn't subjected the slower-selling Arteon to these tests, so perhaps it would do just as well. But unless VW proves that, the Accord wins this category. 
Winner: Honda Accord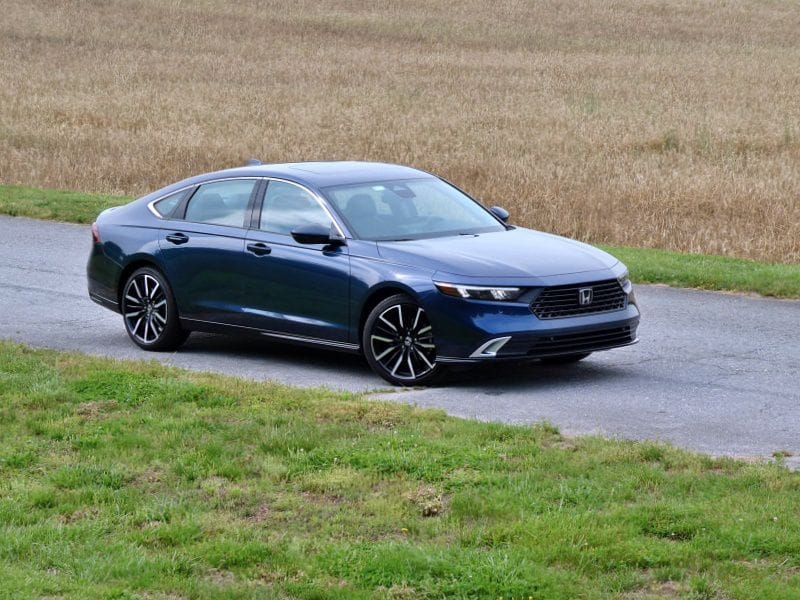 2023 Honda Accord Touring ・ Photo by Brady Holt
Final Thoughts
The 2023 Volkswagen Arteon is a fascinating automobile. It's a low, sleek, sporty car with 300 horsepower, agile handling, AWD, and more cargo space than many SUVs. It's styled like a luxury car, and while it's also priced like one, it's much more spacious and comfortable than a similarly priced Audi A5 Sportback. Particularly if you can take advantage of its slow sales to grab one at a discount, its unique set of virtues will be just what some folks are looking for. 
But we can't ignore the logic behind the 2023 Honda Accord. The humble Honda provides a nicer interior than the VW for much less money, while the hybrid's fuel-sipping powertrain will save you even more over the long run. What's more, even if the Accord Hybrid has fewer thrills than the Arteon, it's still a speedy and crisp-handling sports sedan. And even though it's missing the VW's incredibly useful cargo space, the Accord has just as much passenger room and more trunk space than most fellow sedans. It's tempting to imagine the Arteon with a luxury-grade interior and a lower price tag. This would be the easy choice over an Accord for anyone who favors driving pleasure over maximum fuel savings. But as it is, the Accord will make more sense even to many people who'd want to prefer the Arteon. 
Winner: Honda Accord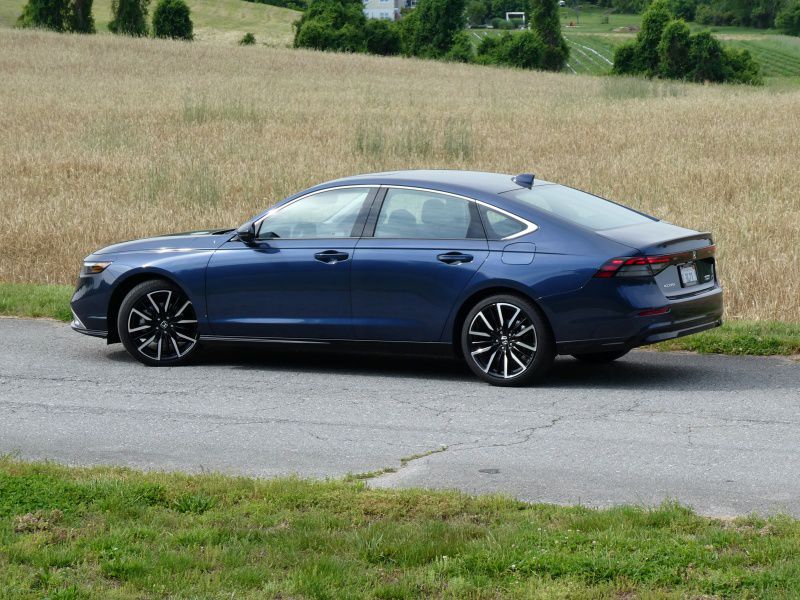 2023 Honda Accord Touring ・ Photo by Brady Holt