Photo by Brady Holt
It's been a while since the Toyota Prius was cool. Back in 2004, celebrities lined up to buy this uniquely styled, cutting-edge fuel-saving machine. But over time, the iconic hybrid faded into a sensible if dorky-looking hatchback that you buy when gas mileage is at the top of your priority list. 
For 2023, Toyota has "reimagined" the Prius experience. Its new body is sports-car sharp, complemented by an upgraded suspension and a new powertrain that makes nearly 200 horsepower. Yet it's still a remarkable fuel-saver with EPA ratings of up to 57 mpg in mixed driving. And it still comes with lots of standard features at a base price of $27,450. We just spent a week testing the all-new Prius to see how its new promise measures up — and what was lost along the way.
Sporty New Style
The new Prius is one of the most beautiful small cars on the market today. That's a remarkable turnaround for a car whose previous design ethos prioritized elaborate wedges, creases, and other shapes over simple elegance. 
For 2023, Toyota made the Prius lower and wider, and it smoothed out the details. The headlights became crisp C-shapes that merge into a small grille. The hood flows smoothly into the windshield, good news for both style and aerodynamics. The smaller side windows, hidden rear doorhandles, and rear lightbar further give the Prius the stance of a sports coupe. And our test vehicle's flashy 19-inch wheels are standard on all but the base model, which wears 17-inch wheels; by contrast, last year's Prius started with 15-inch wheels with 17-inchers on upper trim levels. A stranger came up to us to gush about the new design, and said he's been telling friends that they should give the Prius another look.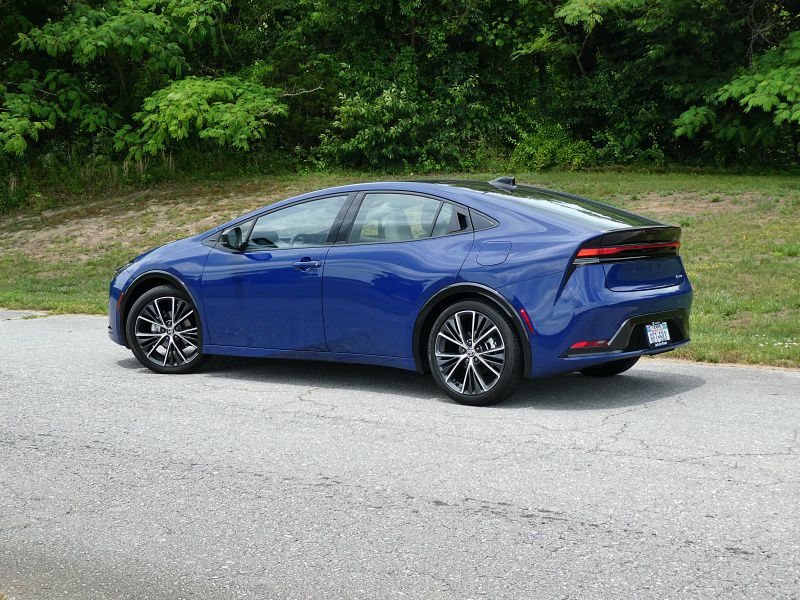 Photo by Brady Holt
Great Mileage, and Now Featuring Speed
The Prius's beautiful styling would be almost a disappointment if Toyota hadn't also improved the car's performance. Last year's Prius made a mere 121 horsepower from the combination of its gas engine and electric motor, which could propel it to 60 mph in about 10 seconds. That's enough to keep up with traffic, but the engine made a lot of noise to do so. Now, the Prius makes 194 to 196 hp depending on the version and 60 mph arrives in just 7 seconds. That elevates it from the bottom tier of the compact-car class to the upper tier. And while acceleration still isn't whisper-quiet, it would no longer be called wheezy. 
Better still, despite the extra speed, its EPA fuel economy estimates improved by about 1 mpg. Most trim levels, including our front-wheel-drive Limited test vehicle, manage 52 mpg in both city and highway driving. The base FWD LE improves to 57 mpg city and 56 mpg highway. And all-wheel drive, available on all trim levels, costs 3 mpg. We beat the EPA estimate to average 55 mpg, though we did even better in our real-world but non-scientific tests of multiple previous-generation Priuses.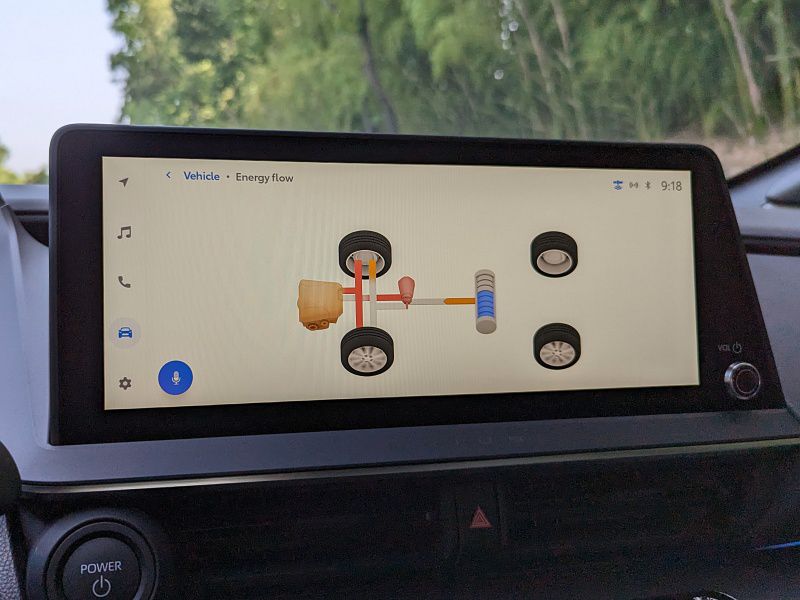 Brady Holt
Refined Ride
Toyota has also been steadily improving the Prius's ride and handling, and that effort continues with the 2023 model. Early Priuses were bumpy, buzzy economy cars, but each subsequent generation has improved upon that. It developed a cushier ride in 2010, more agile handling in 2016, and now a greater overall sense of polish and sophistication for 2023. 
We already mentioned that the new Prius's engine got quieter and less strained. This goes a long way toward improving the car's overall sense of refinement. But we also appreciated the way the suspension absorbs bumps solidly, avoiding harsh slams or flimsy shudders. And while we wouldn't call the steering and handling sports-car crisp, it's less disconnected than on ancient-past Priuses. The Prius's improved performance still won't tempt driving enthusiasts out of their Mazda3s and Volkswagen GTIs, but if they're looking to halve their fuel bills, it has become more palatable. 
Photo by Brady Holt
Still an Unconventional Dashboard
While the Prius's exterior has abandoned its funky look in favor of traditional good looks, the cabin remains forcefully unconventional. The main weirdness involves the steering wheel and gauge cluster, in a design scheme shared with the more thoroughly weird Toyota bZ4x. While the speedometer no longer sits in the center of the dash like in old Priuses, you're now supposed to position the steering wheel to see the instruments over the steering wheel rim. 
The rest of the Prius's interior is more normal. There's an upgraded touchscreen in the dashboard that measures 8 inches on base Priuses and 12.3 inches on uplevel models like our test vehicle. Importantly, there are also physical buttons and knobs for basic functions. We do wish Toyota had done more with the massive screen real estate, though; it just stretches a single view like radio information or the GPS map all the way across, rather than splitting the screen to show both. And while you can put some extra info on the gauge cluster, it still wasn't enough to track our our gas mileage, electric battery capacity, and radio information all at the same time. We've also read some criticisms of the Prius's interior quality, though that felt fine to us for an economy car.
Photo by Brady Holt