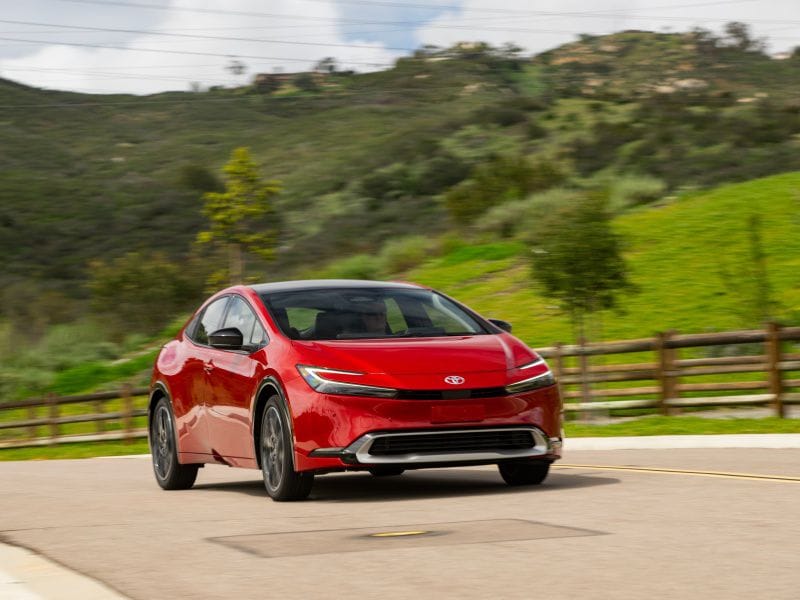 2023 Toyota Prius Prime XSE ・ Photo by Toyota
The 2023 Prius Prime is all-new with a longer all-electric driving range, more horsepower, and updated driver assistance technologies. The Toyota Prius has long been one of the most recognizable hybrid vehicles on the market. Its success led to the introduction of the Prius Prime, which is a plug-in hybrid with even better fuel efficiency.
This year, Toyota improves upon what was already a solid offering. The biggest change for those focused on fuel economy is an increased all-electric driving range that might just be enough to get you through your day without needing to stop and charge. That means less money spent on gas and more money staying in your pocket. Additional horsepower adds to its appeal with a more robust powertrain that makes accelerating to highway speeds easier. Let's take a closer look at the all-new 2023 Toyota Prius Prime.
Choose From Three Trims
The 2023 Toyota Prius Prime is available in three trims with seating for five people and the convenience of a hatchback for carrying large or bulky cargo. The base SE is priced from $32,350 with 6-way adjustable front seats, fabric seating surfaces, a leather-trimmed steering wheel, six USB charging ports, an 8-inch infotainment touchscreen, and wireless Apple CarPlay and Android Auto. The XSE at $35,600 adds SofTex seating surfaces, an 8-way power driver's seat, heated front seats, and Qi wireless charging.
At the top of the lineup is the XSE Premium priced at $39,170. This trim adds a power hatchback, ventilated front seats, a 12.3-inch infotainment touchscreen, and 8-speaker JBL premium audio. It's a small lineup, but it consists of three well-equipped trims. A wide range of standard features make even the base trim an appealing option while the top trims get extras to give them a more premium look and feel.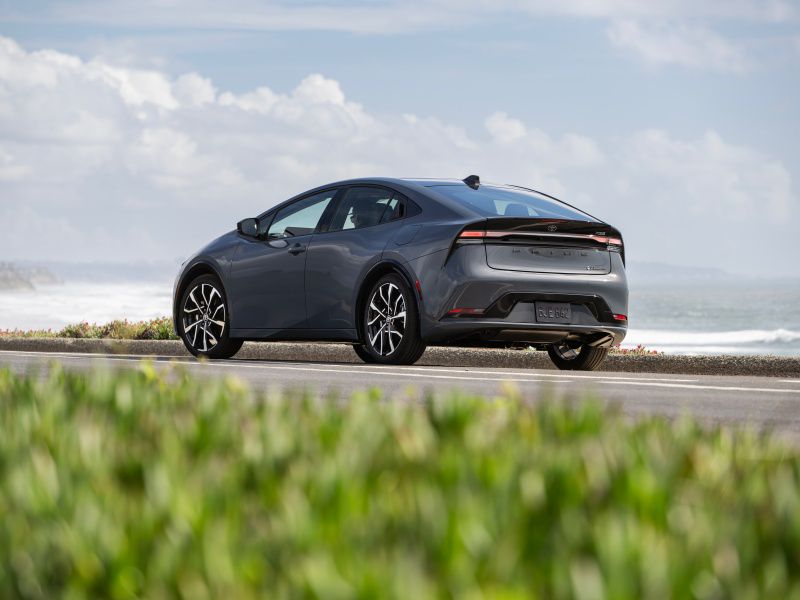 Photo by Toyota
A Single Powertrain Option
There is one powertrain option for the full 2023 Prius Prime lineup. It features a 2.0-liter 4-cylinder engine and a single electric motor for 220 net system horsepower with 139 lb-ft of torque. That's an increase of 100 horsepower with 32 percent more torque than the previous generation, which is no small change. This makes the Prius Prime a far more engaging car to drive.
Acceleration is strong, so you'll have no trouble getting up to highway speeds. Once you're up to cruising speeds, there's still enough power for an extra boost to accelerate past slower-moving vehicles. This isn't a sporty vehicle, but it is markedly better than last year's Prius Prime. Its 0-60 mph time of 6.6 seconds is 40 percent faster, and it makes for a noticeable difference in overall performance.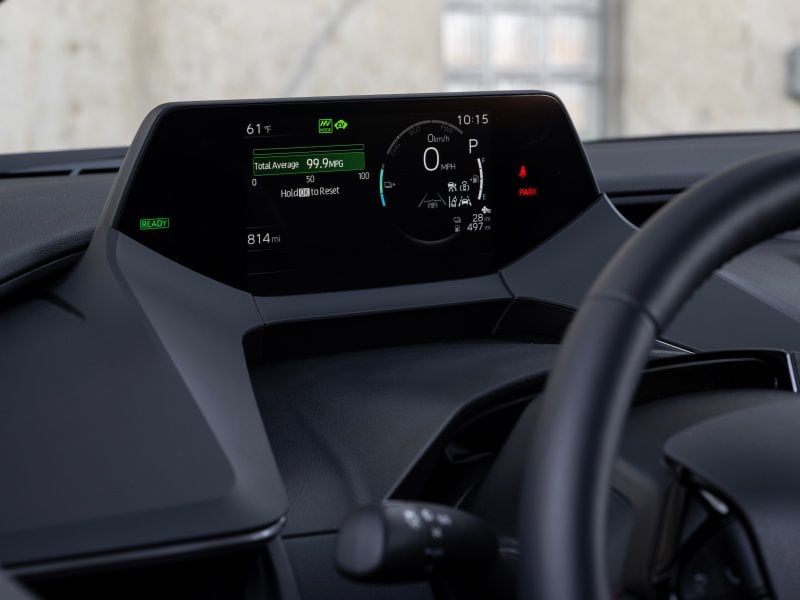 Photo by Toyota
A Choice of Three Drive Modes
The Prius Prime delivers smooth, well-mannered handling that's ideal for long trips or the daily commute. There are several drive modes that change how the Prius Prime performs to create a more engaging driving experience. Normal drive mode lets the hybrid system decide when to use the gas engine and when to use the battery to optimize fuel economy with a good balance of performance.
Eco drive mode focuses purely on fuel economy, which creates a less performance-focused driving experience. Lastly is Sport, which puts the focus on power at the sacrifice of fuel economy. Each drive mode subtly changes how the Prius Prime feels depending on your priorities. Normal is the optimum choice for most driving, but Sport lets you have a little more fun. Eco, however, creates an almost lackluster drive that we didn't find is worth the extra bit of fuel economy.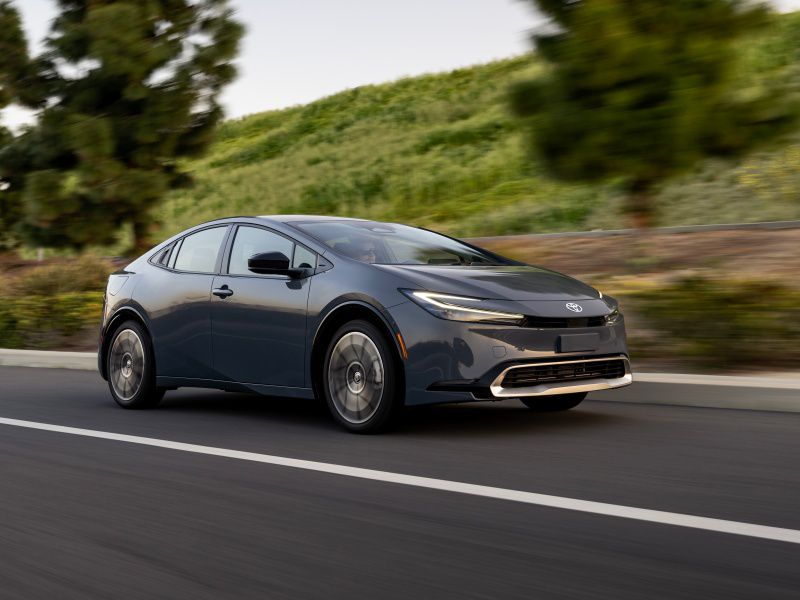 Photo by Toyota
Improved All-Electric Driving Range
Plug-in hybrid vehicles offer the benefit of being able to drive solely on electric power for a limited number of miles while still having a gas engine. This makes it easier to tackle road trips since you can make use of chargers if you have the opportunity, but you don't have to plan your route around them because you have that gas engine as a fall back. In everyday driving, having a long all-electric range means you could possibly not have to charge at all unless you're home.
This year, the Prius Prime gets a driving range increase of up to 76 percent with 44 miles of all-electric range per charge. That's a huge improvement and one that will help you spend less at the pump. Although EPA ratings are not yet available, Toyota estimates that fuel economy will be up to 52 mpge combined, making the Prius Prime a fuel-efficient option.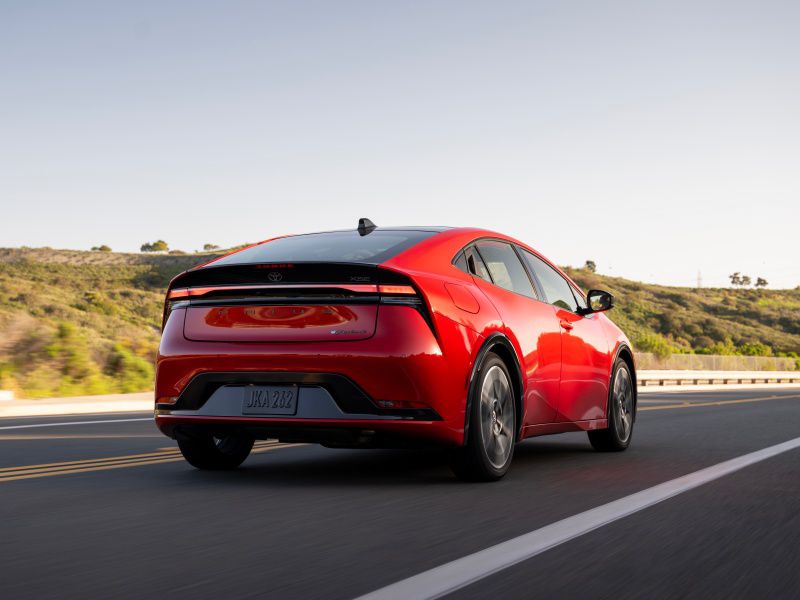 Photo by Toyota
Charging Is Easy
The Prius Prime is a plug-in hybrid, so plugging in and charging when the battery is depleted helps you improve your overall fuel economy. You can plug it right into a standard household outlet with the supplied cable and no need for special equipment. It takes about 11 hours to fully charge the battery using a standard 120-volt outlet.
You can charge at a Level Two charger on the road or at home if you choose to have one installed. This reduces the Prius Prime's charging time to just four hours. There are also electric drive modes that let you decide how to use or conserve the battery during your drive. EV mode relies on the battery first and is ideal for city driving. HV/EV mode will engage the gas engine at higher speeds or on steep hills when it's the more efficient option. Hybrid mode switches back and forth depending on driving conditions.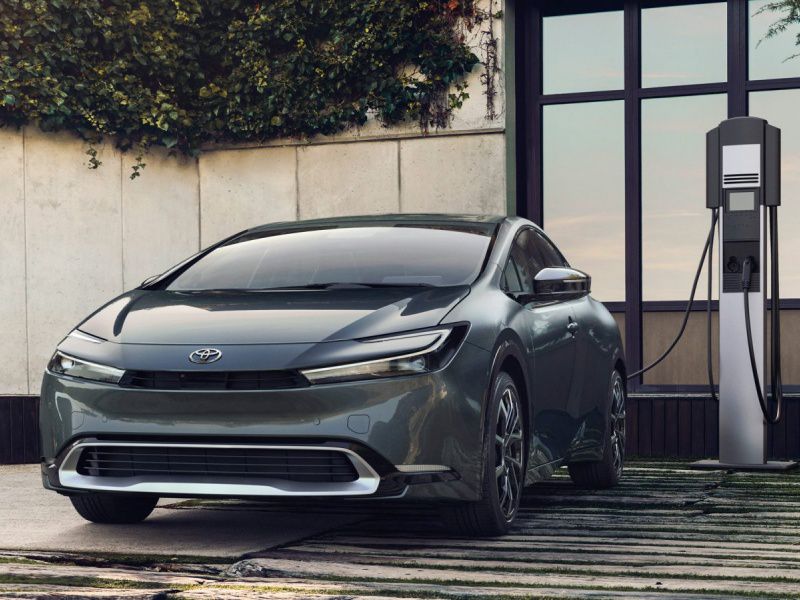 Photo by Toyota
A Roomy and Comfortable Interior
The Prius Prime is a hatchback with seating for up to five people in a spacious and open interior. Those sitting up front get the best seats with only light bolstering so even occupants who are larger will find them comfortable. The base trim has manually adjustable seats, but the rest of the lineup gets power-adjustible seats with additional available features including heated and ventilated front seats that add to the overall experience.
Rear seats fit three with good legroom and headroom for all but the tallest passengers. It's not huge, however, so keep it to two people unless the drive is short. The ride quality is good with a minimum of noise intruding into the cabin. Rough pavement goes largely unnoticed as well, making the Prius Prime a relaxing and easygoing ride.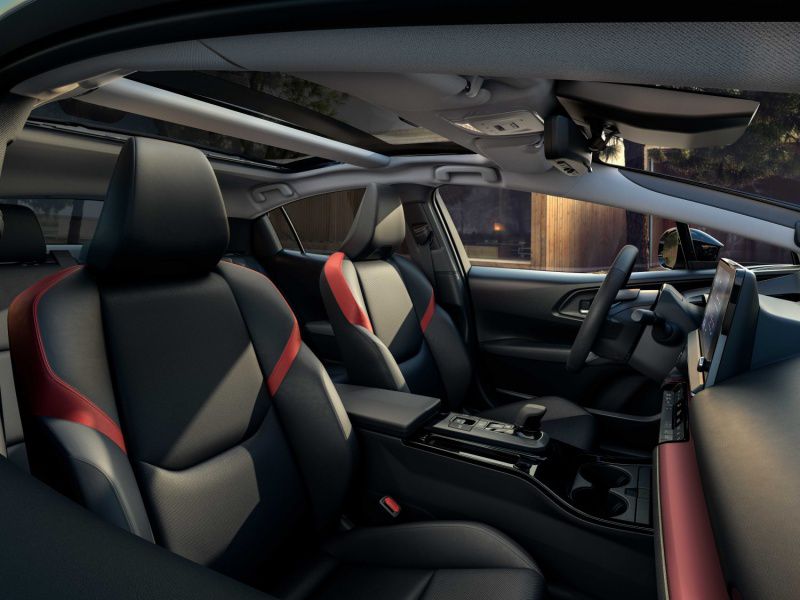 Photo by Toyota
Infotainment With Large Touchscreens
The base system in the Prius Prime features an 8-inch touchscreen, six speakers, and wireless Apple CarPlay and Android Auto. This is standard on the SE and XSE trims. There's also a 12.3-inch touchscreen that's optional for the XSE and standard on the XSE Premium. That top trim also has an available eight-speaker JBL premium audio system. This is the latest version of Toyota's infotainment technology, and it allows for both connectivity and over-the-air updates.
The touchscreens are large and easy to use with good responsiveness and clearly organized menus. There's also voice activation. This is something that can be hit or miss and can cause frustration, but it's remarkably good in the Prius Prime. Saying, "Hey, Toyota," wakes up the system so it can respond to natural language commands. Usually, it gets things right, so you can use the system and keep your eyes on the road and your hands on the wheel.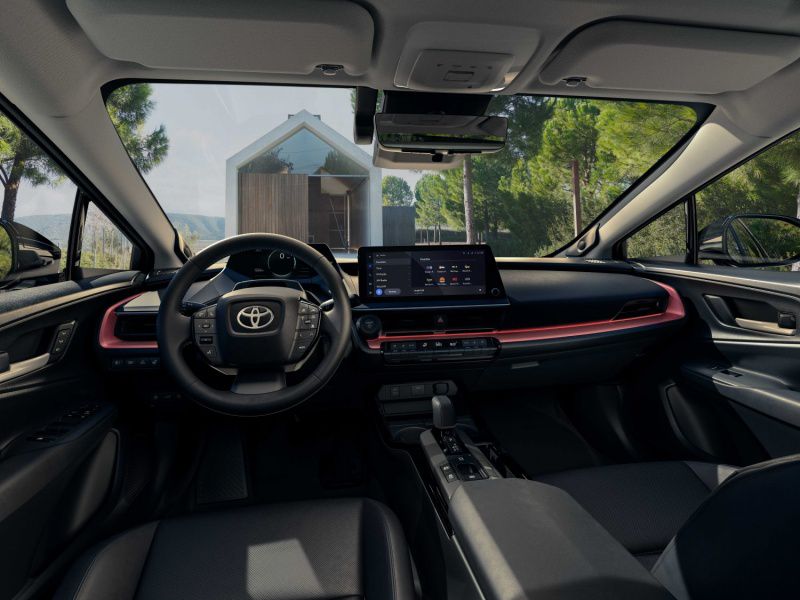 Photo by Toyota
Plenty of Standard Safety Features
The full Prius Prime lineup is equipped with the Toyota Safety Sense 3.0 suite of safety features. This includes pre-collision with pedestrian detection, dynamic radar cruise control, lane departure alert with steering assist, lane tracing assist, lane change assist, front cross-traffic alert, road sign assist, automatic high beams, and proactive driving assist. Also standard are safe exit assist, blind-spot monitor with rear cross-traffic alert, and new traffic jam assist, which provides handsfree steering, braking, and acceleration at speeds under 25 mph.
That's a comprehensive offering that includes features not always found on base trims, especially when the car is an affordable one like the Prius Prime. Front and rear parking assist with automatic braking is optional on the base and standard for the rest of the lineup. There's also a panoramic view monitor with 360-degree overhead view at low speeds, which is only available as part of a package on the top XSE Premium trim.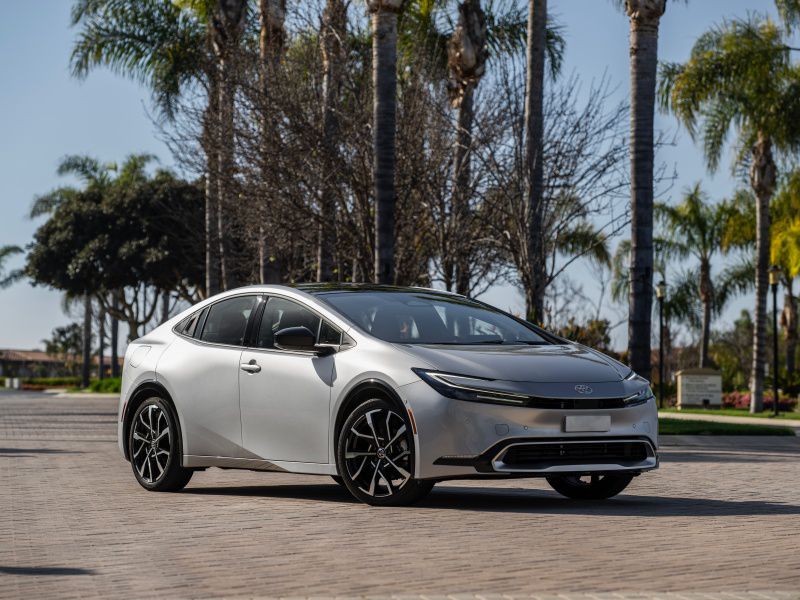 Photo by Toyota
Final Thoughts
The 2023 Toyota Prius Prime is a good happy medium. While some people are ready to make the jump to a fully electric vehicle, not everyone is ready to say goodbye to gas engines. Going with a plug-in hybrid provides a limited all-electric range while still having gas as backup. It's an easy way to get used to the idea of plugging in a car rather than fueling it up.
This year, the Prius Prime is even more appealing with a more powerful engine, longer all-electric driving range, and updated styling that gives it a fresher, more modern look. The three-trim lineup is well-equipped right from the start with pricing that makes it easier on the budget so more people can give an electrified vehicle a try.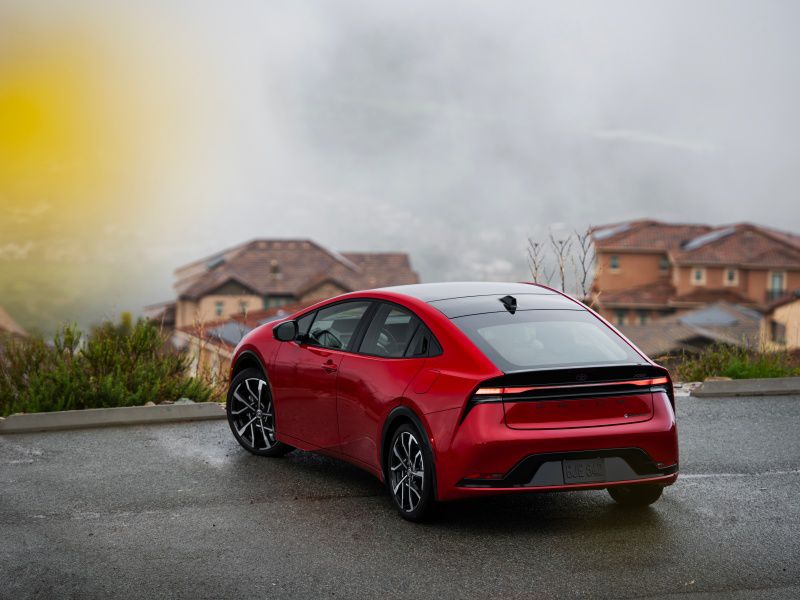 Photo by Toyota