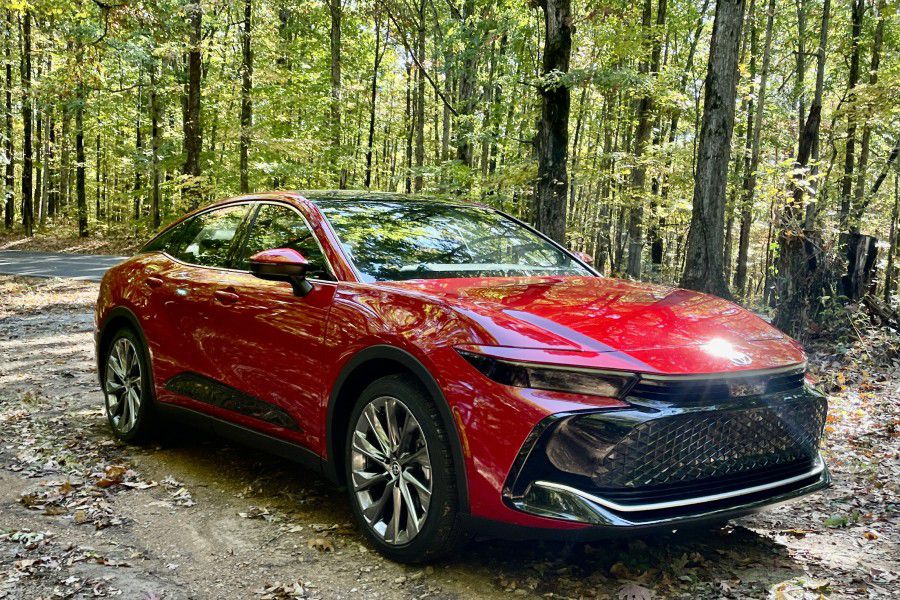 2023 Toyota Crown Front Quarter ・ Photo by Nicole Wakelin
The 2023 Toyota Crown is an all-new hybrid sedan. It sits at the top of the brand's sedan lineup with a range of three trims and an extensive list of standard features. All-wheel drive is standard across the Crown lineup, and there is a choice of two hybrid powertrains, all depending on just how much performance you want from this sedan.
There's also the latest version of Toyota's infotainment system with a large touchscreen and good smartphone connectivity. The package rounds out with a strong suite of standard safety features to set your mind at ease. Let's take a closer look at the all-new 2023 Toyota Crown to see if it's the right hybrid sedan for you.
A Range of Three Well-Equipped Trims
There are only three trims in the Crown lineup, which limits your choices, but each comes with ample standard features. Even the base trim is nicely appointed so you won't feel like you sacrificed on comfort and amenities simply because you didn't move to the top of the lineup. The range starts with the XLE at a starting price of $39,950. It has 8-way power adjustable heated front seats, a leather-trimmed steering wheel, and dual-zone automatic climate control.
The Limited jumps to $45,550 and adds leather seating surfaces, ventilated front seats, heated rear seats, and a heated steering wheel. At the top of the Crown lineup is the Platinum with a price of $52,350. It adds a premium 11-speaker JBL audio system and 21-inch wheels to the list of standard features. No matter the trim you choose, the Crown has plenty of features to keep everyone comfortable.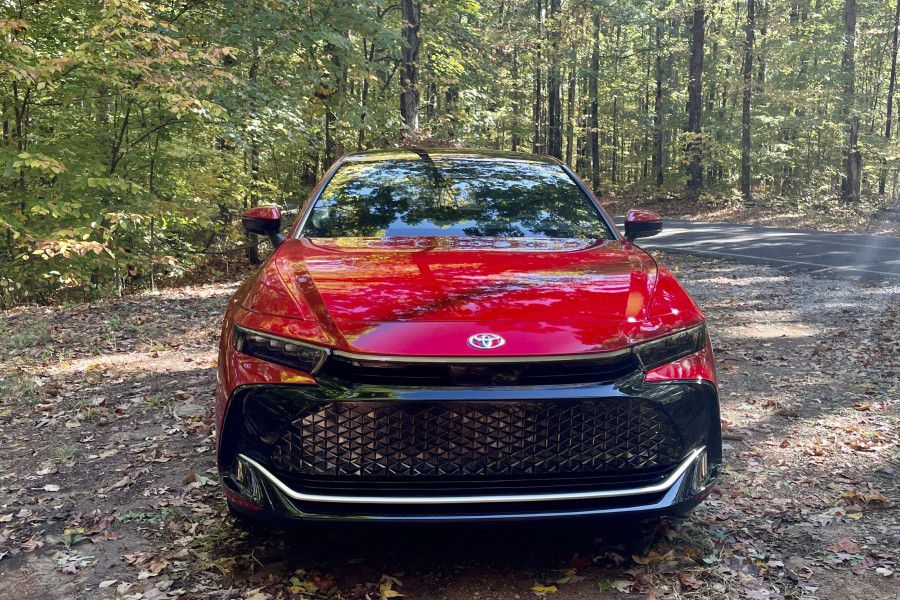 Photo by Nicole Wakelin
Choose From Two Hybrid Powertrains
The Crown is only available as a hybrid, but you do have a choice of two different hybrid powertrains. The XLE and Limited trims have a 2.5-liter 4-cylinder engine with 236 combined net horsepower and 163 lb-ft of torque paired to a continuously variable automatic transmission. This is easily enough power to get the Crown up to speed for merging with highway traffic, but if you want a bit more, then look toward the Platinum trim.
It has a more powerful 2.4-liter turbocharged 4-cylinder engine that delivers 340 horsepower with 400 lb-ft of torque. This is paired to a 6-speed automatic transmission. Between the added power and the transmission change, there's a big difference between these two hybrid options. If you crave stronger performance, then you'll find the upgraded Platinum engine a far more appealing option.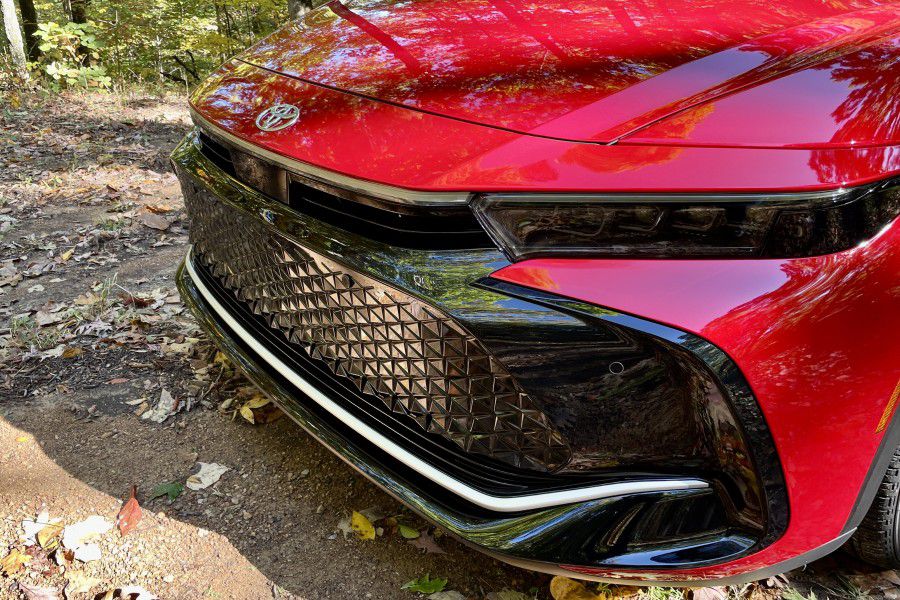 Photo by Nicole Wakelin
Excellent Hybrid Fuel Economy
One of the most compelling reasons for going with a hybrid is its fuel economy. Especially when gas prices take a jump, driving a hybrid makes it easier to stay on budget. It's also a huge benefit for those who have long daily commutes or who plan on frequent long-distance road trips. The Toyota Crown equipped with the base powertrain get 42 mpg in the city, 41 mpg on the highway, and 41 mpg combined.
Those are fantastic fuel economy numbers, and they help make the Crown a more affordable option over the long term. The more powerful engine sees a drop to 29 mpg in the city, 32 mpg on the highway, and 30 mpg combined. That's a big difference, but those figures are still good. It's a matter of weighing whether the added performance of that upgraded engine is worth the added expense at the pump.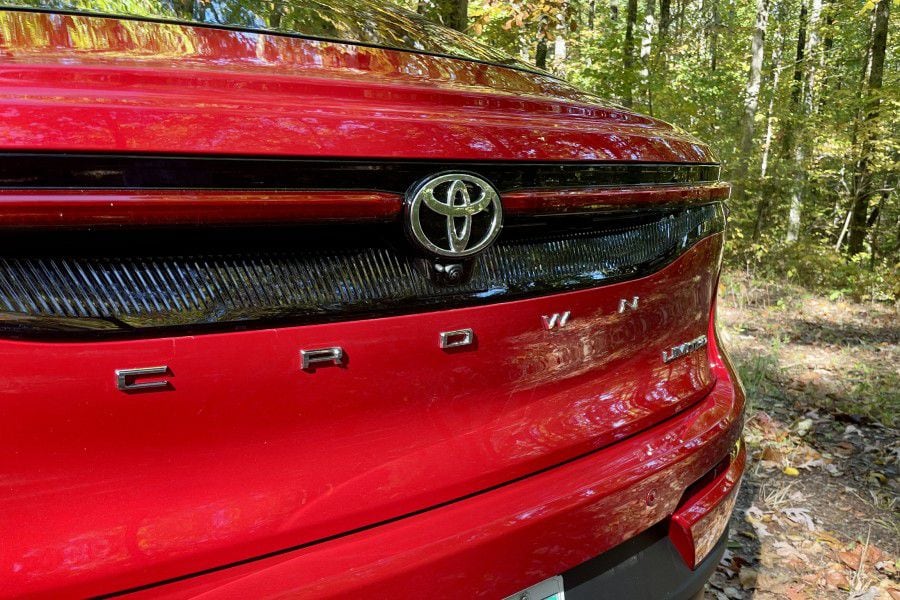 Photo by Nicole Wakelin
Standard All-Wheel Drive
While many sedans offer all-wheel drive only as an option or sometimes not at all, every Crown has all-wheel drive as a standard feature. There are two different versions of the all-wheel-drive system depending on which trim of the Crown you choose. The XLE and Limited have electronic on-demand all-wheel drive with three selectable drive modes that let you tailor the drive to your preferences.
The top Platinum trim gets an even more robust all-wheel-drive system. It features full-time electronic all-wheel drive with a choice of six selectable drive modes for a greater level of control. It also features adaptive variable suspension for a smoother ride over rough road surfaces and large 21-inch wheels. While every Crown has all-wheel drive, you get a little bit more out of the system if you move all the way up to the top trim in the lineup.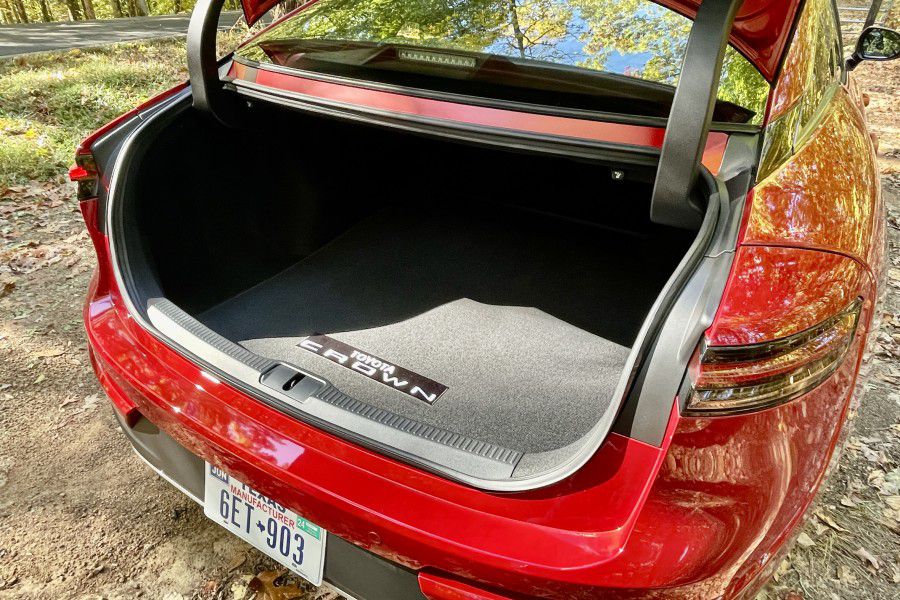 Photo by Nicole Wakelin
Upscale Interior Materials
The Crown sits at the top of the Toyota sedan lineup, which makes it a more premium offering. It's not a luxury car, but it is well-appointed, even in its base trim. The XLE has fabric front seats with Softex synthetic leather trims and those seats are heated and 8-way power adjustable. They're comfortable and supportive with plenty of room even for adults with larger frames.
Higher trims add ventilation to the front seats, heat to the rear seats, and leather seating surfaces for better visual appeal and added comfort. There's seating for three in back with room for even taller adults to get comfortable. Although three fit across, it's still best kept to two adults unless the ride is a short one.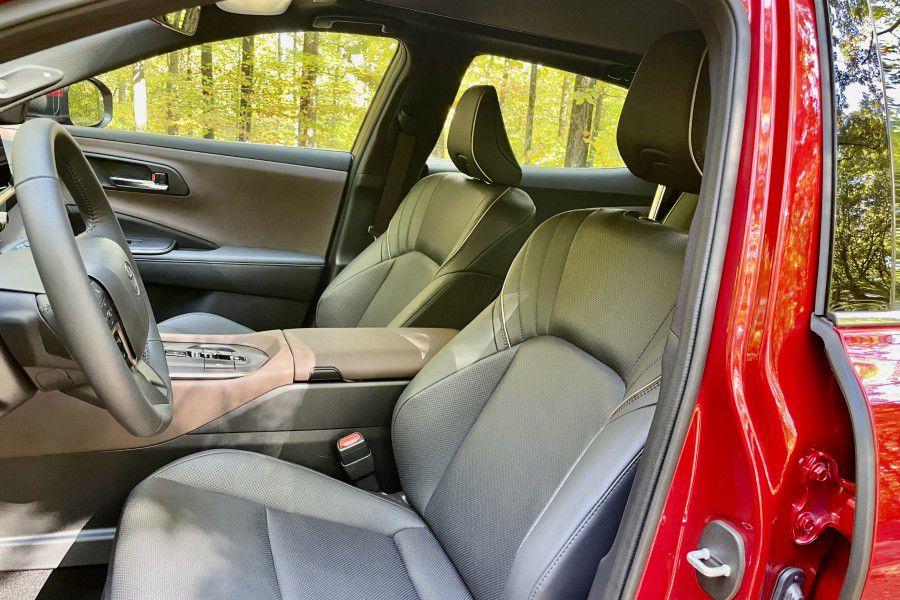 Photo by Nicole Wakelin
An Exceptionally Quiet Ride With Good Handling
A quiet ride is important in any car, but especially so in a sedan. These are vehicles made to be comfortable for people rather than focusing on capability like a truck or SUV or on performance like a sports car. Sedans are all about people, and Toyota worked to ensure that the interior of the Crown is quiet and relaxing.
In addition to the ride being quiet, it's also smooth over rougher road surfaces. Steering is crisp and responsive so there's a minimum of body roll during quick highway maneuvers with the Crown staying calm and controlled. The adaptive variable suspension that's standard on the Platinum trim further enhances the ride by hiding the worst of a road's imperfections so everyone can simply relax and enjoy the trip.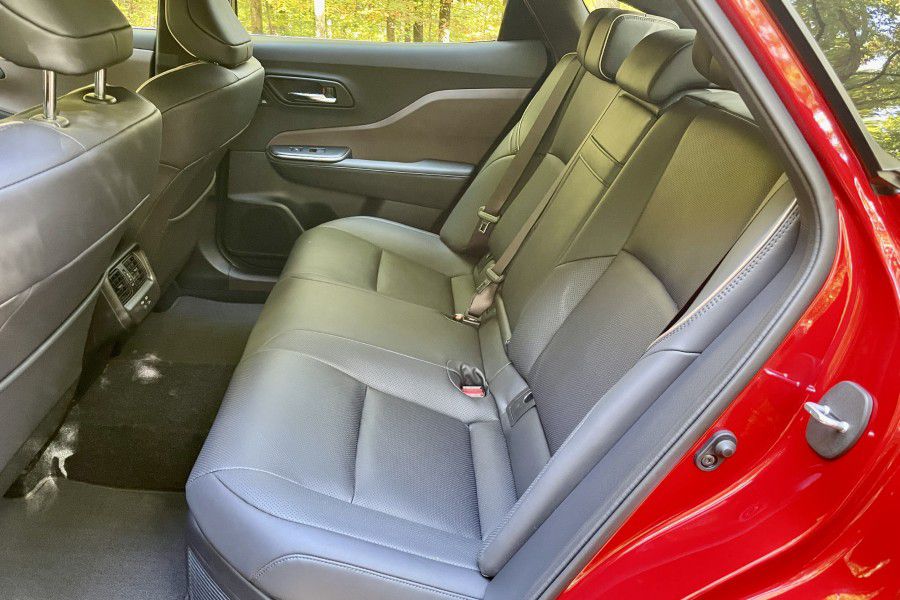 Photo by Nicole Wakelin
The Latest Toyota Infotainment System
The Toyota Crown features the latest version of Toyota's infotainment system, which is a big step up from the prior generation. This includes a standard 12.3-inch touchscreen, wireless Apple CarPlay and Android Auto, 6-speaker audio, two front and two rear USB-C ports, one front USB-A port, and Qi wireless charging with an indicator light.
The Platinum and Limited add an 11-speaker JBL audio system with a subwoofer and amplifier for a more refined listening experience. It's a comprehensive offering on all three trims and it's one that is easy to use. The large touchscreen helps with that ease of use and the menus are well-organized, so it's easy for passengers to quickly learn. It also features voice activation by saying "Hey Toyota," followed by natural language commands to operate the system with less driver distraction.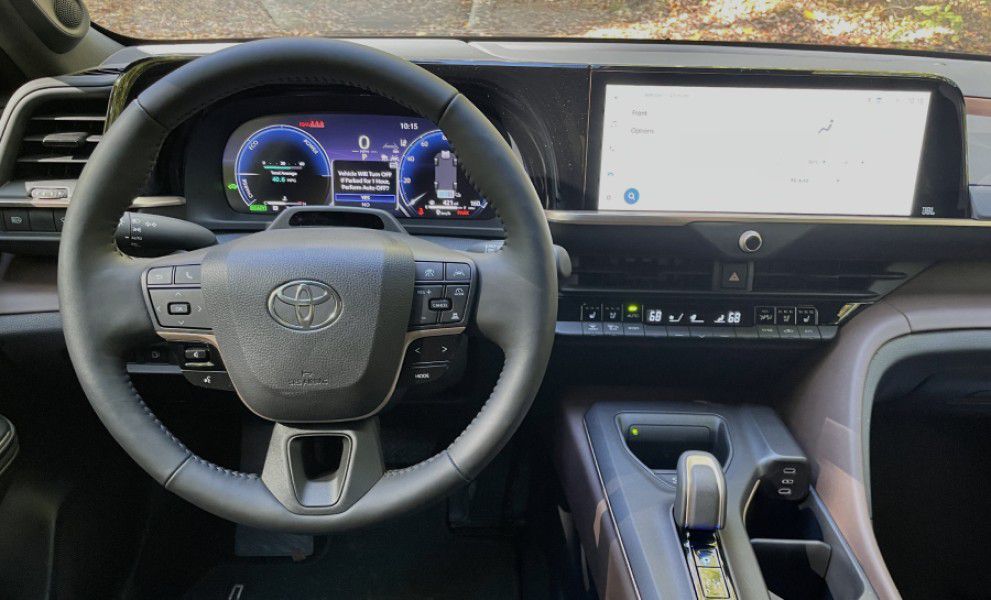 Photo by Nicole Wakelin
Standard Toyota Safety Sense 3.0.
Every 2023 Toyota Crown features Toyota Safety Sense 3.0 as a standard feature. This extensive suite of safety features includes advanced technologies that help prevent accidents and keep you and your loved ones safe. The system includes pre-collision with pedestrian detection with sensors that can even detect motorcycles and guardrails in select circumstances.
There's also full-speed dynamic radar cruise control, lane departure alert with steering assist, lane tracing assist, automatic high beams, road sign assist, and proactive driving assist. Additional standard features include blind spot alert, rear cross-traffic alert, and rear seat reminder. There's no need to stretch your budget and move up a trim or two just to get suite of safety features because Toyota makes them standard for every trim level.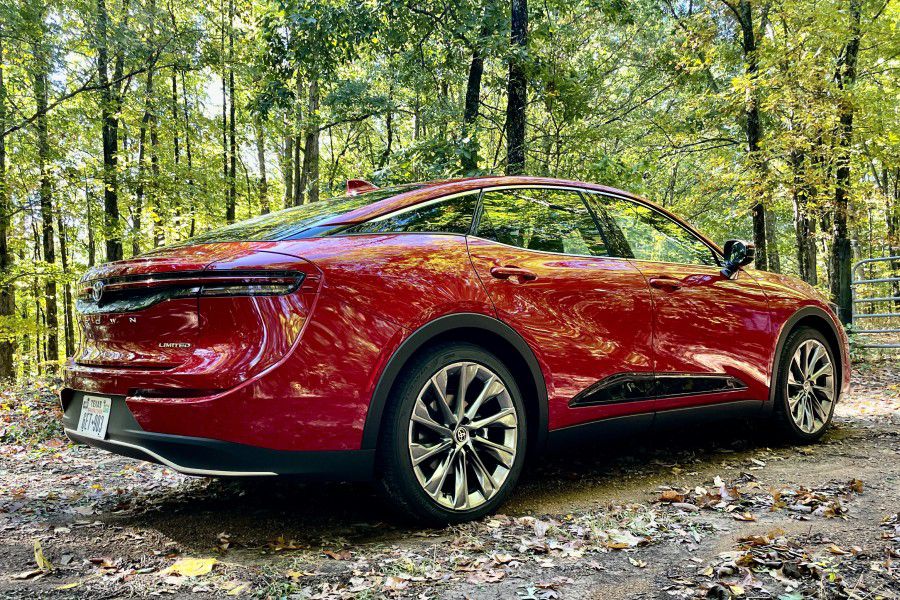 Photo by Nicole Wakelin
Final Thoughts
The Crown is a welcome addition to the Toyota sedan lineup. It is an attractive, premium offering that boasts great fuel efficiency. A choice of two hybrid powertrains lets you decide whether you'll sacrifice a little of that efficiency in the name of performance, but either will help you save money at the pump when gas prices take their next jump.
It's priced well, especially considering how nicely equipped it is even in the base trim. Key safety feature are standard and infotainment has both a large touchscreen and good smartphone connectivity. There's even standard all-wheel drive which helps make this sedan a good choice for those who live where winter weather is a concern. The all-new 2023 Toyota Crown gives sedan buyers more of what they want with the look and feel of a premium car.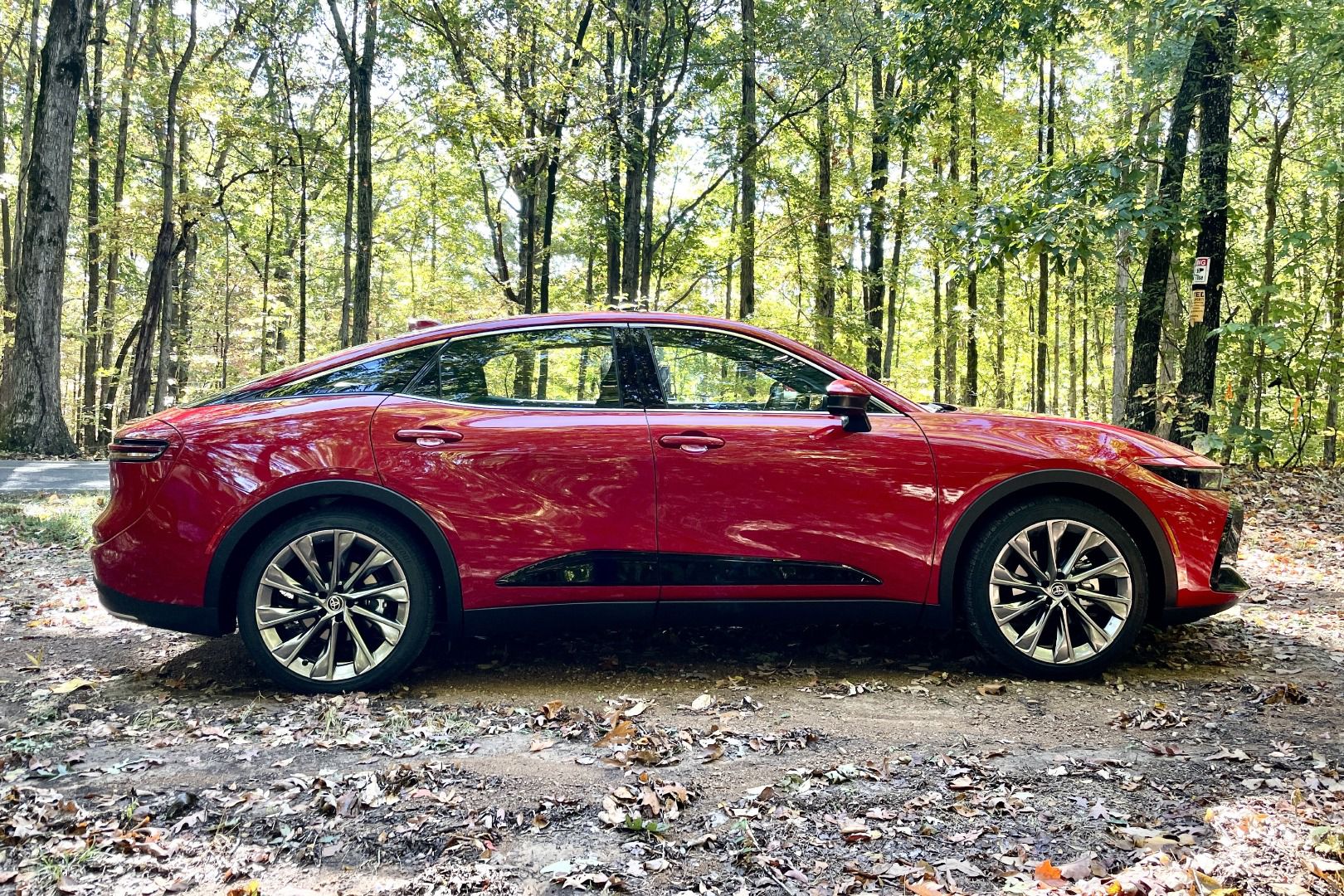 Photo by Nicole Wakelin