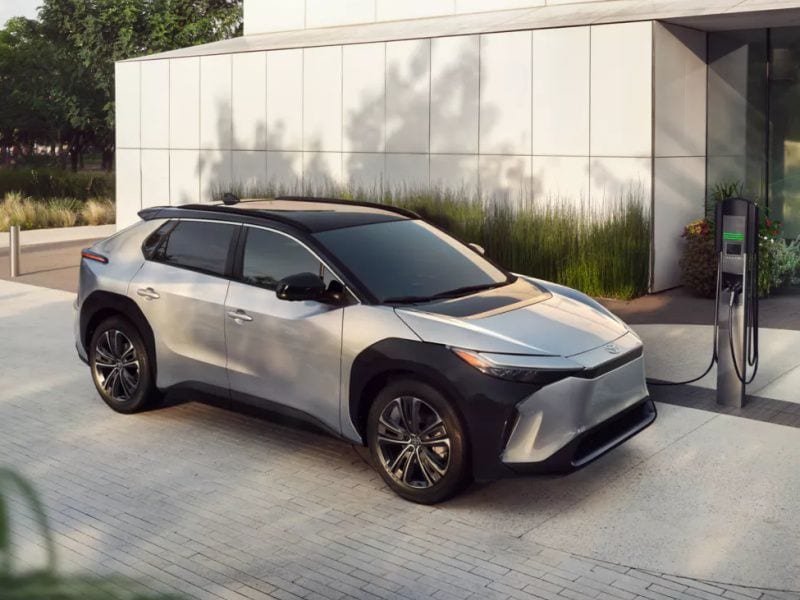 2023 Toyota BZ4X ・ Photo by Toyota
The Kia EV6 is the first all-electric SUV from Kia. It comes with a choice of rear-wheel or all-wheel drive and a maximum range of up to 310 miles per charge. There's seating for five people across a range of four trims with affordable pricing.
The Toyota bZ4X is a new all-electric crossover that marks the expansion of Toyota's electrification efforts. It offers front-wheel or all-wheel drive with a maximum range of 252 miles, plus seating for five people. There's a choice of two well-equipped trims with lots of standard features. Let's take a closer look at these electric vehicles to see which is the better of the two.
Two or Four Trims
The Kia EV6 is offered in four trims with pricing that starts at $40,900 and tops out at $55,900. The base Light is rear-wheel drive only with a smaller battery. The Wind has a larger battery for increased range with optional all-wheel drive. The GT-Line increases safety features while the First Edition, which is sold out, added vegan leather and standard all-wheel drive.
The Toyota bZ4X has only two trims starting at $42,000 and $46,700. Both feature a 12.3-inch touchscreen, Qi wireless charging, dual-zone automatic climate control, and a choice of front-wheel or all-wheel drive. This one goes to Toyota for keeping its top trim much more affordable priced.
: Toyota bZ4X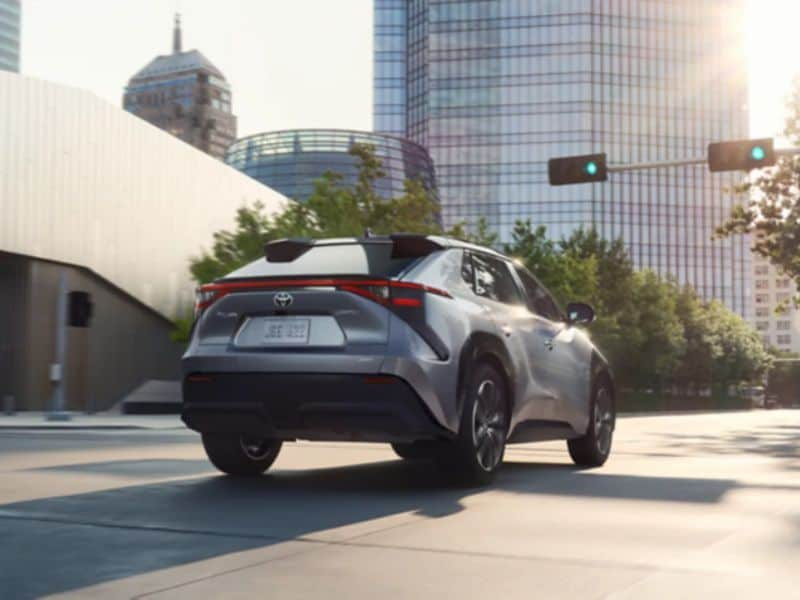 Photo by Toyota
Powertrains With Plenty of Horsepower
The bZ4X equipped with front-wheel drive has 201 horsepower. All-wheel drive models get a slightly higher 214 horsepower. Those aren't especially high numbers, but they're more than enough to make the bZ4X a responsive car that easily accelerates up to highway speeds.
The base EV6 has a modest 167 horsepower. The rest of the lineup gets 225 horsepower with rear-wheel drive or 320 horsepower with all-wheel drive. Although the base configuration of the EV6 comes in low on horsepower, the rest of the lineup delivers far stronger performance, making it the more fun and more engaging of the two.
: Kia EV6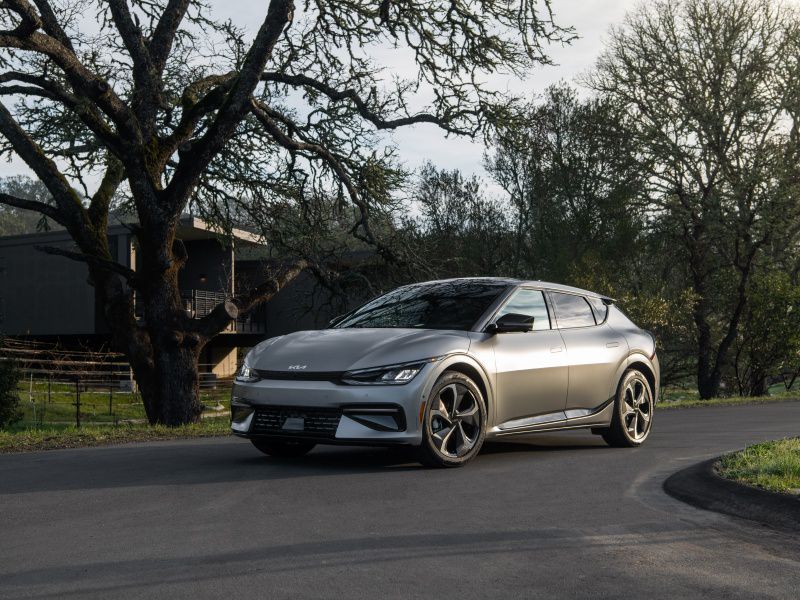 Photo by Kia
A Ride That Makes Road Trips Easy
The Toyota bZ4X has a smooth composed ride that evens out harsh pavement. Crisp handling helps keep the car feel planted and in control whether you're in the driver's seat or simply sitting back and enjoying the ride. Wind and road noise are minimal, with only the roughest and most broken road surfaces disturbing passengers.
The Kia EV6, however, delivers a superior ride quality. Its suspension system does a better job of absorbing the bumps and jolts of potholes. It keeps the rattle of pebbled road surfaces to a minimum and reduces wind noise as well. This makes conversation easy even at highway speeds and ensures a comfortable ride for everyone no matter how long the trip.
: Kia EV6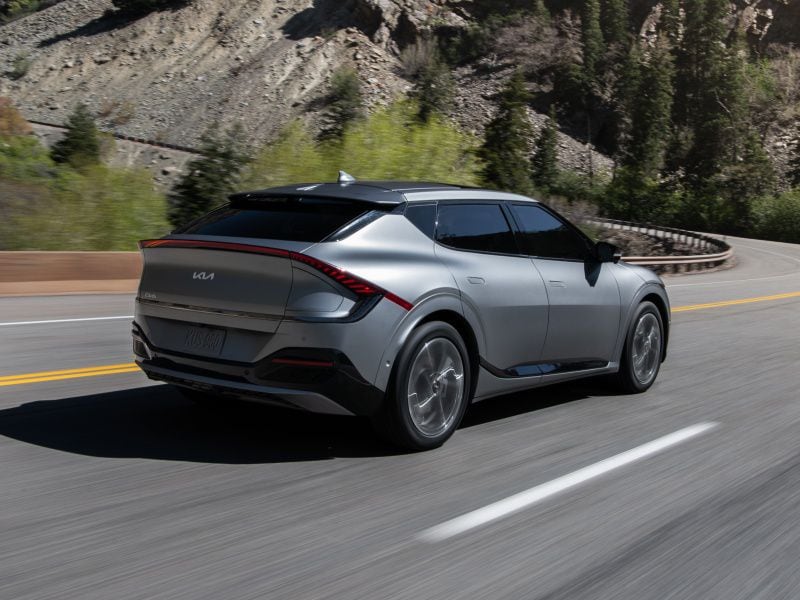 Photo by Kia
Range That Keeps You Going
Range anxiety keeps many people from making the switch to an electric vehicle. While most have enough to get you through an average day, every mile counts when you're tackling a long-distance road trip. The Toyota bZ4X has a range of up to 228 miles with all-wheel drive or 252 miles with front-wheel drive.
The Kia EV6 takes things further. It has a range of 232 miles with the smaller battery and rear-wheel drive. The larger battery gets 274 miles with all-wheel drive or an impressive 310 miles with rear-wheel drive. That's significantly more than what you get with the bZ4X.
: Kia EV6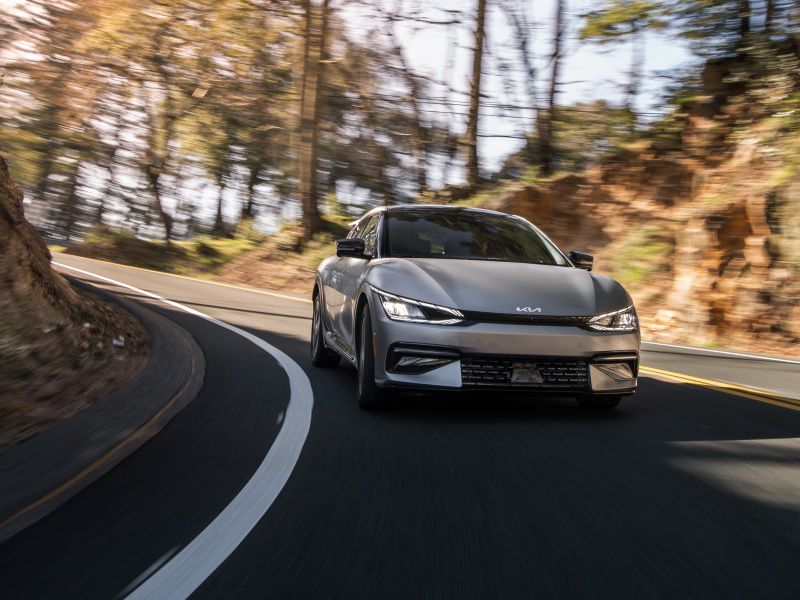 Photo by Kia
Charged and Ready to Go
The Toyota bZ4X can utilize Level 1, Level 2, and DC fast charging. At a Level 2 charger, it takes about 11 hours to fully charge. That's great overnight, but if you're charging mid-trip, that will get you about 25 miles of range per hour.
The Kia EV6 can charge from 10 percent to 80 percent in less than 18 minutes at a 350-kWh charger. It adds 217 miles of range in 18 minutes or 60 miles of range in less than five minutes. At a Level 2 charger, it's 7 hours and 10 minutes to a full charge for the larger battery. You'll be on your way faster in the Kia.
: Kia EV6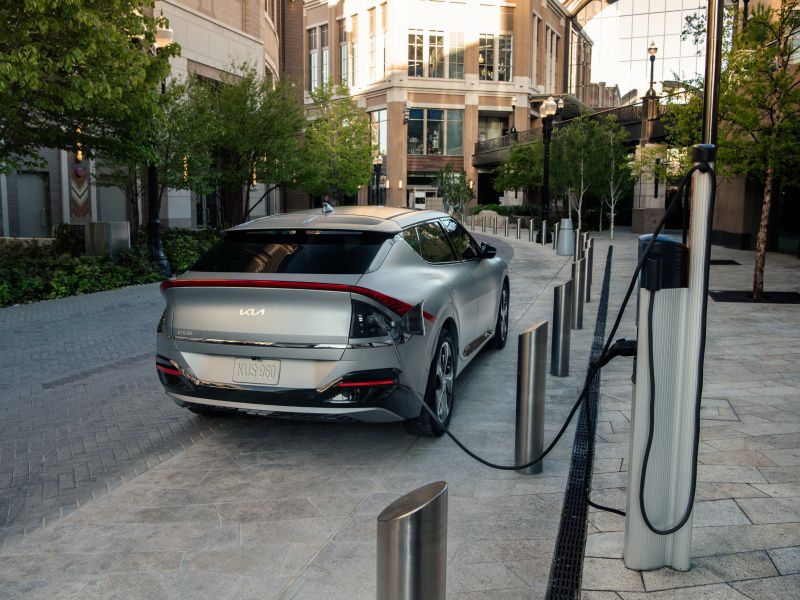 Photo by Kia
An Interior With Room for Everyone
Neither of these vehicles is overly large, but they do have plenty of room for people and cargo with attractive interiors. The Kia EV6 has a thoroughly modern interior with an almost futuristic vibe and a minimalist design. Those in back will find enough room to get comfortable, but the sloping roofline does cut into headroom for taller passengers.
The Toyota bZ4X also has a roomy interior with an appealing design and good rear seat room; however, its rear headroom is even shorter by nearly 1 inch. The bigger issue is legroom, with the EV6 offering 39.0 inches while the bZ4X has only 35.3 inches.
: Kia EV6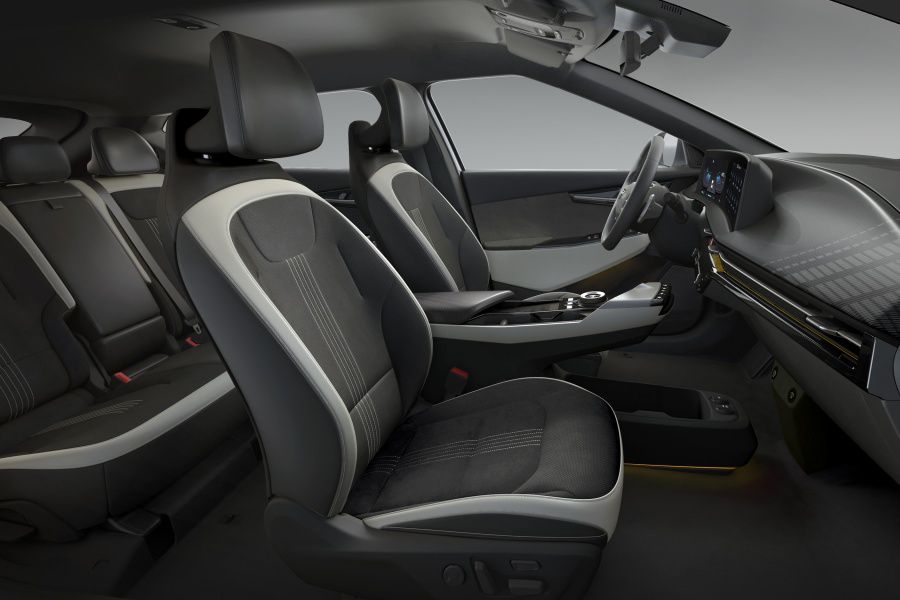 Photo by Kia
Infotainment Where the Difference Is in the Options
Standard infotainment for the Toyota bZ4X includes a 12.3-inch infotainment touchscreen, wireless Apple CarPlay and Android Auto, navigation, wireless smartphone charging, and a 6-speaker audio system. A premium 9-speaker JBL audio system with a subwoofer and amplifier is available on the Limited trim.
The Kia EV6 also has a 12.3-inch infotainment touchscreen with Apple CarPlay, Android Auto, navigation, wireless charging, and a 6-speaker audio system. Where it comes out ahead is in optional features with an available 14-speaker premium Meridian audio system specially designed for the EV6. This gives Kia the win.
: Kia EV6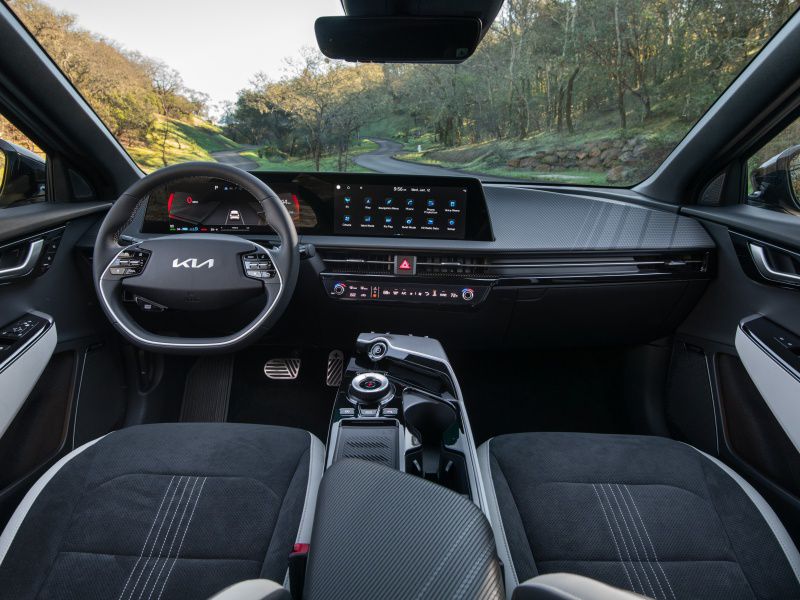 Photo by Kia
Excellent Standard Safety for Both
The Toyota bZ4X has pre-collision with pedestrian detection, lane tracing assist, lane departure alert with steering assist, full-speed dynamic radar cruise control, automatic high beams, and road sign assist. Enhancements to this version of Toyota Safety Sense include low-light cyclist detection, daytime motorcyclist detection, and guardrail detection. There's also blind spot monitoring with rear cross-traffic alert.
The Kia EV6 has blind spot collision warning, high beam assist, rear occupant alert, lane-keeping assist, driver attention warning with lead vehicle departure alert, lane following, forward collision avoidance assist, highway driving assist, rear cross traffic alert, and rear parking distance warning. It also marks the debut of highway drive 2 with lane changing and remote smart parking assist, two advanced driver assist features.
: Kia EV6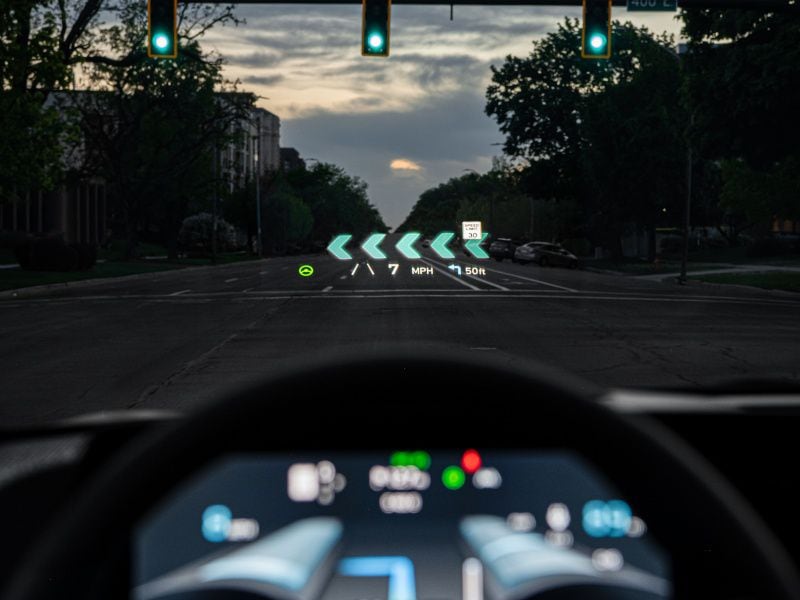 Photo by Kia
Cargo Room Aplenty
The Kia EV6 has 24.4 cubic feet for cargo behind the rear seats with 50.2 cubic feet behind the front seats if you fold the rear seats down. There's also a small frunk, but it doesn't hold much more than a handful or two of small items.
The Toyota bZ4X has a more useful 27.7 cubic feet behind the rear seats. Those seats do fold down to increase cargo capacity, but Toyota has not yet released that figure. There's also no frunk despite this being a common extra storage spot in an EV. Despite the lack of complete data, we give this category win to Toyota since it has more room behind the second row, which is what people use more often.
: Toyota bZ4X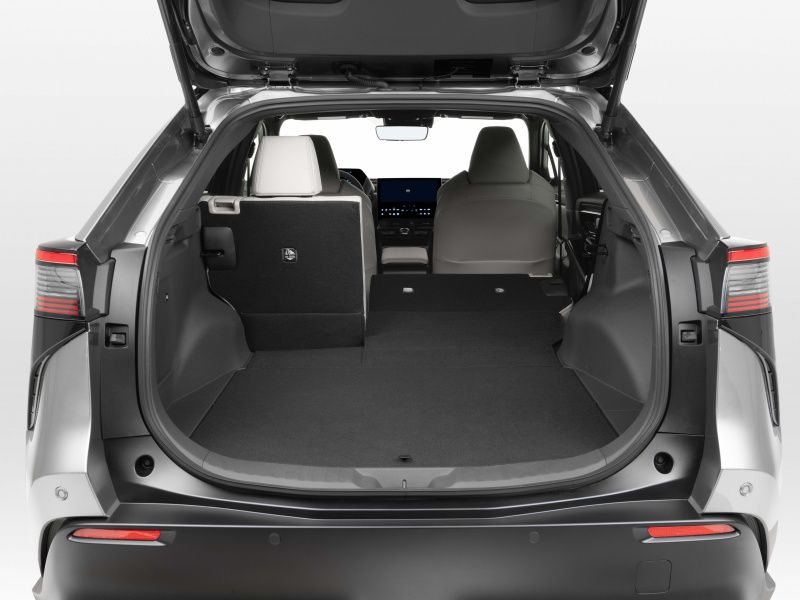 Photo by Toyota
And the Winner Is…
The Toyota bZ4X offers good cargo room behind the rear seats and two affordably priced trims. There's front-wheel or all-wheel drive on both of those trims, and there's a wide range of standard safety features. It also has a comprehensive infotainment system. This is a strong offering, but the Kia EV6 is a bit stronger.
It has a better available audio system, additional driver assistance features, more rear legroom, and a more well-mannered ride. The Kia EV6 also has a longer driving range, more horsepower, and it charges more quickly. That makes it our pick of the two.
: Kia EV6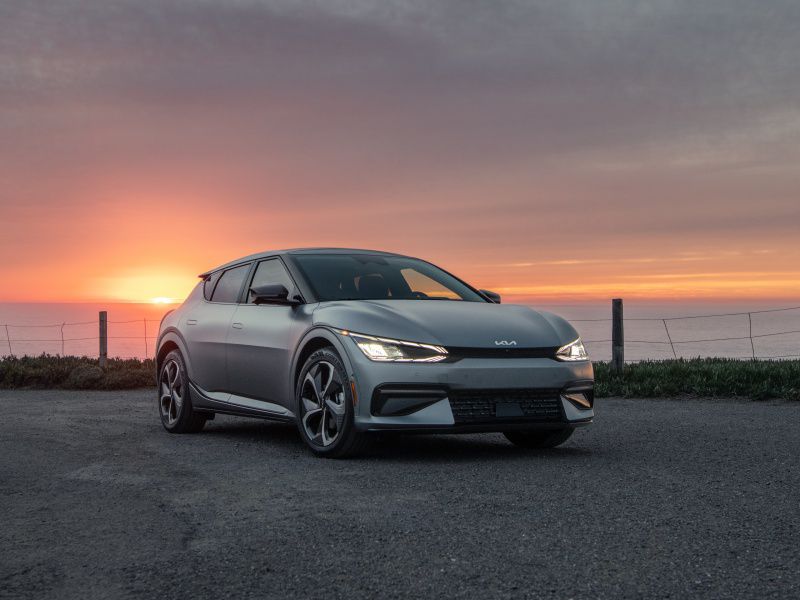 Photo by Kia