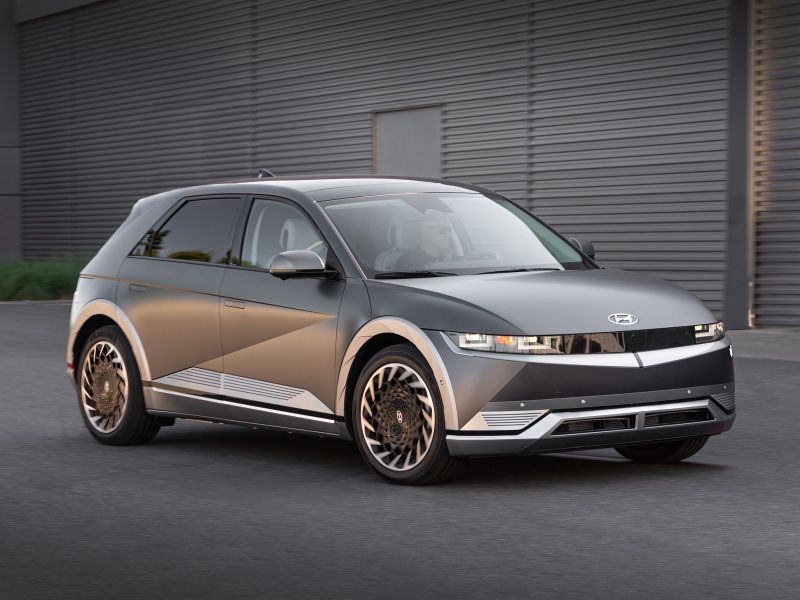 2022 Hyundai Ioniq 5 ・ Photo by Hyundai
The 2023 Toyota bZ4X is an all-new all-electric crossover. Although Toyota has a wide range of hybrid and plug-in hybrid options, this is the first in its upcoming lineup of electric vehicles. It has 252 miles of range with two well-equipped trims and a relatively affordable starting price.
The 2022 Hyundai Ioniq 5 is the brand's first all-electric SUV. It has a maximum range of up to 303 miles per charge along with three different trims from which to choose. Let's take a closer look at these two electric vehicles to see which one is the best.
More Trims Equals More Choices
The Toyota bZ4X has two trims, both with a choice of front-wheel or all-wheel drive and a wide range of standard features. The XLE starts at $42,000 with Qi wireless charging, leather-trimmed steering wheel, and a 12.3-inch infotainment screen. The Limited at $46,700 adds features including heated and ventilated front seats and a heated steering wheel.
The Hyundai Ioniq 5 comes in three trims with rear-wheel or all-wheel drive. The base SE starts at $43,650 with a 12.3-inch infotainment touchscreen and heated front seats. The SEL at $45,900 adds wireless charging and a handsfree liftgate, while the Limited at $50,600 adds Bose audio and ventilated front seats. We give this to the bZ4X for its more affordable pricing.
: Toyota bZ4X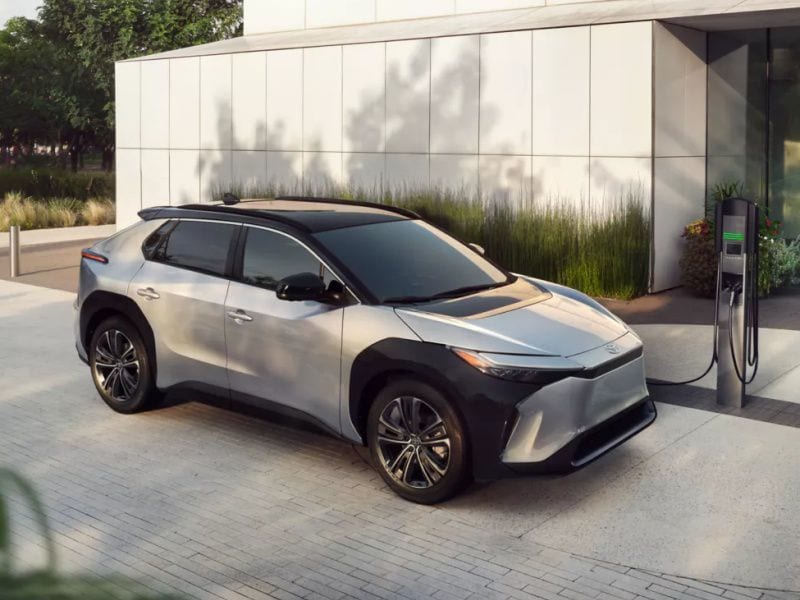 Photo by Toyota
A Choice of Responsive Powertrains
The Toyota bZ4X with front-wheel drive delivers 201 horsepower. If you go with an all-wheel-drive configuration, then there's 214 horsepower, which helps make up for the extra weight of the all-wheel-drive system. It's a responsive powertrain that easily gets the bZ4X up to speed.
The Hyundai Ioniq 5 has a short-range battery in rear-wheel-drive models that delivers 168 horsepower, making the base trim a less powerful option than what's offered by Toyota. Equipped with the long-range battery, however, there's 225 horsepower with rear-wheel drive or 320 horsepower with all-wheel drive. If you want stronger performance, then the Hyundai Ioniq 5 is a better choice.
: Hyundai Ioniq 5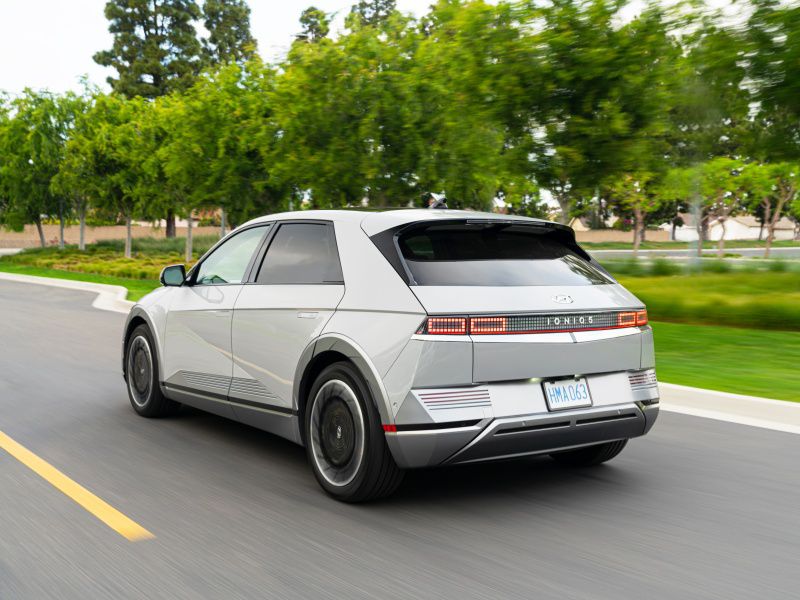 Photo by Hyundai
A Ride That's More Comfortable for Passengers
It's not just a matter of performance when it comes to deciding which car to purchase. A smooth ride with a comfortable interior for passengers is important, too. Both of these electric vehicles have seating for five people with the quiet that comes only from driving an EV. Handling is composed and controlled with a minimum of body roll, even in the corners.
While both have well-mannered rides, we found the Ioniq 5 provided a better experience overall. Fewer of the road's imperfections made their way into the cabin with rough pavement nicely muted. Road and wind noise were less noticeable, and pebbled pavement caused less vibration. So the Ioniq 5 delivered a more relaxing and refined ride experience.
: Hyundai Ioniq 5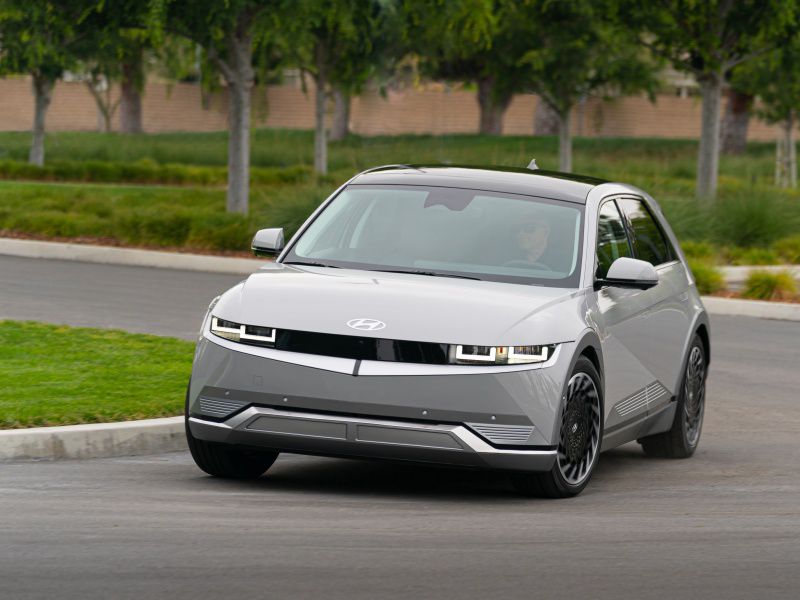 Photo by Hyundai
How Far Can You Go?
Range is a concern when buying an electric vehicle. No one wants a battery that runs low when they're in the middle of nowhere. The Toyota bZ4X has a range of up to 252 miles per charge depending on the trim, which easily handles what most people drive in a day. That also lets you drive a good distance before charging on a road trip.
The Hyundai Ioniq 5 offers both standard and long-range batteries. The smaller battery delivers up to 220 miles of range per charge. The larger battery comes in with up to 303 miles per charge. That's not going to make a huge difference most days, but it will when you head out for that family vacation.
: Hyundai Ioniq 5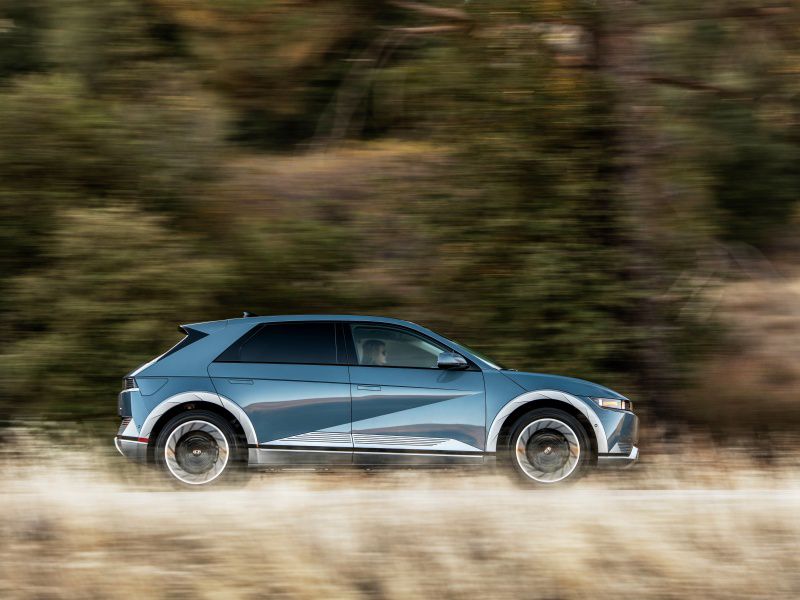 Photo by Hyundai
Taking Time to Charge
The Toyota bZ4X can use a Level 1 or Level 2 charger and is compatible with DC fast charging. It takes about 11 hours to fully charge at a Level 2 charger. If you're looking to charge when you're on the run, then you can get about 25 miles of charge in one hour at a Level 2 charger.
The Hyundai Ioniq 5 takes under 7 hours to fully charge at a Level 2 charger. It can charge from 10 percent to 80 percent in 25 minutes, but if you use a fast charger, that number falls to 18 minutes. If you want to be on your way as quickly as possible, then the Ioniq 5 is a better choice.
: Hyundai Ioniq 5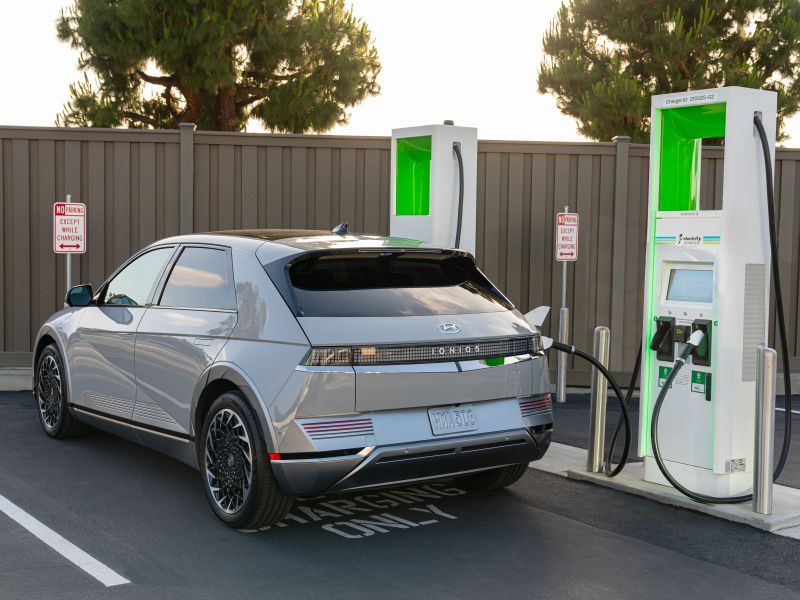 Photo by Hyundai
Attractive Interiors With Plenty of Room
The Toyota bZ4X has a roomy and nicely appointed interior. There's seating for five with good headroom and legroom in the rear seats for even taller adults. The base trim has a combination of synthetic leather and fabric seat trims while the top trim has only synthetic leather for a more premium feel.
The Hyundai Ioniq 5 also has an attractive interior with seating for five. The base trim gets fabric seats, with leatherette for the rest of the lineup. It's also roomy and open with ample rear seat room. While both are spacious, the Ioniq 5 has roughly 5 inches of additional rear legroom that makes it more accommodating for passengers.
: Hyundai Ioniq 5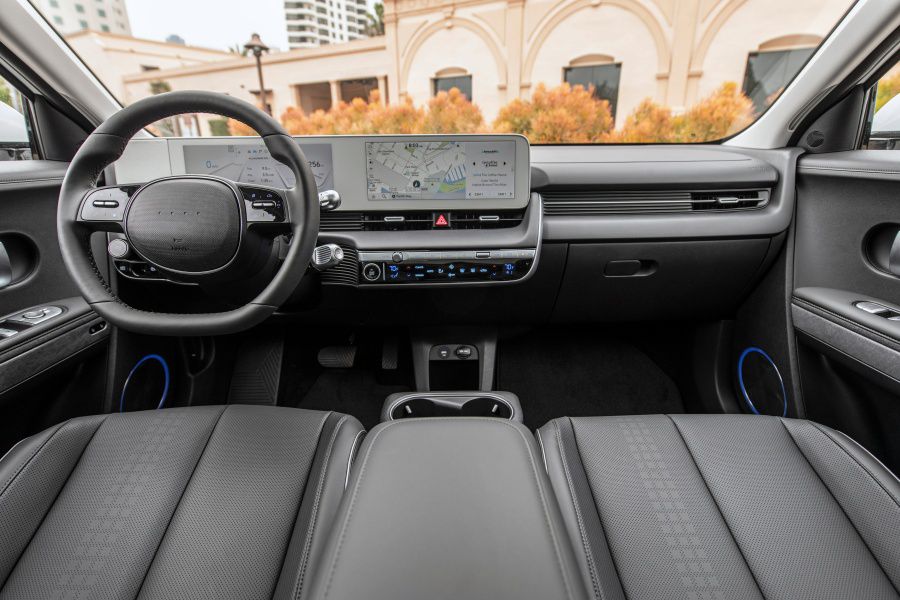 Photo by Hyundai
Infotainment With Large Touchscreens and Good Connectivity
No matter which of these vehicles you choose, there's a standard 12.3-inch touchscreen. The bZ4X also includes wireless Apple CarPlay and Android Auto, wi-fi hotspot connectivity, wireless smartphone charging, and a 6-speaker audio system. A premium 9-speaker JBL audio system is available on the Limited trim only.
The Ioniq 5 has standard Apple CarPlay and Android Auto that are not wireless along with a 6-speaker audio system. Its upgraded audio is an 8-speaker Bose system, and there's wireless charging on all but the base trim. The bZ4X comes out on top for its standard wireless features.
: Toyota bZ4X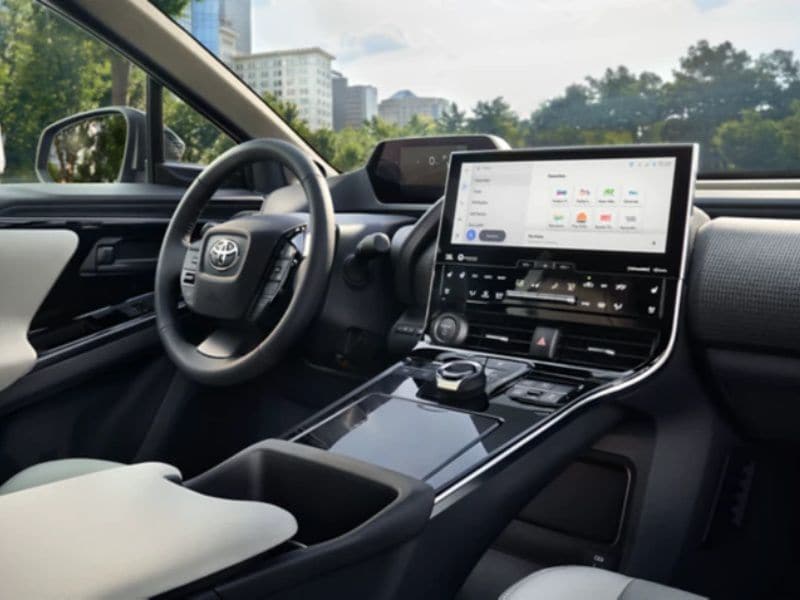 Photo by Toyota
A Wide Range of Safety Features
Standard safety features on the Ioniq 5 include forward collision avoidance assist, blind-spot collision avoidance assist, rear cross-traffic collision avoidance assist, front park distance warning, lane keep and lane following assist, rear occupant alert, and driver attention warning.
The bZ4X offers pre-collision with pedestrian detection, lane departure alert with steering assist, lane tracing assist, blind spot monitor with rear cross-traffic alert, safe exit assist, front and rear park assist, and road sign assist. Features are quite similar, but only the bZ4X offers rear park assist as a standard feature.
: Toyota bZ4X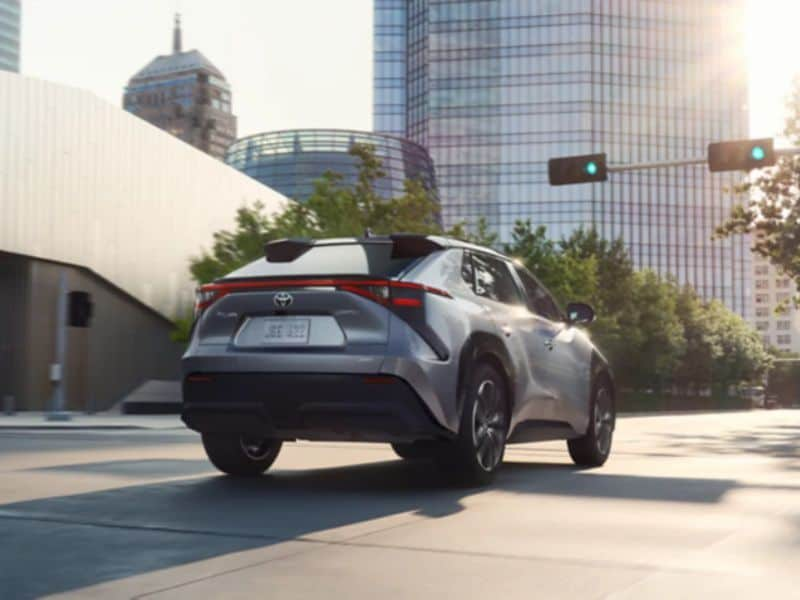 Photo by Toyota
Room for Cargo
The Hyundai Ioniq 5 has 27.2 cubic feet for cargo behind the rear seats. There's 59.3 cubic feet if you fold down those 60/40 split-folding seats with an additional 0.85 cubic feet in the frunk. That's a good amount of cargo room, making it easy to stow all your stuff.
The Toyota bZ4X offers 27.7 cubic feet behind its rear seats. Those seats fold, but Toyota has not yet released official cargo figures. There's also no frunk under the hood. Absent the full figures, we still give this one to Toyota for offering slightly more cargo room behind the rear seats, which is what people tend to use more often.
: Toyota bZ4X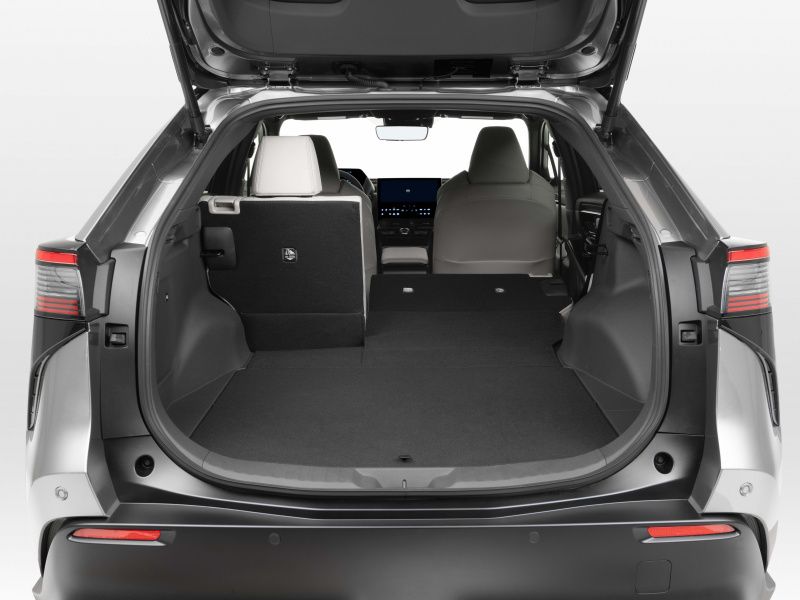 Photo by Toyota
And the Winner Is…
The Toyota bZ4X is a strong offering with a comfortable, nicely appointed interior and good standard safety features. It offers wireless smartphone connectivity to reduce cord clutter and has more affordable pricing that makes it easy on your budget if you're looking to make the move to electric.
The Hyundai Ioniq 5 manages to come out just ahead. It has a longer-range battery with quicker charging times that are a huge benefit when you're headed out for a road trip. There's more horsepower for stronger performance and a roomy interior that has more legroom for rear passengers. Although both are strong offerings, the Hyundai Ioniq 5 is a better choice.
: Hyundai Ioniq 5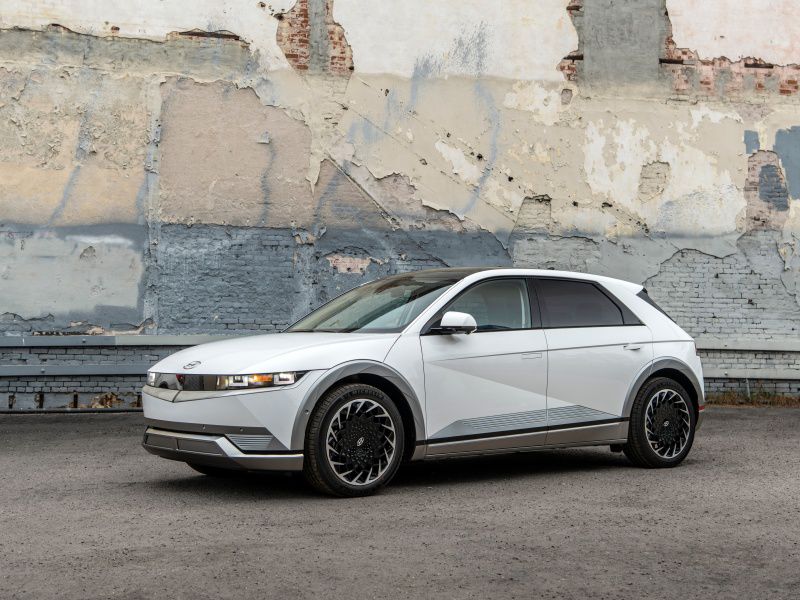 Photo by Hyundai