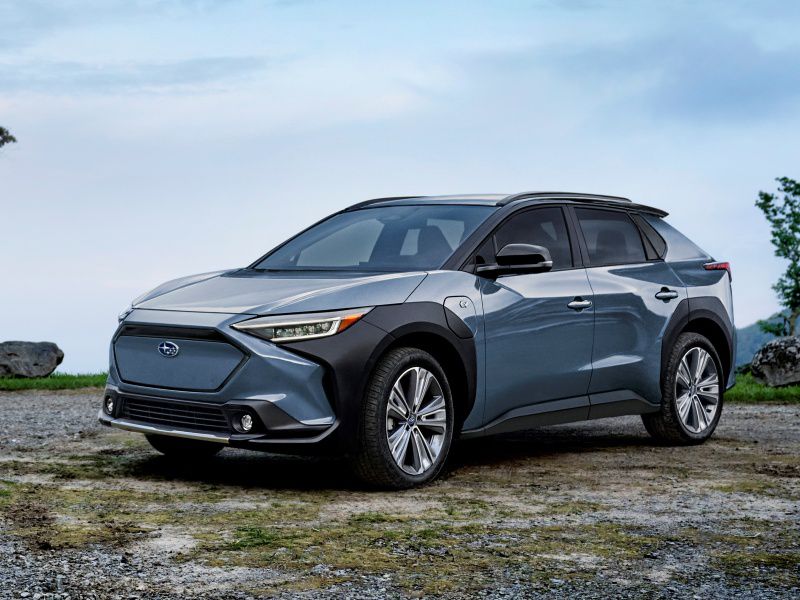 2023 Subaru Solterra ・ Photo by Subaru
The 2023 Subaru Solterra is Subaru's first all-electric vehicle. The 2023 Toyota bZ4X is Toyota's first all-electric vehicle. The similarities go much deeper, however, as the two automakers worked together to build these vehicles.
That means there are lots of things that aren't just close to the same, but exactly the same. Despite that joint development, there are differences between the two. Let's take a closer look at these two new electric SUVs to see which is the better of the two.
Narrow Trim Lineups
Neither of these electric vehicles has a wide range of trims. The bZ4X is available in just two trims, both with front-wheel or all-wheel drive. The XLE starts at $42,000 with Qi wireless charging, dual-zone automatic climate control, and a 12.3-inch infotainment touchscreen. The Limited at $44,080 adds features including a heated steering wheel and foot-activated power liftgate.
The Solterra is available in three trims with all-wheel drive only. The Premium is $44,995 with an 8.0-inch touchscreen and automatic climate control. The Limited at $48,495 adds a power rear tailgate and 12.3-inch touchscreen. The Touring at $51,995 adds a panoramic moonroof and ventilated front seats. We give this to the Solterra for its wider range of trims with standard all-wheel drive.
: Subaru Solterra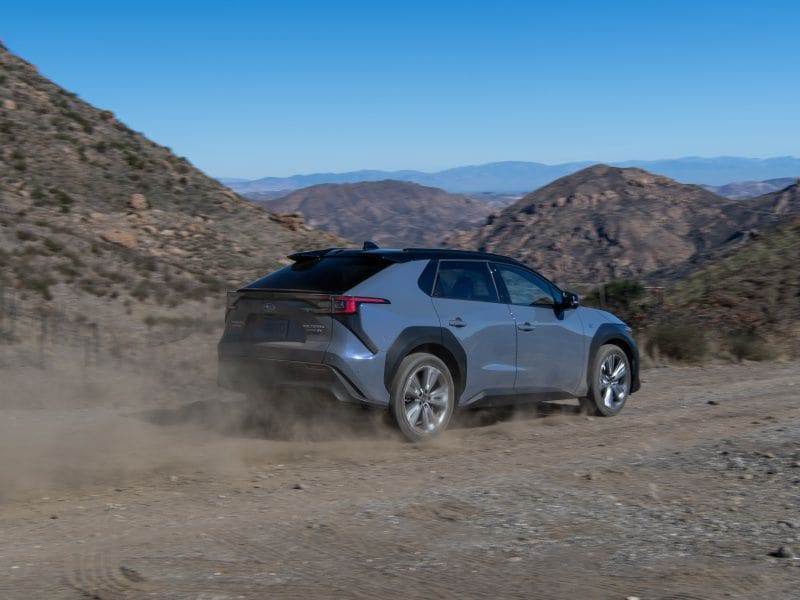 Photo by Subaru
Modest Performance From Both
These electric vehicles are not especially sporty, but they do offer good acceleration. The bZ4X has a choice of two batteries. Front-wheel drive models get a 71.4-kWh battery pack with 201 horsepower. All-wheel drive models get a 72.8-kWh battery pack with a slightly higher 214 horsepower.
The Solterra is only offered with all-wheel drive and has a 72.8-kWh battery. This setup has 215 horsepower, which puts it just barely ahead of the bZ4X. While technically more is more, we give this one to the bZ4X for offering a choice of either front-wheel or all-wheel drive.
: Toyota bZ4X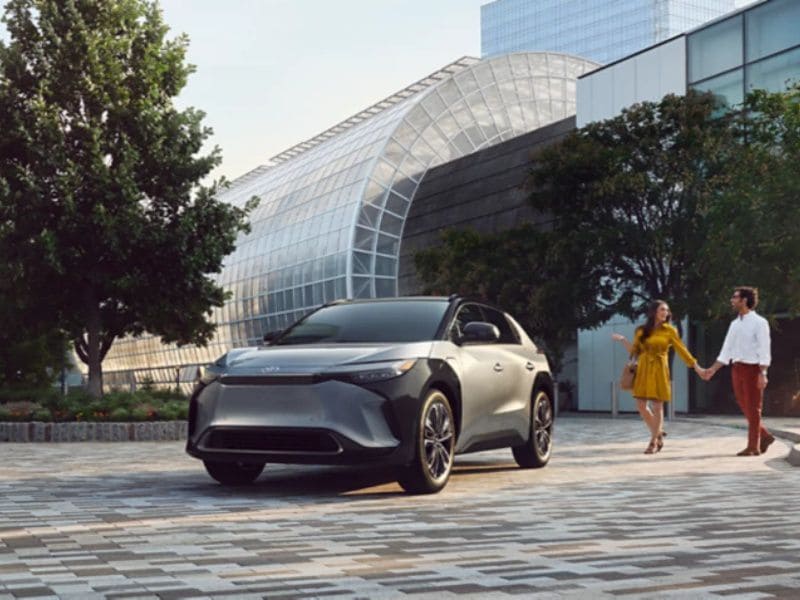 Photo by Toyota
Range That Keeps You Going
No one wants to run out of charge in the middle of nowhere with nothing but an unhelpful gas station and no charger in sight. The good news is that both of these EVs have more than enough range to get you through a typical day.
The Solterra has a range of 228 miles for the base trim with the rest of the lineup getting 222 miles per charge. The bZ4X offers exactly the same figures with 222 miles for the Limited and 228 miles for the XLE, however it also has available front-wheel drive that improves those numbers. Equipped with front-wheel drive, the Limited gets 242 miles per charge while the XLE gets 252 miles.
: Toyota bZ4X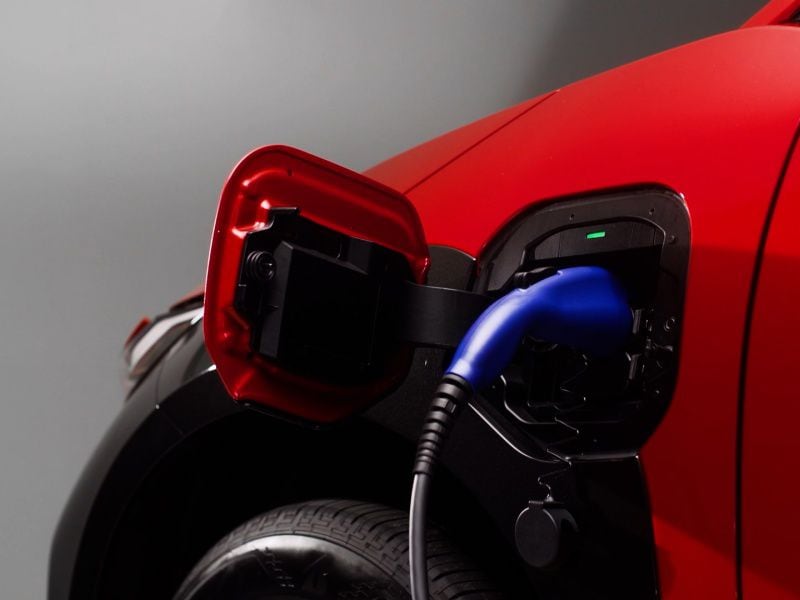 Photo by Toyota
Charging Time Isn't the Fastest
Since the range on these EVs more than covers a typical day, charging time is really only an issue when you're on a road trip with many miles to go. Both EVs can use Level 1, Level 2, and DC fast charging, but they have relatively slow rates compared to other vehicles in the class.
So, how are they any different? It all comes down to the availability of front-wheel drive on the bZ4X. All-wheel-drive models can accept up to 100 kW for charging in both, but the front-wheel drive bZ4X can accept 150 kW charging. This gets you from 10 to 80 percent in about half the time.
: Toyota bZ4X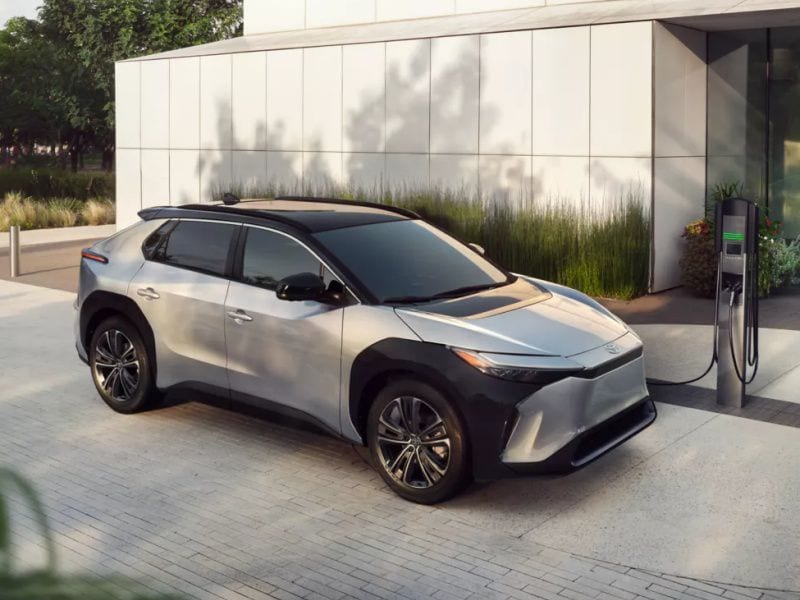 Photo by Toyota
Only One Is Ready to Off Road
The Toyota bZ4X is available with all-wheel drive, which is the way to go if you plan to drive off-road on a regular basis. That said, it's a crossover designed for those who plan to stay on the pavement and have no heartier off-road aspirations than parking in a field at the state fair or taking a dirt road to the family cabin.
The Subaru Solterra, however, is designed for the more adventurous set. It has standard all-wheel drive with X-Mode. This improves off-road handling and makes it easier to drive past where the pavement ends. There's also hill descent assist for steep off-road grades and 8.3 inches of ground clearance. Though not an off-road beast, the Solterra can handle more challenging terrain.
: Subaru Solterra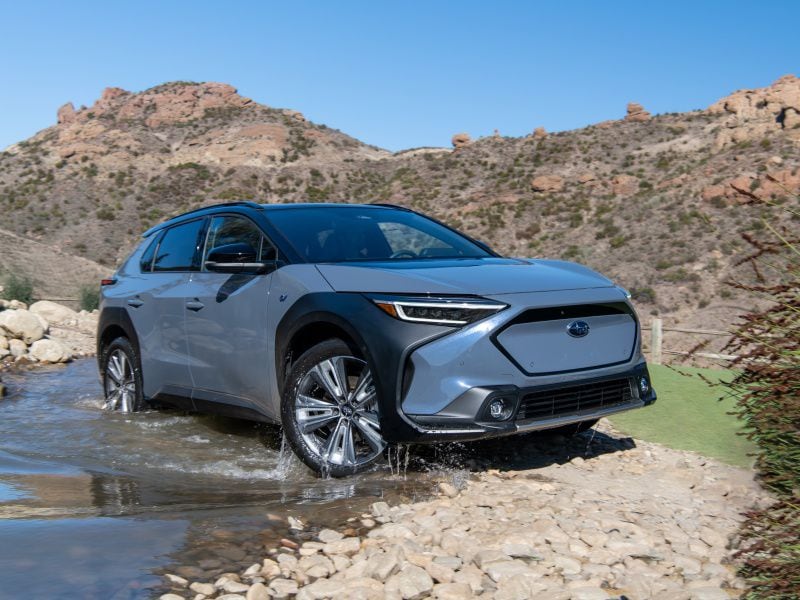 Photo by Subaru
Interiors With Similar Styles But Not the Same Room
Usually there's a big difference in the appearance of two cars from two different automakers, but these are quite similar. It's one of the areas where the shared development of these SUVs is strikingly visible. Since there's so little difference in how they look, it all comes down to how much room there is for passengers.
Both have seating for five passengers with good room in the rear seats where three adults fit, but where two will be much more comfortable. Although rear legroom is comparable, headroom is a different story. Solterra offers more rear headroom in models without the moonroof.
: Subaru Solterra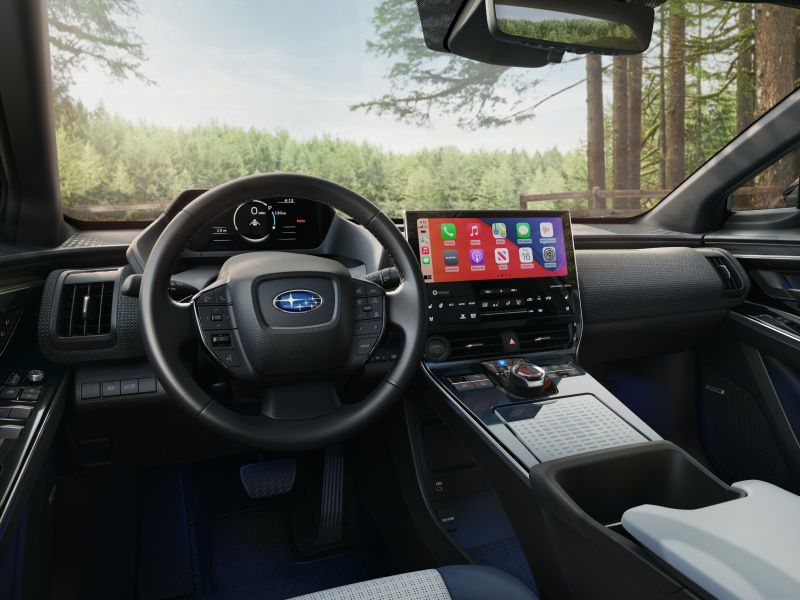 Photo by Subaru
How Much Can You Stow?
Cargo versatility is a key component of what makes a compact SUV so appealing. They have room for people and all their stuff and can manage even more of a load when you fold down the rear seats. Both of these vehicles offer good room for cargo. The Toyota bZ4X comes in with 27.7 cubic feet for cargo behind the second row.
The Subaru Solterra offers a bit more room with up to 29.0 cubic feet for cargo behind the rear seats. Although the numbers are close, the extra room in the Solterra means you can take more along with you when you're packing for your next adventure.
: Subaru Solterra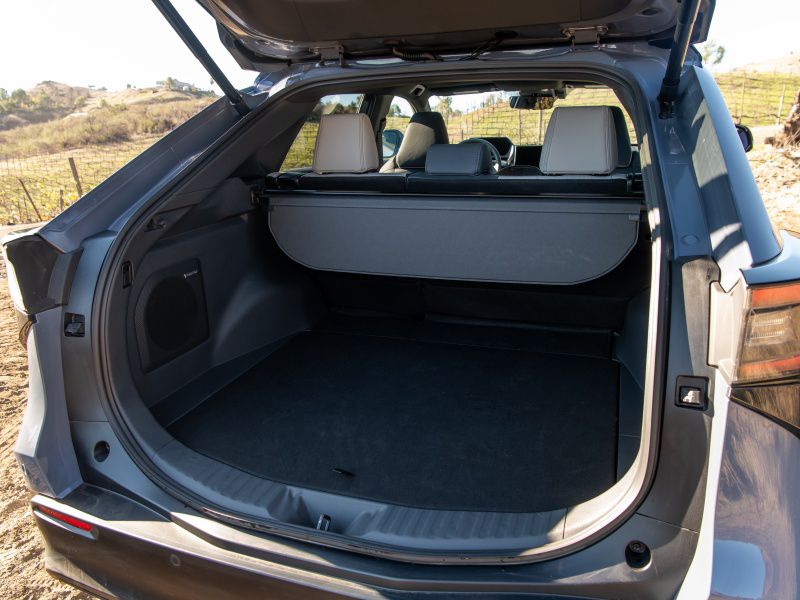 Photo by Subaru
Infotainment With Varying Screen Sizes
Both of these vehicles have fully featured infotainment systems that are easy to use. The Solterra has an 8.0-inch touchscreen on its base trim with wireless Apple CarPlay and Android Auto. The rest of the lineup gets a 12.3-inch touchscreen that's easier to use and easier to view when trying to navigate through twisting city streets.
The Toyota bZ4X has a standard 12.3-inch touchscreen on both of its trims. Wireless Apple CarPlay and Android Auto are included as well as wireless smartphone charging. We give this one to Toyota for making its larger screen a standard feature rather than giving its base trim a much smaller screen.
: Toyota bZ4X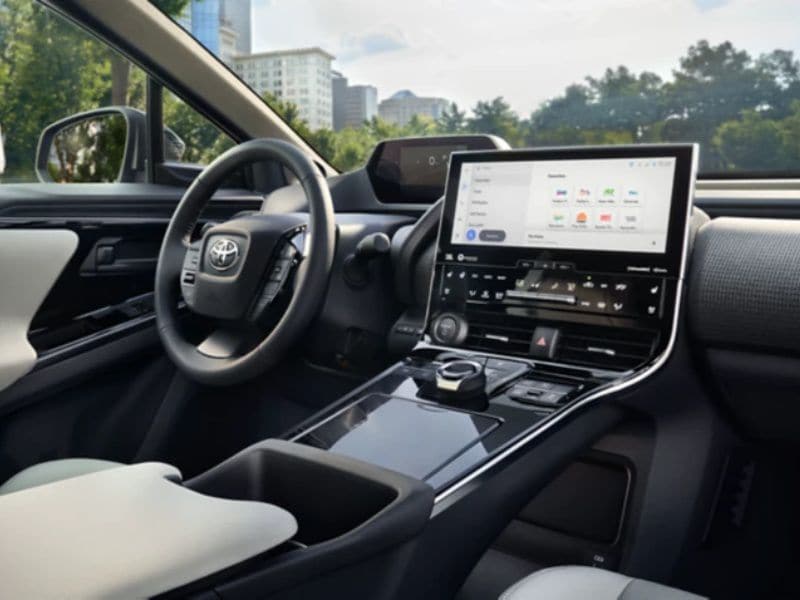 Photo by Toyota
Key Safety Is Standard
When it comes to safety, both offer a good range of standard features. The Subaru Solterra has Subaru's EyeSight driver assistance system. It also includes blind-spot monitoring, automatic high beams, and rear cross-traffic alert standard. Available features include a 360-degree surround-view camera and new safe exit assist to warn passengers of oncoming vehicles as they exit the car.
The Toyota bZ4X comes with Toyota Safety Sense 3.0. It has pre-collision with pedestrian detection, lane departure alert with steering assist, blind spot monitoring, rear cross-traffic alert, lane tracing assist, full-speed dynamic radar cruise control, and road sign assist. The Toyota offers a bit more when it comes to standard safety.
: Toyota bZ4X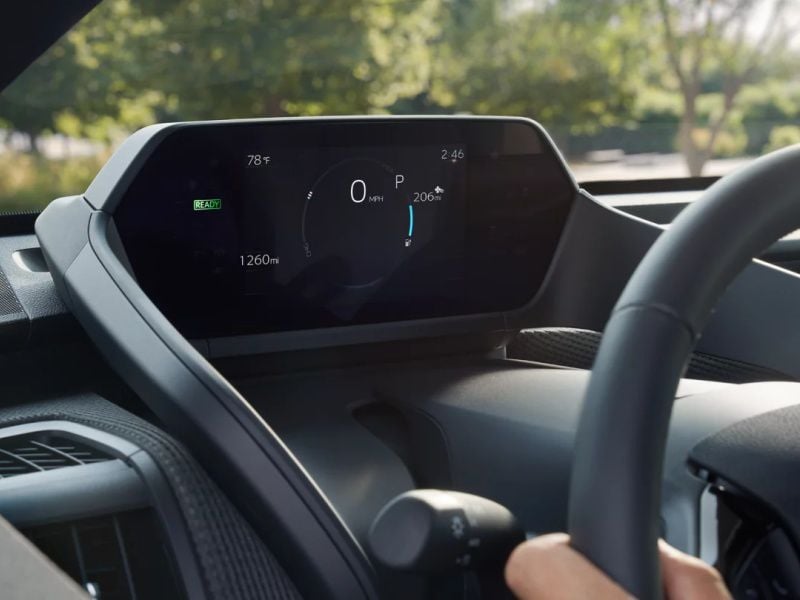 Photo by Toyota
And the Winner Is…
Though the differences are subtle, the Toyota bZ4X comes out ahead in this matchup. This is in large part due to the availability of both front-wheel and all-wheel drive. This one difference gives the bZ4X faster available charging times and longer ranges.
The Subaru Solterra is a better choice for those who plan to venture past the pavement with its standard all-wheel drive and X-Mode. It also offers more trims. That's not enough, however, to come out ahead of the Toyota.
: Toyota bZ4X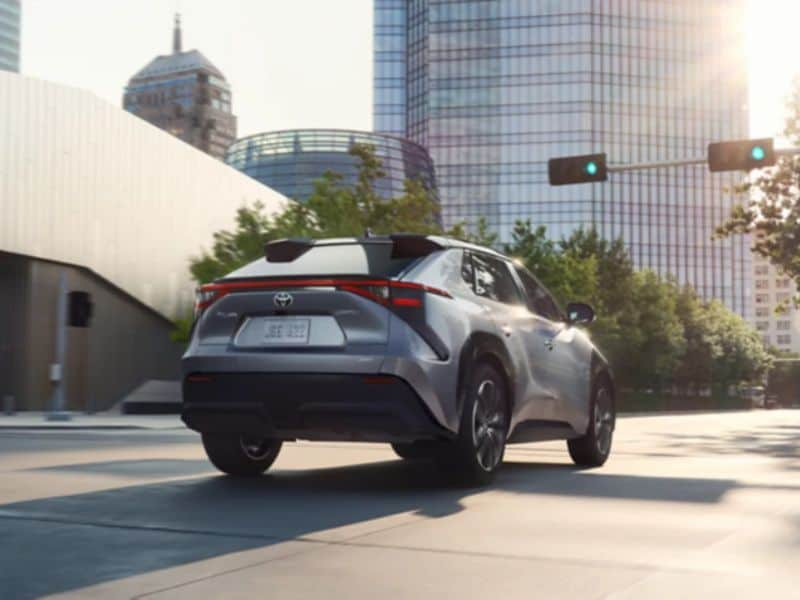 Photo by Toyota