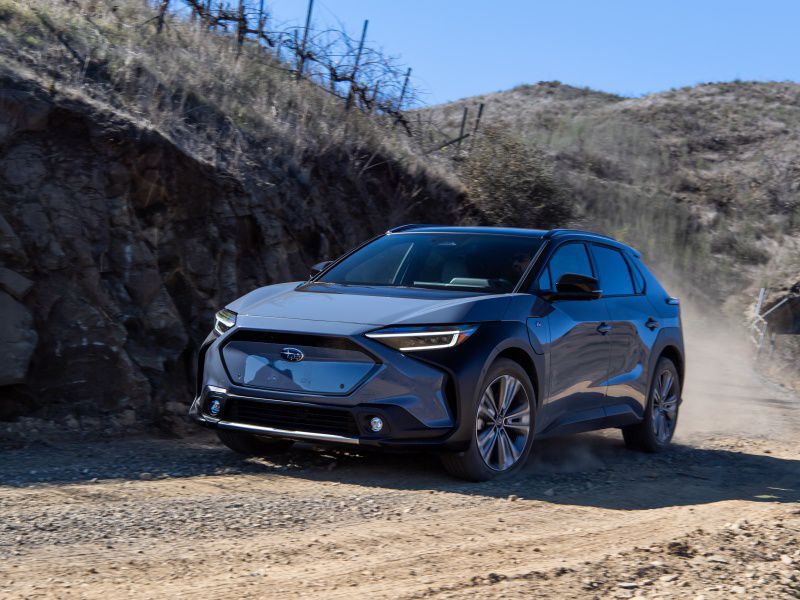 2023 Subaru Solterra ・ Photo by Subaru
The 2023 Subaru Solterra is an all-new vehicle that adds an electric option to the Subaru lineup. It seats five with strong off-road capability and standard all-wheel drive. It also has a fully featured infotainment system and wide range of standard safety features.
The Kia EV6 is the first all-electric SUV for Kia. It comes with either rear-wheel or all-wheel drive and a range of up to 310 miles. There's seating for five with a range of four trims that are affordably priced. Let's take a closer look at these two new electric vehicles to see which is the better of the two.
A Small Range of Trims
The Subaru Solterra is offered in three trims with a starting price of $44,995 for the Premium. Sitting at the top of the range is the Touring at $51,995. All-wheel drive with X-Mode and Grip Control is standard as is an 8.0-inch infotainment touchscreen.
The Kia EV6 comes in four trims that start at a price of $40,900 and maxes out at $55,900. The base Light is rear-wheel drive only and has a smaller battery. The Wind gets a larger battery with a longer range and optional all-wheel drive. The GT-Line adds safety features while the sold-out First Edition added vegan leather and standard all-wheel drive. A lower starting price and optional all-wheel drive give Kia the win.
: Kia EV6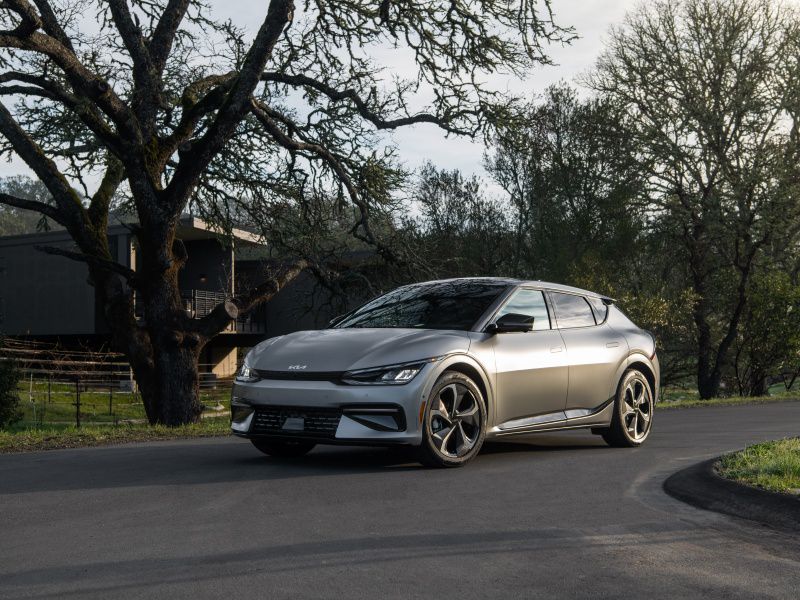 Photo by Kia
Only One Is Focused on Performance
The Subaru Solterra is available only with all-wheel drive. It delivers a total of 215 net system horsepower with strong acceleration. This makes it easy to pass slower moving vehicles on the highway, but it is not a particularly sporty electric vehicle to drive.
The base trim of the EV6 has just 167 horsepower. The rest of the range has 225 horsepower with rear-wheel drive or 320 horsepower equipped with all-wheel drive. Although the base configuration of the EV6 is low on horsepower, the bulk of the lineup delivers far stronger performance making it more fun and engaging.
: Kia EV6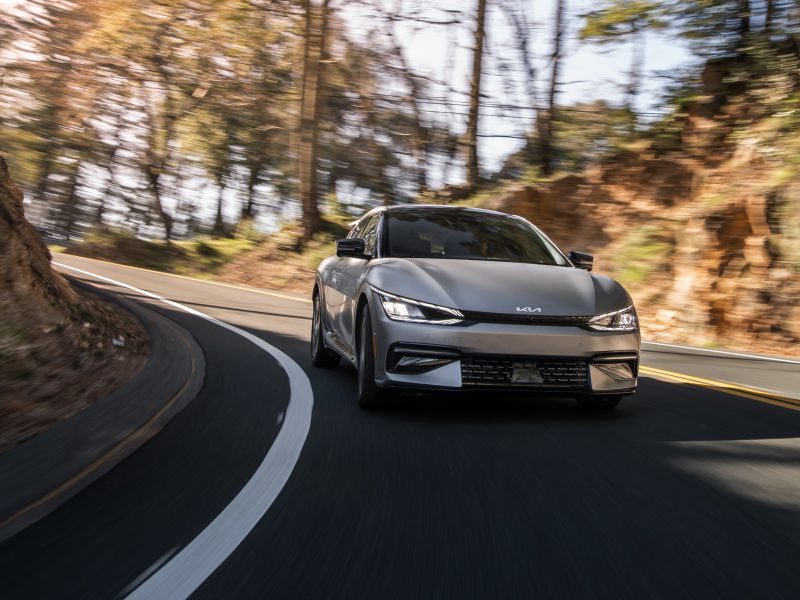 Photo by Kia
Off-Road Capability Makes One a Better Choice
Those who like to go on more adventurous drives can get all-wheel drive with either the Solterra or the EV6. The Solterra, however, offers more features for off-roaders that let you tackle challenging terrain, starting with standard X-Mode with Grip Control.
This lets you handle terrain that the Kia EV6 simply cannot manage including steep grades with loose gravel surfaces. Hill descent control makes it just as easy to come back down those same hills. As a bonus, there's also 8.3 inches of ground clearance for climbing over uneven surfaces.
: Subaru Solterra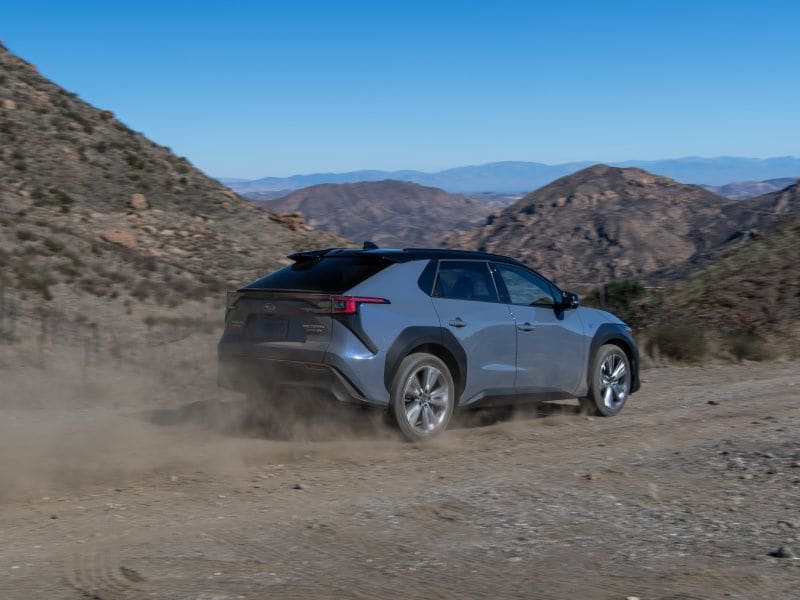 Photo by Subaru
A Big Difference When It Comes to Driving Range
The Solterra has a range of 222 miles per charge in the top two trims. The base trim, however, does a bit better with a range of 228 miles per charge. Those are good numbers, but they fall short of what's offered by the EV6.
The EV6 has a range of 232 miles per charge with the smaller battery and rear-wheel drive. Go with the larger battery and you'll get 274 miles per charge with all-wheel drive. Need even more range? Stick with rear-wheel drive and the larger battery and you can drive for 310 miles on a single charge.
: Kia EV6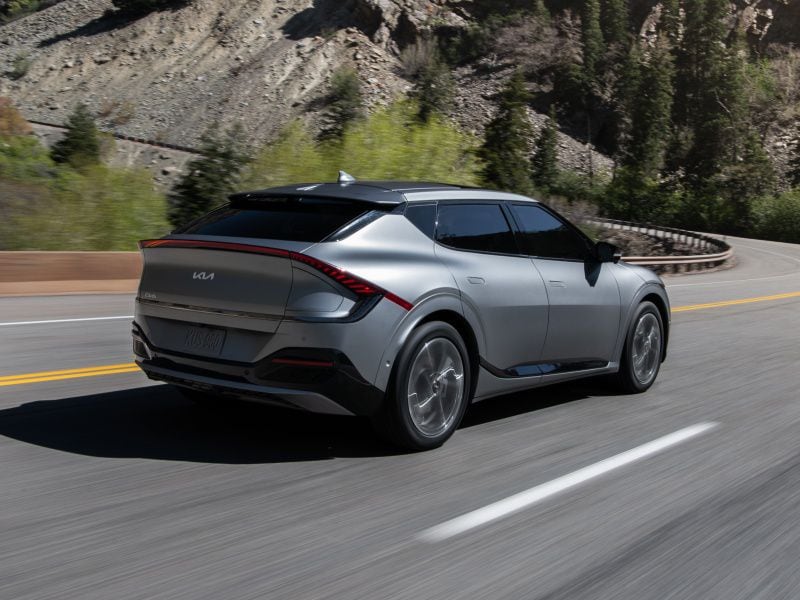 Photo by Kia
DC Fast Charging for Both, But Not at the Same Speeds
You can charge these EVs at Level 1, Level 2, or DC fast chargers. The Solterra charges from 10 to 80 percent at a DC fast charger in about 56 minutes or in 9 hours at a Level 2 charger, which is typically what is used at home.
The Kia EV6 charges from 10 percent to 80 percent in less than 18 minutes at a 350-kWh charger. It adds 217 miles of range in 18 minutes or 60 miles of range in under five minutes. At a Level 2 charger you'll need 7 hours and 10 minutes to fully charge the larger battery. You'll spend less time charging with the EV6.
: Kia EV6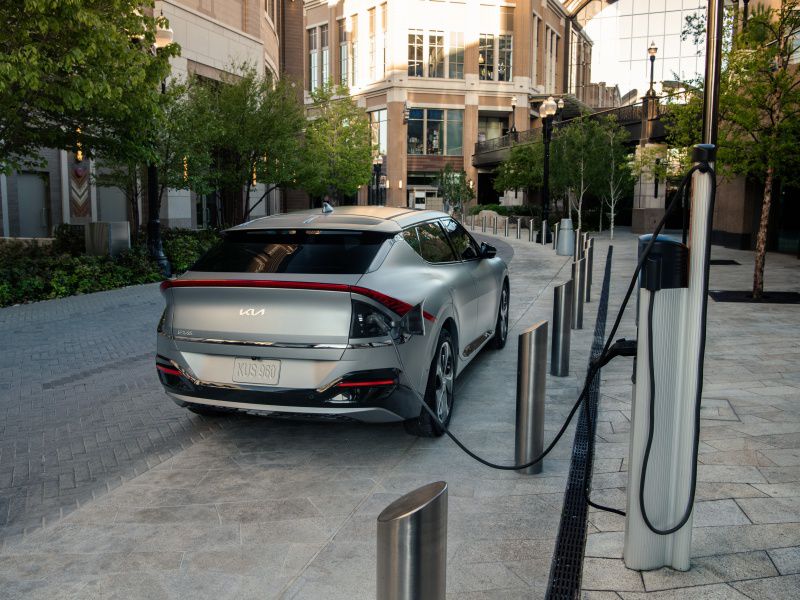 Photo by Kia
Room to Get Comfortable
The Solterra seats five people with comfortable seats and room to spread out. The rear seats can fit three adults but are best for only two on longer trips. There's also good legroom, but headroom is only 35.3 inches, which may be too low for taller passengers.
The Kia EV6 also has seating for five. The interior is nicely appointed with an upscale vibe that makes it feel like a more premium offering. It also has much more room for passengers with 38.0 inches of rear headroom to accommodate taller adults.
: Kia EV6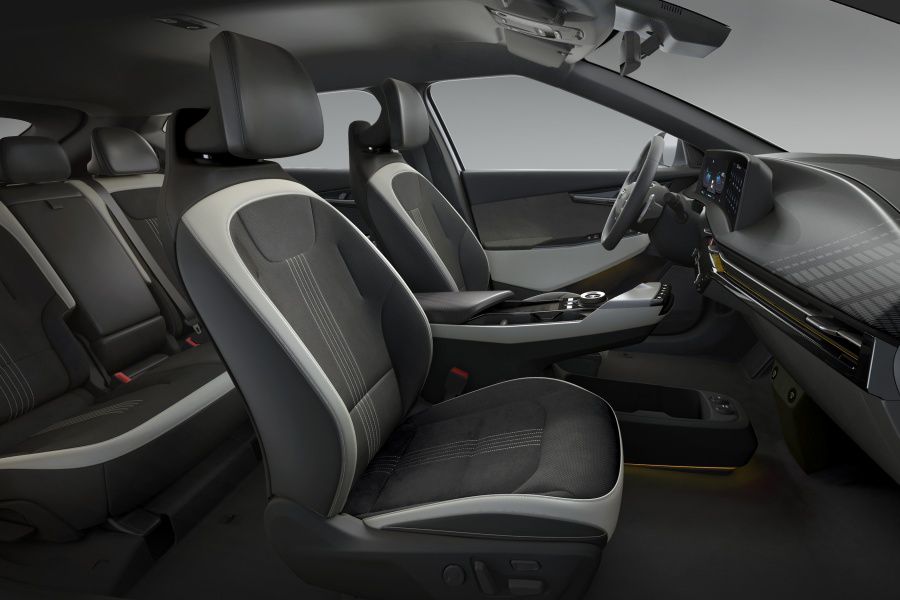 Photo by Kia
Lots of Space for Cargo
There's 24.4 cubic feet for cargo behind the rear seats of the Kia EV6 with 50.2 cubic feet behind the front seats. There's also a small frunk since there's no engine under the hood, but it doesn't hold much more than a minor item or two.
The Solterra offers up to 29.0 cubic feet for cargo behind its rear seats. Those seats split-fold 60/40 for the versatility to stow large items. This also lets you use the rear seats for a passenger and cargo at the same time. There's no frunk, but the Solterra still comes out on top.
: Subaru Solterra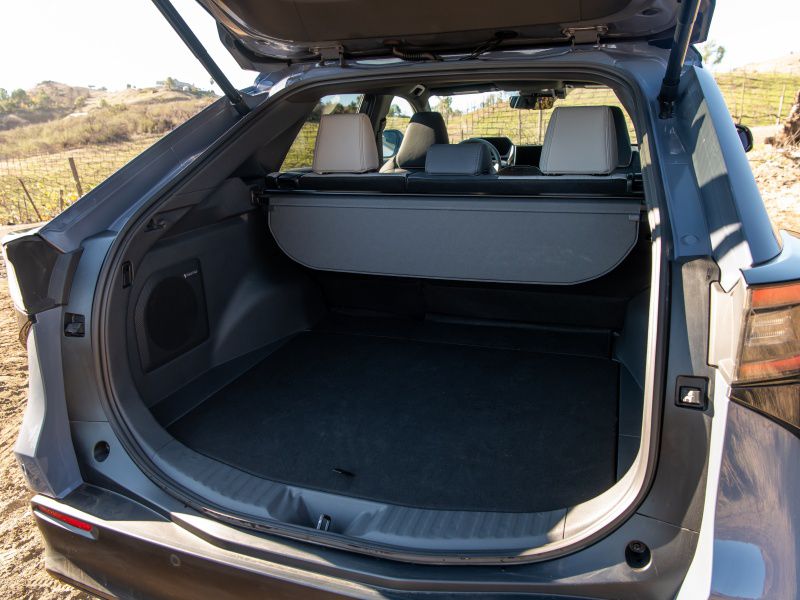 Photo by Subaru
Infotainment That Helps You Stay Connected
The Subaru Solterra offers an 8.0-inch touchscreen on its base trim along with standard Apple CarPlay and Android Auto. The two remaining trims get a 12.3-inch touchscreen. It's an intuitive system with good voice control activated by saying, "Hey, Subaru," and speaking natural language commands.
The Kia EV6 has a 12.3-inch infotainment touchscreen with Apple CarPlay, Android Auto, navigation, wireless charging, and a 6-speaker audio system. This is standard across the full lineup. Although features are comparable, this one goes to the EV6 for the large screen even on its base trim.
: Kia EV6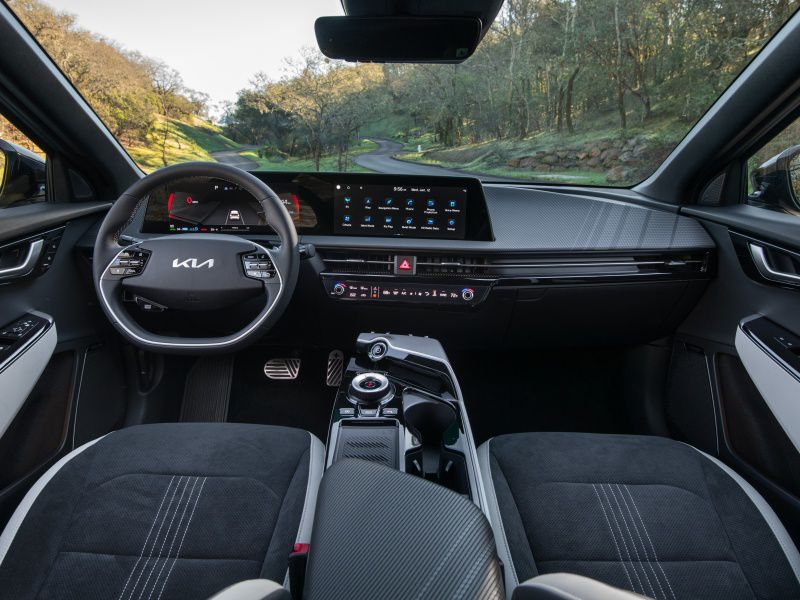 Photo by Kia
An Abundance of Safety Features
The Solterra has standard emergency steering assist, lane departure prevention, dynamic radar cruise control with steering assist, blind-spot monitoring, safe exit assist, rear cross-traffic alert with brake support, and intersection collision avoidance. It also offers a panoramic view monitor on all but the base trim.
The Kia EV6 has blind spot collision warning, rear occupant alert, high beam assist, lane-keeping assist, driver attention warning with lead vehicle departure alert, forward collision avoidance assist, lane following, highway driving assist, rear cross traffic alert, and rear parking distance warning. It also has new highway drive 2 with lane changing and remote smart parking assist, two advanced driver assist features, which puts it ahead of the Subaru.
: Kia EV6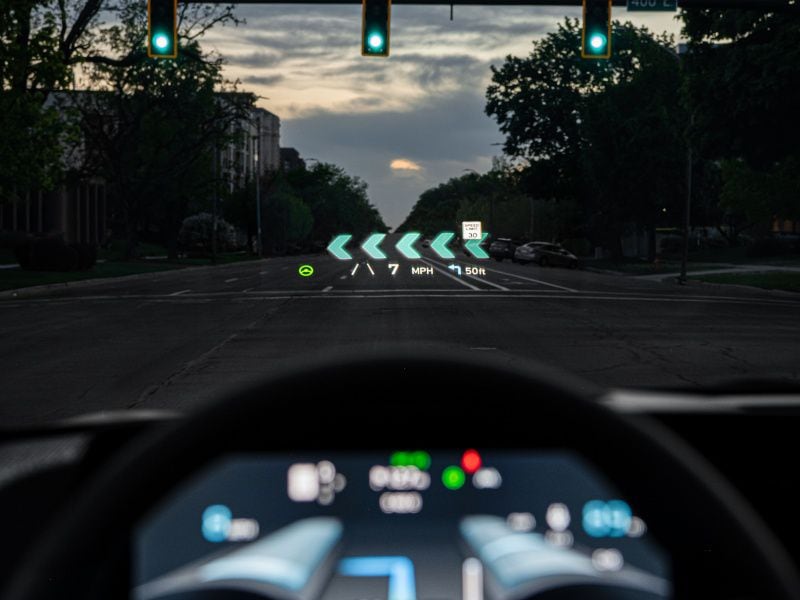 Photo by Kia
And the Winner Is…
The Subaru Solterra is a solid electric vehicle offering. It delivers off-road capability that is not common in the segment so you can venture past the point where the pavement ends. Standard all-wheel drive with X-Mode makes sure you can handle everything from dirt to steep grades an good cargo room ensures you have room for everything you need.
The Kia EV6 doesn't boast that kind of capability, but it has better range, faster charging, and more power than the Solterra. It also has a more affordably priced base trim and more headroom for rear passengers. This is enough to give the EV6 the win.
: Kia EV6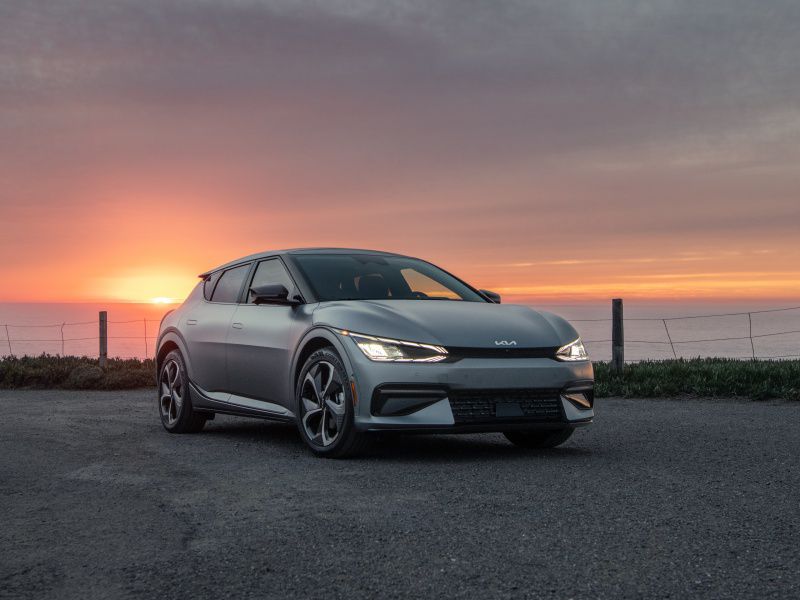 Photo by Kia