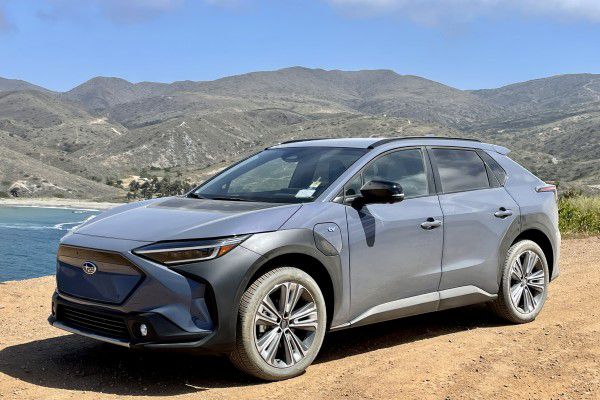 2023 Subaru Solterra Front ・ Photo by Nicole Wakelin
The move toward electrification continues with the introduction of the all-new 2023 Subaru Solterra. This compact SUV is the brand's first global electric vehicle. The unique name is made from combing the Latin words for sun and earth to signify Subaru's commitment to being environmentally responsible while still giving consumers a capable SUV.
The Solterra has standard all-wheel drive to handle more adventurous driving along with more ground clearance than you'll find in a typical electric SUV. It also has a wide range of standard safety and technology features to keep you connected and informed no matter how far you roam. The driving range is good and easily covers what most people drive in a typical day. Let's take a closer look at the 2023 Subaru Solterra to see if this is the right electric vehicle for your needs.
Three Trims With Affordable Pricing
The Subaru Solterra is available in a range of three trims. The base Premium is priced at $44,995 with standard all-wheel drive, X-Mode with Grip Control for adventurous driving, blind-spot monitoring, and automatic climate control. It has dual electric motors with a total output of 215 horsepower and a range of 228 miles.
The Limited adds a whole host of features at $48,495. These include 20-inch alloy wheels, fog lights, a power rear tailgate, a 10-way power driver's seat, heated rear seats, a 12.3-inch infotainment touchscreen with wireless Apple CarPlay and Android Auto, and a premium Harman Kardon audio system. Range drops to 222 miles for this trim and for the Touring at $51,995, which adds ambient interior lighting, digital rear-view mirror, ventilated front seats, and a panoramic moonroof.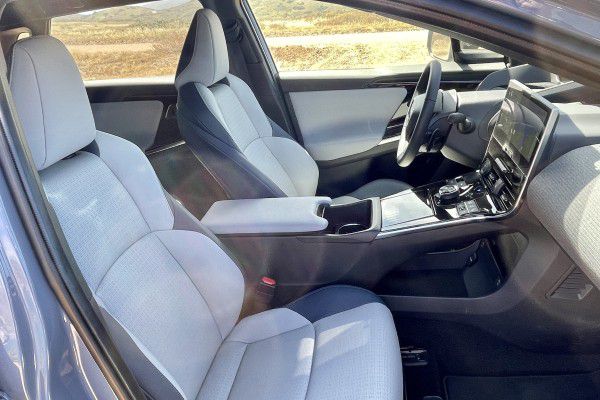 Photo by Nicole Wakelin
A Modest Range
Even though most of us don't need a huge amount of range to get through a typical day, the fear of depleting your battery and having nowhere to charge it is still very real. The Subaru Solterra has a range of 228 miles in its base trim, which easily covers an average day of driving. The remaining two trims drop slightly to 222 miles per charge.
When it comes time to charge, the Solterra can use Level 1, Level 2, and DC fast charging to replenish the battery. It takes about 56 minutes to go from 10-80 percent if you plug in at a DC fast charger. At a Level 2 charger, which is what most EV owners have installed at home, it takes about 9 hours to fully charge. This makes it easy to fully charge your Solterra overight.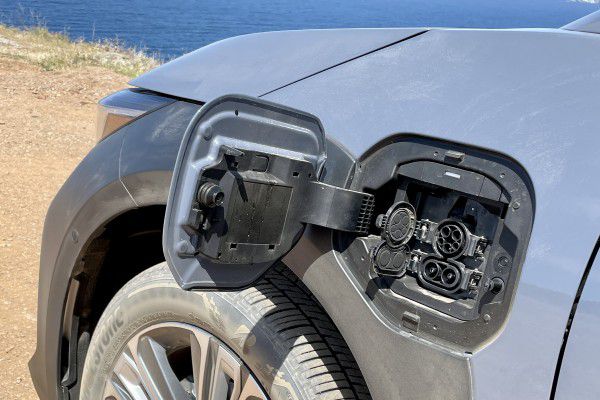 Photo by Nicole Wakelin
A Smooth Ride With Easy Handling
This is a compact SUV and not a sports car, so handling isn't especially engaging. The suspension system is rather soft so it doesn't corner as well as more athletic models, but it's still composed and controlled even under more spirited driving scenarios. The ride is smooth and quiet, not just from the fact that there's no engine noise, but from a lack of wind and road noise.
Subaru worked to incorporate features to make the Solterra aerodynamic to both improve its efficiency and reduce noise inside that cabin. This includes a sloped rear glass that is precisely angled to not even need a rear wiper along with dual liftgate spoilers. It's a quiet, comfortable EV that's ideal for longer drives. The family can easily relax as the miles roll by, and the driver won't find themselves weary at the end of the day.
Photo by Nicole Wakelin
A Comfortable and Roomy Interior
The design aesthetic for electric vehicles leans toward clean, streamlined, and almost minimalist. It's as though getting rid of that gas engine also means you need to get rid of all the unnecessary extras that simply add visual clutter to a vehicle. The Solterra follows this trend with an attractive interior that keeps things simple while still using eye-catching, quality materials. We especially like the textured fabric for added visual appeal on the dashboard instead of going with a cheap plastic.
There's ample room for five adults with good rear legroom, but headroom is low for the six-foot crowd. While it's best reserved for only two in back, three will be perfectly fine on all but the longest of road trips. If it's kids in car seats, then there's more than enough room to avoid squabbles over intrusions into each other's space.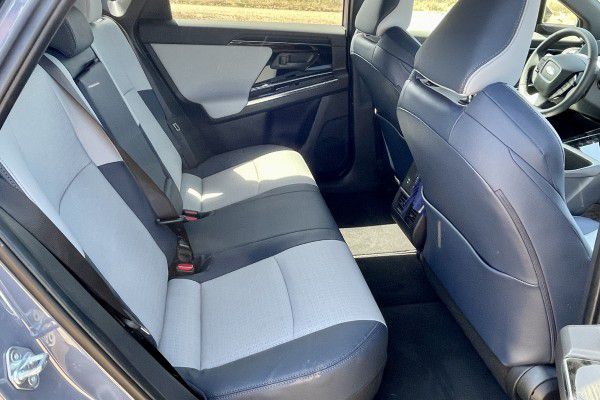 Photo by Nicole Wakelin
Infotainment That Keeps You Connected
The base trim of the Solterra has an 8.0-inch infotainment touchscreen with wireless Apple CarPlay and Android Auto. That's a decent sized screen, but if you step up to the Limited, you get a much larger 12.3-inch touchscreen. This makes the cabin look more upscale and it makes the system easier to use, especially if you're trying to use navigation in more congested urban areas. There's also available wireless charging to help eliminate cord clutter.
The system is quick to learn with intuitive menus that make it simple to find what you need, even for passengers not familiar with the setup. The touchscreen is also responsive, which helps reduce frustration. If you prefer talking to your car, you can speak commands simply by saying, "Hey, Subaru." In addition, there's a smartphone app that lets you control select functions including remotely locking and unlocking the doors.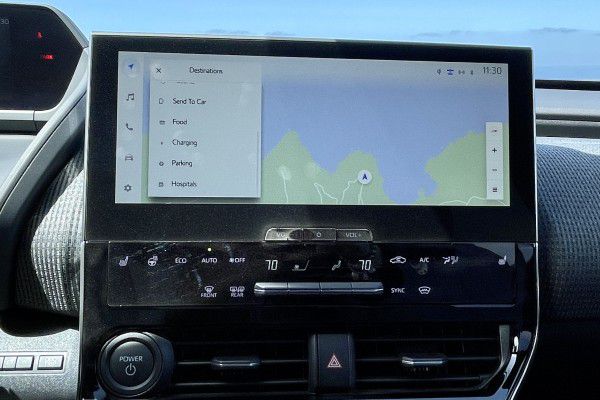 Photo by Nicole Wakelin
Strong on Safety
There are ample safety features in the Solterra, and Subaru makes them standard so you don't have to move up a trim or purchase a pricey package to get the latest technologies. This includes EyeSight driver assist with lane departure prevention and emergency steering assist along with blind-spot monitoring and rear cross-traffic alert. There's also parking brake support, which applies the brakes if an obstacle is detected when you're reversing and is sure to save a dented bumper or two.
A 360-degree surround-view camera is available to provide a full picture of the area around the Solterra, whether a tight parking lot or off-road terrain. And there's also a new safe exit assist feature standard on the lineup. It issues both a visual and audible warning if there's a vehicle approaching as you open the doors.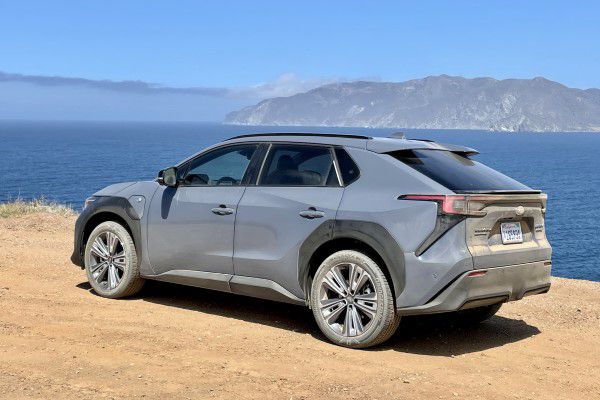 Photo by Nicole Wakelin
Ready to Take You Off Road
Many a crossover is billed as having off-road capability, but not all of them mean anything much more challenging than a dirt road. Subaru says the Solterra can go off-road, and they mean it. That capability starts with a full 8.3 inches of ground clearance for clearing uneven surfaces or terrain with a few rocks or branches in the way.
There's also standard all-wheel drive and X-Mode. This improves handling off-road or in conditions where traction is compromised. There's also hill descent assist to make getting up and down steeper terrain easier and less stressful for the driver. It proved surprisingly capable during our off-road driving, even on steep grades with loose gravel. Subaru is known as a brand for adventurers, and the Solterra upholds that reputation in EV form.
Photo by Nicole Wakelin
Room for Plenty of Cargo
If you're going out adventuring, then you're going to have stuff to bring along. The Solterra is ready to hold all your cargo whether you're out for a day, planning a weekend off the grid, or embarking on a long-distance road trip with the whole family. There's no glove box, but there is a large center console that picks up the slack by holding smaller items that you might want to keep handy.
There's up to 29.0 cubic feet for cargo behind the 60/40 split-folding rear seats. In addition, there's a two-position load floor for added cargo flexibility. The rear tailgate has a wide opening and low load floor, but the sloped roofline does make stowing bulky items more of a challenge. There are also available raised roof rails if you have even more cargo to take along for the trip.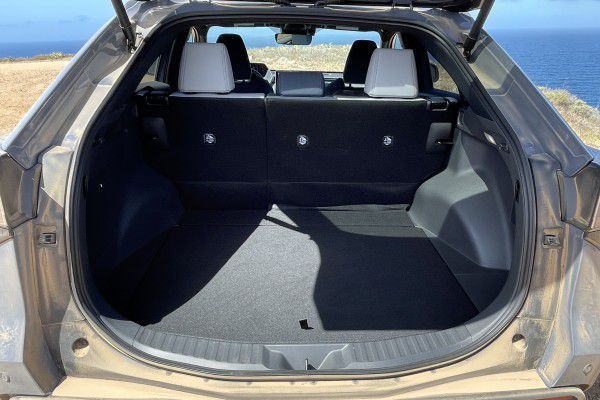 Photo by Nicole Wakelin
Final Thoughts
The 2023 Subaru Solterra adds a versatile, all-electric SUV to the Subaru lineup. It comes with standard all-wheel drive and features including X-Mode that make it a capable off-road option for those who live more rugged lifestyles. There's also a roomy interior with attractive materials and a wide range of standard safety and technology features to keep you connected on the go.
While it has enough range to get through the average day and then some, its range figures aren't especially impressive, and neither is charging speed. This won't make a difference most of the time, but if there are frequent road trips in your future, this might not be the best option. However, its well-equipped trims, affordable pricing, and off-road capability make it a compelling option for those looking to make the move to an electric vehicle.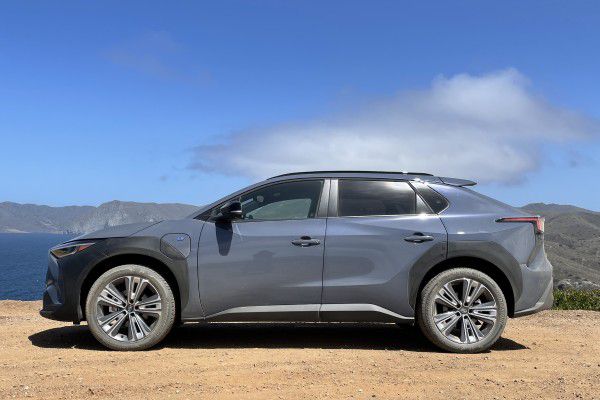 Photo by Nicole Wakelin