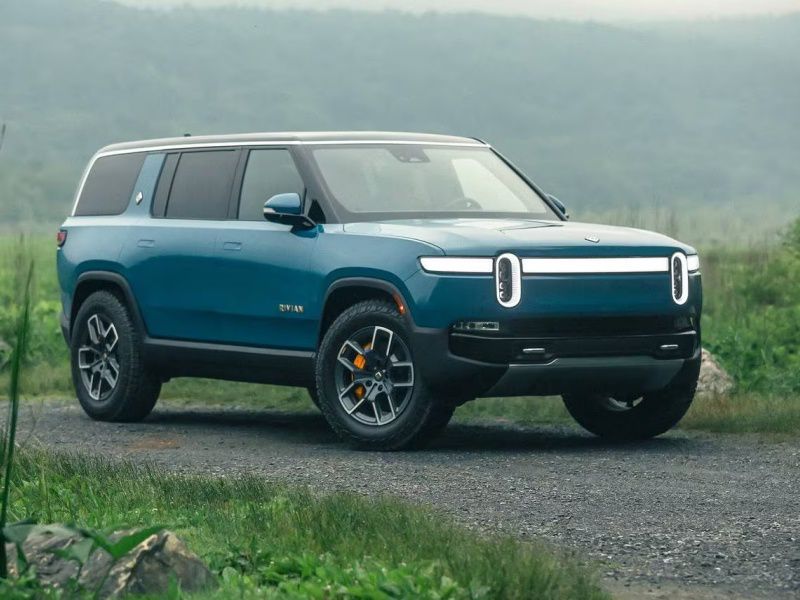 2023 Rivian R1S ・ Photo by Rivian
The Rivian R1S is a three-row SUV that is the second vehicle from this new, all-electric car company. It follows the R1T truck with similar style and capability, just with seating for up to seven people. It's ridiculously quick with acceleration that will press you back in your seat and put a smile on your face. The R1S is well-mannered on road but incredibly capable off road with three available all-wheel-drive systems.
When it comes to range, there's more than enough to cover what a person drives in an average day with a choice of standard and long-range battery packs. As a luxury vehicle, it has a high starting price, but it comes incredibly well-equipped at $78,000. Let's take a closer look at the 2023 Rivian R1S electric SUV to see if it's the right vehicle for you.
Limited Trim Availability
Though there are several trims of the Rivian R1S, not all are currently available with a slow rollout. If you want to buy one today, then you're looking at only the Adventure trim, which starts at $78,000 and comes with dual-motor all-wheel drive, the standard battery pack, 21-inch wheels, dual front tow hooks, adjustable air suspension, perforated vegan leather seats, yellow accents, and either vegan leather or ash wood dashboard trims.
There are also heated and ventilated seats, a heated steering wheel, a 16-inch infotainment touchscreen, a 12-inch digital instrument cluster, 22-speaker Meridian audio, wireless device charging, Wi-Fi hotspot connectivity, a panoramic sunroof, an air compressor, and tri-zone climate control. There's no shortage of standard features, so the price, while high, includes a lot and makes the R1S a better value. There is an expected lower trim with more affordable pricing on the horizon, but details aren't yet available.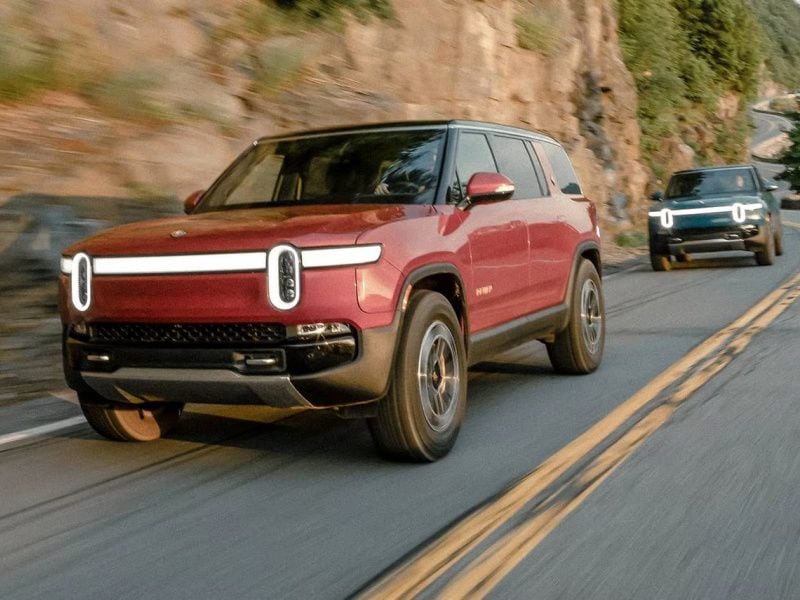 Photo by Rivian
Storage Galore
There is plenty of room in this SUV to store all your cargo, even with a full load of passengers along for the ride. The Rivian R1S has 17.6 cubic feet behind the third row, 46.7 cubic feet behind the second row, and 88.2 cubic feet behind the first row. It has a clamshell tailgate with a power top portion that has built-in lights that shine down on the cargo area. The smaller, lower portion stays in place, which is nice for keeping little items from rolling out.
Push a button on that lower tailgate and you can fold it down to create a flat load floor and a spot that's perfect for sitting and taking a break when you're out adventuring. There's also a huge frunk with 11 cubic feet of additional storage. It's lined in plastic and has a drain plug that makes great as a backup cooler filled with ice.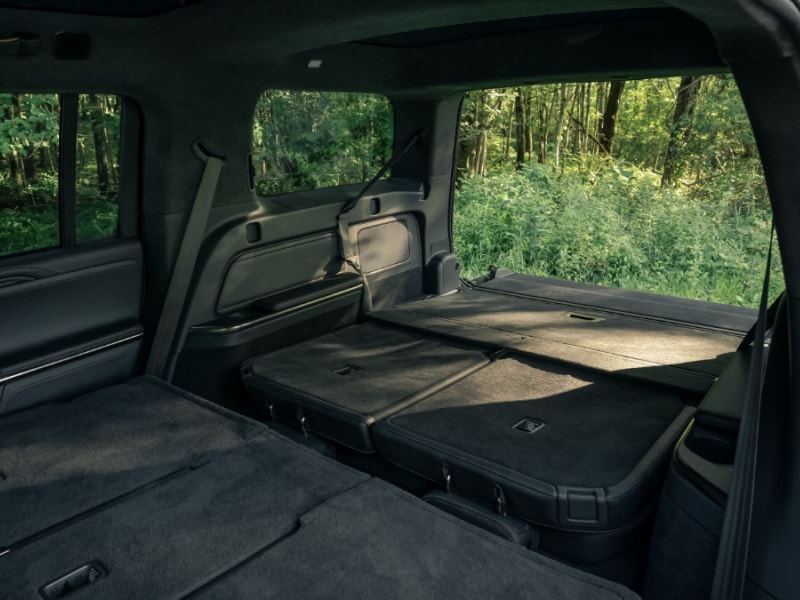 Photo by Rivian
Three all-Wheel Drive Offerings
This is a sleek, luxury suv with a wide range of standard features that make it a true premium offering. The Rivian R1S is also a capable off-roader that can manage rugged terrain with ease. It balances the comfort you want for daily driving with the capability to go off the grid and have some fun on the weekend. All-wheel drive is standard with one of three available systems.
The standard setup is dual-motor all-wheel drive with one motor on the front axle and a second motor on the rear axle. The second option is a performance version of this same setup that adds horsepower and torque for a 0-60 mph time that's 1 second quicker. The third option is quad-motor all-wheel drive, which adds a second motor at each axle with each of the four motors controlling one wheel. This is the most powerful and fastest version of the R1S.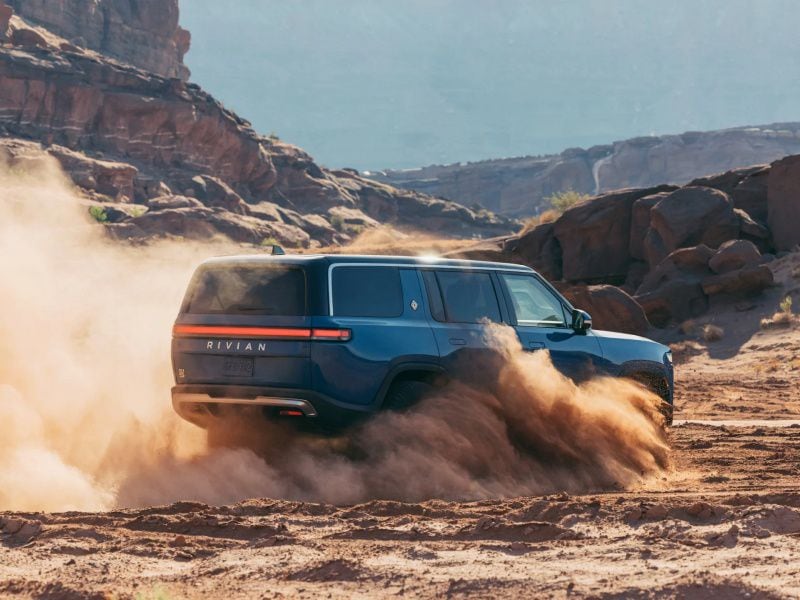 Photo by Rivian
Exhilarating Acceleration
No matter which version of the all-wheel-drive system you choose for your R1S, it delivers strong acceleration that makes for effortless merging into highway traffic. Equipped with dual-motor all-wheel drive, it delivers 600 horsepower with 600 lb-ft of torque for a 0-60 mph time of 4.5 seconds. That's the slowest version of this responsive SUV. The performance dual-motor setup brings both of those figures up to 700 with a 3.5 second 0-60 mph time.
Quad-motor all-wheel drive takes a big performance leap. It delivers 835 horsepower with 908 lb-ft of torque for a 0-60 mph time of just 3.0 seconds. It's a ridiculous amount of power, but it's also exhilarating. Smash on the accelerator and you'll be pressed back in your seat with a smile on your face. This may be a large SUV, but it's incredibly quick.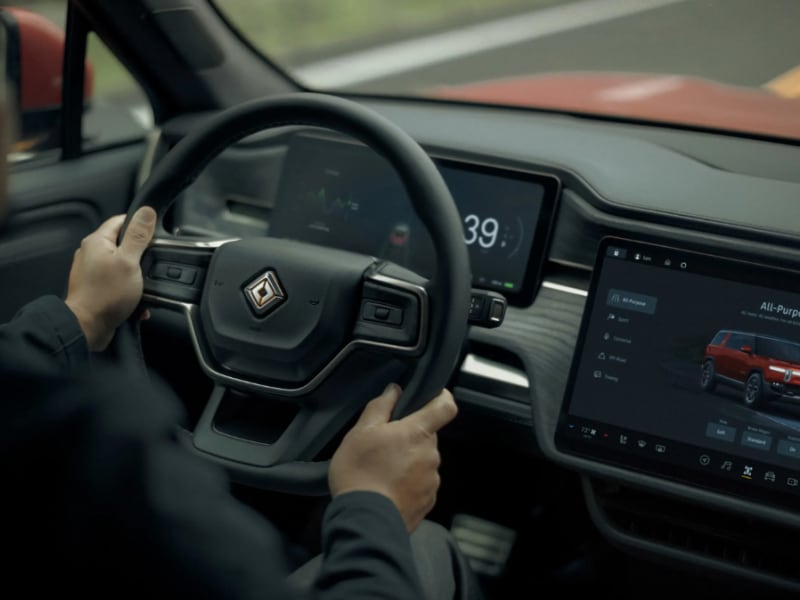 Photo by Rivian
Multiple Battery Options With Good Range
There are two available battery options for the Rivian R1S. The standard battery is available only with the dual-motor configuration. It offers upwards of 260 miles of range per charge. There's also a large battery pack that increases that figure to 321 miles per charge when paired with the quad-motor system. At a Level 2 charger, it gains up to 25 miles of range per hous. Utilize a Level 3 DC fast charger and the R1S gets 140 miles of range in just 20 minutes to get you on your way quickly.
Rivian owners can also take advantage of the growing Rivian Adventure Network. These DC fast chargers are for Rivian owners only and run 100 percent on renewable energy. The plan calls for over 3,500 chargers in the US and Canada at 600 sites. While Rivian owners can use any public charger, this exclusive network makes finding an available charger easier.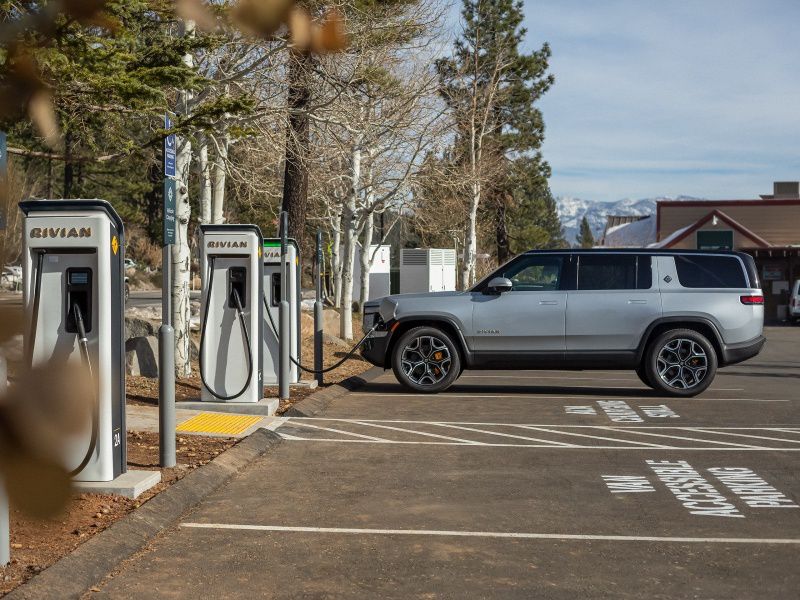 Photo by Rivian
A Large Infotainment Touchscreen
There's a standard 16-inch touchscreen in the Rivian R1S. It's mounted horizontally on the dashboard within easy reach of the driver and front passenger. It's the hub for controlling pretty much everything in your Rivian, which keeps the dashboard clean and uncluttered. In addition to controlling the usual features including infotainment, cameras, and audio, it also houses the drive modes and climate control.
The system is easy to use with a responsive touchscreen and well-organized menus, but the climate controls can be frustrating. To adjust the vents, an image of the interior is displayed where you can turn specific vents off or on and move the direction of the airflow. It works well, but it's not easy to do when you're driving. It's too fine a detail to control on a touchscreen without being distracted from the road.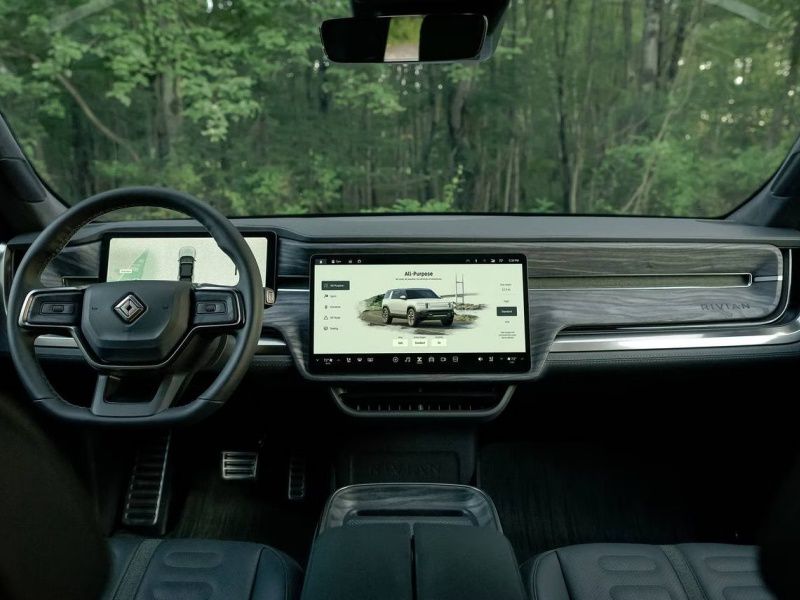 Photo by Rivian
You Don't Need a Key
There are four ways to access your Rivian R1S, but no matter which you choose, locking the doors makes the chirp of a mountain bluebird that was recorded at Yellowstone National Park. No worries about a loud and angry honk bugging the neighbors. The first access option is the key fob, which has an anodized aluminum loop that turns the key into a carabiner to hook to a backpack or beltloop. Next is a smartphone app that can be designated as a key.
A key card that's the size of a credit card is the third option. It's easy to keep in your wallet as a backup key or slip in your pocket if you don't want the bulk of your phone or the key fob. The last option is a key band, which is a thin rubber bracelet that's waterproof in case you plan to go swimming. Multiple key styles are a small detail, but one that makes daily life much easier.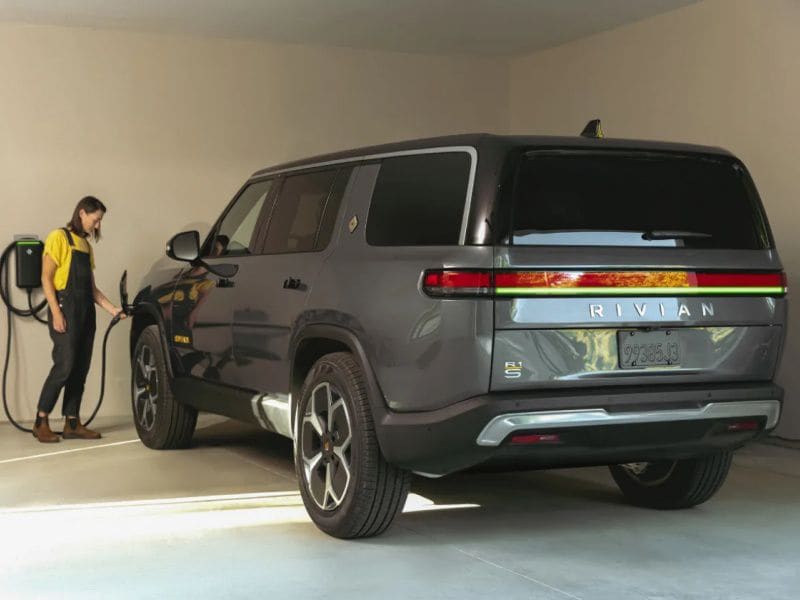 Photo by Rivian
Driver+ Safety Features
The Driver+ system is standard on every Rivian vehicle. It has a long list of technologies designed to make driving both safer and easier. It includes lane keeping assist, lane departure warning, and blind-spot warning. There are also automatic high beams, rear cross-traffic alert, park assist, forward collision warning, dynamic brake support, and automatic emergency braking.
Driver assist features that help make driving easier, especially on lengthy road trips, are also standard. There's highway assist to manage steering, braking, and acceleration on select highways. Adaptive cruise control is also included, which automatically accelerates and brakes to maintain a safe distance from the car in front of you while targeting your set speed. The driver still needs to pay attention to the road with these features engaged, but it does make driving less tiring.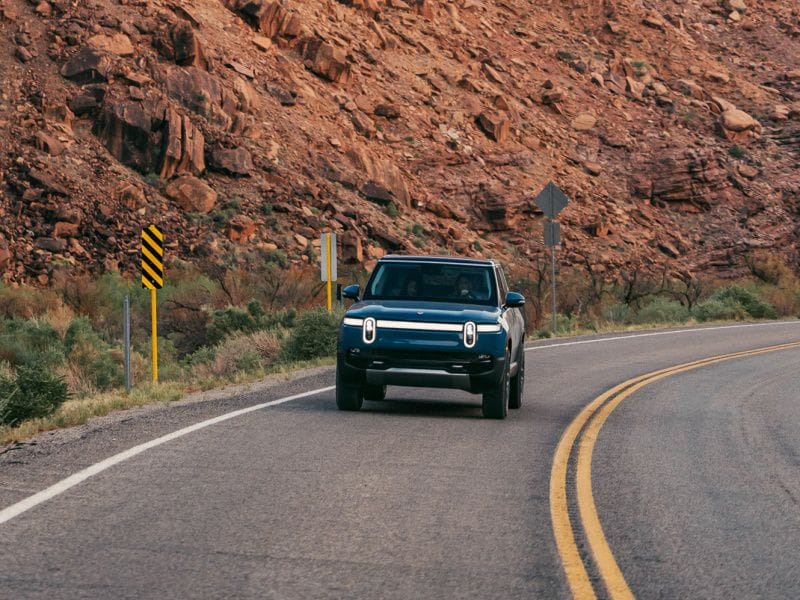 Photo by Rivian
Final Thoughts
The Rivian R1S has plenty to offer active families. There are three rows of seating with room for up to seven in a spacious and beautifully appointed interior. That interior includes the latest technologies, from a large infotainment screen with good standard features to advanced driver assistance features. The R1S is spacious and comfortable and has good cargo room.
Those features combine with impressive performance. Even in its base configuration, the R1S shows off strong acceleration and great capability. If you want to go off-road in your luxury electric SUV, then the Rivian R1S is ready. Those looking for an uncompromising SUV with the benefit of EV efficiency will find plenty to like about the Rivian R1S.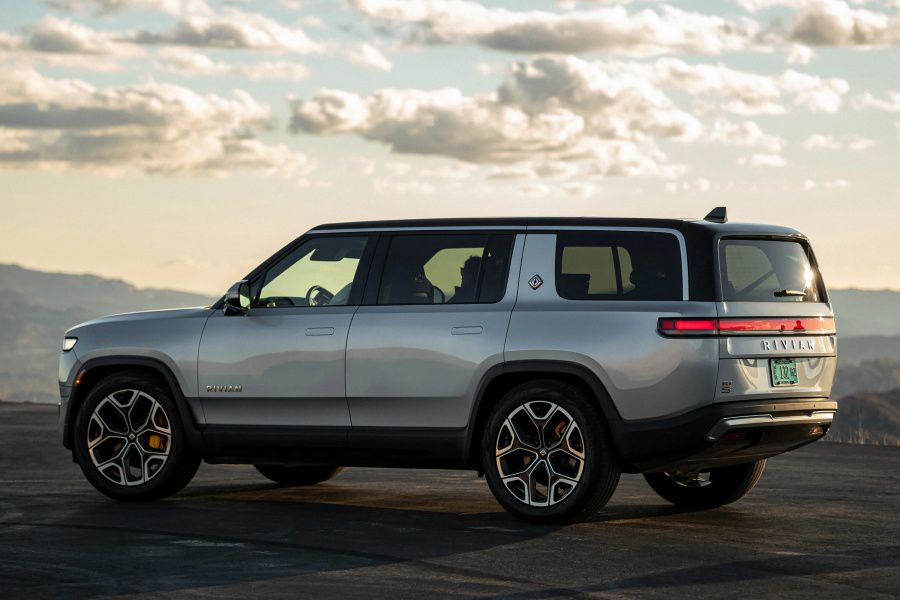 Photo by Rivian