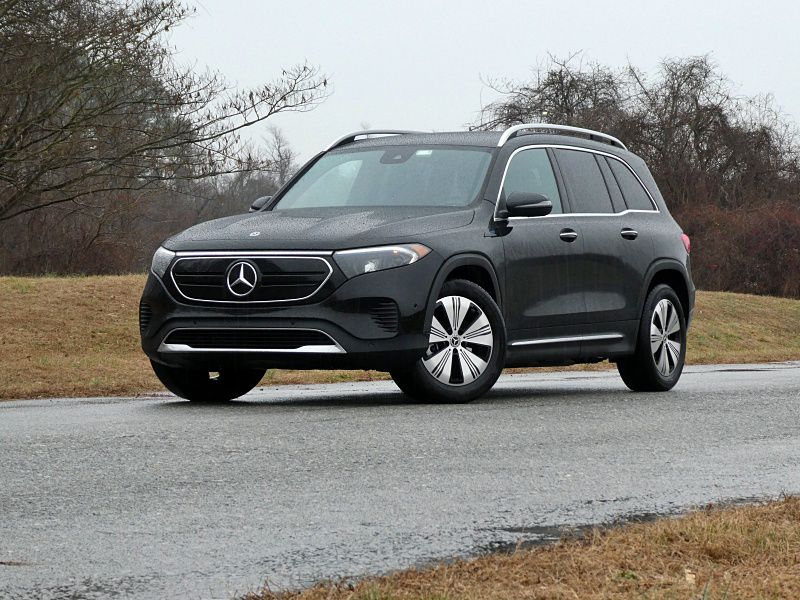 2023 Mercedes Benz EQB 250 ・ Photo by Brady Holt
Mercedes-Benz got a slow start with the electric car revolution. It dabbled in EVs with an electric two-seat hatchback from its Smart subsidiary, and it briefly put a Tesla-made battery in its B-Class hatchback. But it discontinued both slow-selling models from the U.S. with minimal fanfare.
But now, Mercedes is diving headfirst into EVs with "EQ" models appearing in key market segments. It started with the EQS full-size sedan, EQS full-size SUV (same name, yes), and the EQE mid-size sedan. These are ground-up electric cars with extra-aerodynamic bodies and futuristic interiors — and high prices. But the carmaker also introduced the EQB. It's an all-new model, but it's heavily derived from the gas-powered Mercedes GLB compact SUV that's been on sale for the past three years. And it's priced from a comparatively reasonable $52,400. We recently tested two EQB models: the base EQB 250+ and the top EQB 350. Keep reading to find out what we learned and whether the EQB seems right for you.
A GLB With Batteries
The Mercedes-Benz GLB is an uncommonly boxy little SUV. Its upright styling makes it look tougher and more purposeful than the typical graceful or sporty-looking crossover. And it's small enough to look more spunky than intimidating. Still, it's a light-duty model with front-wheel-drive-based underpinnings. 
The new EQB is essentially a GLB that's been retrofitted with batteries. Mercedes revised the styling to fit into its "EQ" lineup, with sleeker headlights and lightbars connecting the headlights and the taillights. The grille is closed off because an electric car doesn't need airflow to cool an engine. And the front end is rounded off a bit from the blocky GLB to improve aerodynamics. Still, in a world where most EVs (including other electric Mercedes models) are crafted to minimize drag, the EQB remains uncommonly tall and square.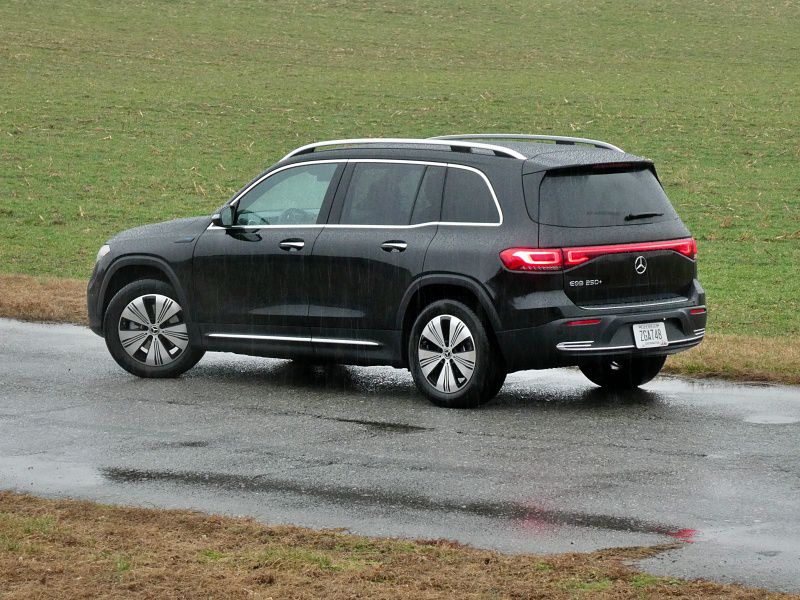 Photo by Brady Holt
Up to 245 Miles Per Charge
The EQB's square body cuts into its fuel efficiency. Other electric Mercedes models can travel more than 300 miles on a charge, rivaling the best EVs in the business. The EQB isn't bad, but it misses that lofty mark. 
The newly introduced EQB 250+, with front-wheel drive and 188 horsepower, goes the farthest: a projected 245 miles per charge. Our tested EQB 250+ was on track to top that range, with the trip computer estimating as high as 262 miles. It achieves the energy equivalent of 105 miles per gallon. The EQB 300 uses a rear-mounted second motor to provide all-wheel drive and increase output to 225 hp, with a range of 243 miles per charge and 101 MPGe. The EQB 350 has more powerful electric motors that make 288 hp but burn off the battery's capacity in 227 miles; it gets 96 MPGe. These figures are in line with a number of competitors, and they're more than enough for anything but a long road trip, but they're nothing special for a $50,000-plus SUV — especially if you want high-end acceleration. In a nice feature, the car's navigation system factors in live weather and altitude changes to predict how much of the car's range you'll need to reach your destination.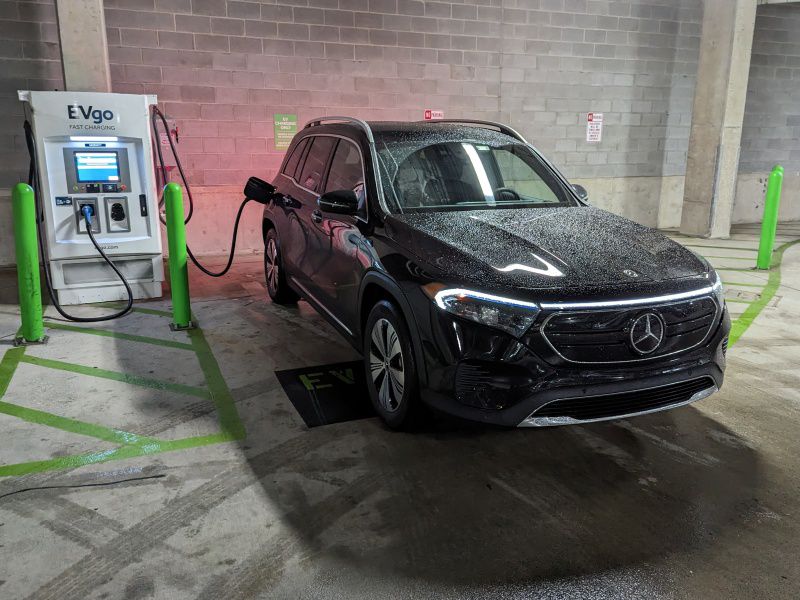 Photo by Brady Holt
Familiar Interior
The EQB shares its interior with the GLB, whose dashboard debuted to enthusiastic acclaim in 2020 — especially considering its sub-$40,000 starting price. The 2020 GLB used Mercedes' latest MBUX infotainment system as part of a wide glass panel that also houses the digital gauge cluster. Big round dashboard vents further brighten up the interior. 
The EQB interior is familiar: virtually identical to the GLB's. However, three years later and at $15,000 higher, we're less dazzled. A 10.2-inch infotainment screen has gotten small for the luxury segment (other Mercedes EQs are available with up to 17-inch units as part of a dash-dominating "Hyperscreen"). And at these higher prices, we're inclined to be pickier about areas of lower-grade plastics and rough fits around the interior. We don't mean this is a low-grade, low-tech interior; you're still in a modern Mercedes. And it's beautifully lit at night. You just aren't getting the same experience as you'd find in all-new and more expensive Benz EVs. 
Photo by Brady Holt
Available Seating for Seven
Like the GLB, the EQB capitalizes on its boxy body to squeeze in a small (optional) third-row seat. That makes it one of the few seven-seat EVs on the market, and the least expensive. 
Even if you don't plan to wedge a couple extra kids in the far-back position, the availability of a third row illustrates that the EQB is roomy for a small SUV. The front seats feel a bit narrow, but there's ample legroom and headroom. And the second row has stretch-out leg space, especially if you slide it all the way back; it adjusts fore-aft. The cushion is a little low to the floor, but we can't argue with the space and big windows. Cargo space measures a modest but well-shaped 22 cubic feet behind the rear seat, while folding the rear seat yields 62 cubic feet — more than nearly any rival EV. You won't find a front trunk, or "frunk," however, and it is not rated to tow a trailer.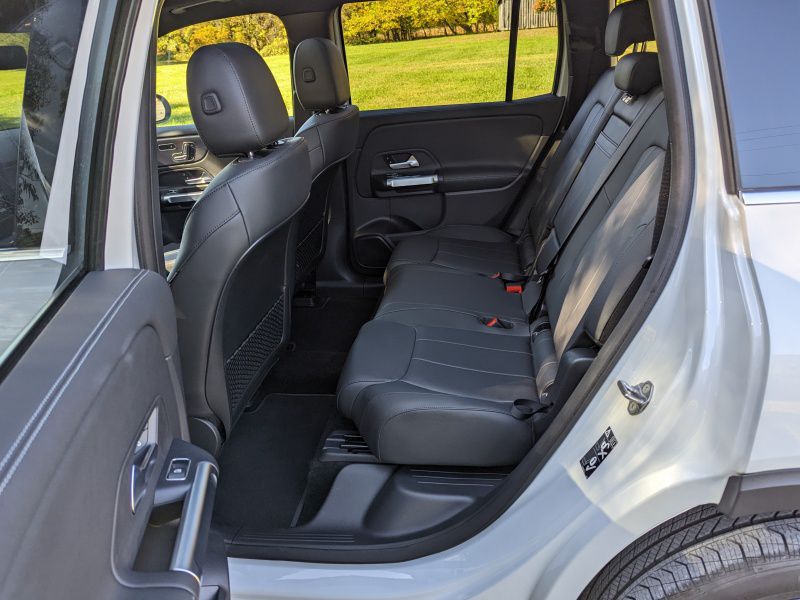 Photo by Brady Holt
Nimble Handling
The GLB and EQB look so tall and boxy, you might expect them to handle clumsily. The GLB has been dispelling that misconception for the past three years. It's small and light, height or not, and extra-quick steering means that turning the steering wheel makes it snap to instant attention. At the same time, light steering makes it easy to maneuver; this isn't an intimidating performance-focused machine. The EQB expands on these strengths with a lower center of gravity, brought about by heavy batteries under the SUV's floor. 
The EQB's light, easy feel cuts both ways, though. This isn't a solid, vault-like, classic Mercedes. It's a light, small, front-wheel-drive-based box. By that measure of luxury, the EQB comes up short. But by the more objective basics of comfort, agility, and (as we'll discuss) quietness, it does well.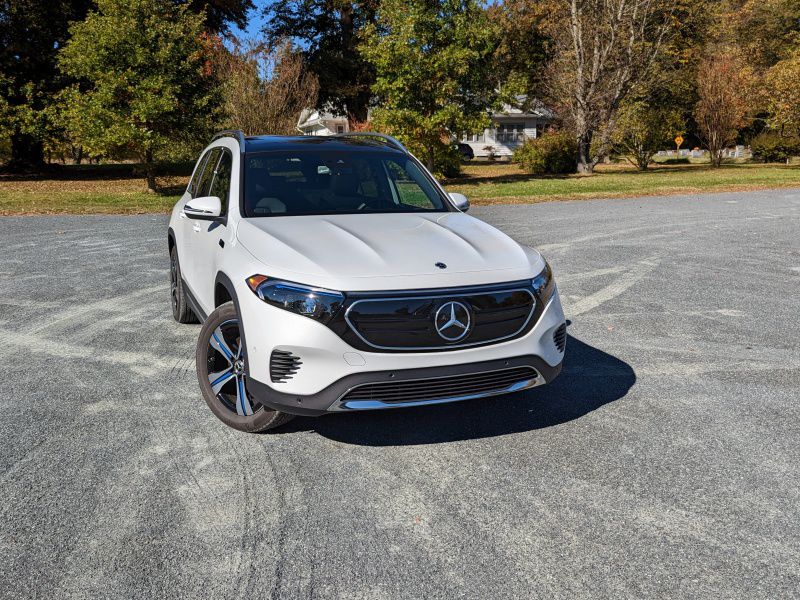 Photo by Brady Holt
Smooth Acceleration
Electric motors offer near-silent acceleration, and that's another selling point in the 2023 Mercedes-Benz EQB. Unless you're attached to the sound of a small four-cylinder engine, an EV has an inherent refinement advantage over the typical gas-powered alternative. To us, this silence also helps EVs feel quicker than they are, since you never hear an over-labored engine straining to get underway. 
That's a consolation prize for the EQB's less-than-stellar acceleration. The EQB 350 reaches 60 mph in 6 seconds, which is respectable for an ordinary luxury suv but slower than you'd find from top rivals. The EQB 300 needs 7 seconds to reach 60, and the EQB 250+ needs 8 seconds. That's notable because healthy off-the-line torque is another inherent EV advantage; you won't find many EVs slower than the EQB 250+. Fortunately, every EQB accelerates smoothly and serenely, even if performance junkies will want to stick to Tesla, Ford, Genesis, or Volvo.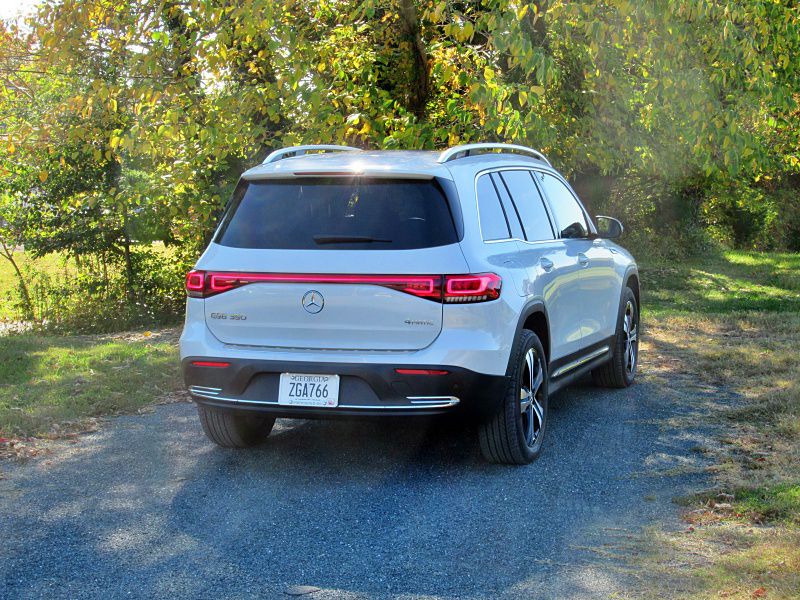 Photo by Brady Holt
New Base Model Means a Price Cut
The EQB was all-new for a brief 2022 model year, at which time its prices started at $54,500 for the EQB 300. The new EQB 250+ cuts that starting price to $52,400, an advantage that grows when you factor in this year's EQB 300 price hike. It now starts at $56,550. And the EQB 350 is priced from $60,200. 
This isn't a cheap SUV, even for the luxury suv class, but the prices are in line with the competition. Mercedes also includes plenty of standard equipment, including high-end amenities like GPS navigation, memory settings for the front seats, rain-sensing windshield wipers, and a self-parking system. We found it odd that the EQB doesn't provide heated front seats as a standard feature, though; they're an EV staple, since heating up your own seat burns through less range than heating up the whole cabin.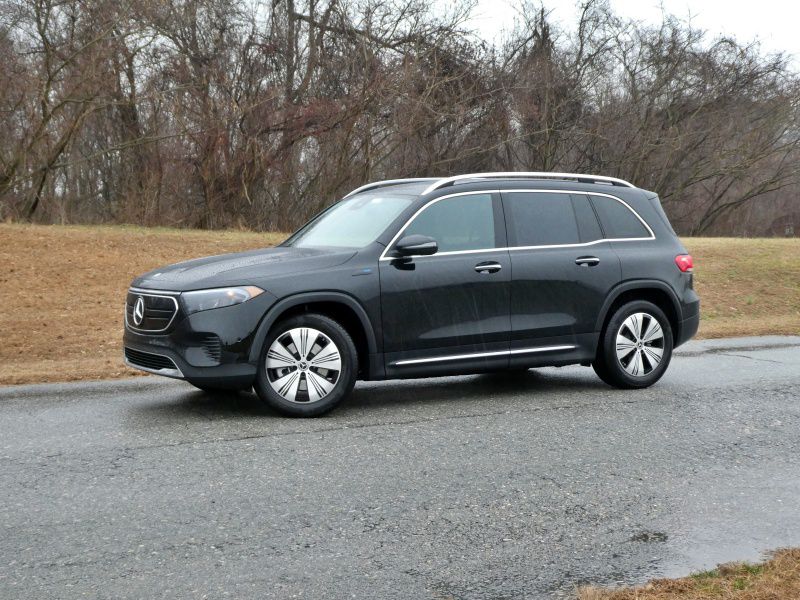 Plenty of Strong Competitors
Viewed in isolation, there's a lot to like about a Mercedes SUV that uses no gasoline, makes no engine noise, and fits three rows of seats into a tidy package. But the EQB faces a lot of strong competitors, most of which are purpose-built to excel as electric cars. 
The EQB's closest rival is the Audi Q4 e-tron, a similarly sized electric crossover that also aims to look and feel normal rather than otherworldly. The Mercedes is roomier than the Audi and has zippier handling, but we preferred the Q4's interior design, seat comfort, towing abilities, and overall sense of refined solidity on the road. The e-tron also costs a little less, accelerates a little quicker, and goes a little farther per charge. An attention-grabber in this segment is the Genesis GV60, which drives beautifully, accelerates zestily, and has a smartly finished yet ergonomically friendly interior. It has higher starting prices than the EQB (partly offset by more standard features) and is styled more like a hatchback than an SUV. Then of course there's the Tesla Model Y, America's best-selling EV. It leads the field for acceleration, range per charge, interior room (it's the only EQB rival with an optional third row), and tech-first vibe. And while Tesla prices can swing wildly, it's a tempting bargain as we write. On the other hand, the EQB rides more smoothly and looks more traditional.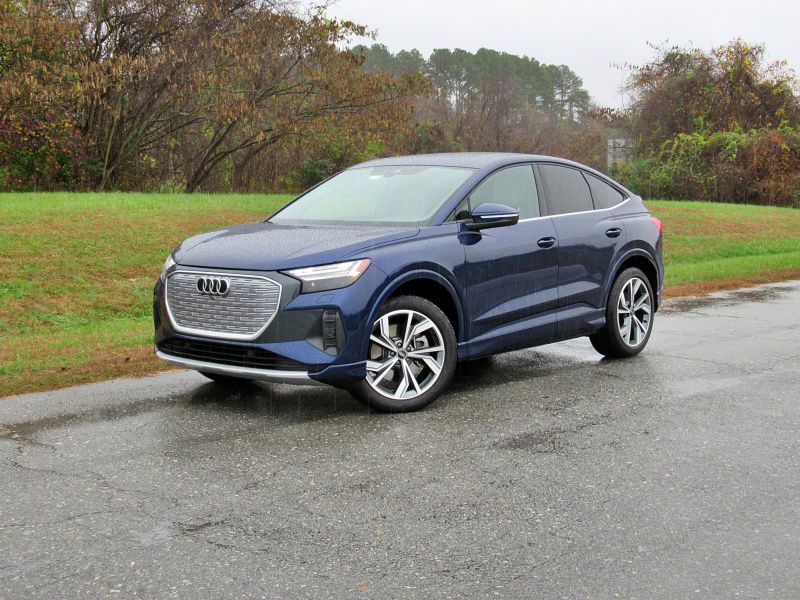 Photo by Brady Holt
Final Thoughts
We've driven a lot of luxury EVs, from Mercedes and other brands, that felt more special than the 2023 Mercedes-Benz EQB. In everything from its performance to its interior materials, the EQB is a solid vehicle facing exemplary rivals. Mercedes knows this well, and the next-generation EQB will likely join other EQ models as a major advance. 
In the meantime, there's still reason to consider the EQB. If you value traditional SUV virtues like a boxy body and useful cargo space, or you're drawn to its extra-quick steering responses, you're more likely to forgive an EV that doesn't lead the pack for acceleration, range, or touchscreen size. If that sounds like you, give the EQB a look today. If not, we're confident Mercedes will offer soon something more exciting in this segment than an electrified GLB.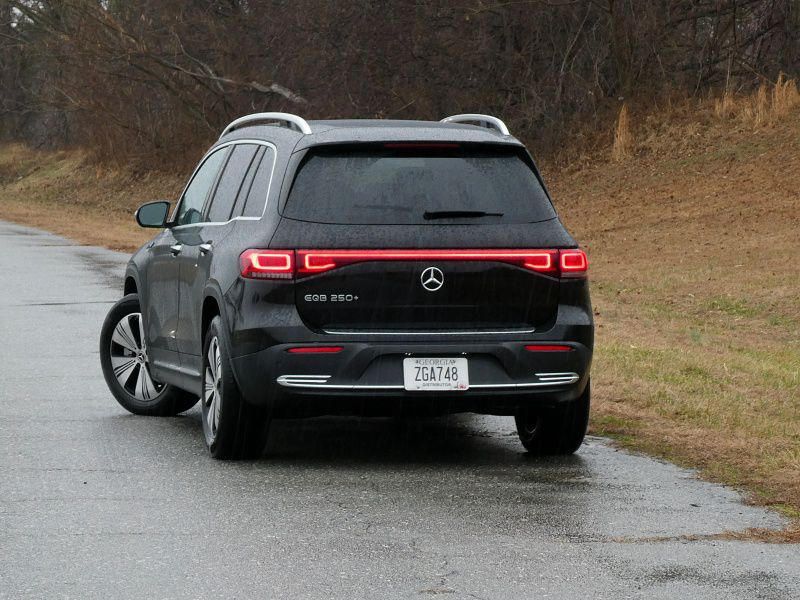 Photo by Brady Holt