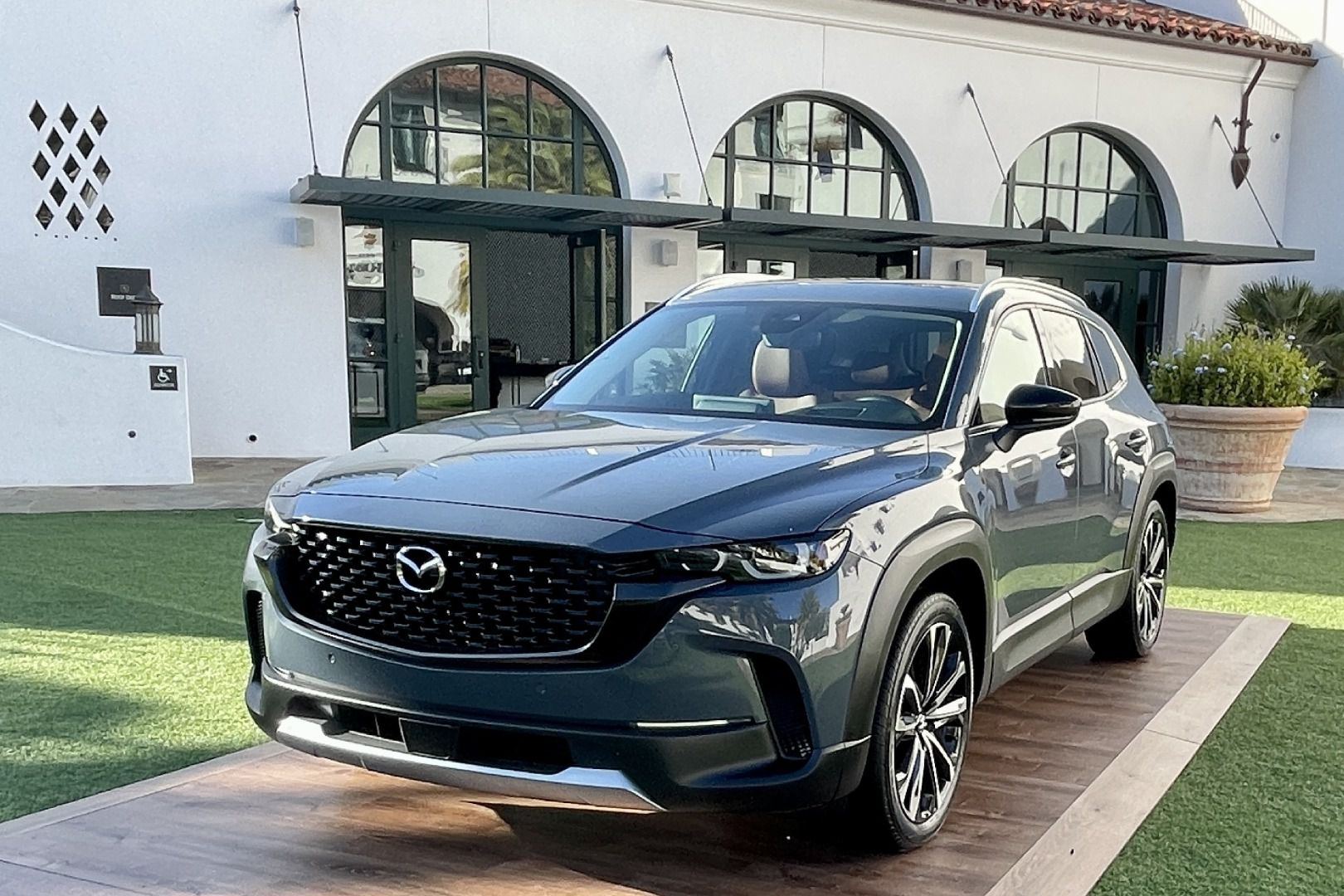 2023 Mazda CX-50 Front Quarter ・ Photo by Nicole Wakelin
The 2023 Mazda CX-50 is an all-new two-row SUV in the Mazda lineup, and it takes a new approach. Yes, there's the upscale interior and sleek design typical of Mazda. There are also two responsive engines that include the option for a powerful turbocharged 4-cylinder. What's different is the addition of a bit of ruggedness that lets you do more than you might expect in this Mazda.
All-wheel drive is standard along with drive modes that include sport and off-road. Turbocharged models also get a tow mode. This is a more capable Mazda designed to appeal to a more adventurous lifestyle while still providing the superior driving dynamics that make Mazdas so popular with driving enthusiasts. Let's take a closer look at the 2023 Mazda CX-50 is the right SUV for you.
Lots of Trims Equals Lots of Choices
Rather than offering a narrow range of trims, Mazda decided to give you choices galore with 10 available trims of the CX-50. The base 2.5 S starts at $26,800 with standard features including an 8.8-in infotainment screen, 2.5-liter 4-cylinder engine, and a wide range of safety features. This is one of six trims with the base engine, each with increasing amenities including leather seating surfaces, a 10.25-inch infotainment screen, and a 12-speaker Bose audio system.
The top four trims all get the more powerful turbocharged 4-cylinder starting with the 2.5 Turbo at $36,400 and topping out with the Premium Plus at $41,550. There's also a Meridian Edition, which gets added exterior accents for an even more rugged look. It's due to arrive later this year with pricing to be announced. This is a strong lineup with something for everyone, although top trims command a premium.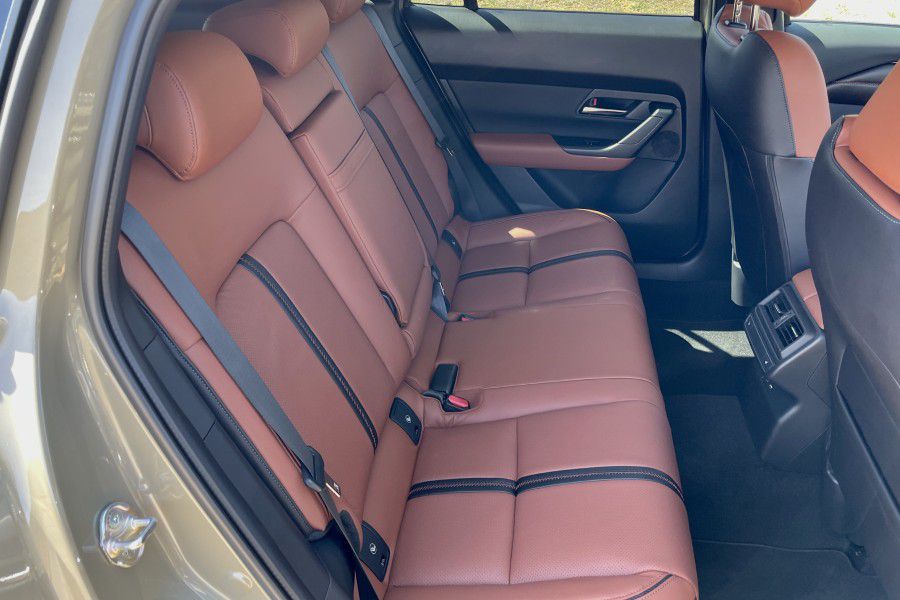 Photo by Nicole Wakelin
Two Responsive Powertrains, Including a Turbocharged Option
The bulk of the CX-50 lineup features a 2.5-liter 4-cylinder engine with 187 horsepower and 186 lb-ft of torque. It's paired to a 6-speed automatic transmission and includes Mi-Drive with selectable drive modes of sport and off-road. That's ample power to get this SUV up to speed. Those looking for a more engaging drive should head further up the trim ladder to the turbocharged engine.
The available 2.5-liter turbocharged 4-cylinder engine delivers 256 horsepower and 320 lb-ft of torque. That's a big jump in power here, which makes this a far more engaging drive experience. It accelerates more aggressively whether you're looking to pass slower vehicles on the highway or simply trying to get up to highway speeds in heavy traffic. In addition to the increased power, this engine also adds steering wheel-mounted paddle shifters and a towing mode.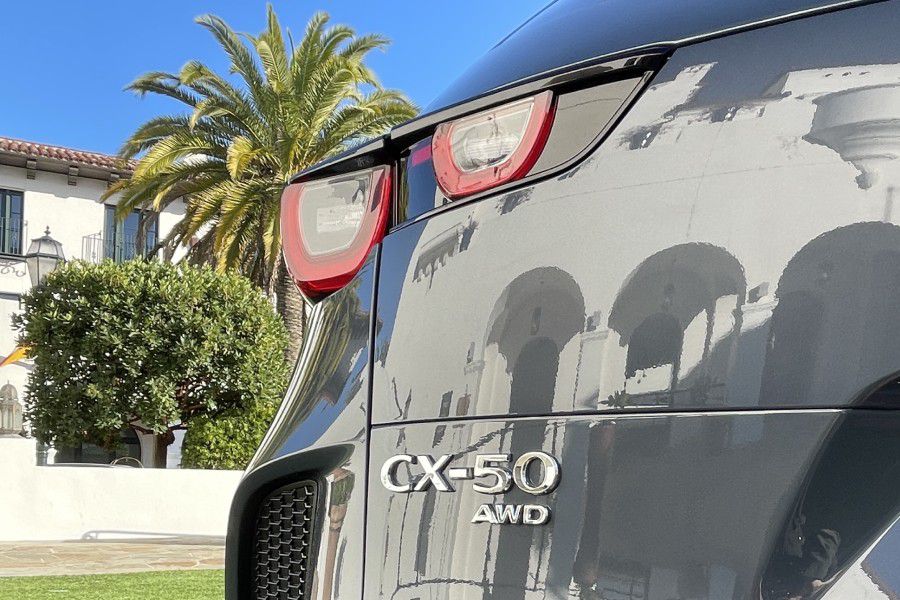 Photo by Nicole Wakelin
A Composed Ride
The average SUV isn't known for being especially fun to drive. They're vehicles that focus on carrying cargo, towing, and providing space for passengers. The driver experience isn't always high the list of priorities, but this is a Mazda and Mazda is a known for putting the driver first. Its reputation for building cars that people love to drive is upheld with the CX-50.
The ride is well-mannered without any intrusive body roll during quick highway lane changes. It's equally composed over rough, uneven pavement. This makes the CX-50 easy to drive on road trips, but where it shines is on winding roads. Here, the handling is crisp and responsive, so those roads become something to enjoy. Its solid handling combined with its composed ride let everyone enjoy the trip whether you're the lucky one behind the wheel or a passenger.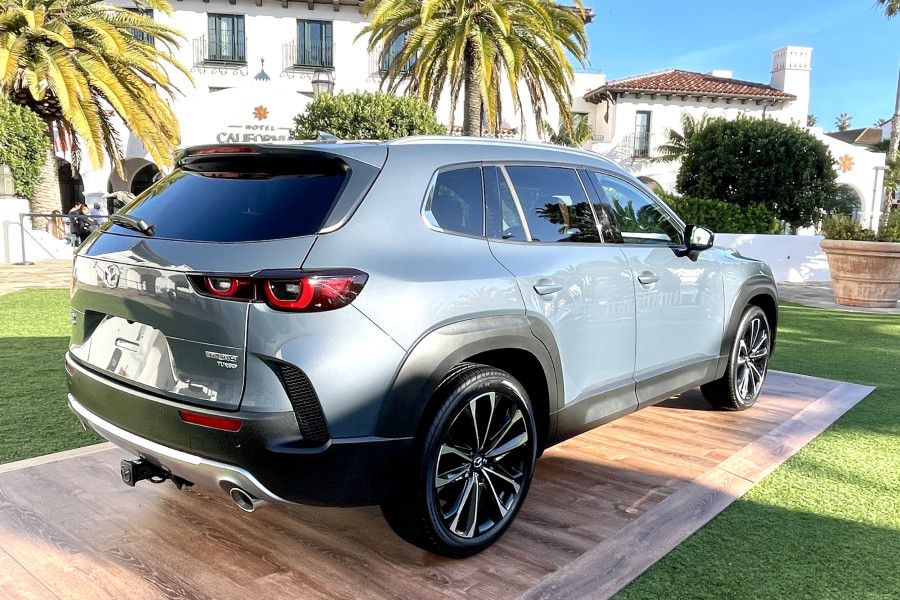 Photo by Nicole Wakelin
Ready for Light Off-Roading
The last thing most people think of doing in a Mazda is taking it away from the pavement on an off-road drive. That's just not why you buy a Mazda, but the CX-50 is a bit different. This is a more rugged option intended to appeal to those with more adventurous lifestyles who want to drive past the spot where the pavement ends, whether that's a camping trip with the family or a drive to the lakeside cabin.
Capability comes from an off-road mode that helps the CX-50 manage off-road conditions. It handled dirt trails with ease and even steep hills and the slopes to get back down o the other side were not a challenge. While not a heavy-duty off-road vehicle, the CX-50 has no problem heading past the pavement for light off-road adventuring.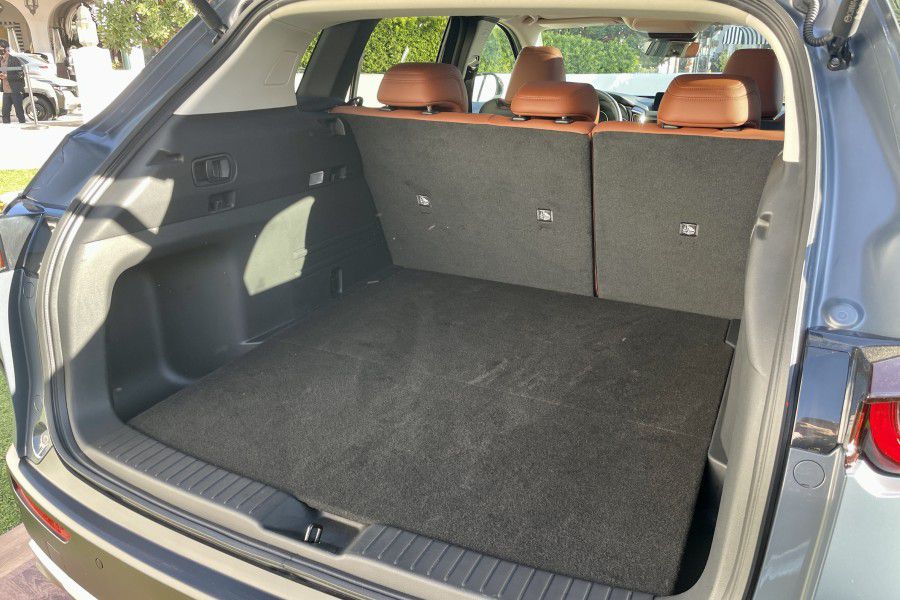 Photo by Nicole Wakelin
Beautifully Designed Inside and Out
There are lots of SUVs and crossovers to choose from, which makes it hard to build one that stands out from the crowd. The CX-50 manages to differentiate itself from all the other guys by showing off a sleek, stylish, and upscale design. It's not a sporty little sedan, but it still has long lines and swooping curves that make it look beautiful and unique in a sea of big, bold, and rugged. This SUV is all about creating an elevated, premium experience.
Open the door and the interior continues that theme with trims that have plenty of visual appeal. Seating is comfortable with good adjustability so it's easy to find the right seating position and rear seat passengers are not forgotten with plenty of room for three adults. It's also quiet with a minimum of road and wind noise to bother passengers so everyone can simply enjoy the ride.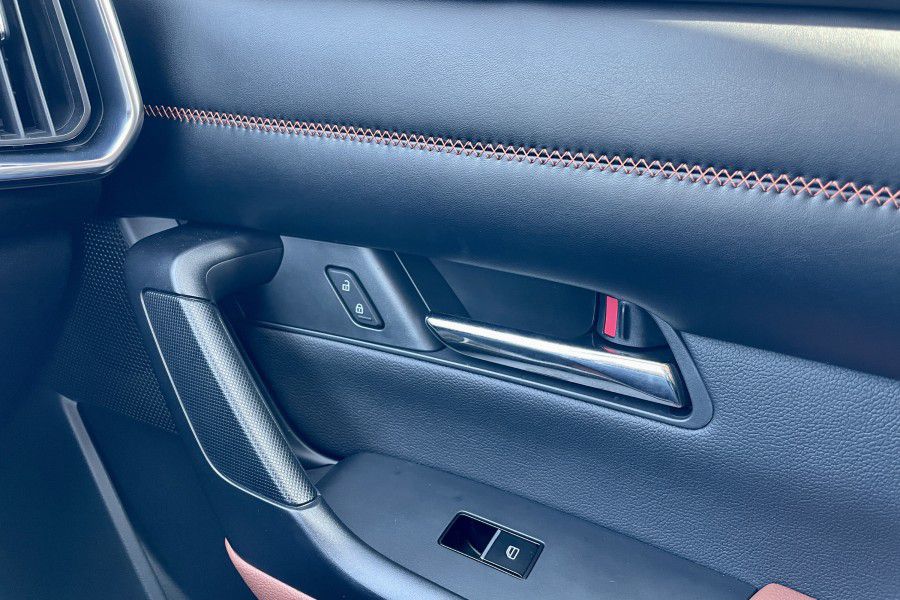 Photo by Nicole Wakelin
Good Room for Cargo and the Power to Tow
One of the big reasons for buying an SUV is its versatility. There's enough room for passengers, but there's also space for holding cargo. The CX-50 has plenty of room for all your stuff with 31.4 cubic feet behind the rear seats. Those seats split fold 60/40 for added versatility. Fold them completely and take advantage of 56.3 cubic feet for cargo.
If you're planning on towing, then the CX-50 has you covered there, too. Trims equipped with the base 2.5-liter engine can tow up to 2,000 pounds when properly equipped. That's a solid amount for a two-row crossover, but those who need more should consider the turbocharged 2.5-liter. Not only is it more fun to drive, but it also increases the maximum tow rating to 3,500 pounds. No matter what combination of people and cargo you need to handle, the CX-50 is ready.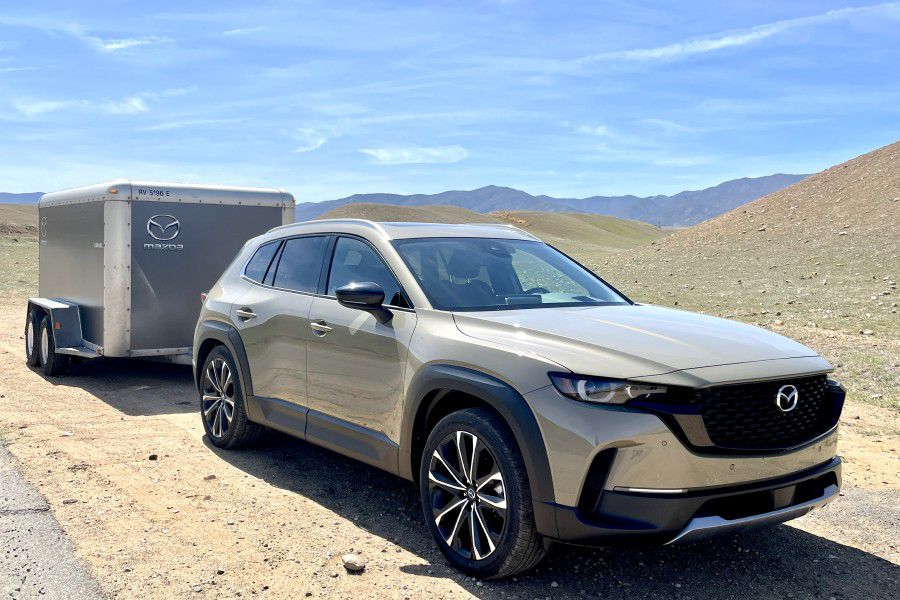 Photo by Nicole Wakelin
Infotainment With Limited Touchscreen Functionality
The base CX-50 has an 8.8-inch infotainment screen with an 8-speaker audio system. It includes wireless Apple CarPlay and Android Auto and two front USB ports. The rest of the lineup has a 10.25-inch screen with the addition of HD Radio and two rear USB ports to keep everyone connected. Top trims get more features including a 12-speaker premium Bose audio system, navigation, wireless smartphone charging, and SiriusXM.
While all the features are there, touchscreen availability is limited. Mazda uses a rotary dial on the center console to control the system in lieu of a touchscreen and it takes time to master. There is, however, touchscreen functionality when Apple CarPlay or Android Auto is in use. It's an improvement overall and makes those features, which were designed for a touchscreen, easier to use, but full touchscreen functionality would make the system more consistent and intuitive, especially for passengers.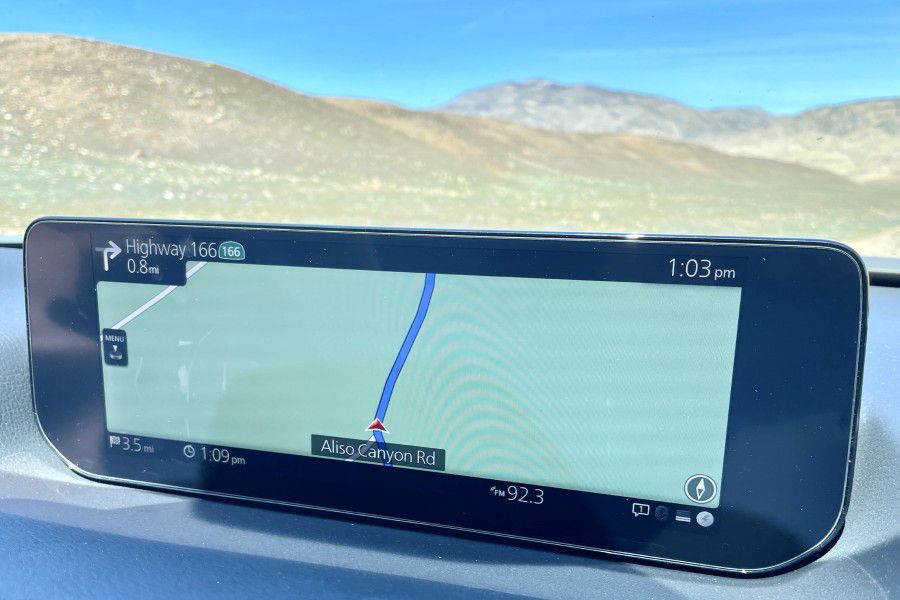 Photo by Nicole Wakelin
Safety Comes Standard
The 2023 Mazda CX-50 has not yet been crash tested by either the National Highway Traffic Safety Administration (NHTSA) or the Insurance Institute for Highway Safety. Despite the lack of crash test results for this SUV, there are a wide range of standard and available safety features to set your mind at ease.
Standard advanced safety features on the CX-50 include advanced smart brake support with pedestrian detection, driver attention alert, blind spot monitoring, lane keep assist, lane departure warning system, and rear cross traffic alert. Additional available features include blind spot prevention, front and rear parking sensors, traffic jam assist, and rear smart brake support. There's a solid suite of standard features so you don't have to push your budget and move up a trim level to get key driver-assistance technologies.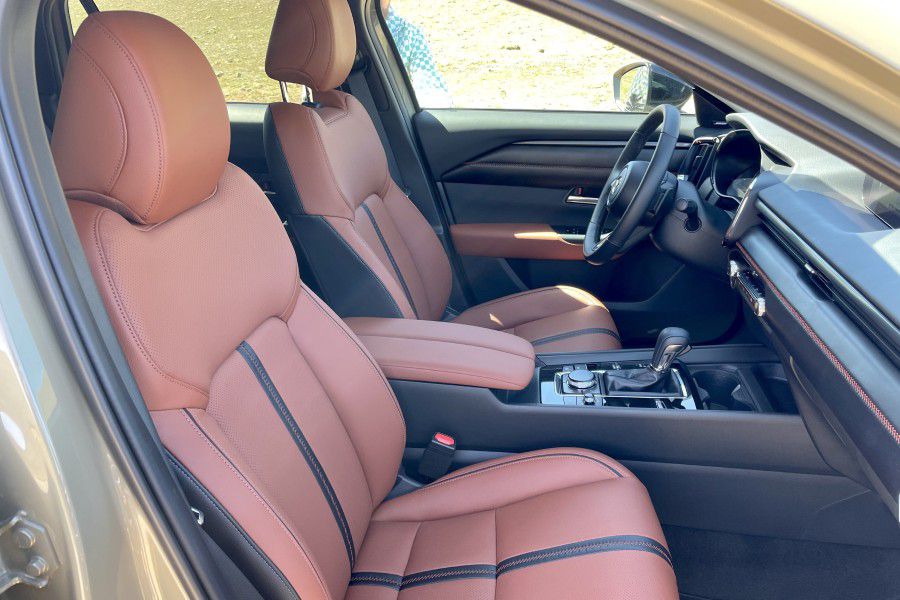 Photo by Nicole Wakelin
Final Thoughts
The 2023 Mazda CX-50 expands the Mazda lineup with a rugged new suv option. It's large enough to easily seat five adults with a sleek design and a beautiful interior. A choice of two engines that includes a turbocharged option provide strong performance for more spirited driving. There's also standard all-wheel drive for handling rough weather or a little off-road adventuring.
It also has good room for cargo and can tow up to 3,500 pounds when properly equipped. There are lots of standard safety features and infotainment is solid, although we would prefer a touchscreen to the rotary dial controller. Its dimensions are well-suited to city driving where space is at a premium or those who want an SUV, but don't need a third row. The all-new 2023 Mazda CX-50 is worth exploring for buyers searching for an upscale SUV with excellent driving dynamics, strong engines, and a luxe interior.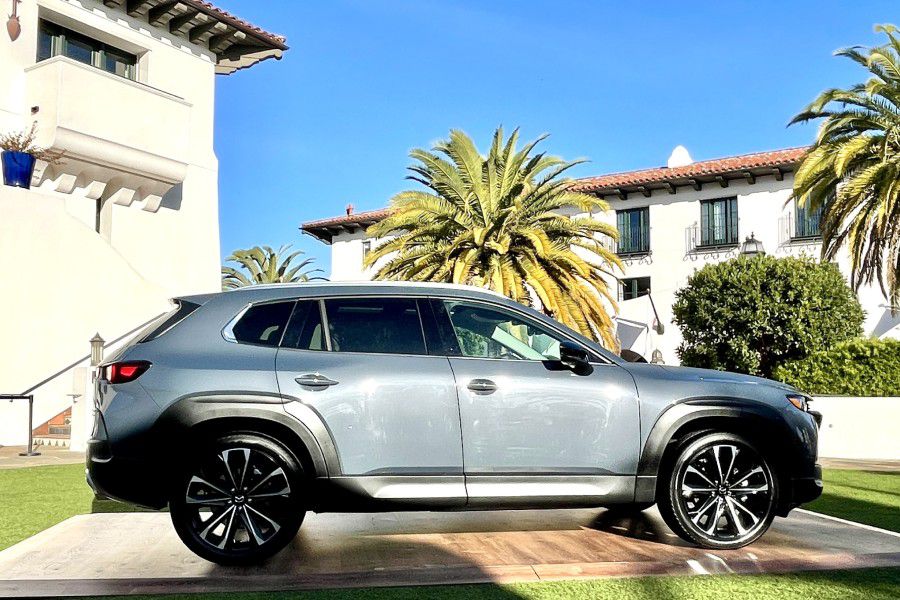 Photo by Nicole Wakelin