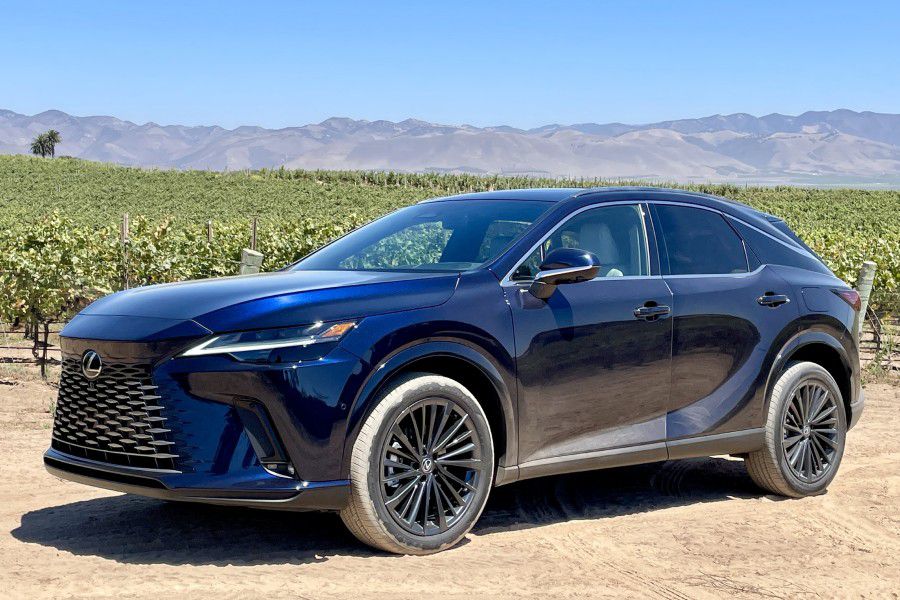 2023 Lexus RX Front Quarter ・ Photo by Nicole Wakelin
The 2023 Lexus RX is all-new this year with lots of changes. There are four powertrain options to choose from including gas, hybrid, and a first-ever plug-in hybrid along with a range of six trims. This makes it easy to find a powertrain option that fits your lifestyle. There are also new advanced driver assistance features to keep you and your loved ones safe on the road.
The exterior of the RX gets a sleek, luxurious makeover that makes what was becoming a dated vehicle look more modern. There are plenty of changes inside, too, with seating that's designed to be more comfortable for both front and rear passengers with ample room for cargo. And when it comes to infotainment, large touchscreens with available upgrades including a premium audio system make the RX feel every bit the luxury SUV. Here's everything you need to know about the 2023 Lexus RX.
A Wide Array of Trims
It's easy to find a Lexus RX that's perfect for your needs with a range of six trims, but not all powertrains are offered with every trim. The base 350 has the 2.4-liter turbocharged 4-cylinder gas engine available in a range of five trims. It offers front-wheel or all-wheel drive on all but the top F Sport, which is all-wheel-drive only. The 350h is your first hybrid option and is available in four trims with standard all-wheel drive and a 2.5-liter 4-cylinder hybrid engine.
Your second hybrid is the 500h Sport Performance. It is available only with all-wheel drive and a turbocharged 2.4-liter 4-cylinder hybrid with increased horsepower and torque. A late-arriving plug-in hybrid will also be available. Full details haven't been announced, but it will have a 2.5-liter 4-cylinder hybrid engine with all-wheel drive only. Pricing for the RX is also yet to be announced.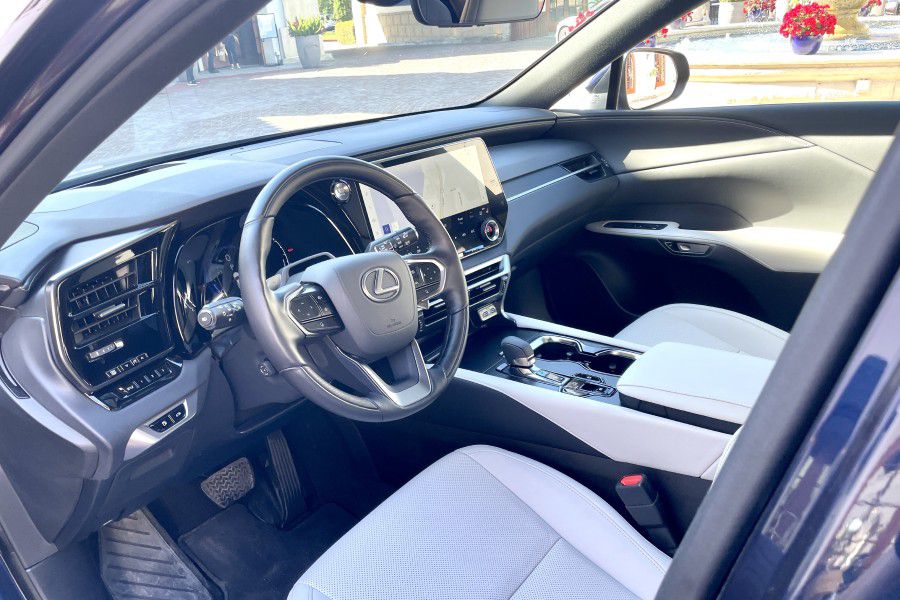 Photo by Nicole Wakelin
Gas, Hybrid, and Plug-In Hybrid Powertrains
No matter what kind of powertrain you want, the Lexus RX has you covered with gas, hybrid, and plug-in hybrid powertrains. The RX 350 has a 2.4-liter turbocharged 4-cylinder engine with 275 horsepower and 317 lb-ft of torque with an 8-speed automatic transmission. It's responsive and aggressive for an engaging drive. The 350h has a 2.5-liter 4-cylinder hybrid powertrain with 246 net system horsepower and 233 lb-ft of torque with a continuously variable automatic transmission that provides strong acceleration.
Those looking for more of a performance-focused drive experience have the 500h with its 2.4-liter turbocharged 4-cylinder hybrid engine and 6-speed automatic transmission. This is the most aggressive drive of the lot with 366 net system horsepower and 406 lb-ft of torque. The late-arriving plug-in hybrid has 450-plus horsepower and will have a 2.5-liter 4-cylinder with specifications yet to be released.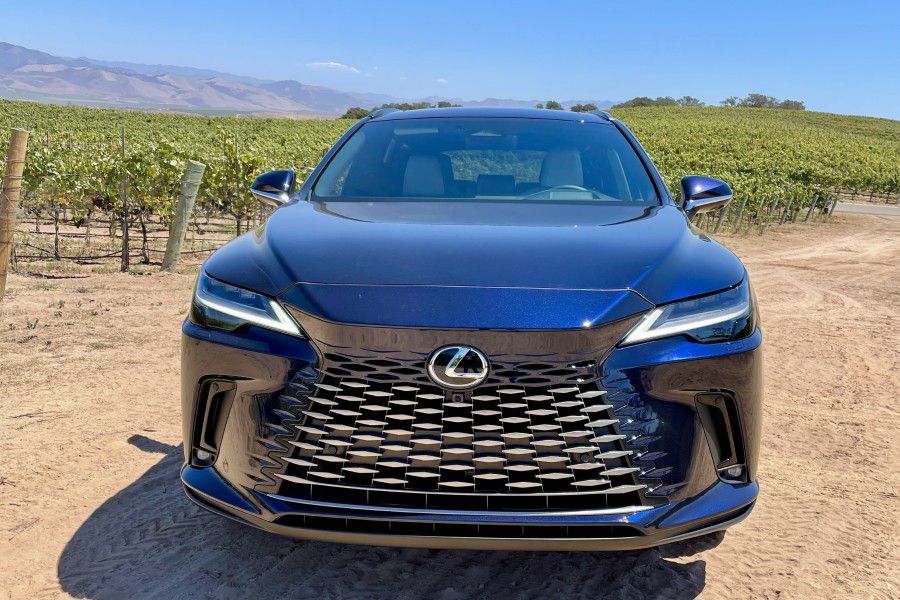 Photo by Nicole Wakelin
Fuel Economy That's Budget-Friendly
There are not yet any EPA fuel economy figures, but there are Lexus estimates to give you an idea of what you can expect. The gas engine with front-wheel drive gets 22 mpg in the city, 29 mpg on the highway, and 25 mpg combined. All-wheel drive drops each of those figures by 1 mpg. The base hybrid, which is all-wheel drive only, gets 37 mpg in the city, 34 mpg on the highway, and 36 mpg combined.
The performance hybrid, which is also all-wheel drive only, posts fuel economy ratings of 27 mg in the city, 28 mpg on the highway, and 27 mpg combined. While the base hybrid is your most fuel-efficient option, the performance hybrid still gets better combined figures than the gas engine, which makes it an appealing option for those who don't want to sacrifice performance in the name of fuel economy.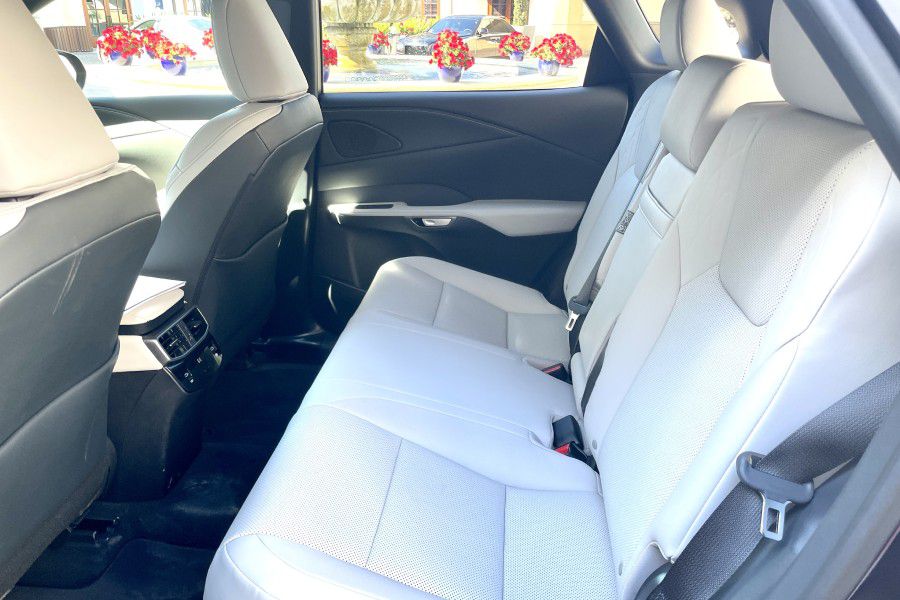 Photo by Nicole Wakelin
A Smooth, Luxurious Ride
This is an SUV, but it still needs to ride like a luxury vehicle. Lexus made improvements to the suspension system to ensure the RX delivers on that expectation. It evens out not just rough road surfaces and an abundance of potholes but also helps absorb vibration to further improve the ride and decrease the intrusion of outside noise. Steering is centered with confident braking that helps you stay in control during quick highway maneuvering.
The ride is quiet, so everyone can relax, especially on longer drives. Conversation is easy between front and rear passengers so windy, rainy weather won't have everyone raising their voices to be heard. The minimum of road and wind noise makes highway driving less taxing on the driver, too, so road trip weariness is kept to a minimum and the daily commute is less of a slog.
Photo by Nicole Wakelin
Comfortable Seating With Quality Materials
Even the base trim is beautifully equipped with standard features that not only keep passengers comfortable, but also lend the RX a premium look. There are 8-way power front seats, synthetic leather seating surfaces, multi-zone climate control, heated front seats, and a power tilt and telescopic steering wheel. Higher trims add leather seating surfaces, wood accents, suede and semi-aniline leather trims, and 10-way power seats.
The front seats are comfortable and make even long rides enjoyable. The power adjustability makes it easy to find the right seating position with good bolstering that holds you in place without feeling too tight for larger occupants. The rear seats are also comfortable with good headroom and legroom for tall adults. Two will find the rear seats deliver a pleasant ride while even three adults will be okay on all but the longest of road trips.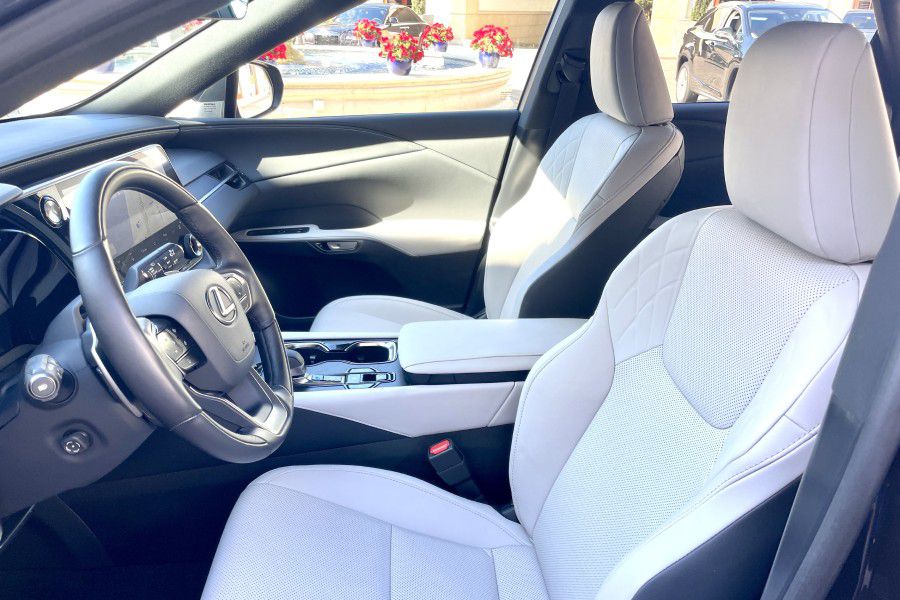 Photo by Nicole Wakelin
Room for Carrying Cargo
While the priority in the Lexus RX is passenger comfort, it can also manage a good amount of cargo. Whether it's a family outing for the day, a vacation, or supplies for a weekend project, the RX has the room you need. There's 29.59 cubic feet for cargo behind the rear seats. If you want to keep your cargo private, there's 16.3 cubic feet beneath the tonneau cover so you can keep precious cargo out of sight.
If you don't need to use the second row for seating, then fold it down and expand cargo capacity to 46.19 cubic feet. This makes it easy to carry home supplies from the local home improvement store to cross items off your to-do list. The tailgate of the RX now opens and closes three seconds faster so you can load up and be on your way more quickly.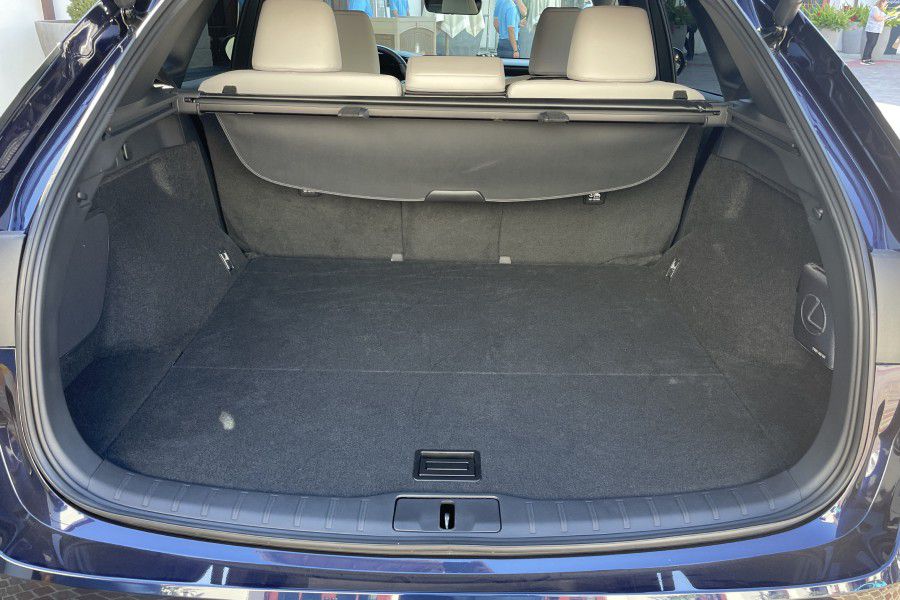 Photo by Nicole Wakelin
Intuitive Infotainment
Standard infotainment in the Lexus RX includes a 9.8-inch touchscreen, 12-speaker premium audio system, wireless Apple CarPlay and Android Auto, and Wi-Fi connectivity. The screen is responsive, so you won't find yourself tapping it repeatedly in frustration and the menus are logically organized so you quickly find what you need. Drive Connect, which is a subscription service with a 3-month trial, includes cloud-capable navigation that detects a potential loss of signal and downloads maps ahead of time to avoid losing your route in the middle of a trip.
The system also features excellent voice recognition that activates by saying "Hey, Lexus." Dual microphones detect whether the driver or front passenger is speaking and then respond accordingly, which makes the system feel more personal. Available infotainment upgrades include a 14-inch touchscreen that makes navigation easier to follow and a 21-speaker Mark Levinson premium sound system.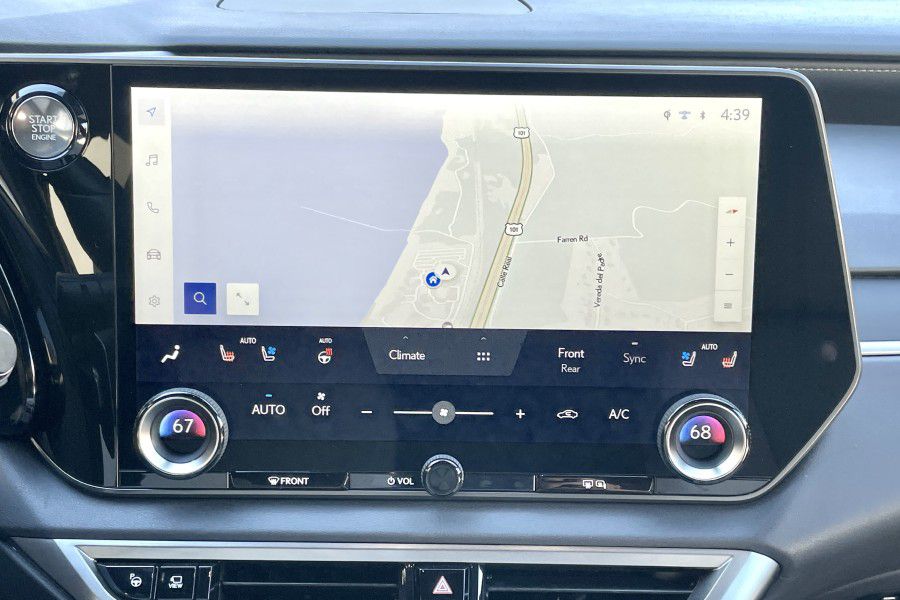 Photo by Nicole Wakelin
Plenty of Standard Safety Features
Standard across the lineup is Lexus Safety System+ 3.0 with a wide range of safety features. These include pre-collision system with pedestrian detection, road sign assist, lane departure alert with steering assist, lane tracing assist, intelligent high beams, and full-speed dynamic radar cruise control with curve speed management.
There are also several available advanced safety features. These include a head-up display, which allows select info to be displayed directly in front of the driver to keep eyes on the road rather than glancing at the infotainment screen, and advanced park assist to help with parallel and perpendicular parking. There's also traffic jam assist to help manage speed and braking in slow moving traffic. It's a thorough offering with most features standard, so even the base trim of the RX is well-equipped.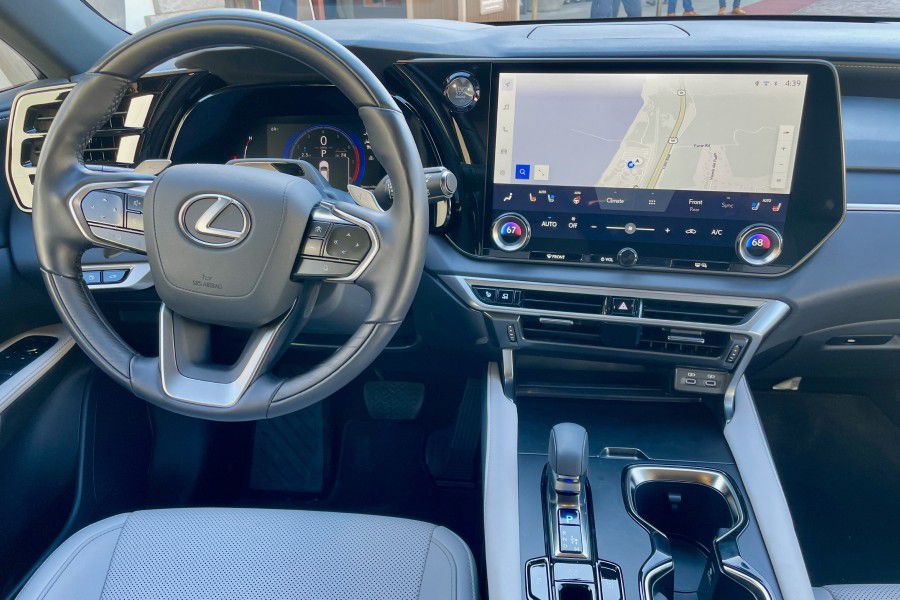 Photo by Nicole Wakelin
Final Thoughts
The 2023 Lexus RX benefits from a much-needed update that takes what was becoming a dated offering and makes it a modern and competitive option. The exterior looks sleek and upscale, and the interior is more spacious and more comfortable with plenty of room for five adults. Materials including rich leathers and wood trims along with a quiet ride make this a great choice for both long commutes and family road trips.
There's also a huge lineup of trims that includes everything from more modest base trims to luxurious top trims that add performance features for a more engaging drive experience. Hybrid and gas powertrains along with a late-arriving plug-in hybrid provide good fuel economy and make it easy to take a step toward electrification without moving to a fully electric vehicle. Those looking for a luxurious, comfortable, and fuel-efficient SUV will find the 2023 Lexus RX a strong contender.
Photo by Nicole Wakelin