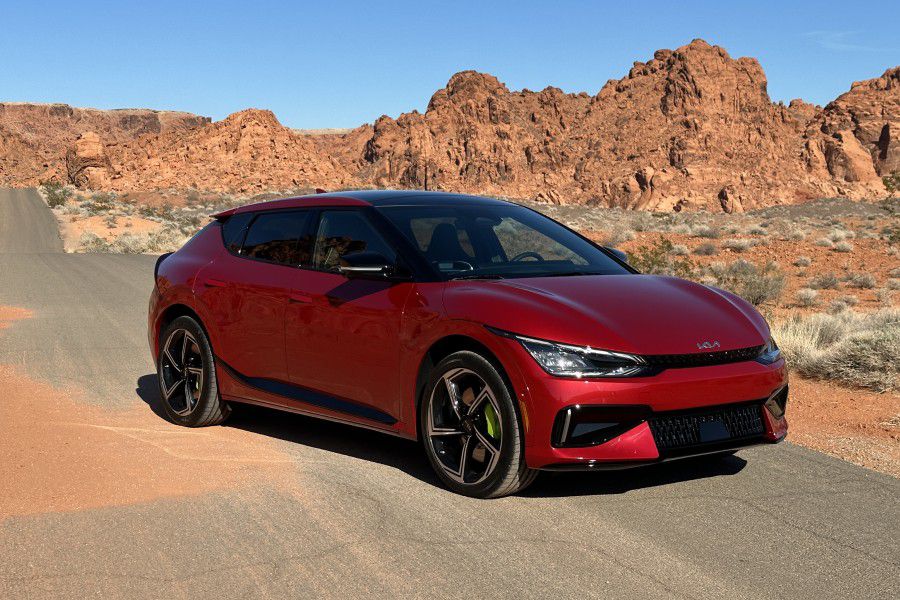 2023 Kia EV6 GT Front Quarter ・ Photo by Nicole Wakelin
The 2023 Kia EV6 GT is an all-new performance version of Kia's electric crossover. Not only is it more powerful than the rest of the EV6 lineup, but it's also the most powerful production vehicle ever built by Kia. The EV6 GT delivers aggressive acceleration and features performance enhancements that give it sporty handling that driving enthusiasts will appreciate.
That impressive performance is balanced with an open, airy interior with plenty of room for five people, premium materials throughout, and a comprehensive infotainment system. It charges quickly with the ability to use DC fast charging, and it has enough range to reduce the need to stop and charge during your day. Let's take a closer look at the 2023 Kia EV6 GT to see if it's the right performance electric vehicle for you.
The Top of the Trim Lineup
The GT sits at the top of the three-trim EV6 lineup. The base Wind has a starting price of $48,500 with rear-wheel drive or $52,400 with all-wheel drive. The mid-range GT-Line is also available with rear-wheel or all-wheel drive with pricing of $52,700 and $57,400, respectively. At the top of the heap is the new GT. It has all-wheel drive only and a starting price of $61,400.
No matter which you choose, the EV6 is a well-equipped EV with standard features including power-adjustable heated side mirrors, power liftgate, 12.3-inch TFT instrument cluster, vegan leather seat trims, and three-level heated front seats. The GT adds a more powerful electric motor as well as an electronically-controlled suspension, 21-inch alloy wheels, a unique front fascia, suede seat trims, heated rear outboard seats, and a neon GT button to engage GT mode.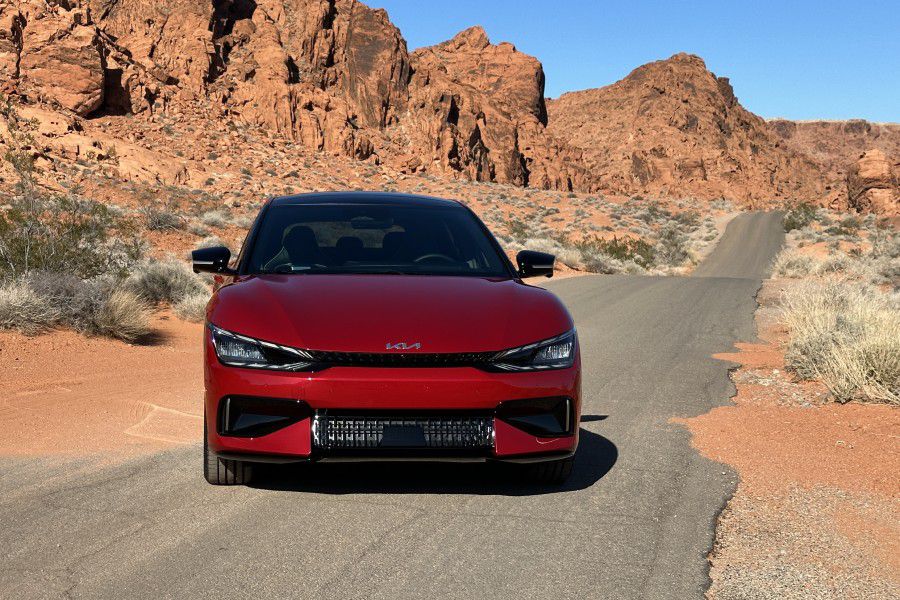 Photo by Nicole Wakelin
Exhilarating Performance
Acceleration in any EV is strong since all the torque is delivered instantly rather than building up as it does in a traditional gas vehicle. While any EV has strong acceleration, the EV6 GT is downright impressive with a whopping 576 horsepower and 545 lb-ft of torque. It goes for 0-60 mph in 3.4 seconds, which is strikingly fast. This makes getting up to highway speeds effortless. It's no trouble at all merging into heavy traffic and once at speed, a light foot on the accelerator is all you need for an extra burst of power.
There are also three additional drive modes, including GT Drive Mode. This activates by pressing a neon button on the steering wheel to optimize steering, braking, and the suspension system for a more engaging, sporty driving experience. There's also a Drift Mode for those who plan track driving.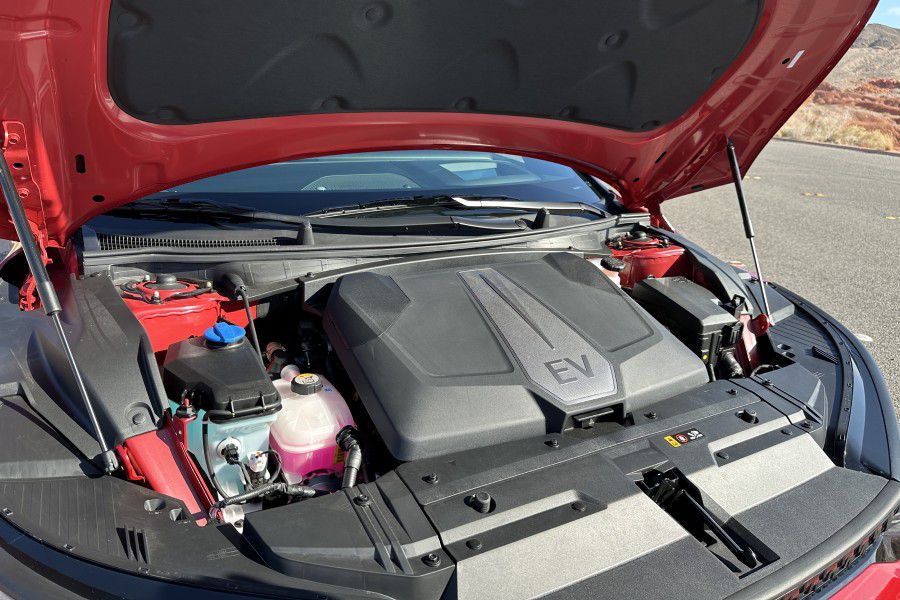 Photo by Nicole Wakelin
Sporty Handling With a Smooth Ride
It's one thing to have the power of a performance vehicle. It's something else to have the handling to manage that power. If you just want acceleration that presses you back in your seat and plasters a smile across your face on the highway, then the EV6 GT can do that for you. If you want handling to manage that power along twisting country roads or tracks, then it can do that, too.
Handling is crisp with a sport suspension system designed for more spirited driving. It includes electronically controlled dampers that maintain sporty drive characteristics without sacrificing comfort. There's also a limited slip differential that directs torque to the wheels with the most grip as well as larger ventilated disc brakes for confident stopping. A choice of GT Drive Mode, My Drive Mode, or Drift Drive Mode lets you tailor the ride to your personal style.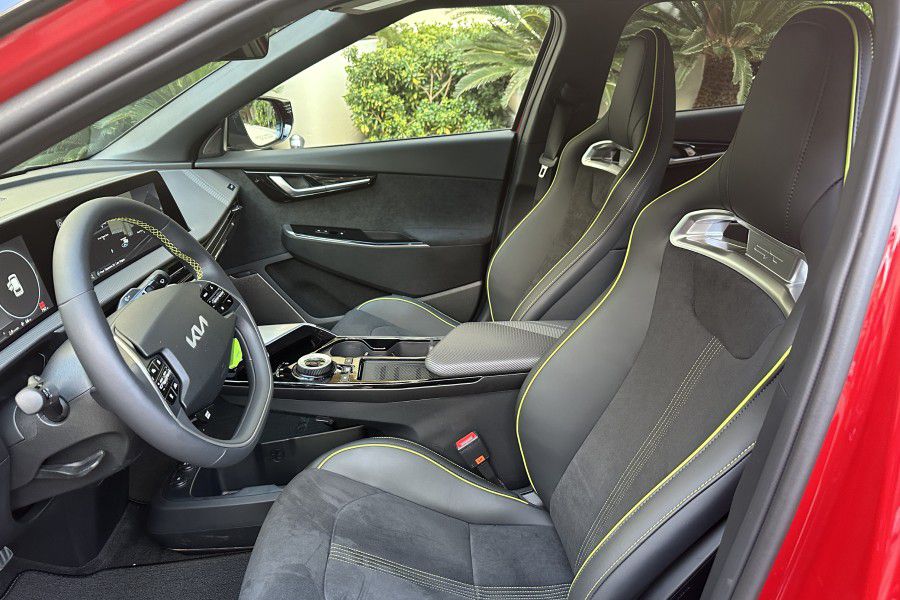 Photo by Nicole Wakelin
Plenty of Range to Keep You Going
Range anxiety worries many a potential EV buyer. Gas stations are everywhere, so chances are good there's one close enough to fill up the tank before you run out. Electrical vehicle charging stations aren't as common, especially in rural areas away from cities and major highways. The charging infrastructure is growing slowly, but the reality is that you likely won't even need to charge most EVs during the course of a typical day's driving.
The best driving range in the lineup comes from rear-wheel drive models of the Wind and GT-line, which both have a range of 310 miles. All-wheel drive takes that to 282 miles and 252 miles respectively. The GT, which is all-wheel drive only, gets 206 miles per charge. That's far more than what most people drive in a day, so can likely manage most of your charging at home.
Photo by Nicole Wakelin
How Fast Does It Charge?
Typically, an EV owner installs a Level Two charger at home. This fully charges any of the trims in the EV6 lineup in about 7 hours and 10 minutes. It's ideal for overnight charging and sets you up to be ready to go first thing in the morning. These chargers are widely available for public charging, too, but there are also DC fast chargers.
A 50-kW fast charger can charge your EV6 from 10 to 80 percent in 73 minutes. At a 350-kW DC fast charger, the battery can charge from 10 to 80 percent in just 18 minutes. That's not as fast as filling up a gas tank, but it makes managing your charging breaks easier for those times when you're on a long-distance road trip. The EV6 also comes with 1,000 kWh of free charging at Electrify America charging stations.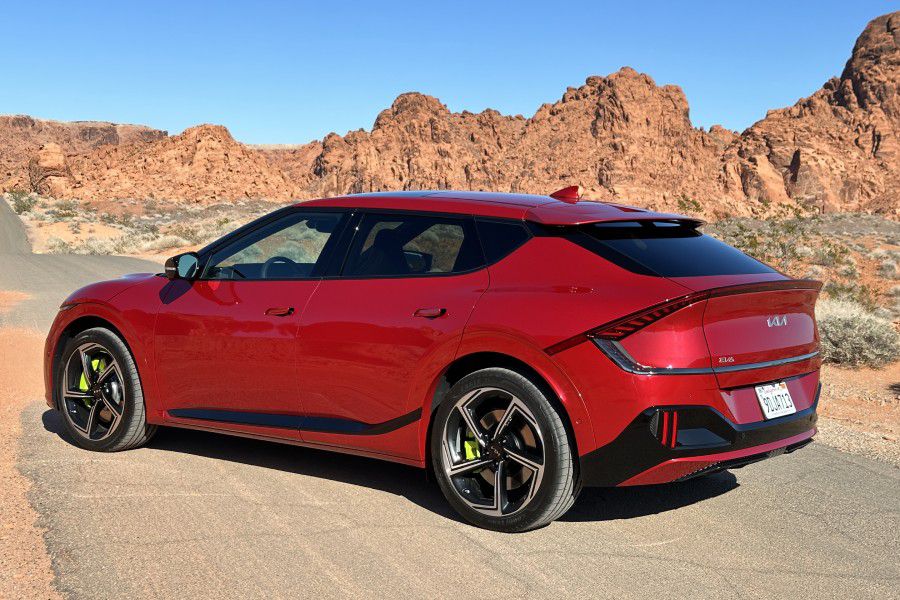 Photo by Nicole Wakelin
A Spacious Interior for People and Cargo
The EV6 is a crossover with compact dimensions that make it ideal for those who live in more congested urban environments. That doesn't mean that it has a cramped interior. It's open and air with plenty of headroom and legroom for everyone. Even those sitting in the back seat will have plenty of space to get comfortable, although three adults across does get a bit snug.
If cargo is your priority, then you'll find this crossover has a surprisingly large amount of room for all your stuff with 24.2 cubic feet behind the rear seats for cargo. Fold those seats and there's 50.2 cubic feet behind the front seats. This makes the EV6 great for carrying cargo, especially when you fold down the rear seats. The wide rear hatch and low load floor make it easier to stow heavy or bulky items, too.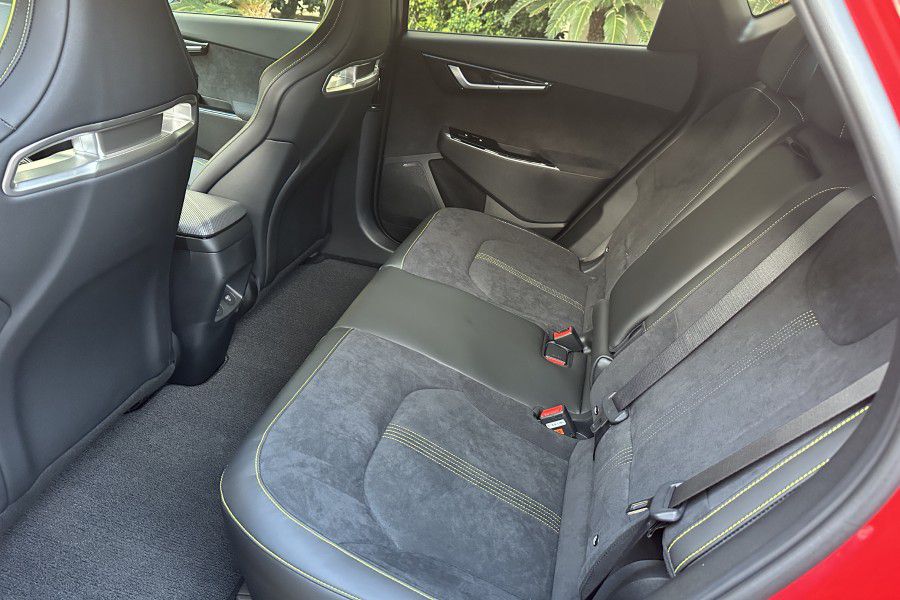 Photo by Nicole Wakelin
Infotainment With Plenty of Features
There's no shortage of features packed into the EV6 infotainment system. A 12.3-inch touchscreen is standard with Apple CarPlay, Android Auto, HD Radio, and SiriusXM. There's also wi-fi hotspot connectivity and a Meridian premium audio system standard across the lineup. It features 13 speakers and a subwoofer that deliver high-quality sound no matter where you sit. Wireless phone charging is also standard along with multiple USB ports.
There's a USB-A data port and two USB-C charging ports in the floor console along with a 12-volt power outlet. Rear passengers can also easily stay charged and ready with two rear USB-C charging ports. The system is easy to use with intuitive menus and clear crisp graphics that are quickly learned. The large screen size makes following navigation easy, and an abundance of charging ports ensures everyone stays charged no matter how long the trip.
Photo by Nicole Wakelin
Lots of Standard Safety Features
Every trim of the EV6 comes with a long list of standard safety features as a part of Drive Wise. This includes selectable drive modes of eco, comfort, sport and snow, with the GT adding in Sport, GT, and My drive modes. There's also front and rear park distance warning, blind spot collision avoidance, rear cross-traffic collision avoidance, driver attention warning, and lane keep assist.
The forward collision avoidance system includes car, pedestrian, and cyclist detection as well as junction turning to avoid multiple collision scenarios. There's also lane following assist with stop and go, navigation-based smart cruise control, rear occupant alert, and high beam assist. Optional features include remote smart parking assist, blind-spot view monitor, surround view monitor, and reverse parking collision avoidance. This extensive standard safety suite combined with several optional features that are standard on top trims make the EV6 a solid choice for the safety minded.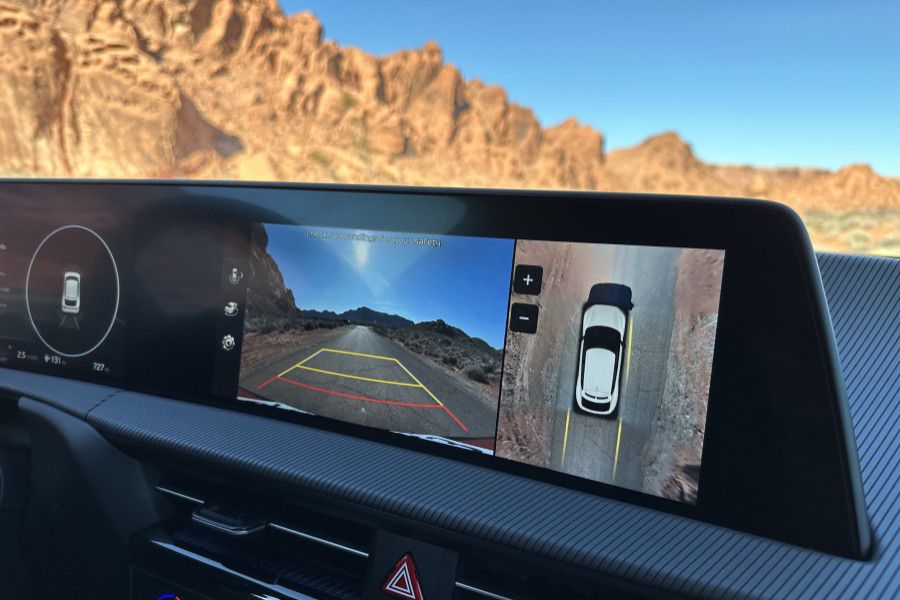 Photo by Nicole Wakelin
Final Thoughts
The 2023 Kia EV6 GT adds a performance option to the EV6 lineup. This was already a responsive electric vehicle with a good driving range, great handling, and a spacious interior that feels large despite being a smaller crossover. Solid standard safety and good infotainment as well as the ability to make use of DC fast charging increase its appeal.
The GT takes that solid base and adds stronger performance with better handling. It's a true enthusiast's EV option. It has a shorter range and higher price than the rest of the lineup, but that's a fair trade for the exhilaration of driving the EV6 GT. Those considering an electric vehicle will find this one a compelling option.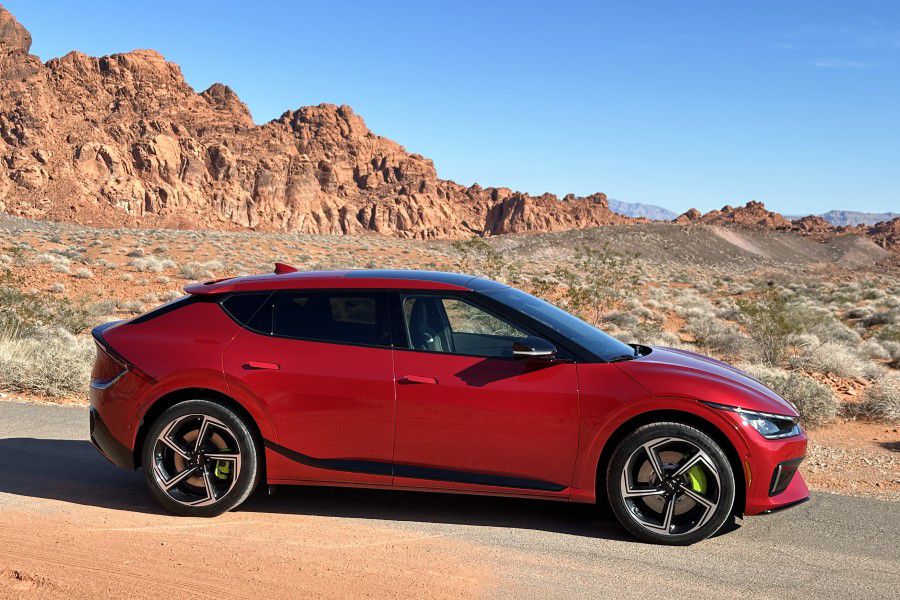 Photo by Nicole Wakelin