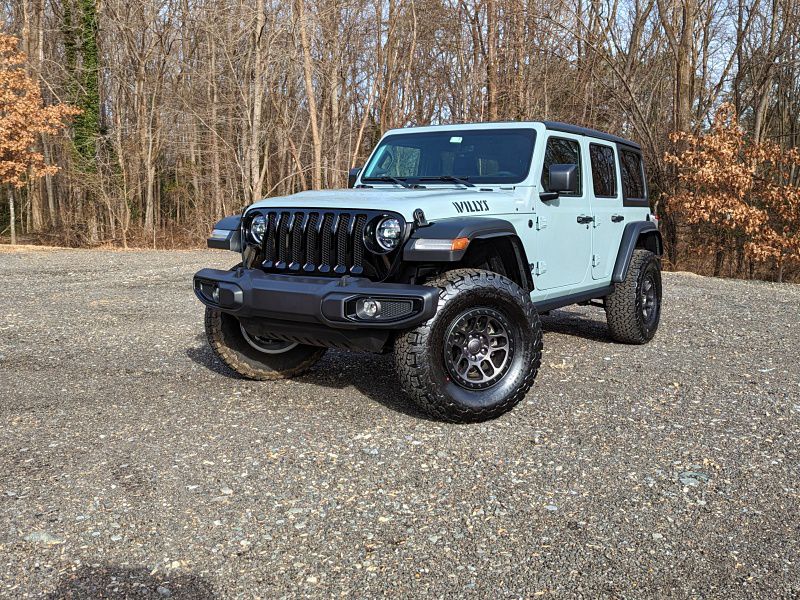 2023 Jeep Wrangler Willys ・ Photo by Brady Holt
By most objective measures, the 2023 Jeep Wrangler is a lousy car. It's easier to find other SUVs that ride and handle better, have more room inside, offer more features, get better gas mileage, earn better crash-test scores, and cost less to buy. No one would argue against the Wrangler's off-road prowess, but surely that solitary talent would relegate it to a tiny niche in America's huge SUV market. 
Not at all. The Wrangler is one of the best-selling SUVs in America. Folks love its historic Jeep styling, exemplary capability, and removable roof and doors. And it has become much more livable than past Wranglers. What's more, to Jeep lovers, its warts like clumsy on-road handling aren't drawbacks — they're marks of character in a world filled with anonymously competent crossovers. In this review, we'll explain how the Wrangler stacks up as a modern vehicle. If you're interested in the Jeep experience, read on to learn whether it seems like the right choice for you.
Wait, It Costs WHAT?
If you haven't paid much attention to the Jeep Wrangler over the years, you might still think of it as a cheerfully inexpensive basic vehicle. You can still get a two-door Wrangler with a manual transmission and crank windows, but even this costs $30,295 plus a lofty $1,595 destination charge. Air conditioning and an infotainment touchscreen are newly standard for 2023, at least. 
Most Wranglers are the four-door version (previously called "Unlimited") like our test vehicle. It starts at $34,165 with the same equipment. Start adding features and the price explodes in a hurry. Our test vehicle came with more than $23,000 worth of options (the cost of an entire Jeep Renegade crossover), pushing it to a total of $59,875 including destination. At that price, our test vehicle still didn't have leather seats, which would cost even more. And Wrangler prices can go all the way up past $80,000 with its available V8 engine. The Wrangler may still be crude for a modern vehicle, but it's easy to spend luxury-car money for one.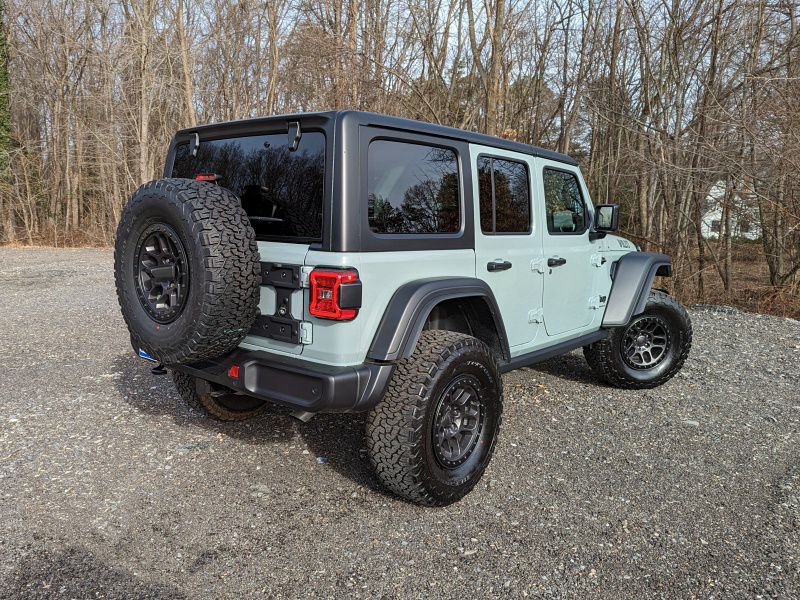 Photo by Brady Holt
Design Icon
Especially if you buy a two-door Wrangler, it's easy to see the direct lineage from the Jeep's origins as a 1940s military vehicle. The round headlights, seven-slatted grille, rear-mounted spare tire, and convertible roof live on. It's bigger than the old Army Jeeps, but a two-door Wrangler is still a subcompact SUV at just 167 inches long. And this isn't a retro reinvention; the Jeep simply hasn't changed all that much in more than 80 years.
At 188 inches long, the four-door Wrangler stretches to nearly as big as a mid-size Toyota 4Runner. But it's suffused with the same design character as the stubby little two-door classic: those big fenders, those round headlights, that blocky shape, that rear spare tire, and the removable doors and roof. You can also get it in a wide range of playful colors, further separating itself from the crossover crowd.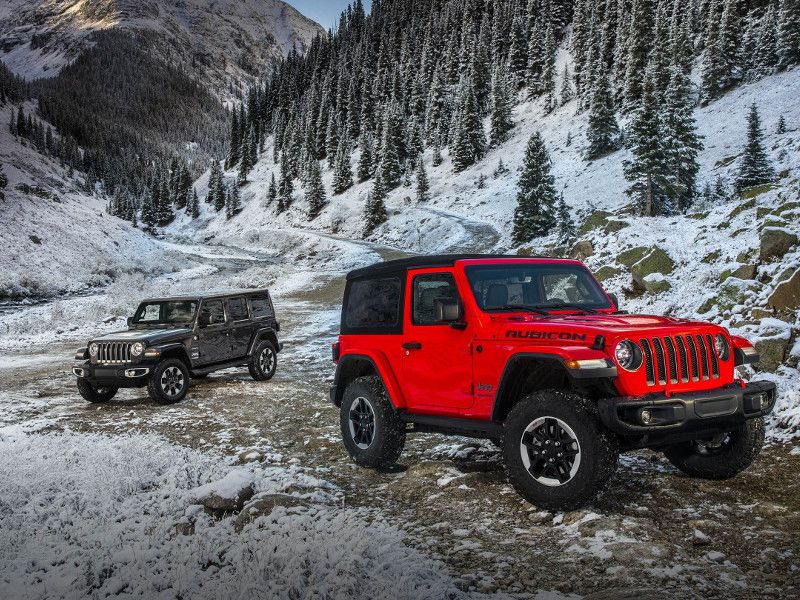 Photo by Fiat Chrysler Automobiles
Built Mainly for One Purpose
Not every Jeep owner goes off-roading. But hardcore customers represent a legitimate chunk of Wrangler sales, and everyone else appreciates the knowledge that they could climb over boulders or plow through thick mud if they wanted to. 
The need for serious off-road capability shapes everything about the Wrangler. It has a heavy-duty suspension that's built for ruggedness and flexibility, not on-road handling stability or interior space efficiency. And while many Jeep owners soup up their vehicles with aftermarket equipment, Jeep has a wide range of off-the-shelf choices, including the Rubicon trim level and our test vehicle's Xtreme Recon package with 35-inch off-road tires. However, unlike other 2023-model SUVs, the Wrangler isn't built to be easy and relaxing to drive. There's no temptation to steer with two fingers while scrolling through your phone; instead, hold on tight and slow way down for curves. Consider it frustrating or downright alarming, or consider it old-school charm. Also expect a noisy highway ride with either the standard fabric roof or the optional removable hardtop.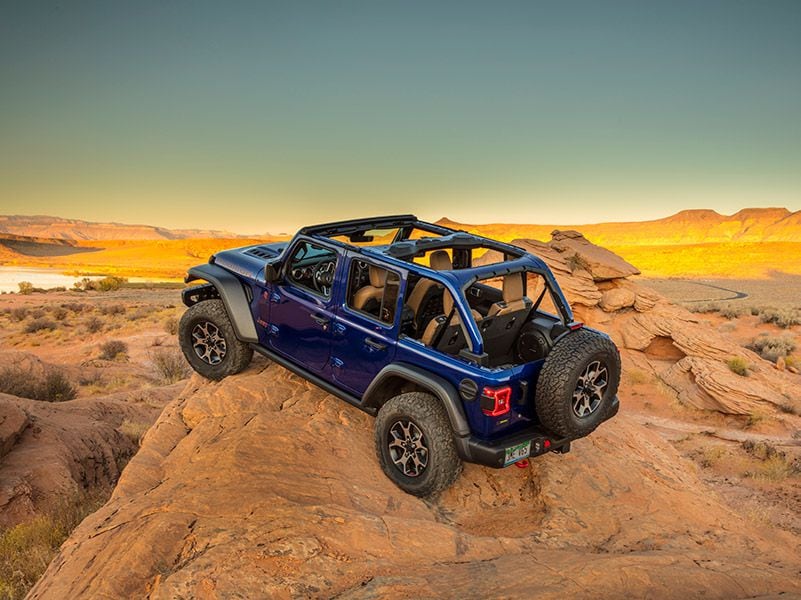 Photo by Fiat Chrysler Automobiles
But It Acknowledges Everyday Needs, Too
Despite its off-road focus, the Wrangler doesn't refuse to provide for everyday use. It rides more comfortably than you might expect. Sure, it jiggles around, and it doesn't want to go calmly in a straight line, but it hits bumps with less drama than some SUVs that are built for sporty on-road performance.
The Wrangler's dashboard is also an appealing blend of classic and modern. The skinny upright dash is like nothing else on sale today, the plastics are clearly built to be rugged rather than luxe, and you can still clean the interior with a garden hose. But Jeep now fits the Wrangler with a 7-inch touchscreen featuring Android Auto and Apple CarPlay as standard equipment, and our test vehicle upgraded to a larger 8.4-inch unit. The touchscreen and the gauges blend mud-splashed graphics with an everyday user-friendly layout. Best of all, unless you're viscerally opposed to touchscreens, these touches of civility avoid compromising the Wrangler's character.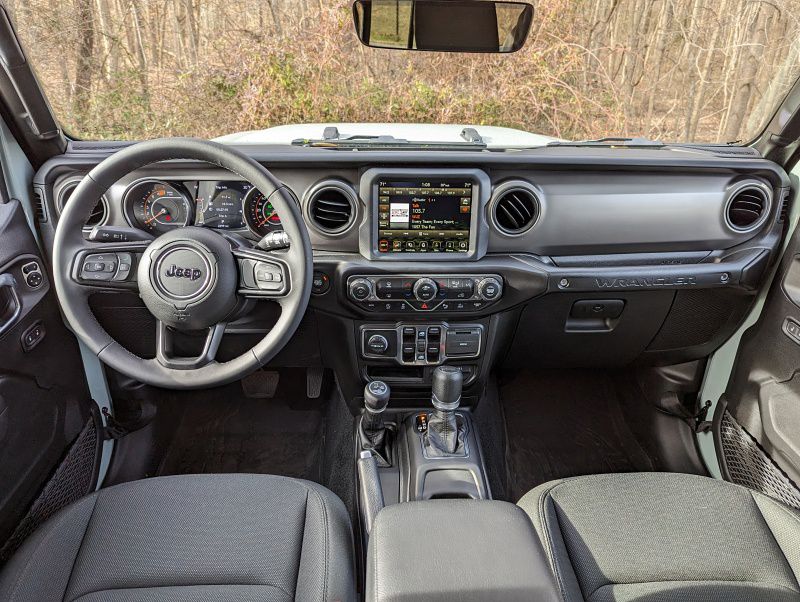 Photo by Brady Holt
Plenty of Room
The Wrangler's interior space also makes it uncommonly practical for a "fun" car. The four-door's big backseat makes it a viable choice for families, carpools, and road trips. It also has 32 cubic feet of cargo space behind the rear seat and 72 cubic feet with the rear seat folded down, similar to a Toyota RAV4 crossover. And it can tow up to 3,500 pounds. 
Sure, it's not the easiest to clamber up into the high Jeep. On soft-top models, you have to partially uninstall the rear windshield to load or unload bulky cargo. Manual seat adjustments help waterproof the cabin, but the recline is awkward to reach. And the two-door Wrangler is understandably cramped for cargo or rear passengers. But overall, this is an SUV that matches its car-like peers for many measures of everyday utility.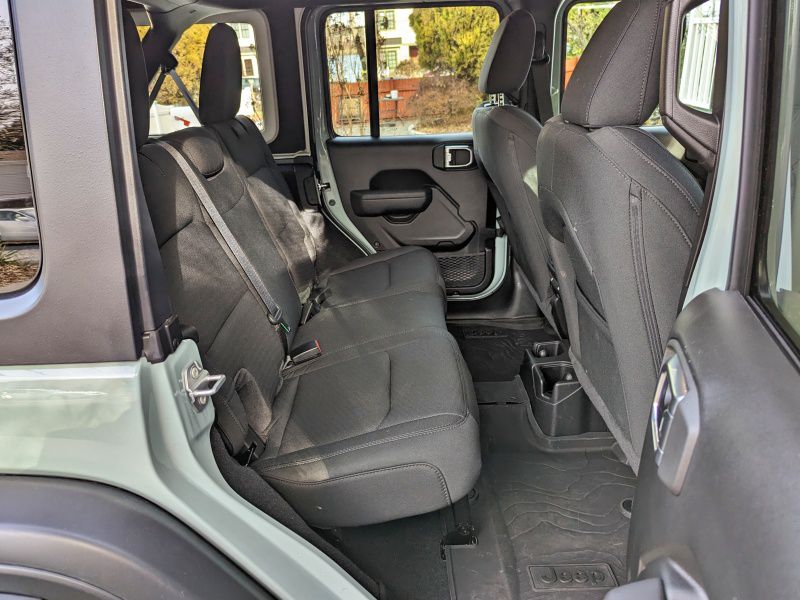 Photo by Brady Holt
Any Engine You Could Want
The Wrangler's diverse model range has grown to include five different engine options. The base engine is a 3.6-liter V6 with 285 horsepower and 260 lb-ft of torque. A widely available option is a 2.0-liter four-cylinder turbo with 270 hp and 295 lb-ft of torque. You can also upgrade to an expensive plug-in hybrid (it adds electric motors to the turbo four for a total of 375 hp and 470 lb-ft of torque) or turbodiesel V6 (featuring 260 hp and 442 lb-ft). And the top 392 trim level has a 6.4-liter V8 with an absurd 470 hp and 470 lb-ft of torque. 
We've tried all these engines, and our favorites are the four-cylinder and the diesel. Purists may find the turbo too quiet for a Wrangler, but to us, a quieter engine changes little about the overall experience — and we appreciated its quicker acceleration and better fuel economy. If noise is your thing, the diesel gets great mileage with a delightfully Wrangler-appropriate rattle. The base V6 is perfectly serviceable, too. The hybrid isn't the smoothest operator, and the V8 is simply insane, but there's a Wrangler customer who'd pick any of these five engines.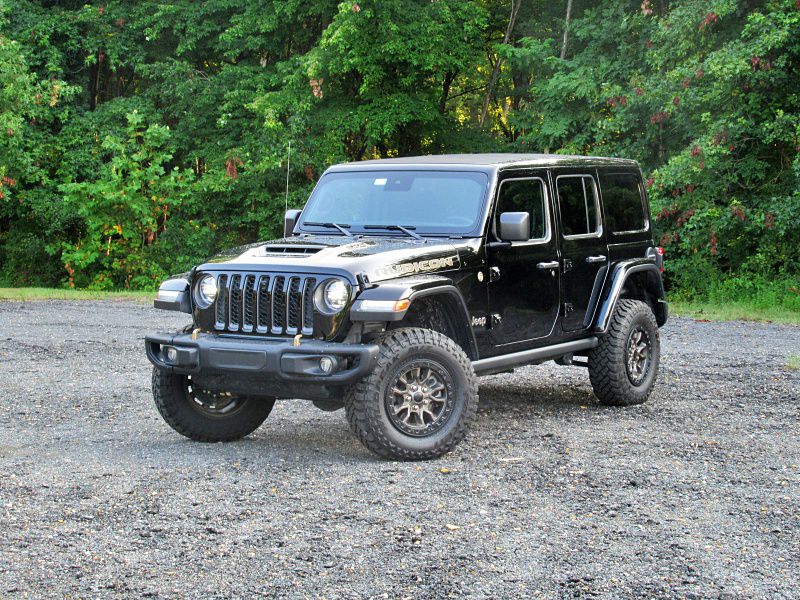 Photo by Brady Holt
Surprisingly Fuel Efficient
The Wrangler's advanced powertrains have helped bring up the SUV's once-infamous gas mileage while offering plenty of power. Mileage varies by configuration and trim level, and base V6 models are available with a six-speed manual transmission, but here's a general sense of the Wrangler's EPA estimates. 
The V6 is rated at 19 mpg in the city, 24 mpg on the highway, and 21 mpg combined. The four-cylinder improves to 21 mpg city, 24 mpg highway, and 22 mpg combined despite quicker acceleration. The diesel manages 22 mpg city, 29 mpg highway, and 25 mpg combined. The hybrid can travel up to 21 miles using only electricity but averages just 20 mpg once that range is used up. It's best for people who have short commutes in heavy traffic, where they could stay effortlessly in low-power EV mode and burn little to no gas on a daily basis. The big V8, meanwhile, travels just 13 miles on a gallon of premium fuel in city driving and 17 miles on the highway, for a combined rating of just 14 mpg.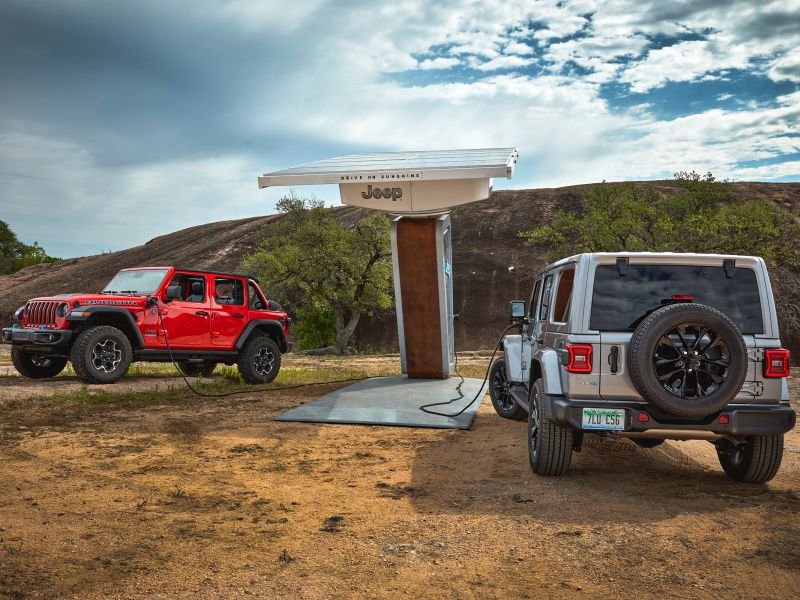 Photo by Jeep
Wrangler vs. the Competition
For most of its life, the Wrangler has had no direct competitors. These days, it faces off against the reintroduced Ford Bronco. The latest Bronco aims squarely at the Wrangler: same off-road focus, same choice of removable hardtops and soft tops, same removable doors, same choice of two- and four-door bodies, same availability of a manual transmission, and even the same round headlamps. Comparisons are unavoidable. 
Overall, the Bronco is a more civilized take on the Wrangler, with a smoother ride, more composed handling, and a higher-tech interior. From an engineering standpoint, extreme off-road capability with less of an on-road tradeoff is an incredible success. To some buyers, that means the Bronco has less character. The Jeep also has a wider range of engines and a deeper bench of aftermarket support. And as we write, Ford is still working through a backlog of pent-up Bronco demand. We'd also shop the Wrangler against the Toyota 4Runner, another off-road-ready SUV with more character than modern-sensibilities competitiveness. The Jeep has less space and costs more than the Toyota, but the Wrangler's engines trounce the 4Runner's for both power and fuel economy.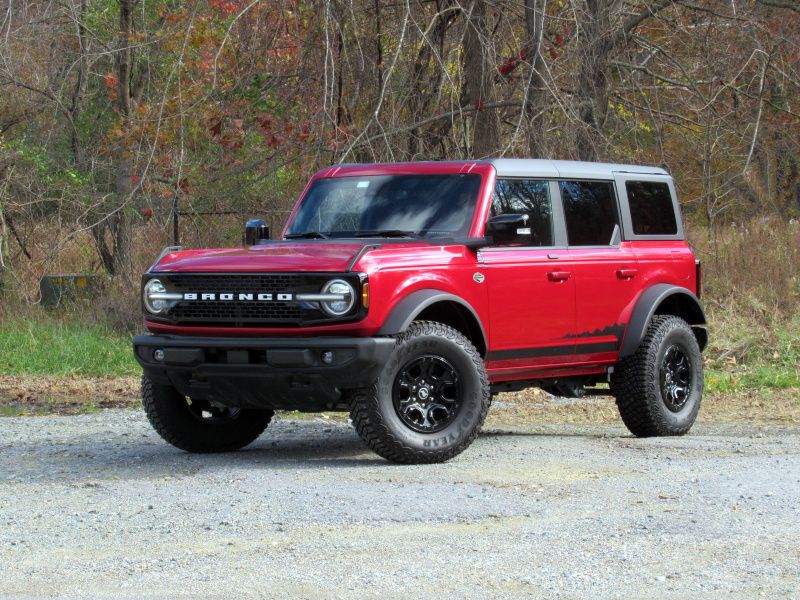 Photo by Brady Holt
It's a Jeep Thing
"It's a Jeep thing, you wouldn't understand" is a popular saying among Wrangler owners. Among other meanings, it's a way of brushing off criticism of the Wrangler's objective drawbacks. Who needs a smooth ride? So what if driving it demands your full attention? And of course it fell over on its side during crash tests; just look at the darn thing. 
Over the generations, Jeep has resisted the urge to give the Wrangler more mainstream appeal — and, ironically, that decision has protected its incredible sales success by distinguishing it from the norm. If you don't understand the "Jeep thing," you can buy a Honda CR-V (or a Jeep Compass crossover, for that matter). But if you're craving a Wrangler, that age-old flavor is undamaged by its up-to-date engines, infotainment technology, and (optional) safety features. If you aren't in love with the Wrangler and don't need to make use of its capabilities, you'd shake your head at its price tag and other myriad drawbacks. But if the classic Jeep's unique flavor spells joy to you, just be prepared for what it will cost.
Photo by Brady Holt