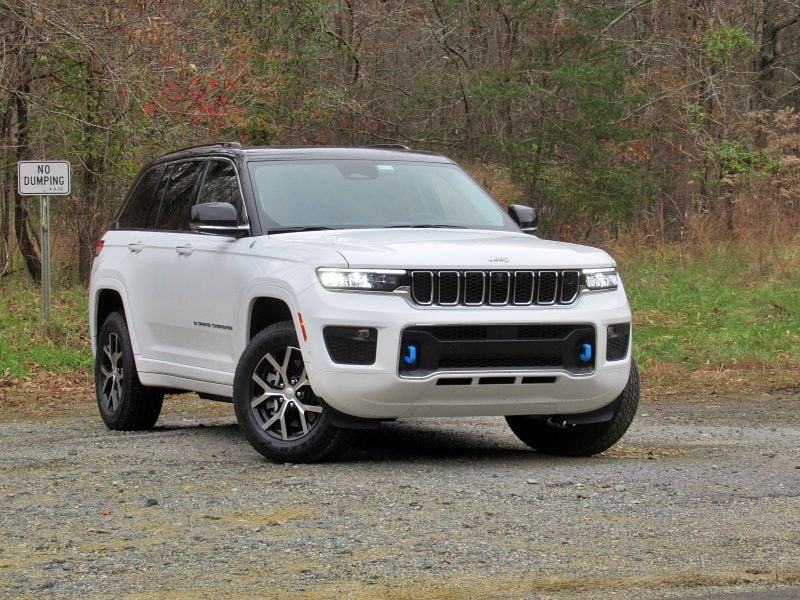 2022 Jeep Grand Cherokee 4xe ・ Photo by Brady Holt
The Jeep Grand Cherokee is one of America's best-selling vehicles, cracking the top 10 list last year. That sales success speaks to this mid-size SUV's diverse appeal, particularly after Jeep broadened the model lineup in recent years. 
With prices starting at $41,035 — higher than similarly sized SUVs from Ford, Nissan, or Toyota — the Grand Cherokee straddles the line between mainstream and luxury. And when you add all its options, including its high-end V8 engine or plug-in hybrid powertrain, its prices surge all the way into luxury territory at $80,000-plus. The 2023 Grand Cherokee not only blends high-end interior details, a smooth ride, a wide range of engines, and incredible off-road capability, but the latest model also has the option of third-row seating. To see how well those factors justify the Grand Cherokee's elevated prices, and whether it's the right SUV for you, keep reading as we break down all the pros and cons of Jeep's best-selling model.
Ranging From Mainstream to Luxury
As we mentioned, the Grand Cherokee starts at $41,035. That's for the base five-passenger Laredo model with a V6 engine. For an extra $2,000 apiece, you can upgrade to four-wheel drive or the extended-length three-row Grand Cherokee L. The Grand Cherokee Laredo isn't sparsely equipped; it includes niceties like a power driver's seat, automatic climate control, push-button starting, and driver aids that include adaptive cruise control, automatic emergency braking, lane-keeping steering, and blind-spot monitoring. But even for more than $40,000, it still has cloth upholstery and lacks a power liftgate. (Leather arrives on the $47,855 Limited model.) 
We mentioned that fully loaded Grand Cherokees can get frightfully expensive. However, the high-end Overland and Summit trim levels can go toe-to-toe with luxury-brand SUVs that can cost even more. (And Jeep is, in a way, a luxury brand itself.) We mean massaging front seats; Capri, Nappa, or Palermo leather upholstery; a 19-speaker McIntosh stereo; a night-vision system; and heated and ventilated front and rear seats.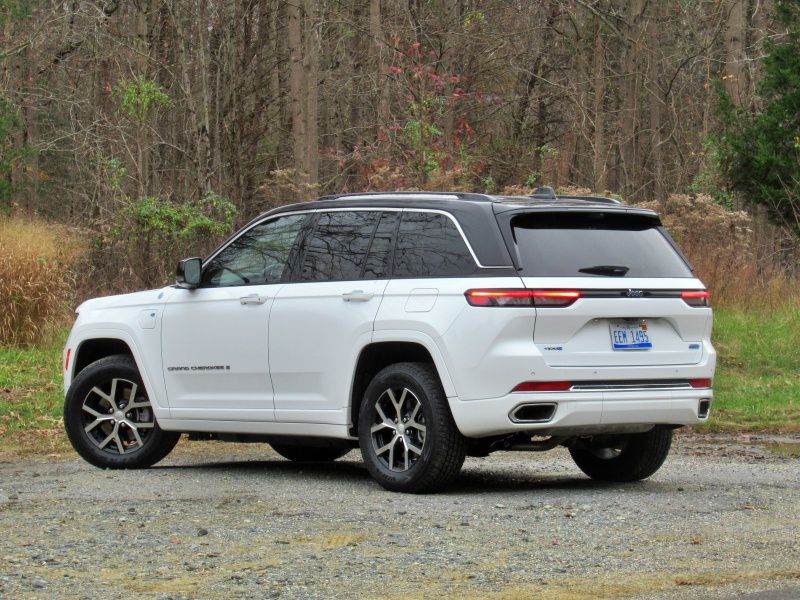 Photo by Brady Holt
Choice of Powertrains
The Jeep Grand Cherokee comes in a choice of three powerful powertrains. A 3.6-liter V6 comes standard, making 293 horsepower and 257 lb-ft of torque. It's already agreeably quick and makes a throaty roar, particularly in comparison to the growing number of four-cylinder rivals. We popped the hood of one test vehicle to confirm Jeep hadn't snuck us the V8. EPA ratings are in line with many light-duty crossover SUVs at up to 19 mpg in the city, 26 mpg on the highway, and 22 mpg combined. 
But Jeep doesn't stop there. The Grand Cherokee is one of the few mid-size SUVs still available with eight-cylinder power: a 5.7-liter V8 making 357 hp and 390 lb-ft of torque. (Jeep recently began restricting this engine to the three-row Grand Cherokee L.) Mileage dips by about 4 mpg, and the V8 engine requires mid-grade gasoline rather than low-cost regular. But the V8 will appeal to folks who'll pay extra for livelier acceleration, a more menacing growl, and an extra 1,000 pounds of towing capacity (for a total of 7,200 lbs). For Grand Cherokee fans who want both speed and efficiency, we'll discuss the vehicle's newest powertrain on the next page.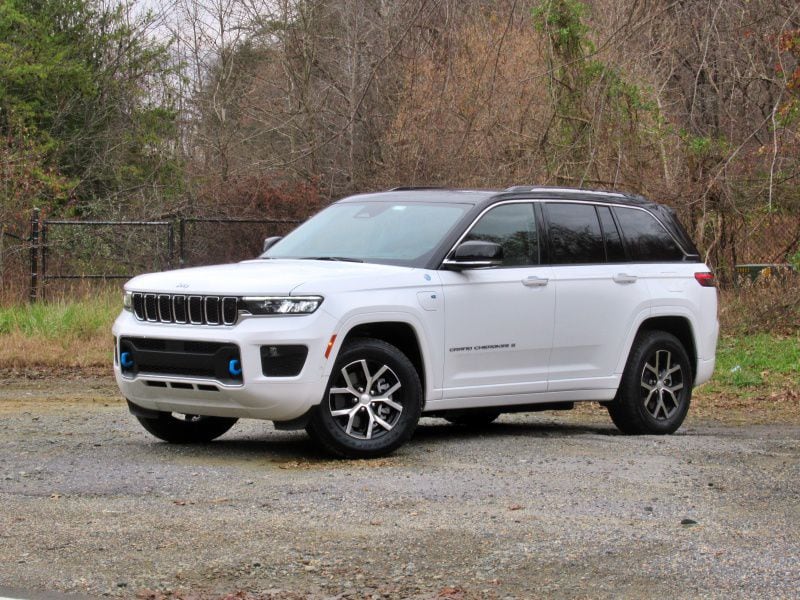 Photo by Brady Holt
Including a Plug-In Hybrid
Last year, the Grand Cherokee debuted its "4xe" plug-in hybrid model. Available only with the standard-length five-seat Grand Cherokee, the 4xe pairs a 2.0-liter four-cylinder turbo gas engine with an electric motor. The result is a combined output of 375 hp and 470 lb-ft of torque, with the swiftest acceleration of any Grand Cherokee: a sprint to 60 mph in less than 6 seconds. 
Plug in the Grand Cherokee 4xe to charge its electric battery, then enjoy an EPA-estimated all-electric range of up to 25 miles. It also averages 23 mpg once that range is used up, quite good for such a speedy SUV. However, when we tested the 4xe, we found its speed trumped its efficiency. We only managed 20 miles of electric range, and most of the time, even the most EV-focused drive mode still ran the engine extensively. And due to the 4xe's power and weight, this engine isn't very efficient. We averaged only 26 mpg despite repeatedly recharging the battery, and our test vehicle's trip computer reported an even more disappointing 23 mpg average from its previous drivers.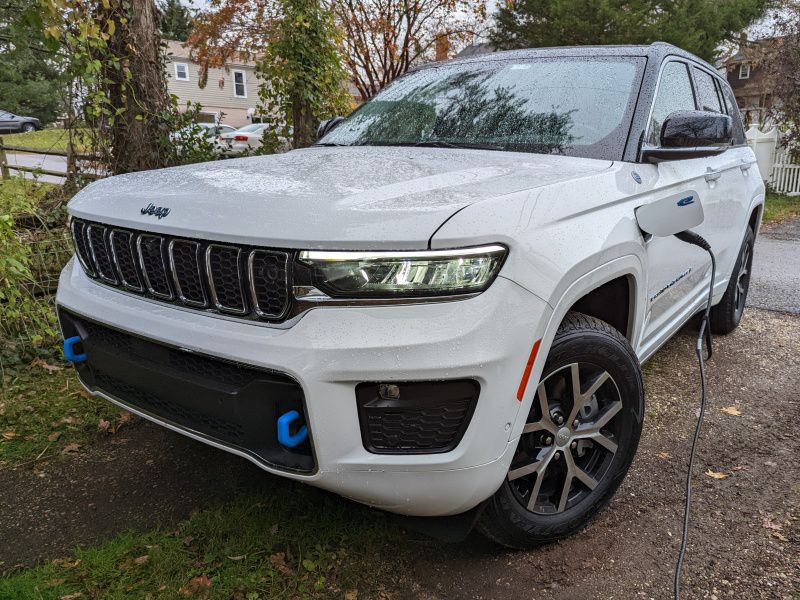 Photo by Brady Holt
High-End, High-Tech Interior
The 2023 Jeep Grand Cherokee exterior is simple and restrained. The five-passenger model has chunkier proportions versus the more stretched Grand Cherokee L, and the rear end is dressed up more with a lightbar and a "floating roof" effect. 
Inside, the Grand Cherokee reveals its hidden elegance. A thoroughly modern dashboard includes crisp digital displays and high-end wood and leather trim. You can get the leather upholstery in a variety of snazzy colors to dress things up further. An 8.4-inch touchscreen is standard equipment, while our test vehicle included the available 10.1-inch upgrade. You can even get a second 10.25-inch touchscreen that hides on the passenger side of the dash. If that sounds daunting, Jeep also provides physical buttons and knobs, and its interface is easy to understand. We found some areas where our test vehicle's interior wasn't assembled to Audi's standards, and the center console's bins didn't open and close smoothly. But the Grand Cherokee mostly lives up to its impressive first impression.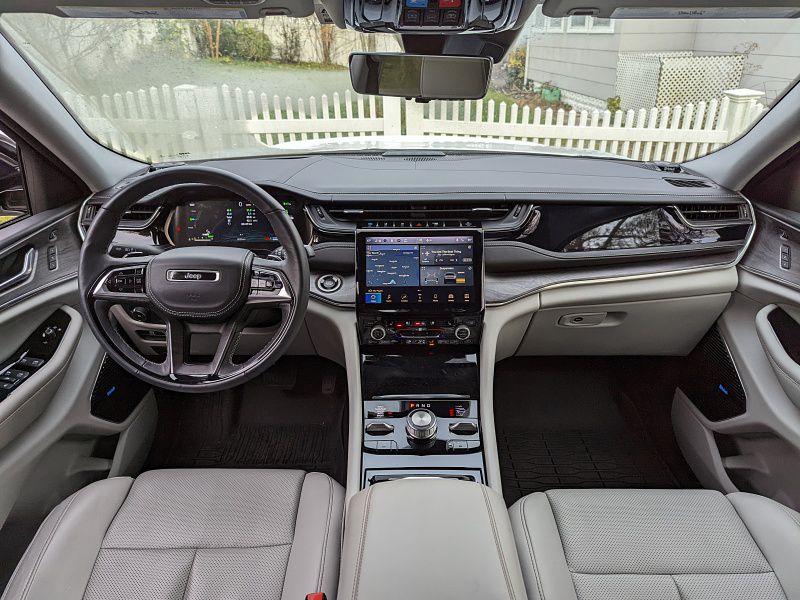 Photo by Brady Holt
Usefully Roomy Cabin
Although the Grand Cherokee has long been a popular family car, it has always offered modest cargo space for a mid-size SUV (unless you opt for the L version that we'll discuss on the next page). With 37.7 cubic feet of cargo capacity behind its rear seat and 70.8 cubic feet with the rear seat folded, has less room than smaller crossovers like the Honda CR-V, Hyundai Tucson, and Nissan Rogue. 
Still, the Grand Cherokee has enough space for most people to toss the stuff they'll need to carry. (Plus, good luck towing a heavy trailer with those light-duty vehicles.) And passengers have space to spread out in the front and rear seats. We didn't love the front seats, which looked pretty but felt awkwardly stiff to us; your impressions will vary. We appreciated that the rear seat is adult-friendly even for folks to sit three across.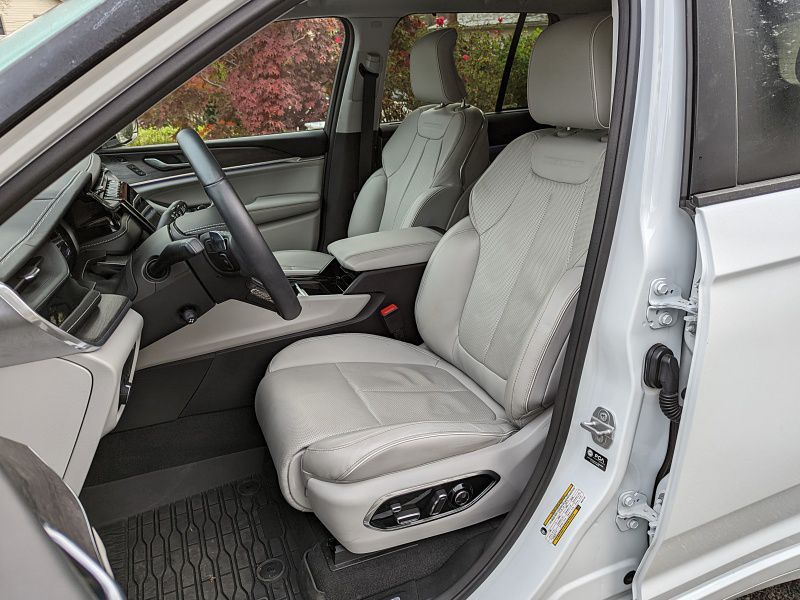 Photo by Brady Holt
Three-Row Option
Jeep waited a near eternity to offer the Grand Cherokee with seven-passenger seating, and it did so with an extended-length version. The Grand Cherokee L, pictured on this page, stretches nearly a foot longer than the two-row Grand Cherokee. 
To our eye, the regular Grand Cherokee's proportions appear more natural than the stretched model, but the L is unquestionably more useful. The third-row seat fits adults OK as long as you've slid the middle-row seats forward a bit. And cargo capacity improves to 46.9 cubic feet behind the second-row seat and 84.6 cubic feet behind the front seats. (Space behind the third row is modest at 17.2 cubic feet, but that's not too unusual for a three-row mid-size SUV.) These numbers still don't lead the class, but they're competitive with three-row rivals like the Ford Explorer, Nissan Pathfinder, and Toyota Highlander.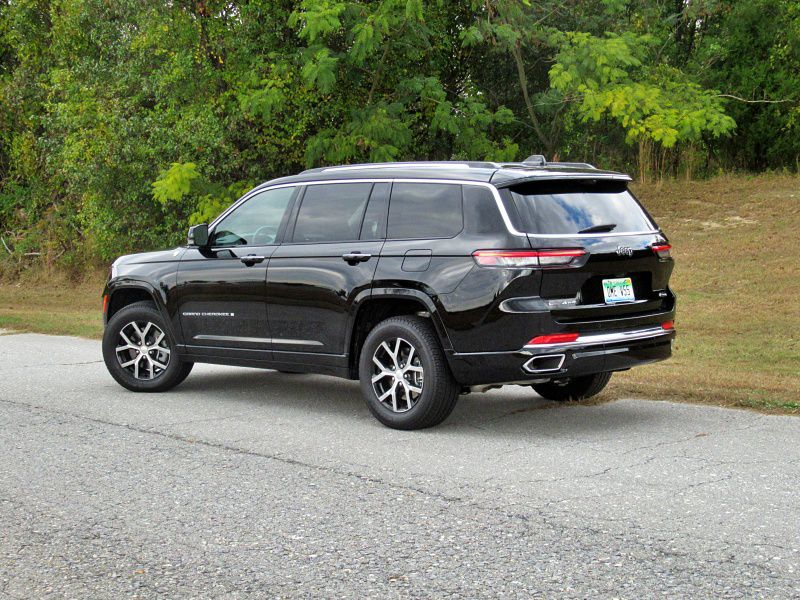 Photo by Brady Holt
Drives Well On or Off the Road
The Grand Cherokee isn't the best-driving mid-size SUV. That's understandable. Most of its competitors are light-duty crossovers that are engineered for smooth rides and agreeable on-road handling. Still, we found the Grand Cherokee comfortable to drive, with a smooth ride and decent handling limits. Expect looser steering in the bigger Grand Cherokee L version, but still nothing appalling. 
On-road decency is excusable when you factor in the Grand Cherokee's off-road excellence. This is a true SUV, not some minivan with boxier styling. A respectable 8.4 inches of ground clearance comes standard, while an optional air suspension lets you lift that up to a whopping 10.9 inches and ford up to 24 inches of water. And you can kit out the four-wheel-drive system with a two-speed transfer case and a rear limited-slip differential. The max-capability Trailhawk model is now sold only with the 4xe plug-in hybrid powertrain (letting you off-road in silence if you've charged it up), but no four-wheel-drive Grand Cherokee will struggle with ordinary off-road tasks.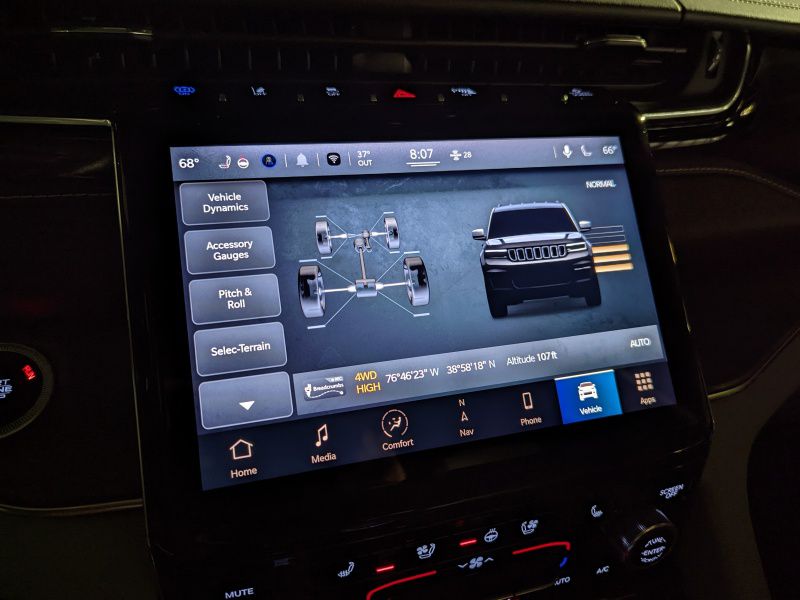 Photo by Brady Holt
Competitors to Consider
When you're looking for a mid-size SUV that can go off-road, the Grand Cherokee's top rivals include the Toyota 4Runner, Subaru Outback, and Land Rover Discovery. The 4Runner has legendary durability and a roomy interior, but none of the Jeep's panache; it's slow and clumsy, and its interior has spartan finishes. The Outback is extremely sensible and comfortable, and it can handle conditions like a muddy road or snowy day, but it's neither ultra-capable nor ultra-luxe. And while the Land Rover takes the Jeep's mix of on-road luxury and off-road talents to an even higher level, even the base four-cylinder model costs $56,600. 
When off-road capability isn't a factor in your purchase decision, the Grand Cherokee faces a broader array of excellent crossovers. A growing number of models even offer off-road-themed versions, including the Ford Explorer Timberline, Honda Pilot TrailSport, Hyundai Palisade XRT, Kia Telluride X-Line, and Nissan Pathfinder Rock Creek Edition. Any of these models, along with the five-passenger Ford Edge and Honda Passport, are among the crossovers that are objectively better at everyday SUV things. But they lack the Jeep's cool factor and extra-powerful engine options.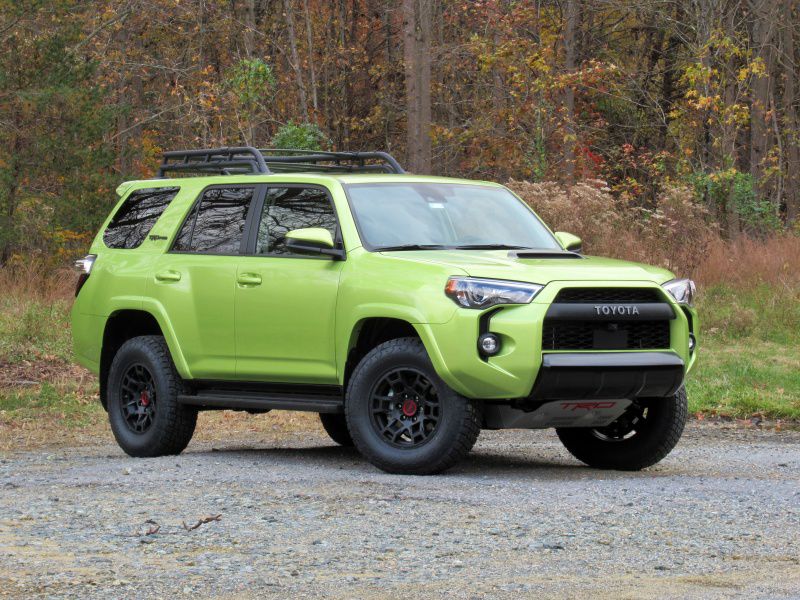 Photo by Brady Holt
Capability With Less Compromise
Many off-road machines are either crude like Jeep's own Wrangler or frightfully expensive like a Land Rover. The 2023 Jeep Grand Cherokee delivers capability with less compromise. Creating a posh, comfortable family car that can also tackle challenging off-road is an impressive engineering feat. 
If that's not your priority, you can find roomier, better-driving, less expensive rivals. After all, "less compromise" doesn't mean "no compromise." We also weren't blown away by the 4xe plug-in hybrid's efficiency, though at least as of this writing, a $7,500 federal tax credit offsets most of its price premium over the less-powerful V6. But when you do value the Grand Cherokee's go-anywhere abilities, today's model has a broad range of other talents to supplement them.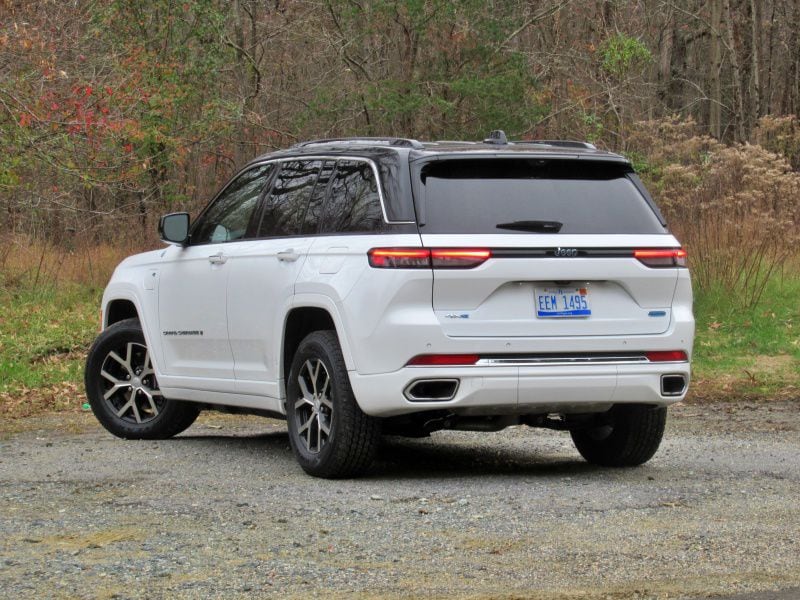 Photo by Brady Holt