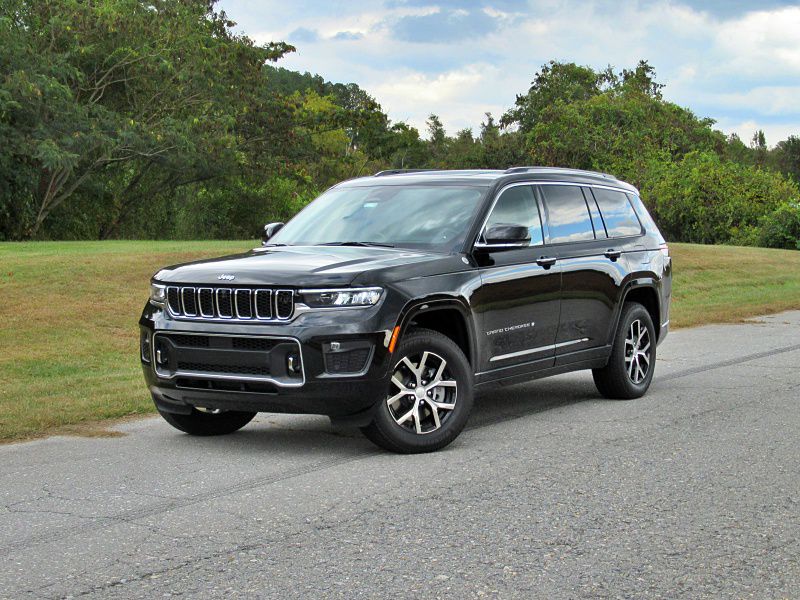 2021 Jeep Grand Cherokee L Overland ・ Photo by Brady Holt
When people buy a three-row SUV, do they really want an SUV? Today's popular models span a wide spectrum, from the entirely car-like Toyota Highlander to the old-school Toyota 4Runner. Today, we're looking at two new models that aim to land somewhere in the middle: the Jeep Grand Cherokee L and the Nissan Pathfinder. 
The Grand Cherokee L, introduced in 2021, is an extended-length version of the long-popular Jeep Grand Cherokee. For the first time, it introduced a third-row seat and extra cargo space — while also being part of the model's first redesign in a decade. The Grand Cherokee has long balanced on-road luxury with off-road capability. The latest Pathfinder, redesigned last year, is a front-wheel-drive-based crossover. Nissan had dropped any off-road pretense back in 2013, but the latest model is styled to look tougher and more luxurious. It also adds further off-road driving modes, while this year brought a heavier-duty Rock Creek Edition. For this review, we tested the Pathfinder and Grand Cherokee L so we could compare them across eight categories and then name an overall winner. Keep reading to learn which one we chose and which one is better for you.
Pricing and Features
The Grand Cherokee is something of a luxury vehicle, and that comes across in its pricing. The base Laredo L costs $43,035, compared with the entry-level Pathfinder S's $35,000. The Jeep has a couple of extra standard features — notably adaptive cruise control, lane-keeping assistance, and a power driver's seat — but Nissan provides those features (along with heated front seats) on the Pathfinder SV ($37,820). 
The Grand Cherokee L does let you go to all-out luxury decadence. As you move up the lineup, available features include massaging seats, a 19-speaker MacIntosh sounds system, ventilated second-row seats, night vision, a head-up display, and a V8 engine. You won't find those goodies on the Pathfinder. But the upgrades don't come cheap. While the top Pathfinder Platinum costs $47,970, you can push the Jeep past $80,000 when you check all the boxes.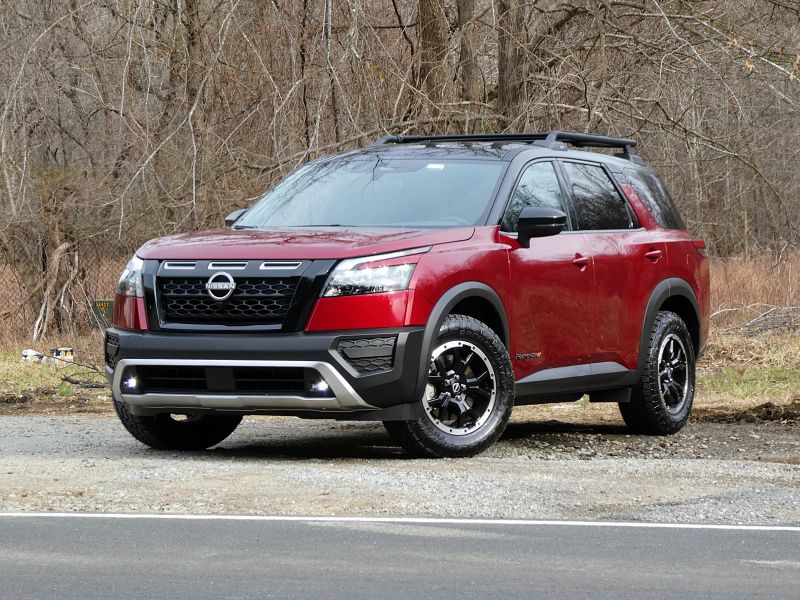 Photo by Brady Holt
Exterior Design
The Grand Cherokee L is an evolutionary update from the 2011-era Grand Cherokee. Slim rounded-off headlights bookend Jeep's classic seven-slot grille, which sits subtly atop a thick front bumper. Slim and longer taillights wrap around the back of the vehicle, and a chrome strip wraps down from the top of the side windows to below the rear windshield. The SUV's overall shape is long and boxy; at 204.9 inches, it's stretched significantly longer than most mid-size SUVs and crossovers. 
The Pathfinder is designed with more pizzazz. Nissan's grille is bordered with thick chrome, and the headlights include a narrow upper spear by the hood. Creases bulge out from the body above the front and rear fenders, in contrast with the Grand Cherokee's flatter bodywork. The Nissan looks newer than the Jeep, and at 197.0 inches long, it's chunkier rather than elongated. And the new Rock Creek Edition — with extra cladding, off-road wheels and tires, and a tubular roof rack — looks rugged. But Jeep's simpler, more timeless styling has many fans. We'll let you choose your own aesthetic winner. 
Tie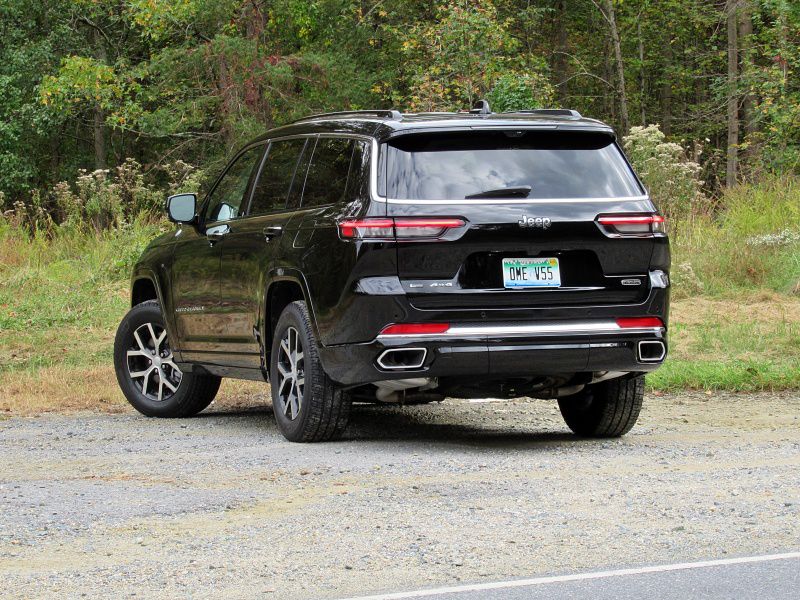 Photo by Brady Holt
Interior Design
The Grand Cherokee L's interior is designed to dazzle. Your first impression includes its elegant lines, rich materials, heavily customizable digital gauge cluster, and generously sized infotainment screen (8.4 inches on lower-trim models and 10.1 inches on most of the lineup, including our test vehicle). Still, we're going to award this category to the Pathfinder. 
Small complaints with the Grand Cherokee L added up. Our test Jeep's pretty trim pieces didn't always fit together correctly, and we were especially bothered by a sharp edge on the turn-signal stalk. The infotainment system froze up repeatedly during our test. Cruise-control adjustments obscured the gauges' selectable GPS display. The head-up display once disagreed with the in-dash navigation system about the road we were on (the screen was correct). And using the wrong button for adaptive cruise control made the car incorrectly report that it needed service. The Pathfinder was blessedly simple in comparison, yet not basic, either. Its 8-inch and 9-inch infotainment systems aren't showstoppers, true, and there's a lot of shiny black plastic around the screen. Still, the dash and door panels are nicely upholstered, and its turn-signal stalk is top-notch. And everything worked.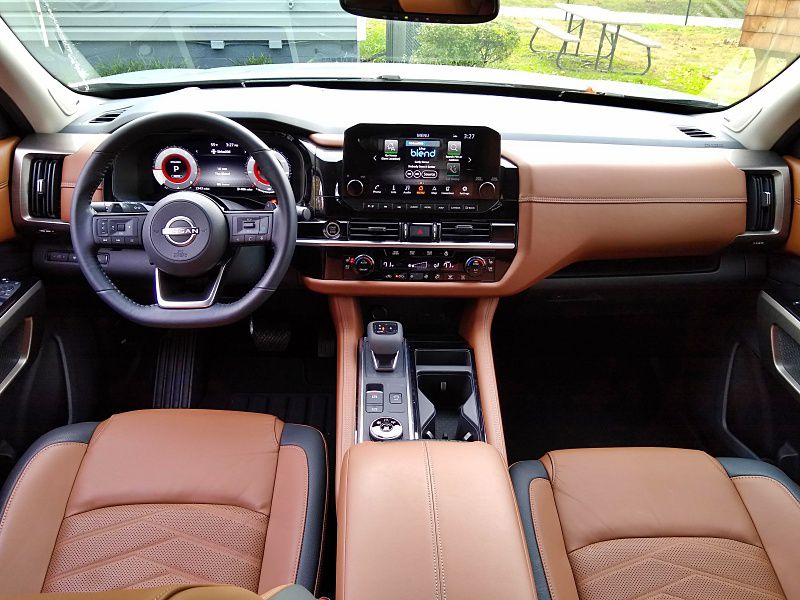 Photo by Brady Holt
Interior Space and Comfort
The Grand Cherokee L is 8 inches longer than the Pathfinder, and you feel that difference inside. Both SUVs have plenty of front-seat space, and we preferred the Nissan's cushy front seats over the Jeep's extra-firm ones. But the Jeep wins when people start getting into the back or loading up the cargo hold. The Nissan has less legroom in the second and third rows; the latter is tight even for a mid-size crossover and less accommodating than the previous-generation Pathfinder. 
For cargo, the Grand Cherokee L fits 17.2 cubic feet behind its third row, 46.9 cubic feet behind its second row, and 84.6 cubic feet behind its front seats. The Pathfinder is close but consistently behind, measuring 16.6, 45.0, and 80.5 cubic feet, respectively. The Nissan does provide an extra third-row seatbelt for a maximum capacity of eight passengers to the Jeep's seven. And it has a clever second-row seat that can tumble forward even with certain child safety seats installed (though unoccupied). But the bigger, roomier Grand Cherokee L takes this category overall.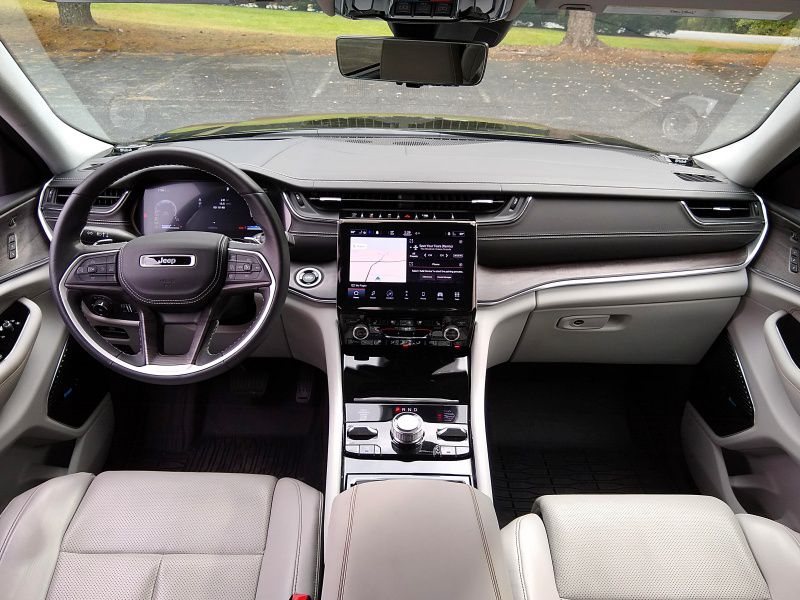 Photo by Brady Holt
Capability
Jeeps are known for off-roading, and that doesn't change with the addition of a family-friendly three-row seat. The Grand Cherokee L is available with the brand's highest Trail Rated honor if you select the Overland trim level like our test vehicle and the optional Off Road Group package. This SUV also sports an 8.5-inch ground clearance, and an optional air suspension can raise that to 10.9 inches to clear additional obstacles. It can also tow an impressive 6,200 pounds with its standard V6 engine and a mighty 7,200 pounds with its available V8. 
The redesigned Pathfinder does well for a crossover. It can tow up to 6,000 pounds, better than most competitors and nearly as much as the V6 Jeep. There are dedicated off-road driving modes for sand and mud/ruts. But the Grand Cherokee L can be a true go-anywhere machine; even if you won't take your three-row SUV on hardcore off-roading, you may appreciate this capability. And the Pathfinder, designed for primarily on-road use and sitting a sedan-like 7.1 inches off the ground, doesn't have that. Even the spiffy-looking Rock Creek Edition still packs a 7.7-inch ground clearance.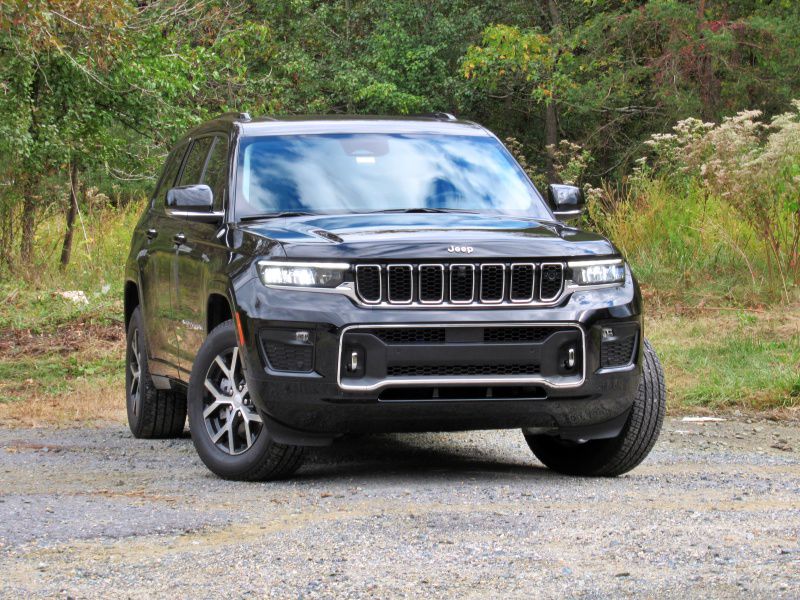 Photo by Brady Holt
Driving Impressions
Without stressing about off-roading, Nissan created a great-driving crossover for everyday use. Its tautly tuned suspension is firm without being stiff, and it helps the big Pathfinder handle with easy agility. (The Rock Creek Edition gives up a bit of crispness.) The 284-horsepower 3.5-liter V6 engine is mated to a new, crisp-shifting nine-speed automatic transmission, replacing the previous generation's unloved continuously variable automatic. The new Pathfinder feels energetic and alert, and the engine sounds rich without overpowering the conversation. You don't get the "let's get down to business" roar of a truck engine, for better or for worse; this engine would be at home in any car. 
Engineering the Grand Cherokee L for off-road excellence forced some compromises on the road. Given its capability, its ride and handling are impressive, but they just don't match the Nissan's composure. The Jeep always felt like it had some extra play in its steering and suspension, even as it provides a smooth ride and respectable handling. Its standard V6 engine does well on paper — a 293-hp 3.6-liter V6 — but it's lugging a bigger, heavier SUV. While Jeep does let you upgrade to a mighty 5.7-liter 357-hp Hemi V8, our pick remains the Nissan. 
Nissan Pathfinder
Photo by Brady Holt
Fuel Economy
The Grand Cherokee L gets respectable gas mileage for a roomy, capable mid-size SUV, at least with its V6 engine. EPA estimates are 19 mpg in the city, 26 mpg on the highway, and 21 mpg combined with rear-wheel drive and about 1 mpg less with four-wheel drive. The V8, sold only with four-wheel drive, manages just 14 mpg city, 22 mpg highway, and 17 mpg combined, and this thirstier engine also requires pricier mid-grade fuel.
The Pathfinder beats both the Jeep's engines. Most models get an EPA-estimated 21 mpg city, 27 mpg highway, and 23 mpg combined with front-wheel drive and see little all-wheel-drive penalty: 21 mpg city, 26 mpg highway, and 23 mpg combined. The AWD Platinum dips to 20 mpg city, 25 mpg highway, and 22 mpg combined, and the Rock Creek Edition's higher body and bulkier roof rack knock it to 20 mpg city, 23 mpg highway, and 21 mpg combined. We averaged 23 mpg in the Platinum and 21 mpg in the Rock Creek, while our 4WD V6 Grand Cherokee L managed just 19 mpg in similar conditions. 
Nissan Pathfinder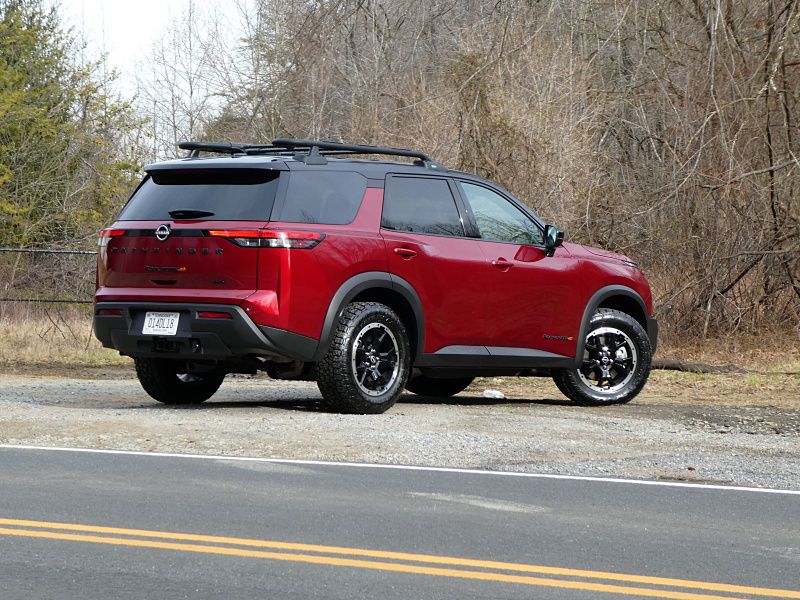 Photo by Brady Holt
Safety
The previous-generation Jeep Grand Cherokee had fallen behind newer competitors' crash-test performance. While the new Grand Cherokee L hasn't yet been crash-tested, we're confident Jeep won't make that mistake again. The company also packs this SUV with standard safety technology, including forward automatic emergency braking, blind-spot monitoring, a lane-departure warning with lane-keeping assistance, and 10 years of free collision notifications that can call 9-1-1 if you've crashed. High-end add-ons include night vision and a head-up display. 
The Pathfinder is pretty nicely loaded, too. It includes rear automatic braking, unlike the Jeep, but you have to pay extra for lane-keeping assistance. A head-up display is included on the top Platinum model, though there's no night vision. Nissan only provides a six-month trial of its own automatic collision notifications, and the feature is missing from the base Pathfinder. The new Pathfinder has done well in crash testing so far, but if the Jeep matches that performance, we're more impressed by its safety features. Until that happens, we'll call this category a tie.  
Tie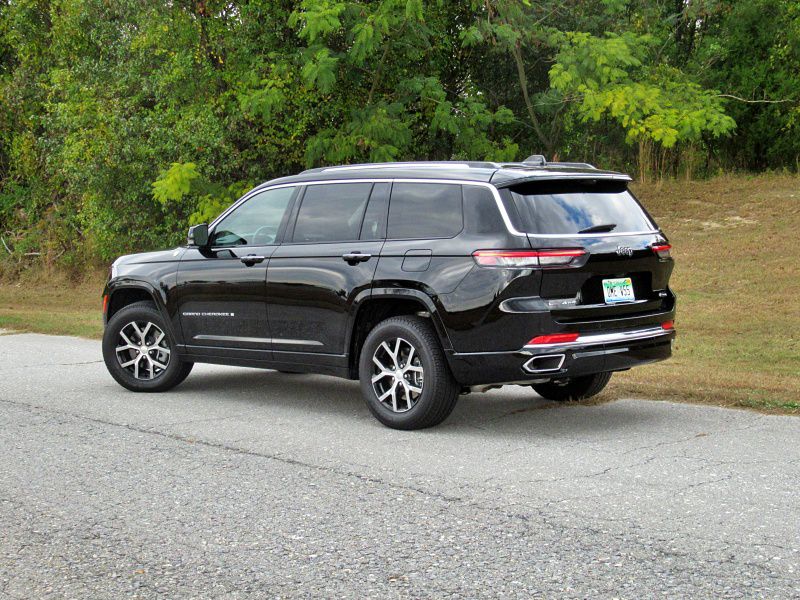 Photo by Brady Holt
Final Thoughts
When capability matters — when you want an SUV that can go off-road and tow as much as possible — the 2023 Jeep Grand Cherokee L wins. It's the SUV that does it all: It's civilized on the pavement, luxuriously finished and family-friendly inside, yet also ready to tackle tough conditions. 
But maybe instead of the SUV that does it all, you'd rather have the SUV that focuses its talents where you'll likely notice them most: affordability, fuel economy, on-road driving manners, and smoothly functioning infotainment. That's what we pick, and it's the 2023 Nissan Pathfinder. We wish a few dashboard plastics were nicer, and we wish the third-row seat had more legroom. But the redesigned Pathfinder has become a richly appointed, sharp-driving crossover. It can tow nearly as well as the V6 Jeep, and it can do as much off-road as most other competitors. The Grand Cherokee L is impressive for providing a go-anywhere off-road machine with minimal on-road sacrifices — but unless you're ready to pay up for the Jeep's capability or character, wouldn't you rather have no sacrifices at all? 
Nissan Pathfinder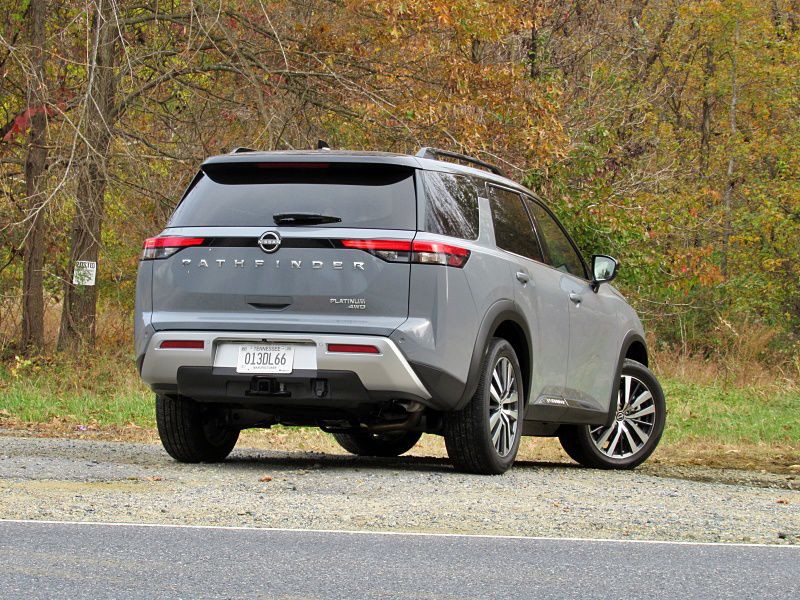 Photo by Brady Holt