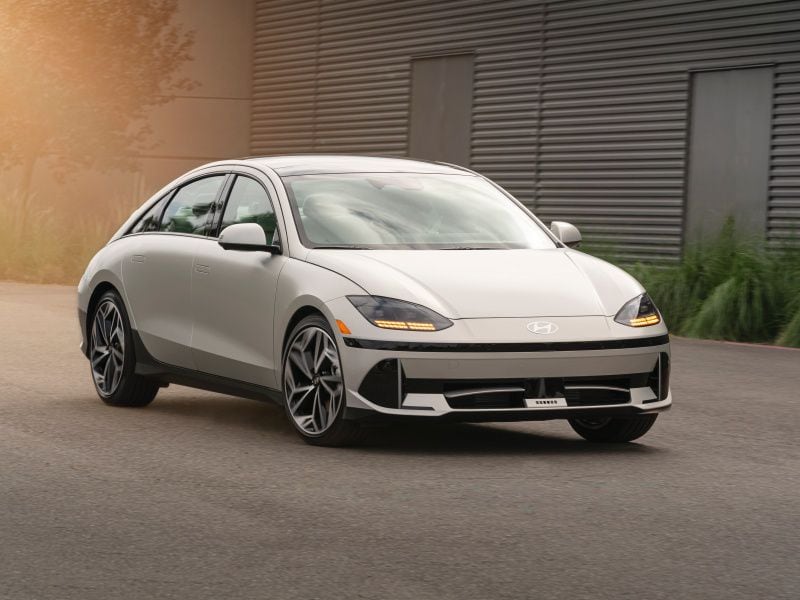 2023 Hyundai Ioniq 6 ・ Photo by Hyundai
The 2023 Hyundai Ioniq 6 is an all-new electric sedan. It has a roomy interior with a decidedly high-tech look and feel along with comfortable seats. It charges quickly so you spend less time waiting to charge up, and it has a good driving range that helps reduce the need to stop during lengthy road trips. Here are the 10 best features of the all-new 2023 Hyundai Ioniq 6.
Large Standard Infotainment Screen
A large infotainment screen is easier to use and less distracting. It's also a huge help when following complicated routes through congested city streets that can be a challenge even when you know the roads. The Hyundai Ioniq 6 has a standard 12.3-inch infotainment touchscreen, even on the base trim of the lineup.
There's also 6-speaker audio, navigation, AM/FM/Sirius XM, Apple CarPlay, Android Auto, and a total of five USB ports. All but the base trim have wireless device charging while the top trim gets an audio upgrade with an 8-speaker Bose system. While features increase as you move through the lineup, the large standard touchscreen helps the Ioniq 6 feel like a more premium offering no matter the trim level you choose.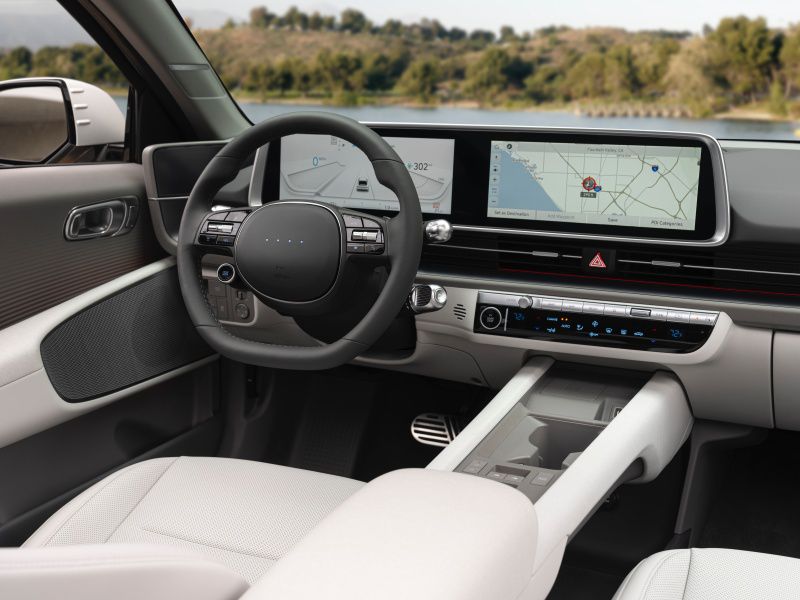 Photo by Hyundai
Digital Instrument Cluster
Once upon a time, every car came with actual dials on the dashboard and physical needles that moved up and down. While you can still find that today, increasingly those physical dials are being replaced with digital instrument clusters. The Hyundai Ioniq 6 has a 12.3-inch digital instrument cluster as a standard feature.
This shows all the usual information you'd expect, including current speed, total miles driven and miles per trip, but it also has additional information specific to only an electrified vehicle. There's a power gauge so you can see how your battery is being used as well as a charge level indicator, so you know exactly how much juice you have left in the battery. This makes planning when and where to stop easier.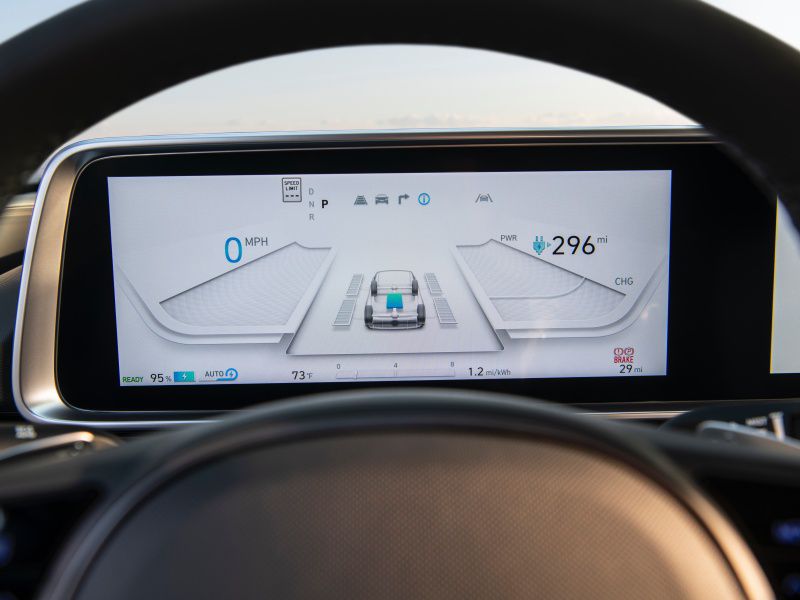 Photo by Hyundai
Available All-Wheel Drive
There's a choice of either rear-wheel or all-wheel drive cross the Ioniq 6 lineup, except for the standard range SE. While most people associate the need for all-wheel drive with snow, it's a feature that adds stability and control no matter the road conditions.
If it's rainy and the roads are wet, then all-wheel drive can help you stay in your lane during cornering or if you must suddenly brake. Even on dry roads, all-wheel drive helps anytime traction could be compromised. Those who truly don't want this feature can always go for rear-wheel drive, but it's nice that Hyundai offers it across the lineup rather than only on top trims.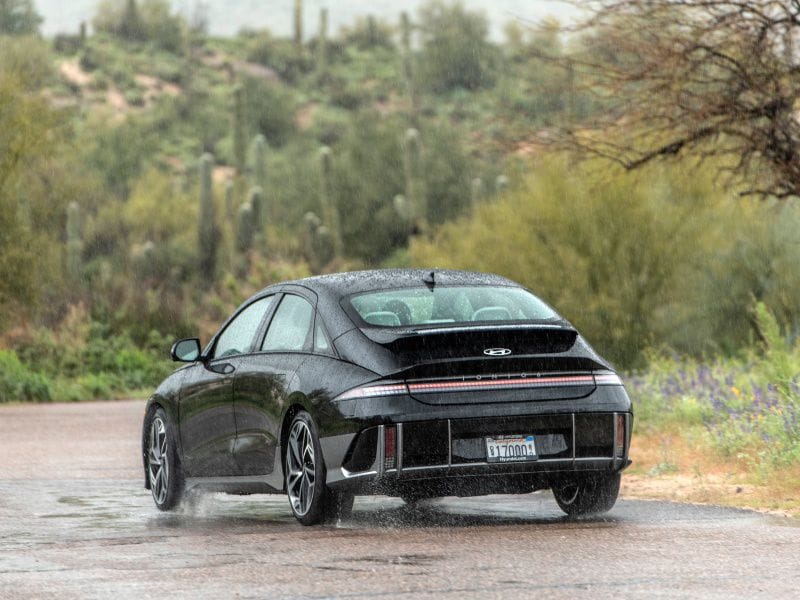 Photo by Hyundai
Lots of Power
The Hyundai Ioniq 6 has plenty of power to make it an engaging vehicle to drive no matter which configuration you choose. The standard range battery delivers 149 horsepower with 258 lb-ft of torque with rear-wheel drive only. The longer-range battery with rear-wheel drive ups those numbers to 225 horsepower and 258 lb-ft of torque.
Going with all-wheel drive offers a significant performance increase. These trims deliver 320 horsepower with 446 lb-ft of torque. It makes for an exhilarating driving experience that combines with sharp handling to make the Ioniq 6 a car that's fun to drive and not just an appliance that gets you from point A to point B without any enthusiasm. You'll enjoy your time behind the wheel of this sedan.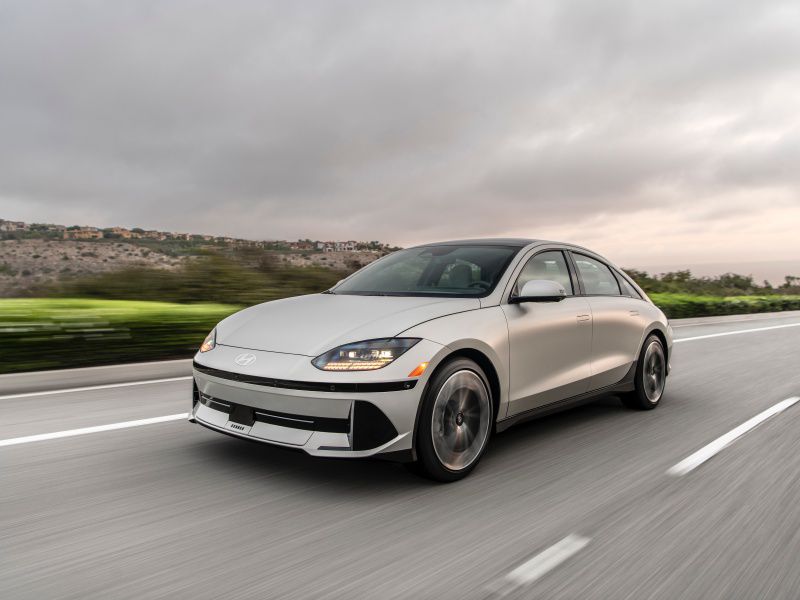 Photo by Hyundai
Budget-Friendly Pricing
The Hyundai Ionig 6 is not the least expensive electric vehicle you can buy, but it is priced affordably within the segment. The base SE with rear-wheel drive and the standard-range battery is $41,600. Standard features include an 8-way power driver's seat, heated front seats, dual automatic climate control, and a leather-wrapped steering wheel. The long-range battery brings pricing up to $45,500 while all-wheel drive takes it a bit further to $49,000.
The mid-range SEL starts at $47,700 while the top Limited comes in with a starting price of $52,600. While those top trims are not as easy to fit into more modest budgets, they're still well-priced considering the features, style, and quality of the Ioniq 6. No matter which trim you buy, you're getting an efficient and attractive electric sedan.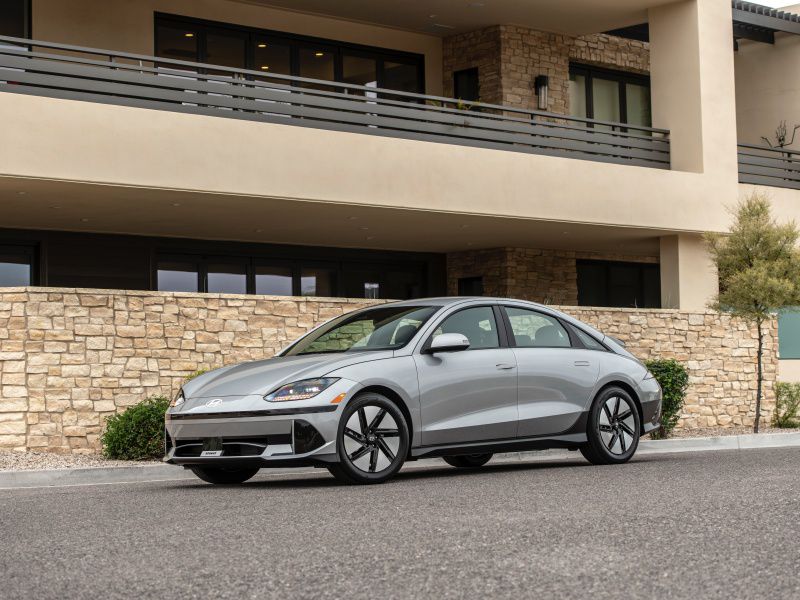 Photo by Hyundai
It Charges Quickly
While fueling up takes just a few minutes, charging up takes longer. It's something that concerns many potential EV buyers who have visions of wasting hours of their time simply trying to keep the battery charged. The good news is that charging an EV battery isn't as much of a time sink as you might think.
The Hyundai Ioniq 6 supports both 400-volt and 800-volt charging without requiring any sort of adapter. At a 350-kW charger, the batter can charge from 10 to 80 percent in just 18 minutes. Breaking it down further, in just five minutes, that can add about 65 miles of range. If you're in a rush and just need to top off the battery, that's quick enough that it won't feel that much different than filling your tank. The ability to charge quickly makes it easier to adapt to the EV lifestyle.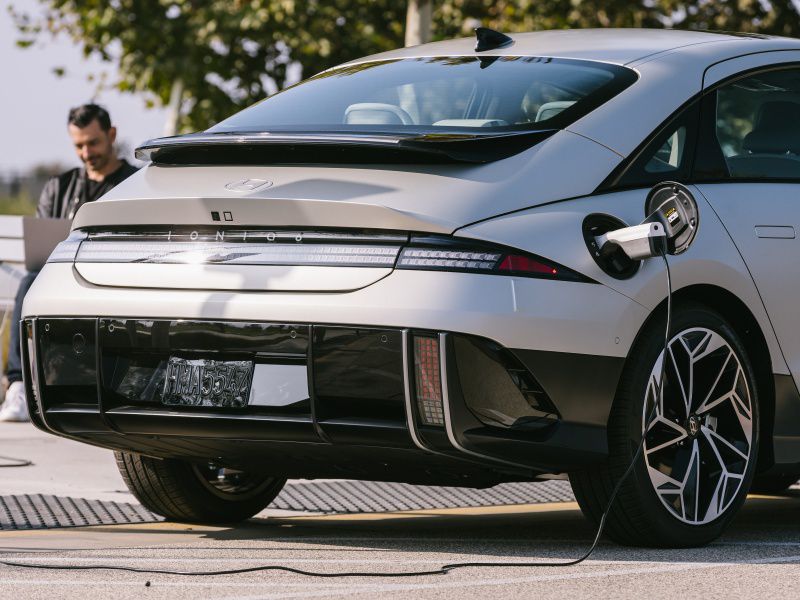 Photo by Hyundai
Reduced Range Anxiety
Along with charging speed, battery range is a top concern when buying an EV. While most EVs have more than enough range to get the average person through their day without needing to charge, longer drives are a bigger concern. The Hyundai Ioniq 6 offers a standard range battery and long-range battery. Depending on the vehicle configuration, range with those batteries varies.
The base SE with the standard range battery and rear-wheel drive gets up to 240 miles per charge, which is the lowest figure in the lineup. Add the long-range battery and that number jumps to 361 miles for rear-wheel drive and 316 miles per charge with all-wheel drive. The rest of the trim line has the long-range battery only with 305 miles equipped with rear-wheel drive or 270 miles with all-wheel drive.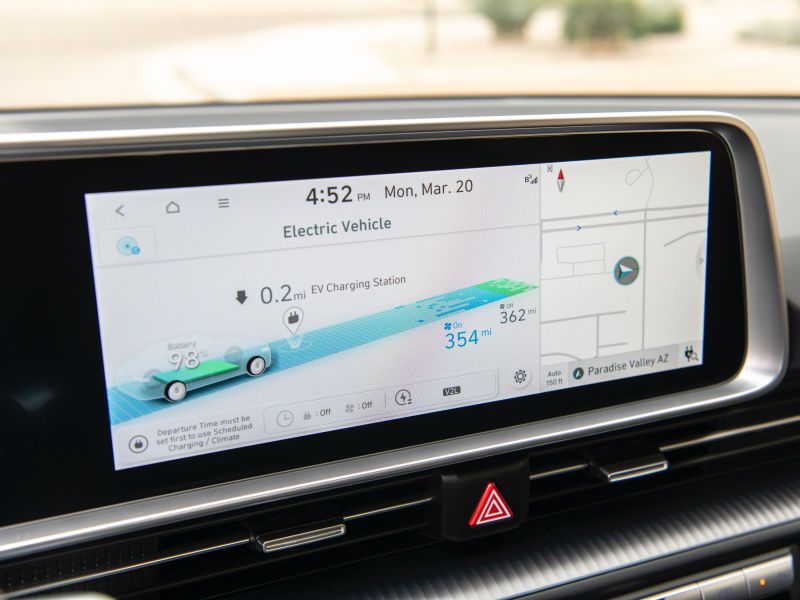 Photo by Hyundai
Expansive Interior
The interior of the Ioniq 6 is surprisingly roomy. This is a sedan, but it has the open, airy interior more commonly found in an SUV or a crossover. The vehicle platform lets the designers make the most of interior space with ample legroom so even taller passengers can get comfortable. Of note is the completely flat floor, again making it a great choice for those on the tall side.
It's also ergonomically designed to ensure passenger comfort on even the longest of road trips. This includes placing the 12.3-inch infotainment touchscreen and 12.3-inch digital instrument cluster in one long display. It's easy to reach when you need to adjust vehicle setting and easy to view with a single clean line of information for the driver so their eyes can stay focused on the road more of the time.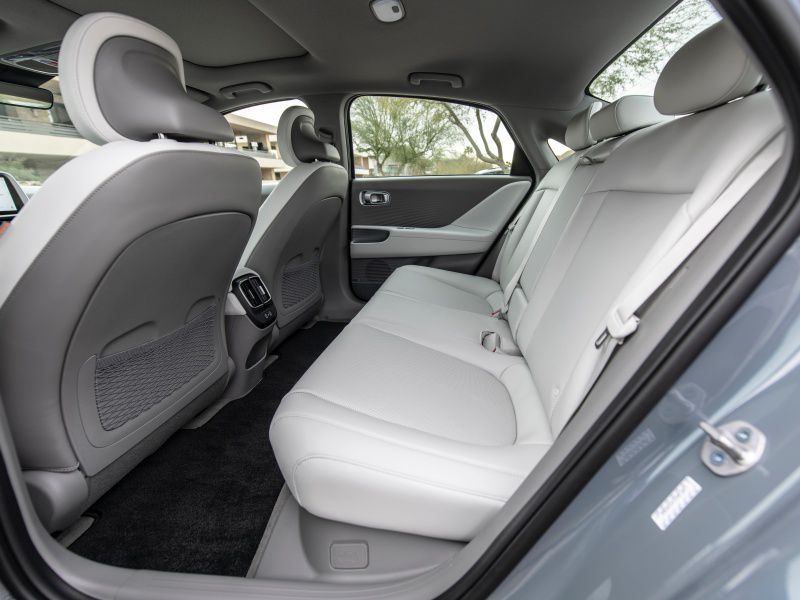 Photo by Hyundai
Focused on Sustainability
Automakers continue to make producing cars with a reduced environmental impact a priority. This includes research into new materials that are sustainable. The Ioniq 6 has a variety of sustainable materials throughout the interior that vary depending on which trim you chose. Instead of leather, there's eco-process leather that mimics the look and feel of traditional leather seats. The fabric seating surfaces, dashboard surface, and fabric headliner are all made from sustainable materials.
Even the paint gets attention. There's a bio-paint made from vegetable oils used for the doors and recycled pigment paint made from old tires used in the side cladding. Bamboo charcoal pigment paint is used on the body, and if you look under your feet, there's a Hyundai-first carpet made from fish netting. Everywhere you look, there are recycled materials that look just as beautiful as less environmentally friendly options.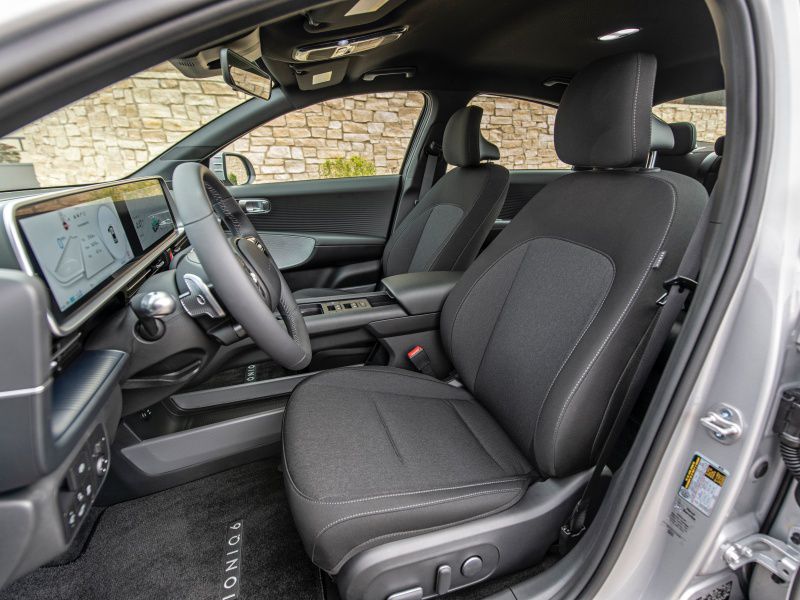 Photo by Hyundai
Two Years of Unlimited Charging
Charging an electric vehicle is generally less expensive than fueling a gas one, but Hyundai goes one step further. It offers unlimited charging for two years at Electrify America charging stations. Plug in and charge for up to 30 minutes at a time for as much as you want for two full years from the date of purchase.
This gives you access to free charging at over 800 DC fast charging stations and 3,500 individual chargers right now. That network is set to expand to over 1,800 charging stations with 10,000 individual chargers to ensure that even after the free charging period ends, you won't have trouble finding a place to plug in and charge up.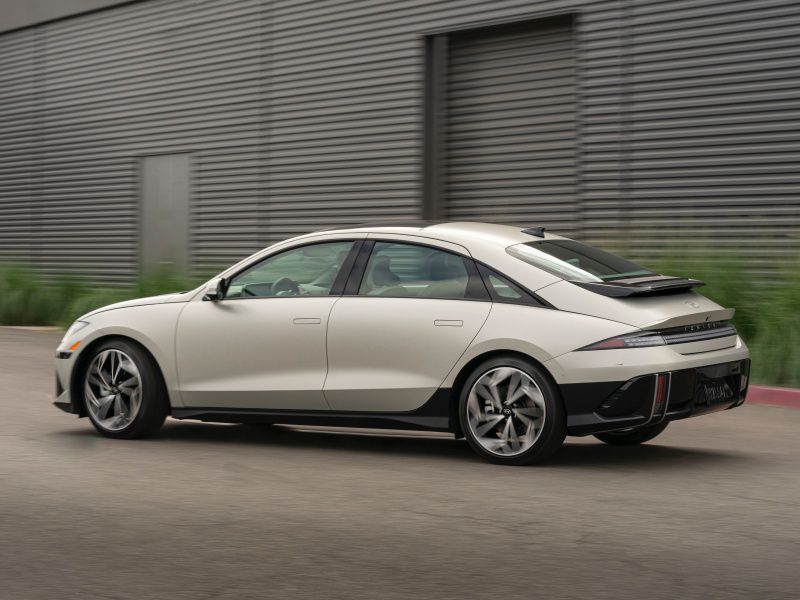 Photo by Hyundai