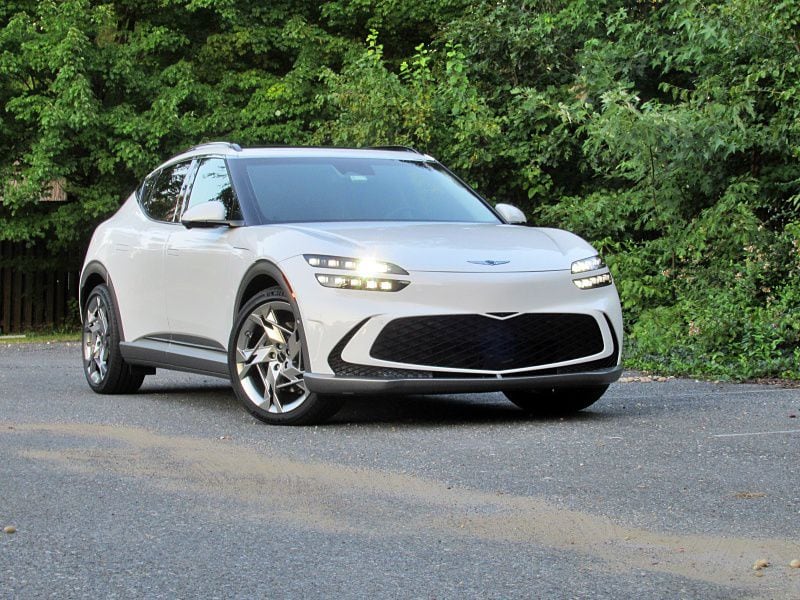 2023 Genesis GV60 Performance ・ Photo by Brady Holt
Today's all-electric vehicles are a mix of everyday cars with electric motors hiding inside unassuming bodies, and EVs that look like they've just arrived from outer space. The all-new 2023 Genesis GV60 compact luxury crossover (priced from $59,290) strikes a balance between these two approaches. It's low and sleek — shaped more like a hatchback than a bulky or rugged SUV — and it doesn't share any of its bodywork with a gas-powered vehicle. But while some lack a grille, the GV60 is styled to look more conventionally attractive. 
We spent a week testing this all-new electric SUV so we could see how it stacks up against a surprisingly large roster of high-end EV rivals. Keep reading to learn more about the GV60's pros and cons to see whether it's the right electric vehicle for you. 
The Third Take on an EV Favorite
The GV60 is a luxury version of the award-winning Hyundai Ioniq 5 and Kia EV6. These crossovers have won praise for their style, performance, and fast-charging batteries, but their prices easily top $50,000 without going all the way into pure opulence. 
That's what gives the GV60 such a natural niche. It looks nothing like its Hyundai or Kia siblings: It's smaller, more rounded, and smoothly slotted into the Genesis model lineup. It has a longer list of options and, as we'll discuss, a more premium-grade interior. What's more, the GV60 isn't even much more expensive than a lavishly equipped EV6 or Ioniq 5, especially if your local Kia or Hyundai dealer is demanding steeper markups than Genesis.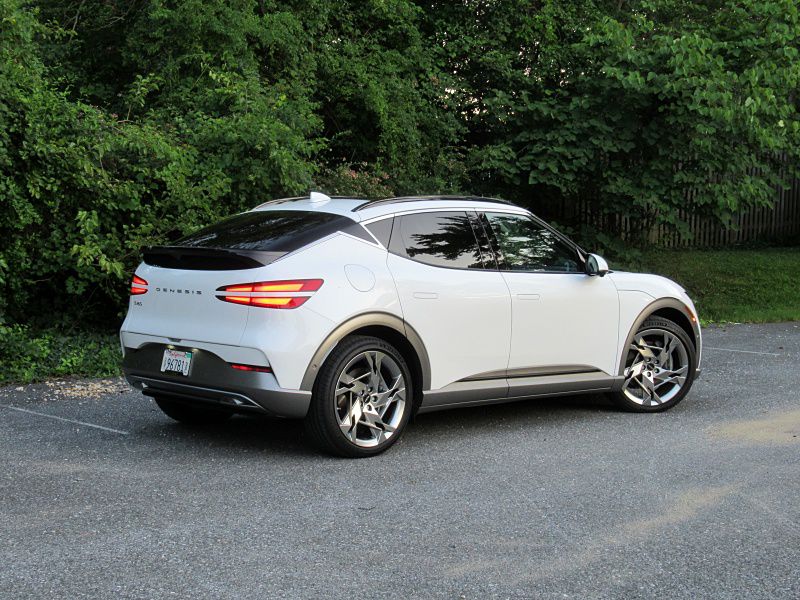 Photo by Brady Holt
The Trio's Poshest Interior
The GV60's biggest upgrade over its siblings is the interior quality. We have no complaints about the others, but the Genesis brings richer materials and a more genteel design. It also has some exclusive tricks. Turn on the car, and an intricately lit glass ball between the front seats flips over to reveal a rotary shifter. That comes in handy when you're using the GV60's other gee-whiz trick: biometric entry and starting. Facial recognition unlocks the doors, and a fingerprint sensor starts you up once you're inside. The shifter's pivot lets you know you passed the test. You can also use a paired smartphone or a keyfob to drive your GV60. 
We also appreciate the GV60's ergonomics. While some EVs reject simple buttons and knobs as old-fashioned clutter, they do work. While they're not the simplest we've ever experienced, we're just glad to have a volume dial we can adjust by feel without looking away from the road. And this interior is also heavily digital. A reconfigurable 12.3-inch gauge cluster shares a glass panel with a central 12.3-inch touchscreen infotainment system, while a separate climate-control touchscreen (flanked by physical buttons) sits below.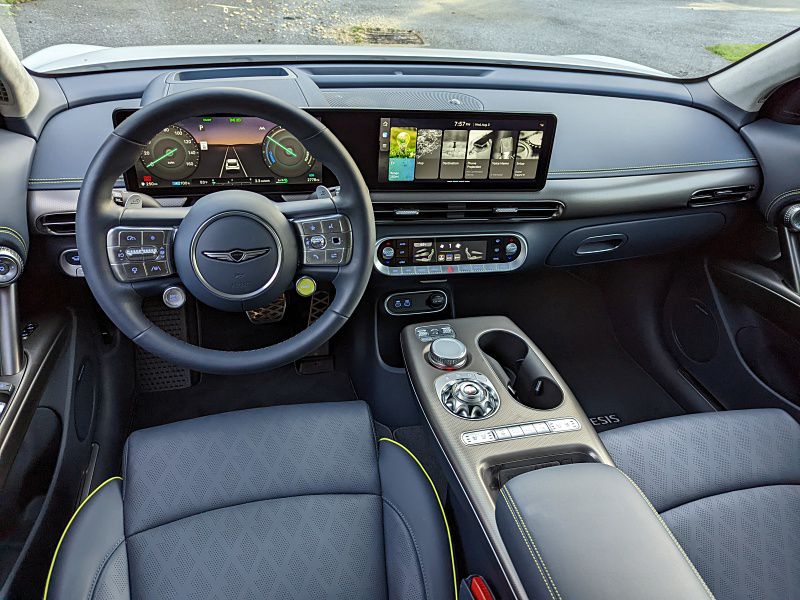 Photo by Brady Holt
Reasonably Roomy
The GV60 is a bit smaller than its cousins from Hyundai and Kia, slotting below an upcoming electric version of the Genesis GV70 crossover. The GV70 is a taller, roomier SUV than the more hatchback-like GV60, but even the latter has a useful amount of room. The front seats are comfortable, and we didn't mind the rear despite limited foot space under the front seats. (The Ioniq 5 and EV6 are roomier, and the Tesla Model Y is even more so.) A flat rear floor helps, too. 
For cargo, the GV60 fits a useful 24 cubic feet behind its rear seat and 55 cubic feet with the rear seat folded down. A tiny 0.7-cubic-foot front trunk (frunk) lets you stow a few small items under the hood. There's also excellent cabin storage, including the flexibility of an open space below the center console. And it can tow up to 2,000 pounds.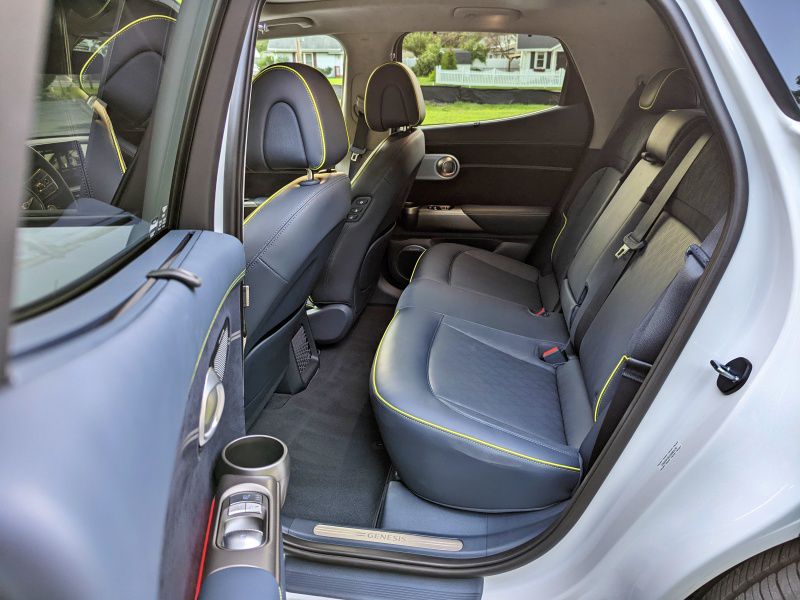 Photo by Brady Holt
248 Miles per Charge
Some high-end EVs are in a race to maximize range. The GV60 doesn't quite keep up with an EPA-estimated range of 248 miles on the base Advanced model (averaging the equivalent of 95 miles per gallon) and 235 miles on the more powerful Performance (which gets 90 MPGe). We beat those numbers in our Performance test vehicle with an estimated 261 miles and an exemplary 118 MPGe. 
The GV60's range is enough for nearly anyone to commute and run errands without having to worry about running out of charge, but it's not perfect for a road trip. That's where another GV60 trick comes in. If you find the right charging equipment, the GV60 is one of the fastest EVs to charge. Using an 800-volt fast charger, you can bring the battery from 10 percent to 80 percent in as little as 18 minutes, which means you could take a road trip with minimal delays. More common 240-volt car chargers will fill up a fully depleted battery in about seven hours.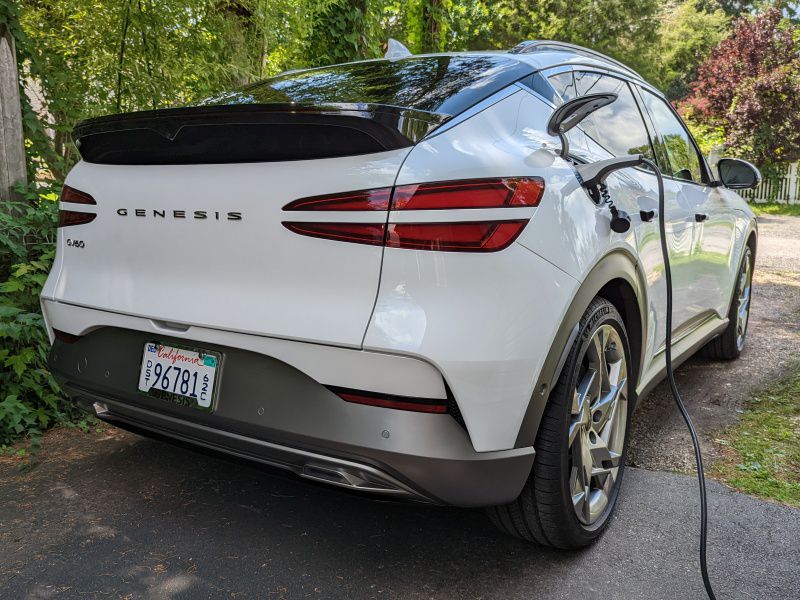 Photo by Brady Holt
Super Speedy
One way to cut into those range estimates in a hurry is a yellow button on the steering wheel. It's called Boost Mode, and Genesis says it lets the GV60 Performance rip to 60 mph in 4 seconds flat. Some independent testers have done even better. Boost Mode lasts for 10 seconds at a time, which is more than you'll need to reach an insane speed. 
The GV60 Advanced makes 314 horsepower and 446 lb-ft of torque, while the Performance ups the horsepower to 429 (with the same torque). Boost Mode brings those figures to 483 hp and 516 lb-ft. Even in its regular modes, the GV60 is quick enough to slam you back in your seat and take your breath away, all without making a scene like a snorting V8 engine. If you're not a speed demon, don't worry; the GV60 is as easy to drive slowly as it is to drive fast. You'll just appreciate its reserve power when you need to merge into fast-moving traffic.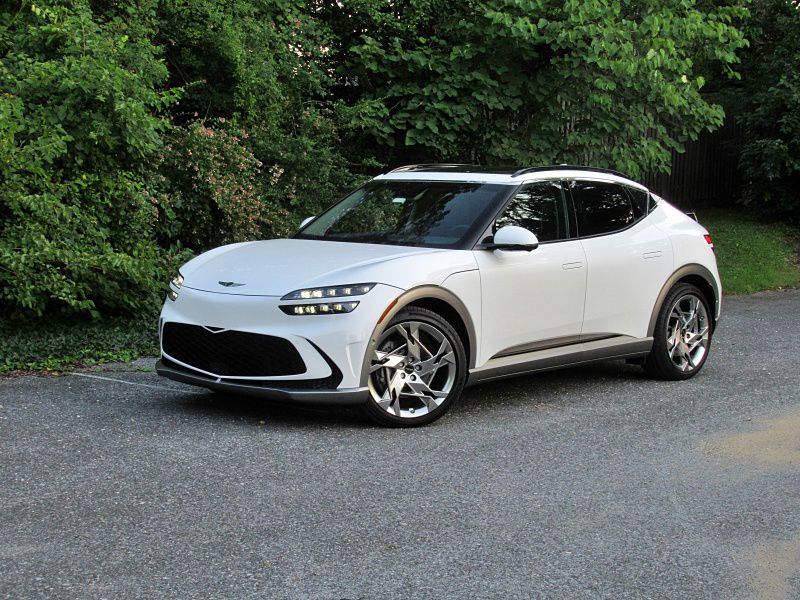 Photo by Brady Holt
Smooth Yet Agile
The GV60 has a well-tuned suspension that gives it both agile handling and a smooth ride. An EV is naturally quiet, but the GV60 has an overall sense of polished sophistication that's missing from a Tesla Model Y. It's comfortable for the daily grind, yet it also has the poise to tackle a winding back road. The steering isn't the sharpest you'll find, but especially if you consider the GV60 an SUV, it's a lively dance partner. There's even a selectable Drift Mode. 
One nifty trick that helps out the ride quality is an available camera-assisted adaptive suspension. The GV60 scans the road and prepares the suspension automatically for any bumps. It softens up the tune to take off the edge from a pothole or manhole cover, then firms back up to be ready for a hairpin turn.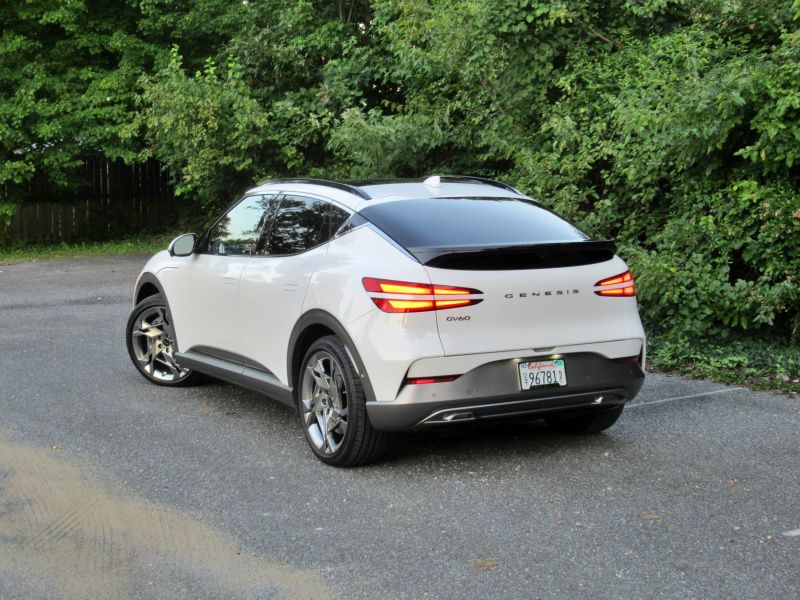 Photo by Brady Holt
Long List of Amenities
While its base price of $59,290 seems high for a small SUV, the 2023 Genesis GV60 offsets that with a long list of standard features. These include genuine leather upholstery; heated, ventilated, and 14-way power-adjustable front seats; a heated steering wheel; a 17-speaker Bang & Olufsen stereo; GPS navigation; a panoramic roof; adaptive cruise control; a surround-view parking camera; a blind-spot camera; and the biometric entry and starting system. Most of these features would cost extra on competing EVs, if they're even available at all. 
The Performance model is a steep price premium over the base Advanced, costing $68,290. We appreciate its rich Nappa leather, massaging driver's seat, heated rear seats, and adaptive suspension, but we think most buyers would be more than satisfied with the Advanced model's speed and feature content. Note that shortly after it hit the market, a legislative change hit the longtime $7,500 federal tax credit for plug-in vehicles; now, only U.S.-manufactured vehicles are eligible, cutting out the Korean-built GV60.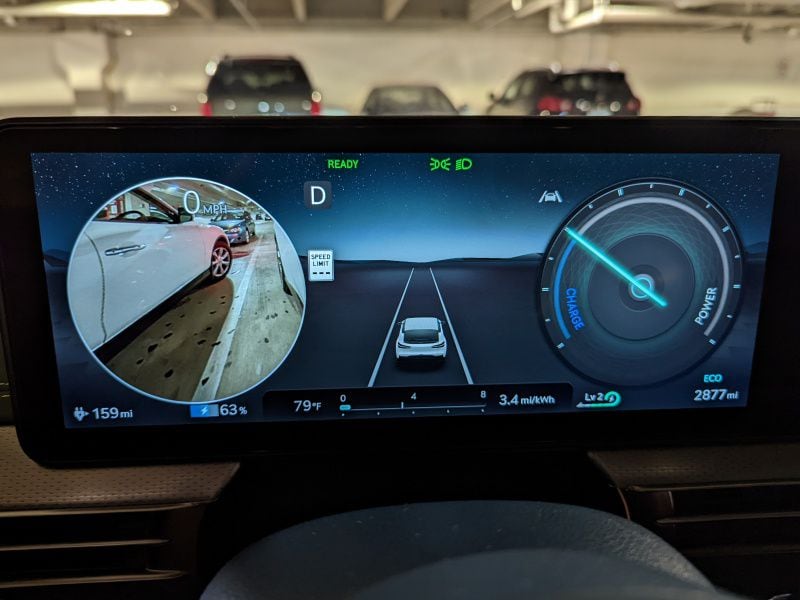 Photo by Brady Holt
Competitors to Consider
America's favorite EV is a GV60 competitor: the Tesla Model Y compact luxury crossover. The Model Y is roomier and faster than the GV60, goes farther on a charge, and can use Tesla's exclusive network of Supercharger fast-charging stations. And while Tesla prices can swing wildly in a given year, the Model Y currently starts at just $52,990. However, the GV60 remains an excellent EV for anything but a road trip or drag strip, and it has a more luxurious ride, interior, and features list. 
Other key rivals are the Audi Q4 e-tron, the Mercedes-Benz EQB, and the Volvo C40 and XC40 Recharge. The Genesis beats their ride, handling, and acceleration; has simpler controls; and trumps the Audi and the Benz for interior opulence. It also looks racier. Those competitors have a bit more room and higher seating positions, though. And as we mentioned, you can shop the GV60 against the Hyundai Ioniq 5 and Kia EV6. They offer similar bones at a lower starting price, though they have fewer available amenities and humbler interior trim.
Photo by Brady Holt
The Right Amount of Weird
The Korean trio of electric crossovers has proven itself as an exceptional blend of efficiency, performance, and functionality. The 2023 Genesis GV60 adds a healthy dose of luxury to this compelling package, all while keeping prices in line with a well-equipped EV6 or Ioniq 5.
The GV60 doesn't have the segment's biggest cargo hold or longest range per charge. But it has enough design flourishes and advanced technologies to stand apart from gas-powered SUVs, while also offering the quiet yet thrillingly quick acceleration of a high-end EV. It's sophisticated both as an electric car and as a luxury one, and it's an EV that doesn't demand a steep learning curve. Fast, luxurious, and economical, it's an alternative to electric cars that are EVs first and high-end transportation second.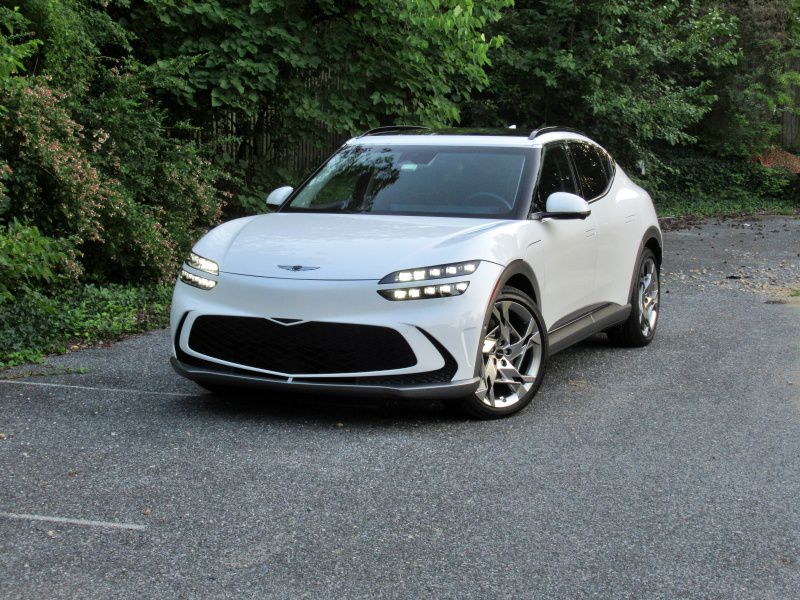 Photo by Brady Holt