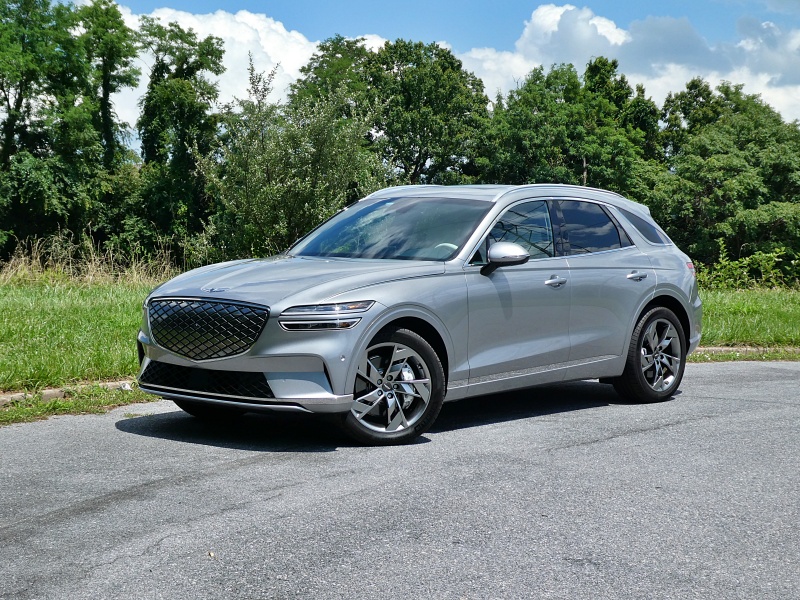 Photo by Brady Holt
The Genesis GV70 is an excellent compact luxury crossover. Attractive, beautifully finished, and sharp-handling, it quickly established itself among the best SUVs in its class. 
But with only gasoline engines, the GV70 initially offered no challenge to the growing number of electric vehicles in the luxury SUV segment. That changes with the 2023 Genesis Electrified GV70. As the name suggests, this is the standard GV70, just with electric motors instead of the standard version's four-cylinder or six-cylinder gasoline engines. And except for a grille that becomes purely decorative, with no engine to cool on the other side, the exterior doesn't change in the electrification transition. We spent a week testing the Electrified GV70 — priced from $65,850 — to learn more about its pros and cons. Keep reading to see what we learned and whether it's the right luxury SUV for you. 
Not the Range Champ
Let's kick things off with the elephant in the room. A sticking point for many would-be EV buyers is range per charge, and the 2023 Genesis Electrified GV70 is not the range champ. It travels an EPA-estimated 236 miles per charge. And even the 245-mile range we observed during our weeklong test is no challenge to a 330-mile Tesla Model Y. 
Now, we don't mean the Electrified GV70 wouldn't work for anyone. Most EV owners charge at home, so this range is only a limitation when you're driving 200-plus miles in a single day. In those cases, a patchy but growing network of public fast-charging stations is available. The best ones are capable of getting the vehicle from 10% to 80% charge in just 18 minutes. And a 240-volt charger can provide a 100% charge in eight hours, perfect for recharging overnight or tacking on another 50 miles at a public station while eating a leisurely dinner out. You can even add a couple of miles of range per hour at a standard 120-volt household outlet.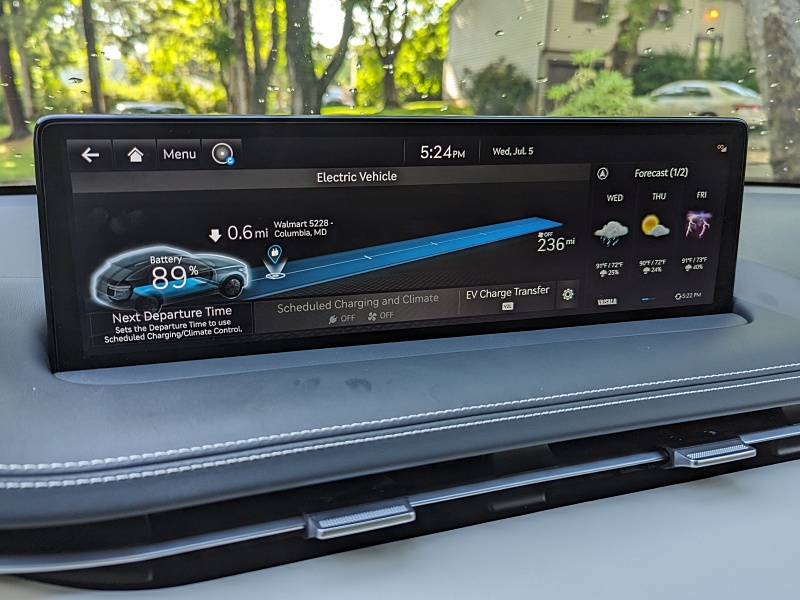 Photo by Brady Holt
Plenty of Speed, Though
A consistent EV strength is speed, and here, the Electrified GV70 doesn't disappoint. It has a wild 429 horsepower that can rip this SUV to 60 mph in a near-silent 4.2 seconds. A Tesla is even faster, in case bragging rights are a concern. But this is still quicker than nearly any gas-powered SUV and even many electric rivals. Genesis provides a selectable "boost mode" for maximum speed, which makes it even easier to drive the Electrified GV70 gently if you're not looking to set speed records. 
This speed is particularly impressive when you consider efficiency. The Electrified GV70 gets the equivalent of 98 mpg in the city, 83 mpg on the highway, and 91 mpg combined. Once again, that trails a Tesla, but compare that with gas-powered GV70s that get between 20 and 24 mpg in EPA testing.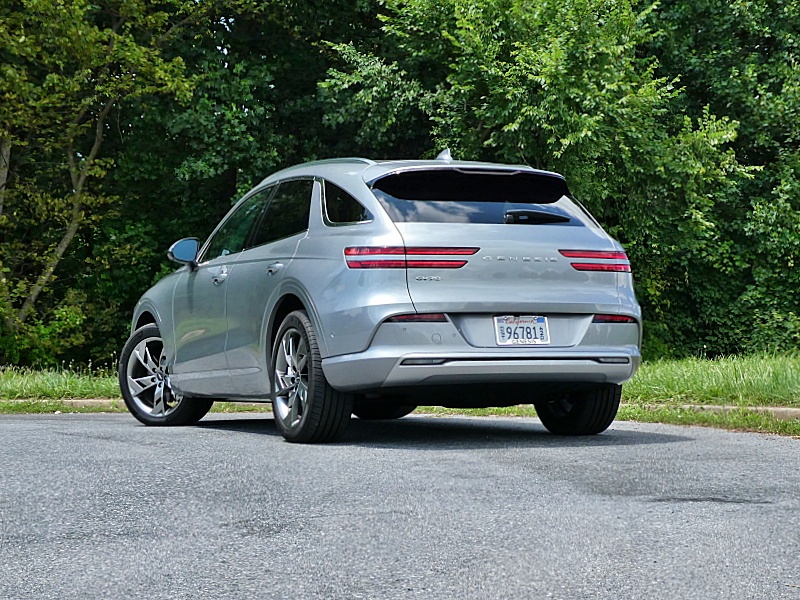 Photo by Brady Holt
Smooth and Silent Ride
The Electrified GV70 may be just one of multiple luxury EVs with rapid acceleration and 200-plus-mile ranges. But you'd have to spend more to find one with a smoother, quieter ride. 
Every GV70 is smooth and polished yet agile and fun to drive for an SUV. The Electrified GV70 takes this to the extreme by eliminating engine noise, and by including a heavy battery pack under the floor that adds weight (and thus a sense of solidity) while lowering the center of gravity (which improves handling). The smaller Genesis GV60 EV has quicker, feistier steering responses but less isolation from the road. The Electrified GV70 would impress anyone who likes a refined luxury SUV.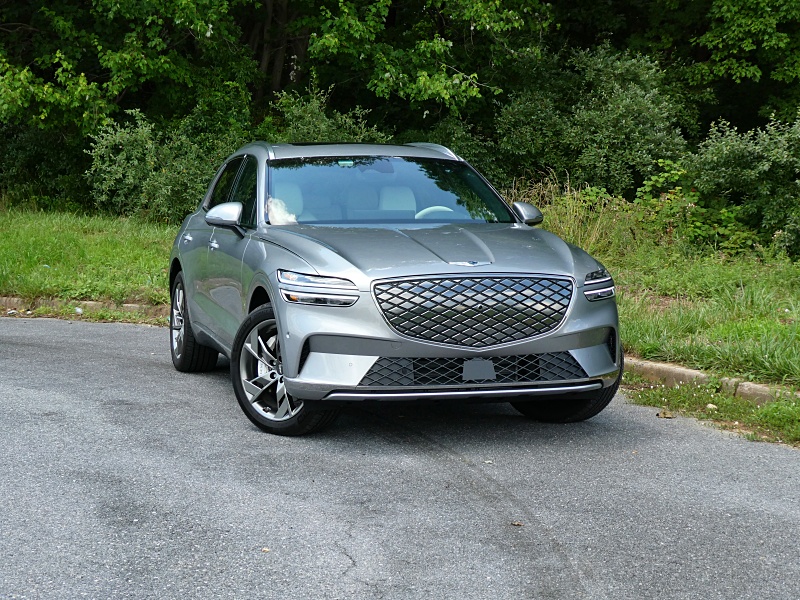 Photo by Brady Holt
Beautiful Interior, Too
Many electric vehicles have ultramodern or austere interiors. The Electrified GV70 borrows the elegantly finished dashboard from its gas-powered sibling, which is modern without being as aggressively unconventional as most rival EVs. 
The Electrified GV70 includes a 14.5-inch touchscreen on top of the dashboard, with a touchscreen climate menu and some physical buttons and knobs below that. Some are on the dashboard, while others are below on the center console. The infotainment system supports Android Auto and Apple CarPlay, unlike Tesla and several other luxury EVs. Genesis keeps the cabin interesting with an elongated oval that runs from left of the steering wheel to the passenger side of the vehicle. This design cue incorporates the climate controls and even aligns smoothly with the two-spoke steering wheel. This is a forgettable detail next to the out-there-ness of a screen-only Tesla dashboard, but it's more flair than you'd get in an Audi Q4 e-Tron or Mercedes-Benz EQB. Genesis also provides richer interior materials than these rivals. We wish the GV70's controls were even easier to use, but there's a less steep learning curve than on most electric rivals. You can set up your GV70 to unlock and start with your phone or fingerprint.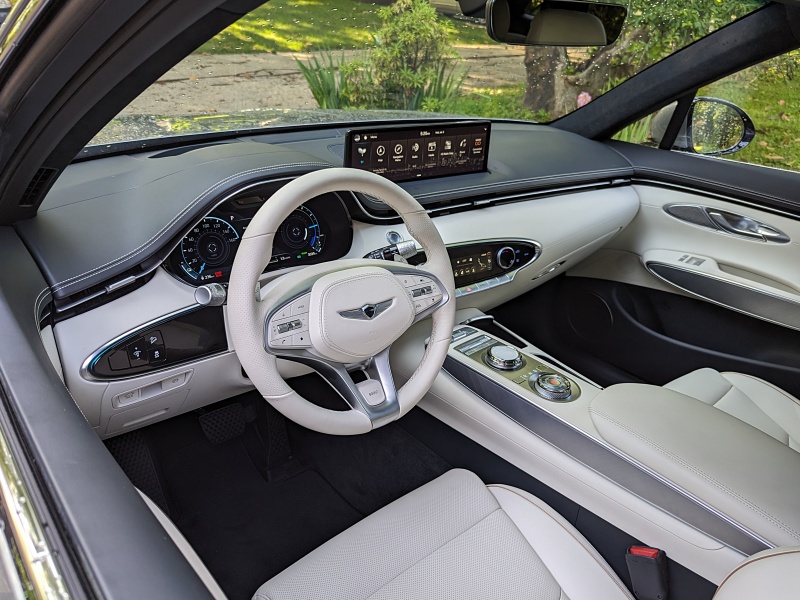 Photo by Brady Holt
With Cooled, Massaging Seats
The Genesis Electrified GV70 is also a comfortable SUV to be in. You sit higher and have more space to spread out than in the Genesis GV60, with plenty of room for adults to sit in both the front and back. This is a compact SUV, so don't expect limo-like accommodations, but few folks will feel cramped until a fifth passenger is slotted into the center-rear position. 
We also appreciated the Electrified GV70's amenities. Heated and cooled front seats are standard equipment, which not only makes the seats more comfortable but also extends the car's range. It's more efficient to heat or cool the driver's seat than the entire cabin. We just wish Genesis had extended the same logic to a heated steering wheel and heated rear seats, which are included only in the $6,800 Prestige Package. The Electrified GV70 also comes standard with massaging front seats; while some buyers will welcome that feature, we'd have put the massager in the "prestige" extras while treating the steering wheel and seat heating as more of an EV essential.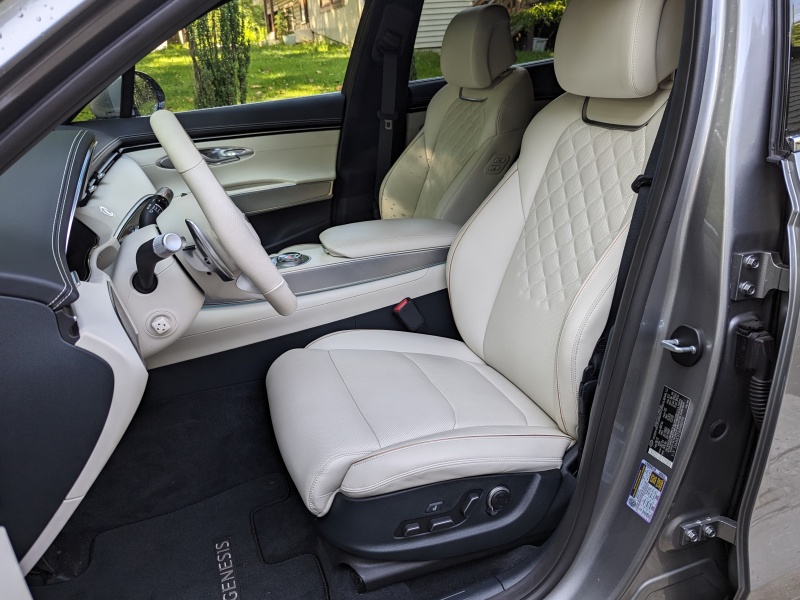 Photo by Brady Holt
Useful Cargo Space, Including a 'Frunk'
The Electrified GV70 comes with 28.7 cubic feet of cargo space behind the rear seat and 56.5 cubic feet with the rear seat folded down. This isn't a massive space, but it's bigger than it looks, and it's a regular shape that will fit large objects well. The Tesla is roomier, but most other rivals have similar or less space. 
Genesis also fits the Electrified GV70 with a small front trunk, or "frunk." It still has enough hardware up front to fill most of the space under its hood, but there's room to keep a spare charging cable or a few other small items. Tesla provides a bigger space, but a number of other EVs don't include any frunk at all.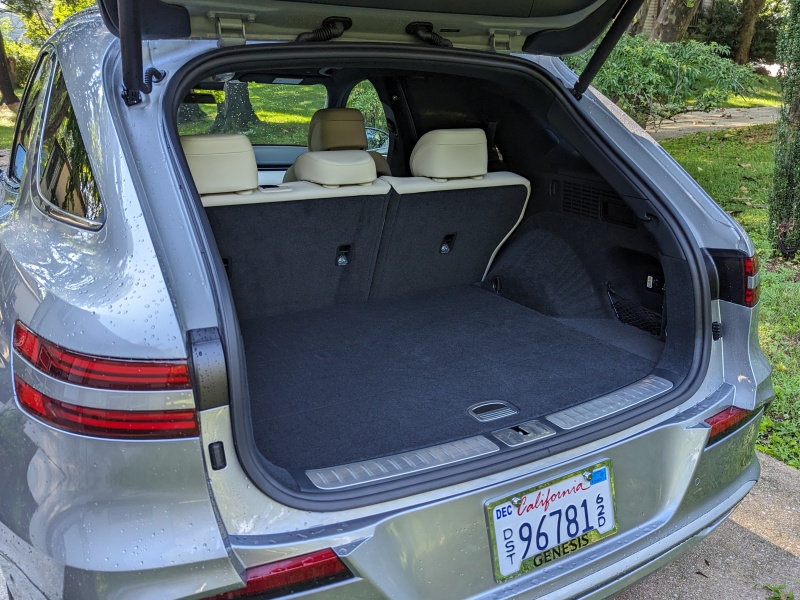 Photo by Brady Holt
Luxury Price Tag
As we mentioned, the Electrified GV70 is priced from $65,880. That's steep for a compact SUV. For comparison, the Lexus RZ 450e starts at $58,500, the Cadillac Lyriq starts at $57,195, the Volvo XC40 Recharge starts at $53,550, the Mercedes-Benz EQB starts at $52,570, the Audi Q4 e-Tron starts at $49,800, and the Tesla Model Y starts at $47,740. What's more, as U.S.-built vehicles made from U.S.-sourced parts, the Cadillac and Tesla qualify for $7,500 federal tax credits with income-eligible buyers. 
Now, the Electrified GV70 has a luxury price tag for good reason: It comes packed with luxury features as standard equipment that cost extra on many rivals. In addition to the heated, cooled, and massaging front seats we mentioned, these include a panoramic sunroof, a hands-free power liftgate, genuine leather upholstery, adaptive cruise control, and a surround-view parking camera, among other amenities. Our test vehicle added the $6,800 Prestige Package: Nappa leather, a leatherette-wrapped upper dashboard, a suede headliner, a digital instrument cluster, a head-up display, a 15-speaker Lexicon stereo, active noise cancellation, window shades for the rear doors, and the heated steering wheel and rear seats we wished were standard.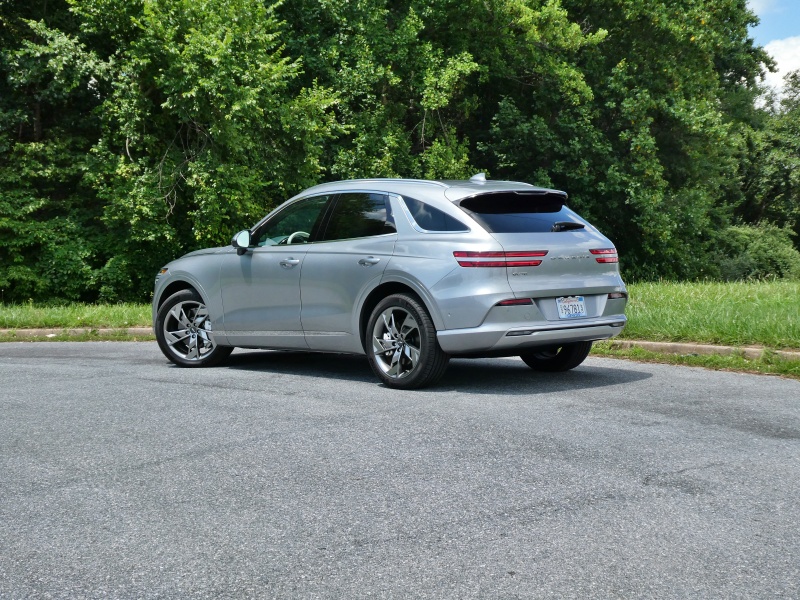 Photo by Brady Holt
Electrified GV70 vs. the Competition
We previewed this section earlier when we mentioned the Electrified GV70's higher starting price. If you're interested in spending less and having fewer features, Genesis only lets you downsize to the GV60 ($59,290). But it has a lot going for it. 
The RZ 450e and Lyriq are the most similar to the Genesis's serenity and super-luxe build quality. Both have lower starting prices, especially given the Lyriq's tax incentives. And the Cadillac has a much longer range. But the GV70 beats the Lexus for range and performance, and it has a higher seating position. And its controls are much simpler than the Lyriq, which complicates everything from the dashboard to the door handles. The e-Tron, EQB, and XC40 are smaller and ride less smoothly than the Genesis, and only the Volvo can approach its interior opulence. The Tesla Model Y, the best-selling of this group by far, is an easy success to understand. It's the leader in speed, efficiency, spaciousness, and ease of charging. But when you're looking for luxury, the GV70 has the comfort, smoothness, and amenities the Tesla lacks. If you don't need more space, we'd put it against the bigger, more expensive Audi Q8 e-tron, BMW iX, and Mercedes-Benz EQE SUV.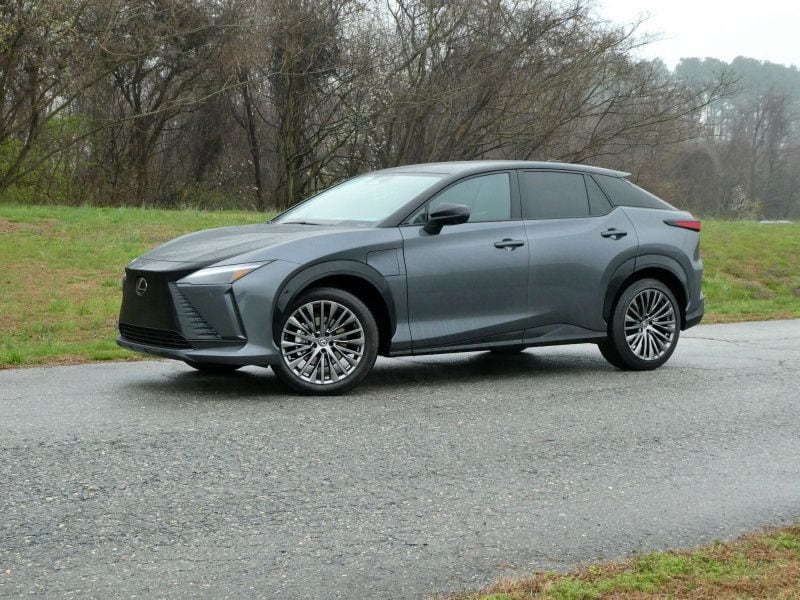 Photo by Brady Holt
A Luxury SUV That's Electric
Some electric cars are so busy being awesome pieces of technological progress, they can forget about people who are just looking for a really nice car. The 2023 Genesis Electrified GV70 is for them. 
With its conventionally attractive design; richly finished cabin; cossetting seats; and driving manners that can easily switch between cushily relaxing and zippily entertaining, this crossover should make anyone happy from behind the wheel. They'd just have to be on board with a modest range and lofty price. If your circumstances allow you to consider the Electrified GV70 — if it fits your budget and you won't frequently take multiday road trips — it's definitely worth your attention.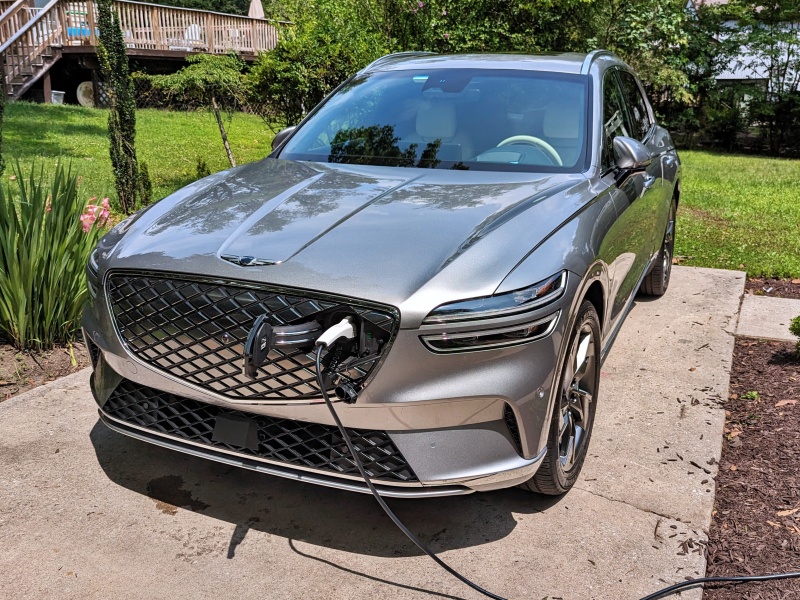 Photo by Brady Holt