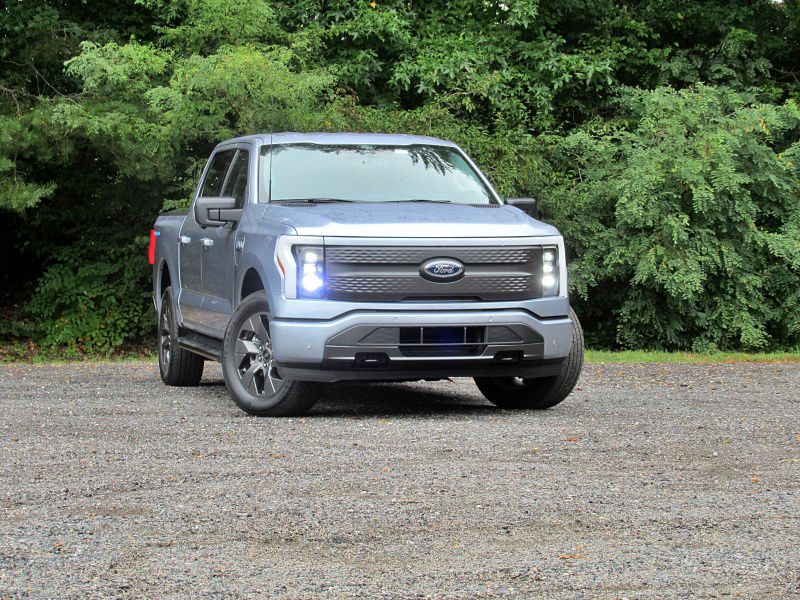 2022 Ford F-150 Lightning XLT ・ Photo by Brady Holt
For a while, it was almost like a memo went around that electric pickup trucks couldn't look like regular pickup trucks. Maybe Tesla got everyone started with its robot-warrior Cybertruck. General Motors followed suit by making its first electric pickup into a "crab-walking" Hummer, then followed that up with the (not yet on sale) sleekly unibody Chevrolet Silverado and GMC Sierra EVs. And the Rivian R1T has the rounded-off cheerfulness of an eMac computer. 
But these otherworldly pickups are either selling in limited volume or haven't yet reached production at all. The EV truck that everyone is actually buying is the 2023 Ford F-150 Lightning: pretty much a regular-looking pickup with electric motors instead of a gasoline engine. We spent a week testing the F-150 Lightning to learn more about the advantages and disadvantages of an electric pickup, and whether Ford has created a solution that could work for you. Keep reading to find what we learned.
Prices That Move Around
When it debuted for 2022, the F-150 Lightning made headlines for its starting price of just under $40,000. That didn't last long. The 2023 model has jumped all the way to $55,974 for a base vinyl-upholstered Pro model or $63,474 for the cheapest consumer-grade XLT. An optioned-up Platinum model can top $100,000. As we write, F-150 Lightnings priced below $80,000 also qualify for a $7,500 federal tax credit. 
We'll discuss this more on the next page, but Ford sells most trim levels with a choice of two battery packs (sometimes bundled with additional equipment). With the bigger "extended-range" battery, the XLT jumps to $80,974, and it's an $11,000 premium on the next-up Lariat trim level ($85,974 versus $74,474). If you were drawn to the Lightning for its original base price, the current reality is sure to sting. But as we'll discuss on the coming pages, these prices can still be reasonable for the right buyer.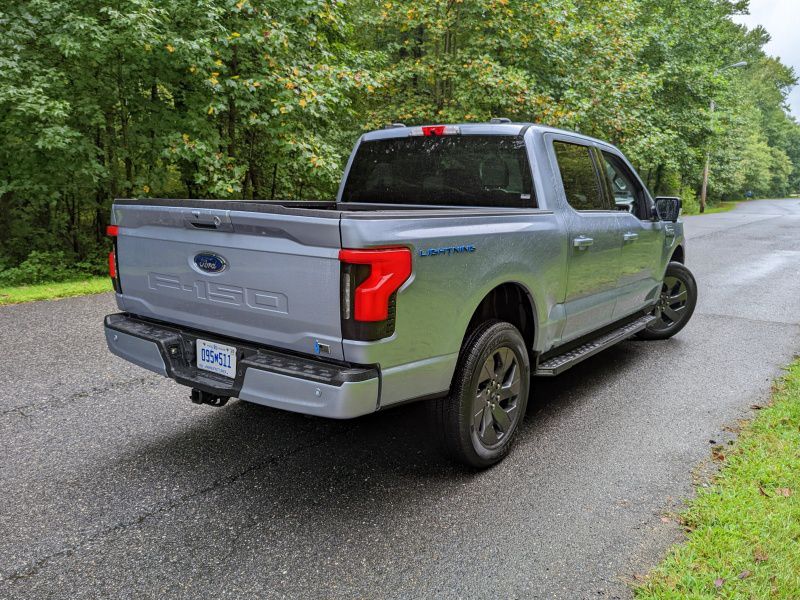 Photo by Brady Holt
Up to 320 Miles per Charge
With its standard battery pack, the 2023 Ford F-150 Lightning travels an EPA-estimated 240 miles per charge while averaging the equivalent of 76 mpg in the city, 61 mpg on the highway, and 68 mpg combined. The extended-range battery pack improves the truck's range to 320 miles on most trim levels, and efficiency is up by 2 MPGe as well. Towing a large trailer or hauling a heavy payload cuts sharply into those range estimates, and it goes farther in stop-and-go conditions than highway driving. However, one notable EV advantage is that they use little energy to idle. Also, while prices will vary by region, the Lightning's average fuel costs are below 7 cents a mile versus 17 cents for the typical gas-powered F-150. 
It takes about 12 hours to fully charge the F-150 Lightning using a 240-volt car charger, like you'd install at home or find in many public stations. That means you'd return to full range by plugging in overnight. A public fast-charger can bring it from 15 percent to 80 percent charge in as little as 36 minutes. And even if you don't find any car chargers, you can get about 2 miles of range per hour at any standard three-prong outlet.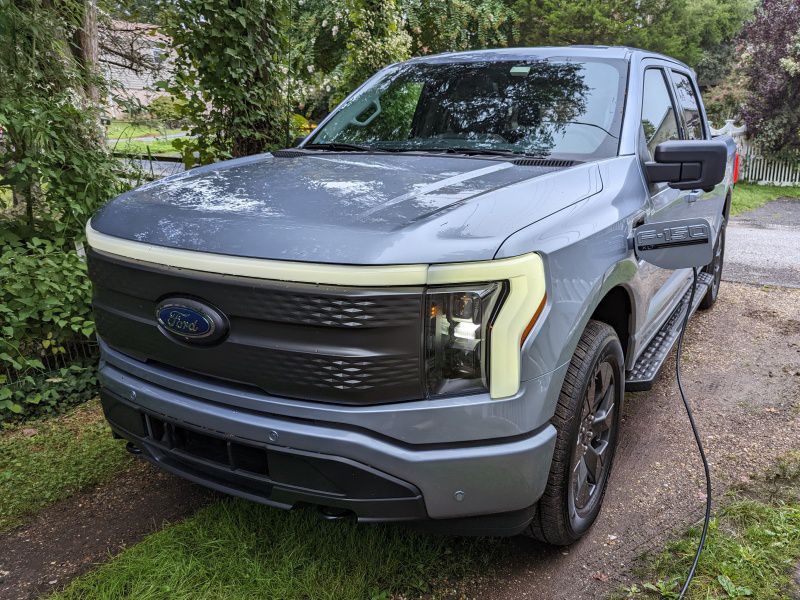 Photo by Brady Holt
Speedy and Silent
The F-150 Lightning comes standard with two electric motors: one for the front wheels and one for the rear wheels. Torque is a mighty 775 lb-ft, while horsepower ranges from 452 with the standard battery pack to 580 with the extended range. 
Like most EVs, the Lightning delivers smooth, nearly silent, and incredibly swift acceleration. Even sports cars are exciting when they reach 60 mph in just 4 seconds. It's an even more absurd experience to do so in a full-size pickup truck, especially without the accompanying roar of a big engine. When you crunch the numbers on the F-150 Lightning, remember that you're not just paying for efficiency — you're also upgrading to the fastest F-150 on the market. And if that's not a priority to you, don't worry; the F-150 Lightning is also easy to drive normally. Just keep pushing farther and farther down on the throttle for wilder and wilder speed.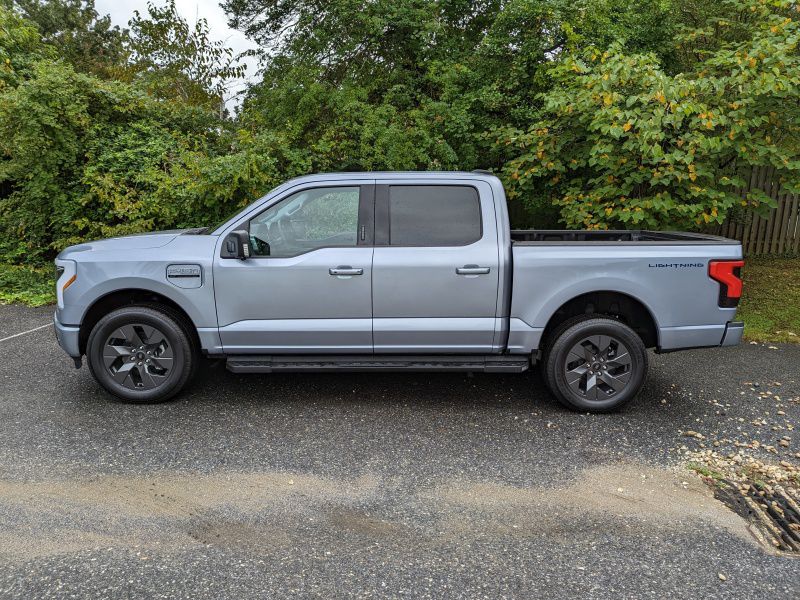 Photo by Brady Holt
Improved Ride and Handling, Too
It's an old trope that full-size pickups have gotten better and better to drive, but sometimes that gets exaggerated. They still tend to have jiggly rides and clumsy handling by most standards. The F-150 Lightning is a rare exception. 
While this is still a body-on-frame truck, it replaces the gas F-150's solid rear axle with an independent rear suspension. This change improves both the ride quality and the handling. So does the electric battery, which is heavy and low in the vehicle, providing a planted feel and a low center of gravity. Especially when paired with its smooth acceleration and lack of engine noise, the F-150 Lightning is an uncommonly sophisticated pickup to drive. You can also tweak its manners with selectable driving modes or, on upper-trim models, choose the optional BlueCruise system for hands-free driving on certain highways.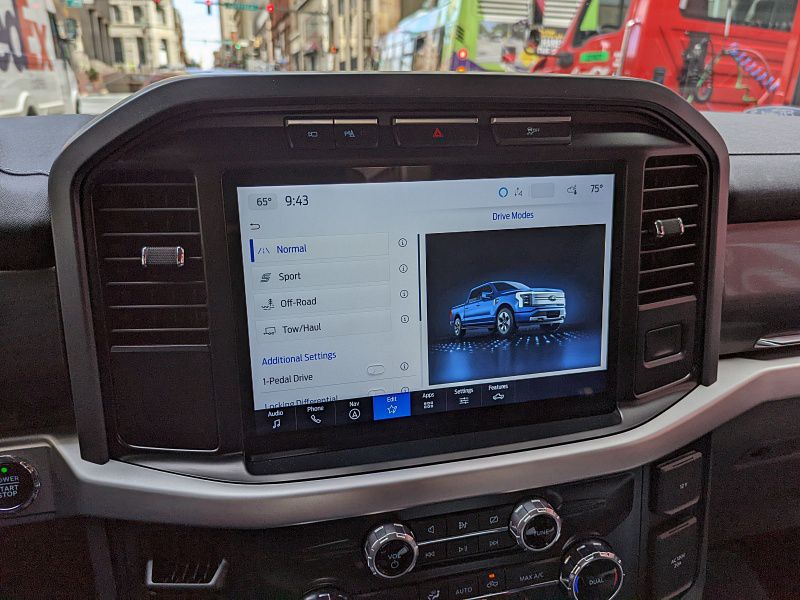 Photo by Brady Holt
Capable in Its Own Way
As we mentioned, towing and hauling cuts sharply into an EV's range. The F-150 Lightning probably isn't the truck for you to haul your boat or camper trailer across the country. However, it's capable in other valuable ways. 
For shorter jaunts, the base Lightning can tow up to 7,700 pounds, while the extended-range model hits 10,000. Payload capacity ranges from about 1,600 to 2,200 pounds. Those are solid numbers for a half-ton crew-cab pickup. What's more, the Lightning has some unique EV-specific benefits as well. Its front trunk (or "frunk") provides 14.1 cubic feet of dry, secure cargo room under the hood; that's about the same as a sedan's trunk. And you can use the Lightning's battery as a portable generator — powering your tools at a job site, lighting your house during a power outage, or even recharging another EV. Note that while the gas F-150 has a wide range of body styles, every Lightning is a four-door crew cab with four-wheel drive and a 5.5-foot-long bed.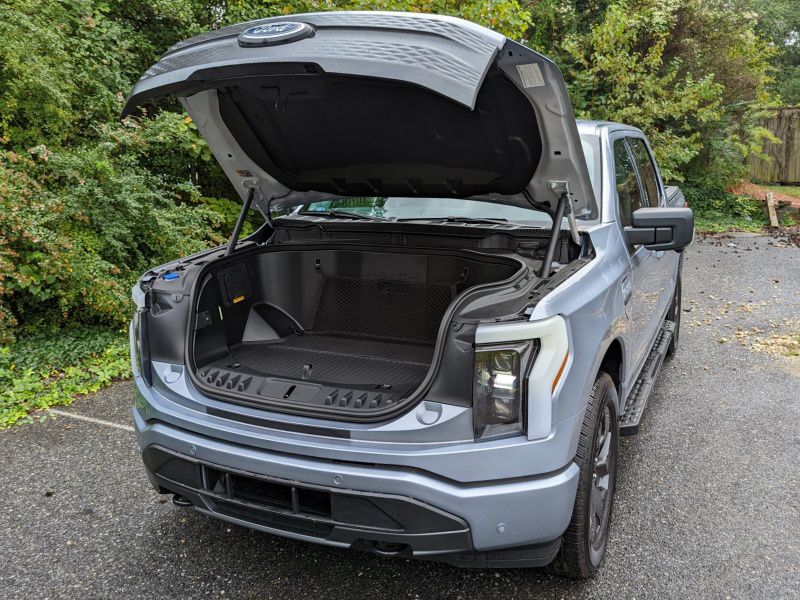 Photo by Brady Holt
Familiar F-150 Design
For the most part, the F-150 Lightning shares its body and exterior with the gas F-150. Ford dresses up the exterior with front and rear lightbars on certain trim levels (our XLT has one on the front but not the rear), and the grille and wheels are a bit different. But this isn't an EV that screams "car of the future." 
The interior is also pretty similar to the gas F-150, especially in lower trim levels. Our XLT shares its dashboard almost unchanged with the gas model, including a 12-inch infotainment touchscreen that's complemented by simple buttons and knobs. Upper-trim models have a 15-inch vertical unit that looks flashier but isn't quite as easy to use. Either way, you get a physical PRNDL gear selector, and the gauge cluster (while digital) sits behind a round steering wheel. Instead of facial recognition to unlock the car if you forget your key, you can punch a code into a keypad panel like it's 1982. And an old-school mast antenna pops out of the hood to get the best possible radio reception. This isn't a flashy luxury car, but if you like regular trucks, the F-150 Lightning holds onto that everyday functionality.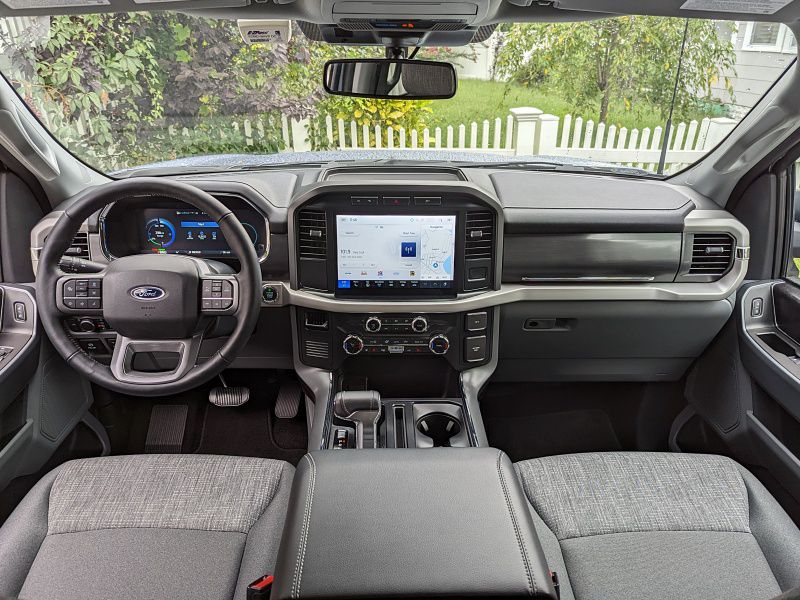 Photo by Brady Holt
Cushy Seats
If you haven't been inside a big pickup lately, you might not appreciate one of the reasons they're so popular: huge, comfortable seats. And that's exactly what you get from the F-150, including the Lightning. The interior may be more workmanlike than most expensive EVs, or even some rival pickups, but it's undeniably cushy. And once we got past the idea of an $80,000-plus pickup that still had cloth seats, we loved its well-padded chairs and ample space to spread out in both the front and rear. 
We also got to use our F-150 Lightning as a mobile office. In a feature shared with the gas model, the Lightning lets you fold down the gear selector and convert the center console into a workstation table. Throw in the in-car Wi-Fi and EVs' ability to idle without quickly draining the battery or stinking up the neighborhood, and it's a great place to open up your laptop from wherever you're parked.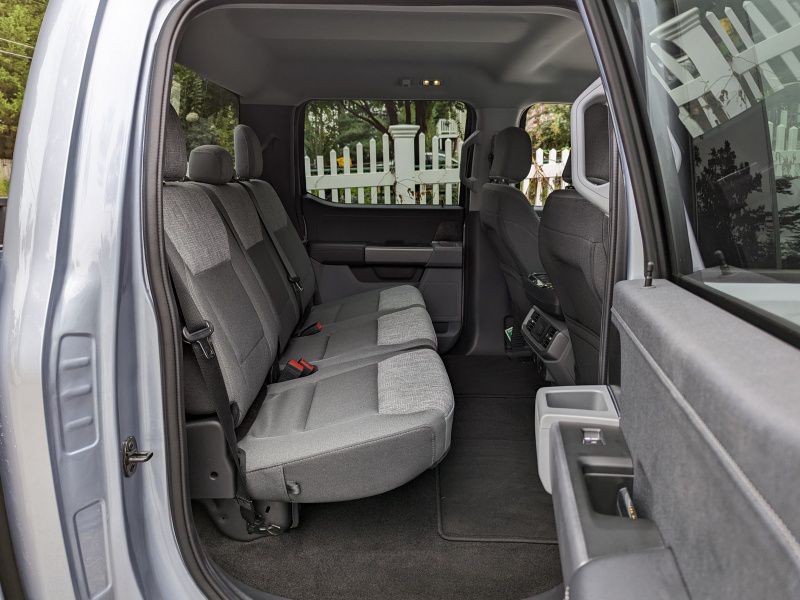 Photo by Brady Holt
The Competition Is Coming
Currently, you can buy one of three electric pickups in the U.S.: the Lightning, the Rivian R1T, and the GMC Hummer EV SUT. The Rivian is a smaller pickup than the F-150, with a 4.5-foot bed and more modest interior space. Meanwhile, the Hummer is an enormous toy, with its 3.3-second sprint to 60 mph and its removable roof panels. Also, while the Rivian and Hummer both come with lots of standard high-end features, both start at much higher prices than the Lightning: $73,000 and $98,400, respectively. 
The competition is coming. Ram just revealed its own take on the F-150 Lightning formula, with the 2024 Ram REV representing a lightly restyled version of a gas pickup. In a unique twist, the REV will have the option of a range-extending gasoline engine that will help the truck take longer trips, especially when towing. Meanwhile, the Chevrolet Silverado and GMC Sierra EVs are due on sale later this year with more distinctive looks than the Lightning or Ram. And Tesla's edgy Cybertruck, perpetually just around the corner, will inevitably go on sale as well at some point. But for now, the F-150 Lightning has no direct rival.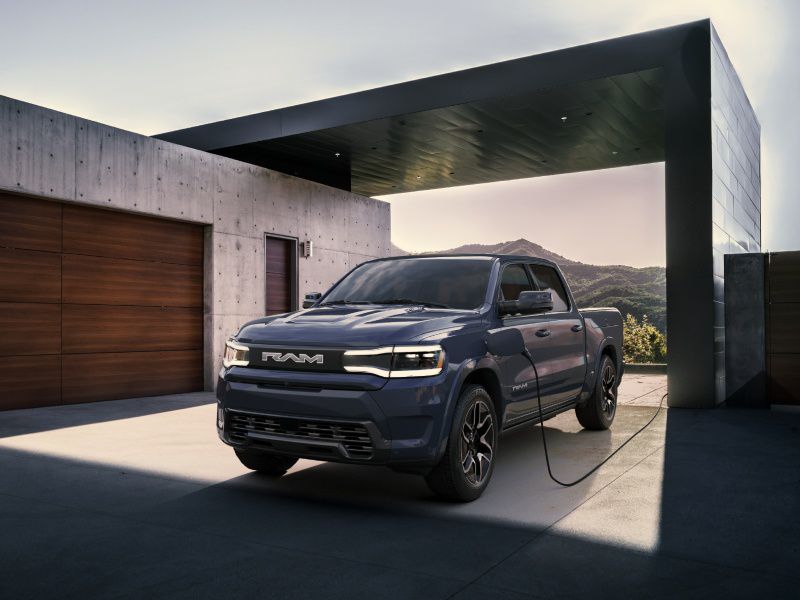 Photo by Ram Trucks
The Meeting of Present and Future
An EV isn't for every truck owner. It needs time to charge and a place to charge it. And it won't work well with long-distance drives, especially with a trailer attached. 
But there's still a lot to like for the right buyer. The F-150 Lightning not only cuts your tailpipe emissions and fuel bills, but it's also a performance truck with sports-car acceleration and uncommonly sophisticated handling. And unlike many EVs, it doesn't go overboard with gimmicky quirks like bizarre control layouts or fussy door handles. If you like a regular F-150, odds are you'd like this one even more, as long as you can make it work for your life. It's not cheap, but its lower operating costs will help it pay for itself, and the superior driving experience is worth its own premium. Overall, with its power, efficiency, and smart features, the F-150 Lightning advances the traditional pickup truck in many ways without making things too weird or difficult. If you'd like to cut out gas and drive less than 200 miles in a typical day, give it hard look.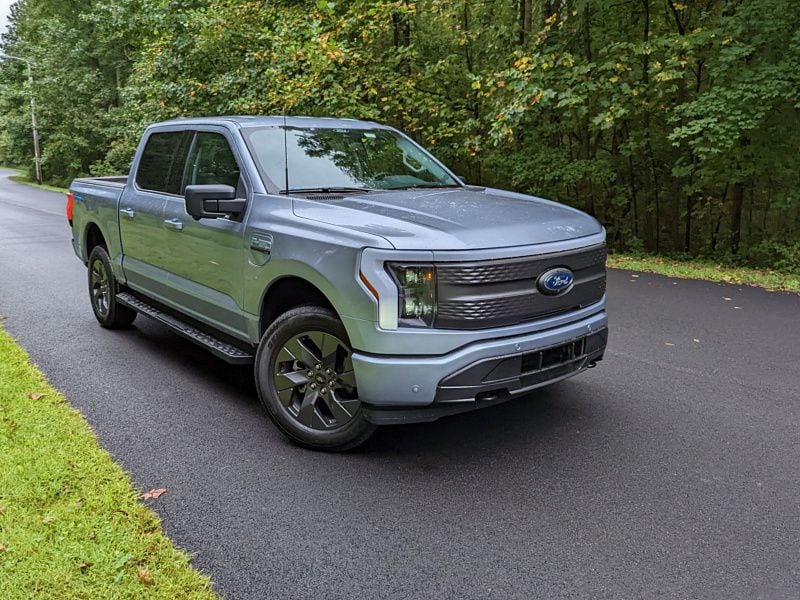 Photo by Brady Holt