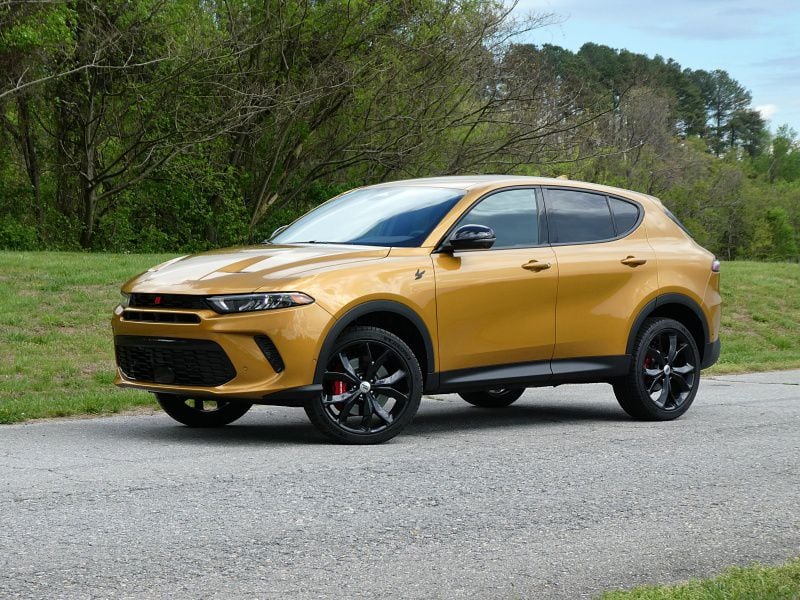 2023 Dodge Hornet ・ Photo by Brady Holt
Everybody sells a compact crossover SUV these days, and the template for success is pretty consistent: lots of room, smooth ride, good gas mileage, and reasonable price. Countless models have become huge sales successes by ticking those simple boxes. 
Enter the all-new 2023 Dodge Hornet, the brand's first entry into this hugely important segment. It rejects every last one of those points, hoping to come out on top with a less conventional set of strengths. To underscore this difference and to gauge its effectiveness, we're letting the Hornet face off against one of our favorite conventional compact crossovers: the 2023 Nissan Rogue, freshly punched up with a lively new turbo engine. Keep reading as we compare these two rivals across eight categories and then name an overall winner, based on our analysis and driving impressions. 
Pricing and Features
Most compact crossovers start under $30,000. Dodge concedes to this informal boundary, with the Hornet starting at $29,995 before a steep $1,595 destination charge. This isn't a stripped-down base model, at least; it already includes such niceties as all-wheel drive, automatic climate control, a big 10.25-inch touchscreen, adaptive cruise control, and blind-spot monitoring. But you need the GT Plus like our test vehicle ($34,995 plus destination) for a power driver's seat, sunroof, or power liftgate. This price also buys leather upholstery, heated and ventilated front seats, a heated steering wheel, GPS navigation, and a 15-speaker Harman Kardon stereo. 
The Rogue, meanwhile, starts at just $27,360. And while the base S model has less standard equipment than the Hornet GT, the next-up SV (with its optional AWD) costs $30,550 plus a $1,295 destination charge. It throws in a power driver's seat at that price, too. Leatherette upholstery arrives for as little as $31,710, and genuine leather is on deck for $33,710. Overall, if you want a well-optioned small SUV, the Hornet can stay close to the Rogue's price point. But Nissan gives you more ways to get plenty of features for a lower price. 
Nissan Rogue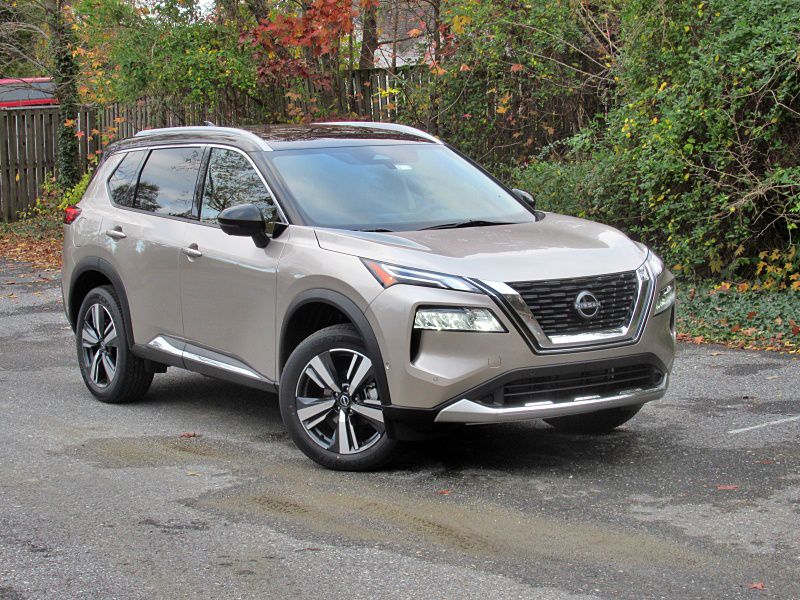 Photo by Brady Holt
Exterior Design
The Dodge Hornet started life as the Alfa Romeo Tonale, an Italian luxury SUV. Aside from losing the signature Alfa grille, most of the Tonale's design survived the transition to an American brand. The Hornet looks smaller than it is, and sporty without being overdone. It wears simple curves rather than slashy swoops or a boxy truck-like attitude. Its curved haunches and rear lightbar recall a Porsche Macan. And while some credit may go to its Acupuclo Gold paint job, our test vehicle got people talking — more than we've seen with rival mainstream SUVs. 
The Nissan Rogue is a more typical compact crossover. Nissan worked hard to give it some design presence: Vertically split headlights sit astride a big chrome grille, while the Rogue's sides and back are smartly chunky. It looks purposeful yet still upscale, and it's neither completely anonymous nor overly in-your-face. It also looks significantly bigger than the Hornet, though it's just 5 inches longer. We'll let you choose your preferred design between these two compact crossovers. 
Tie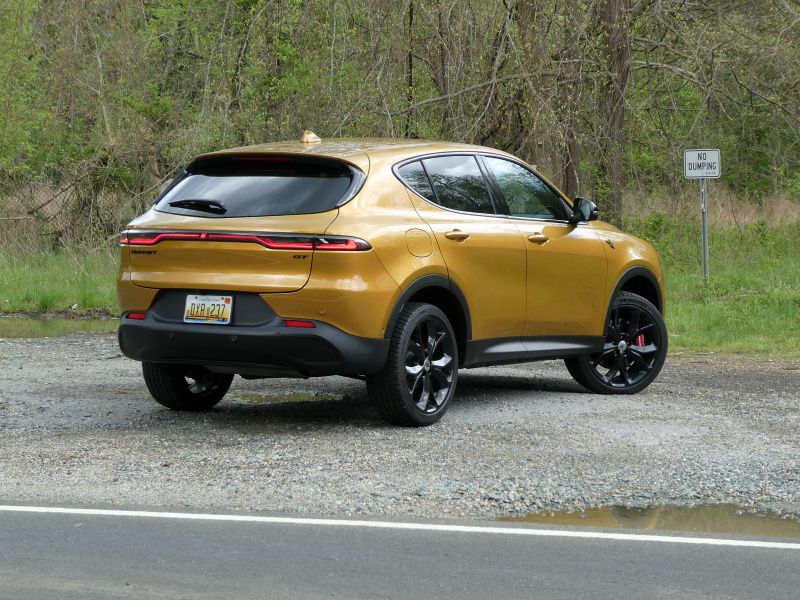 Photo by Brady Holt
Interior Design
The Rogue's dashboard is clean and contemporary, most materials look and feel nice, and moving parts like the turn signals operate with commendable precision for a humble small SUV. There are plenty of storage areas, including an open space under the center console. And if you step up to the top Platinum model like our test vehicle, pleated leather upholstery looks downright decadent. What's more, under all the glitz, the controls are simple to use.
The Hornet's interior isn't plain, either. A 10.1-inch digital gauge cluster and 10.25-inch infotainment touchscreen, both standard equipment, are crisply rendered. And Dodge provides sports-car-style minimalism by splitting the dashboard vertically and shifting the volume knob to the center console. Most materials are a cut above the ordinary compact crossover, too. But two factors put the Rogue over the top. First, the Hornet's controls are more complicated. It takes multiple steps through the touchscreen to sync driver and passenger climate controls, and it took a deep dive into the owner's manual to find the trip computer. Second, some of the Dodge's moving parts — like the turn-signal stalk — move less smoothly than the Nissan's. Both cabins are nice, but our pick is the Rogue's. 
Nissan Rogue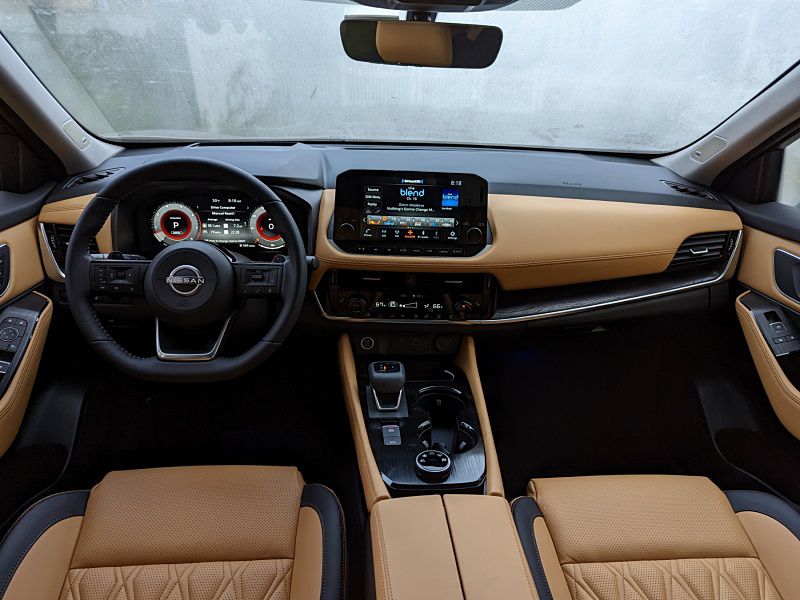 Photo by Brady Holt
Passenger Accommodations
Nissan has heavily marketed its "Zero Gravity" seat foam with the promise of maximum long-term support, and the Rogue's firm, well-shaped seats never left us wanting. The backseat has plenty of legroom even for adults, and the doors open 90 degrees for easy access. All but the base model gets an eight-way power driver's seat, while heated front seats, a heated steering wheel, and even rear-seat sunshades are available on most trim levels. 
The Hornet, meanwhile, is sometimes considered a rival to subcompact crossovers a size smaller than the Rogue. That's not because of its exterior size or its price tag, but because it has less cabin space. The front seats are comfortable and adults can fit in the back, but the rear in particular is on the snug side. We also didn't love the outward visibility, with thick roof pillars and a modest glass area. The Hornet isn't too cramped, but it's not stretch-out-spacious like the Rogue. 
Nissan Rogue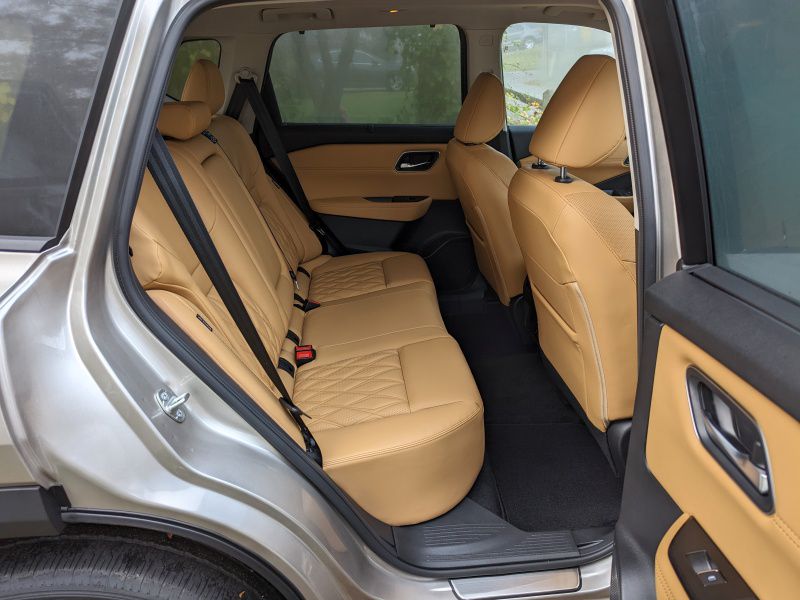 Photo by Brady Holt
Cargo and Utility
Once again, the Hornet is more like a subcompact crossover than a compact when it comes to carrying cargo. It has 27 cubic feet of space behind the rear seat and 54 cubic feet with the rear seat folded. The cargo hold is a handy boxy shape and you can lower the cargo floor to increase volume (instead of being flush with the folded seatbacks). Still, the total volume is modest, and the rear seat doesn't lie flat when folded. 
The Rogue, on the other hand, is among the roomier compact crossovers. There's 36 cubic feet of space behind the rear seat and 74 cubic feet with the rear seat folded. It folds flat easily, and the optional Divide-N-Hide cargo system is more sophisticated than the Dodge's adjustable floor. It lets you reposition panels to raise or lower the cargo floor, but you can also create a mini wall that keeps your stuff from rolling around or tipping over. The Dodge does tow up to 2,000 pounds versus the Nissan's 1,500 pounds, but the Rogue is otherwise the utility winner. 
Nissan Rogue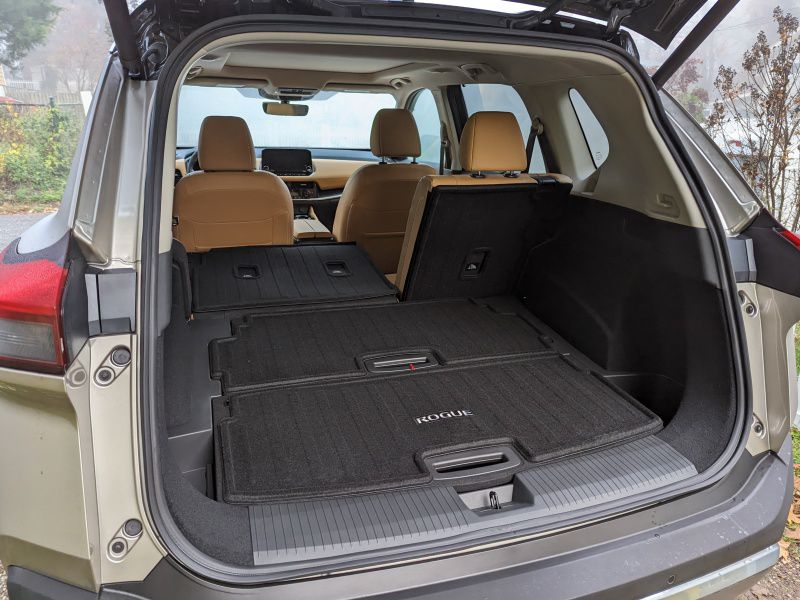 Photo by Brady Holt
Ride and Handling
If it seemed like the Rogue was going to walk away with a win against an undersized, overpriced competitor, now it's time to get behind the wheel. The Dodge Hornet is one of the most fun-to-drive SUVs you'll find short of an ultra-expensive high-performance model. Its tautly tuned suspension and firm, responsive steering give the Hornet a thrilling eagerness as you go around a curve. This isn't an ordinary SUV; it's a sports sedan with a higher seating position. 
For some folks, the Rogue is the better-driving crossover of the two. Its steady, planted ride makes it feel upscale, gliding over bumps more easily than the tauter (though still comfortable) Dodge. And even if it doesn't match the ultra-fun Hornet, the Rogue's handling is more agile and confidence-inspiring than most of its rivals. Still, we'll give this category to the Dodge as the truly special departure from the compact-crossover norm. You can find competitors that drive a lot like the Rogue, but nothing that drives like the Hornet. 
Dodge Hornet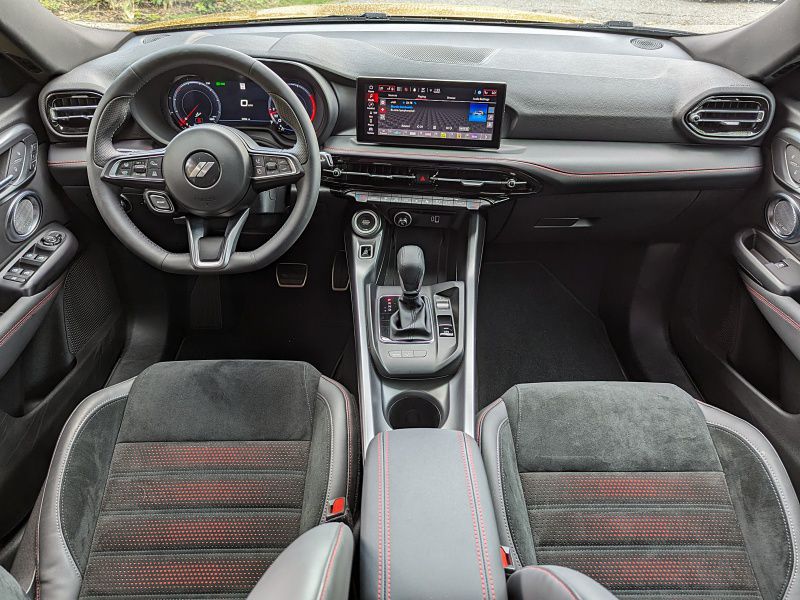 Photo by Brady Holt
Acceleration
The story repeats when it comes to acceleration. The latest Rogue is one of the quickest compact crossovers, and the Hornet is even quicker. 
Every Rogue has a little 1.5-liter three-cylinder engine, which isn't a promising start. But this engine is a gem. It's turbocharged to an excellent 201 horsepower and 225 lb-ft of torque, better than most of its competitors. What's more, this engine has an eager growl, unlike the droning moan found in older-model Rogues and most current rivals. Still, the Hornet is even speedier. It comes standard with a 2.0-liter four-cylinder turbo that makes 268 hp and 295 lb-ft of torque, more standard horsepower than you'd find in many luxury SUVs. Where the Rogue is agreeably peppy, the Hornet can rip you forward with a ferocity you don't often find for a $30,000 base price. We don't mean you'll embarrass a sports car, but with an estimated 0-60 time of just 6.5 seconds, it makes short work of most small SUVs. And an upcoming plug-in hybrid version, which we'll discuss more on the next page, makes things faster still. 
Dodge Hornet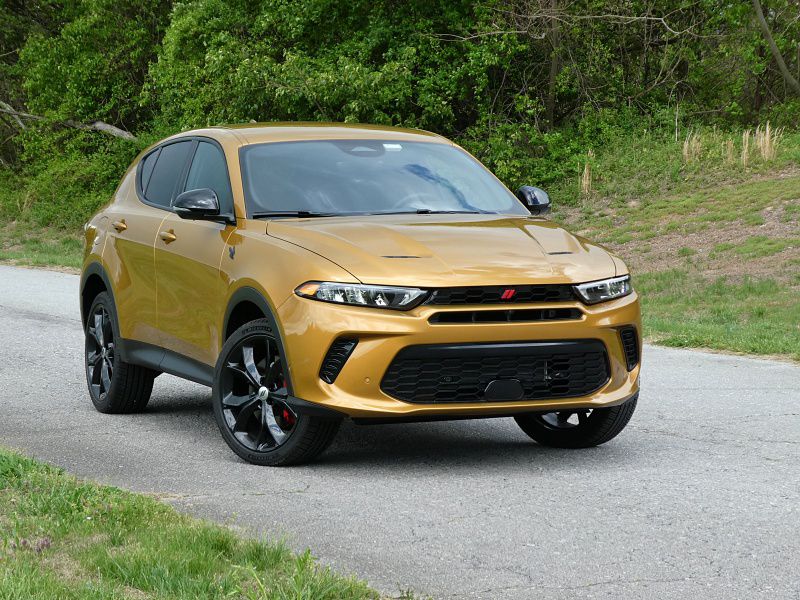 Photo by Brady Holt
Fuel Economy
The Hornet gets decent gas mileage given its power. The EPA estimates it will average 21 mpg in the city, 29 mpg on the highway, and 24 mpg combined. And we beat those estimates to average 27 mpg in a weeklong test. 
Still, most compact crossovers beat the Hornet's fuel economy. And aside from gas-electric hybrids, the Rogue's mileage stands at the top of the class with EPA ratings of up to 30 mpg city, 37 mpg highway, and 33 mpg combined. Unlike the Hornet, the Rogue's mileage varies by trim level and whether you've chosen front-wheel drive or the heavier all-wheel-drive system; still, our top-trim AWD test vehicle has the lowest EPA ratings with a still-excellent 28 mpg city, 34 mpg highway, and 31 mpg combined. And we averaged 33 mpg during our test. There's no plug-in hybrid Rogue (or regular hybrid Rogue) to match the upcoming Hornet R/T, which promises more than 30 miles of all-electric range before needing its gas engine. However, this powertrain isn't yet on sale and costs $10,000 extra. Most buyers will get better mileage from the Nissan. 
Nissan Rogue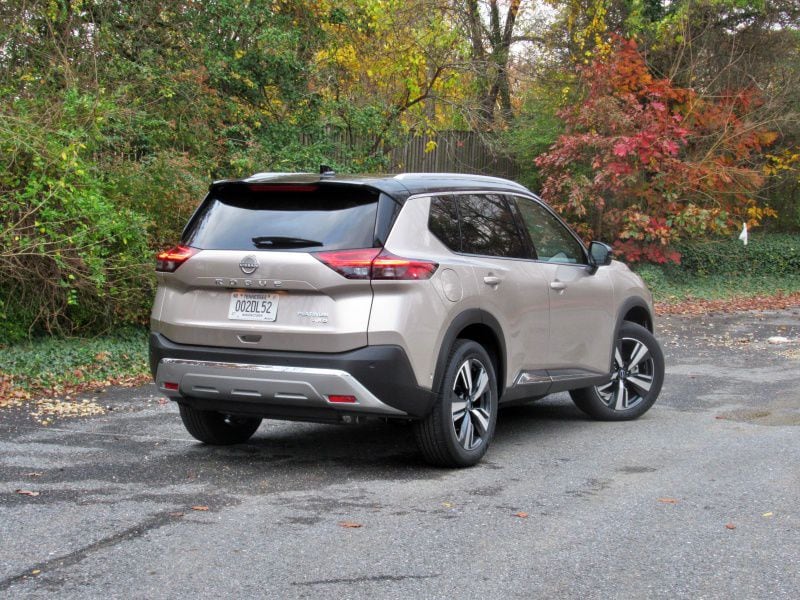 Photo by Brady Holt
Final Thoughts
The 2023 Dodge Hornet is a neat little SUV. It catches your eye with its simple yet spunky design, then wows you with its delightful acceleration and handling. And while it doesn't try to outcompete its rivals for the biggest cargo hold, smoothest ride, thriftiest engine, or lowest price, it's not out-of-bounds appalling in any of those ways. 
Still, the 2023 Nissan Rogue is the complete package. It checks the normal boxes for a compact crossover — lots of room, smooth ride, good gas mileage, and reasonable price — and keeps going from there. It's not as fast or agile as the Hornet, but it should pleasantly surprise you on both fronts. If you like the Rogue for its sensible size, fuel economy, and control layout, the wilder Hornet doesn't have much to tempt you with. But if you like the Dodge's performance, the Nissan's spaciousness, value, and fuel economy are compelling reasons to give up a bit of excitement. 
Nissan Rogue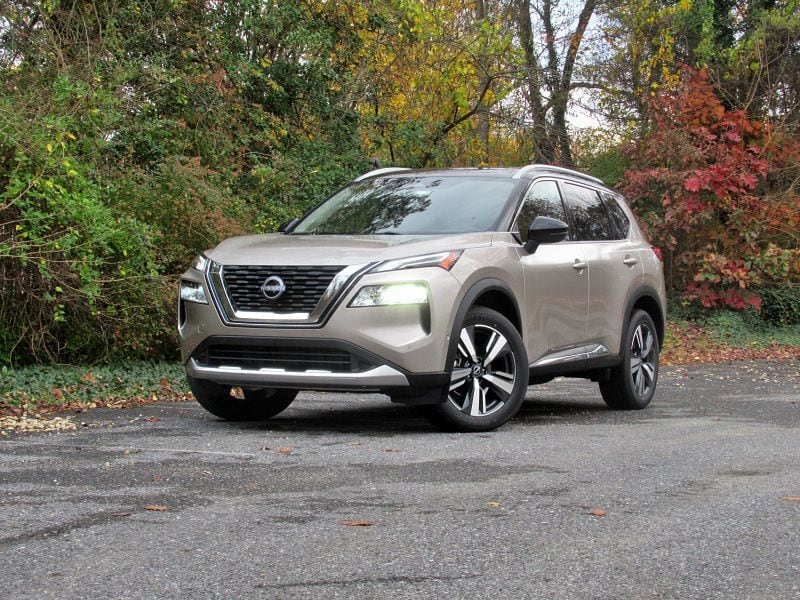 Photo by Brady Holt