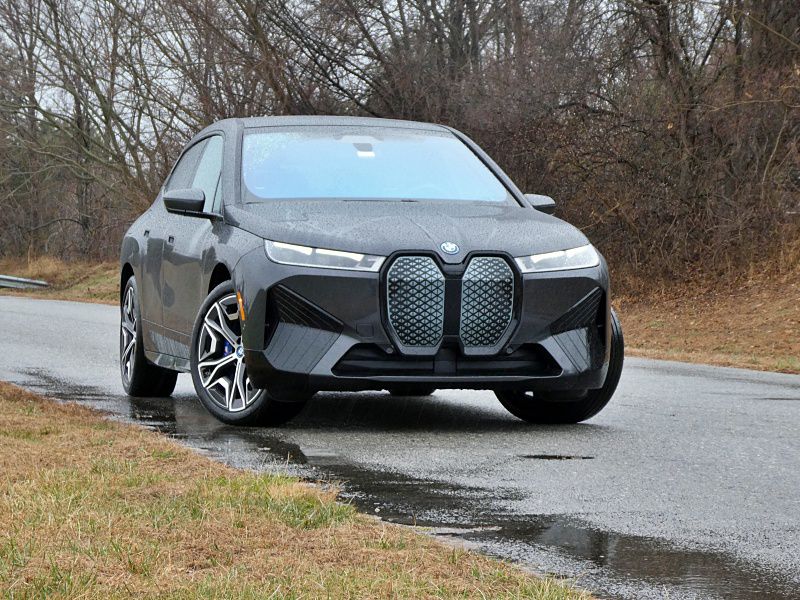 2023 BMW iX M60 ・ Photo by Brady Holt
BMW sold one of the first electric luxury cars when it introduced the i3 back in 2014. This oddball hatchback had the "kidney grille" of a BMW, but it didn't otherwise retain the brand's luxury performance DNA. That's changing with the latest line of BMW "i" models, including the 2023 BMW iX mid-size crossover SUV. 
Like the i3, the iX has some design quirks that keep it from blending into a sea of ordinary BMWs. But with a starting price of $84,100 and a standard horsepower rating of 516 hp, luxury and performance are as essential to the iX experience. But it also remembers to be an electric vehicle, with a fuel economy rating of 86 miles per gallon equivalent and an estimated range of 324 miles per charge. We just spent a week driving the iX's newly introduced M60 model, which provides 610 hp for $108,900 and up. Keep reading to find out what we learned about the BMW iX and whether it's the right luxury SUV for you.
You Won't Mistake It for an X5
On an electric car, a grille is for decoration. There isn't an engine under the hood that needs the cooling power of airflow. But the grille is so elemental to BMW's design language, the iX proudly sports a pair of tall, narrow kidneys. They're decorated with a pattern that simulates mesh, though they're actually solid pieces built into the bumper. 
That's not to say BMW is trying to make the iX look like any other BMW suv. Decidedly not. Extra-slim headlights and big, angular bumper inserts point toward that big would-be grille. A false extension of the windowline connects the side windows to the rear windshield for a "floating roof" effect. The taillights are whited-out slits. And bulges on the fenders and tailgate step away from the clean simplicity that marks a similarly sized BMW X5. This design is polarizing, and it doesn't exactly scream "I'm electric." But unlike, say, an Audi e-tron, the iX works hard to stand apart from the rest of its brand's lineup.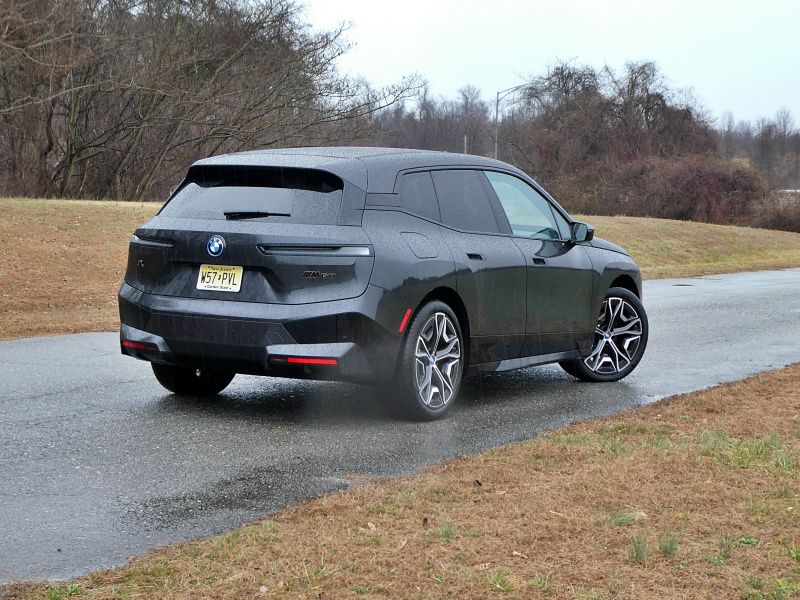 Photo by Brady Holt
Next-Generation Interior
The iX's interior stands apart from most other BMWs, too. That's in part because it's an EV, but in part because it's one of BMW's newest crossovers. 
BMW has simplified its dashboard into a single glass panel (a 14.9-inch touchscreen next to a 12.3-inch digital gauge cluster) that stands up from the leather-clad dash like a tablet on a stand. This "iDrive 8" system is highly customizable, and unlike a Tesla, you do have some physical controls as well; BMW just puts them on the center console to keep the dashboard clear. You can also learn some gesture-based controls like twirling your finger in front of the screen to adjust the stereo volume. And the system supports wireless Apple CarPlay and Android Auto. Everything feels luxury-grade, with leather or soft fabric covering most surfaces. And our test vehicle used glass for the console's main control dial plus the door-mounted power seat controls. The controls do require a learning curve, but they're intelligently and attractively designed. Expect to see similar interiors trickle into more BMWs in the coming years, but for now, the iX stands at the brand's cutting edge.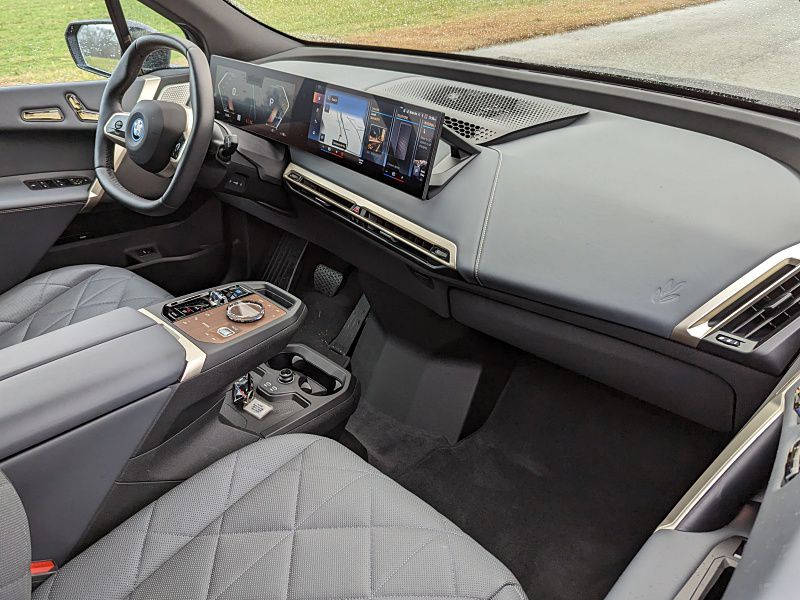 Photo by Brady Holt
324 Miles per Charge
The base iX xDrive50 has an EPA-estimated range of 305 to 324 miles per charge (it varies by the size of wheels you choose), and it achieves the equivalent of 83 to 86 miles per gallon. The more powerful M60 dips to ranges of 274 to 288 miles per charge with MPGe ratings of 77 to 78. Notably, unlike most EVs, the iX achieves equivalent or even better mileage on the highway as in the city — a winner if you'll take a road trip. What's more, our M60 test vehicle consistently beat its EPA range estimate; we didn't run it down to zero, but throughout our week with the vehicle, its remaining range would have brought it to between 330 and 360 miles. 
BMW says a fast-charging station should add 90 miles of range in 10 minutes or get an 80 percent charge within an hour. Fully charging an empty battery would take about 11 hours on a 240-volt charger like you'd find in some public stations or install in your garage; that works out to roughly 27 miles of range per hour. We also added about 3 miles of range per hour by plugging into a standard 120-volt three-prong outlet.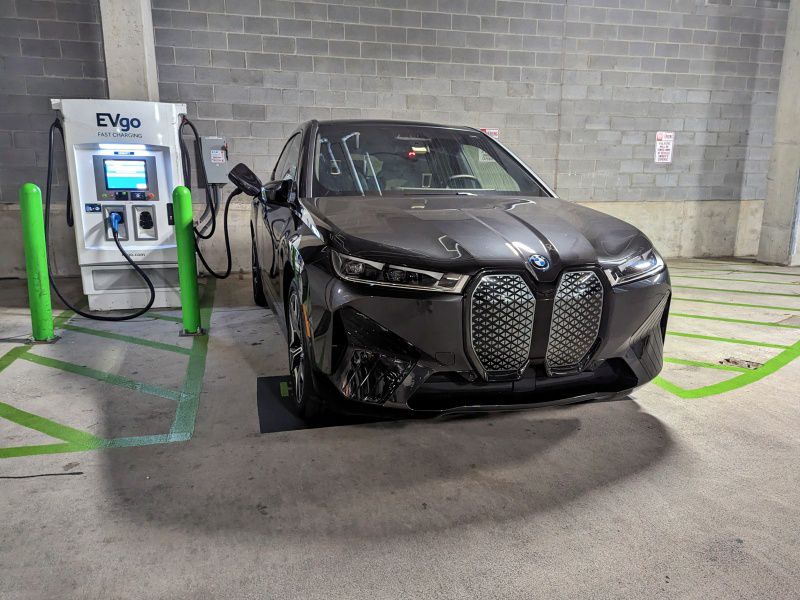 Photo by Brady Holt
Fast or Faster
BMW won't sell you a slow iX. As we mentioned, even the xDrive50 is wildly quick. With 516 hp and 564 lb-ft of torque, BMW estimates it will reach 60 mph in just 4.4 seconds. And the M60, with 610 hp and 749 lb-ft, needs just 3.6 seconds. This is the sort of absurd speed that can make you forget to breathe. And this blistering acceleration happens in near-silence, though you can dial in a synthetic noise like a muffled aircraft takeoff. 
The Tesla Model X would still win a drag race. In base form, it needs a mere 3.8 seconds to 60 in its base form, while the Plaid model's 2.5-second sprint will beat most Ferraris. That's especially impressive considering it also beats the iX's EPA ratings for range and efficiency. But we'd never call the BMW iX anything but wildly fast for any purpose but bragging rights — and even there, it has a lot to boast about.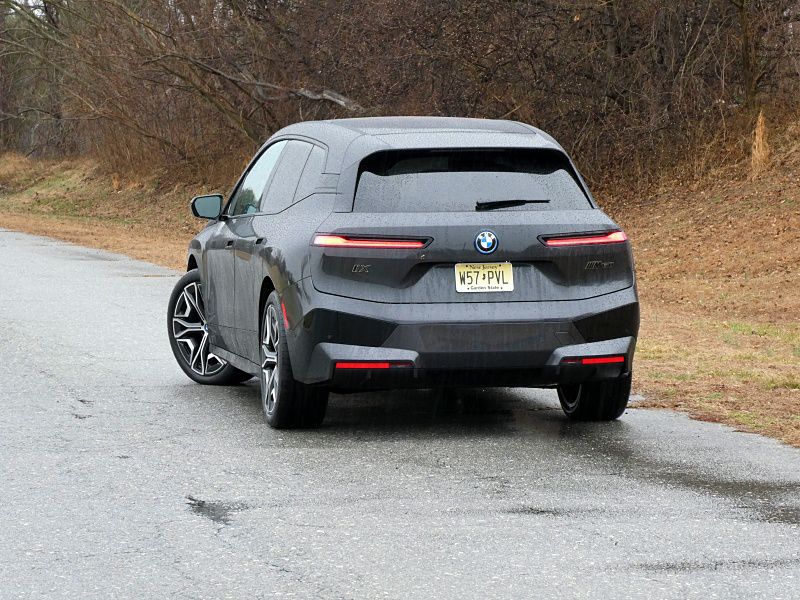 Photo by Brady Holt
Capable and Smooth
Some BMWs have dialed back the brand's famous focus on driving excitement. Not the iX. And its thrills aren't limited to the straight-line speed that we just covered. 
Turn the iX's unconventionally shaped steering wheel, and this SUV is uncannily responsive, especially with the available adaptive air suspension and four-wheel steering. You can whip it around tight curves like a small sports sedan, with a sophisticated suspension backing up its quick steering. And like other EVs, it uses its heavy battery pack to lower its center of gravity. Despite all its handling capability, the iX also has an agreeably smooth and hushed ride, even on the M60 performance model. A choice of driving modes includes a "personal" setting where you can pick and choose your preferences for the steering, throttle, suspension, and synthesized driving sounds. BMW smartly defaults to this personal setting whenever you switch on the car.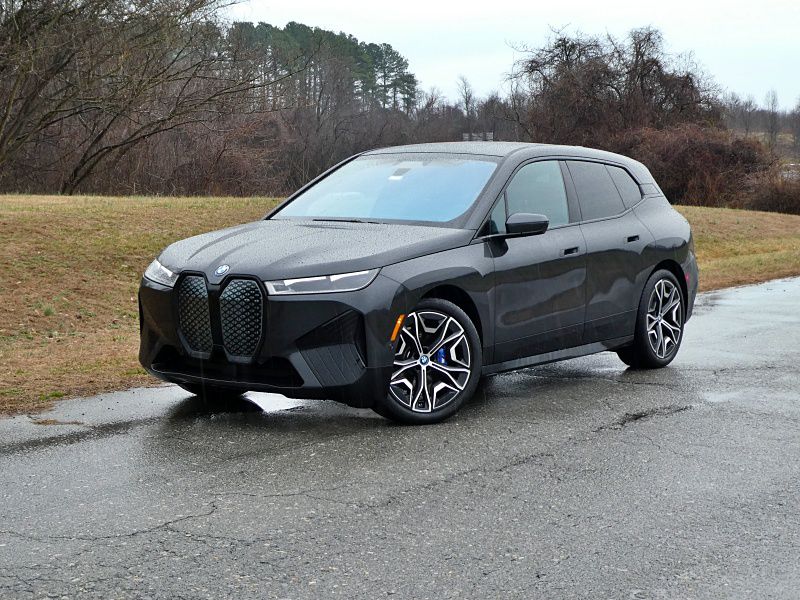 Photo by Brady Holt
Extra-Comfortable Seats
Some BMW seats are uncomfortably stiff for some tastes, but the iX delivers a superb mix of cushiness and support for our tastes. You'll find thickly padded chairs that hold you nicely in place without being too confining. They're welcoming without coming up short as the journey wears on. Leatherette upholstery is standard, but you can also get genuine cowhide or fabric. We've read some criticisms about the backseat being too low to the floor, but it didn't bother us given the amount of legroom and the good-sized side windows. Note that unlike the BMW X5, though, the iX isn't available with a third-row seat. 
Cargo space measures 35.5 cubic feet behind the rear seat and 77.9 cubic feet with the rear seat folded flat. In this case, the iX edges out its gas-powered counterpart. You don't get the same "frunk" advantage as some EVs, though; the iX's under-hood area may not have an engine, but it's still filled up with various electronics, support braces, and other mundane automotive bits like the windshield-washer-fluid reservoir. Also, although it's rated to tow a trailer in some overseas markets, BMW does not support towing with the U.S.-spec iX.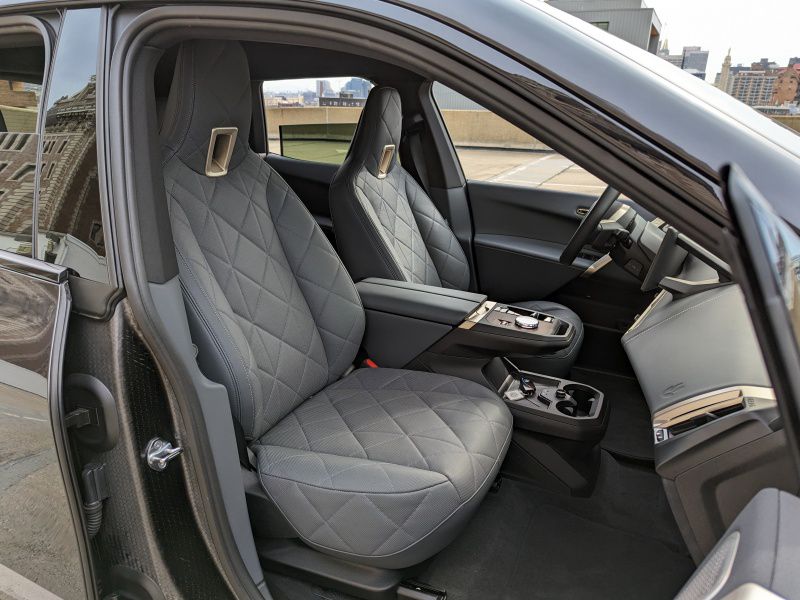 Photo by Brady Holt
Long List of Features
At its base price of $84,100, the 2023 BMW iX xDrive50 already includes high-end features like the full-size dashboard screens, GPS navigation, a panoramic moonroof with electrochromic dimming, four-zone climate control, and driver aids that include automatic emergency braking, blind-spot monitoring, and hands-free automatic parking. 
Still, it's easy to swell the price tag further with items like adaptive cruise control, ventilated front seats, a heated steering wheel, and in-car Wi-Fi, which we'd argue should be standard at this price. When you're ready to get into the more exclusive content, BMW offers you heated armrests, massaging front seats, motors that pull the door shut when it's not fully latched, augmented reality for the navigation system, and a 30-speaker Bowers & Wilkins stereo. The iX M60 like our test vehicle starts at $108,900 with some (but not all) of these items as standard equipment.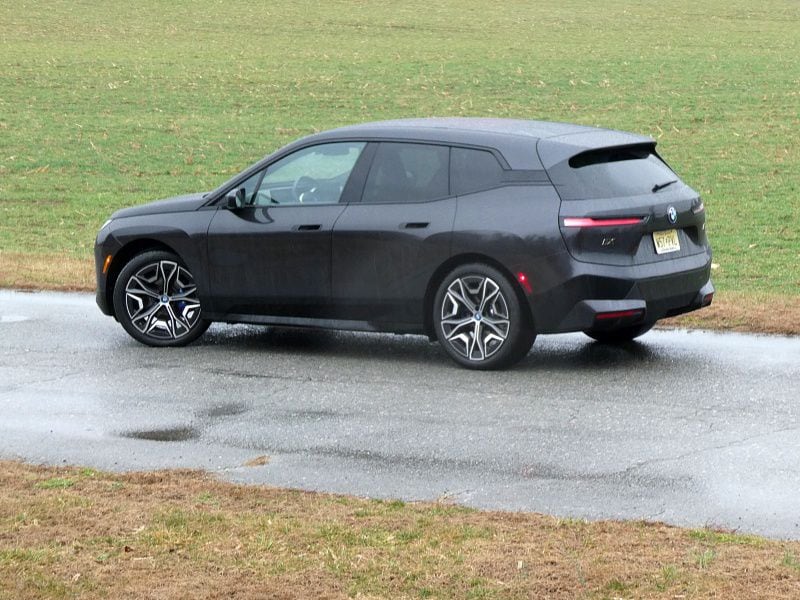 Photo by Brady Holt
Competitors to Consider
The BMW iX faces a host of competitors in its class of mid-size electric luxury crossovers. These include the Tesla Model X, which invented the class. The Model X is roomier than the iX, has a longer range, accelerates faster, and enjoys access to Tesla's Supercharger network of fast-charging stations. The BMW has a more opulent and user-friendly interior, along with better-sorted ride and handling, a longer list of available features, and a lower starting price. 
Another longstanding rival is the Audi e-tron. Like the iX, the e-tron is more conventionally luxurious than the Tesla, and it costs even less than the BMW. However, its range is more modest (topping out at 226 miles per charge) and its driving manners are more sedate. The Jaguar I-PACE comes closer to providing the BMW's sporty vibe at the Audi's lower price, but it also has a shorter range (246 miles) along with less interior room than the iX. We also expect the iX to be shopped against the larger Rivian R1S and Mercedes-Benz EQS SUV. These are roomier, generally more expensive three-row SUVs with less spirited handling than the iX.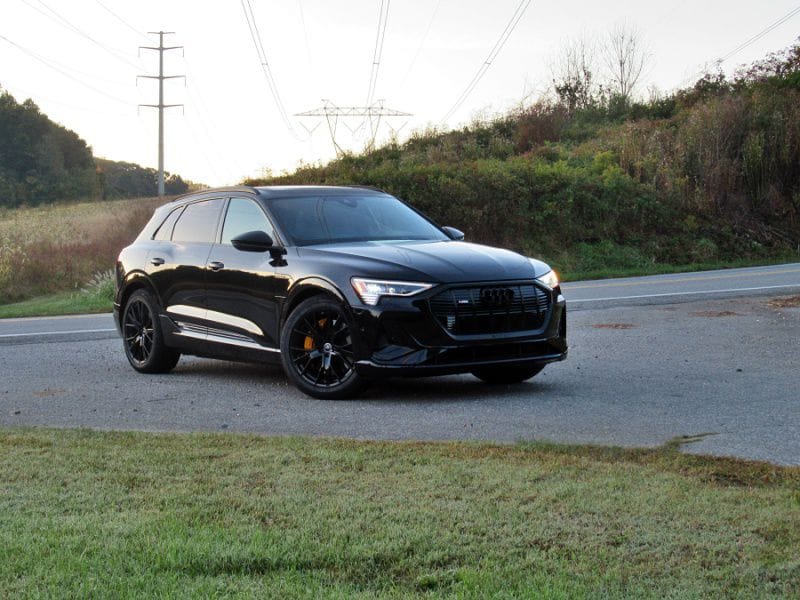 Photo by Brady Holt
Final Thoughts
The 2023 BMW iX is a luxury suv that uses its electric motors to provide thrilling acceleration, a quiet ride, and a low center of gravity. Yet it also delivers the environmental benefits of greater energy efficiency and eliminating tailpipe emissions. 
The iX faces a number of strong rivals in its quest for your money, and we'd definitely encourage you to shop around and find the best one for you. But for blending comfort, performance, luxury, technology, ease of use, and range and efficiency, this BMW is a compelling choice. We'd stick with the base model over the extra-absurd extra-expensive M60. But whichever iX you choose, you'll enjoy the ride.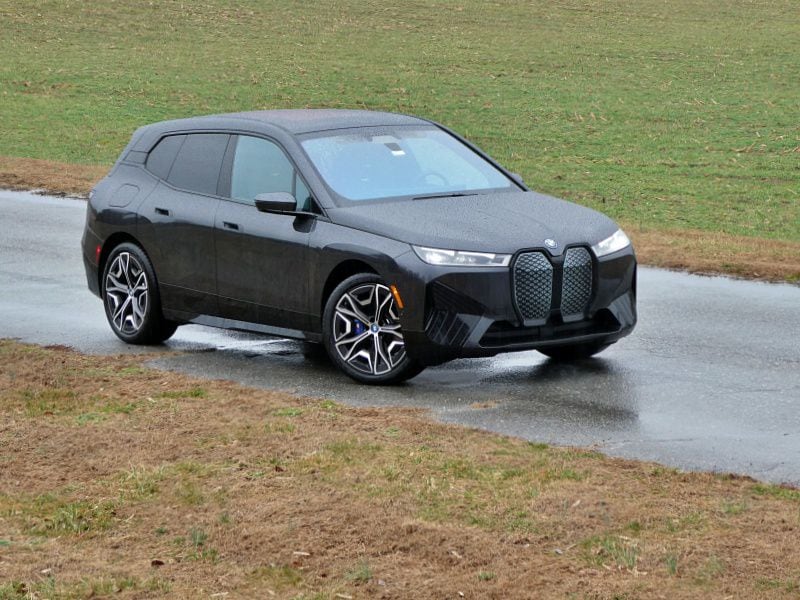 Photo by Brady Holt