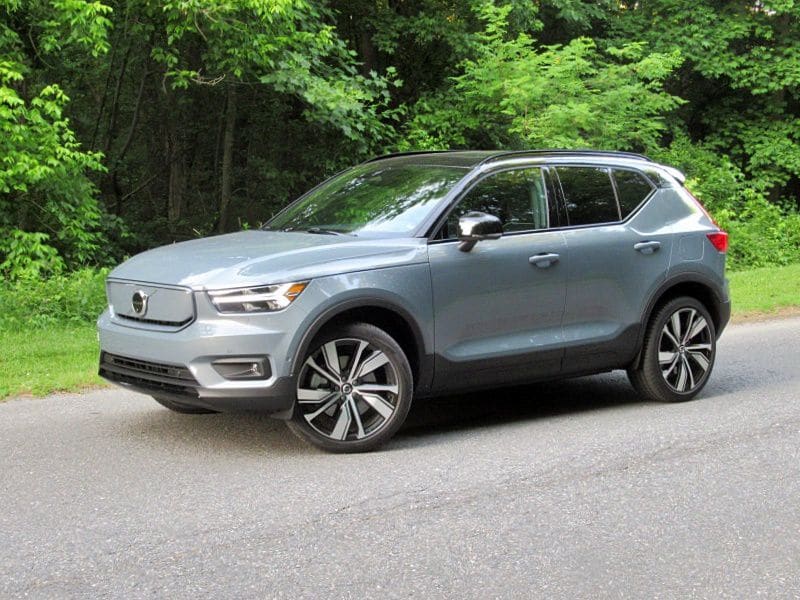 2022 Volvo XC40 Recharge ・ Photo by Brady Holt
The 2022 Tesla Model Y is America's best-selling luxury SUV and its best-selling electric vehicle. Unless you're shopping on a careful budget, you likely consider the advantages of a Tesla to be synonymous with the advantages of an EV in general: zero tailpipe emissions, wild acceleration, and advanced technology. 
But there's another electric luxury crossover that packs those same advantages into a more conventional shape. That's the 2022 Volvo XC40 Recharge, an EV version of the Swedish brand's entry-level model. And it costs thousands less than a Tesla. We recently tested both EVs so we could compare them in each of eight categories and then name an overall winner. Keep reading to learn which one we chose and which one is the better option for you. 
Range, Mileage, and Charging
Tesla has a major advantage for anyone who plans to take their EV on a long trip. The Model Y doesn't only have a much longer range per charge, but it also includes access to Tesla's network of proprietary Supercharger fast-charging stations. Non-Tesla charging stations are scattered more randomly, often require payment via an assortment of different accounts, and typically have much slower charging speeds. 
By the numbers, the XC40 Recharge travels an EPA-estimated 223 miles per charge while averaging the equivalent of 85 mpg (MPGe). The Model Y Long Range travels up to 330 miles per charge at 122 MPGe, but upgrading to 20-inch wheels instead of the standard 19-inchers (like our test vehicle) cuts range to 318 miles. The Model Y Performance model goes 303 miles per charge. We did beat the Volvo's EPA estimates, getting on pace for 265 miles of range at an average of 113 MPGe. But even so, the Tesla goes farther, uses less energy, and is easier to recharge when you're on a trip.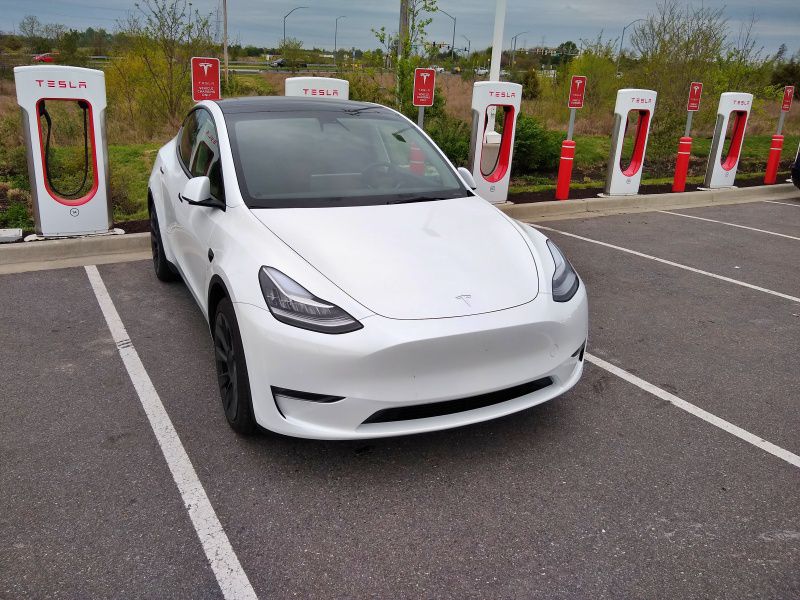 Photo by Brady Holt
Exterior Design
The Model Y may be the best-selling luxury suv, but it doesn't look much like an SUV. It has sportiness and some utility, but no hint of toughness. It's a sleek egg, a transportation pod, a computer mouse on wheels. It's instantly recognizable as an electric car, and the sleek, clean look has many fans. 
But if you like something more traditional, the XC40 Recharge will be more to your tastes. It's a small, boxy SUV with plastic over its front grille. It's upscale without being elegant or gaudy (except perhaps for our test vehicle's huge 21-inch wheels). It's cheekier than Volvo's bigger, more expensive SUVs while still looking high-end, especially from the rear. We won't declare an aesthetic winner between the car-of-the-future Tesla and the car-of-today Volvo. Note that if you like the XC40 but would prefer a bit more flash, the Volvo C40 puts a sportier roofline on the same bones and body. 
Tie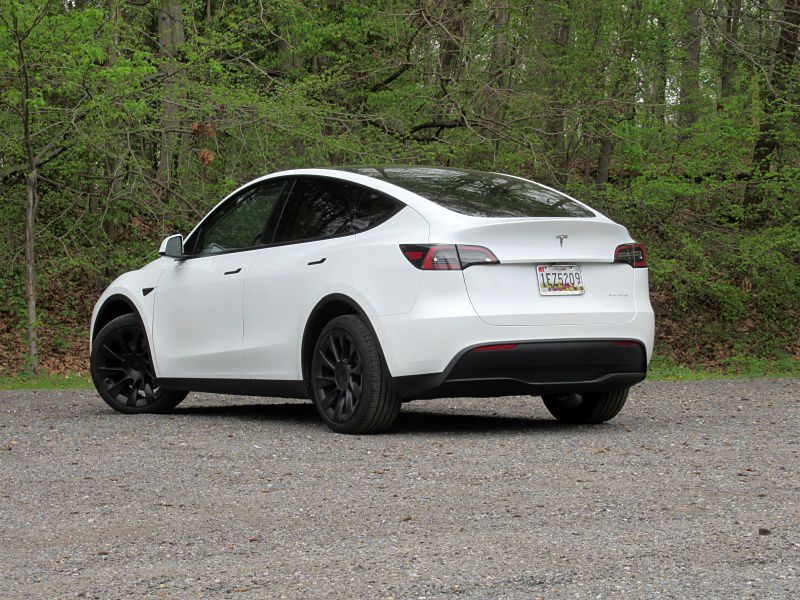 Photo by Brady Holt
Interior Design
Like its exterior, the Model Y's interior is like other Teslas but unlike anything else. It's built around a principle of tech-focused minimalism, and its austere simplicity stands apart from even other technology-filled luxury vehicles. The dashboard is empty save for a strip of wood trim, the steering wheel, and a massive 15-inch touchscreen that handles everything from the radio to the speedometer to the headlight controls. 
Still, we'll award this category to the XC40. It doesn't break the automotive mold, but that can be a good thing: It's a conventionally appealing interior style, and its controls are easier to use than the Tesla's. It's not aggressively high-tech like the Model Y, but it doesn't look stale or busy, either. A vertical 9-inch infotainment touchscreen occupies the center of the dashboard between two vertical vents. There's also a 12.3-inch digital gauge cluster, bringing total screen real estate in line with the Tesla. We wouldn't claim the Volvo's controls are perfect, but with more physical buttons, knobs, and dials, it's simpler than the Model Y. Plus, we appreciate that the XC40's Google-based infotainment system supports Android Auto and Apple CarPlay — absent from the Tesla.  
Volvo XC40 Recharge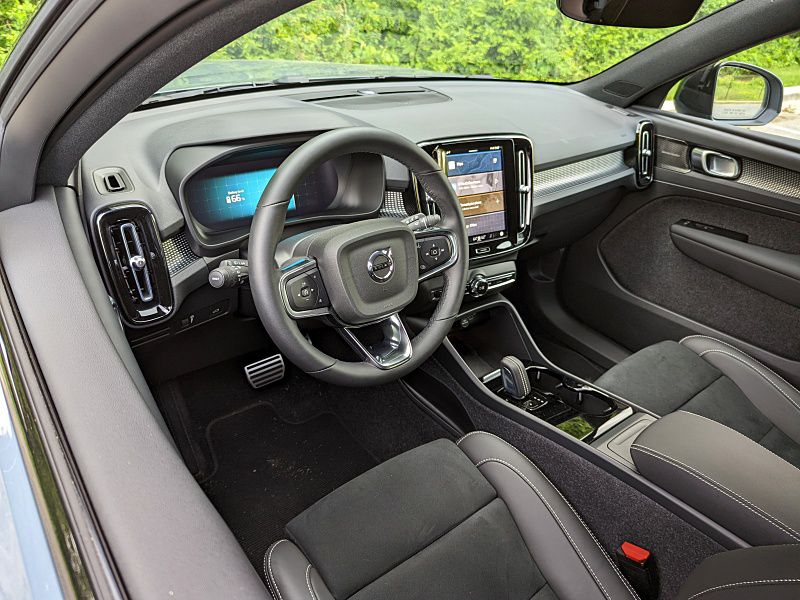 Photo by Brady Holt
Interior Space and Comfort
With its sloped roofline, the Model Y looks more like a slightly taller Tesla Model 3 sedan than a roomy SUV. But it's about a foot longer than the XC40 Recharge, and it puts that size to good use. You'll find a generous 30.2 cubic feet behind the rear seat and 72.1 cubic feet with the rear seat folded, plus a 4.1-cubic-foot front trunk ("frunk") under the hood. It also has a high seating position, plenty of front and rear legroom, and more head space than you might expect. There's even an option to buy a tiny third-row seat for a total capacity of seven passengers. 
The boxy XC40 Recharge is also usefully spacious for its size. It's just a smaller size. Four adults can fit but can't stretch out as much as in the Tesla. For cargo, you get 20.7 cubic feet behind its rear seat and 57.5 cubic feet with the rear seat folded. Its 1-cubic-foot frunk can fit its charging cable but that's about it. What's more, the Model Y can tow up to 3,500 pounds to the XC40 Recharge's 2,000 pounds. 
Tesla Model Y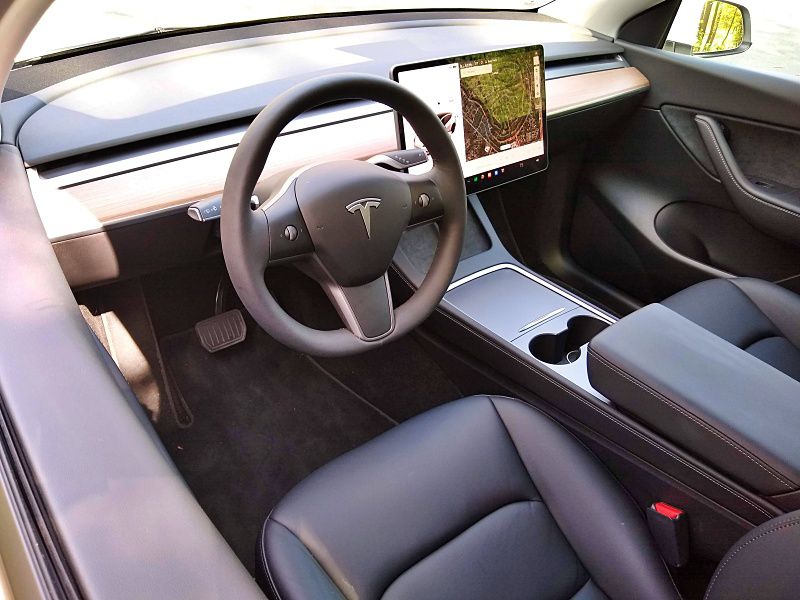 Photo by Brady Holt
Acceleration
You might not expect it from the Volvo name and the XC40 Recharge's tame styling, but this electric SUV is a 402-horsepower rocket that reaches 60 mph in an estimated 4.7 seconds. That's quicker than some sports cars, and it even edges out the base Model Y Long Range's 4.8-second estimate. 
However, when speed is key, Tesla has a truly wild option: the Model Y Performance. It reaches 60 mph in a don't-forget-to-breathe 3.5 seconds. Both of these crossovers deliver incredible, near-silent acceleration. And the XC40 Recharge has a small edge over the most affordable Model Y version. But Tesla wins this round. 
Tesla Model Y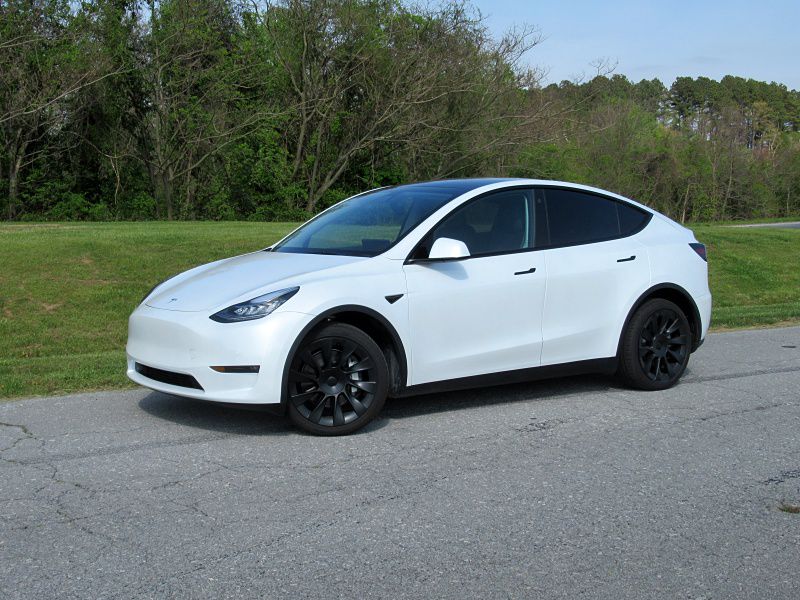 Photo by Brady Holt
Ride and Handling
Tesla's sporty handling matches its acceleration. The firm steering, tautly tuned suspension, and low center of gravity — courtesy of its heavy battery pack under the floor — mean the Model Y has sharper moves than a typical SUV. But we'll pick the Volvo overall. 
The XC40 Recharge's steering glides in your hands where the Tesla's needs a bit more muscle, even in its "Comfort" mode. The Model Y crashes awkwardly over bumps that the Volvo takes in stride, even with our test car's outsized 21-inch wheels. The XC40 Recharge is quieter, too. And while it's not quite as lively as the Model Y, its smaller size helps keep it light on its feet as well. 
Volvo XC40 Recharge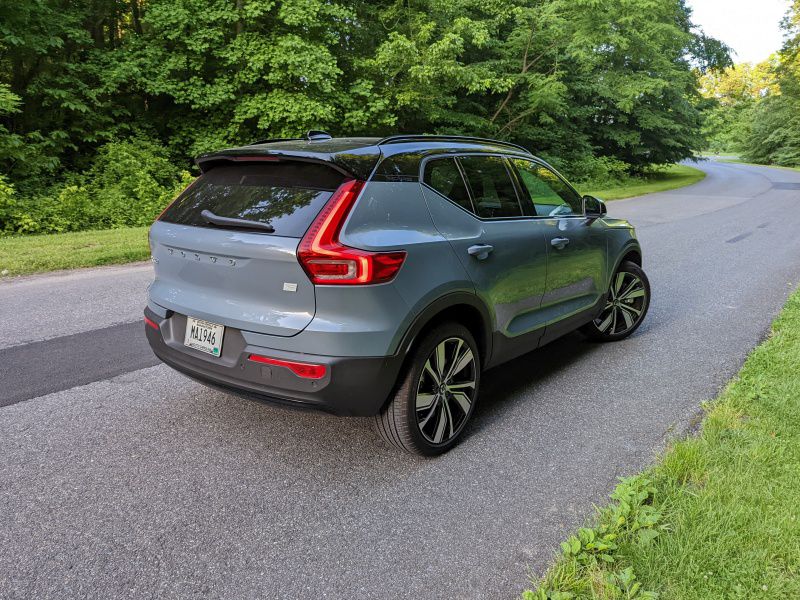 Photo by Brady Holt
Safety and Driver Assistance
Tesla is famous for its Autopilot suite of advanced driver-assistance systems, plus its optional Full Self Driving add-on. This suite includes adaptive cruise control and automatic steering (with your hands required to stay on the steering wheel). That's nothing unusual for a modern vehicle, but Tesla's system works more smoothly and simply than Volvo's. The XC40 Recharge also provides adaptive cruise control only on its top trim level. 
In another Tesla advantage, Autopilot can display exactly what the car's computer is "seeing," everything from trucks to traffic cones. It's a nifty trick that inspires confidence in the system. For visual confirmations, a blind-spot camera activates when you put on the turn signal. The Model Y's system also edged out the XC40 Recharge's in the Insurance Institute for Highway Safety's tests of automatic braking systems. The Tesla proved more adept at automatically avoiding a pedestrian. Both earned the highest designation of Top Safety Pick+ overall, but the Model Y is more impressive. 
Tesla Model Y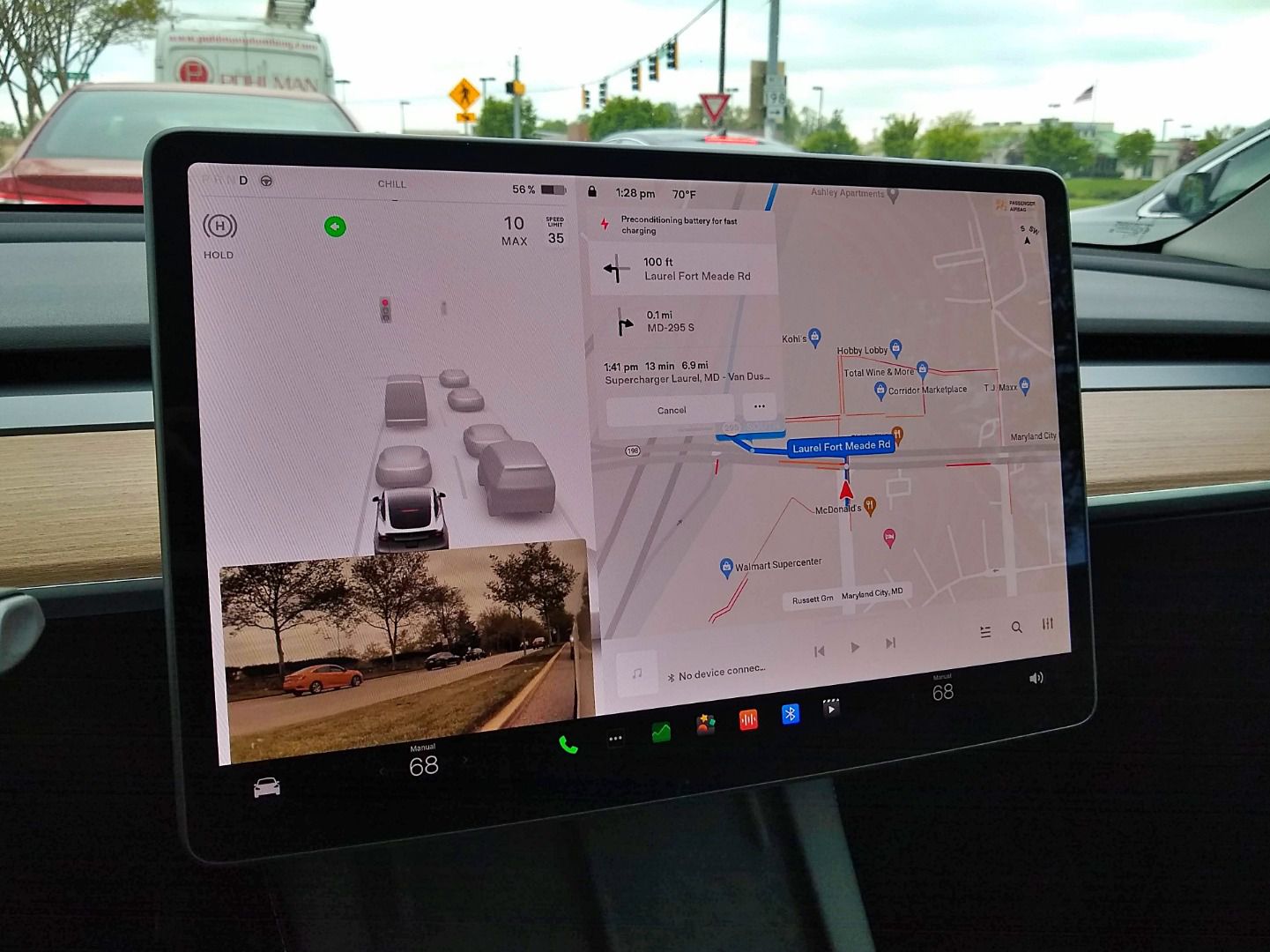 Photo by Brady Holt
Pricing
If the XC40 Recharge's shorter range and less-spiffy semiautonomous technology seem inexcusable, consider what these SUVs cost. The Model Y currently starts at $62,990 for the Long Range — a $10,000 price hike over the past two years — and $67,990 for the Performance. And Tesla has already sold so many plug-in vehicles, the brand's customers are no longer eligible for federal tax incentives. 
By contrast, the XC40 Recharge starts at $51,700, and buyers can claim a $7,500 federal tax credit. Even the top Ultimate trim level like our test vehicle comes to $58,150 before the tax credit. This is still a luxury car, but it's a lot less dear than the Tesla. 
Volvo XC40 Recharge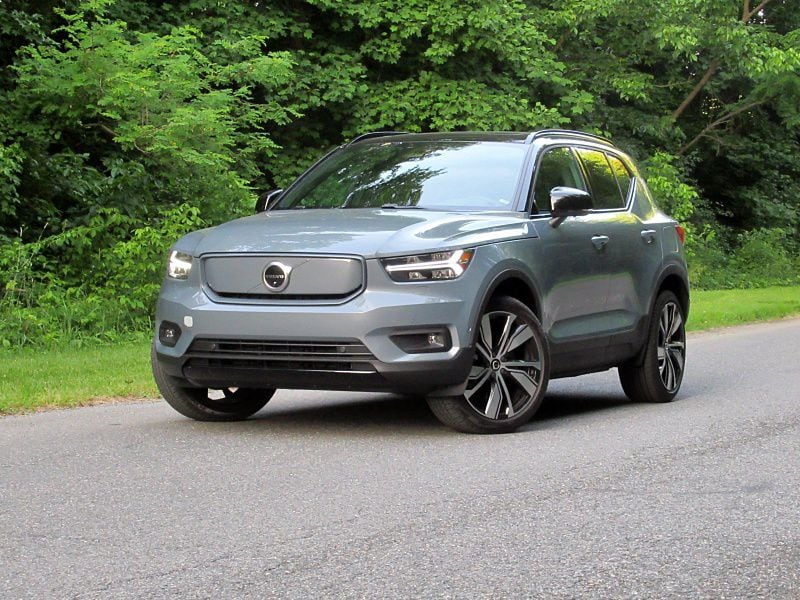 Photo by Brady Holt
Final Thoughts
The 2022 Volvo XC40 Recharge is a better luxury SUV than the 2022 Tesla Model Y. It drives with more polish, it has a richer and more conventionally attractive interior, and it's much less expensive. 
But the Tesla is the better electric vehicle. The Model Y is an imperfect but quite nice car that also enjoys industry-leading range per charge and an insurmountable advantage in public charging access. If you're looking for a quick, quiet runabout or commuter car with equal parts power and polish, the XC40 Recharge has clear appeal for its refinement and value. But the Model Y can go farther and use less electricity while doing so, all while its slick styling and smooth Autopilot make it feel like a generation ahead of conventional cars like this Volvo. If you're willing to take on its unconventional controls and bumpier ride, you'll likely find it worth the extra money. 
Tesla Model Y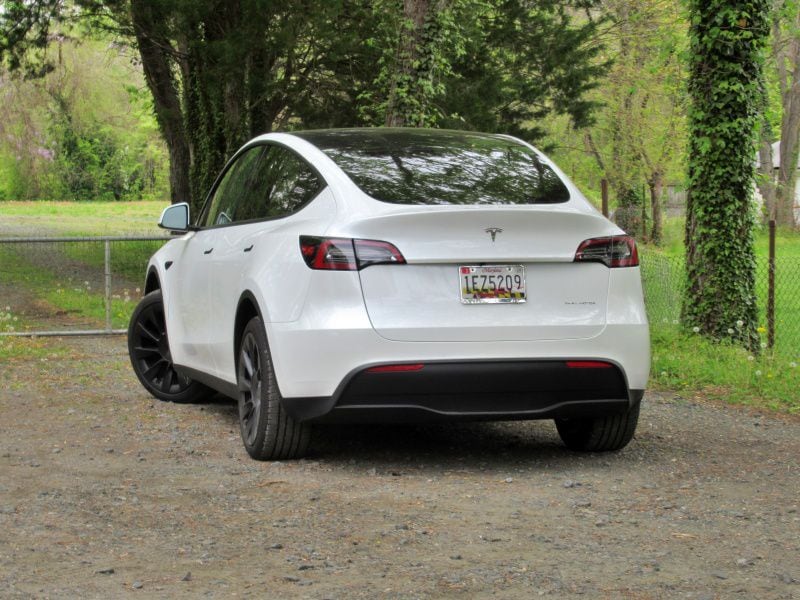 Photo by Brady Holt