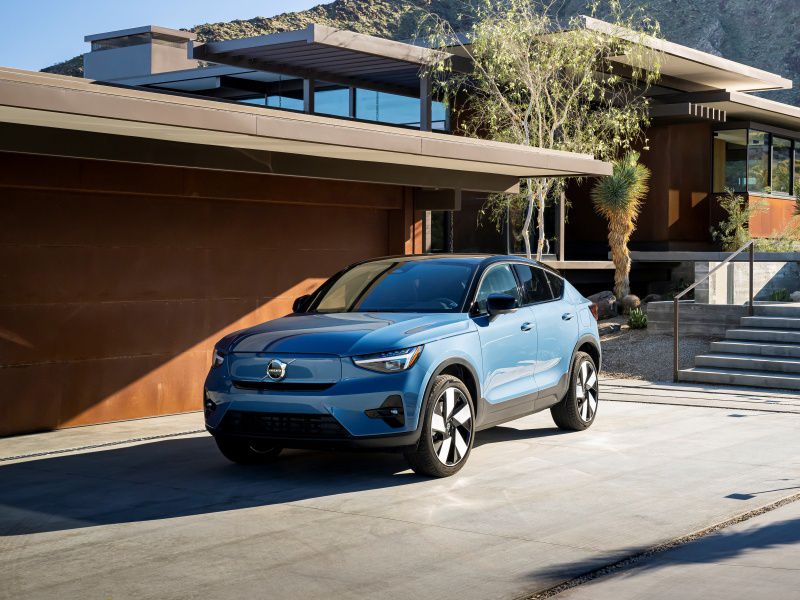 2022 Volvo C40 Recharge ・ Photo by Volvo
The 2022 Volvo C40 Recharge is an all-new electric vehicle. This is the first vehicle in Volvo's lineup that's available as an EV only, and it's only available through online ordering. This crossover combines the efficiency of an electric vehicle with the understated luxury of the Volvo brand.
The 2022 Polestar 2 is an electric hatchback sedan that comes from an electric-only automaker that started out as the performance division of Volvo. That means they have a lot in common, but they're not quite the same. Let's take a closer look at this two luxury EV offerings to see which one is the best.
More Trims, More choice
The Volvo C40 Recharge has one trim priced at $58,750. Standard features include all-wheel drive, a panoramic sunroof, dual-zone automatic climate control, a power tailgate, and automatic emergency braking with pedestrian and cyclist detection. It also has a 9.0-inch infotainment touchscreen and a 600-watt 13-speaker Harman Kardon audio system.
The Polestar 2 offers two trims. The Single Motor is front-wheel drive at $45,900 while the Dual Motor comes in at $49,900. There's a standard 11.5-inch touchscreen, 8-speaker audio system, and dual-zone climate control. There are also several options packages that include upgraded audio, Brembo brakes with gold brake calipers, and additional safety features. Although the C40 Recharge is well-equipped in its single trim, the Polestar 2 offers more choices.
: Polestar 2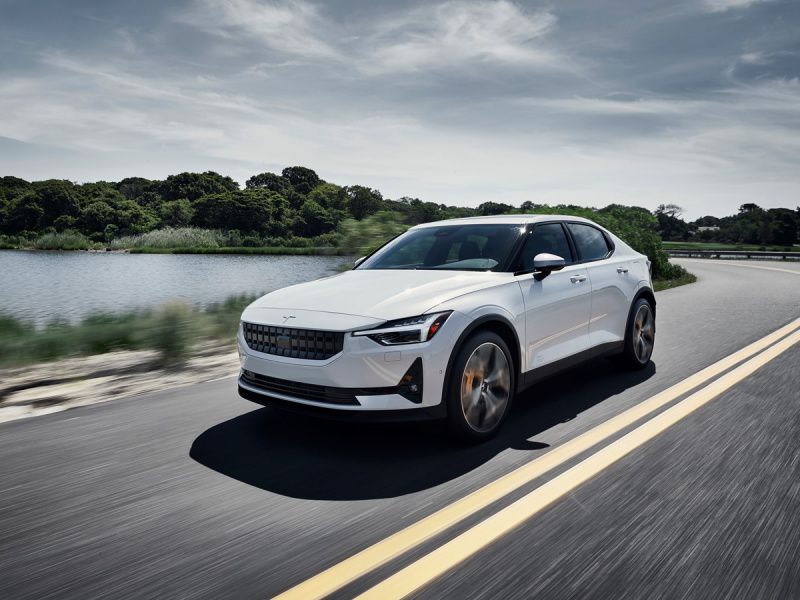 Photo by Polestar
Similar Powertrains
Polestar was originally a part of Volvo as the division in charge of producing performance vehicles. Today, it's a standalone electric-vehicle manufacturer with close ties to Volvo. This connection shows in the powertrains of these two vehicles. The C40 Recharge has standard all-wheel drive with two electric motors for 402 horsepower and 487 lb-ft of torque. There's also a 78-kWh battery.
The Polestar 2 also has a 78-kWh battery. Equipped with all-wheel drive and two motors, it has 408 horsepower with 487 lb-ft of torque. Front-wheel drive models have only one electric motor for 231 horsepower and 243 lb-ft of torque. The Polestar matches the C40 Recharge for all-wheel drive performance and adds the option for front-wheel drive.
: Polestar 2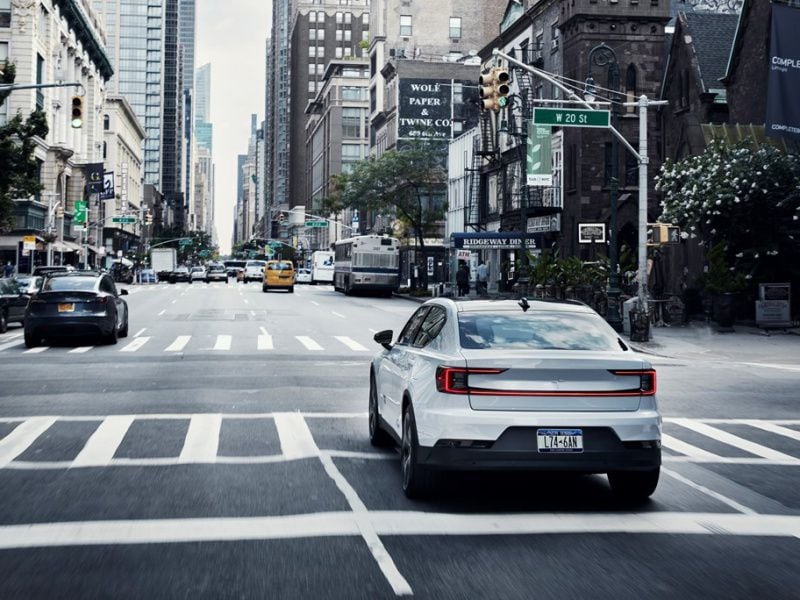 Photo by Polestar
A Matter of Range
Both of these vehicles feature a 78-kWh battery pack, so on that count, it's a tie. However, charging times are slightly different as are ranges. The Polestar 2 can get an 80 percent charge in 35 minutes at a DC fast charger. All-wheel drive trims have a range of 249 miles while front-wheel-drive models get 270 miles.
The C40 Recharge charges up to 80 percent in 37 minutes, which is all of two minutes longer. However, range is another matter. It doesn't have the option for front-wheel drive, which is a longer-range choice in the Polestar 2. It gets only 225 miles of range in its sole configuration. That's a big difference and gives the Polestar 2 another win.
: Polestar 2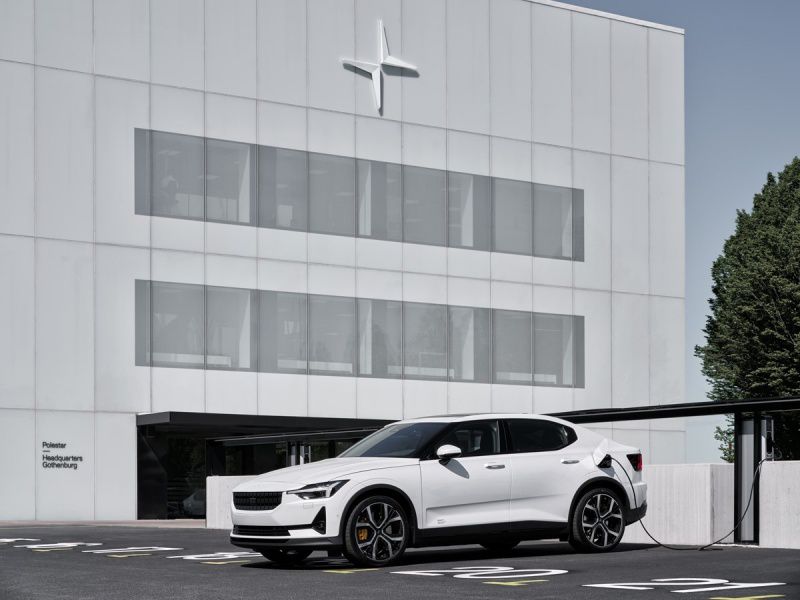 Photo by Polestar
Smooth Rides With Confident Handling
The Polestar 2 delivers a smooth and quiet ride with crisp handling. It's engaging yet relaxing to drive with a minimum of steering input necessary, so road trips are less tiring. This is a great option as a commuter car, both for the efficiency of its electric powertrain and its well-mannered drive.
The C40 Recharge offers a similar controlled ride that puts a priority on passenger comfort. There's a minimum of wind noise thanks to the sloped roofline of this crossover. It also manages road noise well and smooths out all but the roughest of road imperfections. While both are easy to drive and comfortable for passengers, the C40 Recharge delivers a better balance between passenger comfort and responsive handling.
: Volvo C40 Recharge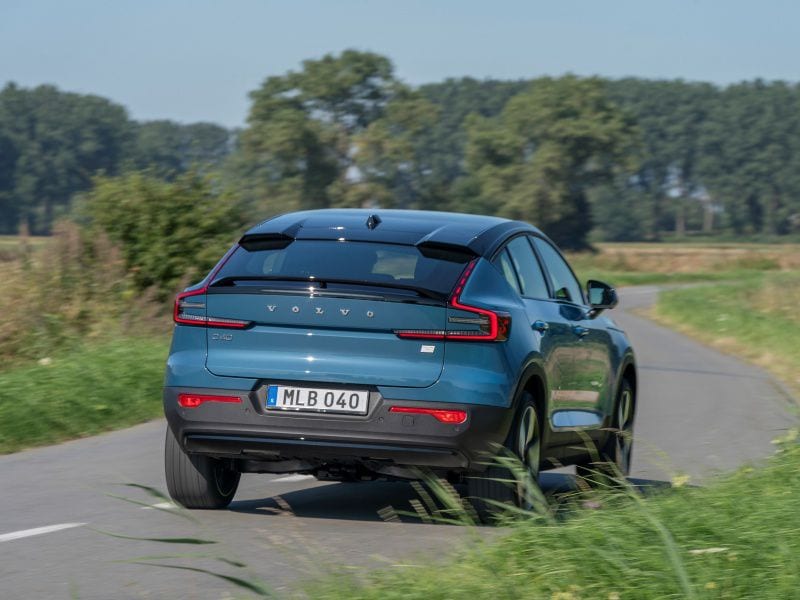 Photo by Volvo
Interiors That Focus on Sustainability
These are both luxury cars, which has long meant an abundance of rich leathers along with real wood trims. There are even whole ranges of leathers available with the highest trims often boasting quilted and perforated leather seating surfaces. It may look and feel beautiful, but it's not sustainable nor is it environmentally focused.
The Polestar 2 has an available WeaveTech interior that uses recycled materials, but it does still offer a leather option. The C40 Recharge is completely leather-free with no option for leather. Don't despair if you're a leather fan as the materials used are beautiful. You won't miss the leather seats, and you'll be doing a good thing for the environment.
: Volvo C40 Recharge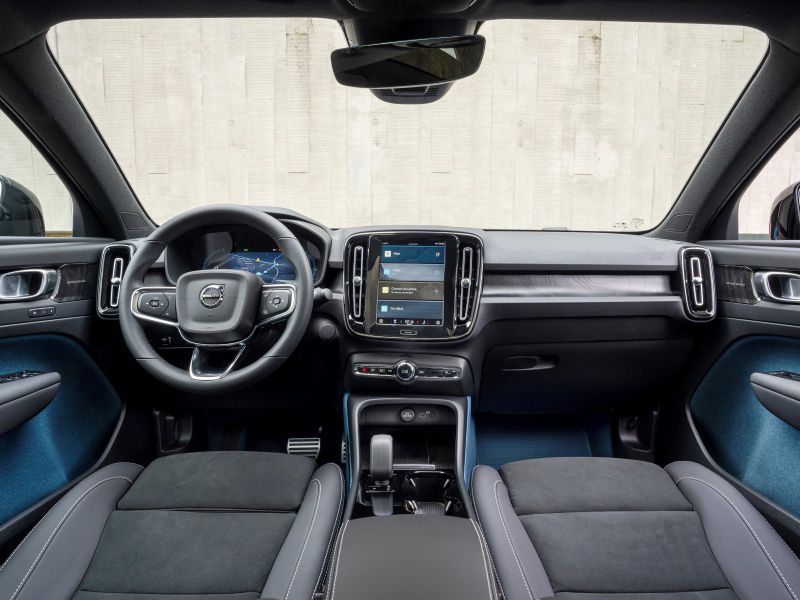 Photo by Volvo
Striking Exterior Design
Electric vehicles look a bit different than gas-powered vehicles. The most notable design change is up front. Since there's no need to have a grille with lots of little slots to improve airflow to the engine, designers replace those grilles with flat panels of metal. A well-designed EV makes good use of every bit of metal, so it's striking rather than off-putting.
The Polestar 2 is an attractive vehicle, but it's not especially eye-catching. The C40 recharge, however, is genuinely appealing. It's a crossover, which generally makes for a boxier design, but with an aggressively sloped roofline. This makes the C40 Recharge look sleek and upscale. Those lines are accented by Volvo's Thor's hammer lights for a truly unique look.
: Volvo C40 Recharge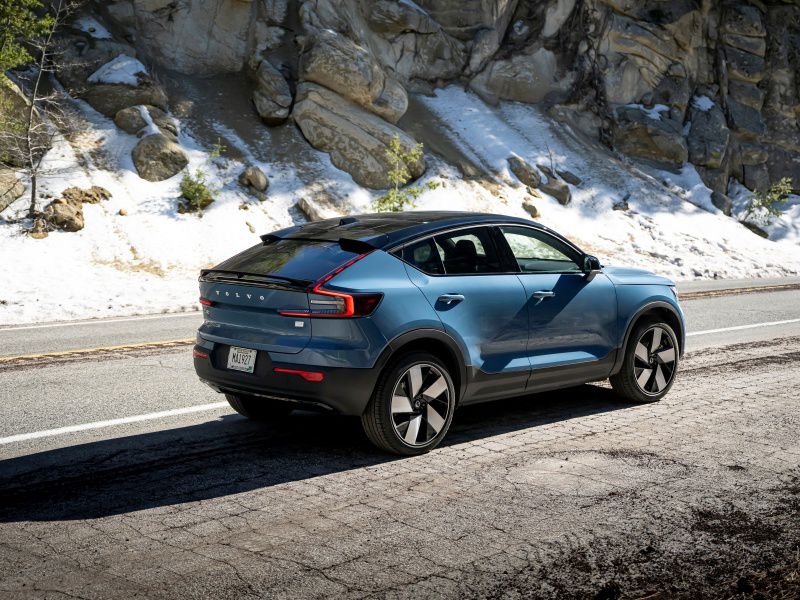 Photo by Volvo
Infotainment With Varying Screen Sizes
The Polestar 2 has a standard 11.15-inch touchscreen that runs Google Android Auto. This is an easy system to use with voice control available by saying, "Hey, Google," followed by whatever it is you need the system to do. That could be directions to a favorite restaurant or even adjusting the climate controls. Plenty of apps are available through the Google Play store to help tailor the system to your preferences.
The C40 Recharge runs on the same operating system, so it gets the same features. The biggest difference between the two is screen size with the Volvo getting only a 9.0-inch touchscreen. It's large enough to operate and view easily, but the larger screen in the Polestar is more premium.
: Polestar 2
Photo by Polestar
Room for Your Stuff
In a crossover, room for people and their stuff is a priority. While you can fold the second row when you don't have rear passengers, there needs to be enough space behind the rear seats for luggage or packages. The C40 Recharge has a modest 14.6 cubic feet behind the rear seats with 0.7 cubic feet in the frunk.
The Polestar 2 is a hatchback sedan, but you wouldn't be wrong to think it looks like a crossover. It has 14.3 cubic feet behind the rear seats, with an additional 1.4 cubic feet of rear underfloor storage that keeps precious items out of sight. There's also a frunk with 1.2 cubic feet, making the Polestar 2 a better cargo option.
: Polestar 2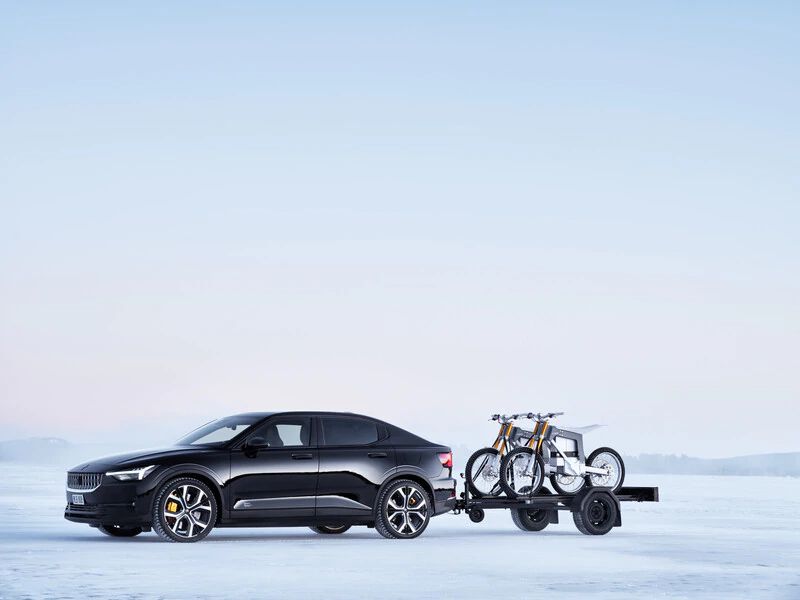 Photo by Polestar
Lots of Standard Safety Features
Standard features on the Polestar 2 include collision avoidance mitigation with braking and steering support including vehicle, cyclist, and pedestrian detection, forward collision warning, run-off road mitigation, lane keeping with steering assist, oncoming lane mitigation, and driver alert. It hasn't been crash tested by the Insurance Institute for Highway Safety (IIHS) or the National Highway Traffic Safety Administration (NHTSA).
The C40 Recharge matches up with adaptive cruise control, lane departure warning with lane-keeping assist, front, rear, and side park assist, blind-spot warning with rear cross-traffic alert, road side information, and automatic emergency braking with pedestrian and cyclist detection. It's been crash tested by the IIHS receiving top marks of Good and a 2022 Top Safety Pick+ rating.
: Volvo C40 Recharge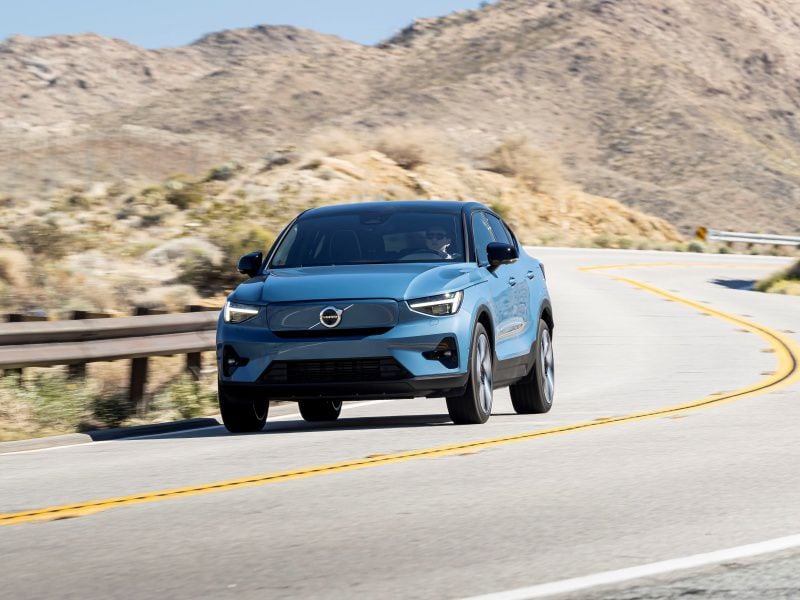 Photo by Volvo
And the Winner Is...
These are two well-matched vehicles with a lot in common due to their shared corporate connection. The C40 Recharge has solid safety ratings, a stunning interior, a more attractive exterior design, and a nicer ride.
The Polestar 2, however, comes out just ahead with a larger infotainment screen, more trim choices with varying batteries, and better use of space for stowing all your cargo. While both are good choices, we give the win to Polestar.
: Polestar 2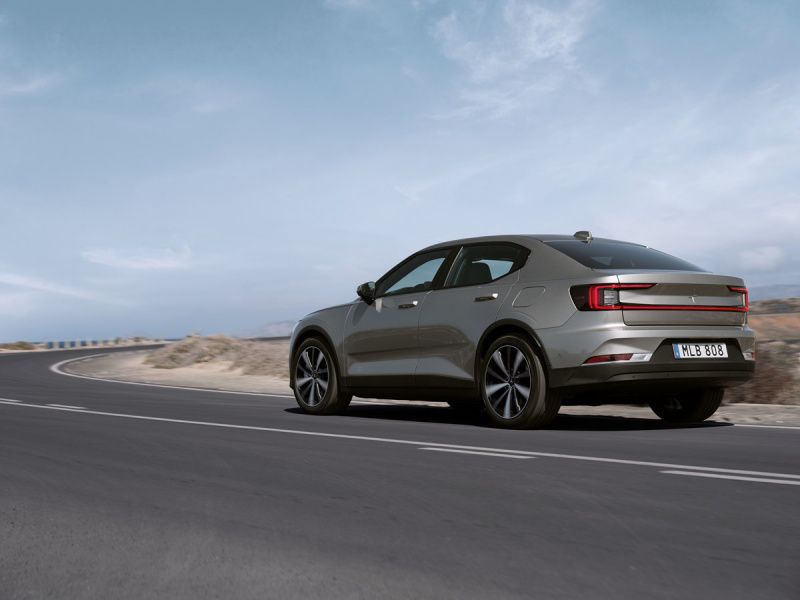 Photo by Polestar