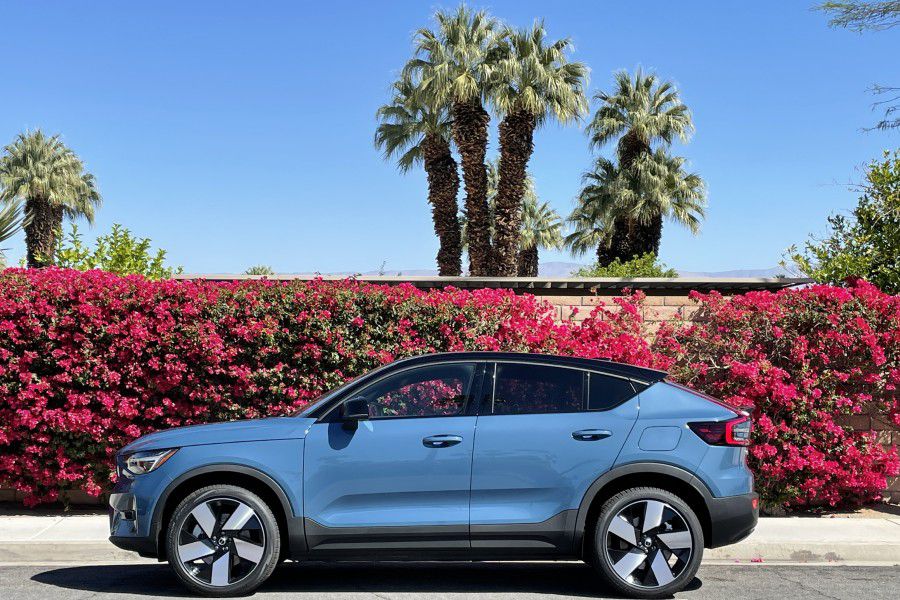 2022 Volvo C40 Recharge Profile ・ Photo by Nicole Wakelin
The move to electric vehicles continues at a rapid pace with the introduction of the all-new 2022 Volvo C40 Recharge. This is the first time Volvo has introduced a vehicle solely as an electric with no gas or hybrid counterpart. It also marks the first time that the brand has made a vehicle available for sale only through online ordering with no way to just walk in and buy one off your local dealer lot.
This all-electric crossover is available in a single well-equipped trim with standard all-wheel drive. It has sleek, coupe-like styling with a more minimalist interior design. There's seating for up to five people and room for cargo, which is one of the reasons crossovers are so popular. Let's take a closer look at the all-new 2022 Volvo C40 Recharge to see if it's the right electric vehicle for your lifestyle.
One Well-Equipped Trim
Volvo simplifies the ordering process by offering the C40 Recharge in only one trim at a starting price of $58,750. All-wheel drive is standard along with a long list of features that includes 20-inch wheels, power tailgate, panoramic sunroof, and dual-zone automatic climate control. Front seats are 8-way power adjustable with 4-way power lumbar and manual cushion extenders for added comfort.
There's a standard 9.0-inch tablet-style infotainment touchscreen and a premium 600-watt 13-speaker Harmon Kardon audio system. It's also strong on safety with standard automatic emergency braking that includes pedestrian and cyclist detection. There may be only one trim of the C40 Recharge, but it has a wide range of equipment that makes it anything but a base model. While this makes ordering easy, it limits your choices since you can't opt for a less well-equipped trim that's more affordable or splurge a bit to get something more luxurious.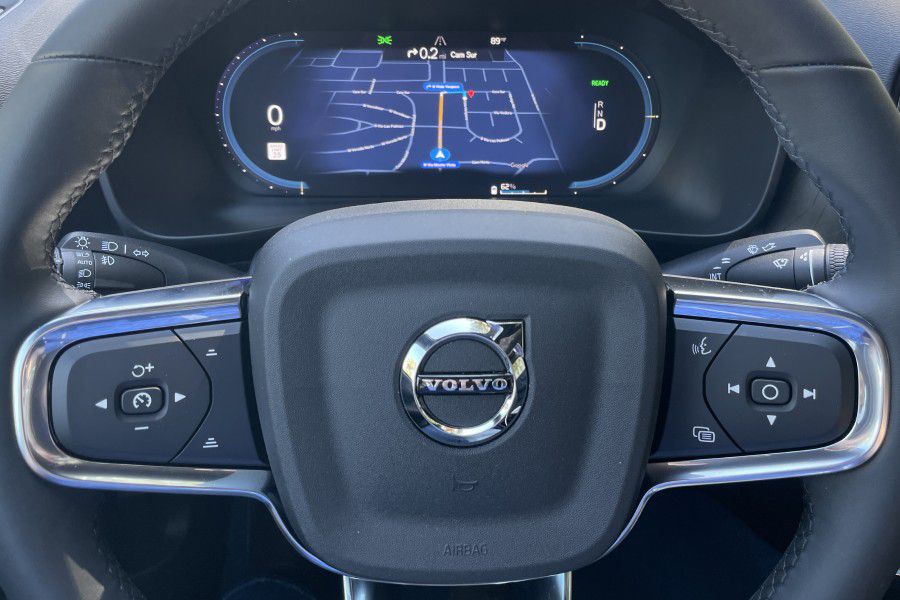 Photo by Nicole Wakelin
Only One Battery Available
Range continues to be a concern for many EV shoppers even though most electric vehicles have batteries that easily cover a typical day's driving. The C40 Recharge has a 78-kWh battery with an EPA-estimated range of 226 miles. Unless you're going on a road trip, you're not going to need to charge when you're on the go and can easily manage the task simply by charging at home.
When you do need to top off the battery, you can get a fair amount of range quickly. At a 150-kW DC fast charger, the battery charges from 10 percent up to 80 percent in all of 37 minutes. If you use an AC charger, then you're looking at closer to 8 hours for a full charge. Those who plan to use their EV for road trips will have to plan their stops to accordingly.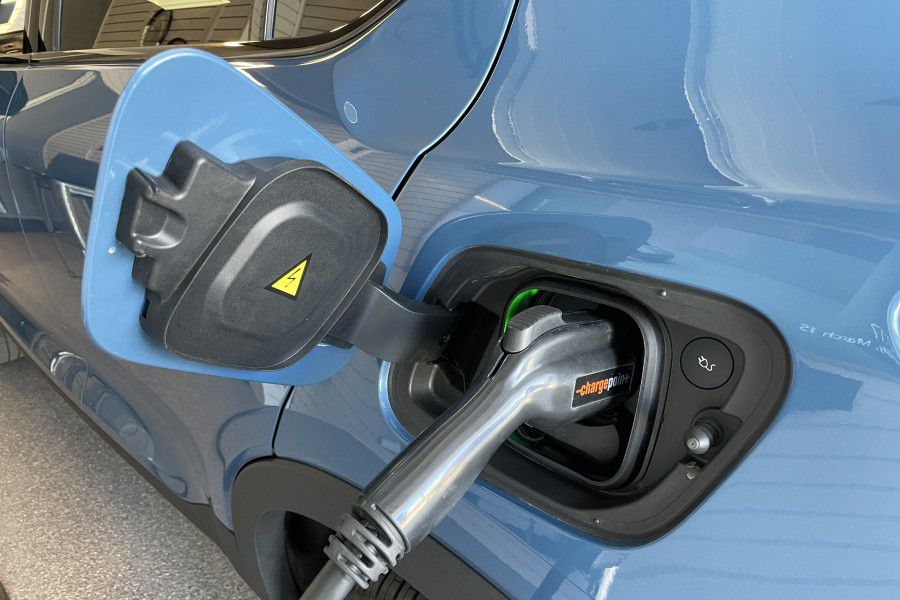 Photo by Nicole Wakelin
A Responsive Drive
Driving an electric vehicle is a unique experience. When you press the accelerator, there's no accompanying roar of an engine, but that doesn't mean EVs are tame creatures. The C40 Recharge has plenty of power with 402 horsepower and 487 lb-ft of torque at its disposal. Those are impressive numbers, more so for the near instant delivery of all that torque that you get only from an electric vehicle.
There is more than enough power to get the C40 Recharge up to speed for merging with highway traffic. Passing slower vehicles is just as easy. While there's strong power delivery here, it's not harsh. This is more of a highway cruiser that maintains its manners so passengers can ride undisturbed. Unlike more performance focused crossovers, this one puts a priority on passenger comfort.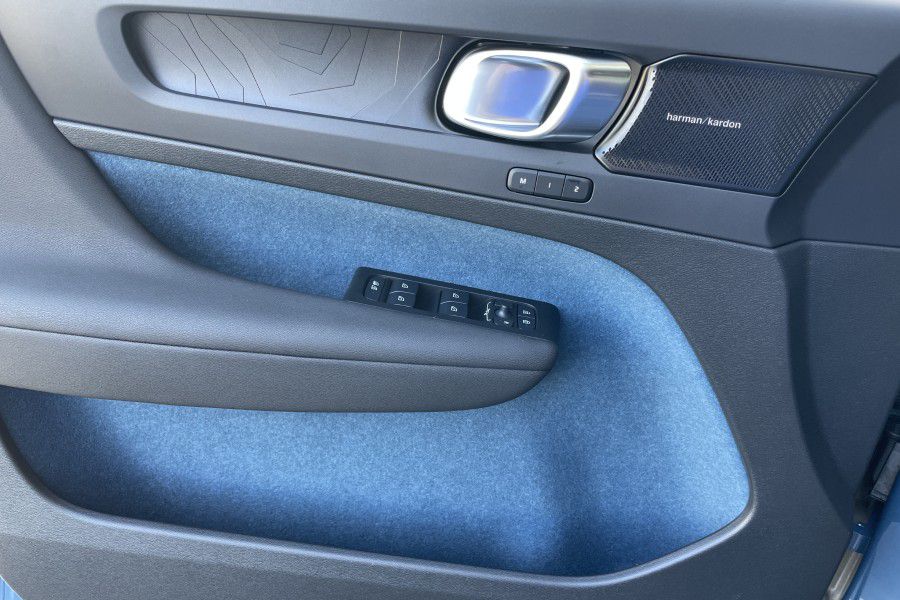 Photo by Nicole Wakelin
A Passenger-Focused Ride
Volvo is a luxury brand. With that label comes the expectation of a smooth, well-mannered ride that keeps passengers happy on even the longest drives. The C40 Recharge easily meets that expectation. It is composed even over rough road surfaces with stable handling that never jars passengers. This makes it an easy crossover to pilot as the driver and a relaxing one to ride in for passengers.
There's a minimum of wind noise, partly thanks to its sloped, coupe-like roofline. Conversation is easy with no need to raise your voice at highway speeds. There's also minimal road noise unless you're driving over especially rough or broken sections of pavement. The quiet and stability of the C40 Recharge help enhance the premium, luxury car experience.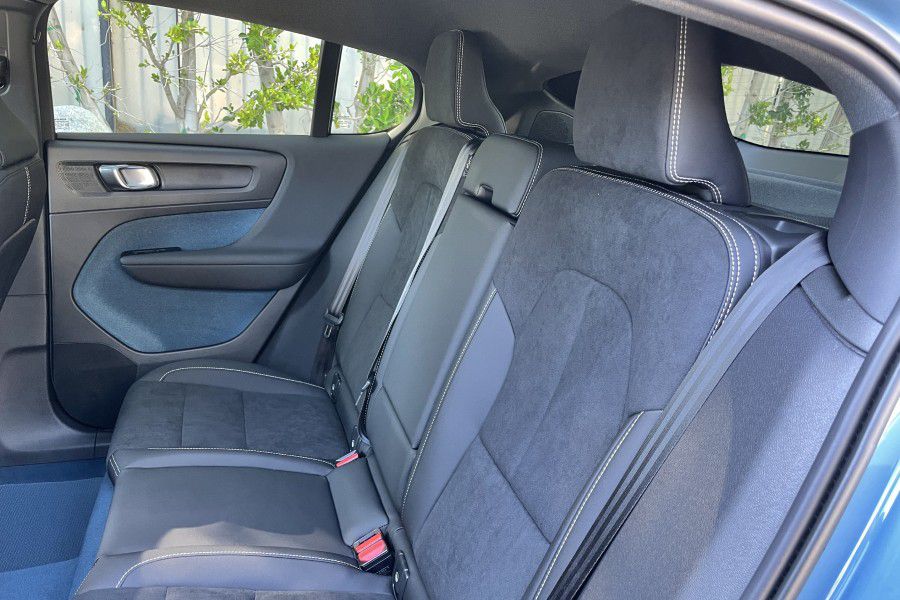 Photo by Nicole Wakelin
A Unique, Leather-Free Interior
The interior of the C40 Recharge is luxurious without the flash found in competitive vehicles. This is a Volvo, and it looks like one with quality materials and a clean elegant design. Seating is comfortable and supportive with 8-way power-adjustable front seats ideal for road trips. There's room for three in back, but although its comfortable, it's not roomy. Legroom is okay, but headroom is compromised due to the sloped roofline.
A unique touch comes from backlit trim panels on the doors and dashboard that highlight a topographical map design with modern flair. What you won't find is leather as this is the first Volvo that has a completely leather-free interior. This might seem like a negative for those who think of leather as an upgrade, but it doesn't mean that Volvo used cheap substitutes. Instead, you're treated to beautiful synthetic trims that create a different definition of luxury.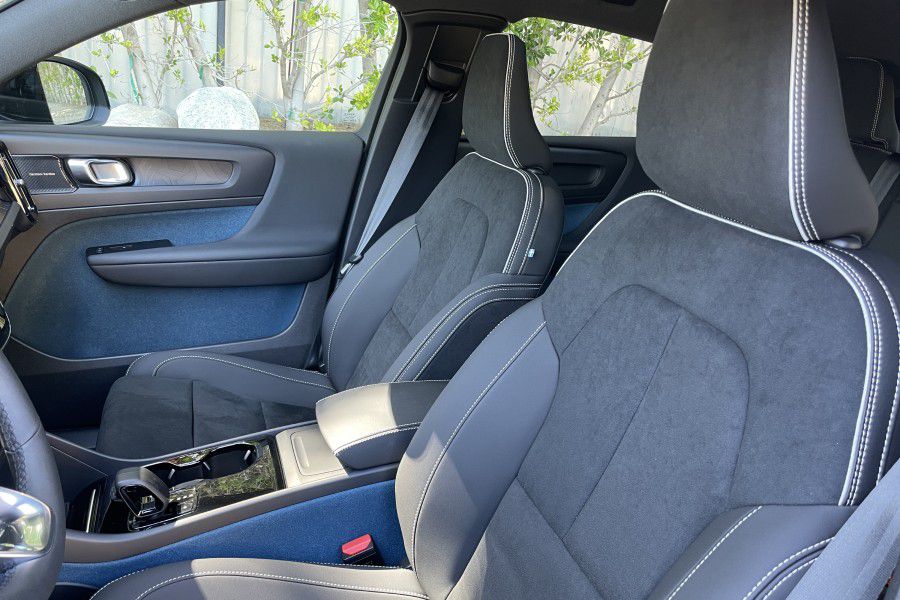 Photo by Nicole Wakelin
Ample Standard Safety With Ratings
Long known for packing its vehicles with safety features, Volvo upholds that reputation in the C40 Recharge. It has numerous standard safety features including adaptive cruise control, front, rear, and side park assist, lane departure warning with lane-keeping assist, road side information, blind-spot warning with rear cross-traffic alert, and automatic emergency braking with pedestrian and cyclist detection.
There's also pilot assist, which is a hands-on driver assistance feature. It helps you maintain a set distance from the vehicle in front of you and adds steering inputs to keep you centered in your lane. It can slow the vehicle all the way to a stop if needed. In addition to these advanced safety technologies, the C40 Recharge received a top rating of Good in all Insurance Institute for Highway Safety Crash tests and was awarded a 2022 Top Safety Pick+ rating.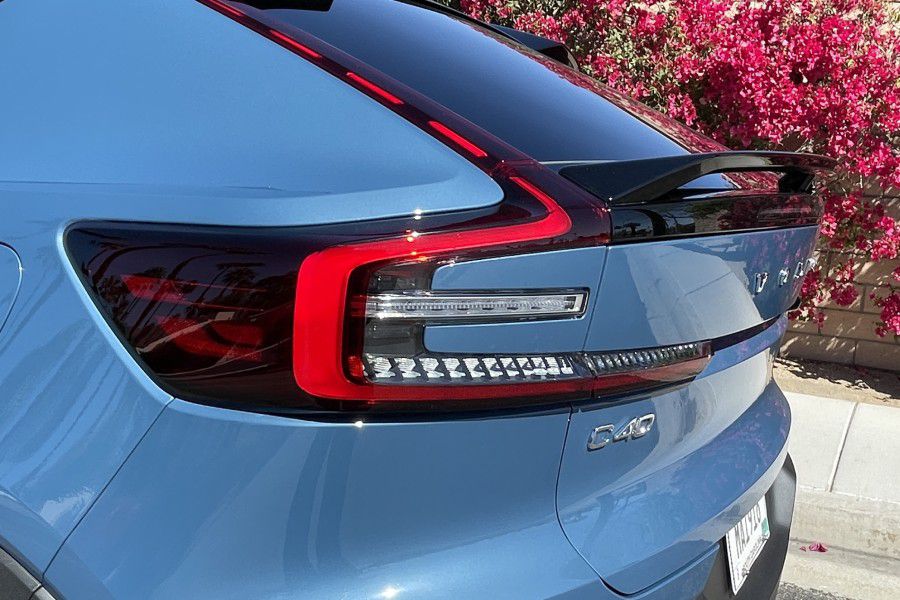 Photo by Nicole Wakelin
Intuitive Infotainment With Good Features
Standard on every C40 Recharge is a 9-inch tablet-style infotainment touchscreen. This features an Android-based operating system with a selection of apps downloadable form the Google Play store. It doesn't currently feature Apple CarPlay, which excludes everyone who owns an iPhone from that seamless smartphone connectivity. Volvo expects the addition of this feature in June. Speaking the words, "Hey, Google" activates voice control and lets you easily direct the system to do everything from finding the closest coffee shop to adjusting the temperature.
Since this is a luxury vehicle, Volvo offers a premium audio system as a standard feature with a 13-speaker 600-watt Harman Kardon system. It made sound quality a priority with speakers specially positioned to provide a premium audio experience no matter what kind of music you choose and no matter where in the vehicle you sit.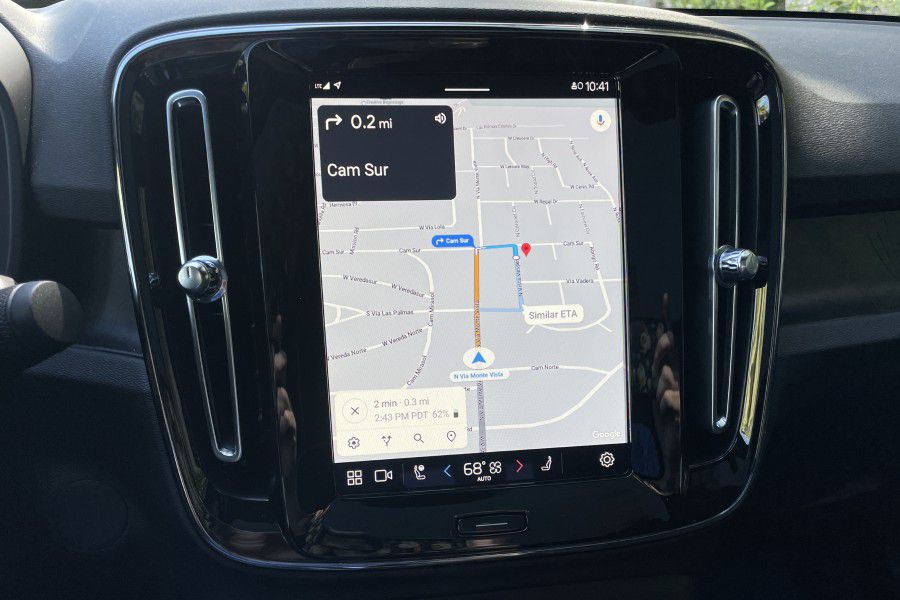 Less Room for Cargo Than the Competition
A crossover needs to balance providing enough room for cargo with passenger comfort. The Volvo C40 Recharge excels on the passenger side of the equation but comes up a bit short on cargo. Open the tailgate and there's 14.6 cubic feet for your stuff. That's a good amount of room, but it's not great, so those who put a priority on cargo may find this figure a little low for their needs.
There is a bit more cargo room in the front trunk, or frunk, which is found under the hood where engines sit in traditional gas-powered vehicles. This gives you a 0.7 cubic foot cubby of sorts that's a good spot for smaller items that you don't want to roll around in the back of the vehicle. The interior is also thoughtfully designed with lots of spots to tuck away the things passengers want close at hand.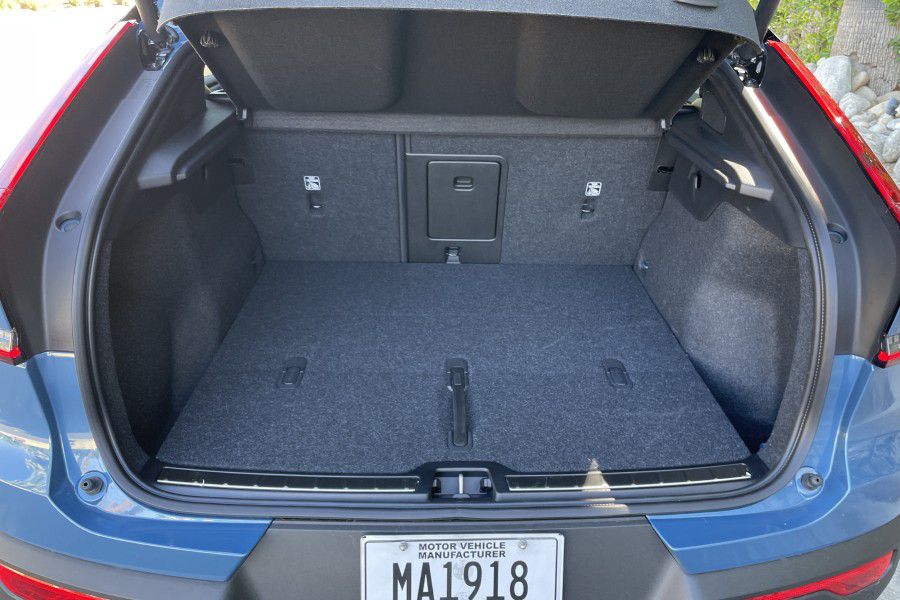 Photo by Nicole Wakelin
Final Thoughts
The 2022 Volvo C40 Recharge is a solid addition to the Volvo lineup as it moves further toward embracing an electric future. It has a solid range, charges quickly, and includes standard all-wheel drive for those who live in snowy regions. It also gets excellent safety scores and includes a wide range of advanced safety features. A single trim available only through online ordering will be new to many shoppers, but it's a simple process and one the automaker plans to embrace going forward.
Where it excels is in providing a refined, luxury ride for passengers. The cabin is beautifully appointed without unnecessary adornment. It's luxury minimalism and it's a wonderful experience. While both cargo and rear headroom are short, the Volvo C40 Recharge is still a welcome addition to the growing ranks of electric vehicles.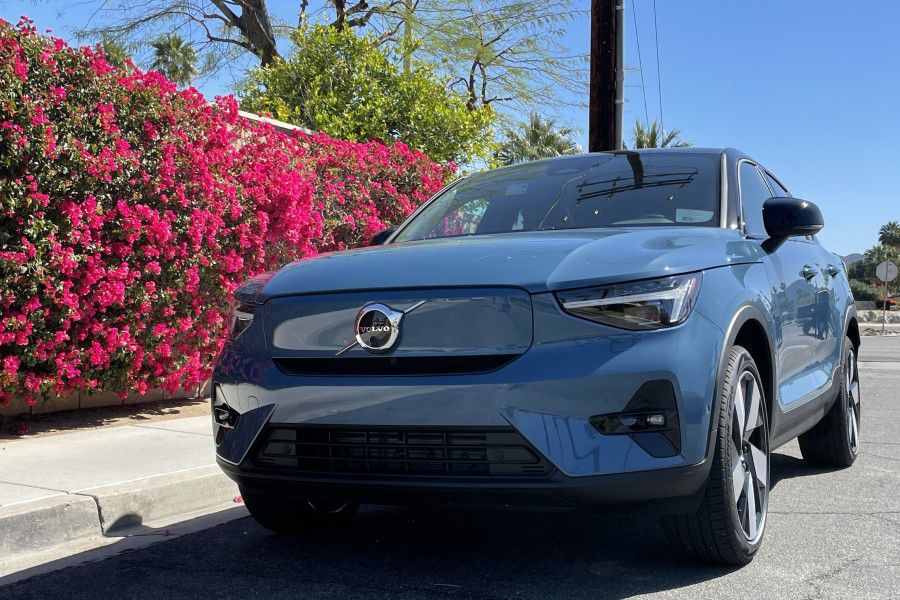 Photo by Nicole Wakelin