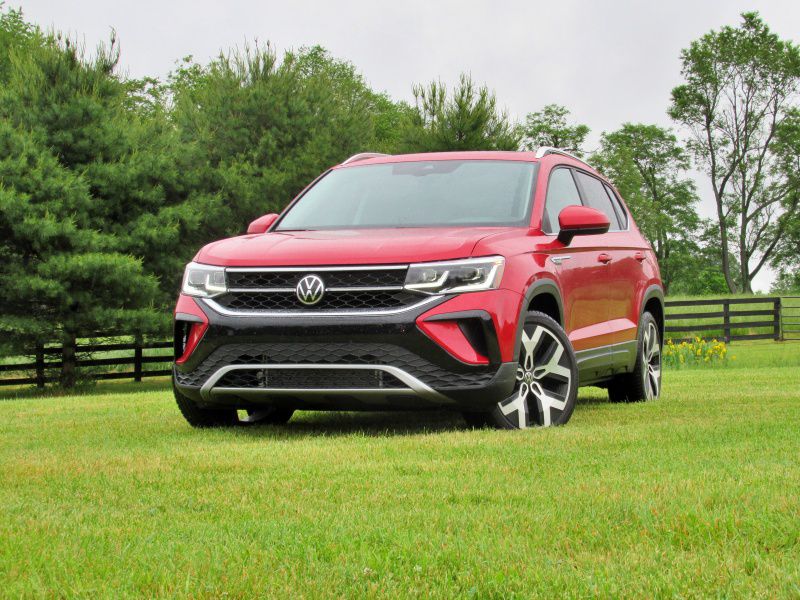 2022 Volkswagen Taos SEL ・ Photo by Brady Holt
If you expect a subcompact vehicle to be small, you're usually right. The smallest, least expensive vehicles on the market tend to have less room inside than bigger, pricier ones. 
But today, we're looking at two subcompact crossovers that offer uncommonly spacious interiors. Yet both start below $23,000 and have EPA ratings of at least 30 mpg in a mix of highway and city driving. One is a best-seller in this segment, the 2021 Subaru Crosstrek, which is freshly updated this year. The other is an all-new challenger, the 2022 Volkswagen Taos, which goes on sale in June. We tested both of these little SUVs so that we can compare them across eight categories and then name an overall winner. Read on to learn more about the Crosstrek and Taos and decide which one sounds better for you. 
Pricing and Features
The Crosstrek and Taos have similar starting prices of $22,245 and $22,995, respectively. The Subaru comes standard with all-wheel drive but charges extra for an automatic transmission, while the Taos takes the opposite approach (and charges more for AWD than the Crosstrek charges for an automatic). 
Both vehicles can get expensive if you add options, but the Taos surges faster and higher. VW charges extra for some safety features that come standard on every Crosstrek with an automatic transmission. Leatherette upholstery arrives at $26,495 on the Subaru and $27,245 on the VW (or $28,695 if you match the Crosstrek's AWD). Leather is available for as little as $27,995 on the Crosstrek but costs at least $31,490 on the Taos ($33,045 with AWD). There are a few features you might find more cheaply on the Taos than the Crosstrek, especially if you'd opt for a front-drive VW, but overall the Subaru has more features for the money.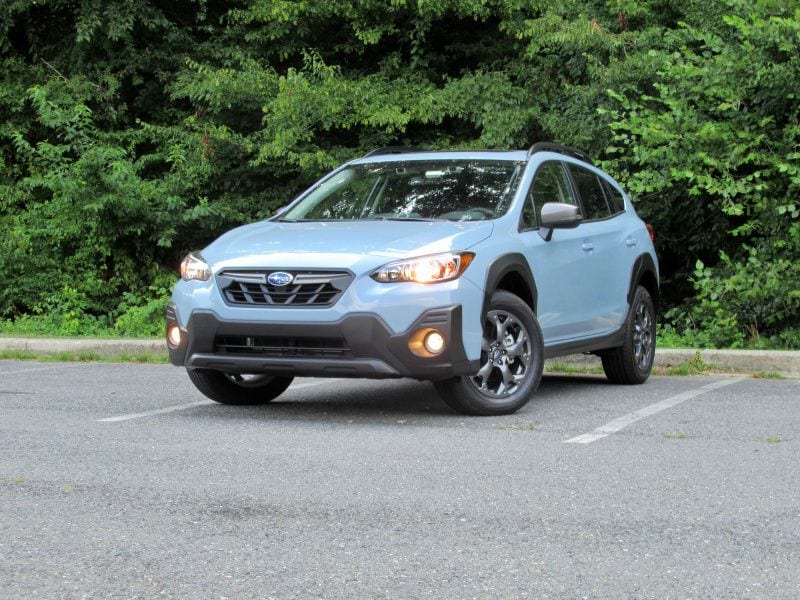 Photo by Brady Holt
Exterior Design
The Crosstrek is essentially a Subaru Impreza hatchback with more ground clearance and rugged body cladding. It's not shaped like a traditional SUV, but it looks hardy and capable. Few would call it pretty, but the look will have its followers. 
The Taos doesn't look as off-road-ready as the Crosstrek, and it's not. But it's tall and boxy, with clean, simple lines and a squared-off body. Volkswagen dressed up the otherwise simple front end with shiny black plastic trim shaped into an hourglass, which dips down from the chrome grille and wraps back up under the headlights. This decoration emphasizes the Taos's more on-road flavor than the Crosstrek. We won't pick a winner between the two aesthetics, so this category is a tie. 
Tie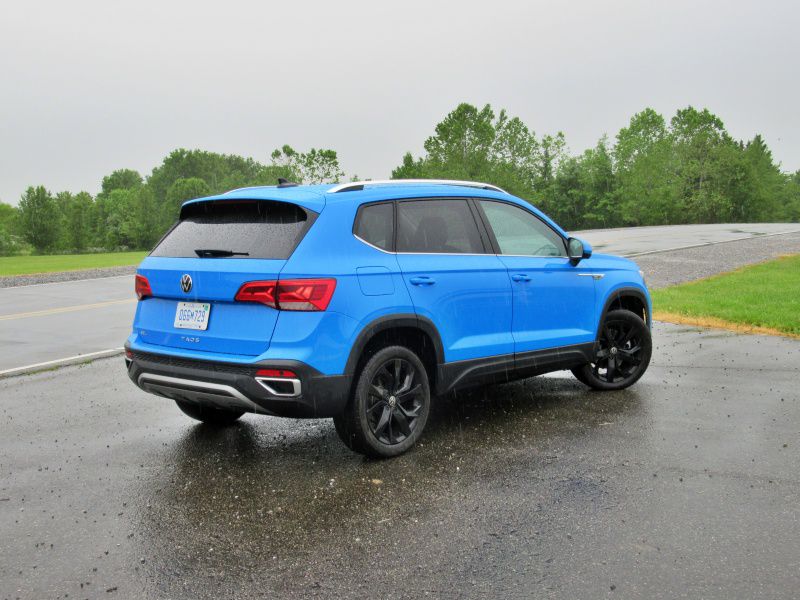 Photo by Brady Holt
Interior Design
Inside, the Taos looks similar to other modern Volkswagens. The dashboard has mostly straight lines and conventional controls. Its infotainment system measures a modest 6.5 inches on the base S model and a competitive 8 inches on the rest of the lineup. In one piece of decoration, the gauges are digitally rendered on a screen that measures 8 inches on the S and SE trim levels, while the top SEL like our test vehicles gets a configurable 10.25-inch display that can even convert into a GPS display. 
All Taos trims include Android Auto and Apple CarPlay smartphone integration, have generally user-friendly controls, and are decently finished. Still, the Crosstrek's controls are even easier to use than the Taos's, and more of its cabin materials feel richer. It's not an upscale ambiance, but it's sturdy and generally not cheap-feeling. As with the Taos, the base Crosstrek has a 6.5-inch infotainment touchscreen with Android Auto and Apple CarPlay, but upper models (including our test vehicle) upgrade to 8 inches. Some buyers might be turned off by colored accents in some Crosstrek's, like yellow-green trim or orange-tinted upholstery. But on more objective measures of interior quality and ergonomics, the Subaru pulls ahead.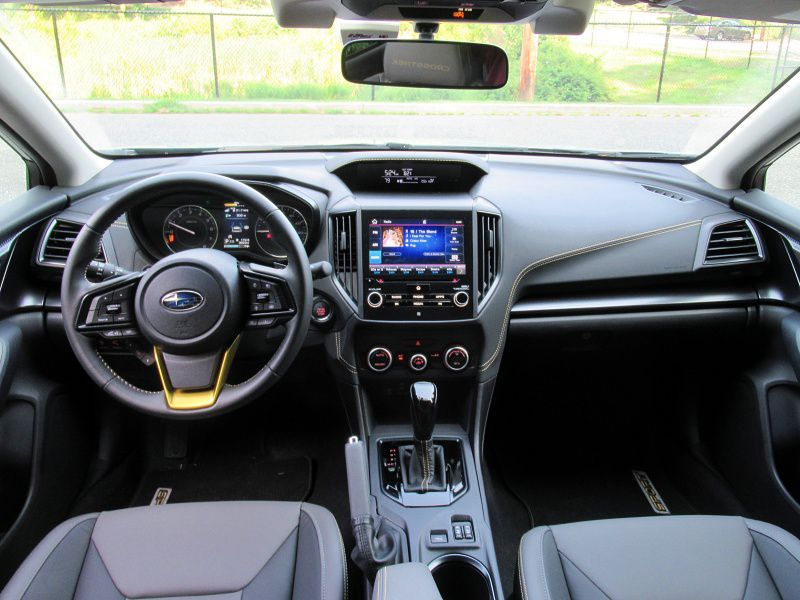 Photo by Brady Holt
Interior Comfort
The Crosstrek has one of the most comfortable cabins of any subcompact crossover. The front seats are well-padded and supportive, and there's generous legroom and a nicely shaped cushion even in the backseat. 
Unfortunately for Subaru, the Taos is the rare subcompact crossover that's even roomier. Thanks to its shorter nose and higher roof, the Taos uses its footprint more efficiently than the Crosstrek. Its front seats are also excellent for an affordable SUV; in both small crossovers, they hold you nicely in place without feeling confining. But the Taos's extra-spacious backseat gives it the win. You can also get the Taos with ventilated front seats in addition to widely available seat heaters, albeit only on the top SEL model. 
Volkswagen Taos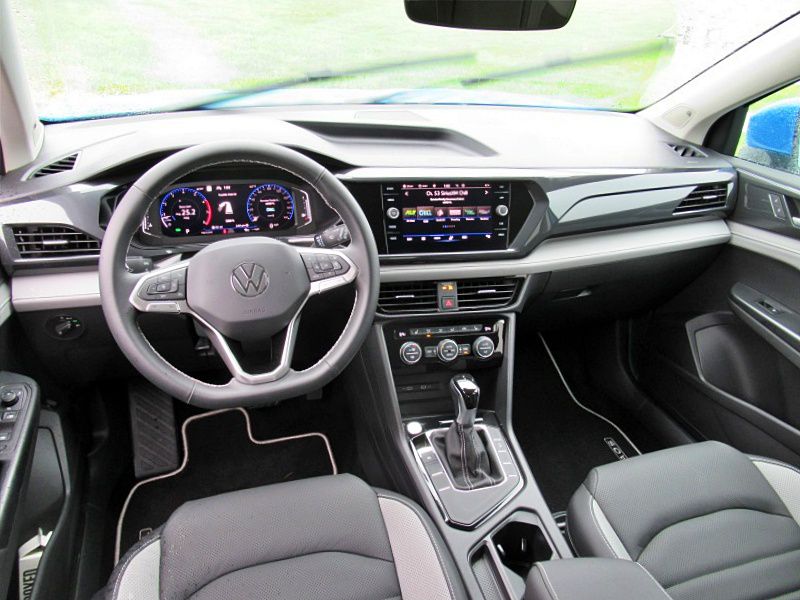 Photo by Brady Holt
Cargo and Utility
While the Crosstrek stays competitive with the Taos for passenger accommodations, its cargo hold is significantly smaller. The Subaru fits a modest 20.8 cubic feet of cargo behind its rear seat and 55.3 cubic feet with the rear seat folded. The front-wheel drive Taos holds 27.9 cubic feet behind its rear seat or 65.9 cubic feet with the rear seat folded. The AWD Taos has a different rear suspension that cuts those figures to 24.9 and 60.2 cubic feet, respectively, but that's still more than the Crosstrek. Credit the Taos's lower cargo floor and a higher roof, and the way its windshield doesn't slope in as much to rob space. 
Still, we're only calling this category a tie. There's more to utility than cargo space. Look at the Crosstrek's extra-sturdy roof racks. Consider its extra 2 inches of ground clearance (8.7 inches versus the Taos's 6.6 inches). And consider that it can tow a 1,500-pound trailer, while the Volkswagen isn't rated to tow at all. The VW's extra cargo room can certainly be handy, but so can the Subaru's advantages. 
Tie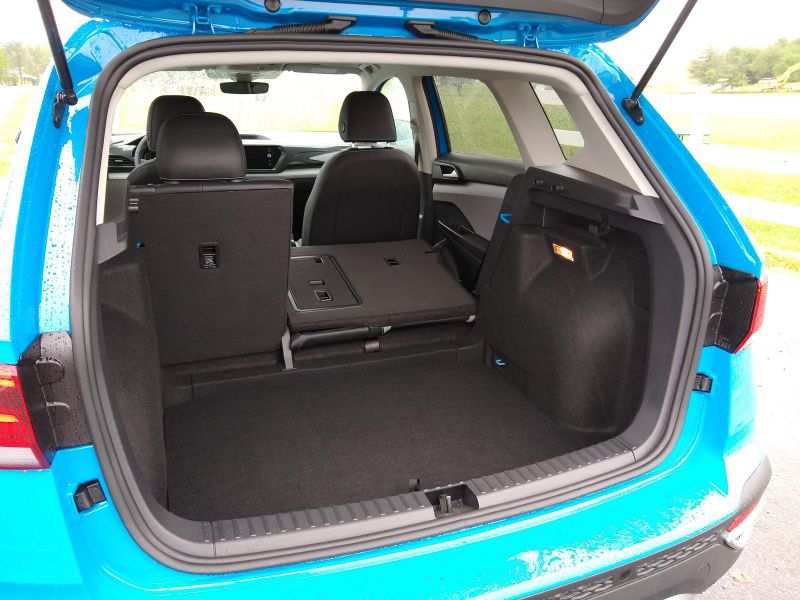 Photo by Brady Holt
Driving Experience
If you're going to drive off-road, the Crosstrek is for you. Its higher ground clearance, symmetrical all-wheel-drive system, and compliant suspension will make it right at home. However, in the on-road activities where most buyers will spend their time, we pick the Taos. 
That's especially true if you'd be looking at an entry-level Crosstrek, whose 2.0-liter four-cylinder engine makes an unremarkable 152 horsepower and 145 lb-ft of torque. Especially when funneled through a continuously variable automatic transmission, known as a CVT, the Crosstrek feels and sounds lethargic. A newly available 2.5-liter four-cylinder bumps output to 182 hp and 176 lb-ft; it's quicker and quieter, but still neither effortless nor hushed. And while the Crosstrek rides smoothly, it doesn't feel agile and responsive. By contrast, the Taos handles with more zest and composure than the Crosstrek yet still delivers a comfortable ride. Every Taos has a 1.5-liter turbocharged four-cylinder making 158 horsepower and 184 lb-ft of torque; it feels both peppier and quieter than the Subaru. The AWD Taos has a more sophisticated suspension that improves its agility, along with adjustable steering firmness for a sportier feel. But either way, we pick the VW's driving experience. 
Volkswagen Taos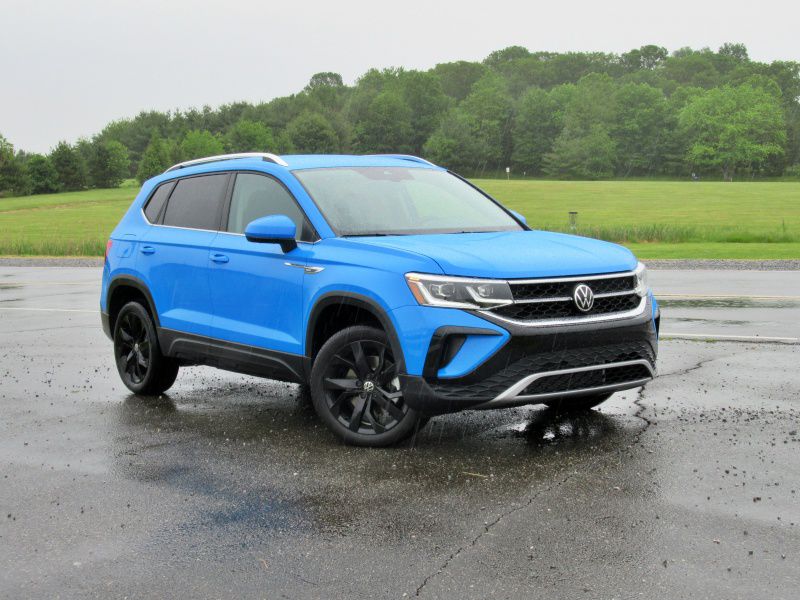 Photo by Brady Holt
Fuel Economy
The Taos scores an excellent EPA-estimated 28 mpg in the city, 36 mpg on the highway, and 31 mpg combined with its standard front-wheel drive and eight-speed automatic transmission. The AWD model swaps to a sportier — though perhaps less smooth-shifting — seven-speed dual-clutch automatic transmission; its EPA ratings dip to 25 mpg city, 32 mpg highway, 28 mpg combined. We tested both configurations primarily on lightly trafficked rural roads, where they averaged 34 mpg and 32 mpg, respectively. 
The Taos wins the mileage war if you're open to front-wheel drive but dips below the Subaru if you choose all-wheel drive, so we'll call this category a tie. The AWD-only Crosstrek gets EPA ratings of 28 mpg city, 33 mpg highway, and 30 mpg combined with its base 2.0-liter engine and similar scores of 27 mpg city, 34 mpg highway, and 29 mpg combined with its 2.5-liter. Our 2.5-liter test vehicle averaged 30 mpg in mixed driving. If you love the Crosstrek but want truly dominant fuel consumption, a plug-in hybrid variant offers up to 17 miles of all-electric driving followed by an estimated 35 mpg combined. On the flip side, the Crosstrek with a manual transmission manages just 22 mpg city, 29 mpg highway, 25 mpg combined. 
Tie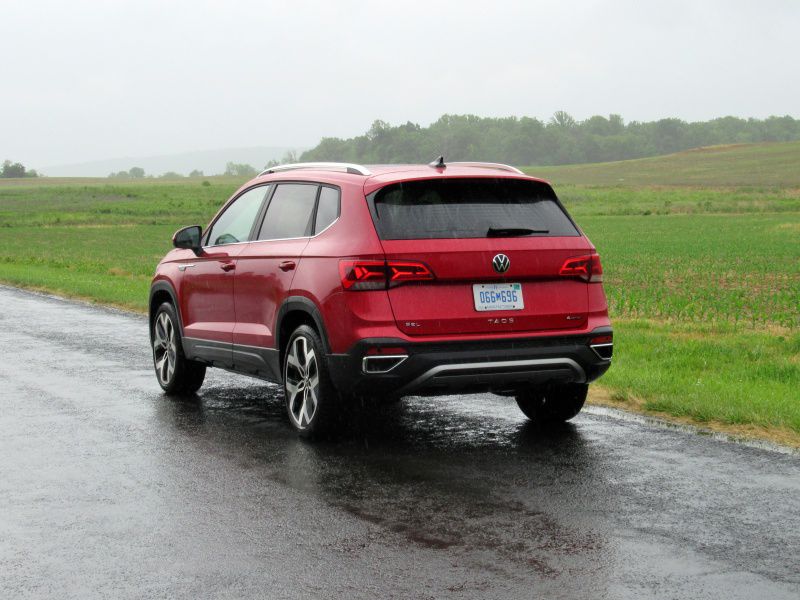 Photo by Brady Holt
Safety
Unless you pick the manual transmission, which is difficult to coordinate with semiautonomous driver aids, the Crosstrek comes standard with a long list of advanced safety features: forward automatic emergency braking with pedestrian detection, a lane-departure warning with lane-keeping assistance, adaptive cruise control, and a warning if you remain stopped after a car in front of you drives away. Blind-spot monitoring is part of pricey options on some trim levels, and rear automatic braking is restricted to the Limited. 
Still, the Taos is even stingier with its safety gear. None of the above is standard equipment, though you can get all of the Crosstrek's standard safety tech plus the blind-spot monitor for a relatively thrifty $995 on the base S model. The mid-level Taos SE adds forward automatic emergency braking and blind-spot monitoring as standard equipment while still charging $895 for the rest. It's all standard on the top SEL, though rear automatic emergency braking isn't offered. While we appreciate that VW makes blind-spot monitoring available on all trim levels, Subaru has a lot more standard safety features despite a lower starting price. The Crosstrek has also demonstrated excellent crash-test performance, while the Taos hasn't yet been tested.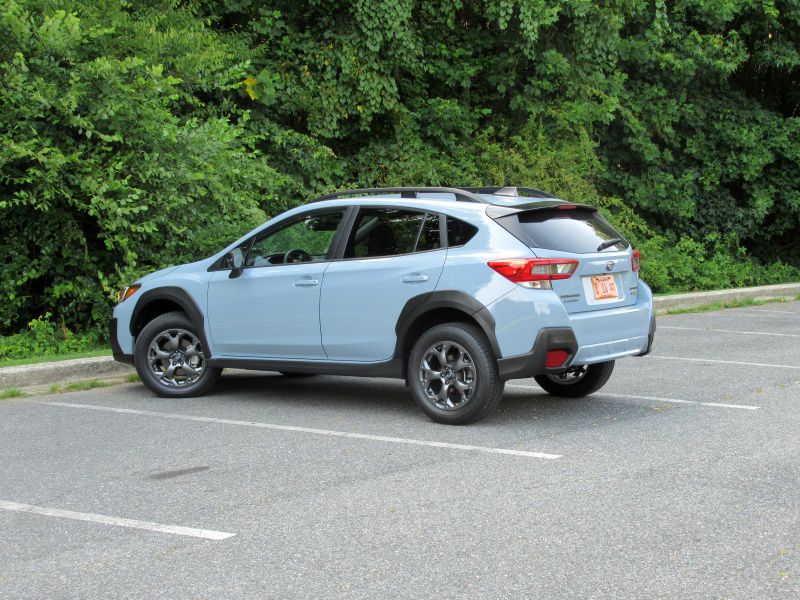 Photo by Brady Holt
Final Thoughts
It wasn't easy to choose a winner between these two spacious subcompact crossovers. Both the 2022 Volkswagen Taos and the 2021 Subaru Crosstrek have notable strengths and some notable flaws. 
The Taos is more fun to drive and economical — an agreeably well-rounded little SUV. We mainly wish it cost less, especially since it's not really luxuriously finished inside. Meanwhile, the Crosstrek is uninspiring to drive on the road, especially with its base engine. And its cargo space is limited, particularly behind the rear seat. Still, we're going to give it the win. The Crosstrek is capable in sun and snow, whether you're going to the grocery store or down a muddy road. It's rugged without beating you up. And depending on the features you want, it can cost several thousand dollars less than the Taos, especially if you value advanced safety gear. If you prioritize a sportier on-road driving experience and a big cargo hold over off-road capability, you might consider paying extra for the Volkswagen. But the Subaru is a multifunction tool, and a comparative bargain at that. It wins this comparison. 
: Subaru Crosstrek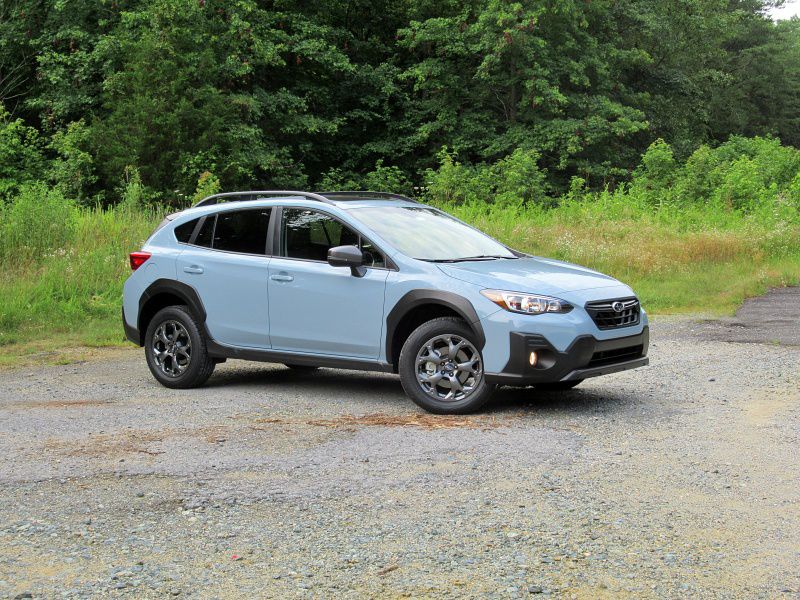 Photo by Brady Holt