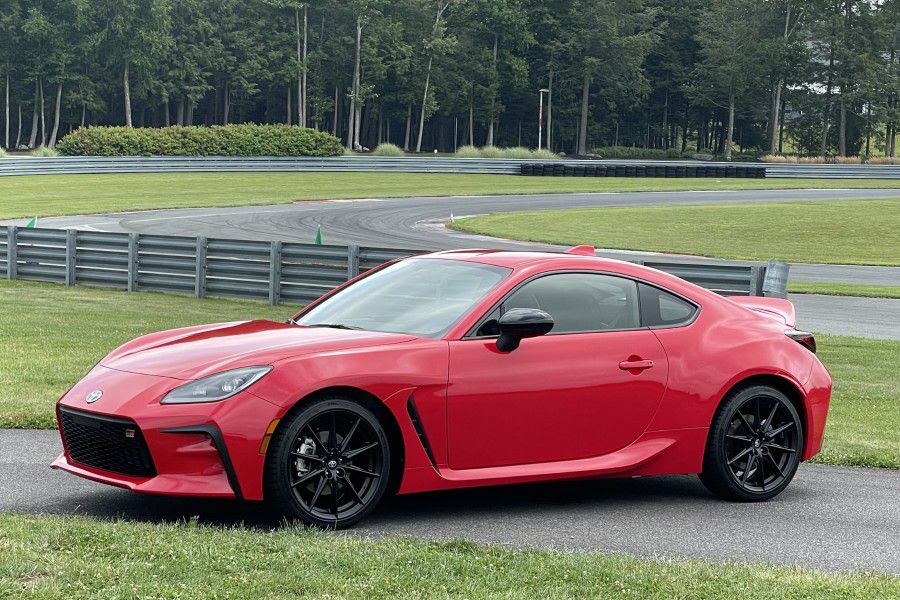 2022 Toyota GR 86 Track ・ Photo by Nicole Wakelin
The 2022 Toyota GR 86 is all-new this year with a more powerful engine, better handling, a fresh new look, and a nicer interior. This is the second generation of the Toyota 86, which took a year off for 2021 before returning for the 2022 model year. That return includes the addition of the "GR" to its name, thanks to extensive testing by the Toyota Gazoo Racing team. The goal was to design a car that was as ready to tackle the track as it is the daily commute with improvements at every level.
In addition to a focus on performance, Toyota gave the GR 86 a significant interior upgrade. It looks more modern, is much more comfortable, and has improved materials that make it more appealing. Let's take a closer look at the all-new 2022 Toyota GR 86 to see if it's the right sports coupe for you.
Two Trims to Choose From
Pricing has yet to be announced, but Toyota says it will start at under $30,000. There are two trims available. The Standard includes 17-inch wheels, power side mirrors, a chrome-tipped dual exhaust, dual-zone automatic climate control, and sport bucket seats with black side bolsters. They're 6-way adjustable for the driver and 4-way adjustable for the front passenger. Additional standard features include an 8.0-inch infotainment touchscreen with 6-speaker audio, Apple CarPlay, and Android Auto.
Your second trim choice is the Premium. It adds 18-inch wheels, a duckbill rear spoiler, adaptive front lighting, 8-speaker audio, and unique interior accents that include black and silver trims along with red accent stitching. The 86 has a narrow lineup, but it has a base trim that has all the features you really need. The Premium is mainly about appearance, so if you want a bit more sportiness in your GR 86, that's the one to buy.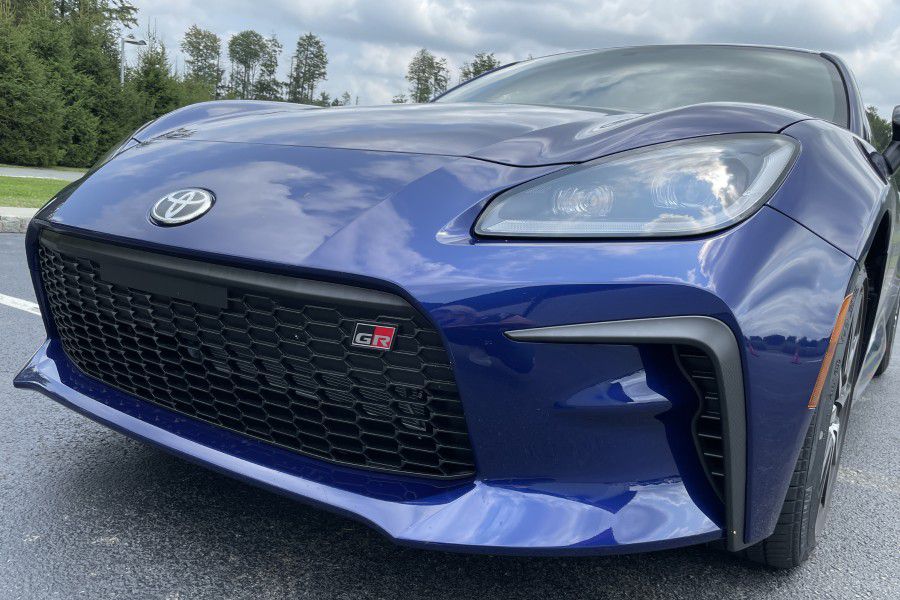 Photo by Nicole Wakelin
More Horsepower and More Torque
Power for the 2022 Toyota GR 86 comes from a 2.4-liter 4-cylinder engine with 228 horsepower and 184 lb-ft of torque. That's an increase of 23 horsepower and 28 lb-ft of torque, and it makes a big difference. This engine is more responsive with better acceleration, making it a true driver's car. Whether you're finding some time to head out to the track, doing your daily commute to work, or cruising a twisting country road, you are sure to enjoy the drive.
It's paired to either a 6-speed manual or a 6-speed automatic transmission with paddle shifters. Our choice here is the manual, which shifts smoothly and lets you decide exactly how to manage the engine's power. You'll enjoy a 0-60 mph time of 6.1 seconds with the manual or 6.6 seconds in the automatic, both of which are improvements over the prior generation.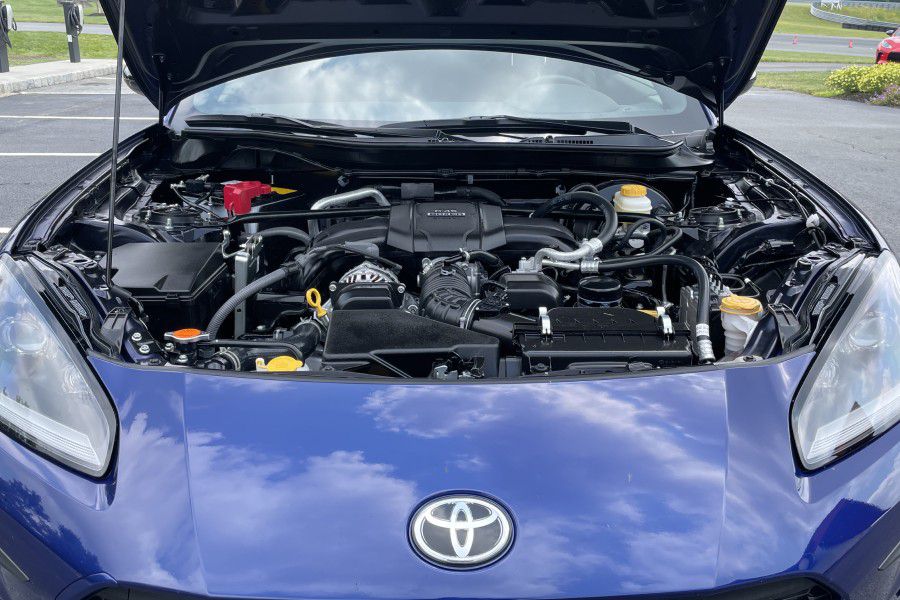 Photo by Nicole Wakelin
A Performance-Focused Ride
The ride in the GR 86 is smooth and composed. There's nothing sloppy about how this sports coupe handles, thanks to the efforts of Toyota's engineers. They started with lowering the center of gravity, which makes the GR 86 handle corners at speed with more confidence. They also focused on light weighting to make it more agile. The result is a truly track-worthy performance coupe tested by Toyota Gazoo Racing drivers at locations around the world.
Steering is tight and responsive with only minimal inputs required to guide the GR 86 around the track or down the road. Quick maneuvers, like highway lane changes, do nothing to unsettle the GR 86. The ride is smooth and quiet, aside from the sound of the engine, which is something to enjoy. The one downside to the sport-tuned suspension is that although it's great for performance, the ride is harsh on uneven pavement.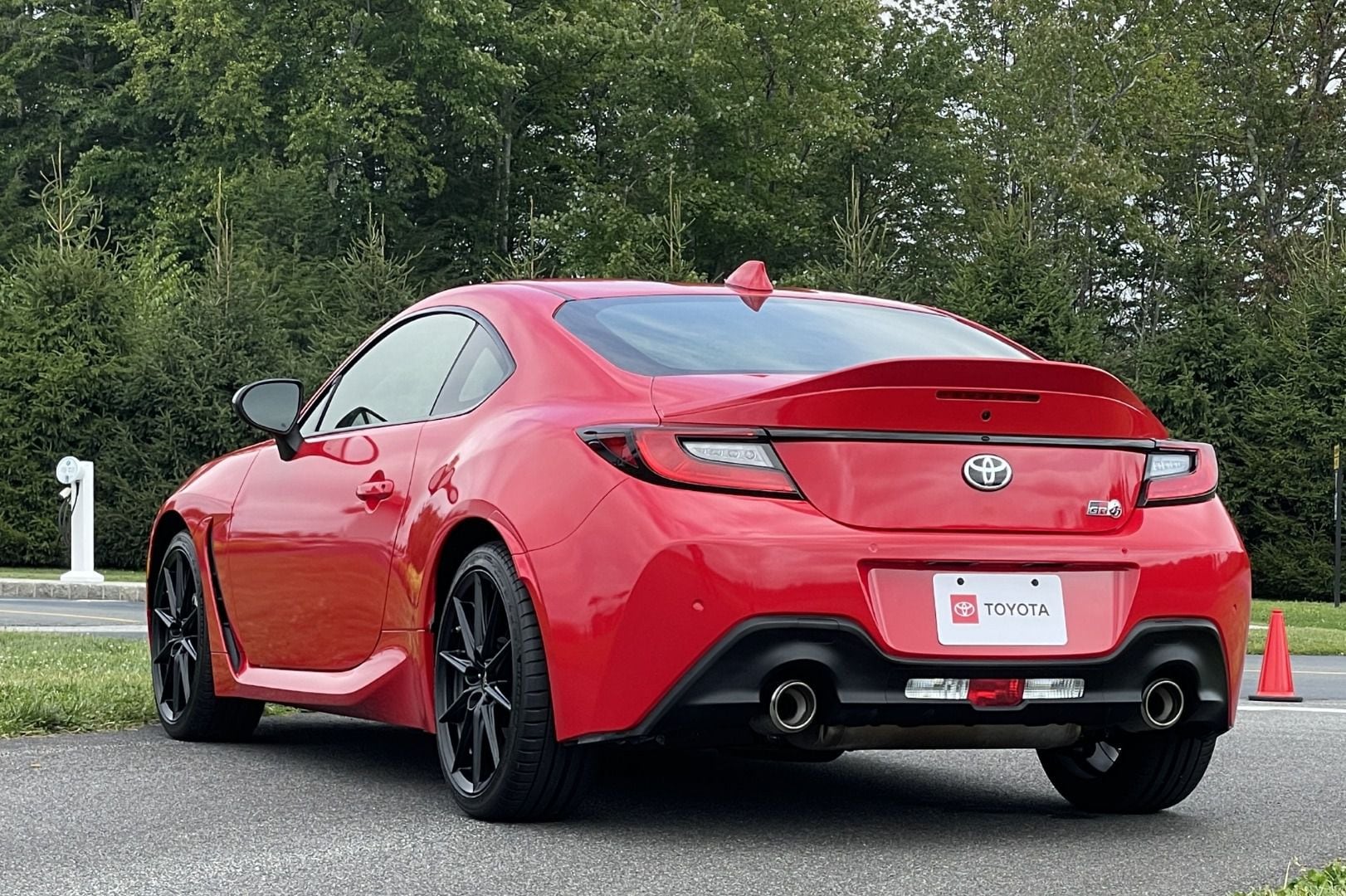 Photo by Nicole Wakelin
Four Drive Modes
The GR 86 comes with up to four available drive modes. This lets you tailor your driving experience depending on current road conditions. Equipped with the manual transmission, the GR 86 offers a Track mode that switches off vehicle stability control. Activating it is as easy as pushing a button.
Models equipped with an automatic transmission add Normal, Sport, and Snow modes in addition to Track mode. Normal is for everyday driving, while Snow comes into play in the winter. Sport is a step up from Normal without going into full Track mode. It senses braking and acceleration to carefully regulate the gears, choosing what will deliver the best response for the driver. Automatic transmissions also have paddle shifters, so although not a true manual with the fancy footwork, it still lets you control transmission shifts to make the most of the engine's power.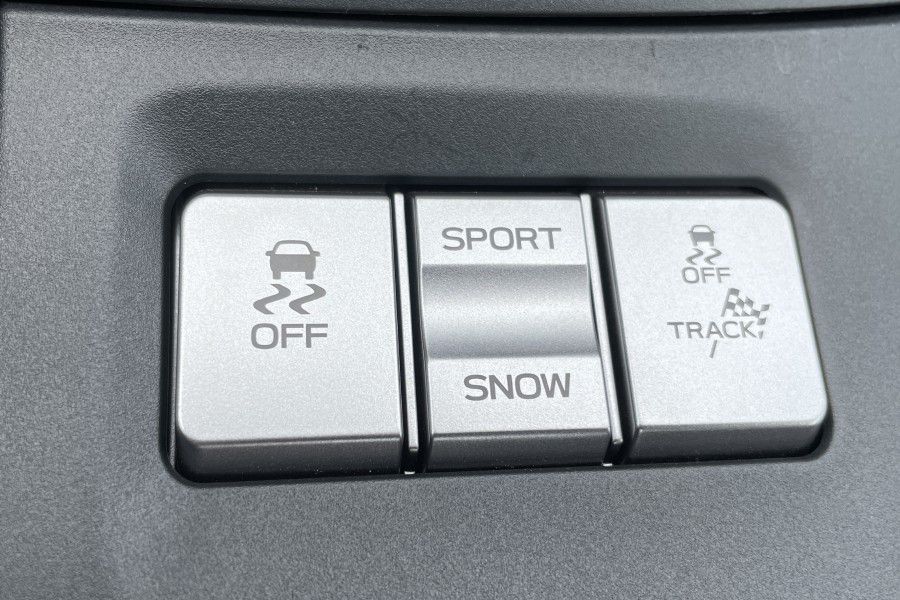 Photo by Nicole Wakelin
Track Time Included
There are plenty of cars you can take to a track, but the challenge is finding a good track and the time to drive. Toyota wants to make it easier for you to take your GR 86 to the track, so they're including a little something extra to make sure you have the opportunity...
Purchase a GR 86 and you'll also get a one-year membership in the National Auto Sport Association (NASA). This membership includes one free High Performance Driving Event (HPDE) and discounted admission to NASA-sanctioned events. If you've always wanted to take a car out on the track but have never found the time, this membership removes that excuse from your list. It's a unique offer that shows just how seriously Toyota takes performance and how confident it is that the GR 86 is a track-worthy car.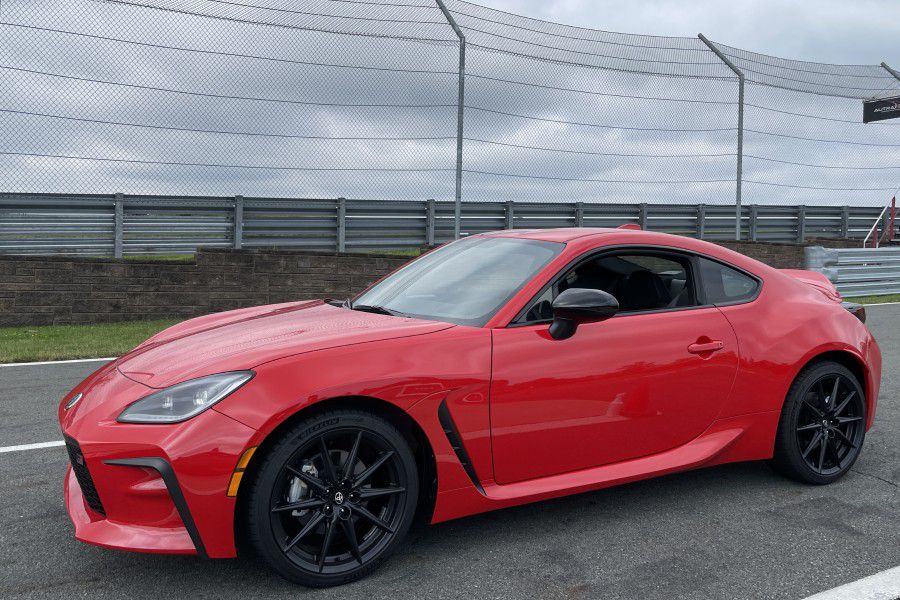 Photo by Nicole Wakelin
An Attractive and Comfortable Interior
There's seating for four inside the GR 86, but the rear seats are snug. They're best used only for short trips on rare occasion or, better yet, for holding your groceries or a few bags. The front seats are supportive with heavy bolstering, something you want for holding you in place during aggressive track drives. They're not so tight that they become uncomfortable during day-to-day driving, but those of a larger frame may find them tight.
Materials are attractive and high quality with cloth, Ultrasuede, and leather, depending on the trim you choose. The Premium gets red contrast stitching and silver and black accents that add to the sporty look and feel of the GR 86. The ride is smooth with minimal noise from the road or wind, but the suspension system's focus on track driving can make it harsh over rough or uneven surfaces.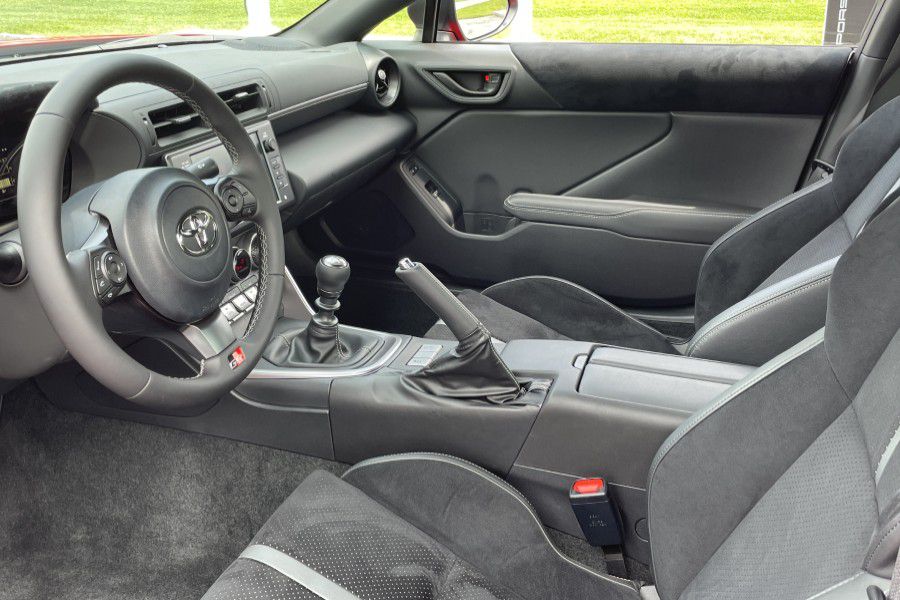 Photo by Nicole Wakelin
Infotainment With Limited Audio Options
Standard infotainment in the 2022 Toyota GR 86 includes an 8.0-inch touchscreen with a 6-speaker audio system, one USB port, Apple CarPlay, and Android Auto. The Premium trim gets an upgrade to an 8-speaker audio system but has a bit more than just two extra speakers.
The upgraded system includes a "powerful" mode for the equalizer that brings out the high and low tones in your music. It creates a richer sound with an acoustic effect. Both audio systems also have the option of a 10-inch, 200-watt subwoofer. That takes up a bit of trunk space, which is at a premium, so it's removable to free up that cargo room. The system is easy to use with a responsive screen, although the lack of a true premium audio system is a negative.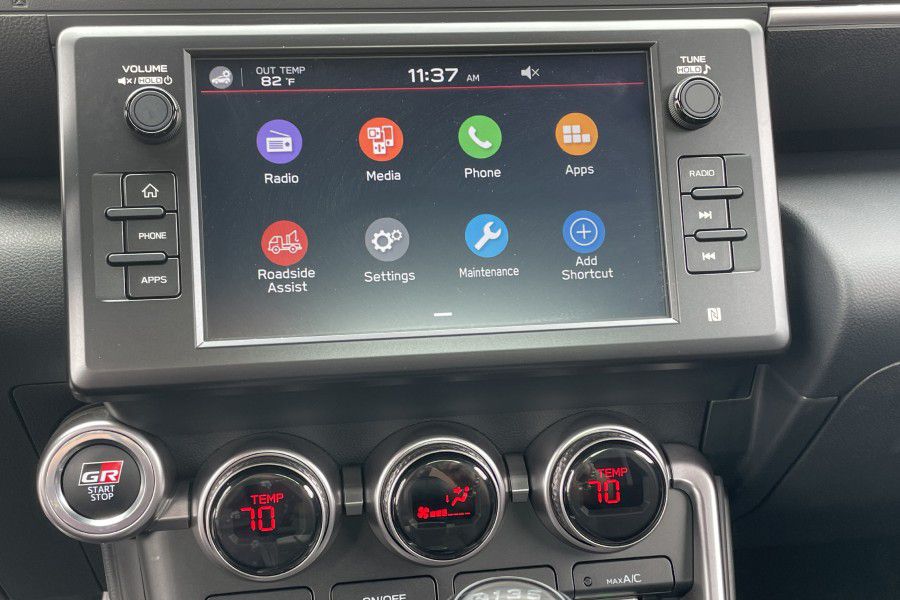 Photo by Nicole Wakelin
Standard Safety Is Limited
The 2022 Toyota GR 86 has not yet been crash tested by either the Insurance Institute for Highway Safety or the National Highway Traffic Safety Administration. Standard safety features vary between transmission. The Toyota GR 86 with the automatic transmission includes pre-collision braking, adaptive cruise control, pre-collision throttle management, lane departure warning, sway warning, lead vehicle start alert, and high beam assist.
The Premium adds blind-spot monitor with rear cross-traffic alert and reverse automatic braking. The manual transmission has a more limited offering of advanced safety features with only blind spot monitor with rear cross-traffic alert on the Premium trim only. Overall, it's a good range of safety features.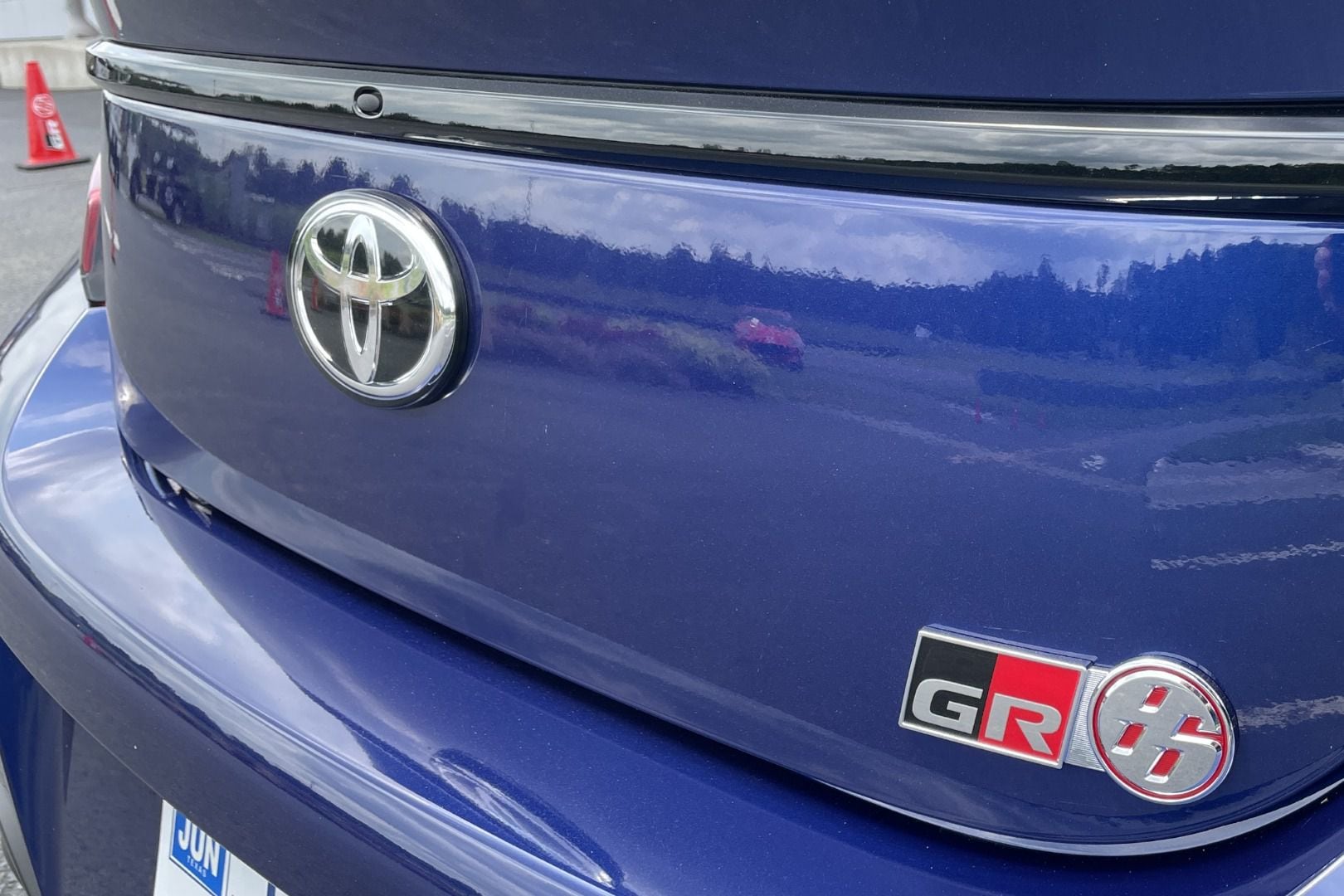 Photo by Nicole Wakelin
Final Thoughts
The 2022 Toyota GR 86 takes what was great about the first generation 86 and makes it even better. Outside, it gets a styling update that makes it looker sleeker, sportier, and more modern. Inside, it's more comfortable, and it looks better with higher-quality trims. The Premium is especially nice and delivers a truly upscale experience. These improvements all come in a car that starts at under $30,000.
But what really makes the GR 86 outstanding is how it drives. It has a powerful engine with aggressive acceleration that's well-suited to the track. It combines that power with crisp, controlled handling. Whether you're tossing it through the corners on the track or meandering along a winding country road, the 2022 Toyota GR 86 lives up to its billing as a sports coupe made for driving enthusiasts.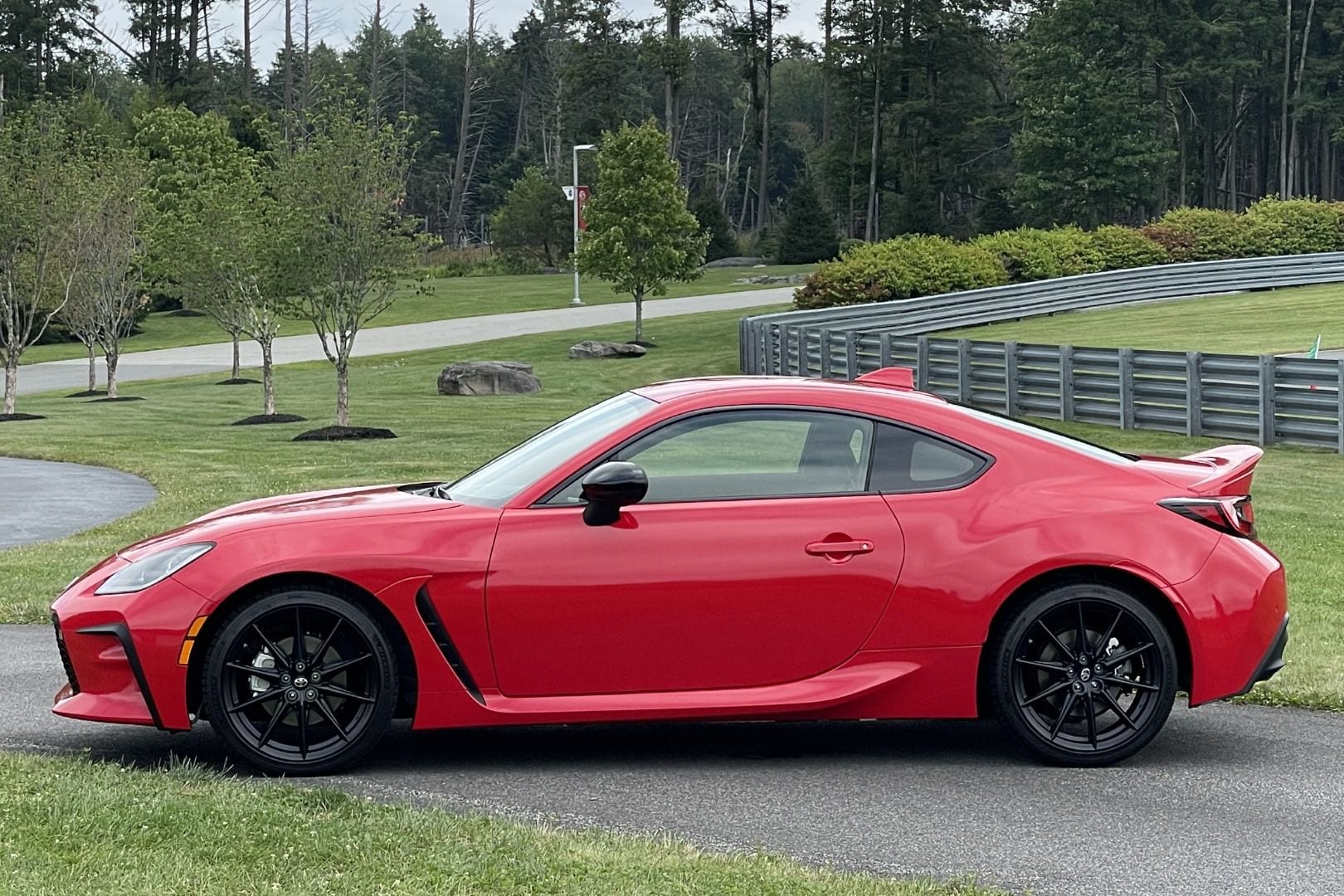 Photo by Nicole Wakelin