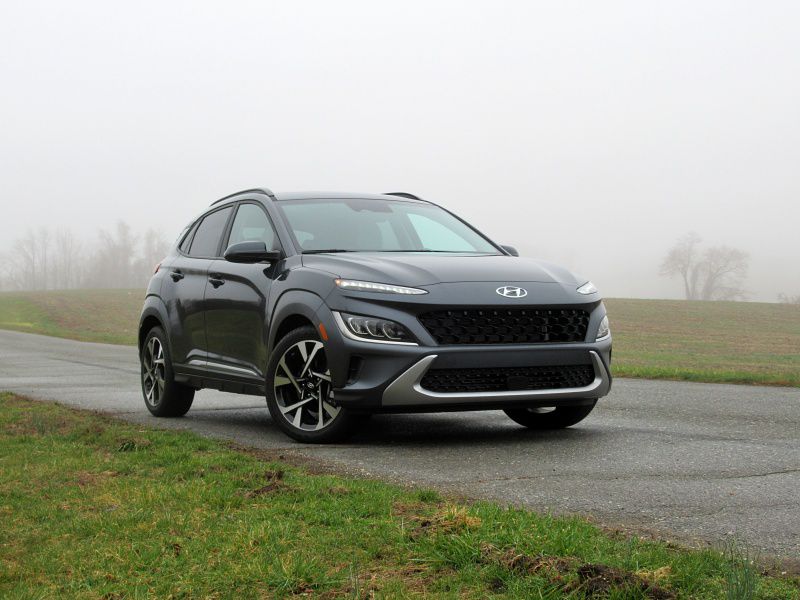 2022 Hyundai Kona Limited ・ Photo by Brady Holt
There are two ways to make a subcompact crossover. One is to take the qualities of a bigger vehicle, then shrink them down into a smaller, less expensive package. The other is to make something altogether different.
Those are the approaches we see from the all-new 2022 Toyota Corolla Cross and the newly updated 2022 Hyundai Kona, respectively. The Corolla Cross is a Toyota RAV4 for people who are willing to trade some power and interior space for a lower price. The Kona is for someone who wants something sportier and more fun than the compact Hyundai Tucson, and who doesn't need a ton of cargo room. If this difference doesn't already make it clear which affordable subcompact crossover is for you, keep reading to learn more. For this review, we tested the Kona and Corolla Cross back-to-back to compare them across eight categories and declare our overall winner. 
Exterior Design
Like the larger RAV4, the Corolla Cross is a traditionally upright SUV. It stands tall — at 64.8 inches, more than 3 inches higher than the Kona — and adopts the overall proportions and styling elements of the RAV4: high headlights, vertically oriented taillights, and subtly bulging fender flares. The main difference (besides the size) is that while the latest RAV4 tries to look like an aggressive off-road-ready SUV, the Corolla Cross softens the details with rounded-off headlights and taillights, along with less-rugged bumper designs. 
The Kona, meanwhile, is styled to be funky. This year's update rounds off the front end for a smoother look, but Hyundai kept the little SUV's split-level headlights, blacked-out front bumper (on most trim levels), sharply defined fenders, and hunched-forward shape. Its extra-petite size (the Toyota is 10 inches longer) adds to the vibe of a spunky little runabout. Overall, the Kona looks like a tall, fun hatchback while the Corolla Cross comes across as a mild-mannered regular SUV. You'll know which approach fits your tastes. 
Tie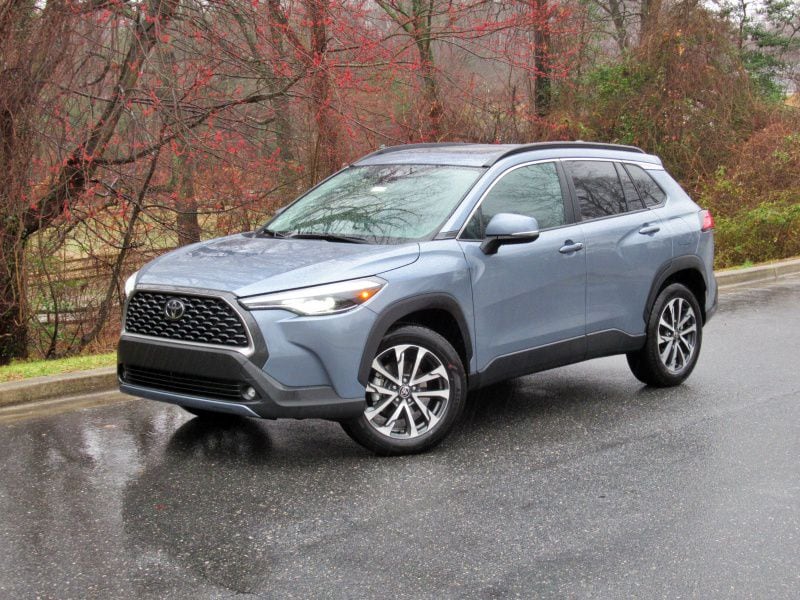 Photo by Brady Holt
Interior Design
Like its exterior, the Kona is styled to be more fun than elegant. It uses mostly hard plastics, but interesting shapes and textures keep it from being dull. And there are luxury cars whose gear selectors move with less precision than this little Hyundai's. An 8-inch touchscreen infotainment system is standard, while upper trim levels like our Limited test vehicle is bumped up to a 10.25-inch unit. 
The Corolla Cross shares much of its dashboard with the Corolla sedan. That means it's simple, classy, ergonomically sensible, and nicely finished. The base Corolla Cross L model has a 7-inch touchscreen infotainment system, while the rest of the lineup upgrades to an 8-inch unit. Up above your head, the headliner and sun visors look and feel cheap, but the overall cabin ambiance is pleasant. We'll give the Hyundai a narrow edge for its bigger infotainment screens and nicer moving parts, though you might prefer the Toyota's more richly finished dashboard. 
Hyundai Kona
Photo by Brady Holt
Passenger Accommodations
On paper, the Hyundai Kona has a roomier interior than the larger Toyota Corolla Cross. In person, though, our experiences matched our expectations: The bigger SUV has more space.
You sit up higher in the Corolla Cross, with a more SUV-like view of the road around you and better visibility. We also found the Toyota's rear seat to be more adult-friendly, with more knee clearance and a softer front seatback in case you do make contact. Neither of these subcompacts is super-roomy, and some drivers will prefer the Kona's slightly better-bolstered front seats, but we found the Corolla Cross to be more accommodating overall. 
Toyota Corolla Cross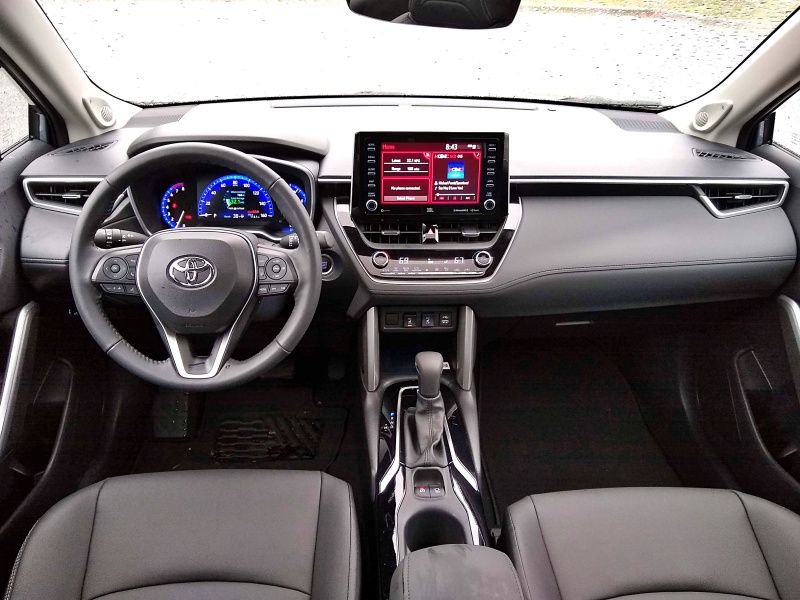 Photo by Brady Holt
Cargo and Utility
The Corolla Cross's size advantage is even more apparent when you're carrying cargo. The Kona has the luggage capacity of a small hatchback, while the Corolla Cross rivals a few compact crossovers that are one size larger. 
Specifically, the Kona has 19.2 cubic feet of cargo space behind the rear seat and 45.8 cubic feet with the rear seat folded down. The Corolla Cross has up to 26.5 cubic feet of cargo space behind the rear seat and 66.8 cubic feet with the rear seat folded. (All-wheel-drive models give up a couple cubic feet, but they remain comfortably ahead of the Kona.) What's more, the Corolla Cross is rated to tow a small trailer of up to 1,500 pounds, while Hyundai doesn't recommend the Kona for towing at all. And while the Kona does have locking all-wheel drive and hill-descent control for messy conditions, it has a mere 6.7 inches of ground clearance to the Corolla Cross's 8.1 inches. 
Toyota Corolla Cross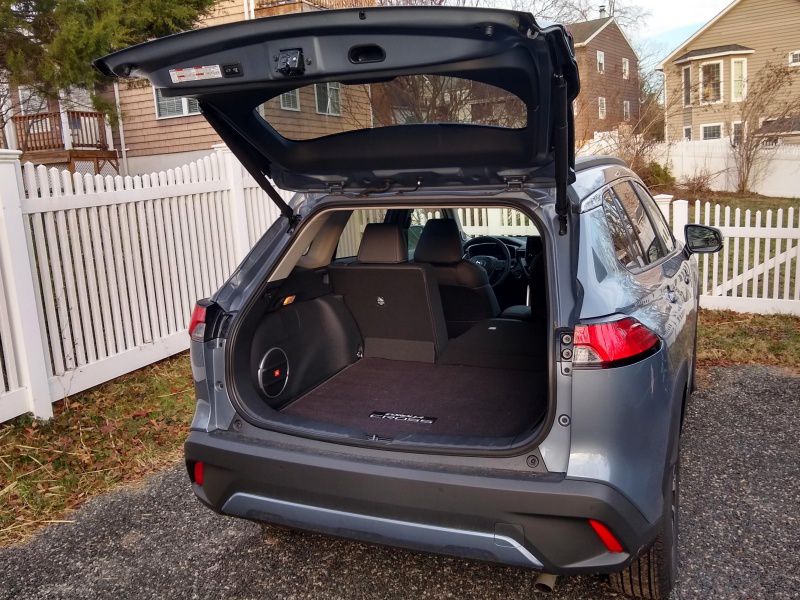 Photo by Brady Holt
Driving Impressions
The Corolla Cross drives like a heavier Toyota Corolla. Depending on your tastes, that's either an insult or a compliment. Its 2.0-liter four-cylinder engine makes 169 horsepower; that sounds good, but this engine isn't even enough to make the Corolla sedan quick or quiet, much less the Cross. On the other hand, its easygoing ride and handling keep you comfortable when you aren't in a hurry. 
The base Kona, with a 2.0-liter 147-hp engine, isn't any faster than the Corolla Cross, but the Hyundai feels more fun overall. Quicker steering and a firmer suspension make things lively, at the expense of a slightly bumpier ride. Hyundai also has a trick up its sleeve with a 1.6-liter 195-horsepower turbo, which makes the Kona into a slick little rocketship. Our test vehicle's dual-clutch automatic transmission occasionally fumbled its shifts, but this powertrain is otherwise a gem in such a little car — smooth, quiet, and quick. Paired with the taut suspension, the turbo engine makes the Kona fun to drive faster than other small SUVs. This year even brings an extra-crazy Kona N with 286 horsepower. The Corolla Cross's softer ride will tempt some buyers, but the Kona is our pick. 
Hyundai Kona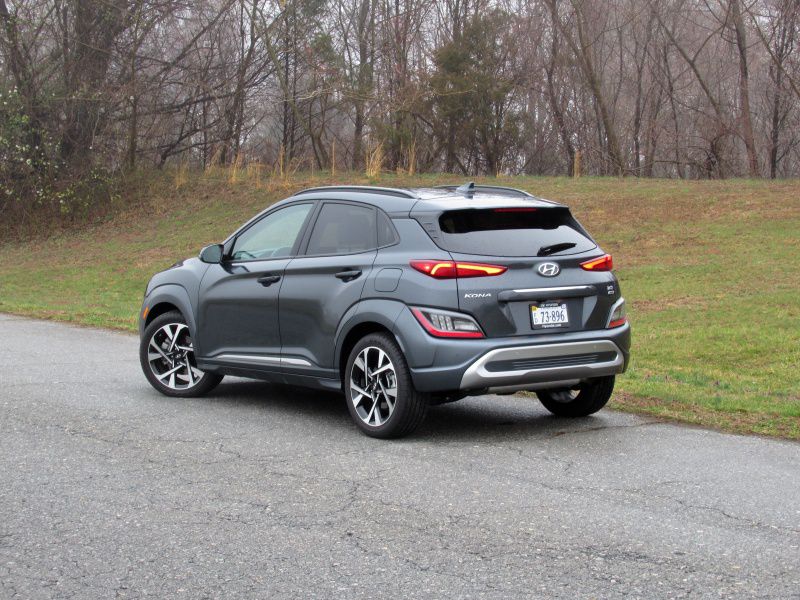 Photo by Brady Holt
Fuel Economy
In EPA testing, the front-wheel-drive Corolla Cross returns 31 mpg in the city, 33 mpg on the highway, and 32 mpg combined with front-wheel drive, while all-wheel drive cuts those numbers to 29 mpg city, 32 mpg highway, and 30 mpg combined. In our AWD test vehicle, we averaged 31 mpg, a little better than the EPA estimate. 
The Kona's mileage varies a bit more. With both the 2.0-liter and 1.6-liter engines, the front-drive Kona manages about 29 mpg city, 35 mpg highway, and 32 mpg combined. The 2.0-liter AWD model averages 28 mpg city, 33 mpg highway, and 30 mpg combined, 1 mpg ahead of the 1.6-liter AWD like our test vehicle. (Not surprisingly, the mega-powerful Kona N manages a mere 23 mpg combined, but you can also go to the other extreme with the all-electric Kona EV.) Our tested Kona averaged 31 mpg, the same as the much less powerful Corolla Cross; we even hit 34 mpg when testing a front-drive Kona turbo a few years back. Still, sticking with EPA figures, the two crossovers are equally economical. 
Tie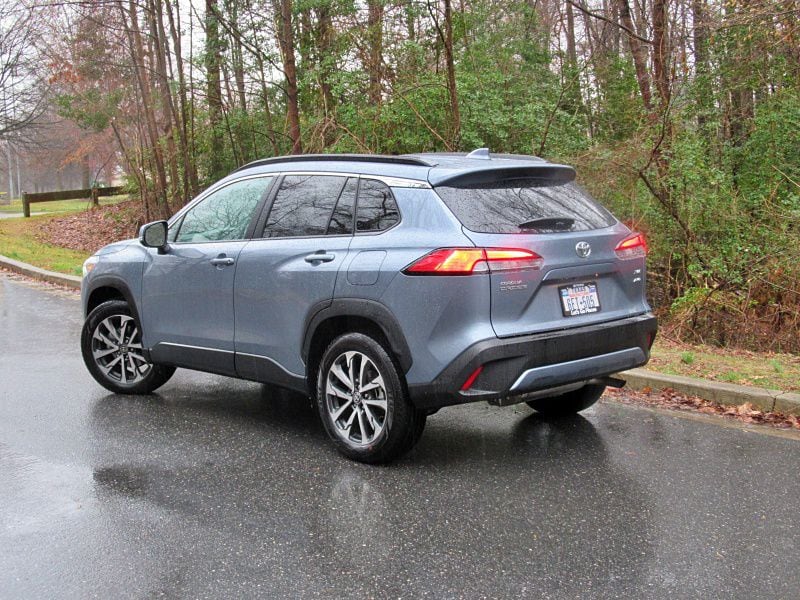 Photo by Brady Holt
Safety
Both the Kona and the Corolla Cross come standard with lots of advanced safety and driver-assistance features, including automatic emergency braking and lane-keeping steering assistance. Both also add blind-spot monitoring with a rear cross-traffic alert on all but their base models, though only the Toyota provides adaptive cruise control as standard; Hyundai saves it for the top Kona Limited. And the Kona doesn't offer rear automatic braking like the Corolla Cross.
Still, we'll award this category to the Hyundai for its proven crash-test performance. The Corolla Cross hasn't been tested yet, but the Kona earned a top five-star rating from the National Highway Traffic Safety Administration. The Insurance Institute for Highway Safety hasn't fully tested the updated 2022 Kona, but it earned top marks in most tests completed so far. 
Hyundai Kona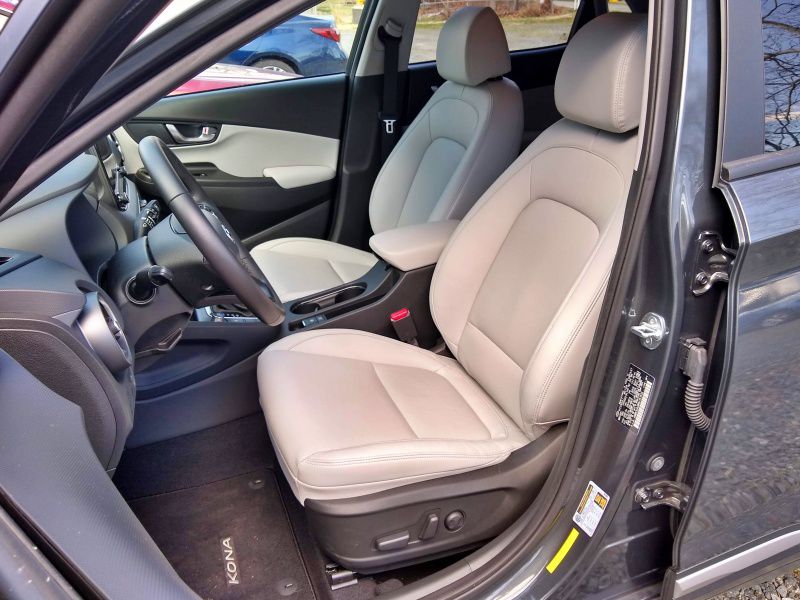 Photo by Brady Holt
Pricing and Features
Even at $21,300, the base Kona SE includes a healthy helping of safety and infotainment technology. The SEL, $23,100, adds blind-spot monitoring and push-button starting along with the option for a $3,500 Convenience Package — everything from a sunroof to a wireless smartphone charger. New this year, the N Line ($25,850) is the most affordable way to get the turbo engine along with some sportier styling cues. The Limited ($28,600), like our test vehicle, shares the turbo engine while adding luxury features like leather upholstery, a sunroof, and GPS navigation. 
The Corolla Cross isn't an expensive SUV, but it costs a bit more: $22,195 for the base L model and $24,545 for the LE that's most closely matched with the Kona SEL. (In addition to its standard adaptive cruise control, Toyota does provide automatic climate control and a wireless smartphone charger as standard on the LE, while Hyundai saves them for the SEL Convenience Package.) The top XLE starts at $26,325 without the Kona Limited's premium sound system and sunroof (extra cost) and its genuine leather upholstery and GPS navigation (Toyota sticks with leatherette and offers no nav system). 
Hyundai Kona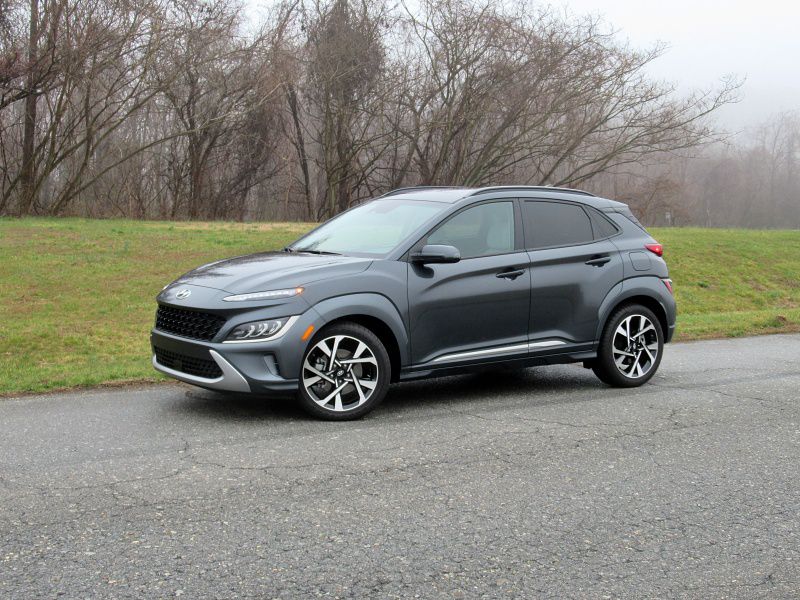 Photo by Brady Holt
Final Thoughts
Roomy, comfortable, economical, and generally well-finished, the all-new 2022 Toyota Corolla Cross is a welcome addition to the Toyota crossover lineup. It undercuts the Toyota RAV4's price tag without forcing you into a different style of vehicle. 
Still, we'd rather have a 2022 Hyundai Kona. Especially with the turbo engine, it's a fairly useful vehicle that uses its tiny size as an asset — providing lots of driving fun at low prices, and still with a useful cargo hold. Some folks will want more cargo space or prefer a smoother ride, or simply won't be able to stomach its looks. But we'd give careful consideration to the Kona before deciding you need to give up its greater driving pleasure, livelier personality, and greater value for the money. 
Hyundai Kona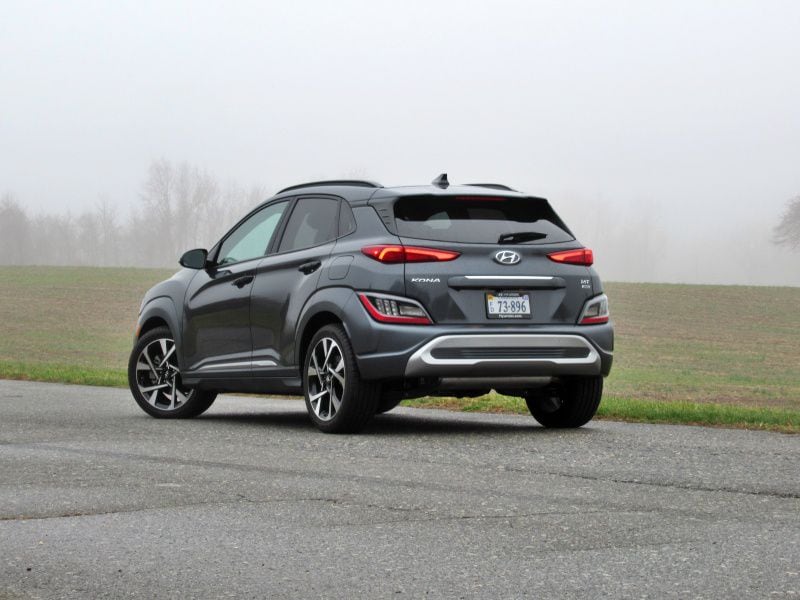 Photo by Brady Holt