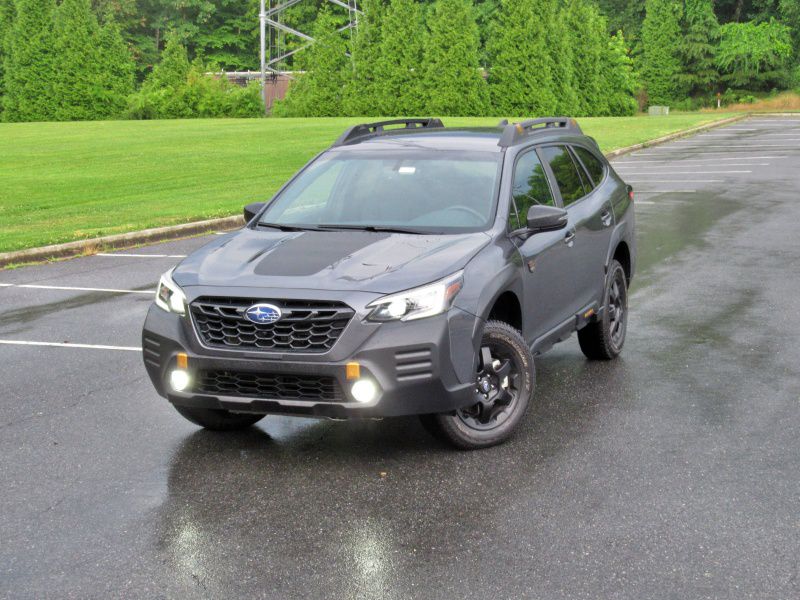 2022 Subaru Outback Wilderness ・ Photo by Brady Holt
Usually, it's simple enough to choose between a compact crossover and a mid-size one. The compact crossover is smaller, less expensive, and more fuel-efficient; the mid-size crossover is roomier, costs more, and burns more gasoline. You pick your priorities and move on.
The compact 2022 Subaru Forester and the mid-size 2022 Subaru Outback lack these natural separations. They're similarly roomy and similarly priced, and their equivalent engines get identical gas mileage. So deciding between them requires you to consider different factors. For this review, we tested both Subarus so we could compare them across eight categories and then name an overall winner. Keep reading to find out which one we chose and which sounds like the better Subaru crossover for you. 
Pricing and Features
The Forester starts at $25,195, which undercuts the base Outback's $26,945. That's a pretty tight gap for stepping up an entire size class, especially considering that the Outback comes standard with alloy wheels while the Forester has steel wheels with plastic wheelcovers.
Still, the Forester remains less expensive as you move up the model lineup. And its advantage grows if you're interested in a panoramic moonroof, which is included on all but the base Forester. Even a standard-size moonroof costs extra on most Outback trim levels, and a plus-sized panoramic roof isn't available at all. Both crossovers offer a lot of features for the money, coming standard with all-wheel drive and a long list of safety features. But the Forester costs less.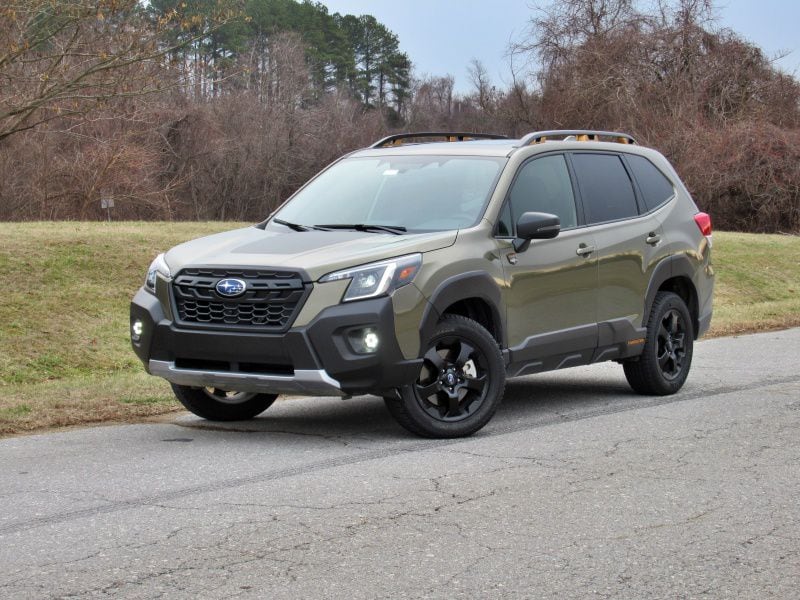 Photo by Brady Holt
Exterior Design
The Outback is essentially a station wagon version of the Subaru Legacy mid-size sedan, lifted higher off the ground. SUV-like body cladding, hardy roof racks, and high ground clearance mean you won't confuse it for a regular car — especially on our extra-rugged Wilderness test vehicle — but it looks longer and lower than the typical SUV. The Outback is nearly 9 inches longer and 2 inches wider but 2 inches lower than the Forester. 
The Forester has stubby, upright proportions even for a small SUV, including a near-vertical rear end. The angular headlights are more aggressive than the Outback's sleeker ones, but not in a way that makes the Forester look like either a sports car or an off-roading machine. It's more that the Forester rejects the conventional ideals of attractive styling in favor of purposeful functionality. As on the Outback, a new Forester Wilderness model dials that up a notch with higher ground clearance and additional protective plastic cladding. Overall, the two Subarus each bring a different lack of pretense: The Outback doesn't look much like an SUV, and the Forester looks like an SUV that never wanted to be pretty. We'll let you choose your preferred look.
Tie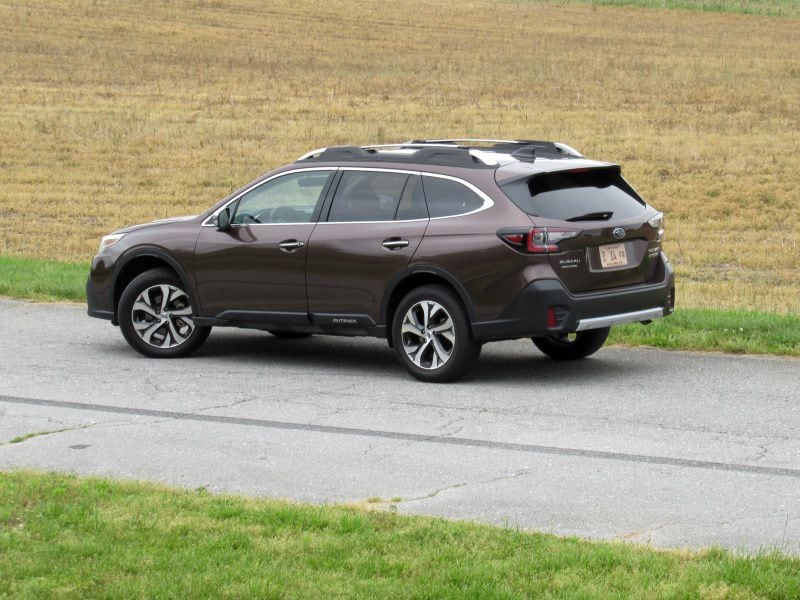 Photo by Brady Holt
Interior Design
The Outback not only costs more than the Forester, but it's also a slightly newer design. The current Forester debuted for 2019 and the Outback followed a year later. For both of these reasons, you wouldn't be surprised to learn that the Outback's interior feels posher and looks more modern than the Forester's. Upper trim levels are downright swanky. Still, we'll award this category to the latter. 
The issue is the Outback's 11.6-inch infotainment touchscreen, which is standard on all but the base trim level. That's bigger and flashier than most Foresters' 8-inch touchscreen, but it's fussier to use. (The base Outback has two separate 7-inch screens, while the base Forester has a single 6.5-inch unit.) Subaru folded too many climate functions into the big screen, making them fussier to use. The Forester's big plastic seat-heater switch may look a couple generations old, but when we're shivering on a cold day, we'd easily pick that over tapping through the Outback's touchscreen menu. And although even a top-of-the-line Forester doesn't feel luxurious inside, every model is solidly built. And for this category, we'll choose the Forester's significant functional advantage over the Outback's less drastic aesthetic one.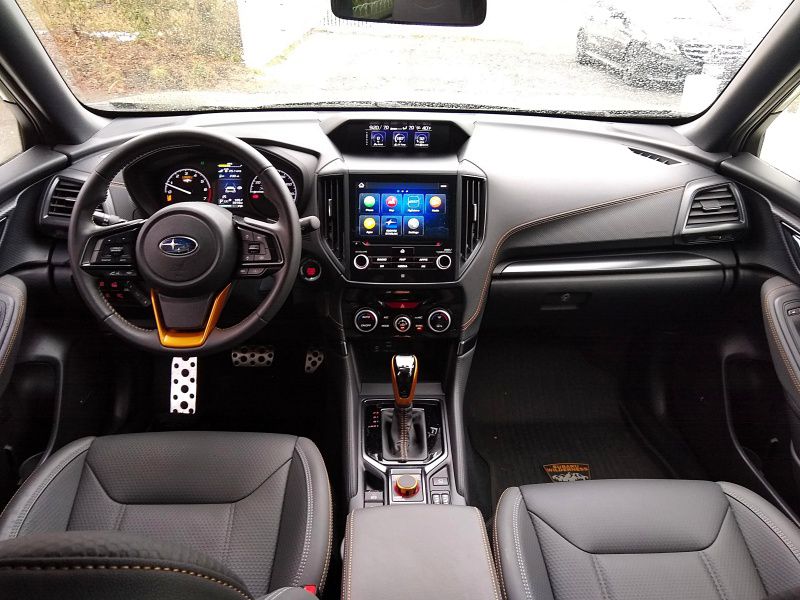 Photo by Brady Holt
Passenger Accommodations
If you like sitting in a sedan, you'll like the Outback. That's because it essentially has a sedan's body, just turned into a station wagon and then lifted higher off the ground. So while the Outback's floor is higher off the ground than the Legacy sedan's, you still sit relatively low to the floor for a crossover. 
We're fans of the Outback's supportive, well-shaped seats; ample passenger space; and excellent outward visibility. It feels bigger from the driver's seat as well. But the smaller Forester not only has a higher seating position but also even better visibility and equivalent passenger space. The Forester also has more front-seat headroom. We'd pick the Outback's front seats, and some buyers might prefer its lower seating position, but the Forester narrowly wins this round overall.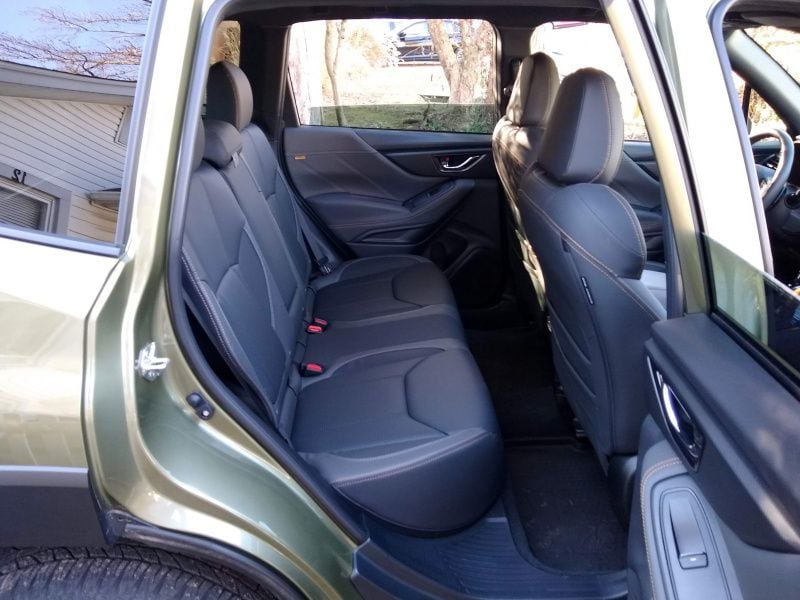 Photo by Brady Holt
Cargo and Utility
When you fold down the rear seat and you're willing to stack your cargo to the roof, the tall Forester can pack in a ton of stuff: up to 74.2 cubic feet. That's exceptional for a compact crossover and within spitting distance of the longer, wider Outback's 75.7 cubic feet. But the Outback quickly makes back that ground. 
First, most Foresters have a panoramic moonroof whose mechanism lowers the roof and cuts its maximum cargo room to 69.1 cubic feet. With the rear seat in use, the base Forester has 28.9 cubic feet of cargo room while other models have 26.9 cubic feet. That's less than most competitors, and it trails the Outback's 32.5 cubic feet. And since the Outback's smaller moonroof is only over the front seats, it doesn't cut into cargo room. Meanwhile, the Outback can tow 2,700 pounds with its base engine and 3,500 pounds with an optional turbo. The Forester maxes out at 1,500 pounds on all but the Wilderness model, whose upgraded cooling system doubles its rating to 3,000 pounds.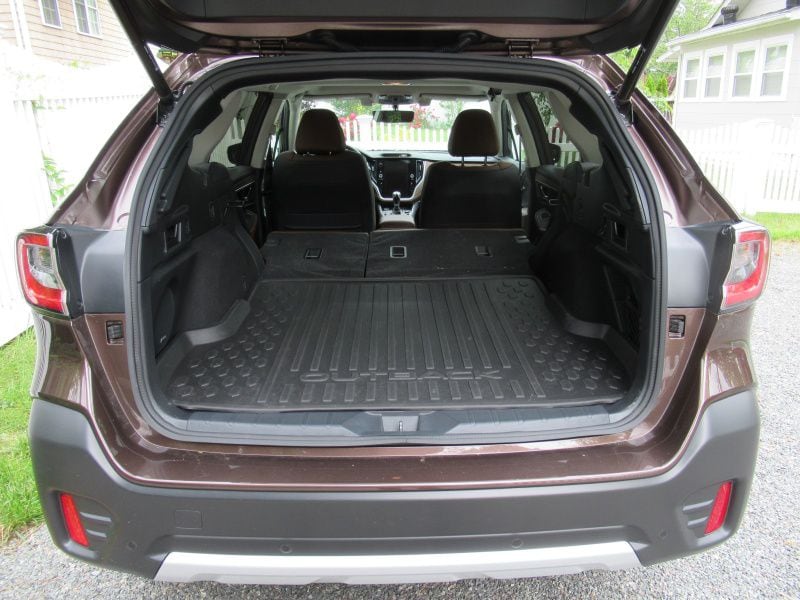 Photo by Brady Holt
Ride and Handling
From behind the wheel, the Forester is a comfortable, all-business crossover. Its compliant ride brushes off bumps, and even if it doesn't handle with great athletic verve, we wouldn't call it clumsy. And with a generous 8.7-inch ground clearance (9.2 inches on the Wilderness), standard all-wheel drive, and Subaru's X-Mode AWD settings, it's ready to tackle more challenging terrain than the typical crossover. 
But there's no comparison with the Outback. The larger Subaru drives like a luxury car in comparison. It's no less comfortable, but its ride and handling feel more buttoned-down and composed. The Forester is an SUV that drives like a tall economy car, while the Outback is one that drives like a good mid-size sedan. And that's with the same off-roading benefits, too, except that the Outback Wilderness gets all the way up from 8.7 inches to 9.5 inches of ground clearance — a smidge higher than the Forester's.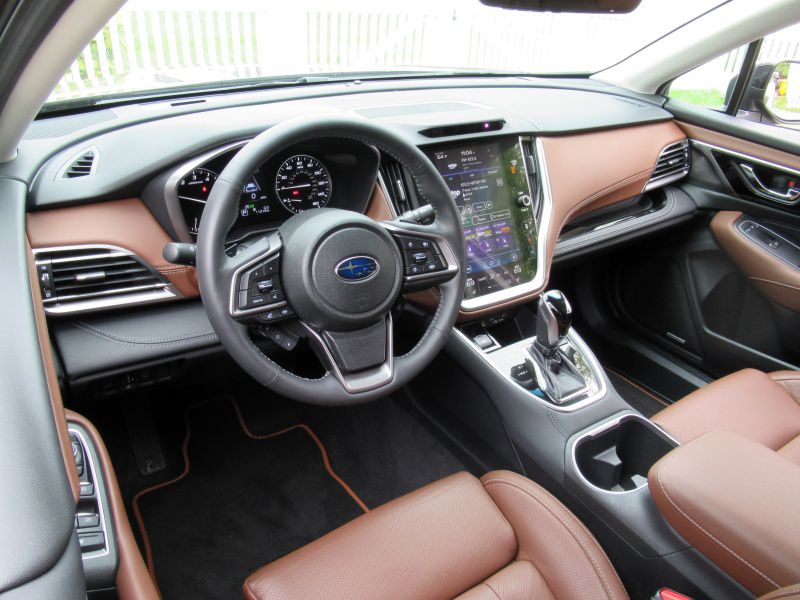 Photo by Brady Holt
Acceleration
Every Forester uses a 2.5-liter four-cylinder engine with 182 horsepower and 176 lb-ft of torque, paired with a continuously variable automatic transmission. It's adequately quick, nothing more, and the engine makes a fair bit of noise if you dig in. The Forester's touchy gas pedal also makes the SUV jump off the line when you try to accelerate gently.  
The Outback comes standard with the same 182-hp engine, and it weighs more than the Forester to boot. That hardly seems like a promising combination. Nonetheless, the two crossovers typically return similar real-world acceleration results, perhaps thanks to the Outback's better aerodynamics. The bigger car's extra soundproofing also muffles the engine's racket a bit, and its accelerator is less sensitive than the Forester's. Sealing the deal is the Outback's optional engine: a smooth and effortlessly quick 2.4-liter turbo four with 260 hp and 277 lb-ft of torque. It doesn't turn the Outback into a feisty performance machine, but it removes all fuss and drama from acceleration.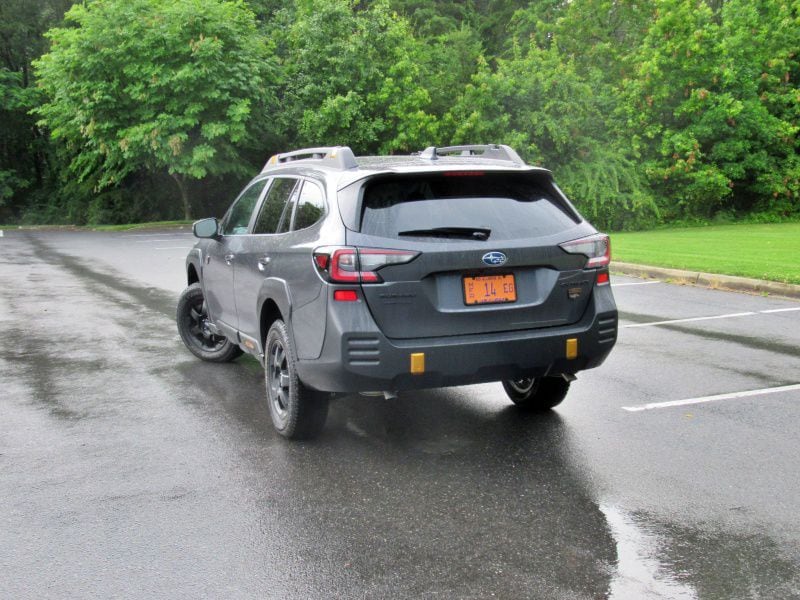 Photo by Brady Holt
Fuel Economy
Just as the Forester fails to beat the larger Outback's acceleration, it also only manages a tie for fuel efficiency. The most popular Forester and Outback models, featuring the 2.5-liter non-turbo engine, each get an EPA-estimated 26 mpg in the city, 33 mpg on the highway, and 29 mpg combined. 
The Outback turbo understandably dips, but not substantially. It achieves 23 mpg city, 30 mpg highway, and 26 mpg combined, which is outstanding for a 260-horsepower mid-size crossover and beats even some modestly powered compact models. The Wilderness trim levels, with worse aerodynamics and revised transmissions, are the least economical members of each Subaru's lineup. The Outback Wilderness, using the turbo engine, manages 22 mpg city, 26 mpg highway, and 24 mpg combined; the Forester Wilderness, with the non-turbo engine, pulls off 25 mpg city, 28 mpg highway, and 26 mpg combined. Overall, this category is a tie. 
Tie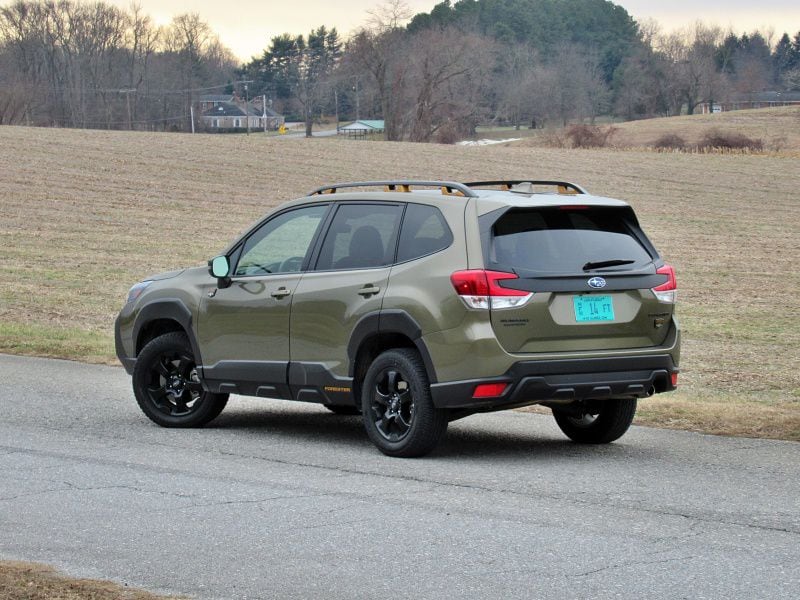 Photo by Brady Holt
Final Thoughts
We like the 2022 Subaru Forester. It's a plucky little crossover — hardy, capable, and unpretentious. It's usefully spacious, it's comfortable, it's affordable, and it offers outstanding outward visibility. It's a roomy SUV that also feels comfortingly small. 
Still, we come away even more impressed with the 2022 Subaru Outback. For a modest price premium, you get an entirely different level of crossover. It's nicer to drive, it has a higher-tech interior, and it's more richly finished. It's available with a fantastic turbo engine, and even its base powertrain makes a better impression in the Outback than the Forester. You may not want to pay extra for a more luxurious vibe or a bit more cargo space. You might prefer the Forester's smaller footprint, its much simpler dashboard controls, its superior visibility, or its stubbier proportions. But when we're choosing, the Outback's advantages outweigh its relatively minor drawbacks. 
Subaru Outback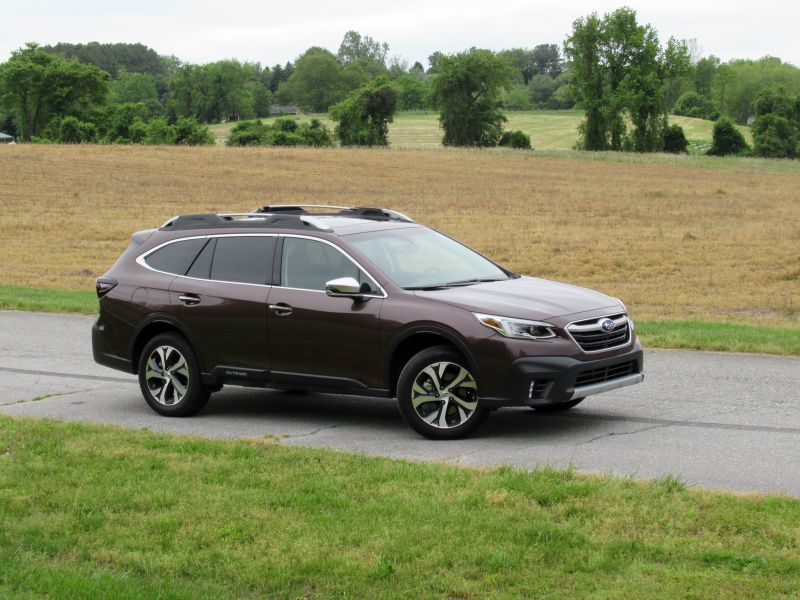 Photo by Brady Holt